Gooey and muddy with a melt-in-your-mouth centre and crisp, shiny top, these fudgy vegan brownies require no melting or creaming. Just stir, pour, lick the bowl and bake.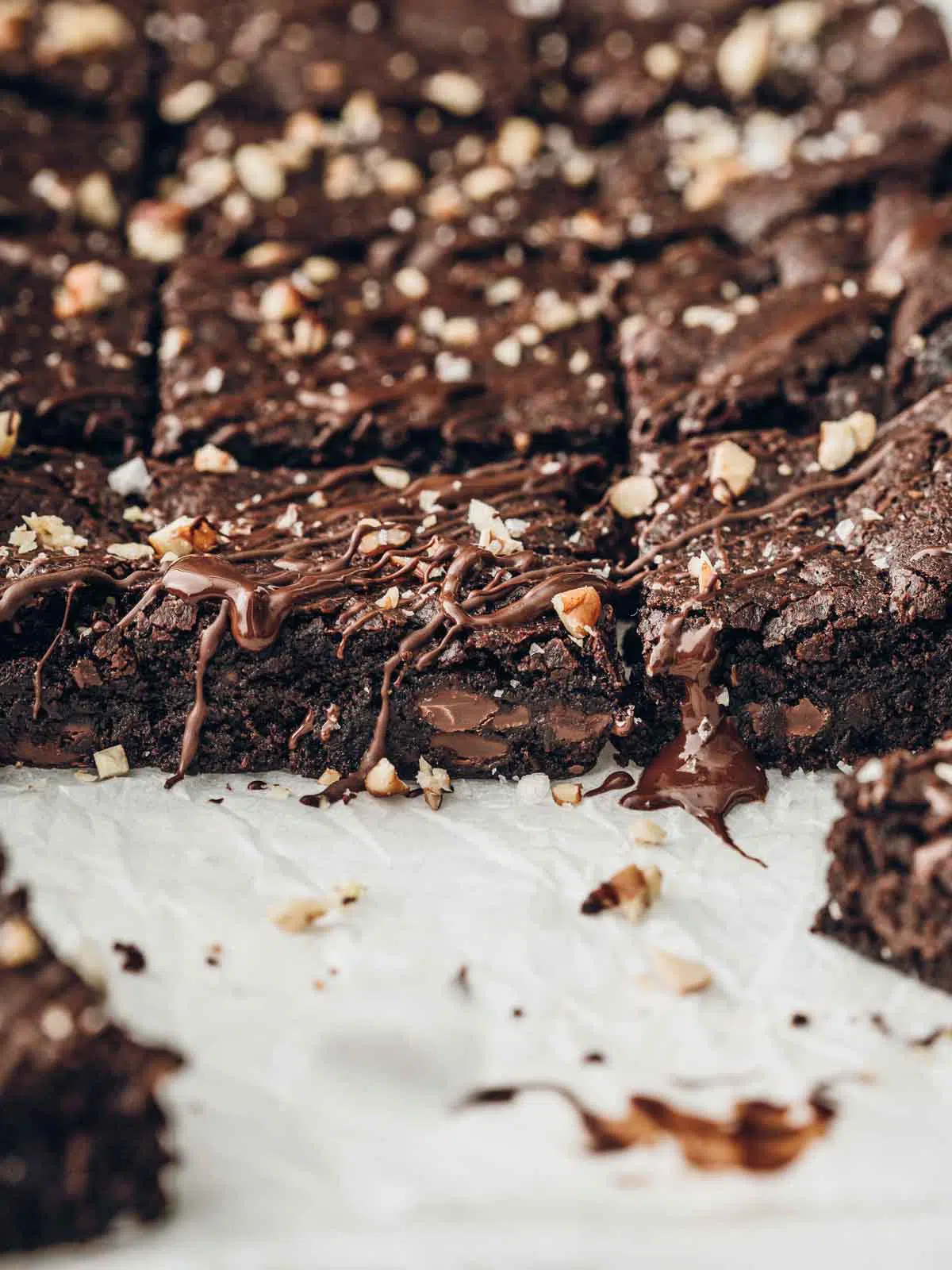 This recipe was originally posted on August 4, 2020 and updated with instructions, ingredient notes and process images on February 5, 2022.
Jump to:
If you like your chocolate fix pure and uncomplicated - made from pantry ingredients - this is the recipe for you.
Why You'll Love This Vegan Brownie Recipe
Making really great fudgy vegan brownies is easier than you might think. So, we don't have eggs.
No problem. And butter?
Who needs it? These killer vegan brownies are just so good. They are:
But, let me be clear; these are not healthy. I repeat, not healthy.
If you are after a healthier treat, check out my Flourless Tahini Caramel Black Bean Brownies or even my Vegan Gluten Free Chocolate Beetroot Cakes. They are both delicious and almost good for you.
But these brownies are pure decadence.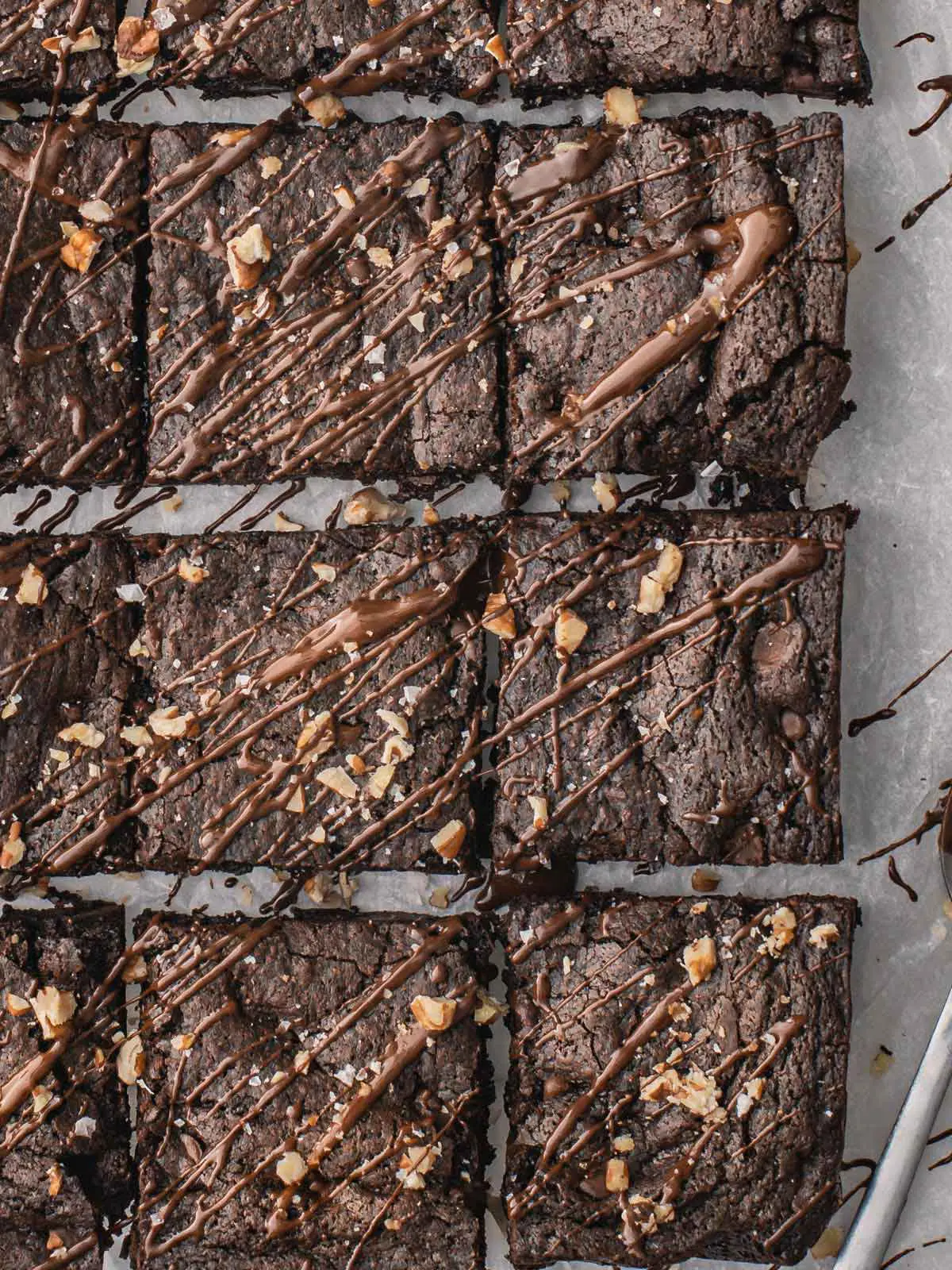 OK, are you ready to make drool-worthy vegan brownies? Spoons at the ready.
Ingredients and Substitutions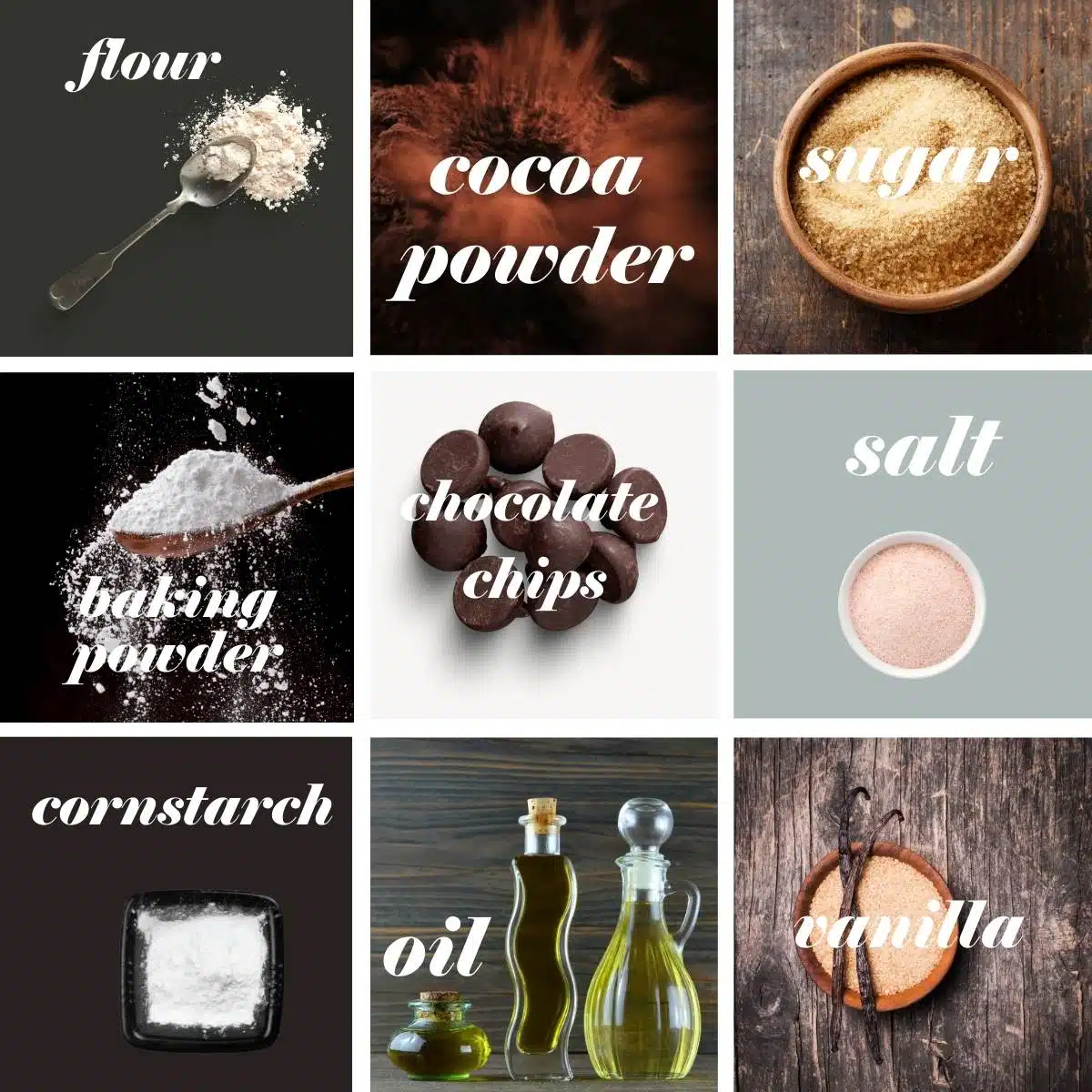 Cocoa powder. I use natural cocoa powder in these brownies but, because we are using baking powder not baking soda, so you can also use Dutch process (or alkalised) cocoa. Just make sure you are buying a vegan cocoa powder.
Sugar. Granulated sugar works best in this vegan brownie recipe. I use raw caster sugar but raw granulated sugar will work great.
Oil. Sunflower oil is my preferred cooking oil but any neutral flavoured oil will work.
Chocolate chips. The sky is the limit! As long as they are vegan, you can use any chocolate you like. I use a good quality dark chocolate.
Vanilla extract. Vanilla gives these vegan brownies added depth - use a good quality extract, not essence.
Cornstarch. Cornstarch (corn flour) is a little secret weapon to creating fudgy vegan brownies with a crisp outer. It also helps to bind the batter.
Know Your Cocoa
Cocoa powder is finely ground, partially defatted cocoa solids. It is available in two forms, alkalised or non-alkalised.
Alkalised, aka Dutch Process: Dutch process cocoa is treated with an alkali to neutralise its acids. It does not react with baking soda alone so it can only be used in recipes calling for baking powder.
The exception is when there are enough acidic ingredients in the recipe to react with the baking soda.
Dutch process cocoa is darker than natural cocoa, has a smoother, mellower flavour and dissolves more easily in liquids.
Non-Alkalized, aka Natural Cocoa: Natural cocoa is untreated cocoa powder that has a more acidic taste. This is generally the type you'll find in your supermarket.
How to Make Fudgy Vegan Brownies
You'll find full instructions and measurements in the recipe card at the bottom of the post.
Step 1. Combine the dry ingredients in a mixing bowl. Also combine the wet ingredients in a separate bowl.
Steps 2 and 3. Add the wet mixture to the dry and stir until just combined.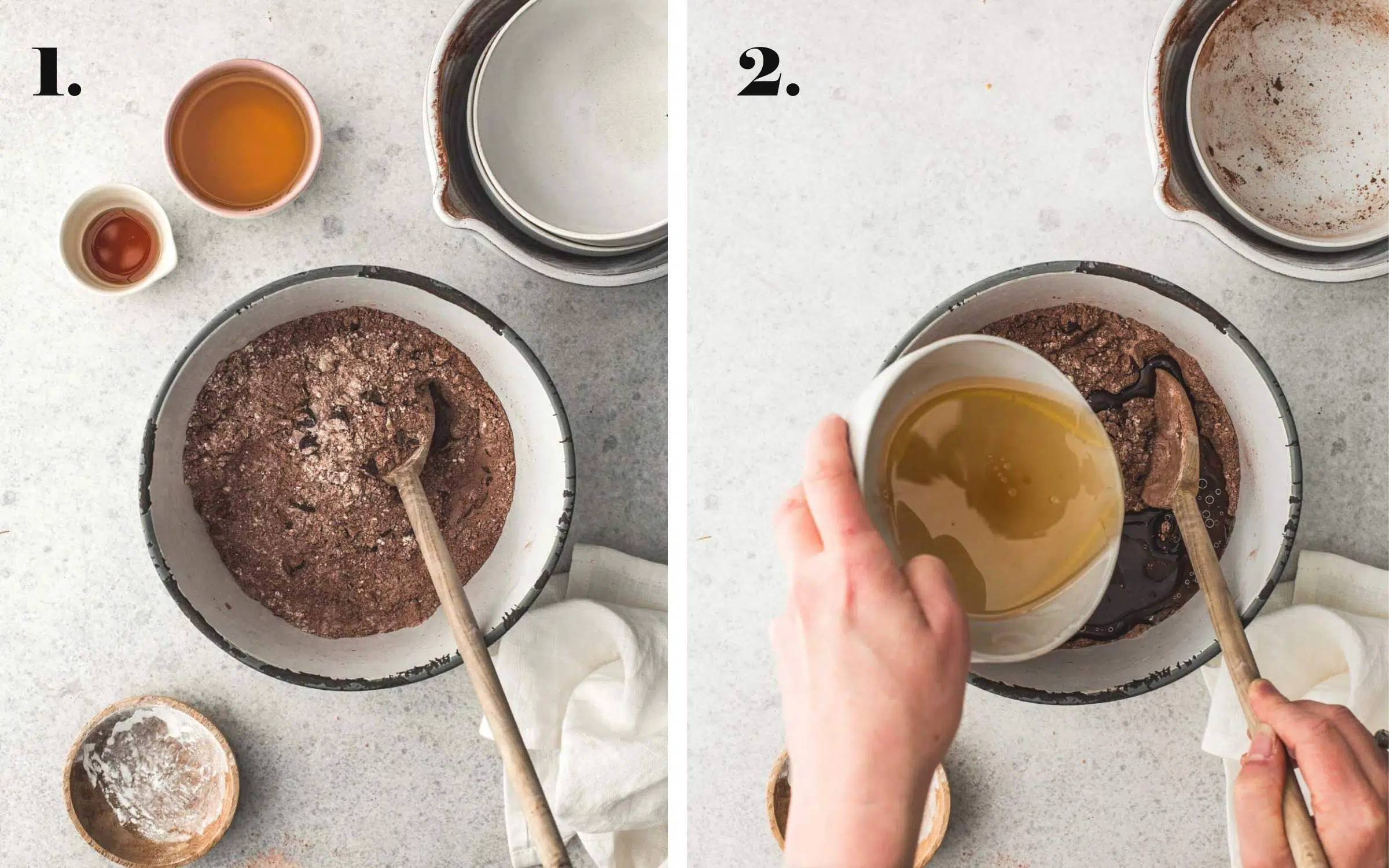 Step 4. Transfer the batter to a prepared baking pan. Smooth the batter out as best you can and pop the brownie in the oven to bake until just cooked.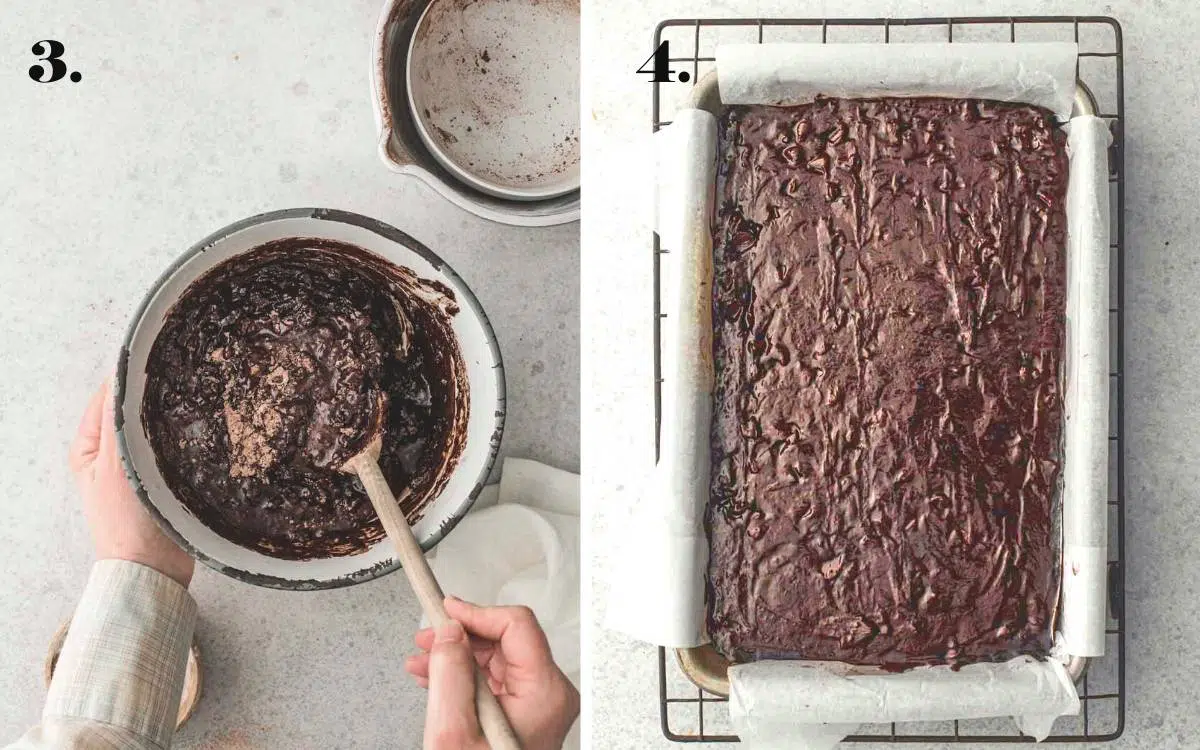 Stop cooking when the middle is just set and only a few crumbs come away when tested with a skewer. Remove the brownies from the oven to cool completely.
Back away from the brownie. It will be worth the wait, I promise.
---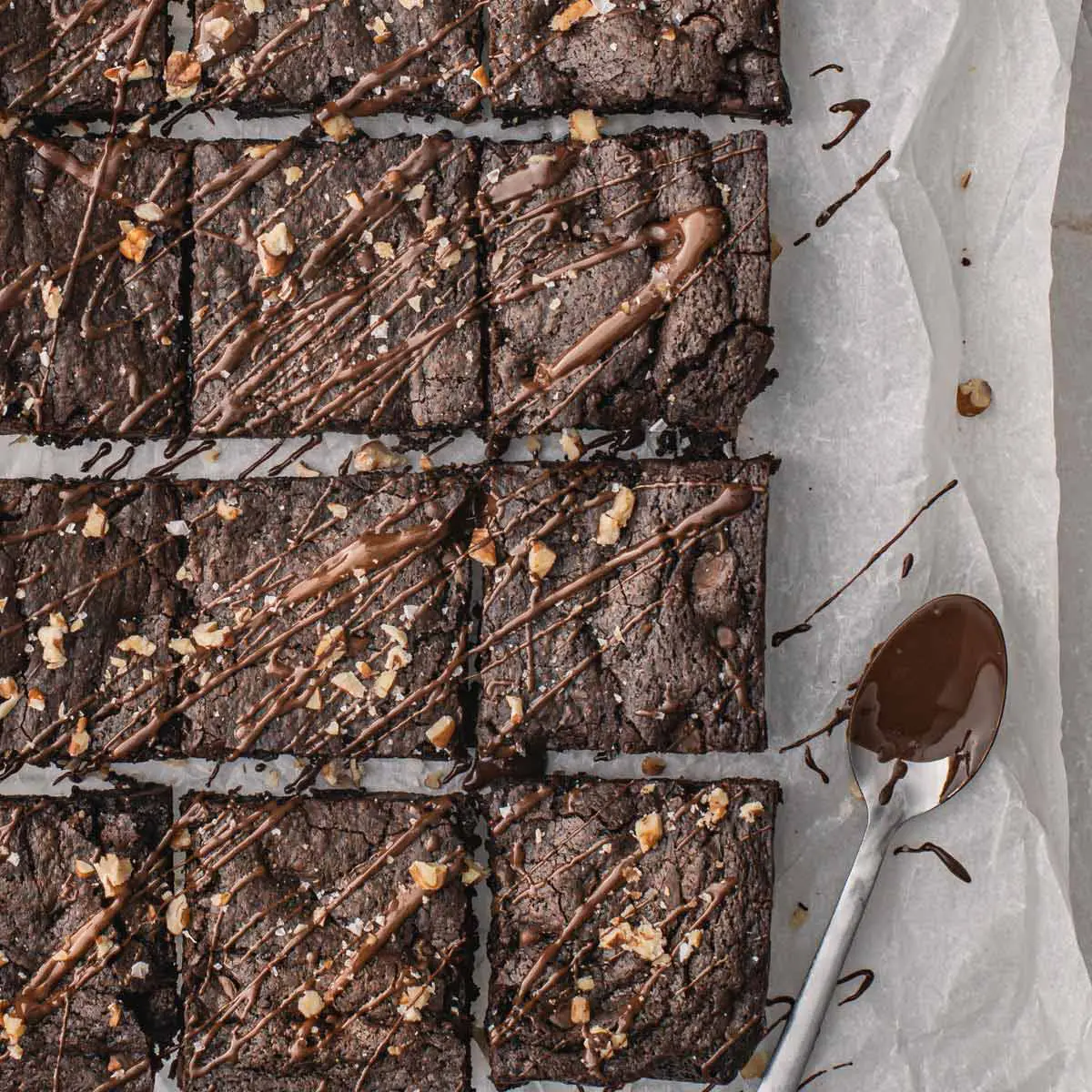 Tips to Making The Perfect Fudgy Vegan Brownie
Brownies are simple perfection but there are a few tricks you can use to make yours work every time.
How to Cut A Brownie Without it Smooshing
You are probably wondering why I'm telling you how to use a knife. You've been doing it since were 6, right?
Brownies are a different beast, that's why. All that gooeyness makes cutting a little trickier. So to get those lovely brownie squares:
I am all for eating brownies straight out of the pan with a spoon but if you want the squares, follow these steps.
Recipe Notes
I have made these brownies in 2 different sized pans. When using my 21cm x 18 cm (8 x 7 inches) pan I bake the brownies for around 43 minutes - it's a deeper pan. My longer 27.9 x 17.3cm (11 x 7) is more shallow so I only bake for around 35 minutes (pictured)
Add a sprinkle of salt flakes to the brownies and maybe some chopped pecans and drizzled chocolate. With brownies, more is just more.
FAQs
Can I make these brownies gluten-free?
You can! I've had feedback from readers that Bob's Red Mill 1 to 1 baking flour works great in this recipe.

If you after a "tested" gluten-free brownies recipe, try this one from Angela at Oh She Glows. I made this so many times when I first went vegan so I can whole-heartedly attest to its awesomeness.
How will I know the brownie is ready?
Begin checking your brownie at least 5-minutes before the recommended cook time.

Check by inserting a skewer in the centre of the brownie - you are looking for a few crumbs or the tiniest touch of moist batter. If the brownie is still liquidy, give it a few more minutes and try again.

Remember, the brownie will continue to cook once it is removed from the oven. Undercooked is always better.


How do I store the brownies?
Store your brownies in the refrigerator in a sealed container for up to a week. Simply warm them a little in the microwave for 20 seconds if you want to serve them warm. Or leave them on the counter to come to room temperature.
Can I freeze them?
You can. After they are completely cooled and ready to cut, either wrap them individually in parchment paper and foil (or a zip-lock bag) or wrap the entire slab before cutting.

Pop the brownies in the freezer for up to six months.

To thaw the entire slab, take it from the freezer and thaw at room temperature for an afternoon. Do the same for brownie squares but the thawing process will take less time.
I'm sorry, did I hear you say you need more chocolate? You are my kind of person.
Want more plant-based goodness?
Subscribe to my newsletter and follow along on Facebook, Pinterest and Insta for all the latest news. If you like this recipe, please check out my cookbook "Great Vegan Meals for the Carnivorous Family" It's full of simple, carnivore-approved family recipes.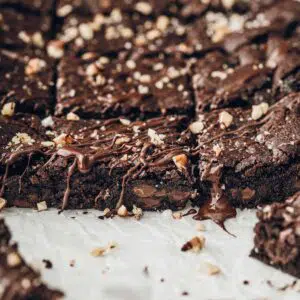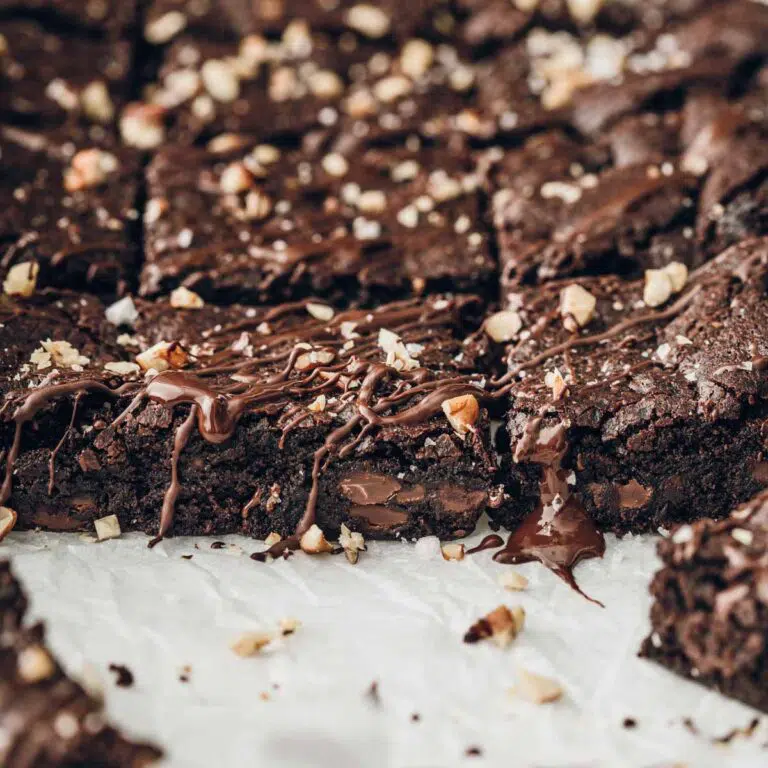 Fudgy Vegan Brownies Recipe
Pure Chocolate Heaven. These vegan brownies are gooey, fudgy and so easy to prepare. No melting, no creaming and not a whisk in sight.
Print
Pin
Rate
Ingredients
1

cup

all-purpose flour

1 and ½

teaspoon

baking powder

1 and ¼

cups

raw caster sugar

¾

cup

cocoa powder

1

teaspoon

fine salt

¼

cup

corn starch

1

cup

small chocolate buttons

chips

⅔

cup

water

½

cup + 1 tbsp

sunflower oil

or a neutral flavoured oil

1

teaspoon

vanilla
Instructions
Preheat oven to 180°C (350°F) or 160° (320°F) fan-forced and line a brownie tray with baking paper.

Stir together the flour, baking powder, sugar, cocoa powder, salt, corn starch and chocolate buds in a large bowl to combine.

In a separate bowl mix together the water, oil and vanilla.

Add the wet ingredients to the dry and mix until just combined.

Transfer the batter to the prepared brownie tray and smooth it out as best you can.

Pop the tray in the oven and bake the brownie for 40 minutes or until just set. It is best to undercook a brownie than overcook. See the recipe notes for different cooking times.

Remove the brownie from the oven and allow it to cool completely before cutting in to squares. Store in an airtight container at room temperature for up to 3 days or in the fridge for a week.
Notes
Tips to Making Awesome Brownies
Brownies are simple perfection but there are a few tricks you can use to make yours work every time.
Line your brownie pan with enough baking paper to hang over the edges. This will make removing the cooked brownie so much easier.
Don't over-mix your brownie batter. Mix to combine and stop.
It is better to under-bake brownies than over-bake, always.
Leave the brownies to cool completely before you cut in to them.
To make brownies to die for, stir through a heap of chocolate chips or chunks. Besides giving you little pockets of melted chocolate, the additional chocolate makes the brownie extra fudgy. The chocolate melts in to the batter as it bakes!
Cooking Times
When using my 21cm x 18 cm (8 x 7 inches) pan I bake the brownies for around 43 minutes - it's a deeper pan. My longer 27.9 x 17.3cm (11 x 7) is more shallow so I only bake for around 35 minutes. Stop cooking when the middle is just set and only a few crumbs come away when tested with a skewer.
Nutrition
Calories:
270
kcal
|
Carbohydrates:
34
g
|
Protein:
2
g
|
Fat:
15
g
|
Saturated Fat:
4
g
|
Cholesterol:
1
mg
|
Sodium:
159
mg
|
Potassium:
194
mg
|
Fiber:
3
g
|
Sugar:
21
g
|
Vitamin A:
6
IU
|
Calcium:
37
mg
|
Iron:
2
mg
Tried This Recipe?
I'd love to hear your feedback. Rate it & leave your feedback in the comments section below. Or you can tag @mygoodnesskitchen or hashtag #mygoodnesskitchen on Instagram.