Last updated on May 28th, 2021 at 08:49 am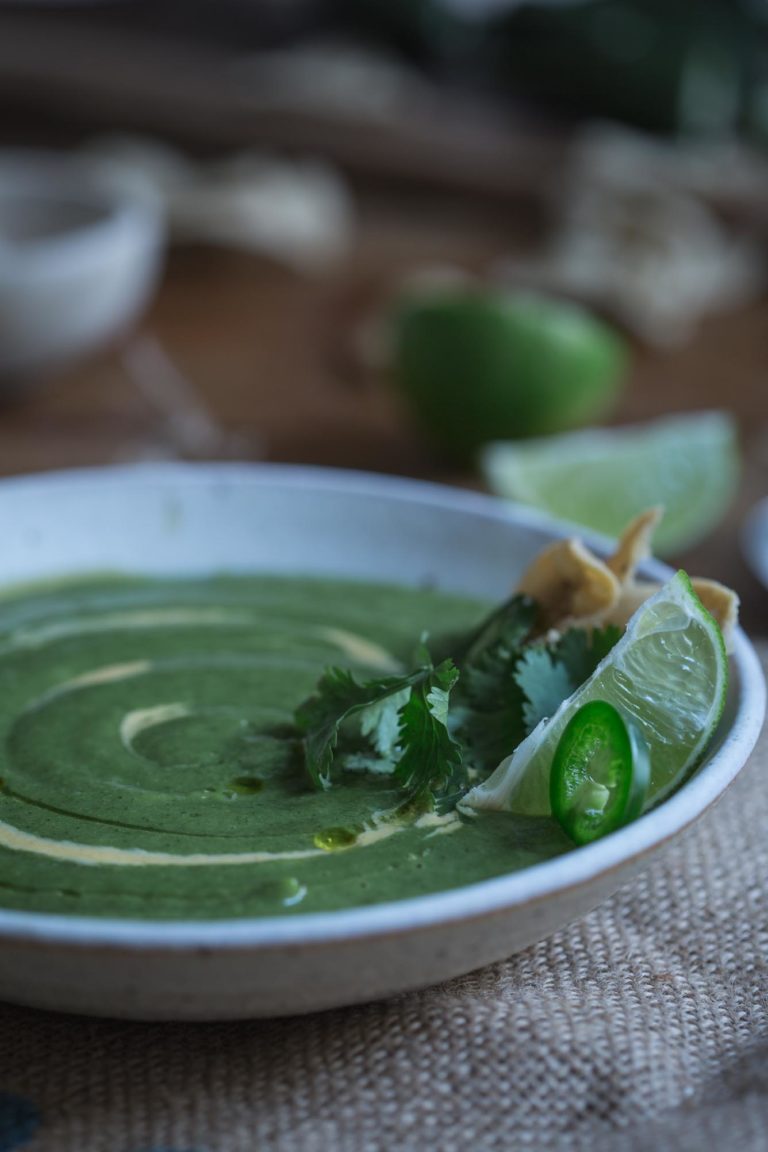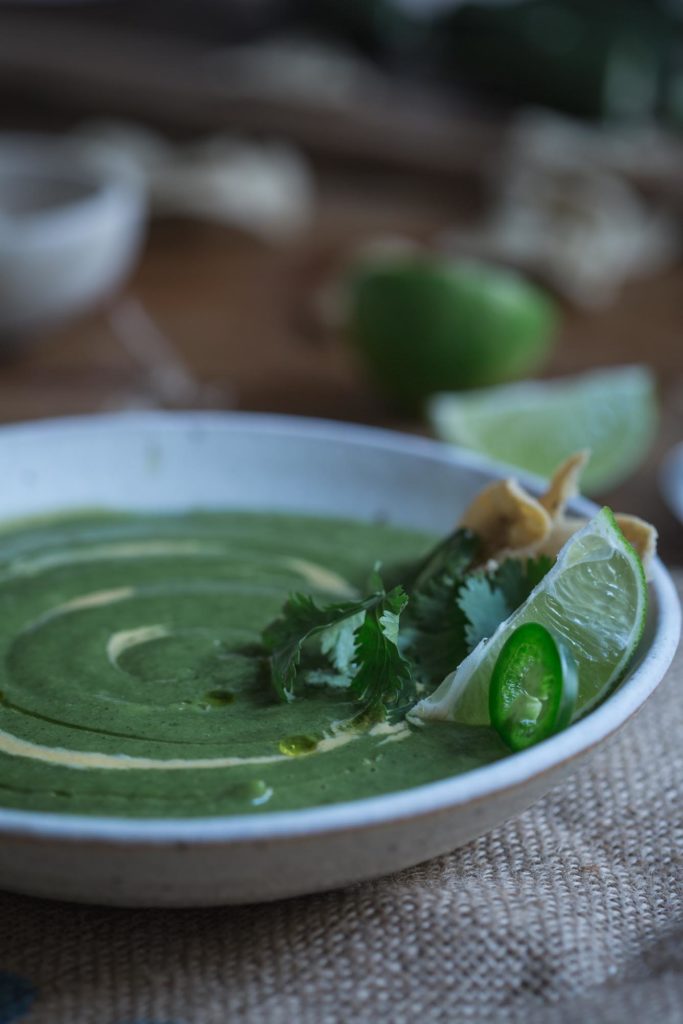 In contrast to the grey skies outside, this Cheesy Jalapeño Broccoli Soup is a vibrant and warming mix of spicy broccoli soup with a cheesy cashew cream. Topped with fresh coriander, a splash of lime and crunchy corn chips, this bowl is all things nourishing and good.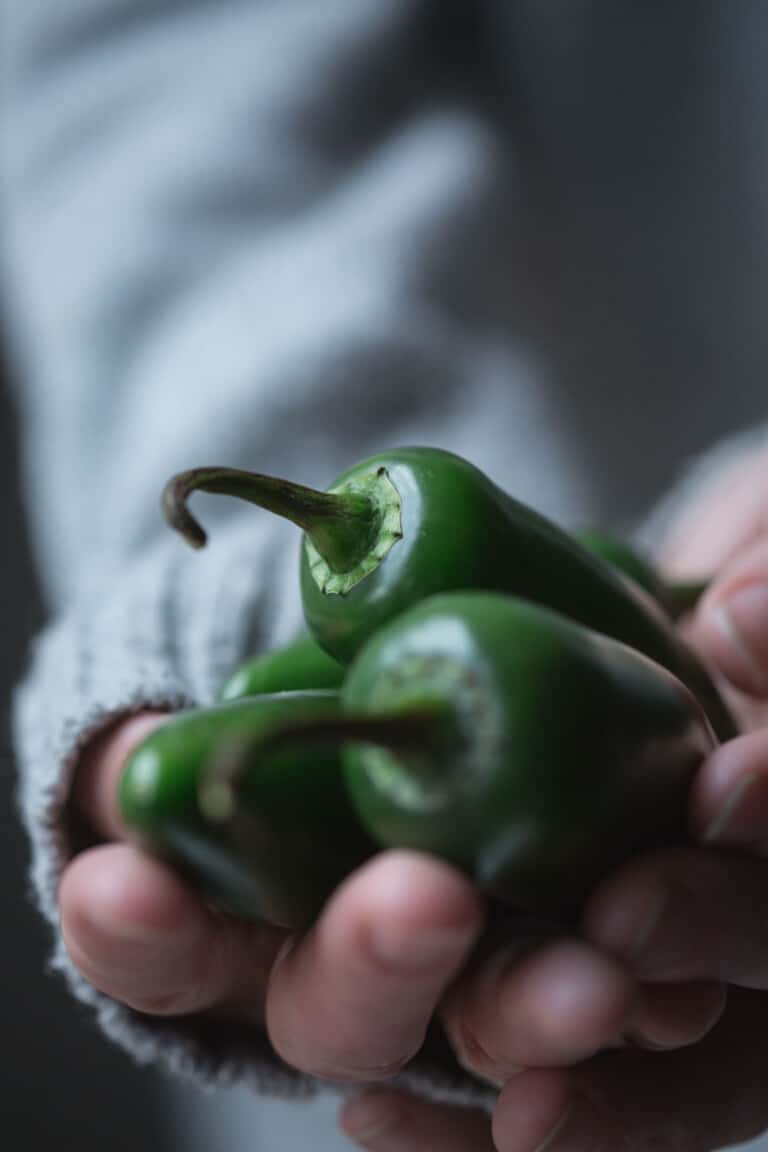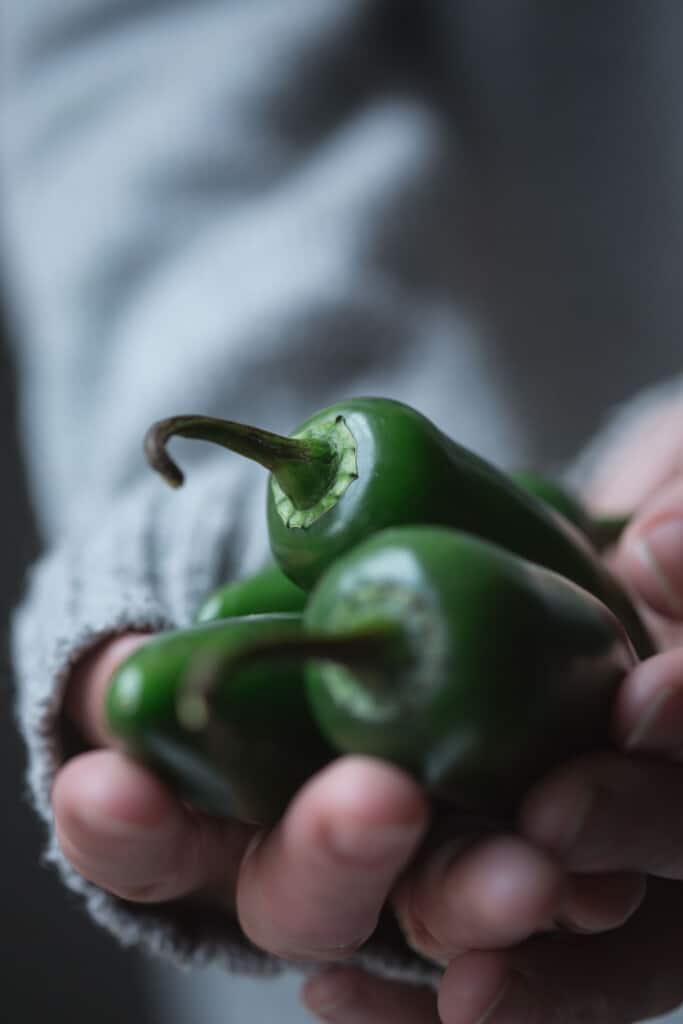 I needed a pick me up this week. While chocolate would normally be my go-to, inspiration took me to a soup pot and this wonderfully green and spicy broccoli soup. The soul needs what it needs.
This week a cow on the other side of the world passed away and I cried buckets. To say my reaction to the news surprised me is an understatement; I never met this creature but I feel his absence like he was one of my own. Dudley was the ambassador for The Gentle Barn, an animal sanctuary in the United States. An amputee, Dudley's heart and grace helped to heal others with disabilities and those burdened by life's twists. Only three years-old when he left for the paddock in the stars, Dudley's time here was short but powerful.
Dudley will be missed across the world and not because he was particularly special, although he was, but because he represented hope. Hope that the world can be kinder. Hope that in a time when the news is littered with so much sadness and fear, a cow with three can legs can find its way in to the light and make us smile. Dudley made us believe in miracles and reminded us that no matter our form, we are all in this together, connected and affected by each other. We can affect change.
And so today, I am feeling a little sad, a little thoughtful and thanks to Dudley, a little hopeful. The increasingly grey clouds outside can only add up to one thing in this kitchen right now; soup.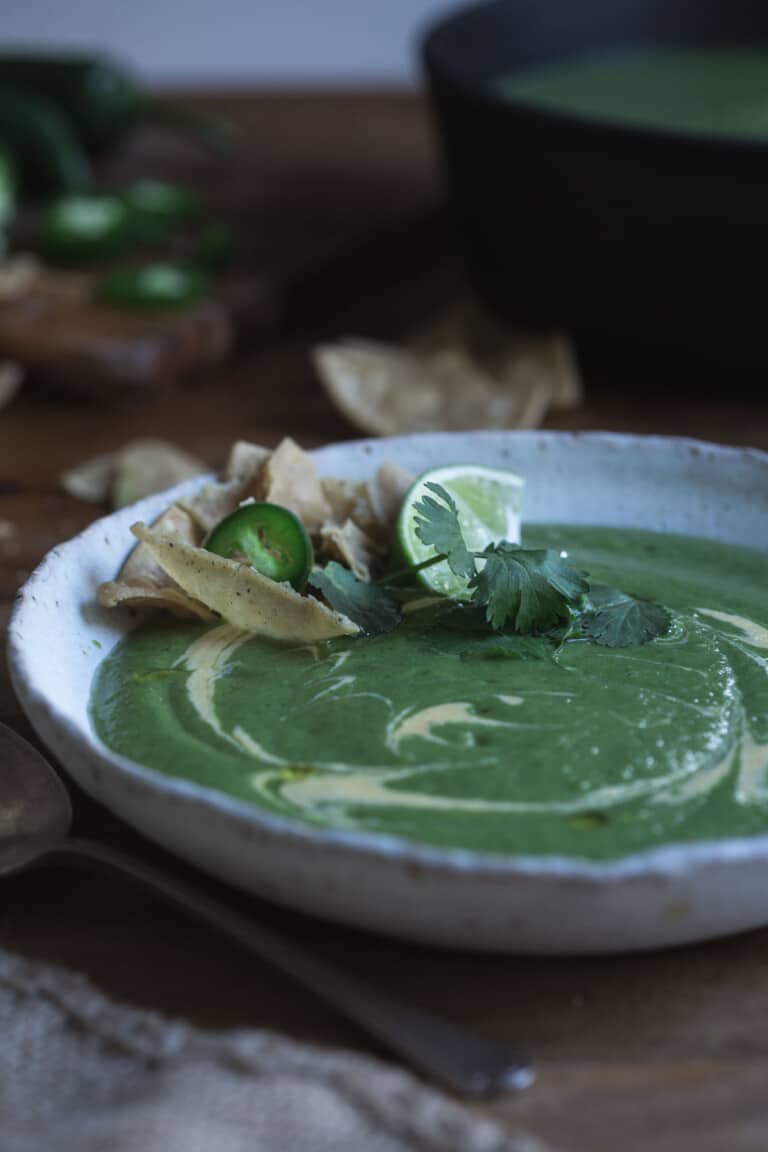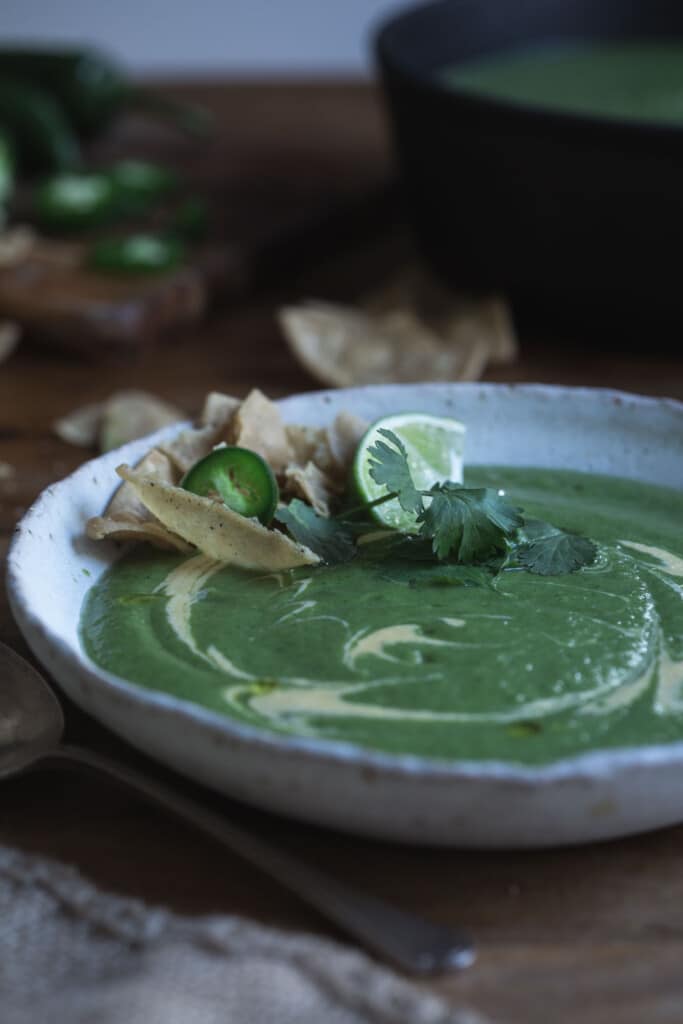 This cheesy jalapeño broccoli soup is a soup in two parts. Firstly, a slightly spicy, full bodied broccoli soup made greener and healthier by a bucket of baby green spinach. And secondly, a cheesy swirl of silky cashew cream. Each part can be eaten separately, try the cashew cheese on nachos, but together they balance each other in the perfect bowl of spiced soup.
Spicy is a subjective thing and this dish can be made spicier or less so depending on your endurance. I start my broccoli soup with two jalapeños and add another during the blending process if needed. The spiciness is also determined by the individual jalapeño; they are generally mild but you can get the occasional fire cracker. Tread lightly first and add later if needed. As the spice can be tweaked as too can the cheesiness. Add more cream for a cheesier soup, less for less. Simples. The beauty of this recipe is that you can make it your own.
And so, as I sit eating my cheesy jalapeño broccoli soup I send my love to a cow I never met. Vale Mr Dudley. I cannot fully understand how you can affect me so but I am so grateful for the reminder that we are all connected and that miracles do happen. I will miss you, my friend. I never met you but I will miss you all the same.
Safe travels.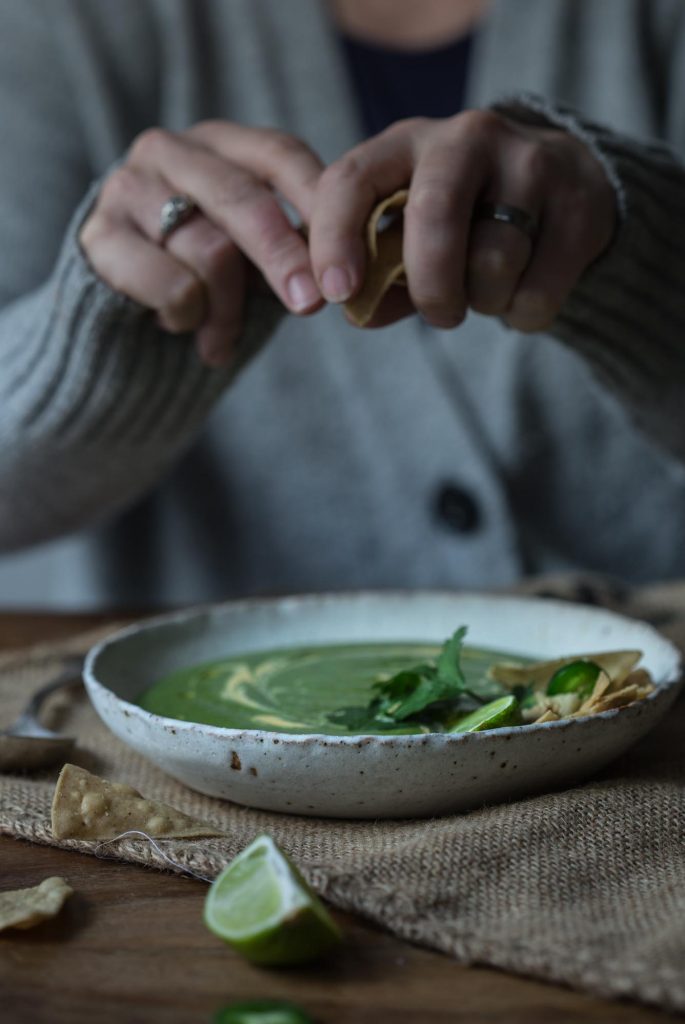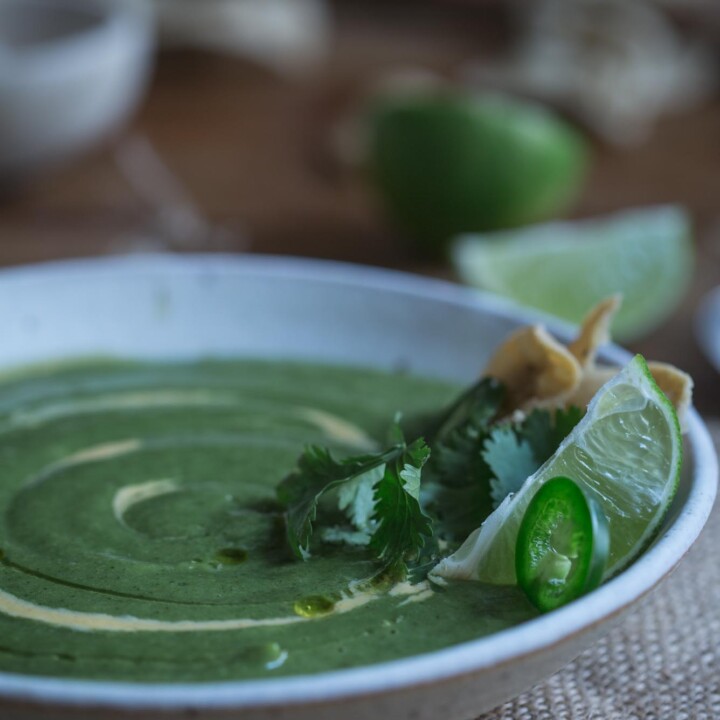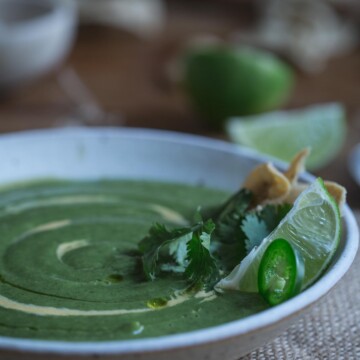 Cheesy Jalapeño Broccoli Soup
Cheesy Jalapeño Broccoli Soup is a vibrant mix of spicy broccoli soup with a cheesy cashew cream, topped with fresh coriander, lime and corn chips. (v)
Print
Pin
Rate
Ingredients
Broccoli Soup
1

yellow onion

peeled and diced

600

grams

broccoli

chopped in to small florets

100

grams

baby spinach

1

medium potato

75 grams, peeled and chopped

2-3

jalapeños

roughly chopped + plus more for garnish 

4

cups

vegetable stock

3

garlic cloves
Cream Cheese
1

cup

cashews

soaked overnight or in hot water for two hours

¼

cup

nutritional yeast

juice half lime

1

teaspoon

smoked paprika

¾

cup

dairy-free milk

sea salt to taste
Add ons
1

Lime

handful

Coriander

1

tablespoon

Olive oil

⅓

cup

Corn Chips
Instructions
To make the soup, place the onion, garlic and jalapeños in a food processor and blitz to a fine chop.

Heat a tablespoon of oil in a soup or large pot and add the onion mixture. Cook for two to three minutes or until the onion is soft. 

Add the chopped potato and cook for another minute. 

Add the broccoli and the stock and bring to a soft boil. Turn the heat down and cook for around fifteen minutes or until the potato is cooked through. 

Remove the soup from the heat and stir in the baby spinach. Allow to sit while you make the cashew cheese sauce. 

Drain and rinse the cashews and add them to a blender. Add the remaining cashew cream ingredients and blend well until smooth and silky. Add a tiny dash of water to move things along if needed. 

Taste and season if required. 

Pour the cream cheese in to a pouring jug or cup. 

Rinse out the blender and add the broccoli soup, in batches if needed, and blend until smooth and well combined. Add a fresh jalapeño if you like things spicier. 

To serve, pour the broccoli soup in a bowl followed by a swirl of the cashew cream cheese. Scatter with crushed corn chips, some chopped jalapeño and fresh coriander. Finish with a quick drizzle of olive oil and a squeeze of lime juice. 
Tried This Recipe?
I'd love to hear your feedback. Rate it & leave your feedback in the comments section below. Or you can tag @mygoodnesskitchen or hashtag #mygoodnesskitchen on Instagram. Thank you!