Originally posted June 11, 2017. Updated 4 November, 2019.
On the days you just need cake, these vegan chocolate beetroot cakes with chocolate avocado frosting are a sweet and rich treat minus the guilt. Made with sunflower seeds, raw cocoa and robust beets they are wholesome, gluten-free and delicious cake treats everyone can enjoy.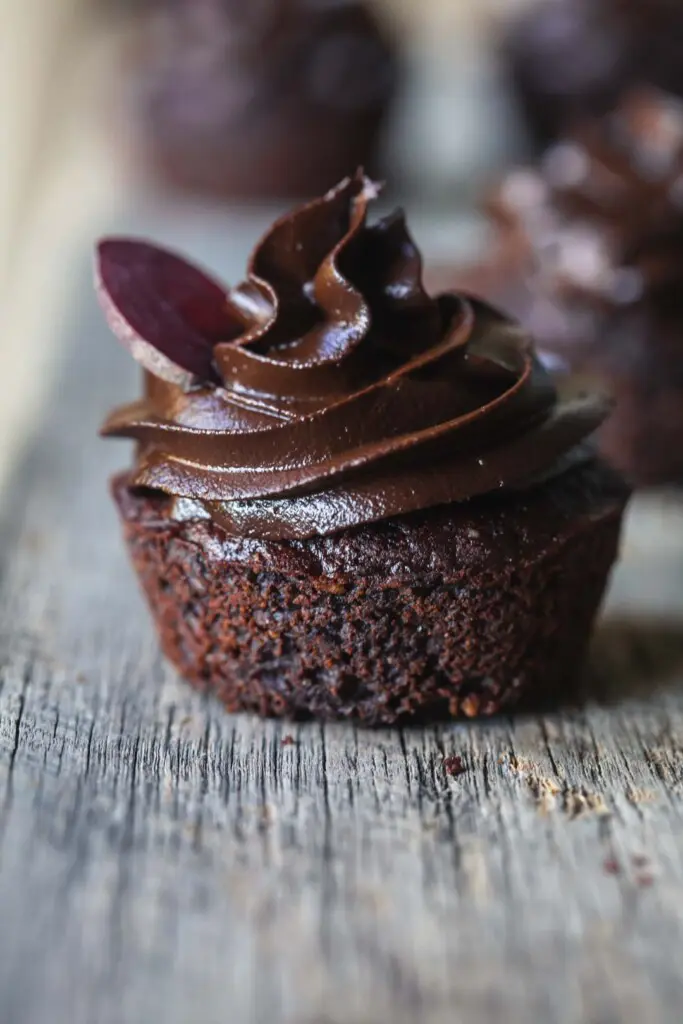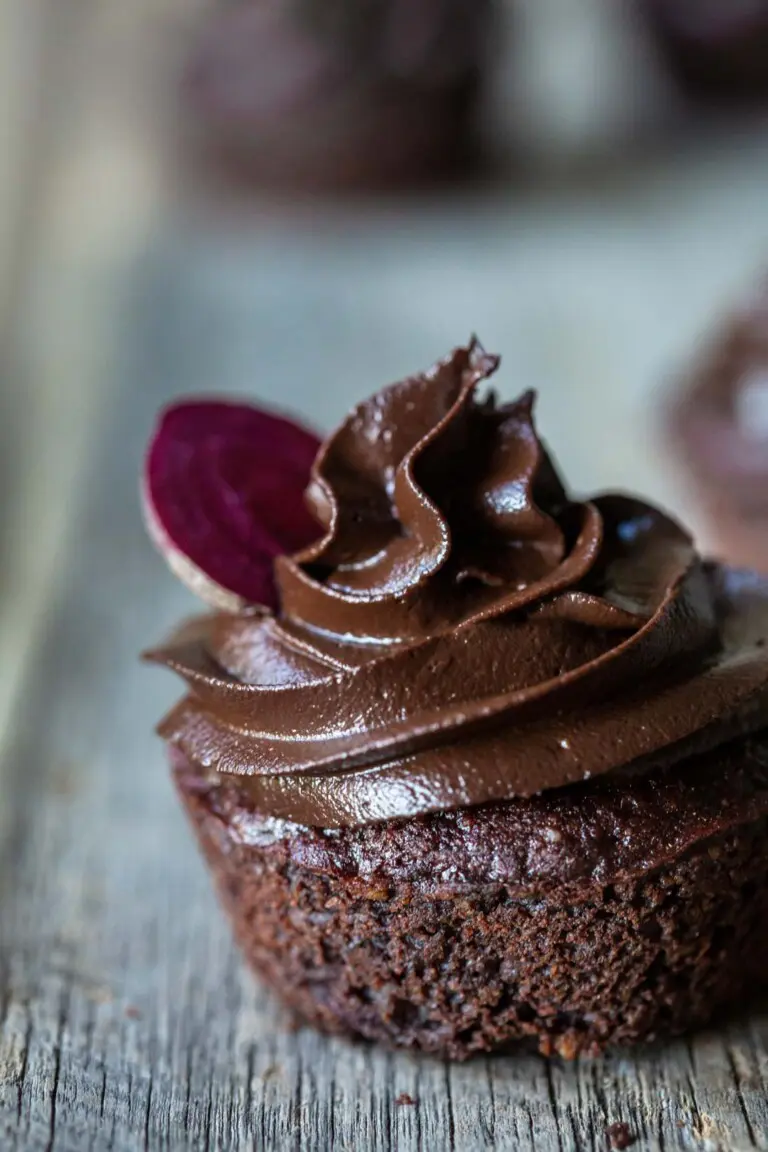 You'll have to excuse me if you hear the sound of my face planting in to my keyboard today; we are transitioning the elf to her "big girl" bed. And it's a process. A process where I sleep on the couch to hear if she calls out and end up on the floor in her room.
We have been doing this for three nights now and I am beginning to think I gave birth to the terminator. As I wake up peeling my eyelashes apart so I can see, the Elf bounds out of bed, indefatigable. I know her sleep is broken but she doesn't seem to feel it.
It is one of the universe's twisted little jokes that children can suck the very marrow from your sleep but not have any need for it themselves.
UPDATE: Two years later and our little one has only just gone in to her own bed full-time! What the....?
Amongst all this sleepless chaos, however, we have cake. Vegan Chocolate Beetroot Cakes. And cake equals good.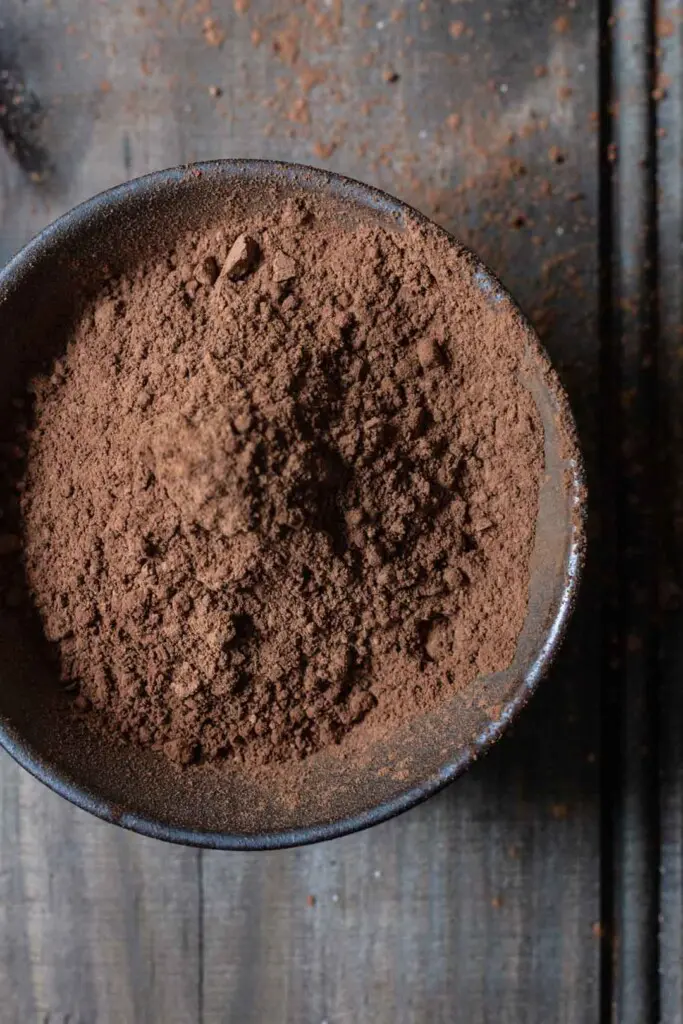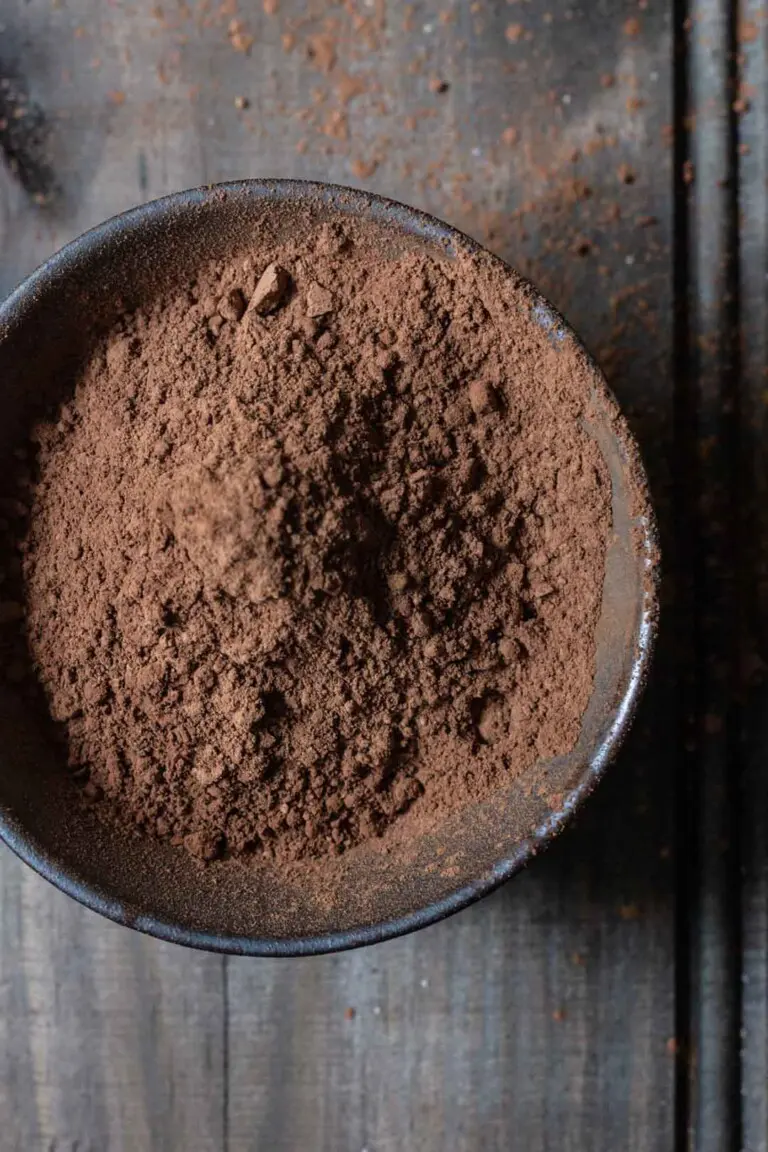 While I am not one to run from a full-fledged chocolate binge - I'm looking at you raw caramel fudge truffles- it does the mind good knowing these vegan chocolate beetroot cakes at least try to be healthy. They contain simple, whole ingredients:
Raw beetroot
Sunflower seeds
Buckwheat flour
Apple sauce and
Cocoa
Combined they create a moist little cake that isn't too sweet. With a half-cup of brown sugar shared amongst twelve cakes, it isn't too bad on the sugar either.
I paired our cakes with an inspired chocolate avocado frosting but if you wanted a sweeter topping, the chocolate ganache from my loved up raw chocolate cake would work a treat. Or you could try my basic vegan chocolate frosting recipe. A vegan cream cheese topping would also be heavenly; note to self.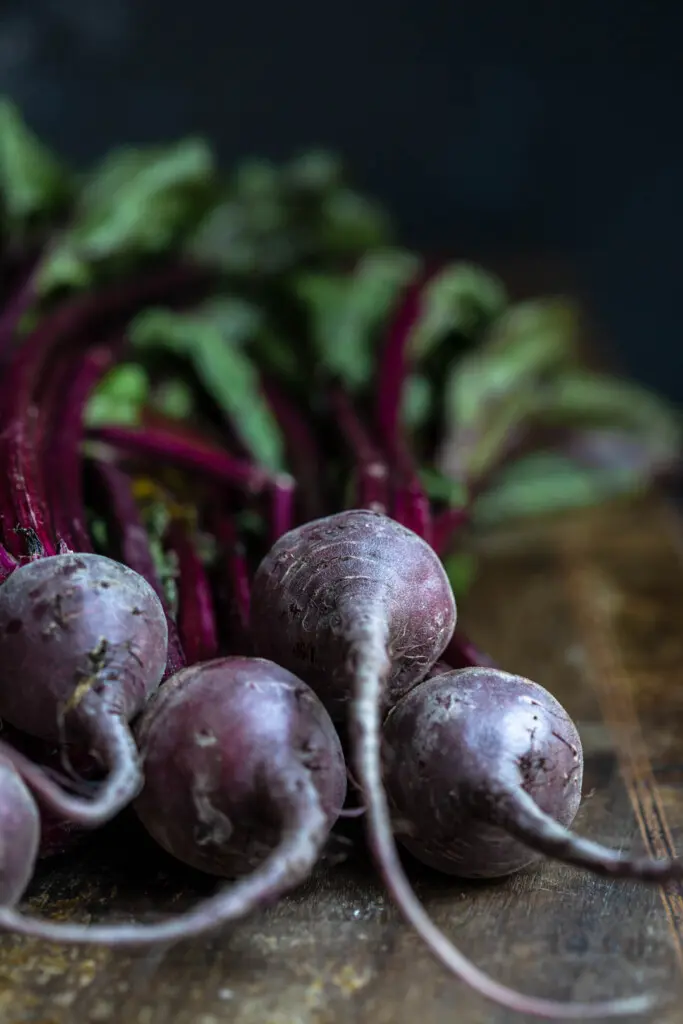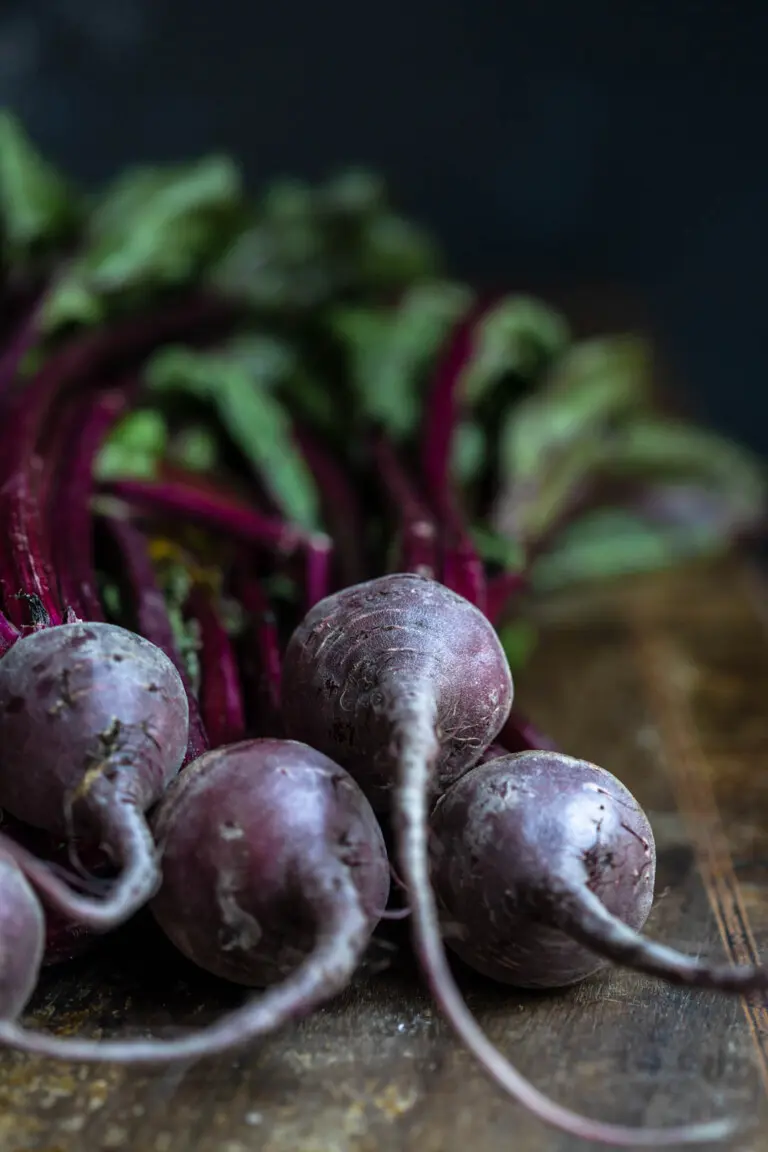 Chocolate and Beetroot Are a Match Made in Heaven
Beetroot and Chocolate are made for each other. While the chocolate provides that familiar rich cocoa flavour, the beetroot lends an earthy sweetness. I used sunflower seeds to create a nut-free cake but almond meal would add another nutty flavour layer.
Health-wise, beetroots are packed with essential nutrients, are a great source of fiber, folate (vitamin B9), manganese, potassium, iron, and vitamin C. While cocoa is rich in polyphenols, which have significant health benefits, including reduced inflammation and improved cholesterol levels | Source: Healthline.
These lovely little cakes are a little gift to myself; if I can't have sleep I will l have cake.
These little vegan chocolate beetroot cakes are a gorgeously chocolatey treat made better by wholesome ingredients and a wonderful balance of flavours.
Enjoy.
If you need a little more beetroot in your life try my awesome beet butter (nut free) recipe or my get glowing beetroot and berry chia pots.
Hungry for More Plant-Based Goodness? Subscribe to my newsletter and follow along on Facebook, Pinterest and Instagram for all the latest news and updates
If you like this recipe, please check out my cookbook. Great Vegan Meals for the Carnivorous Family is full of simple, carnivore-approved family recipes.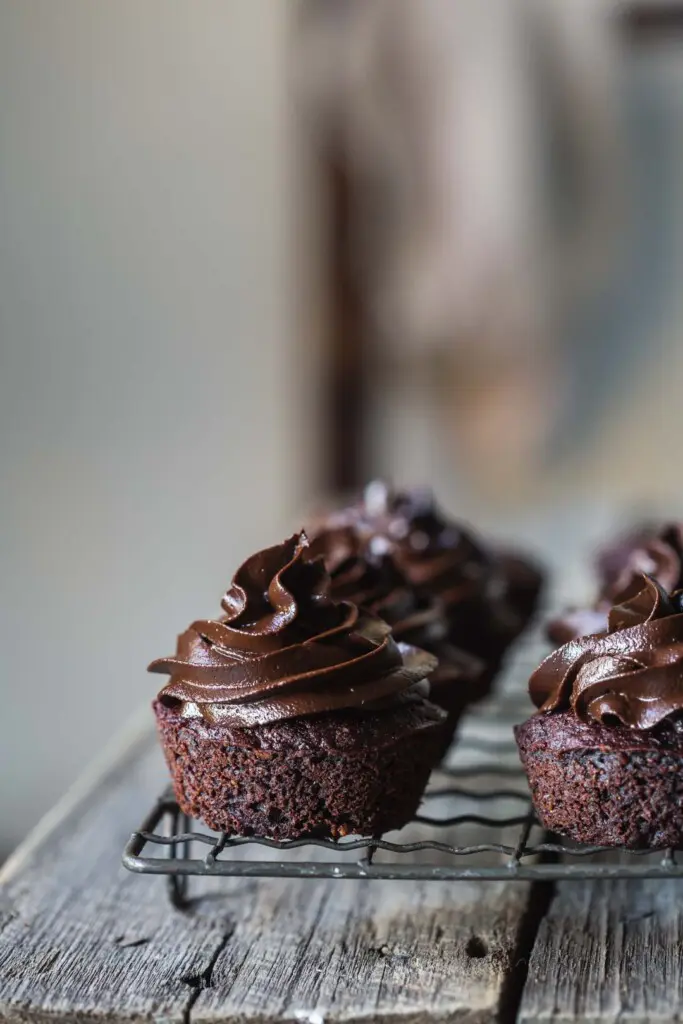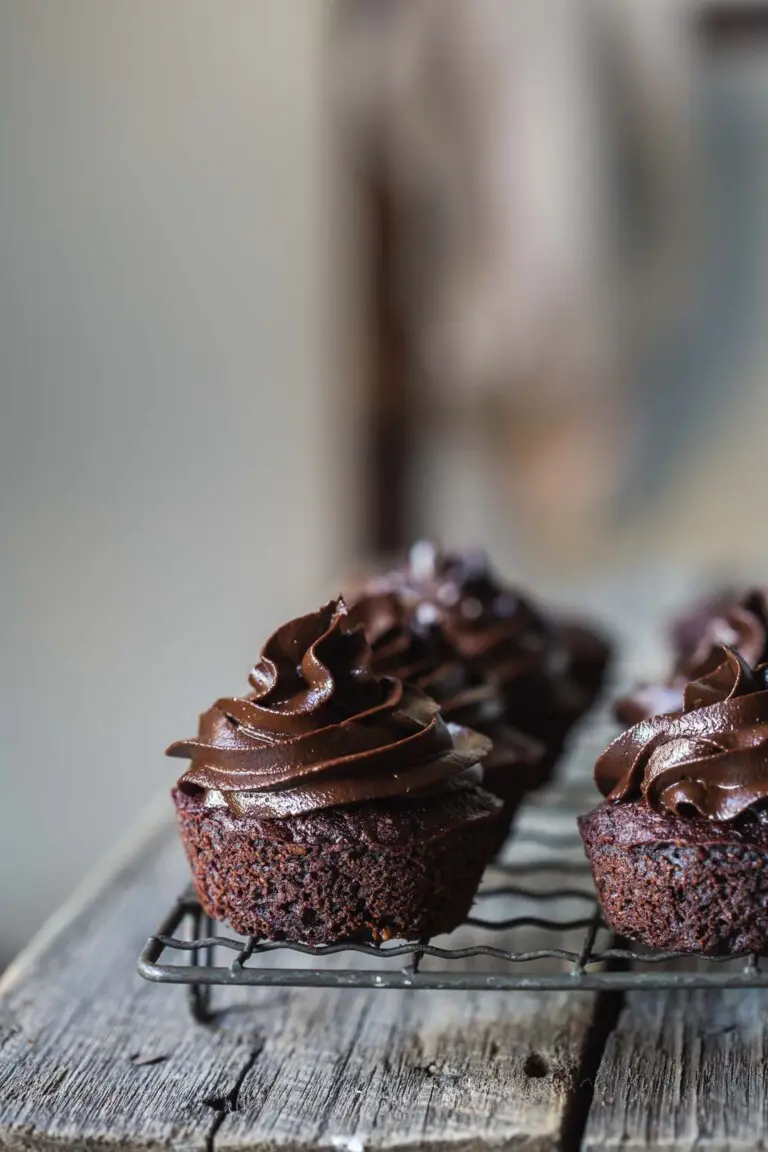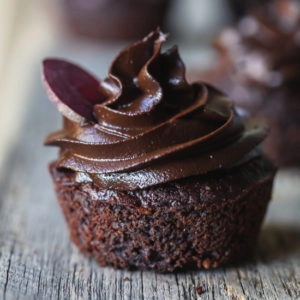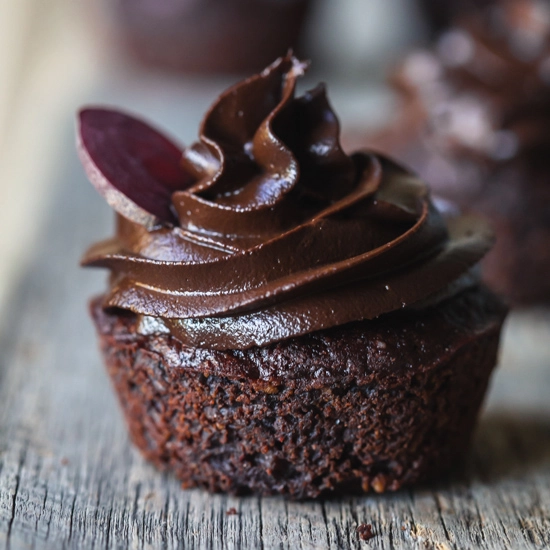 Chocolate Beetroot Cakes
On the days you just need cake, these wicked vegan chocolate beetroot cakes with chocolate avocado frosting are a sweet and rich treat minus the guilt. (GF)
Print
Pin
Rate
Equipment
blender or food processor
Ingredients
Beetroot and Chocolate Cakes
Wet Ingredients
180

grams

raw beetroot

weighed after peeling, grated on the larger hole side of a box grater.

½

cup / 125ml

dairy-free milk

I like soy milk for baking.

½

cup / 125ml

apple sauce

¾

cup / 130g

granulated sugar

raw

¼

cup / 60ml

olive oil

1

teaspoon

vanilla extract
Dry Ingredients
½

cup / 75g

sunflower seeds

ground in to a meal like almond meal or just use almond meal if you are not nut-free

½

cup / 65g

buckwheat flour

sifted

½

cup / 45g

cacao or cocoa powder

sifted

2

teaspoon

baking powder

¼

teaspoon

salt
Chocolate Avocado Frosting
2

ripe avocados

⅓

cup + 1 tbsp

cacao or cocoa

around 45 - 50 grams

2-3

tablespoon

maple syrup

pinch

sea salt
Instructions
For the Cakes
Preheat the oven to 170°C (340℉) or 150℃ fan (302℉) and grease or line a 12-pan muffin or cupcake pan. I usually get 10-11 cakes from this recipe. You can make it into a small 6-inch cake, just line and grease the tin. The baking time is around the same.

Peel and grate the beetroot into a large bowl. I peel and weigh my beetroot and then grate it leaving a small nub at the end to protect my fingers (I have a healthy fear of my box grater). Don't worry too much about it - I would say about 175g goes into the cake.

Add the remaining wet ingredients to the beetroot and mix well to combine.

To make the sunflower meal, pop the seeds in a blender or a small food processor. Blitz until you have the texture of almond meal.

In a separate bowl, combine the sunflower seed meal (or almond meal), buckwheat flour, cocoa powder, baking powder and salt.

Add the wet mixture to the dry.

Mix until combined and spoon evenly among the lined cake moulds - fill each around two-thirds of the way up.

Bake in the oven for 21 -24 minutes or until the sides of the cakes are pulling away and the top is domed. You should be able to gently push the top of the cake and have it given you resistance. If it feels too soft on the top, pop the cake in for another minute or two and check again.

Remove from the oven and allow to cool for 5 minutes before gently removing each cake out of the moulds to cook completely.
For the Avocado Chocolate Frosting
To make the avocado frosting, place the avocados in a food processor and process until smooth. Add the cacao or cocoa, two tablespoons of maple syrup and a pinch of sea salt.

Process until smooth and taste. If the avocado is still coming through add the third tablespoon of maple and a tiny bit more cocoa. Process to combine. 

Fill a piping bag with the frosting and pipe on to each cake before serving.
Notes
If you would like the frosting sweeter, add a tablespoon of icing sugar. 
I use Australian cups and measures where a cup is 250ml and a tablespoon is 20ml. 
Notes
I peel and weigh my beetroot and then grate it leaving a small nub at the end to protect my fingers - I have a healthy fear of my box grater and don't get me started on my mandoline slicer.

Don't worry too much about it - just get most of the beetroot in. No cake is worth your finger tips. 

I prefer making these cake as cupcakes and line my pans rather than grease them. While greasing is fine if you are confident of the non-sticky-ness of your muffin tray, lining your moulds takes out the guess work. I use washable silicone liners. 
Wear gloves! Beetroot stains. Trust me - I've been there. 
Oven temperatures vary (up to 20 degrees!) so I have set the temp at around 170 degrees C. These cakes are delicate so we are going a little more gently with the heat. I recommend buying an oven thermometer if you're not sure. They are only around 15 or 20 bucks and they are well worth the investment. 
Nutrition
Calories:
367
kcal
|
Carbohydrates:
45
g
|
Protein:
8
g
|
Fat:
23
g
|
Saturated Fat:
4
g
|
Polyunsaturated Fat:
4
g
|
Monounsaturated Fat:
13
g
|
Sodium:
81
mg
|
Potassium:
723
mg
|
Fiber:
11
g
|
Sugar:
22
g
|
Vitamin A:
144
IU
|
Vitamin C:
6
mg
|
Calcium:
104
mg
|
Iron:
4
mg
Tried This Recipe?
I'd love to hear your feedback. Rate it & leave your feedback in the comments section below. Or you can tag @mygoodnesskitchen or hashtag #mygoodnesskitchen on Instagram.