On the days you just need cake, these wicked vegan chocolate beetroot cakes with chocolate avocado frosting are a sweet and rich treat minus the guilt. Made with sunflower seeds, raw cocoa and robust beets, this recipe might even be a little bit good for you.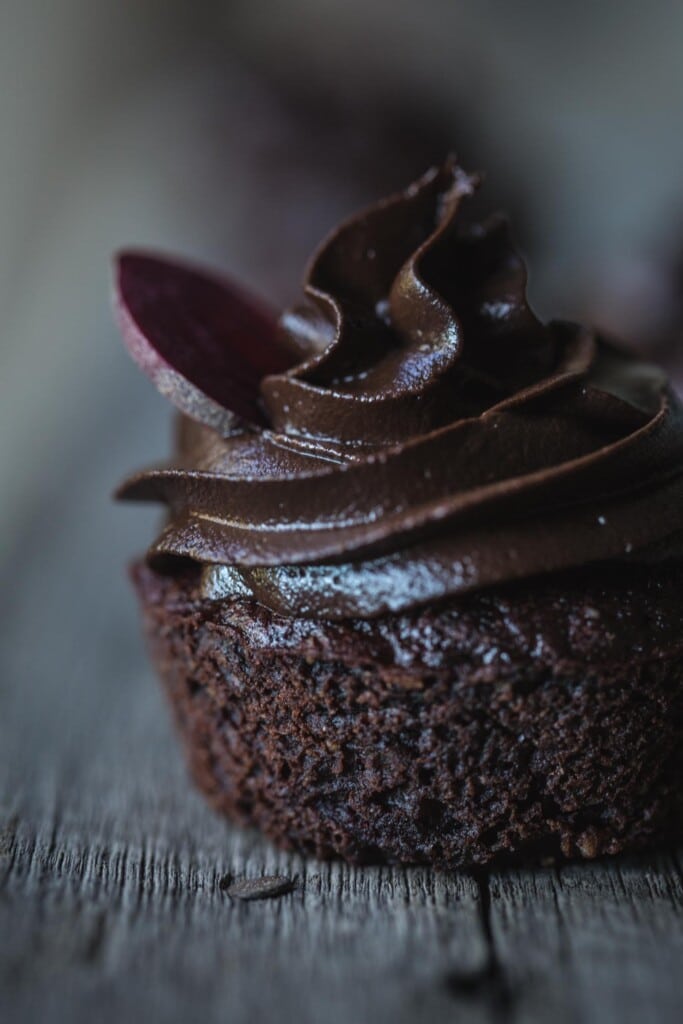 You'll have to excuse me if you hear the sound of my face planting in to my keyboard today; we are transitioning the elf to her "big girl" bed. And it's a process. A process where I sleep on the couch to hear if she calls out and end up on the floor in her room.
We have been doing this for three nights now and I am beginning to think I gave birth to the terminator. As I wake up peeling my eyelashes apart so I can see, the Elf bounds out of bed, indefatigable. I know her sleep is broken but she doesn't seem to feel it. It is one of the universe's twisted little jokes that children can suck the very marrow from your sleep but not have any need for it themselves. Having said that, I know her batteries must run out sooner or later. Hopefully later when the husband is home from work.
Amongst all this sleepless chaos, however, we have cake. And cake equals good.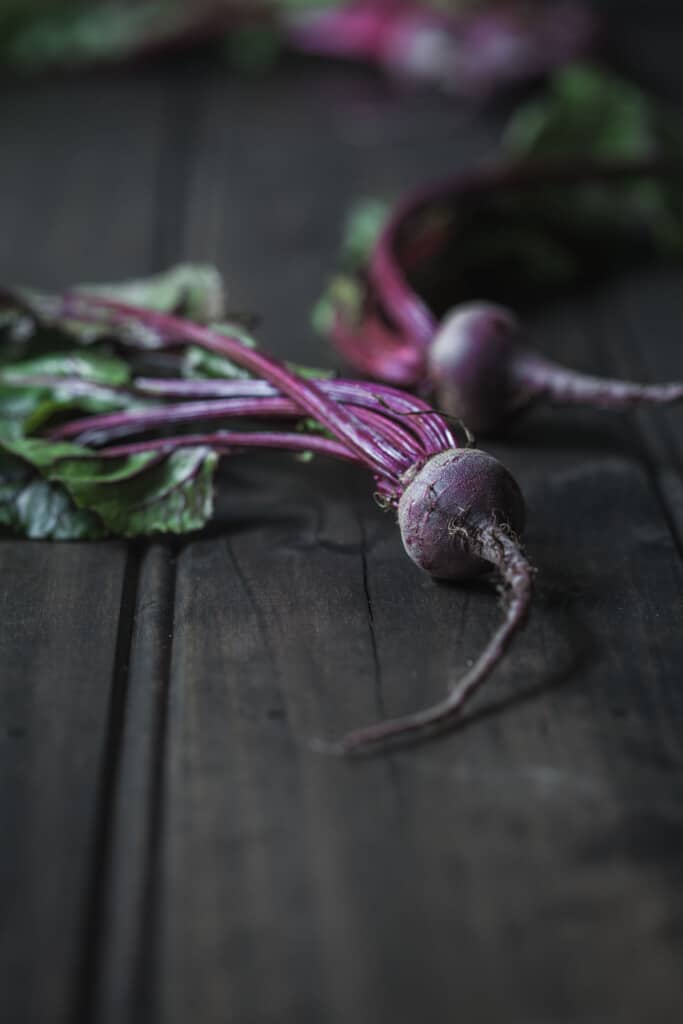 While I am not one to run from a full-fledged chocolate binge, it does the mind good knowing these wicked vegan chocolate beetroot cakes at least try to be healthy. Raw beetroot, sunflower seeds, buckwheat flour, apple sauce and cocoa combine to create a moist little cake that isn't too sweet. With a half-cup of brown sugar shared amongst twelve cakes, it isn't too bad on the sugar either.
I paired our cakes with an inspired chocolate avocado frosting but if you wanted a sweeter topping, the chocolate ganache from my Loved Up Raw Chocolate Cake would work a treat. A vegan cream cheese topping would also be heavenly; note to self.
Beetroot and Chocolate are made for each other. While the chocolate provides that familiar rich cocoa flavour, the beetroot lends an earthy sweetness. I used sunflower seeds to create a nut-free cake but almond meal would add another nutty flavour layer.
These lovely little cakes are a little gift to myself; if I can't have sleep I will damn well have cake.
So, as I wonder around the house in a parental daze, I am clear about one thing. These little vegan chocolate beetroot cakes are a gorgeously chocolatey treat made better by wholesome ingredients and a wonderful balance of flavours. As I set up camp for another night of "process" I will be sure to pack a few of these guys for the journey ahead.
Enjoy.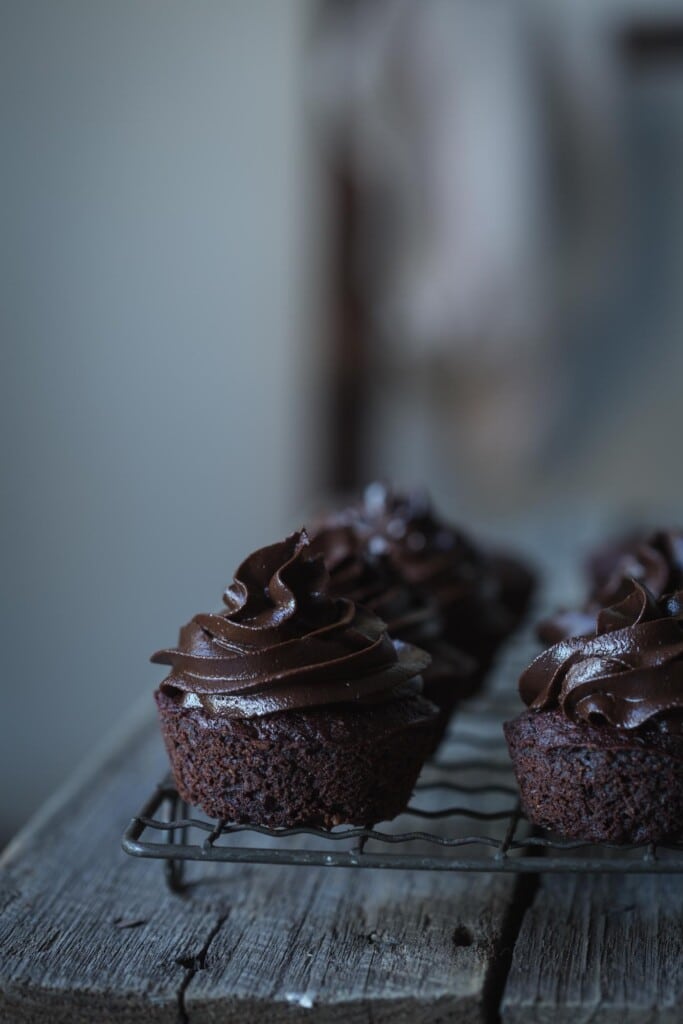 Wicked Vegan Chocolate Beetroot Cakes
On the days you just need cake, these wicked vegan chocolate beetroot cakes with chocolate avocado frosting are a sweet and rich treat minus the guilt. (GF)
Ingredients
Beetroot and Chocolate Cakes
200

grams

raw beetroot

peeled and grated

1/2

cup

buckwheat flour

1/2

cup

sunflower seed meal

blitz a scant 1/2 cup of seeds in the processor until the consistency of almond meal (around 55 grams)

1/2

cup

brown sugar + 1 tablespoon

optional if you like it a bit sweeter - around 80 grams total

1/2

cup

apple sauce

125 ml

1/2

cup

dairy-free milk

125 ml

1/2

cup

cacao or cocoa powder

60 grams

2

teaspoons

baking powder

8 grams (gluten-free if required)

1/4

cup

olive oil

60ml

pinch

sea salt
Chocolate Avocado Frosting
2

ripe avocados

1/3

cup + 1 tbsp

cacao or cocoa

around 45 - 50 grams

2-3

tablespoons

maple syrup

40 - 60 ml

pinch

sea salt
Instructions
Preheat the oven to 160 degrees C and grease a 12-pan muffin or cupcake pan.

Grate the beetroot and place it in a large mixing bowl with the other cake ingredients. 

Mix until just combined  and spoon evenly among the greased cake moulds. 

Bake in the oven for 20 -23 minutes or until cooked through (a skewer should come away clean from the centre)

Remove from the oven and allow to cool for 5 minutes before turning out to cool completely. 

To make the avocado frosting, place the avocados in a food processor and process until smooth. Add the cacao or cocoa, two tablespoons of maple syrup and a pinch of sea salt.

Process until smooth and taste. If the avocado is still coming through add the third tablespoon of maple and a tiny bit more cocoa. Process to combine. 

Fill a piping bag with the frosting and pipe on to each cake before serving.
Notes
If you would like the frosting sweeter, add a tablespoon of icing sugar.