Last updated on October 24th, 2020 at 09:00 am
When your body needs a boost, this detox salad with orange miso dressing is nutritious and loaded with digestive supporting ingredients. Best of all, it's delicious and so easy to pull together.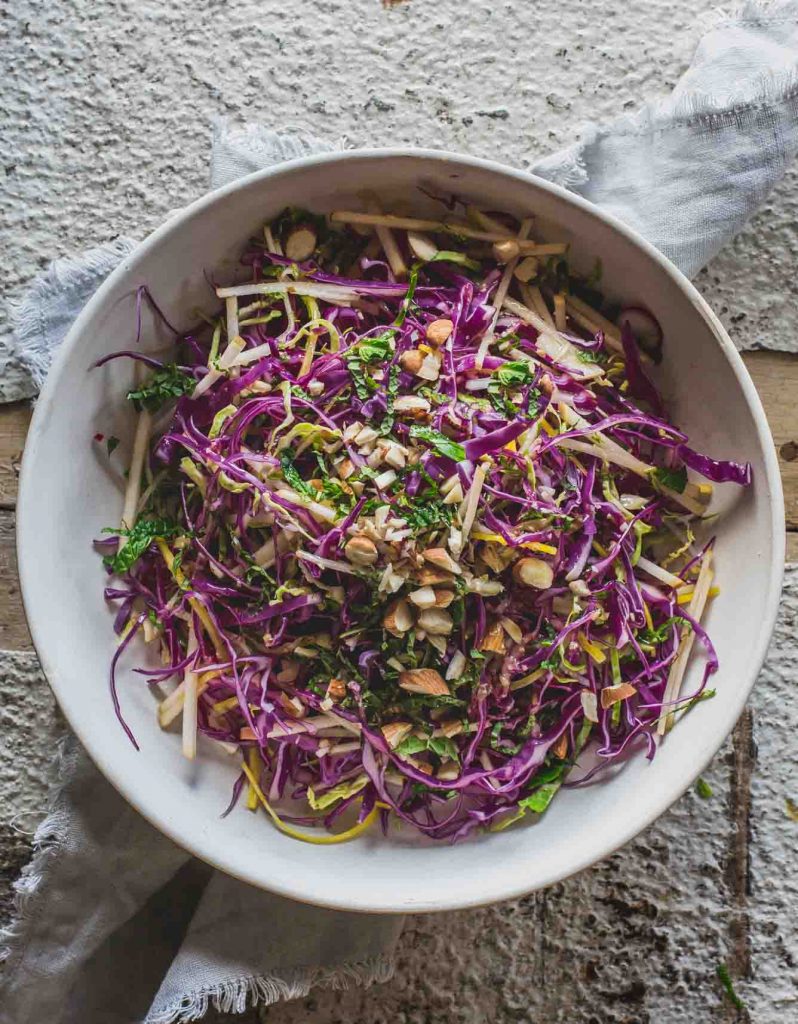 Ever wondered what a human shag on a rock might look like? I'll send you a photo. Boy, have the last couple of weeks knocked me around. I have pretty good energy levels, I run most days and generally don't need too much sleep to refuel.
Recently though, I have felt less like Wonder Woman and more like the limp lasso hanging from her belt. At the risk of sounding like a wah-wah, I am feeling run down. Perhaps it's the aftermath of finishing my cookbook or chasing a 4 year-old around or perhaps it's the cold that won't shift, who knows? What I do know is it's annoying as hell. Feeling flat when you don't have time to be flat is a flat-out pain in the arse.
Detoxing for Non-detoxers
Now to be honest, I don't detox. I am not one for cutting out foods - besides the obvious (hello! vegan food blog) - but I do think adding some cleansing foods to the weekly rotation is a good way for us less motivated types to jump on the detox wagon without picking up the reigns.
Like any room in the house, our bodies can always benefit from a spring clean. I love my spring clean golden soup in cooler weather but for the warmer months I can't go past a salad. This detox salad with orange miso dressing is full of wonderful raw ingredients known to support the digestive process and tasty enough to eat for days.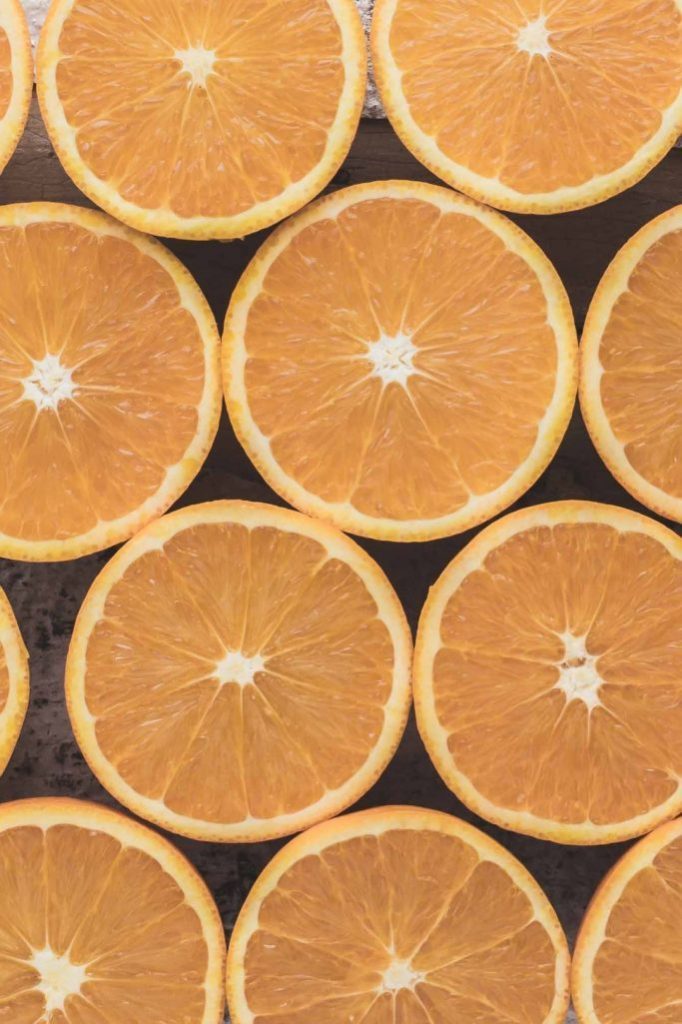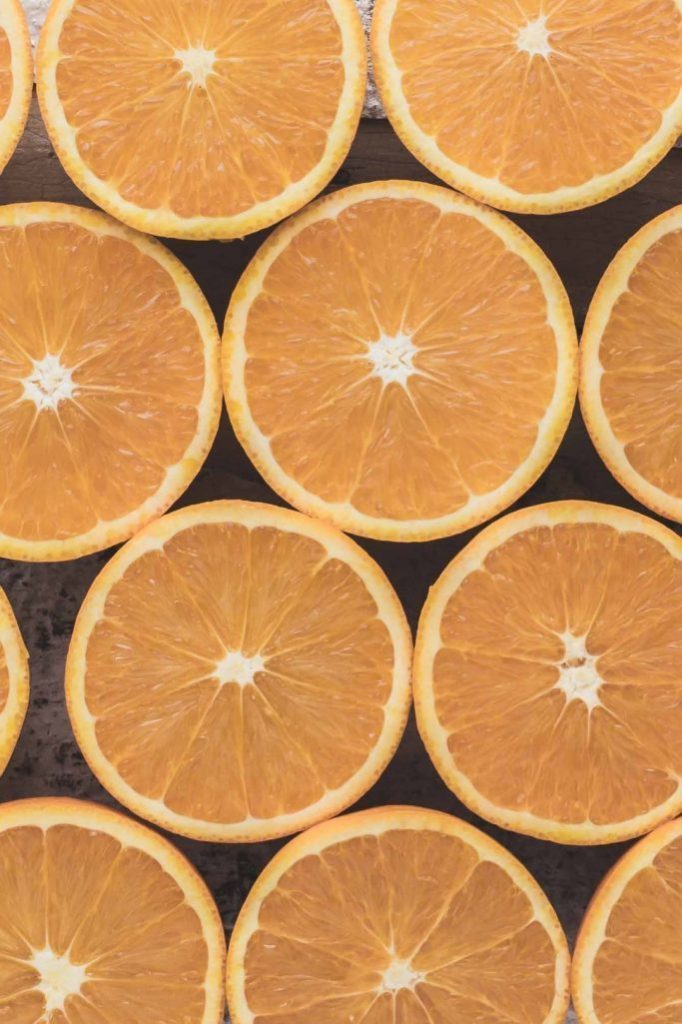 How to Make a Detox Salad
Filling your salad with nutritious ingredients that support your body's natural detoxification process is the cornerstone of a detox salad. While you can literally play with your food to create your own detox blend, the following ingredients from my salad are easily sourced and delicious.
Cabbage - loaded with Vitamin C and sulphur, cabbage helps to remove free radicals and uric acid from the body. Cabbage is also high in fibre and antioxidants
Raw Carrot - carrots contain Vitamins A, B1, B2, B3, B6, C and an army of nutrients including folate, niacin and pantothenic acid. Important to the detoxification process, Vitamin A helps flush toxins from the body and reduces fat from the liver
Apple - dietary fibres found in apples help to flush the body while antioxidants protect cells from free radicals
Brussels Sprouts - a cruciferous vegetable, sprouts support both Phase 1 (the breaking down of toxins) and Phase 2 (the removal of toxins) within the body. They are also a good source of antioxidants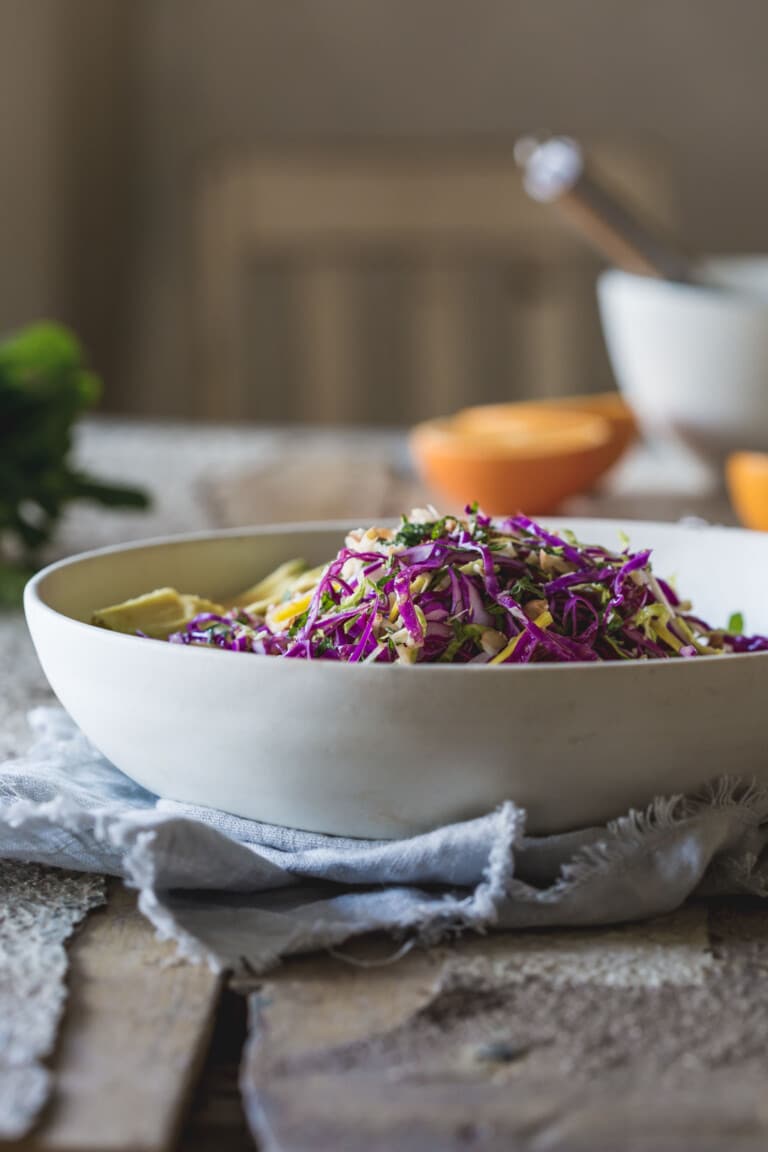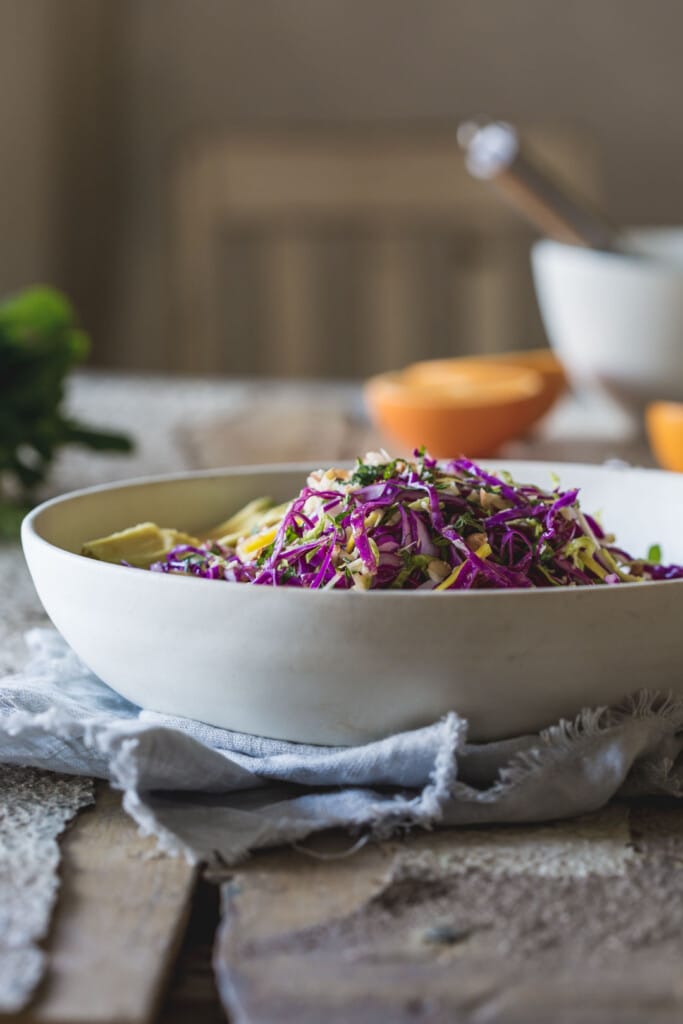 Avocado - eating good fats like those within the avocado is essential to detoxing as they stimulate bile production in the gallbladder
Radish - besides being a member of the cruciferous family, radishes contain a special compound that acts as an antioxidant during Phase 2 detoxification
Mint - mint is thought to improve the flow of bile through the stomach speeding up the digestion process (if you love mint check out my roast chickpea bowl with preserved lemon and mint recipe. So good!)
Orange - with vitamin C, fibre and antioxidants, oranges are naturally good for you.
Tastes Good Detox
While this detox salad is perfect to clean the pipes, so to speak, the combination of crunchy cabbage, carrot, sprouts radish and almonds balanced by creamy avocado and sweet apple make it a kick-arse tasty salad . Add my slightly sweet, slightly salty orange and miso dressing and I think this bowl will be on our rotation for a good long while. If this is detoxing then maybe I should pick up the reigns. Enjoy.
NB: While radishes are most nutritious raw, you can roast them to soften their heat like in my roasted radish mini bagel recipe.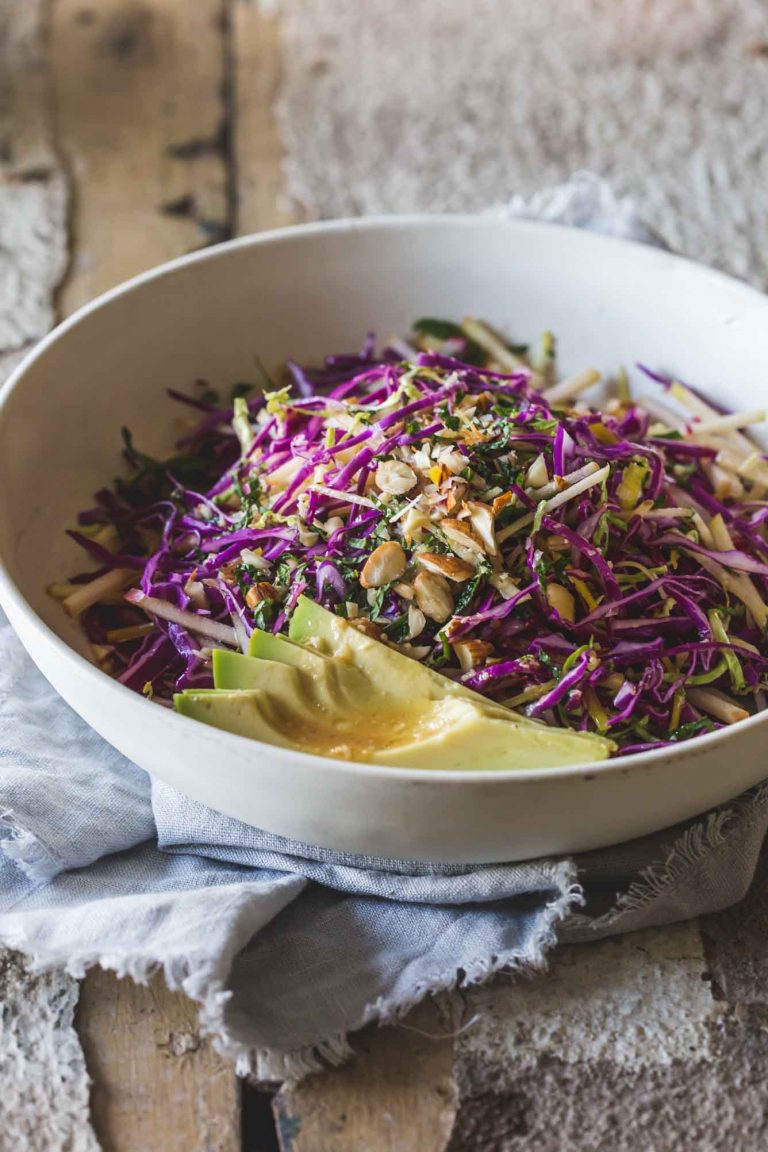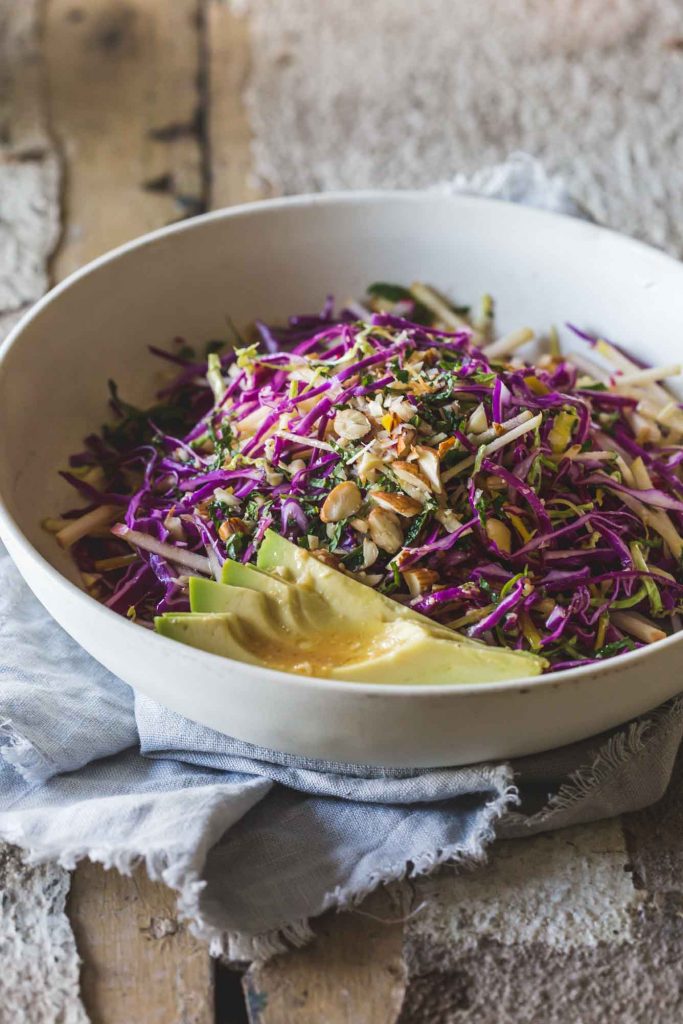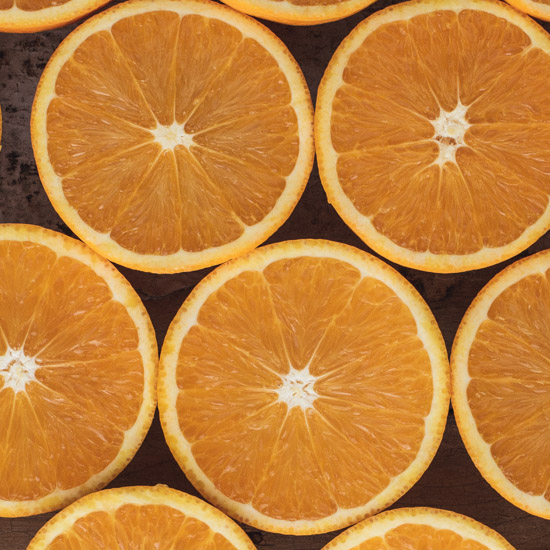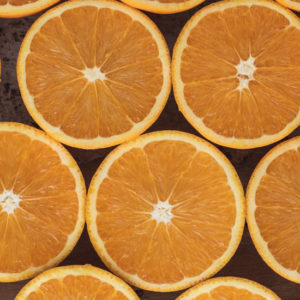 Delicious Detox Salad with Orange Miso Dressing
When your body needs a boost, this delicious detox salad with orange miso dressing is not only nourishing but completely yum.

Print
Pin
Rate
Ingredients
Detox Salad
3

cups

red cabbage

finely sliced

4

Brussel Sprouts

finely sliced

3-4

radishes

sliced julienne

1

carrot

peeled and sliced julienne

1

fuji apple

cored and sliced julienne

¼

fresh mint leaves

finely sliced

½

avocado

peeled, deseeded and thinly sliced

½

cup

almonds or hazelnuts

roughly chopped

¼

sea salt
Orange Miso Dressing
⅓

cup

freshly squeezed orange juice

around 2 oranges

1

tablespoon

white miso paste

1

garlic clove

minced

2

tablespoon

sunflower oil
Instructions
Add the red cabbage, Brussel sprouts, radish, carrot, apple and mint to a large mixing bowl.

In a small bowl whisk together the orange juice, miso and garlic before adding the sunflower oil in a steady stream, still whisking.

Add around a quarter of the dressing to the salad mixture and toss through.

To serve, add the dressed mixture to a serving bowl and top with the chopped almonds and sliced avocado. Drizzle a little more dressing to salad - to taste - and season with sea salt.
Notes
Placed the sliced apple in a small bowl of water with a good squeeze of lemon juice to stop it from browning. When you are ready to mix the salad, drain the apple to add it
Nutrition
Calories:
377
kcal
|
Carbohydrates:
32
g
|
Protein:
9
g
|
Fat:
26
g
|
Saturated Fat:
2
g
|
Sodium:
293
mg
|
Potassium:
842
mg
|
Fiber:
10
g
|
Sugar:
15
g
|
Vitamin A:
4720
IU
|
Vitamin C:
94.3
mg
|
Calcium:
128
mg
|
Iron:
2.4
mg
Tried This Recipe?
I'd love to hear your feedback. Rate it & leave your feedback in the comments section below. Or you can tag @mygoodnesskitchen or hashtag #mygoodnesskitchen on Instagram. Thank you!