Last updated on February 21st, 2021 at 08:49 am
Rich, moist and deliciously light, these vegan chocolate cupcakes are simple to make and guaranteed to please vegans and non-vegans alike.
Made using everyday kitchen ingredients, these cupcakes come together in around 30-minutes. If you are looking for a classic chocolate cupcake that happens to be vegan, you're in the right place.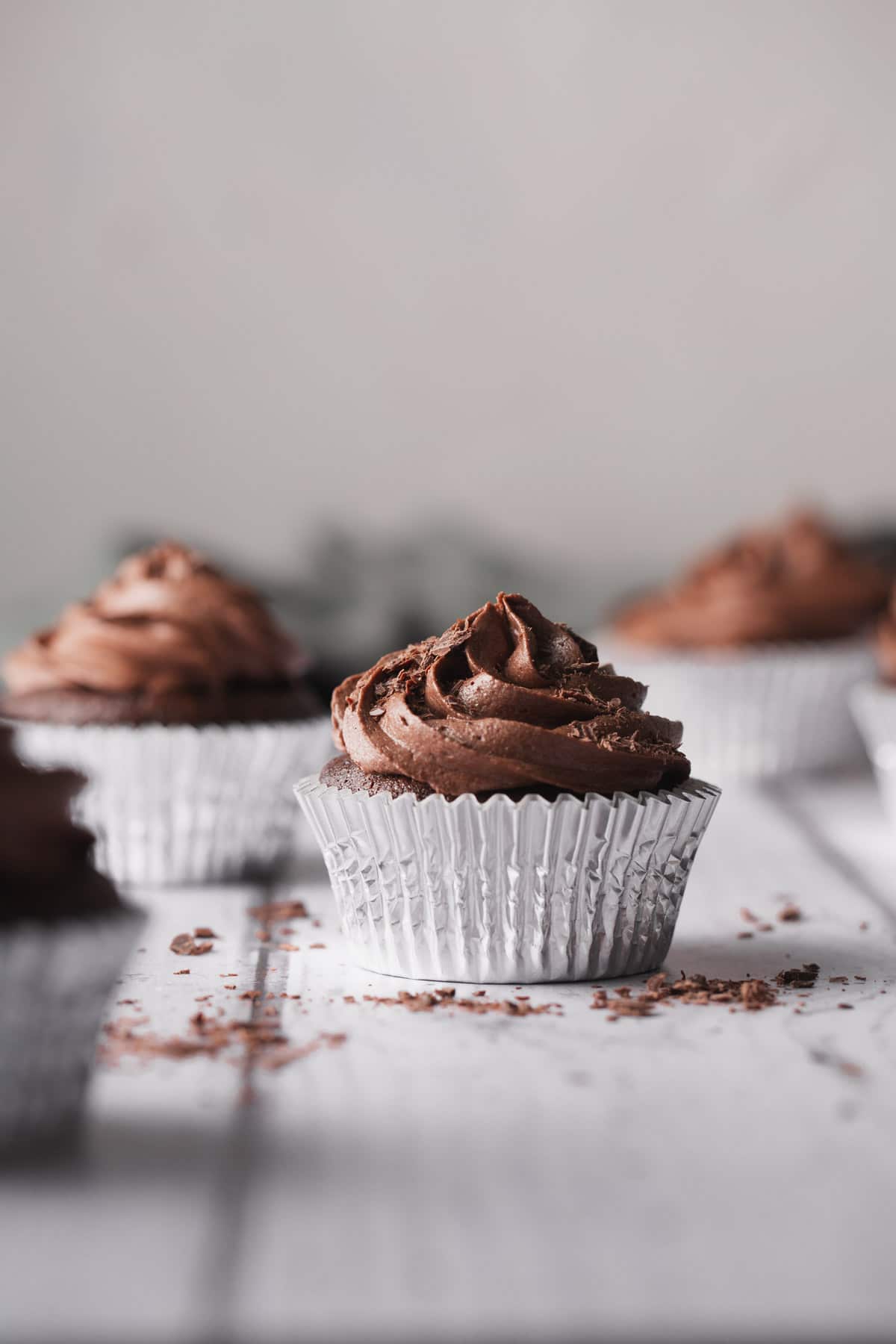 Cupcakes are just muffins that believed in miracles

unknown
Why Make These Cupcakes?
These vegan chocolate cupcakes will not steer you wrong. They are:
So easy to make with no creaming of butters and what-not
Light and fluffy
Will keep for days because we use oil not butter
Come together in no time, perfect for an emergency treat
The perfect cupcake for birthday parties where food allergies are an issue.
Top with a quick and simple basic chocolate frosting or indulge in my vegan chocolate buttercream frosting.
Ingredient Notes for a Vegan Cupcake
If you've read my article DIY Vegan Egg Substitutes you'll know that before you choose an egg replacement for plant-based cooking, you need to know what the egg does in the original recipe.
In cupcakes eggs provide moisture, fat and structure. Eggs coagulate as the cake bakes and, with the starch from the flour, form the crumb.
Meanwhile butter, and all fats in general, create baked goods that are more tender. Think about a plain bread roll verses a buttery brioche bun. Butter also provides flavour.
So, how do we make awesome vegan chocolate cupcake without butter or eggs? The answer is simpler than you think. In this recipe we are using a mixture of buttermilk (for making a tender crumb), sunflower oil (for fat) and leavening agents for lift and structure.
All of these ingredients are most likely in your pantry! Don't worry, we're going to make the buttermilk ourselves. Are you ready?
Sources: Baker Bettie and Baking Sense.
Recipe Step-By-Step
You'll find full instructions and measurements in the recipe card at the bottom of the post. The following is a summary of the steps to go along with the process photos.
This recipe for vegan chocolate cupcakes is easy-peasy. It only takes a few steps.
Step 1: Sift the flour, cocoa, baking powder, baking soda and salt in a bowl. Whisk in the sugar.
Step 2: Combine apple cider vinegar with dairy-free milk (not coconut) to make vegan buttermilk in a separate bowl. Whisk in the oil and vanilla.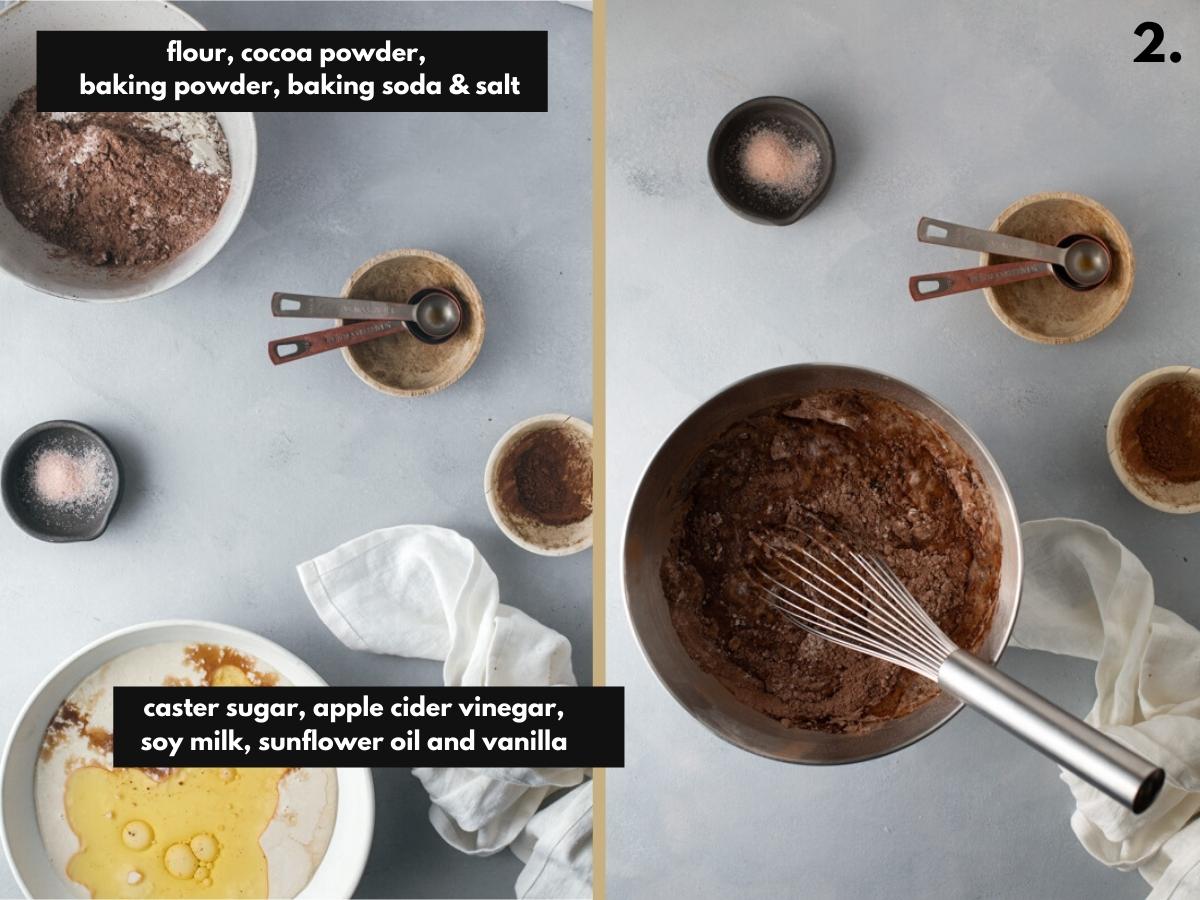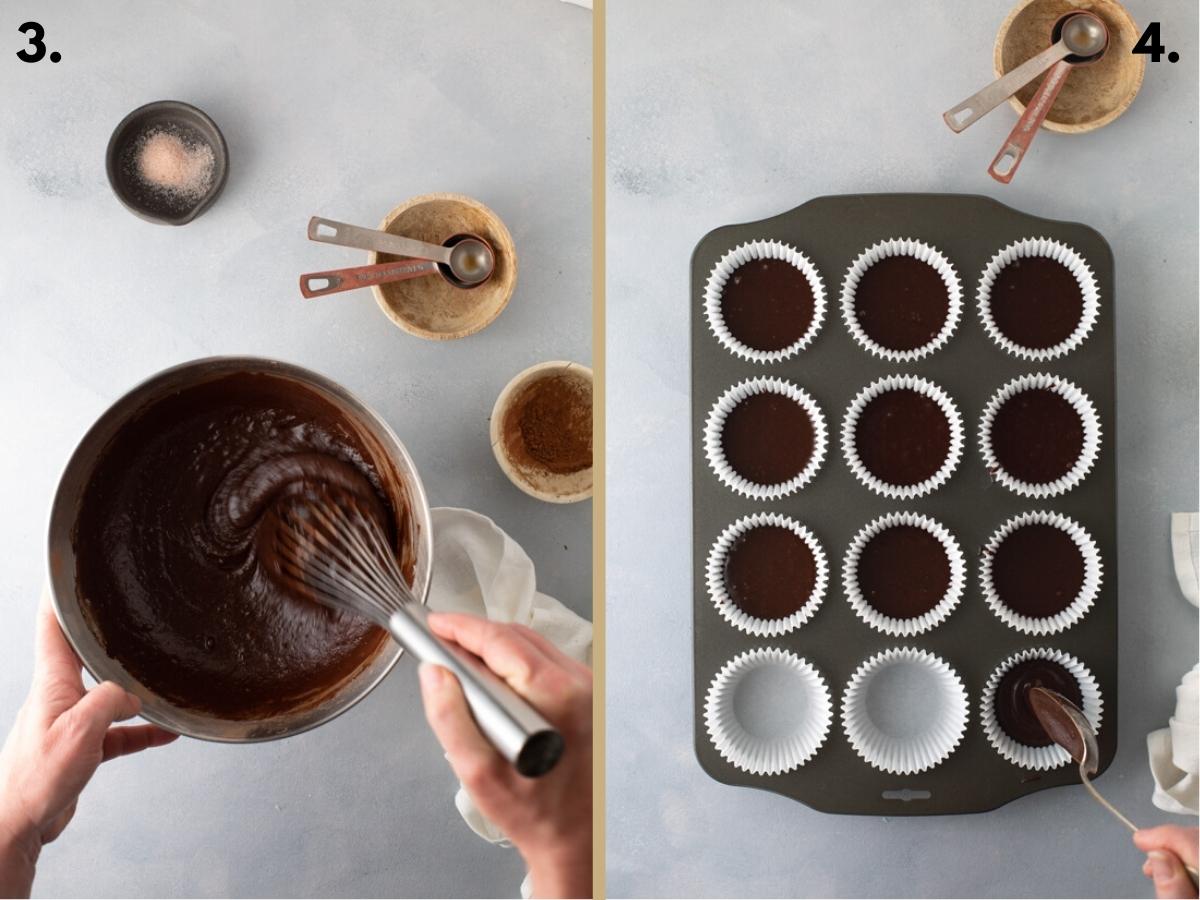 Step 3 and 4: Add the wet ingredients to the dry. Whisk until just combined and fill your cupcake (patty) liners half-way. Only half-way - this is important.
Step 5: Bake for 21 minutes at 175 degrees C.
Then, it's the fun part. Allow the cakes to cool and top with your favourite frosting.
A Note On Oven Temperatures
Wouldn't it be great if all ovens worked the same? But they don't. Bummer. I have a SMEG oven and it has something called Fan Assist. I bake my cupcakes at 175 degrees C ( 350 degrees F) set with an oven thermometer for 21 minutes and they come out perfectly.
Ovens vary in temperature so the best way to ensure perfect baking is to use an oven thermometer. They are only a few dollars and you get a perfect temperature whether you have a convection or conventional oven.
Cupcake Random Facts
I can't help myself, I love a random food story or factoid.
The first official use of the term cupcake was in 1828 in a cookbook written by author and etiquette expert Eliza Leslie.
According to the Guinness Book Of World Records the largest cupcake was baked in Sterling, Virgina in 2011 and weighed 1,176.6kg (2594 lb).
The most expensive cupcake ever made cost $42, 000 and was embellished with .75 carat diamonds. Whaaaaaat?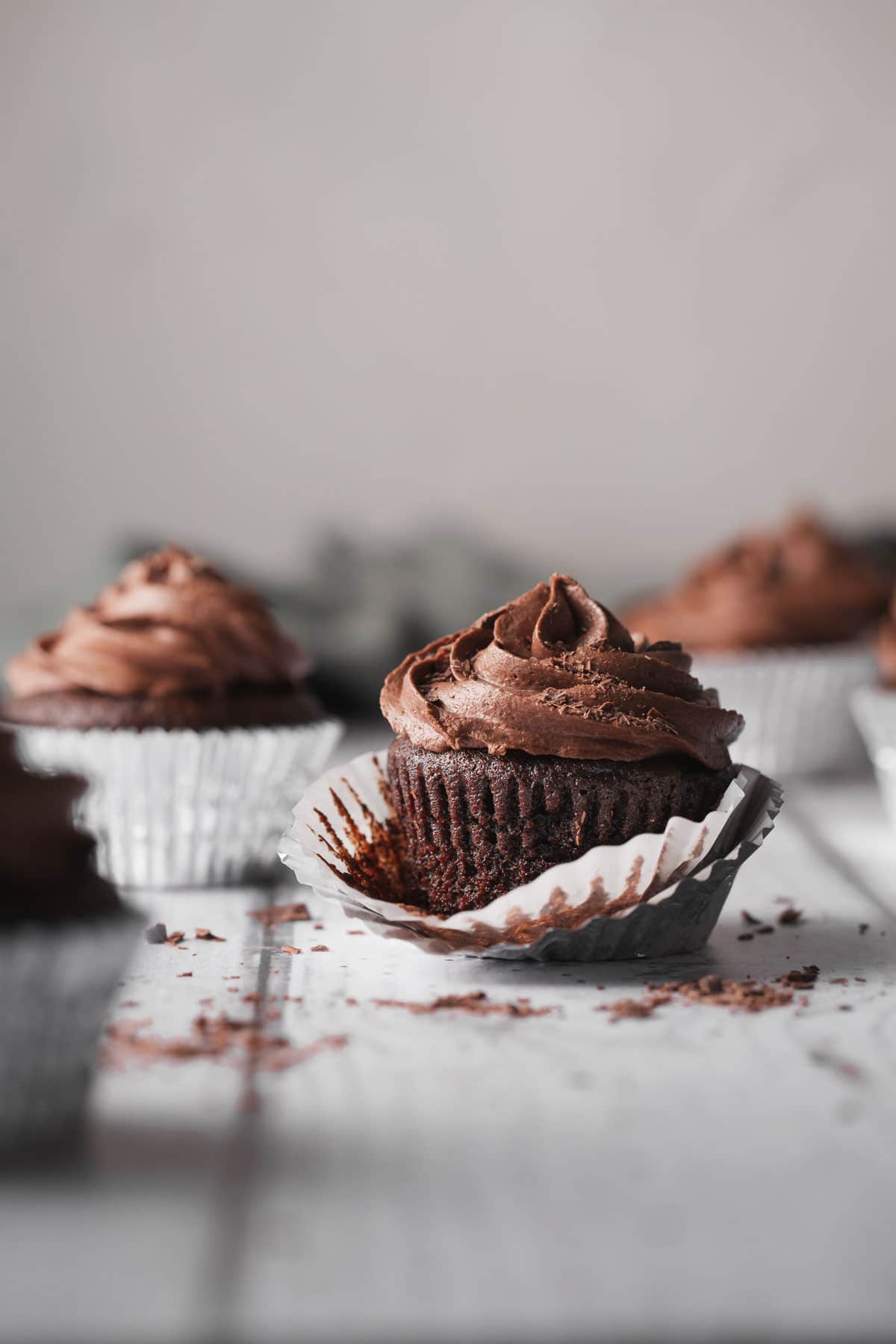 These gorgeous vegan chocolate cupcakes taste just like traditional cupcakes but are so much simpler. Because we aren't using butter or eggs there is no creaming or faffing around.
They are quick, simple and fantastically light. Perfect for your next birthday party or simply a lovely treat. Oh, and if you're after the mother of all buttercreams, try my vegan chocolate buttercream recipe. I would never steer you wrong where chocolate is concerned. Pinkie swear. Enjoy, x.
Recipe Tips and Guides
Tip 1: Only fill the cupcake pan half-way up. While most recipes call for each pan to be filled two-thirds of the way up, this one only needs half. Trust me, you don't want a big mess in the oven.
Tip 2: Use an oven thermometer. Get the temp right and you can set and forget.
Tip 3: Don't over-mix your batter. Whisk until the lumps are gone but no more.
Vegan Cupcake Recipe FAQs
Can I freeze these cupcakes
Yup! Wait until they have cooled completely before popping your un-frosted cupcakes in a freezer proof bag or sealed container. They will keep for up to 3 months in the freezer. To thaw, leave them out on the kitchen counter until thawed completely. This will take a few hours so plan ahead.
How long will these cupcakes last?
My cupcakes last 4-5 days on the kitchen counter in a cooler climate. Pop them in the fridge if you live in tropical or hot areas for up to 5 days.
Can I make this recipe in to a larger cake?
You can make an 8-inch cake with this recipe and you'll need to increase your baking time to around 30-minutes. For a full cake recipe try my Best Vegan Chocolate Cake.
More Cupcake Recipes!
Hungry for More Plant-Based Goodness?  Subscribe to my newsletter and follow along on Facebook, Pinterest and Instagram for all the latest news and updates. If you like this recipe, please check out my cookbook. Great Vegan Meals for the Carnivorous Family is full of simple, carnivore-approved family recipes.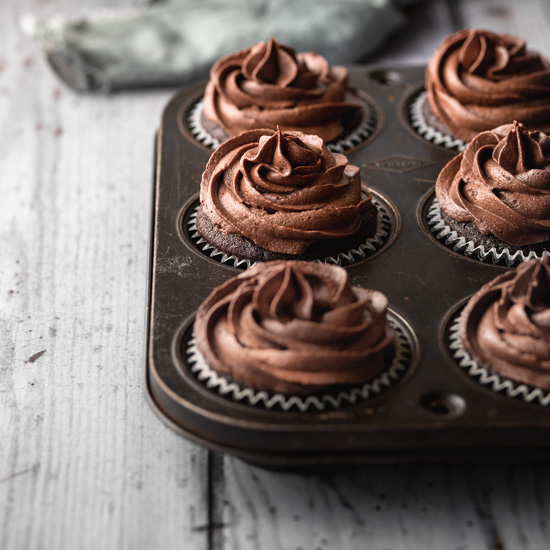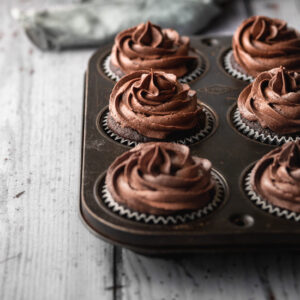 Vegan Chocolate Cupcakes
Rich, moist and deliciously light, these Vegan Chocolate Cupcakes are simple to make and guaranteed to please vegans and non-vegans alike.
Print
Pin
Rate
Ingredients
1

cup / 150g

all-purpose flour

⅓

cup + 1 tbsp / 45g

cocoa powder

½

tsp

baking powder

½

tsp

baking soda

¼

tsp

fine salt

¾

cup / 165g

raw caster sugar

1

tsp

apple cider vinegar

1

cup / 250ml

soy milk

or dairy-free milk

⅓

cup / 80ml

sunflower oil

or another neutral flavoured oil

1

tsp

vanilla extract
Instructions
Pre-heat oven to 175°C (350°F) and set it up so your oven rack is in the middle. Line a 12-pan cupcake tray with patty liners.

Sift the flour, cocoa, baking powder, baking soda and salt in to a large bowl. Whisk in the sugar and set aside.

In a 1-cup measuring cup, add 1 tsp of apple cider vinegar. Fill the remaining cup with dairy-free milk and stir. Set aside for 3 minutes.

Transfer the milk - now buttermilk - to another bowl and whisk in the oil and vanilla.

Add the wet ingredients to the dry and whisk together until combined. Don't overmix the batter or you'll end up with rubbery cakes. Whisk until any larger lumps are gone but no more.

Fill the patty liners half-way with the batter. Only fill to half-way, no more.

Pop the filled tray on to the middle rack of the oven and bake for 21 minutes or until risen and cooked through.

Remove from the oven and sit for 5 minutes before turning them out to cool.

Once cooled completely, top with your favourite frosting.
Notes
Oven Temperatures
The important thing is to know your oven. Sally at Sally's Baking Addiction - the mother of all things baking - bakes most of her cupcakes at 177 degrees C (350 degrees F) for 18-21 minutes. If you know that's your oven's sweet spot, by all means set your oven to 177 degrees (160 degrees C if you have a fan forced oven). If you're not sure, get yourself an oven thermometer and set it to 170. I find 170 degrees C, a happy medium. If I have to bake a little longer, I'd rather that than have them crack. 
Cup Half-Full
Only fill the patty liners half-way for this recipe. They have good rise and will muffin top if you fill the patties any more. 
Can I Freeze My Cupcakes?
Yup! Wait until they have cooled completely before popping your un-frosted cupcakes in a freezer proof bag or sealed container. They will keep for up to 3 months in the freezer.
Make Them Gluten-Free...
Swap out the all-purpose flour for a baking gluten-free flour or try the gluten-free mix I use in my Coconut Gluten-free Vegan Pancakes with Banana. It's a great all-rounder flour mix.
Nutrition
Calories:
200
kcal
|
Carbohydrates:
32
g
|
Protein:
3
g
|
Fat:
7
g
|
Saturated Fat:
1
g
|
Sodium:
112
mg
|
Potassium:
111
mg
|
Fiber:
1
g
|
Sugar:
15
g
|
Vitamin A:
77
IU
|
Vitamin C:
1
mg
|
Calcium:
44
mg
|
Iron:
1
mg
Tried this recipe?
I'd love to hear your feedback. Rate it & leave your feedback in the comments section below. Or you can tag @mygoodnesskitchen or hashtag #mygoodnesskitchen on Instagram. Thank you!