Last updated on May 12th, 2021 at 10:06 am
Here it is, friends! My favourite flavour combination all baked up in a golden delicious cookie. Can you feel the excitement in the air? These vegan peanut butter chocolate chip cookies are the bee's knees and her elbows too. They are thick, chewy and melty. I cannot wait to share these with you. So let's do this!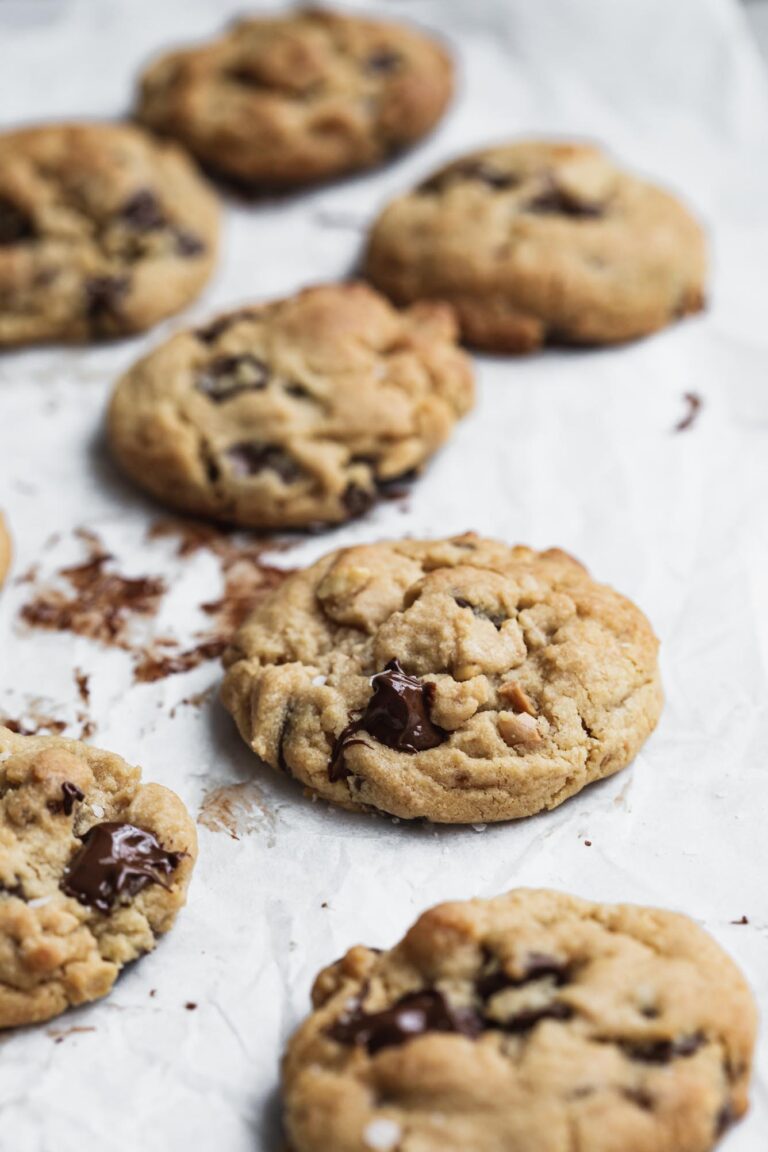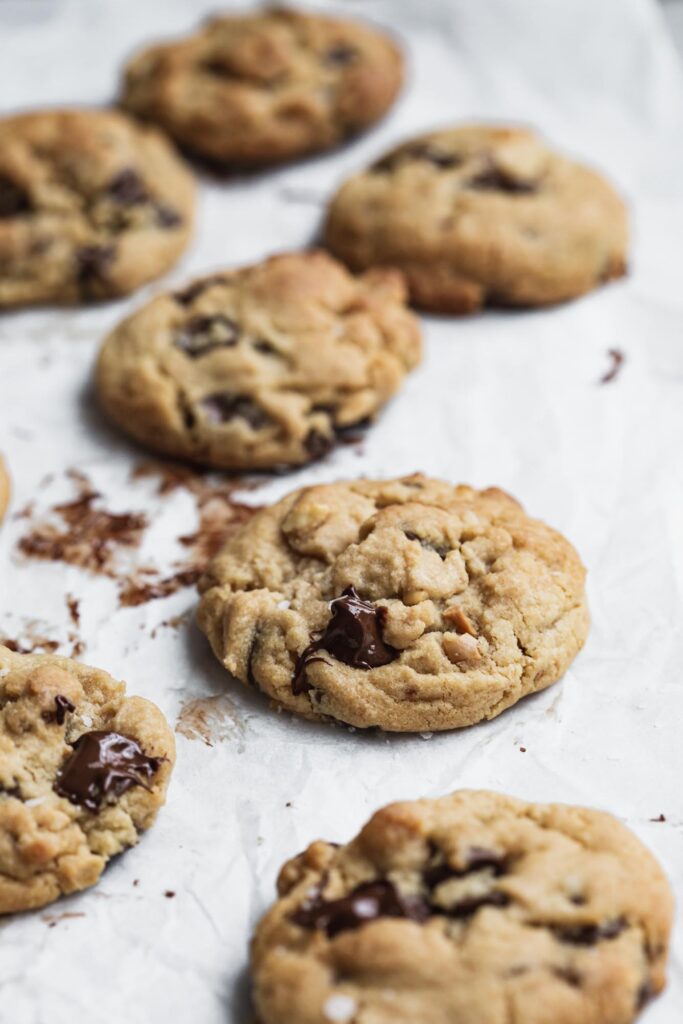 If there is a better flavour combination, I am yet to meet it. From my first Reese's cup as a kid to buckets (yes, I said "buckets") of Baskin Robbins Peanut Butter Chocolate in my 20's, I am a PB&C fanatic. Now, as a vegan I am always looking for new ways to bring my two favourites together. Would peanut butter, chocolate and banana sandwiches be a step too far? No, I didn't think so either!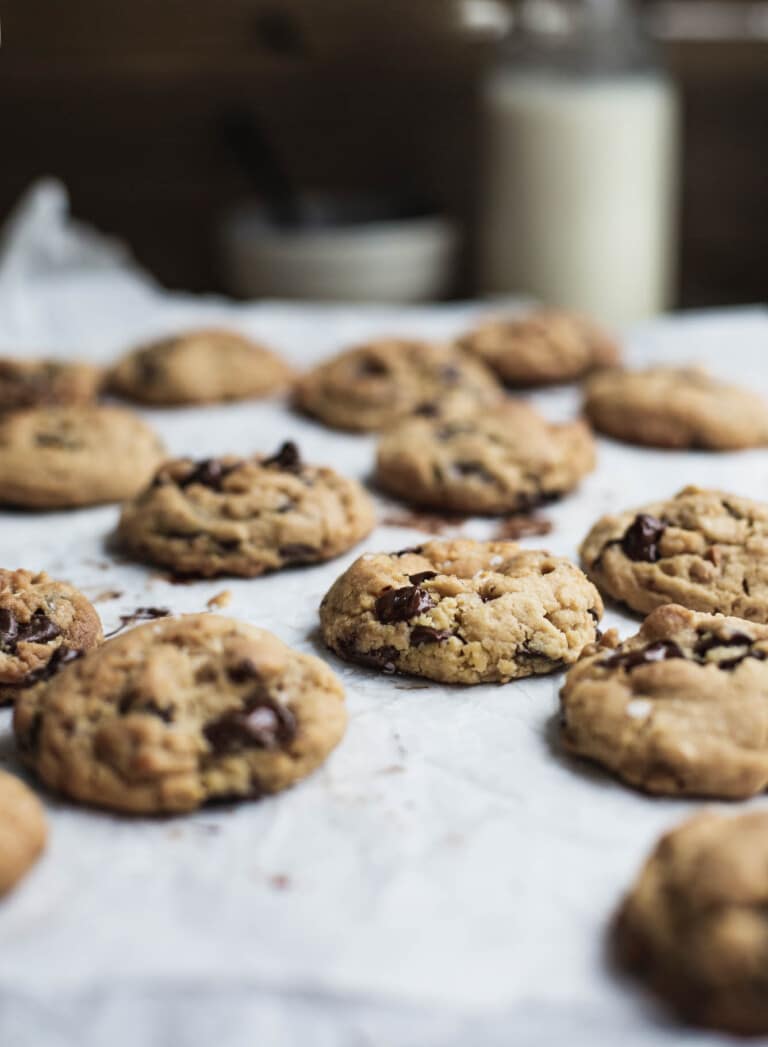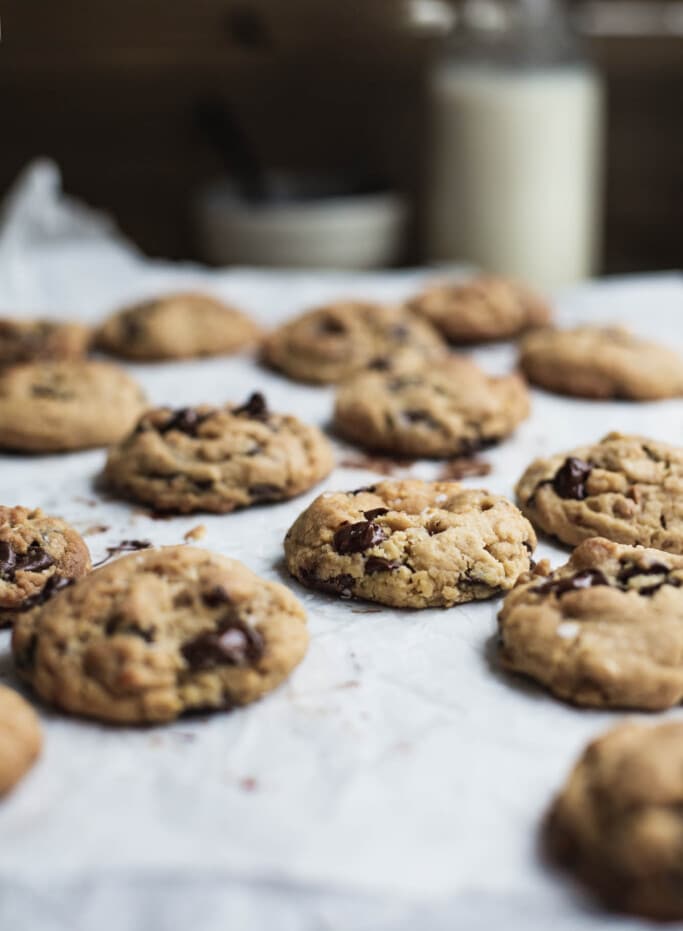 So far on this blog I've created Peanut Butter Overnight Oats, Peanut Butter Caramel and No-Bake Peanut Butter Chocolate Oat Squares. But, we are far from done.
Chocolate and peanut butter walk in to a bar. The rest is history.

Reese's
Now, if you can't eat peanut butter due to allergies or whatnot, I have a Vegan Tahini Chocolate Chip Cookies recipe. They are also pretty fantastic. But, today I am buzzing - it may be a little sugar buzz - to share these peanut buttery cookies.
Fuss-Free Peanut Butter Chocolate Chip Cookies
Many chocolate chip cookie recipes ask you to cream butter and sugar together and slowly add in a protein, this one doesn't. I don't feel like doing that today and I would never ask you to do something I don't want to do. These peanut butter chocolate chip cookies are simple and fuss free. We are talking Cooking Level: Easy.
To make these cookies:
Whisk sugars, coconut oil and peanut butter in a bowl and add some milk and vanilla.
Sift in a little flour, salt, baking powder, baking soda and cornflour (starch).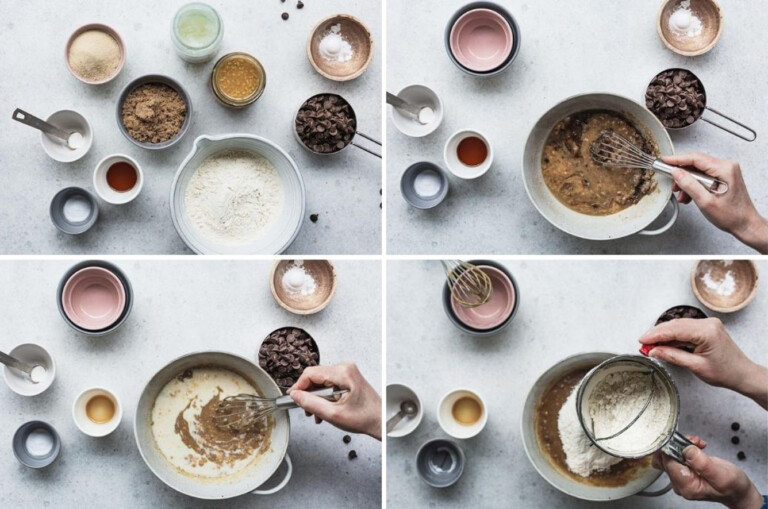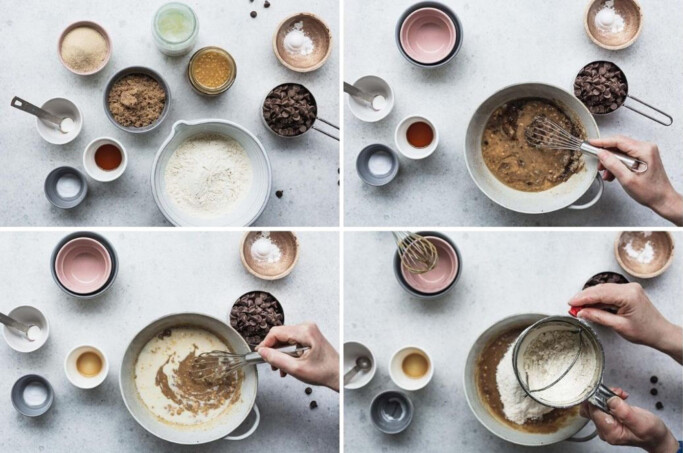 Stir until just combined and fold in a truck load of chocolate chips.
Rest in the fridge before scooping the dough in to balls
Bake!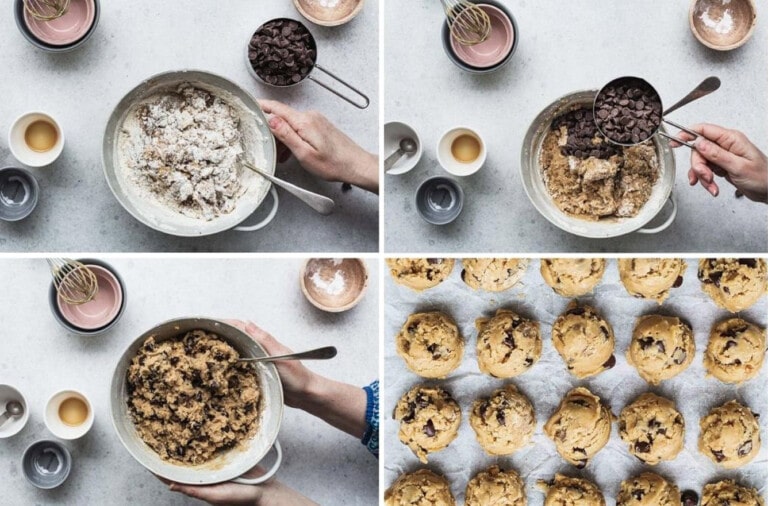 After around 12 minutes in the oven, these golden cookies emerge all thick and wonderful. They are crispy around the edges and soft and cakey in the middle. Bliss. And the smell, oh the smell! My house is filled with clouds of chocolate and vanilla and peanut butter. It's like being a kid again. A kid who is grown up and can eat as many cookies as I please. Served with a cold glass of oat milk, they are snack time perfection. Enjoy, x.
FAQs
Why add cornflour (corn starch) to cookie dough?
Cornflour makes cookies cakier giving them a softer consistency. Source: Sally's Baking Addiction
Why use two different sugars in chocolate chip cookies?
Granulated sugar helps the cookie to spread while brown sugar gives a soft chewy bite. I love using raw caster sugar in my cookies but white granulated sugar works too.
Why refrigerate the cookie dough? I just want to eat cookies already!
I hear you but...
Chilling cookie dough before baking solidifies any fats in the cookies. While baking, the fat in the chilled cookie dough takes longer to melt than room-temperature fat. The longer the fat remains solid, the less the cookies spread.
Additionally, the sugar in the dough slowly absorbs liquid. If you bake the dough straight away, before the sugar has a chance to absorb the liquid, that liquid remains in the dough just wandering around promoting cookie spread.
Can I eat this cookie dough raw?
Yes and you should. One of the up sides of being vegan is no raw eggs to worry about.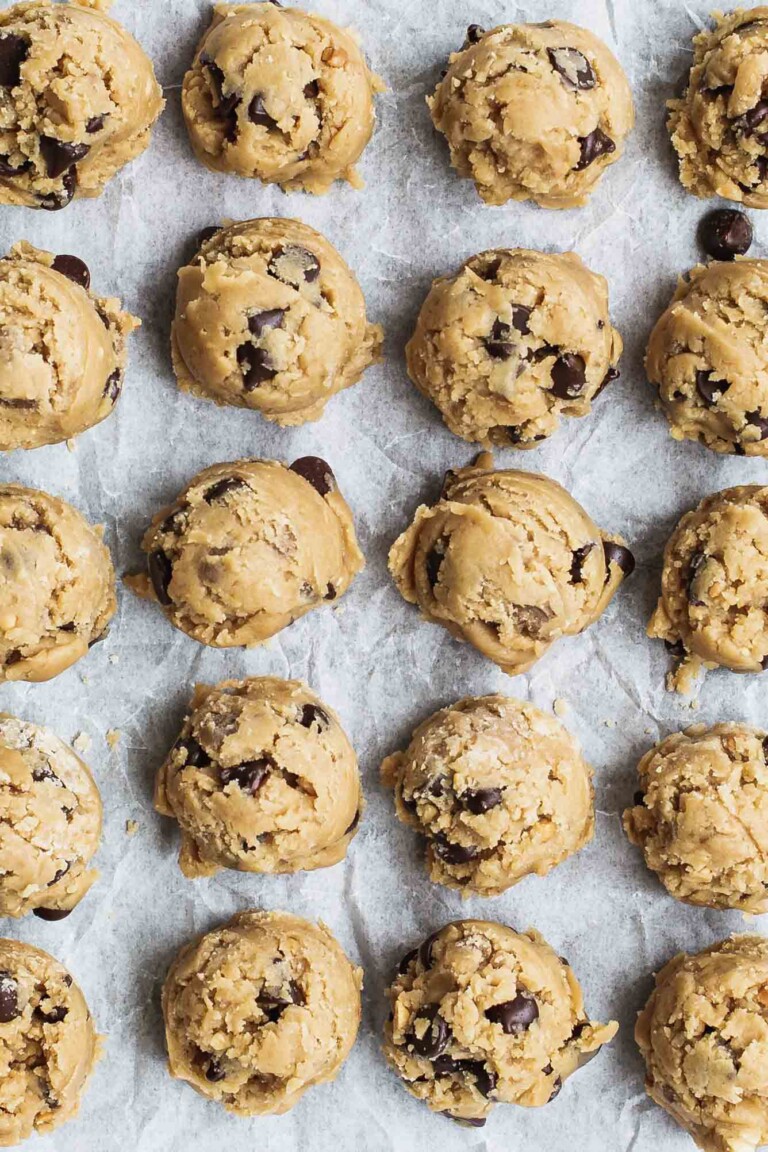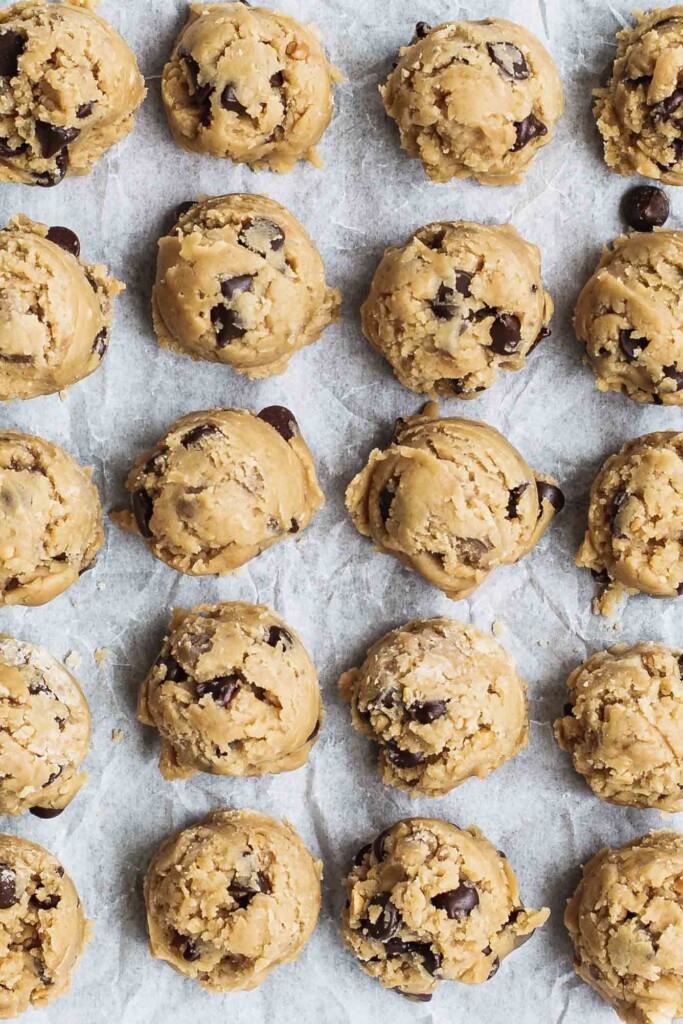 Can I freeze this cookie dough?
Totally. Chill the dough as per the recipe and then roll the dough in to balls. Chill again for an hour before transferring them to a freezer-proof bag. Label the bag with the date and then you can go ahead and freeze those cookies for up to 3 months.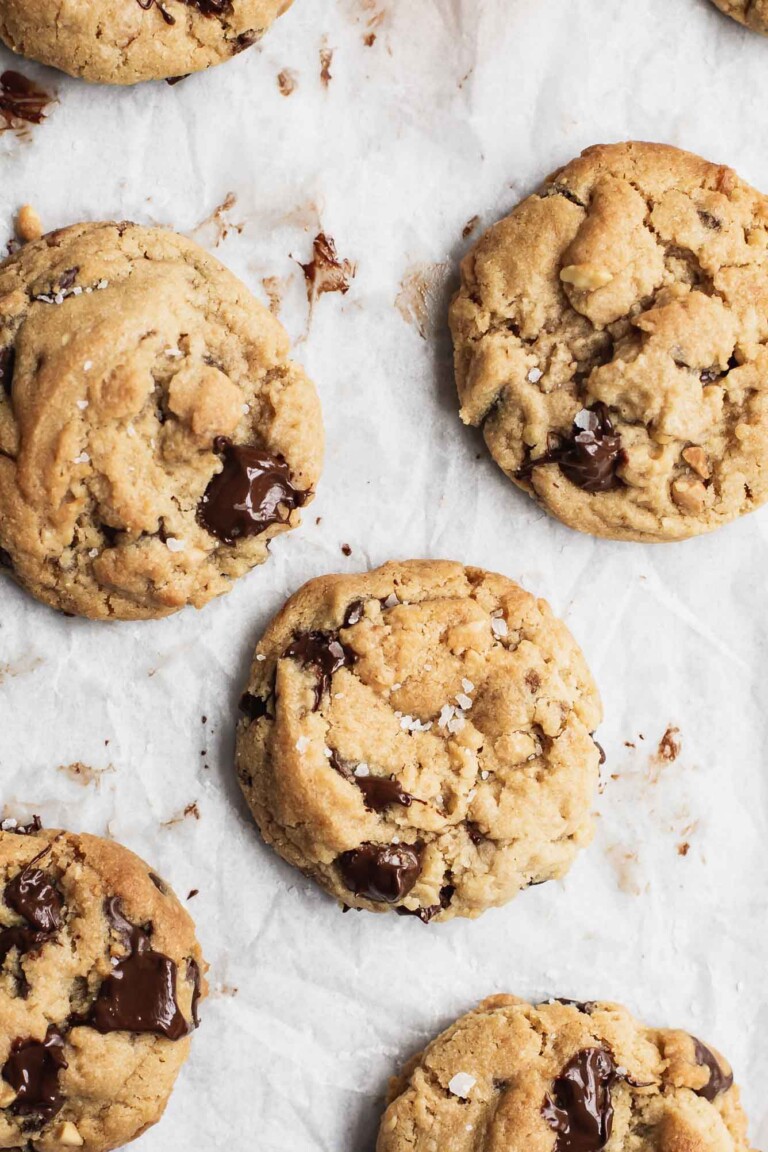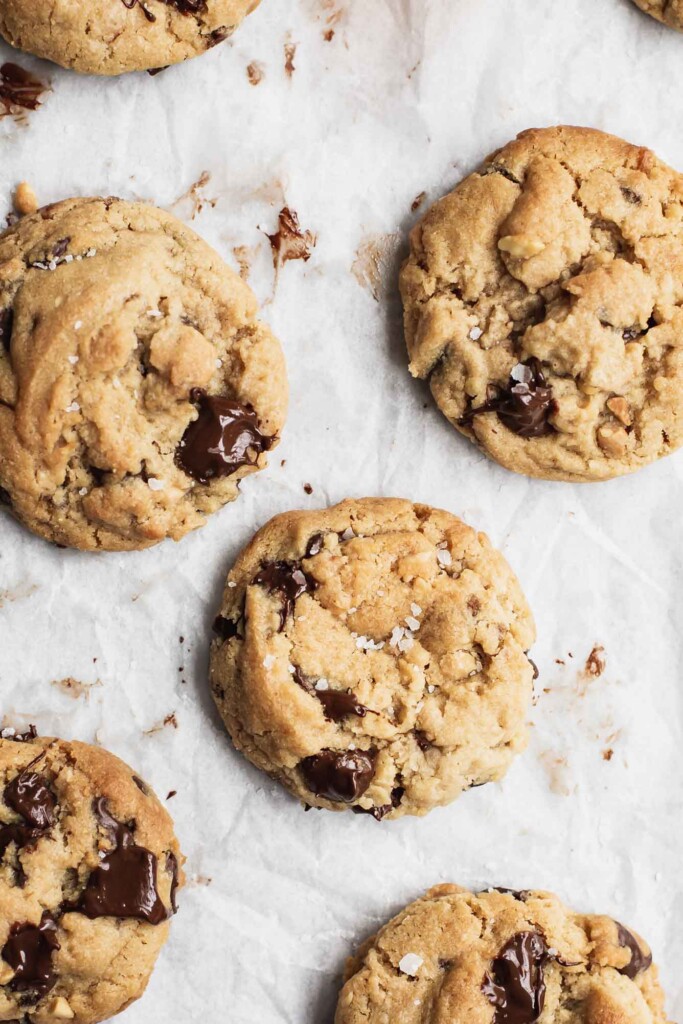 Peanut Butter Chocolate Chip Cookies
These vegan peanut butter chocolate chip cookies are the bee's knees and her elbows too. They are thick, chewy and melty. With no creaming, cracking or frothing these gorgeous cookies come together with a whisk and a spoon. Fuss-free and wonderful.
Ingredients
½

cup

raw caster sugar

or regular granulated sugar

½

cup

brown sugar

1

cup

peanut butter

smooth

½

cup

coconut oil

melted and cooled

¼

cup

soy milk

or almond or oat milk

2

tsp

vanilla extract

1 and ½

cups

all-purpose flour

1

tsp

baking soda

½

tsp

baking powder

1 and ½

tsp

cornflour (starch)

1

cup

chocolate chips

or chunks!
Instructions
Whisk the sugars, peanut butter and coconut oil together in a mixing bowl until combined.

Whisk in the milk and vanilla until everything is combined.

Sift the flour, baking soda, baking powder and cornflour (starch) in to the wet ingredients and stir together until just combined. Don't overmix.

Fold in the chocolate chips and then place the bowl, covered, in the refrigerator for 30 minutes.

Meanwhile, preheat the oven to 177°C (350°F) and line a few baking trays with baking paper.

After 30-minutes, remove the dough from the refrigerator and either scoop balls with a small ice-cream scoop or roll the dough in to balls with clean hands.

Place the cookie dough balls on the prepared trays placing them around 2-inches apart. Pop them in the oven to bake for 10-13 minutes. My happy place is between 11 and 12 minutes when the outer cookie is golden but the centre is still a little soft. The cookies will continue to cook after they are removed from the oven.

Remove the trays from the oven and allow the cookies to cool and firm up, around 10 minutes. Serve warm or cool.

Store in an airtight container for up to 3 days.
Notes
Oven temperatures can vary so I always begin checking my cookies at the 10-minute mark. You are looking for crisp and golden around the edges but soft in the middle. The cookies will continue cooking after you remove them from the oven.
Refrigerating the dough before baking means the cookies will spread less during baking giving you a plumper, softer cookie. In short, chilling the dough solidifies the fats. Those fats will then take longer to melt in the oven producing less spread. 
Resting your cookies after baking for around minutes will allow them to firm up a little. 
The cookies will keep in an airtight container at room temperature for up to 3 days. 
Nutrition
Calories:
215
kcal
|
Carbohydrates:
27
g
|
Protein:
3
g
|
Fat:
11
g
|
Saturated Fat:
7
g
|
Cholesterol:
1
mg
|
Sodium:
71
mg
|
Potassium:
78
mg
|
Fiber:
1
g
|
Sugar:
18
g
|
Vitamin A:
32
IU
|
Vitamin C:
1
mg
|
Calcium:
31
mg
|
Iron:
1
mg