Last updated on January 29th, 2023 at 08:07 am
Gooey, rich, chocolatey and wonderfully wicked, these vegan Tahini Caramel Black Bean Brownies have revolutionised my brownie game.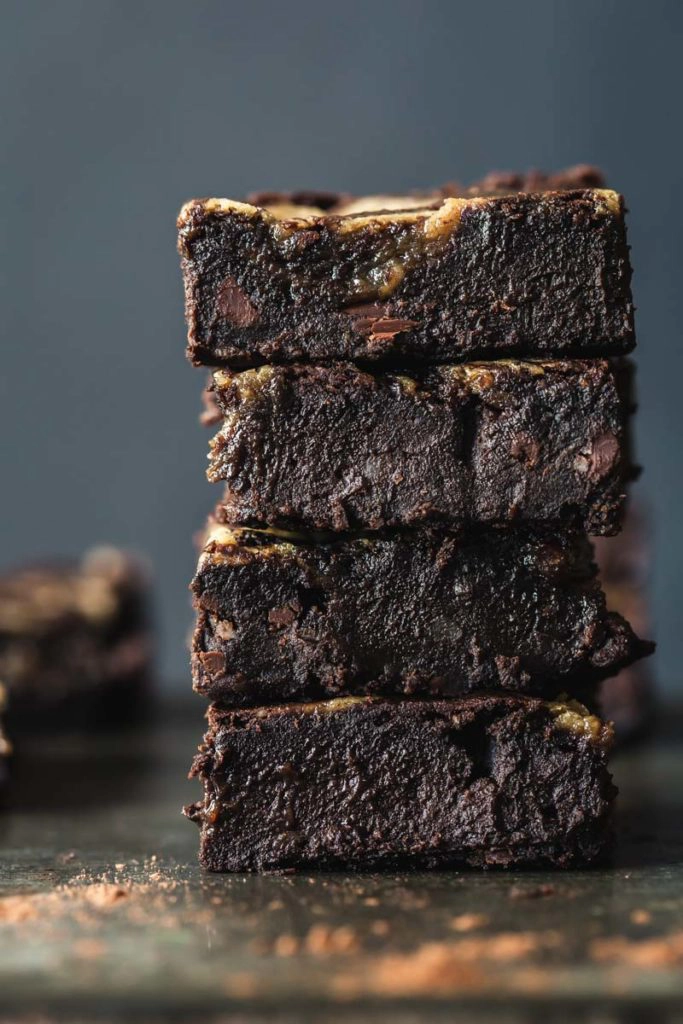 Today is a day fro pivoting. I had planned a decadent peanut butter swirl chocolate brownie but then realised I couldn't give any to the Elf in her lunchbox.
Frick.
But as necessity is the mother of invention and I am an inventive mother in need of a brownie, vegan black bean brownies with tahini caramel are now served.
Why You'll Love These Black Bean Brownies
Besides being completely drool-worthy, these gorgeous squares are:
nut-free
gluten-free
packed with protein
rich and gooey like a good brownie should be and they are
pretty darn healthy
+ they freeze well. Bonus.
Adding Tahini for A Nut Free Brownie
Tahini and I have had a complicated relationship. To be honest, I find tahini a little bitter and while I've flirted, I've never committed. In fact, I've been a bit of a culinary cad. My tahini experiments have always ended with yet another jar wallowing away in the black hole that is my bottom pantry shelf.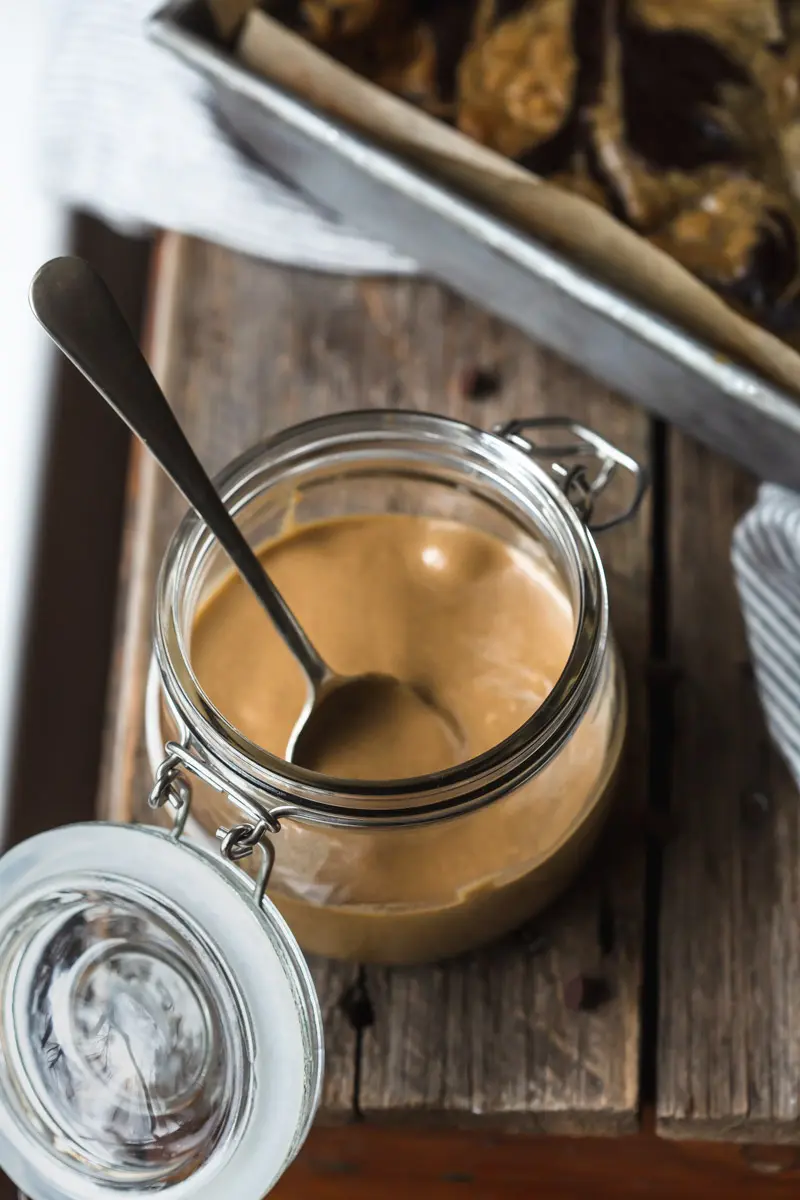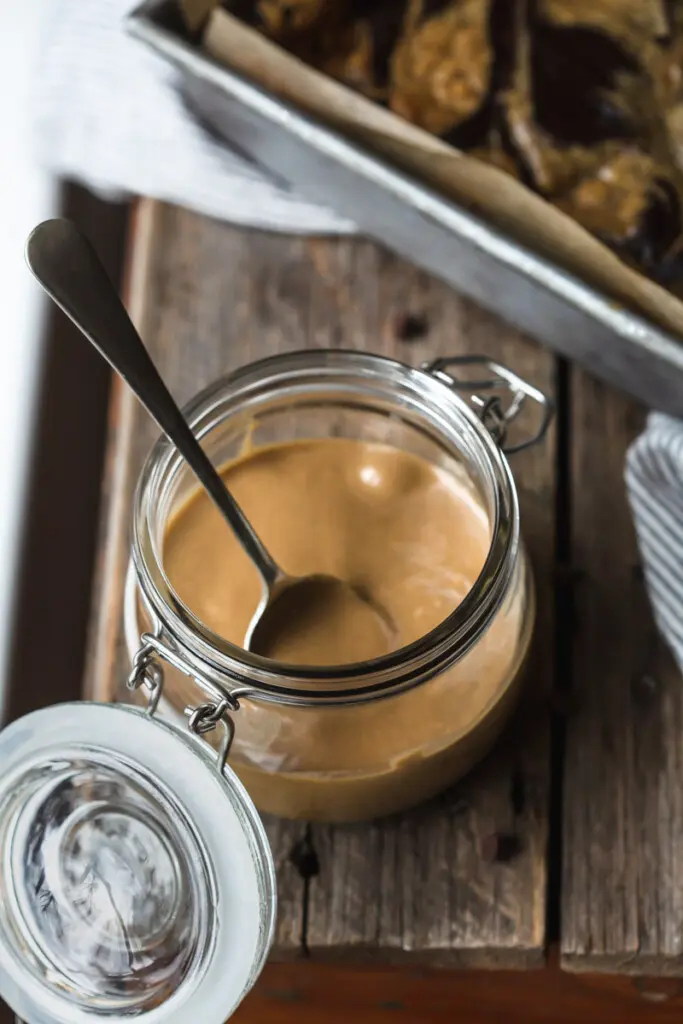 I'm not proud to be so cavalier but I just prefer peanut butter. I know tahini is better for me but...it's peanut butter. Have you tried my peanut butter apple oats jar recipe? Seriously.
And therein lies the rub.
Peanuts are nuts. Actually they are, botanically, a legume grown underground but in culinary terms they are treated as a nut. They are also treated as nuts in daycare centres, aeroplanes and schools.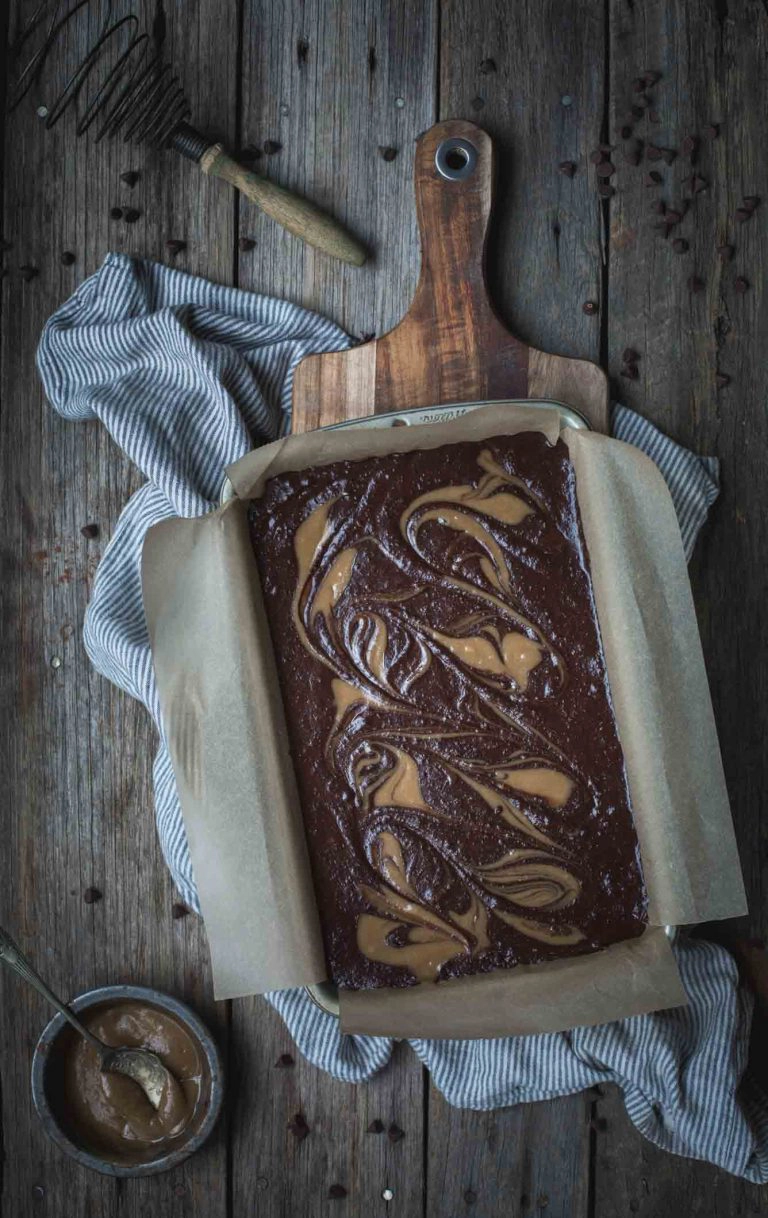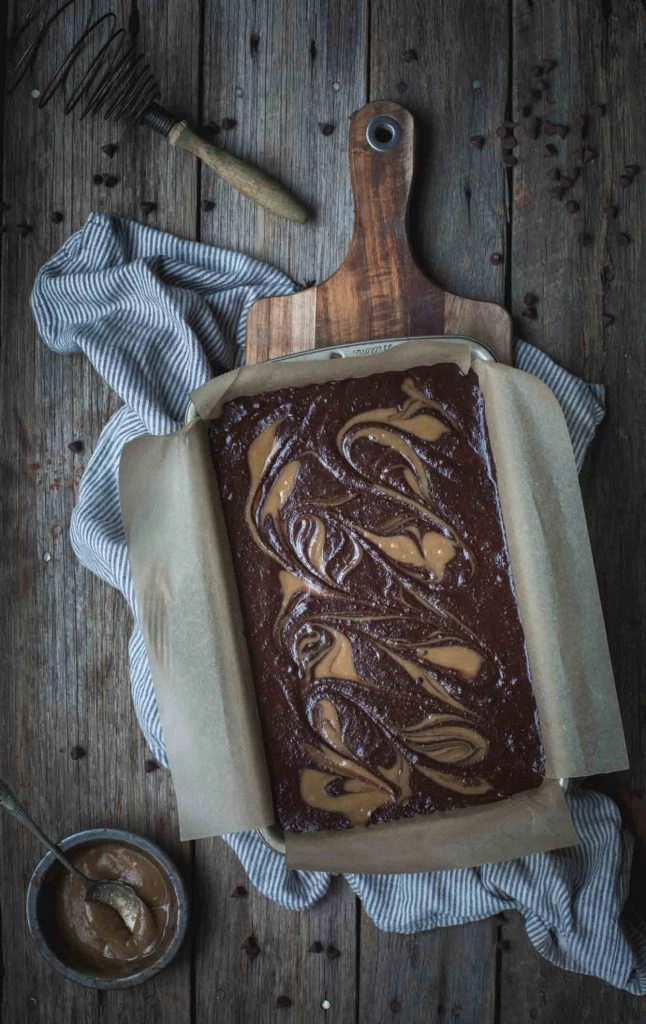 I've made brownies - my fudgy vegan brownies are so delicious if you want something a little more traditional - and I have come across tahini caramel while stalking my favourite food bloggers. However, I never imagined marrying the two could create such bliss. I am indeed, blissful. I am also a little queasy from the four or five trials to get the this recipe right but for the most part I am blissful.
How to Replace Nuts and Flour with Sunflower Seeds
These black bean brownies are flourless and nut-free and that's all due to the awesomeness of sunflower meal. I used it in my Loved Up Nut-Free Raw Chocolate Cake and am a total convert. You can make your own sunflower meal by simply processing the seeds in a processor until they resemble almond meal. Simples.
These brownies are ridiculous. They are rich, really rich, fudgy and deeply chocolatey without a hint of the protein rich black beans hiding within. The sunflower seed meal replaces traditional flour or almond meal to create a nut free base while the ever so slight bitterness of the tahini is tempered by maple and vanilla.
It just works.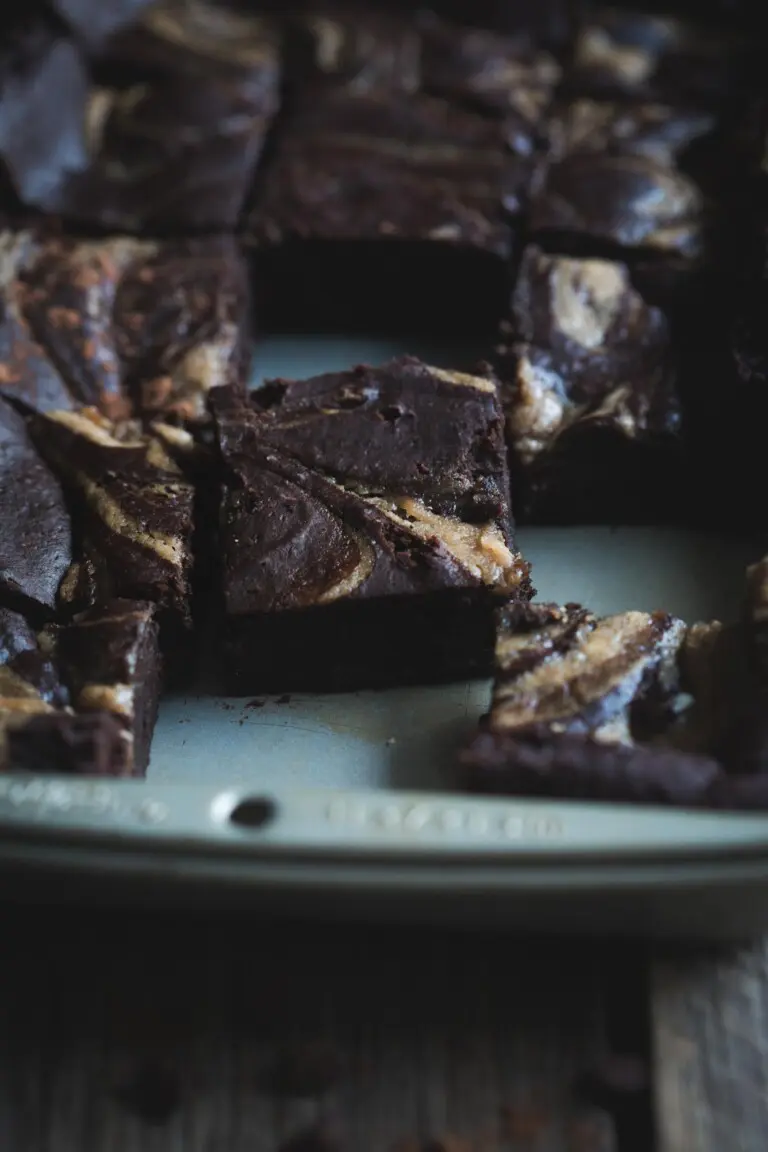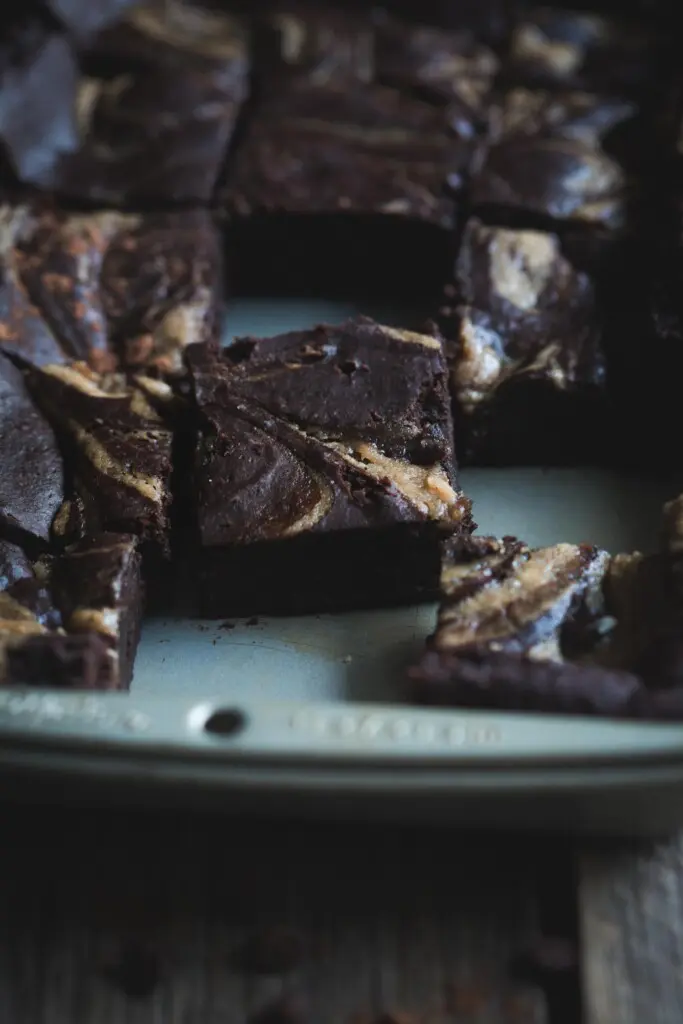 So, it would seem tahini and I are flirting again. I won't ever leave peanut butter, we've been through too much, but I think I might be T-curious. I am optimistic and a little excited. I will always rely on my faithful food cohorts, peanut butter, buckwheat, chocolate but there is something intoxicating about the new. Or the old rediscovered. You did good here, tahini. You did good.
Till we meet again. Enjoy.
Tips for a Great Black Brownie
Drain your black beans - we don't need the liquid here.
Line you baking tray with baking paper to avoid sticking.
Allow the brownie to cool completely and refrigerate before cutting - trust me, the brownies get fudgier with time.
FAQs
I don't like tahini, can I use something else?
Of course, they're your brownies! You can use peanut butter, almond butter or a seed butter in your caramel swirl. You can also leave out the swirl and just make the black bean brownie.
Do the brownies freeze well?
Indeed. Allow the brownies to cool completely before popping them in a freezer-proof container and freezing for up to 3 months. You can slice them before they go in or freeze the slab and thaw completely before cutting. To thaw, leave the brownies out on the counter for 30 minutes to an hour.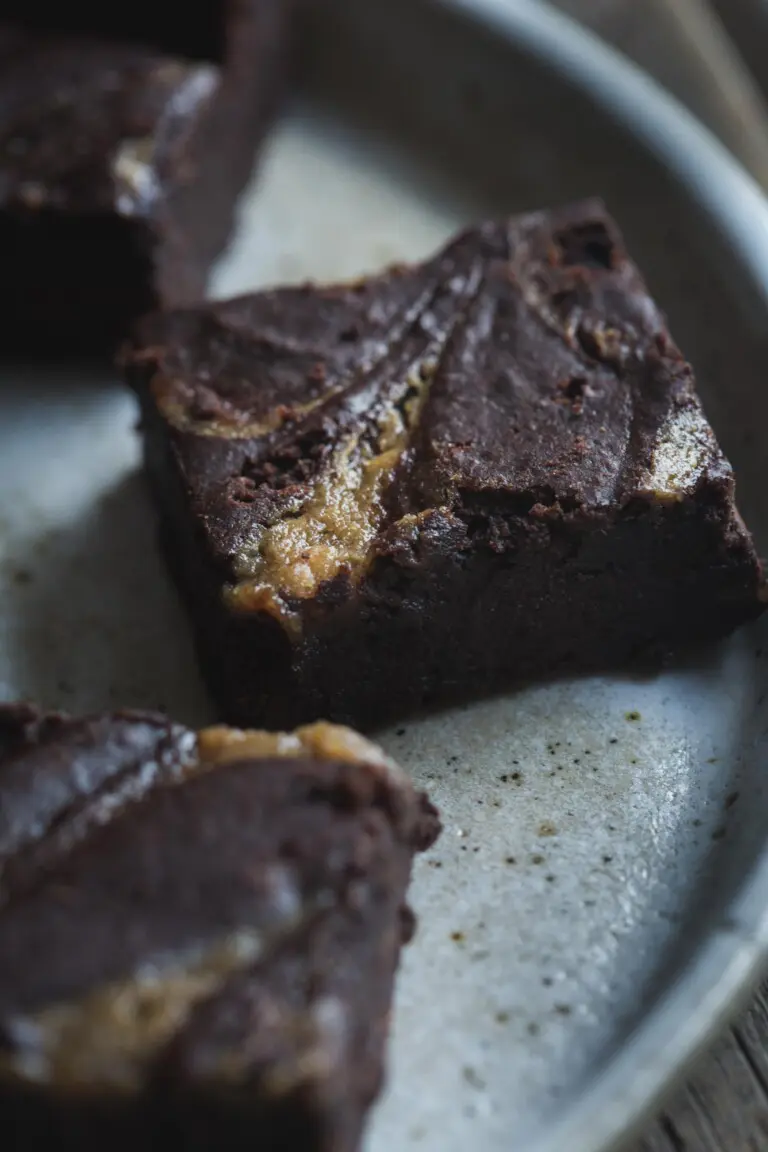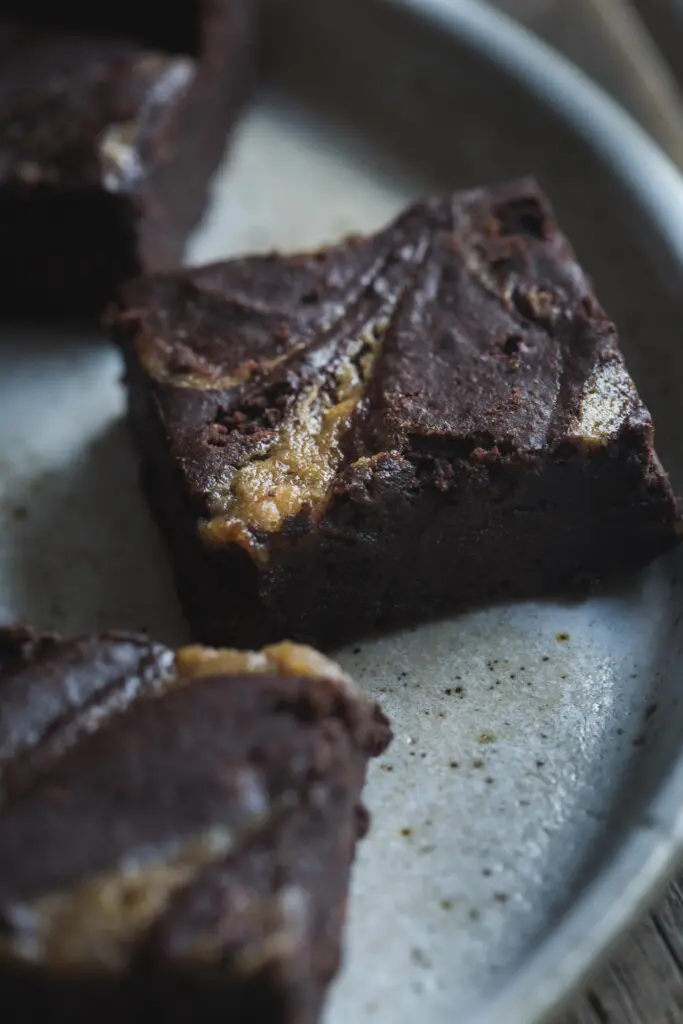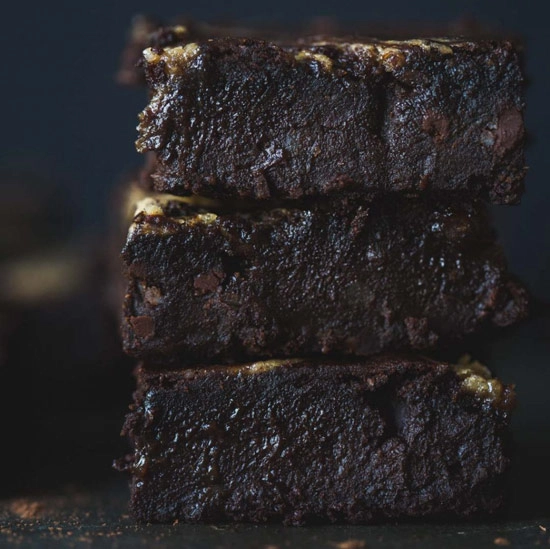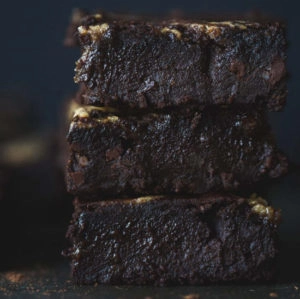 Tahini Caramel Black Bean Brownies
Gooey, rich, chocolatey and wonderfully wicked, these vegan Tahini Caramel Black Bean Brownies have revolutionised my brownie game.
Print
Pin
Rate
Ingredients
Black Bean Brownie
150

grams

sunflower seed meal

meal or simply grind around 155 grams of sunflower seeds in a processor to create around 150 grams of meal

80

grams

cocoa

200

grams

raw sugar

10

grams

baking powder

gluten free if required

400

gram

cooked black beans

rinsed and drained

120

ml

dairy-free milk

nut-free if required

150

ml

coconut oil, melted

melted

60

ml

apple sauce

1 ½

teaspoon

vanilla extract

40

grams

chocolate chips

vegan

a good pinch of sea salt
Tahini Caramel
2

tbs

tahini

2½

tbsp 50ml

maple syrup

1

teaspoon

vanilla extract 
Instructions
Preheat oven to 175 degrees C (350 degrees F).

Line a small brownie pan (27.9 cm x 17.8cm) with baking paper.

Combine the sunflower meal, cocoa, sugar, baking powder and salt in a large mixing bowl.

Combine all the wet ingredients, other than the coconut oil, in a blender and blend until smooth. 

Add the coconut oil and blend until combined.

Stir the wet ingredients in to the dry.

Add the chocolate buttons and fold through.

Pour the brownie batter in the pan.

To make the tahini caramel, whisk the ingredients together in a bowl. 

To create the swirls, spoon dollops of the caramel on top of the brownie mixture a few centimetres apart from each other. I spooned two dollops wide and four dollops long. 

Using the end of a teaspoon, run a line from the first caramel dollop lengthways down to the last dollop on its line. Repeat with the second line. Each line should look like a row of hearts.

Swirl the spoon diagonally from one corner of the brownie pan to the other. You should get some nice swirls but be careful not to overdo it or you will loose the light/dark effect. 

Bake the brownie for around 33 minutes or until cooked around the edge with a slight wobble in the centre.

Remove the brownie from the oven to cool completely. For best results, refrigerate after cooling for at least two hours. Overnight is better. 

Cut in to squares to serve. 
Nutrition
Serving:
1
slice
|
Calories:
286
kcal
|
Carbohydrates:
29
g
|
Protein:
6
g
|
Fat:
18
g
|
Saturated Fat:
11
g
|
Cholesterol:
1
mg
|
Sodium:
11
mg
|
Potassium:
358
mg
|
Fiber:
5
g
|
Sugar:
17
g
|
Vitamin A:
36
IU
|
Vitamin C:
1
mg
|
Calcium:
77
mg
|
Iron:
2
mg
Tried This Recipe?
I'd love to hear your feedback. Rate it & leave your feedback in the comments section below. Or you can tag @mygoodnesskitchen or hashtag #mygoodnesskitchen on Instagram. Thank you!