Last updated on December 11th, 2019 at 01:47 am
Filled with all the flavours of the festive season, this Holiday Stuffed Squash recipe is a completely delicious but lighter twist on the Christmas Roast. Slow roasted butternut squash rounds filled with a lightly spiced chestnut, quinoa and lentil stuffing scattered with dried cherries. This Christmas main is vegan, gluten-free and so wonderful.
---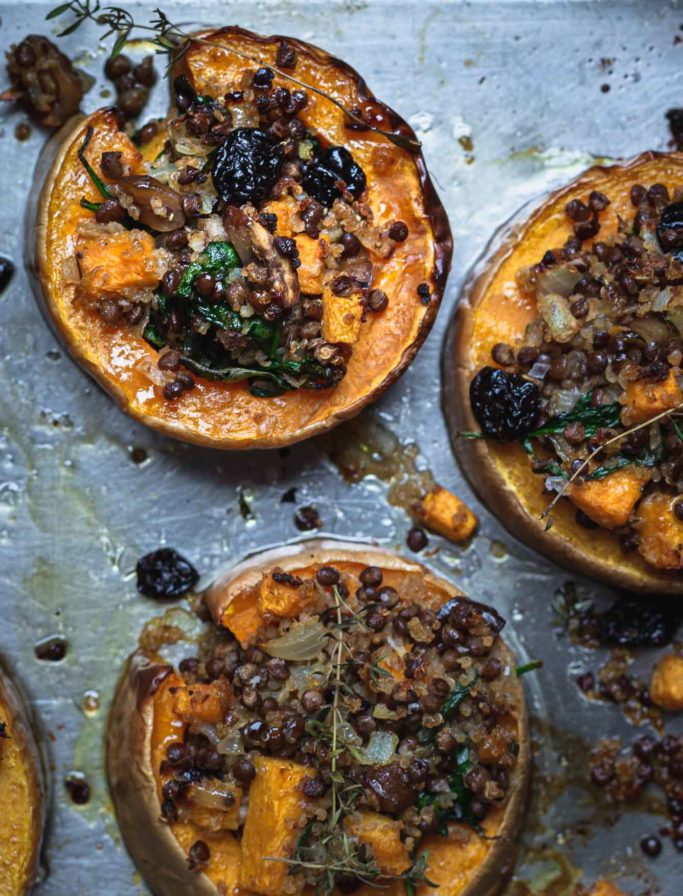 I planned to make a nut loaf pie this year but just before the big recipe test, I pivoted. Pie pan in hand, it dawned on me; I can keep my holiday recipe simple this year. I can choose to not spend hours upon hours in the kitchen and instead choose to spend more time with my little tribe. What a revelation! Christmas...without the fuss.
Having said that, I still want a festive lunch with all the trimmings. What can I say? I am a fickle pickle. But, I have discovered, it is possible.
Over the coming weeks I will continue to post my Christmas dinner menu complete with crunchy smashed potatoes, grilled fennel with parmesan, an Epic Vegan Gravy and to finish, lovely white chocolate creams with boozy cherries - ohhhh, cherries. Have you tried my Boozy Black Forest Shake?
We started with No Trouble Vegan Truffles 3-ways and today it's stuffed squash. All of these are wonderfully Christmas-table worthy and they are all simple and fuss-free.
Lazy Christmas with the family, here I come.
I am completely smitten with this vegetarian stuffed squash recipe. It's a little bit nut loaf without all the nuts, a little bit Christmas roast without the turkey and a little bit fancy without the fuss. It begins with a wonderfully sweet and savoury lentil, quinoa and chestnut stuffing littered with dried cherries and tinged with nutmeg and thyme.
Nestled within a ring of soft roasted butternut squash, the flavours happily combine in a perfect Christmas-y bite. The tinsel on the tree? This holiday main is vegan, gluten-free, completely yum and ready in under an hour. If you want a simple but awesome holiday recipe, this might just do the trick.
I love to cook and most days I answer the call of the kitchen but sometimes a girl needs to put down the spoon and just...be. While Christmas seems an odd time to dial back the kitchen time - it's non-traditional, I know - it is the perfect time to reconnect with family, friends and, wait for it, yourself.
I don't know about you but my oven and I are solid, we are simpatico. SMEG knows I will be back, I always am. In this house tis the season for three-year old elves full of wonder, overly enthusiastic puppies and Husbands who work too hard. Tis the season for us.
Enjoy.
Simply Festive Stuffed Squash
Filled with all the flavours of Christmas, this Simply Festive Stuffed Squash is a completely delicious, vegan twist on the Christmas Roast.
Print
Pin
Rate
Ingredients
1 - 2

medium butternut squash

pumpkin

2

tablespoons

olive oil

1

brown onion

finely chopped

3

garlic cloves

finely chopped

3-4

sprigs fresh thyme

leaves removed and chopped

60

grams

cooked chestnuts

I use the vacuum sealed variety, roughly chopped

120

grams

cooked quinoa

1 400

gram

can of brown lentils

drained and rinsed

20

grams

dried cherries or cranberries

a pinch of nutmeg

to taste

30

grams

vegan butter

50

grams

baby spinach

a good pinch of sea salt

black pepper
Instructions
Pre-heat the oven to 190 degrees C. To prepare the squash, lay each on its side and carefully cut 1 and ½ inch thick slices. Using a small cookie cutter, cut a circle in the centre of each round to create a ring. It may take some grunt to push the cutter through and the rings may break; no matter. Discard any seeds and cut the inside round in to cubes.

Place the squash rounds in a roasting pan and drizzle with olive oil. Season with sea salt and place in the oven for 20 minutes.

Meanwhile, heat the olive oil in a large skillet or fry pan and add the garlic, onion and fresh thyme leaves. Sauté for around four minutes or until soft. 

Add the chestnuts, cherries, squash cubes and the butter and cook until the butter is melted before adding a pinch of nutmeg. Stir well.

Finally, add the cooked quinoa and the drained lentils and continue to cook for another five minutes before stirring in the baby spinach. Season with sea salt to taste and a good crack of black pepper and when the spinach has wilted remove the stuffing from the heat. 

Keeping the oven on, take the partially cooked squash rings from the oven and place them on your kitchen counter. Carefully, fill each ring with a good amount of stuffing, drizzle each with a small amount of olive oil before placing them back in the oven for a further 20 - 30 minutes or until the squash is cooked through.

Remove from the oven and serve with a vegan gravy and sides. 
Nutrition
Calories:
367.68
kcal
|
Carbohydrates:
60.05
g
|
Protein:
6.33
g
|
Fat:
8.9
g
|
Saturated Fat:
1.65
g
|
Sodium:
56.71
mg
|
Potassium:
1482.08
mg
|
Fiber:
8.81
g
|
Sugar:
11.42
g
|
Vitamin A:
40858.62
IU
|
Vitamin C:
87.74
mg
|
Calcium:
202.51
mg
|
Iron:
3.37
mg
Tried This Recipe?
I'd love to hear your feedback. Rate it & leave your feedback in the comments section below. Or you can tag @mygoodnesskitchen or hashtag #mygoodnesskitchen on Instagram. Thank you!