Last updated on March 20th, 2023 at 05:08 pm
Are you ready to wrap your mitts around one of these epic homemade vegan sandwiches? Put away that peanut butter and jelly, these sandwiches are going to require both hands and all of your attention.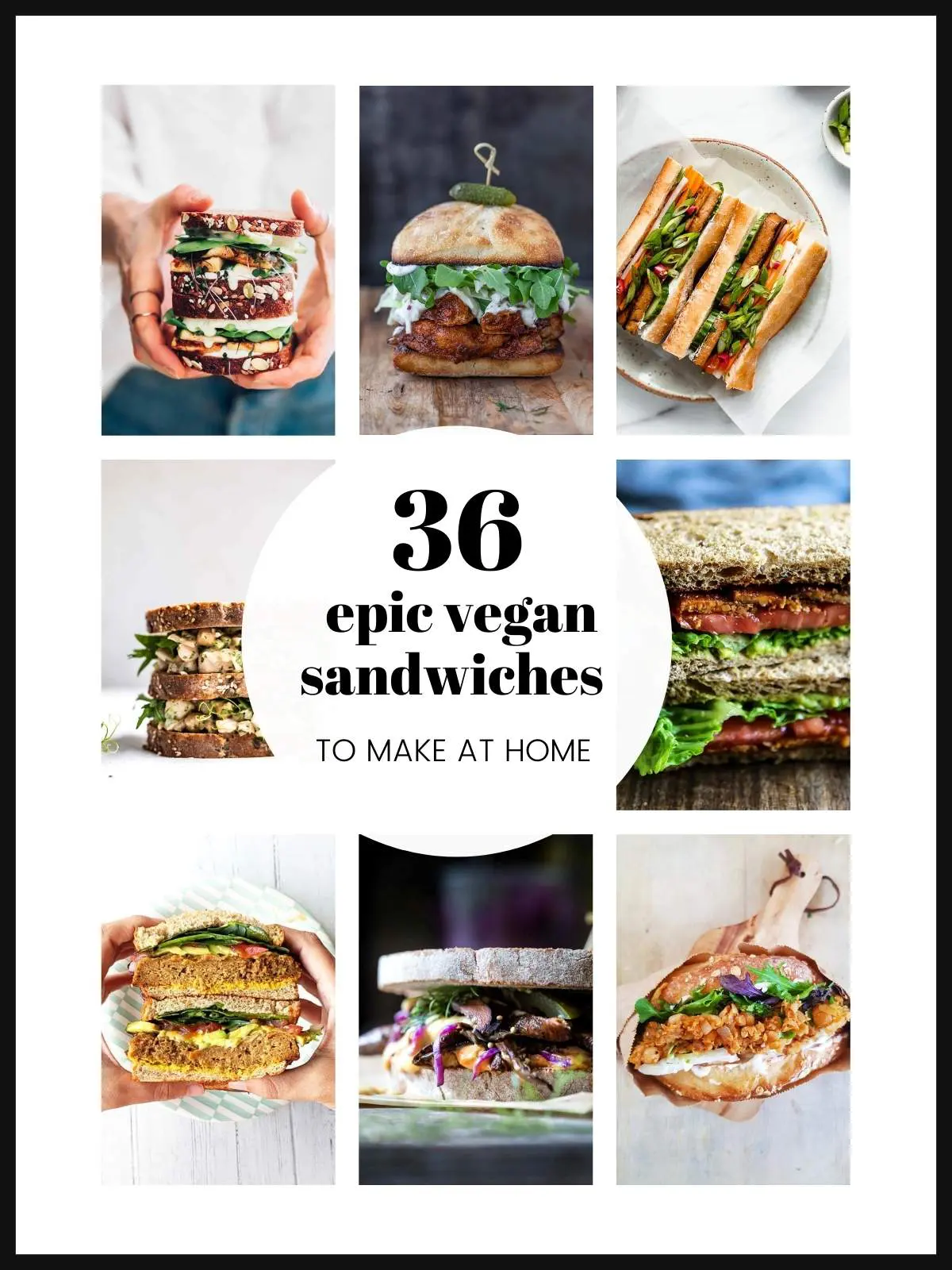 The world of vegan sandwiches has exploded beyond hummus and sprouts on rye. These days we are spoiled for choice with fast food chains and food retailers vying for our vegan dollars. But, how do you make the perfect vegan sandwich at home?
The answer is - easily!
But, before we haul it to the kitchen, let's look at the basics.
Show Me The Sandwiches
hide
How to Make the Best Vegan Sandwich
Are you ready to create restaurant quality vegan sandwiches at home? Here's how.
All Things Bread and Not Bread
Get creative when choosing the base of your sandwich. Swap classic white bread for sourdough, rye or pumpernickel. Play with pockets, pitas and rolls, or use wraps, seaweed or collard greens to create something fresh and new.
The Hero
Marinate tofu, smash chickpeas, roast jackfruit or slice seasoned seitan. Play with your food! The sandwich hero can be as simple as gently roasted sliced vegetables or as robust and hearty as vegan meatballs.
Season Your Vegan Sandwiches
To make the most of your ingredients season each with either salt flakes or Kosher salt. We want to enhance the flavours not turn our sandwich in to a salt bath. Adding a little salt and pepper to each element will take your sandwich to the next level .
Balancing Flavours
A truly epic sandwich fills your mouth with an explosion of different flavours that balance each other.
Pair spicy tofu with a cooling yoghurt or pudina chutney. Add chipotle or miso paste to homemade vegan mayonnaise or hummus to elevate flavours to the next level. Or go simple with thin pear slices added to arugula and melted cheese. Insert drool [here].
Include a variety of textures - crunchy, smooth, soft- and flavours. Think "salt, sweet, rich, tart."
Build It Right
Once you've got your elements together, it's time to build your sandwich. Denser textures like faux meats and cheese work best at the bottom while crunchier elements like pickles and vegetables work best towards the top.
It might be obvious, but many a good sandwich has fallen apart due to poor structure.
Get Lightly Toasted
Stale bread can come to life with a little toasting but I urge you to toast lightly. Too much toasting can leave your sandwich dry or worse...tasting burnt.
---
I am not going lie - this is a beast of a list. Thirty-six vegan sandwiches you'll want to eat breakfast, lunch and dinner.
---
Vegan Sandwiches
World Sandwiches
Travel the world in your lunch break with these globally inspired vegan sandwiches. Think "exotic spices, fresh produce and mouthwatering textures".
Sushi Sandwich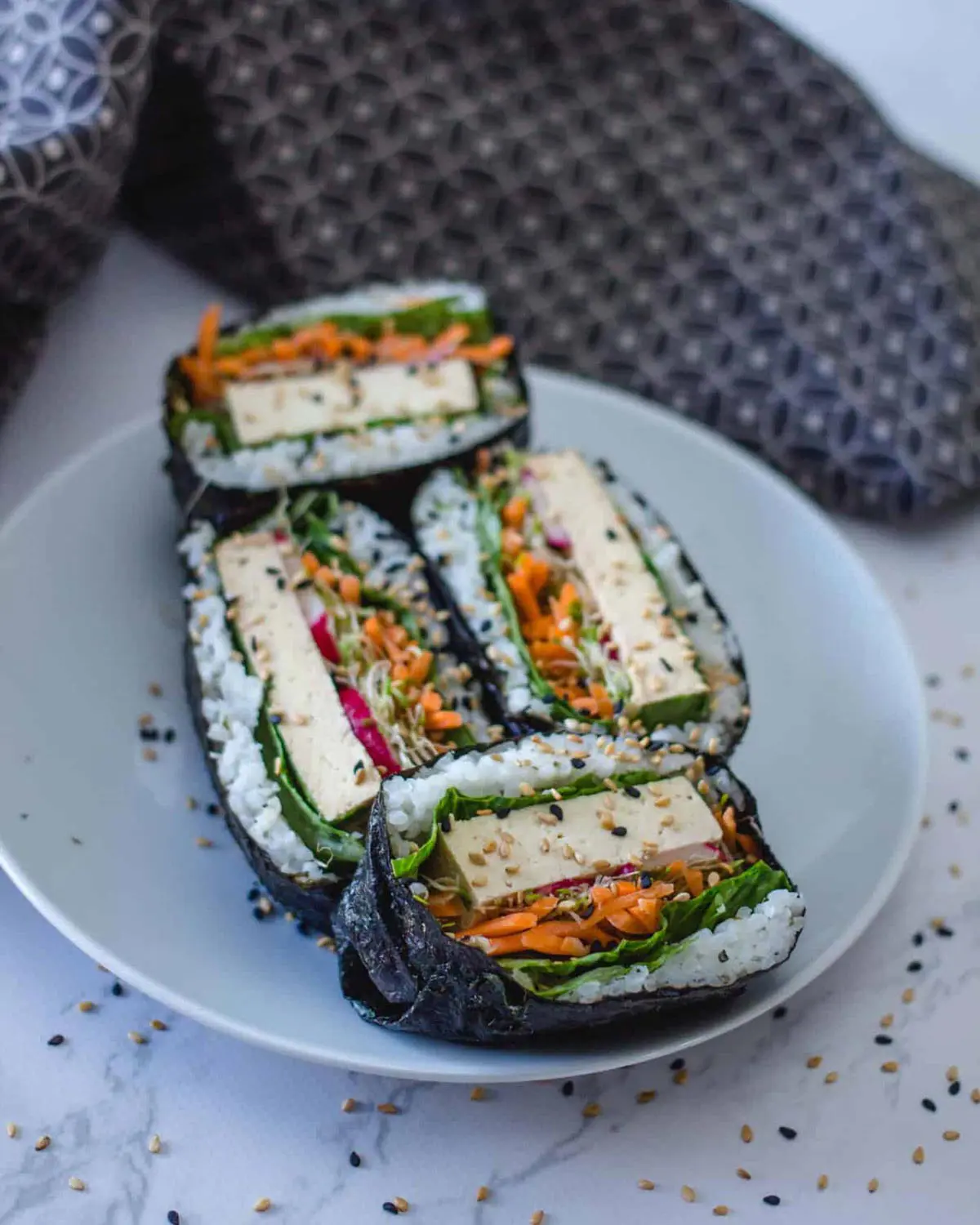 Filled with crunchy fresh vegetables and protein-rich tofu this sushi sandwich from VegKitchen is as healthy as it is delicious. Recipe and Image: VegKitchen. Get the recipe
Tofu Banh Mi Sandwich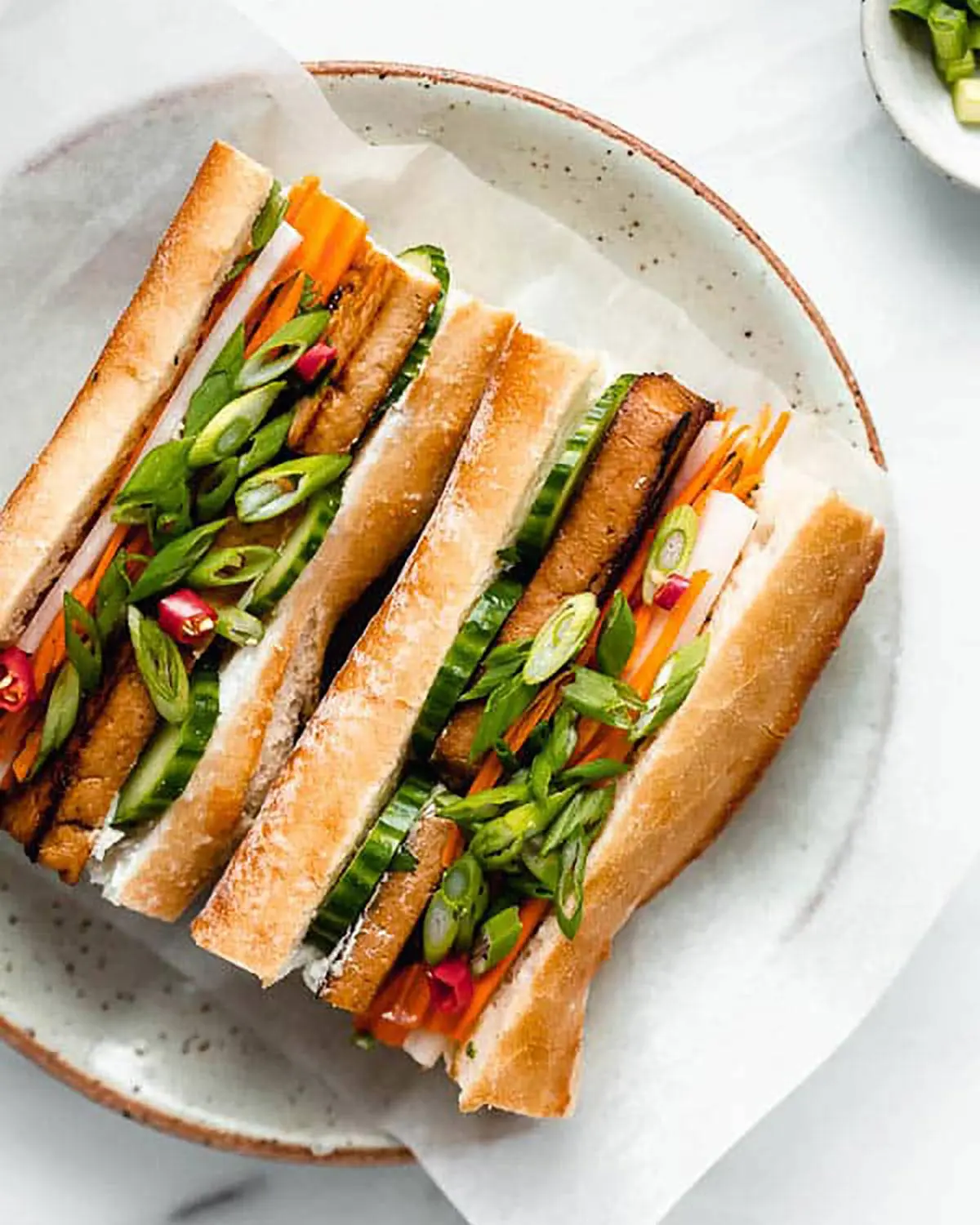 This Tofu Banh Mi Sandwich from Choosing Chia is a take on the Vietnamese classic. Filled with marinated tofu, herbs and homemade pickled veggies, this sandwich is flavour packed! Recipe and Image from: Choosing Chia. Get the recipe.
Jackfruit Shawarma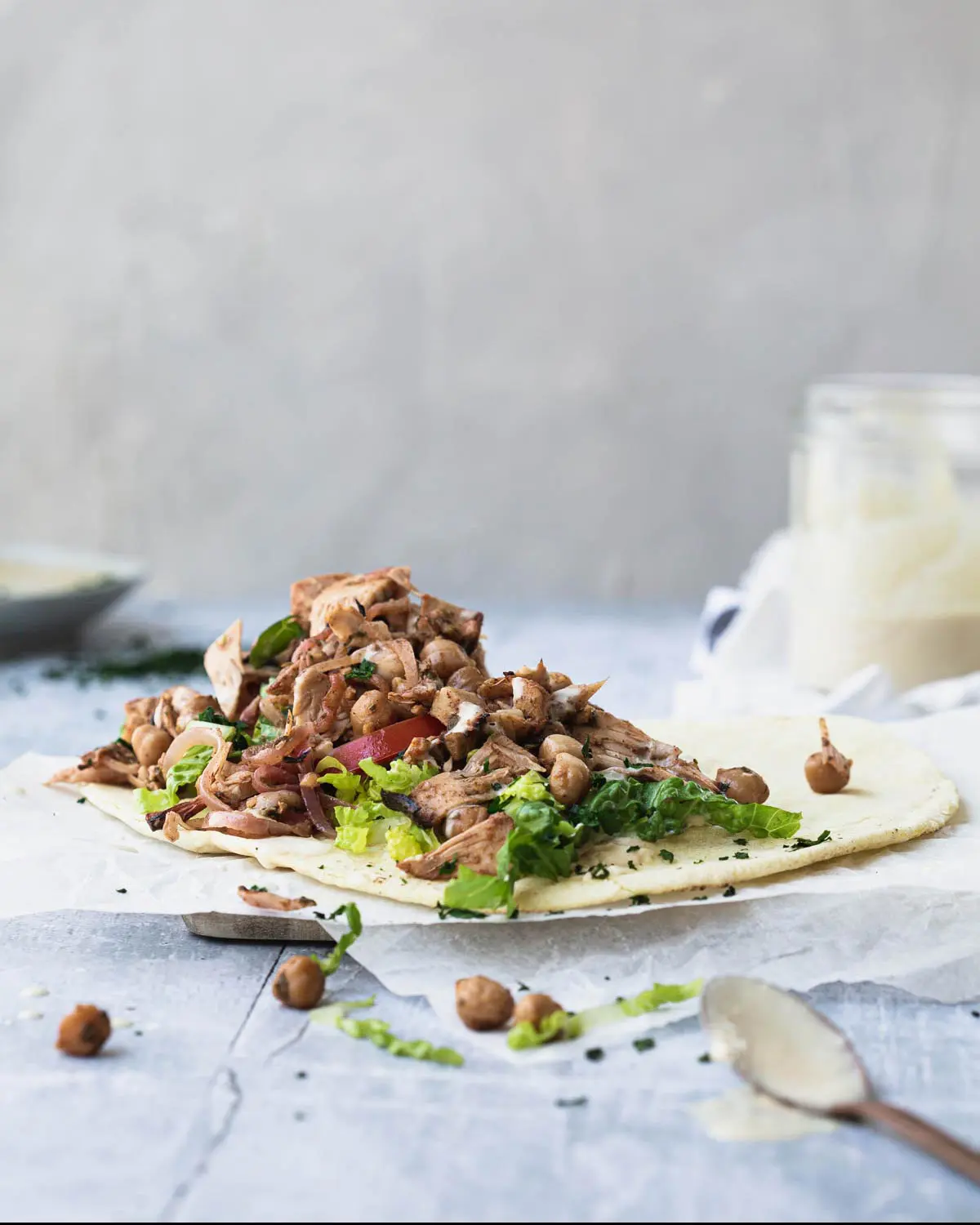 My vegan shawarma recipe is a reader favourite. Grab a napkin because this Middle Eastern sandwich is wonderfully messy, completely addictive and 100% carnivore-approved. Get the recipe.
Thai Peanut Veggie Sandwiches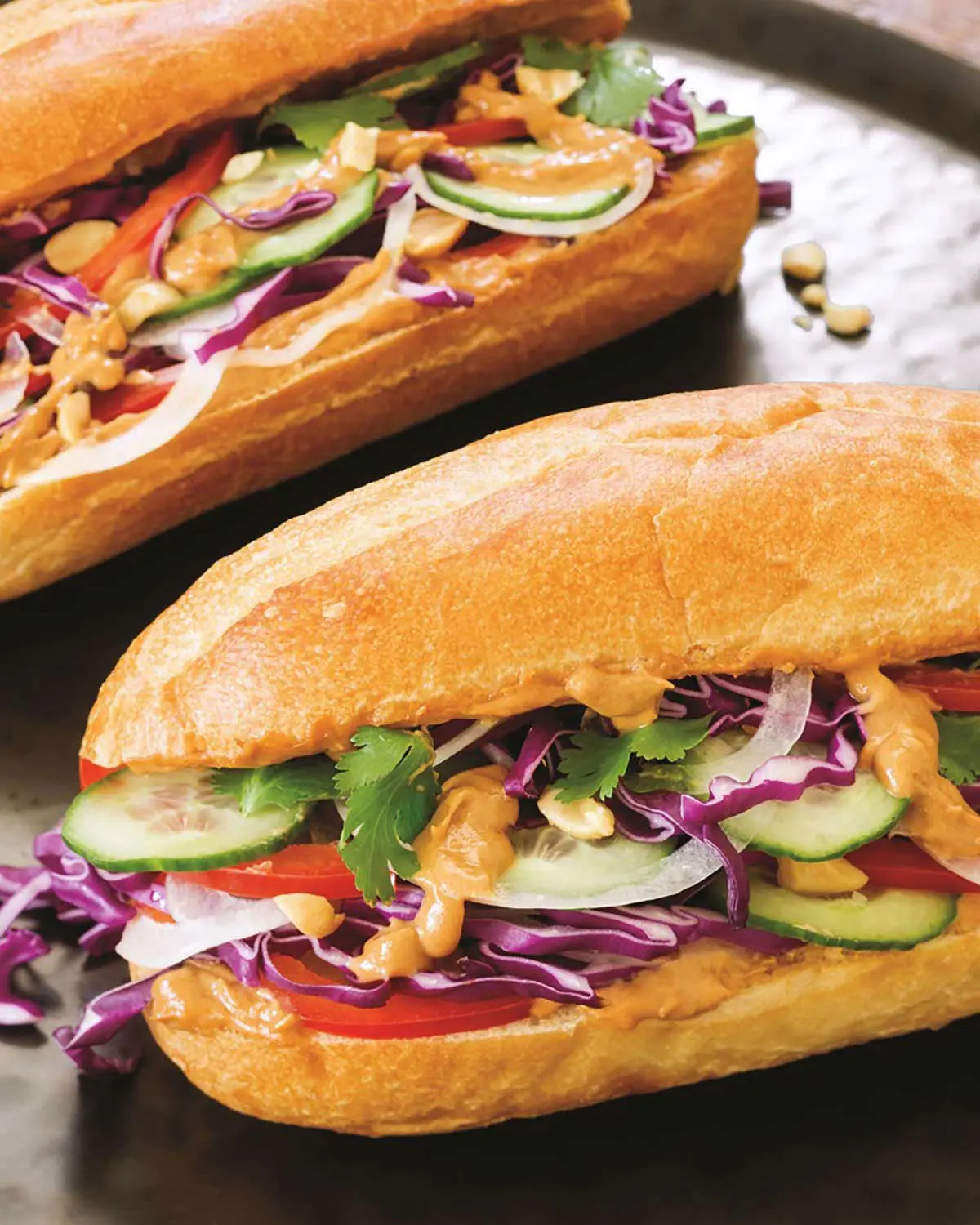 With crisp vegetables and a decadent peanut sauce, this Thai-inspired veggie sandwich from Go Dairy Free is bursting with flavour and freshness. Recipe and Image from: Go Dairy Free. Get the recipe.
Masala Bombay Vegetable Grilled Sandwich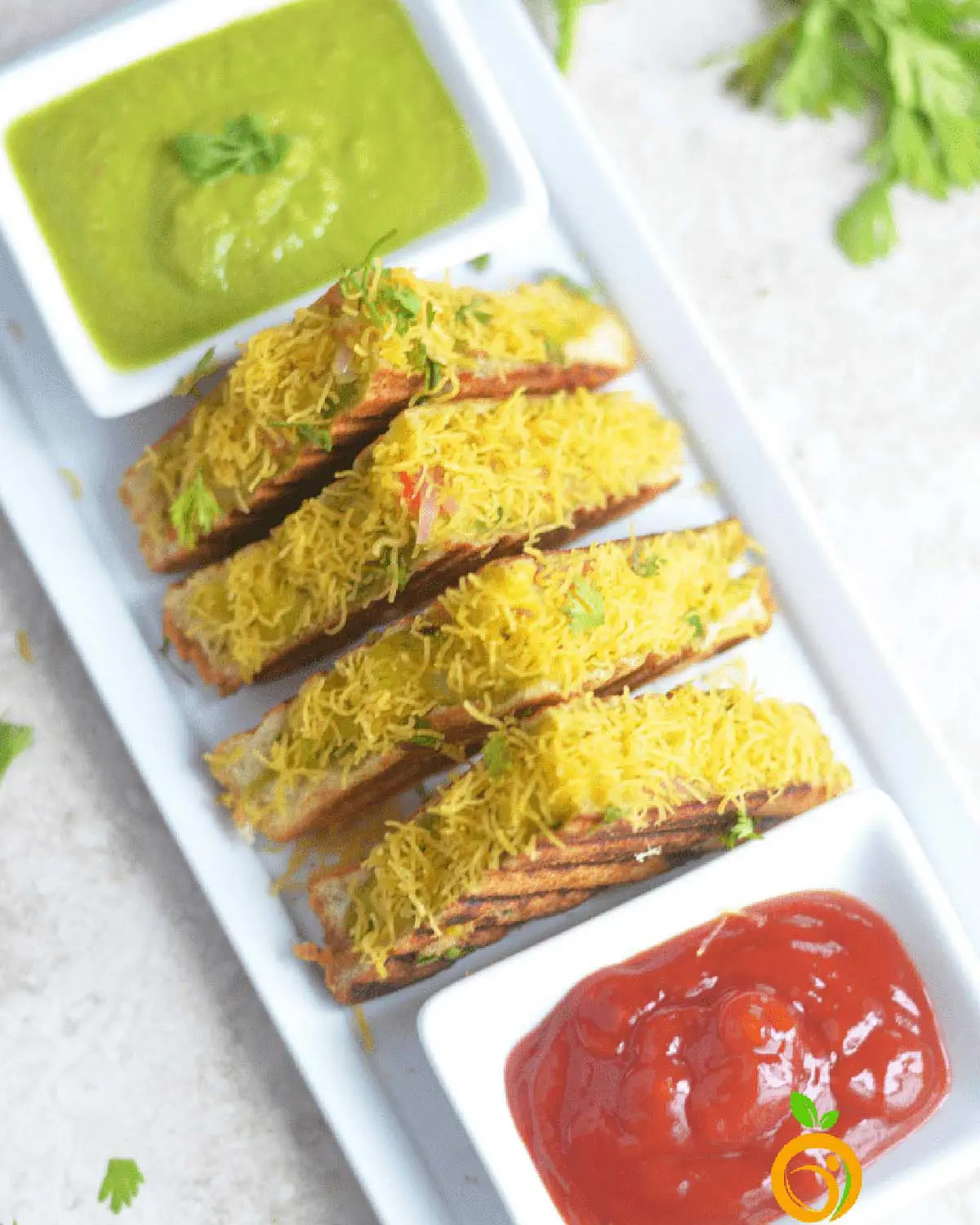 A traditional street food recipe, this Bombay sandwich is loaded with sliced veggies, masala aloo (Potato) and topped with spicy chutney and sev. Recipe and image from: The Belly Rules the Mind. Get the recipe.
Mango Curry & Tandoori Roasted Red Pepper Panini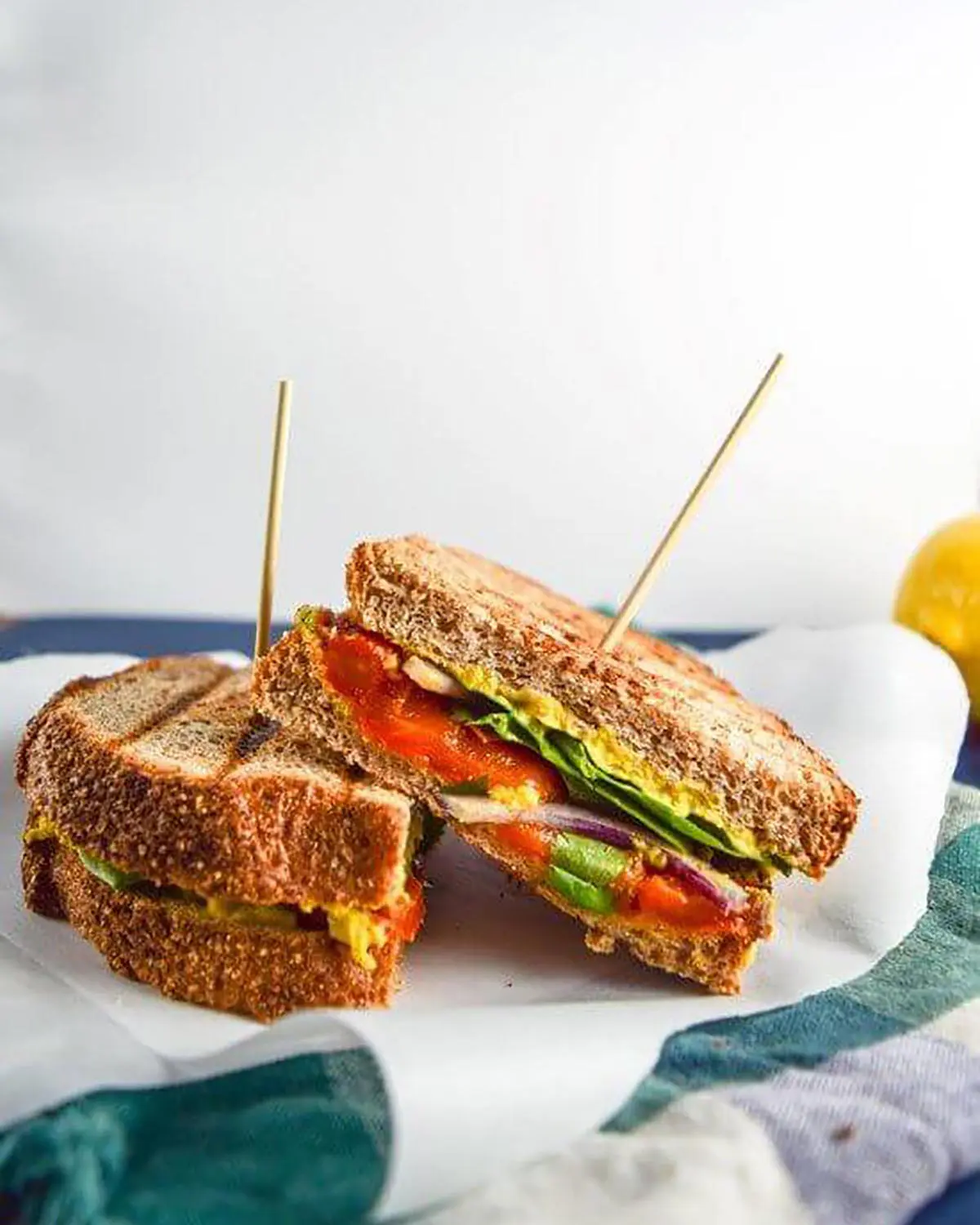 Mango curry hummus and tandoori roasted red pepper panini (sandwiches) combine to create a mouthwatering vegan sandwiche that will make you forget about boring old hummus and sprouts. Recipe and image from: Yup It's Vegan. Get the recipe.
Sandwiches With Chickpeas
Chickpeas are an awesome source of protein and fibre and can be mashed, smashed and crumbed to mimic so many traditional textures. These vegan sandwiches use chickpeas to create epic sandwiches that will help you feel fuller for longer.
Buffalo Chickpea Sandwich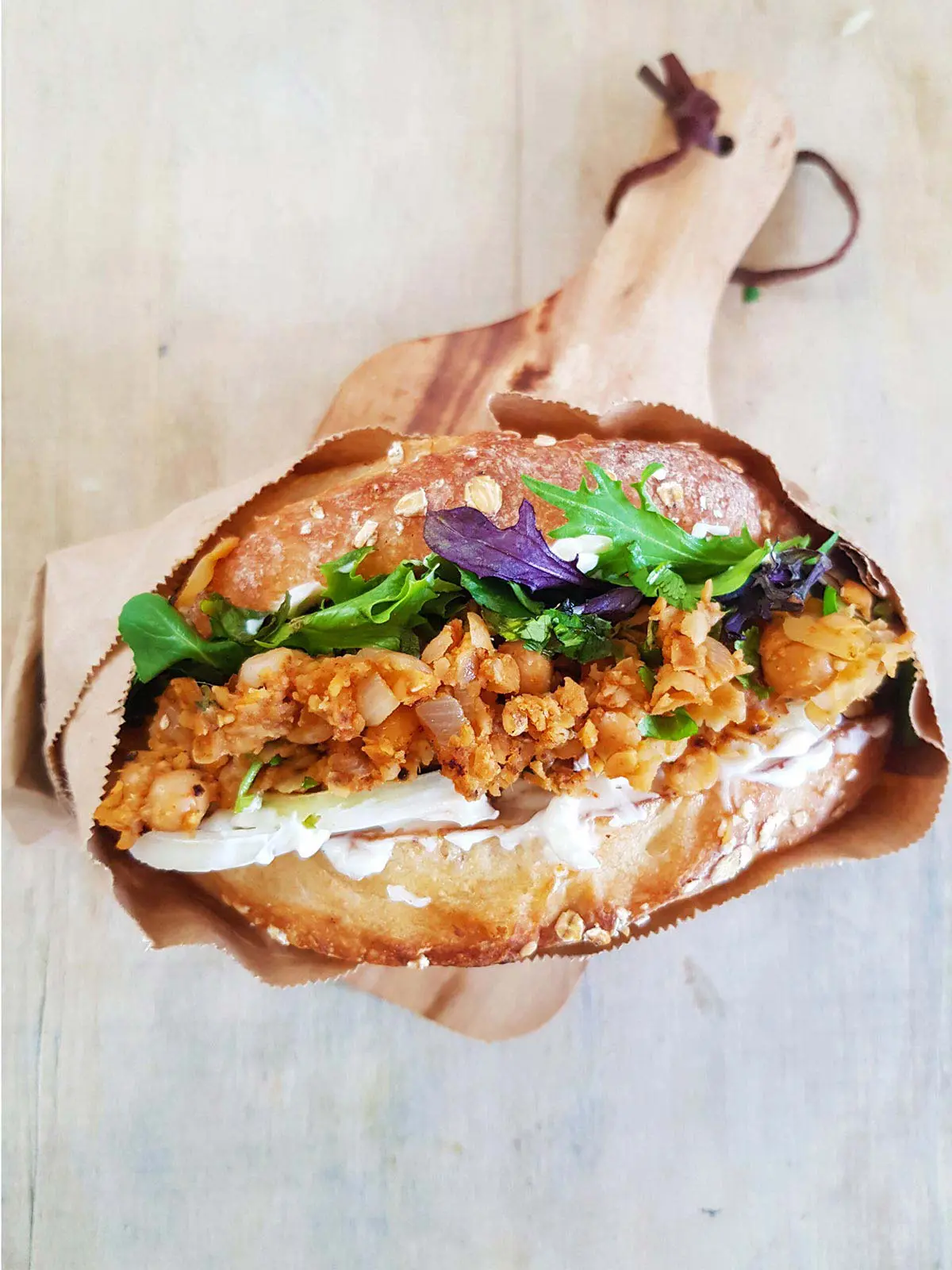 This Buffalo Chickpea Sandwich is a super delicious, vegan and gluten-free sandwich that's ready in 15-minutes. Win! Recipe and image from: Get Set Vegan. Get the recipe.
BBQ Chickpea Sandwich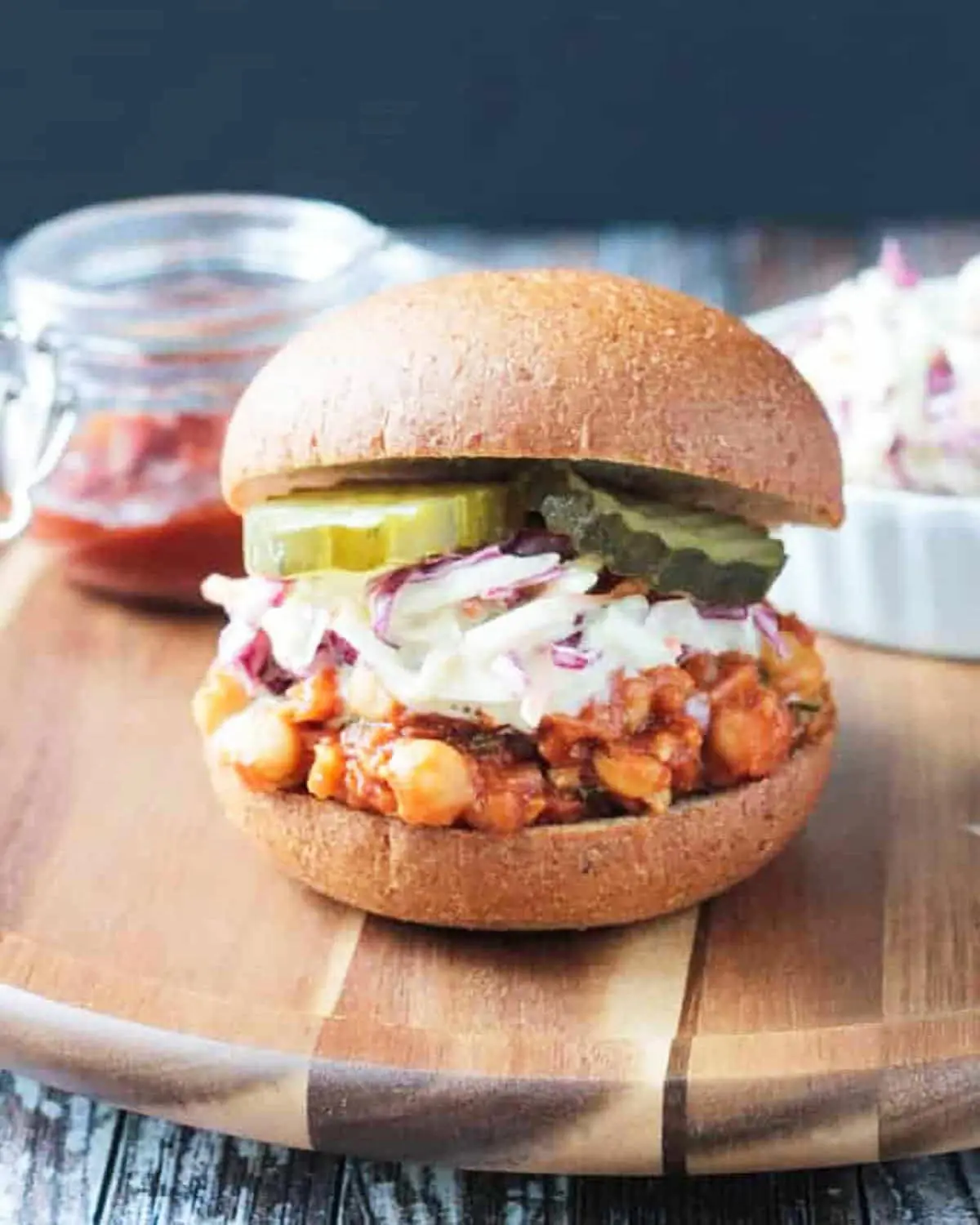 Sweet and mildly spicy, hearty and delicious, this sloppy BBQ Chickpeas Sandwich is family approved making it perfect for lunchbox or weekend lunches. Recipe and image from: Veggie Inspired. Get the recipe.
Vegan Tuna Sandwich with Chickpeas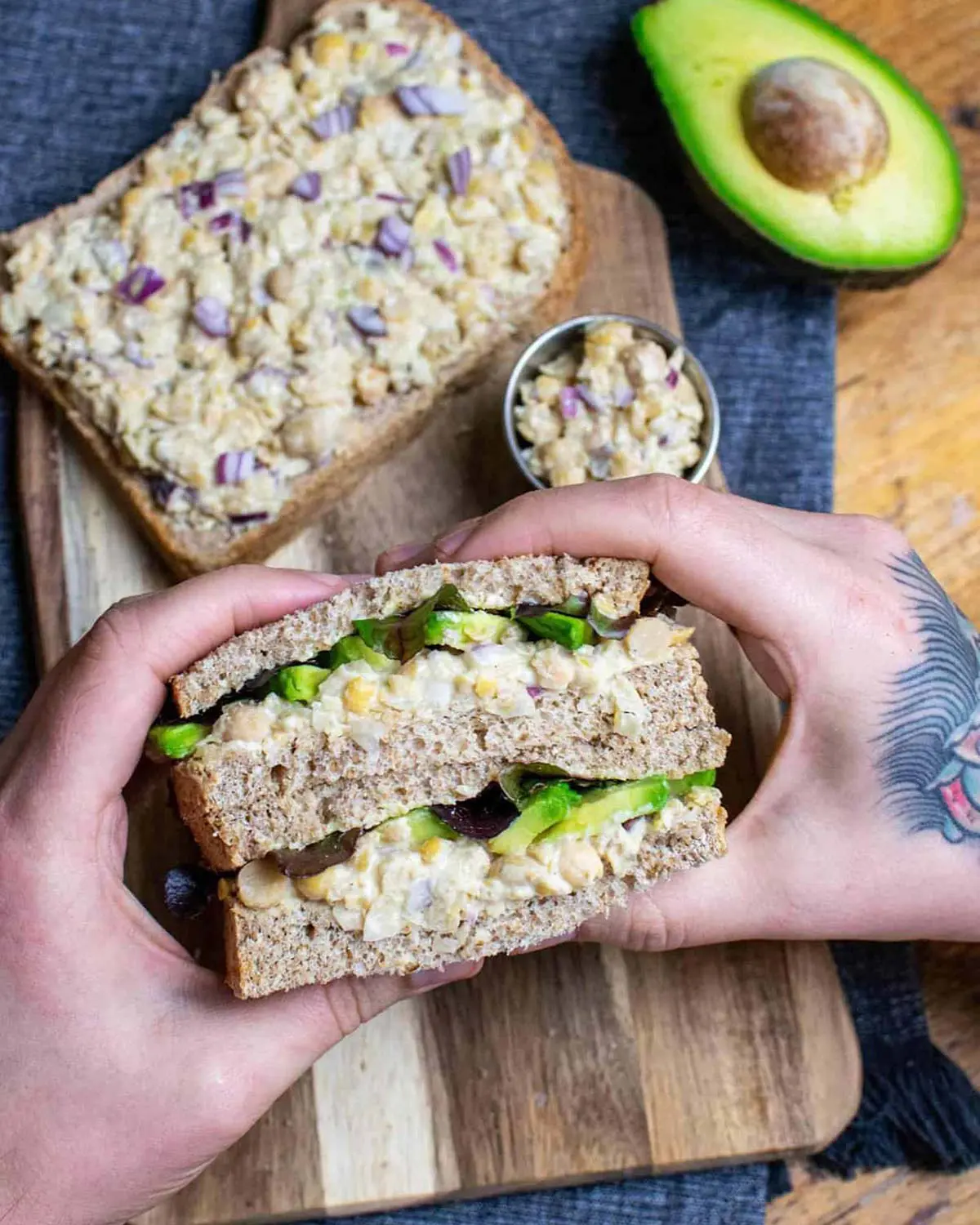 A simple plant-based tuna sandwich for a quick lunch. Ready in less than 15 minutes this vegan sandwich is made from chickpeas! Serve it in crusty bread or a pita wrap. Recipe and image from: Vegan Punks. Get the recipe.
Buffalo Chickpea Sandwich with Vegan Blue Cheese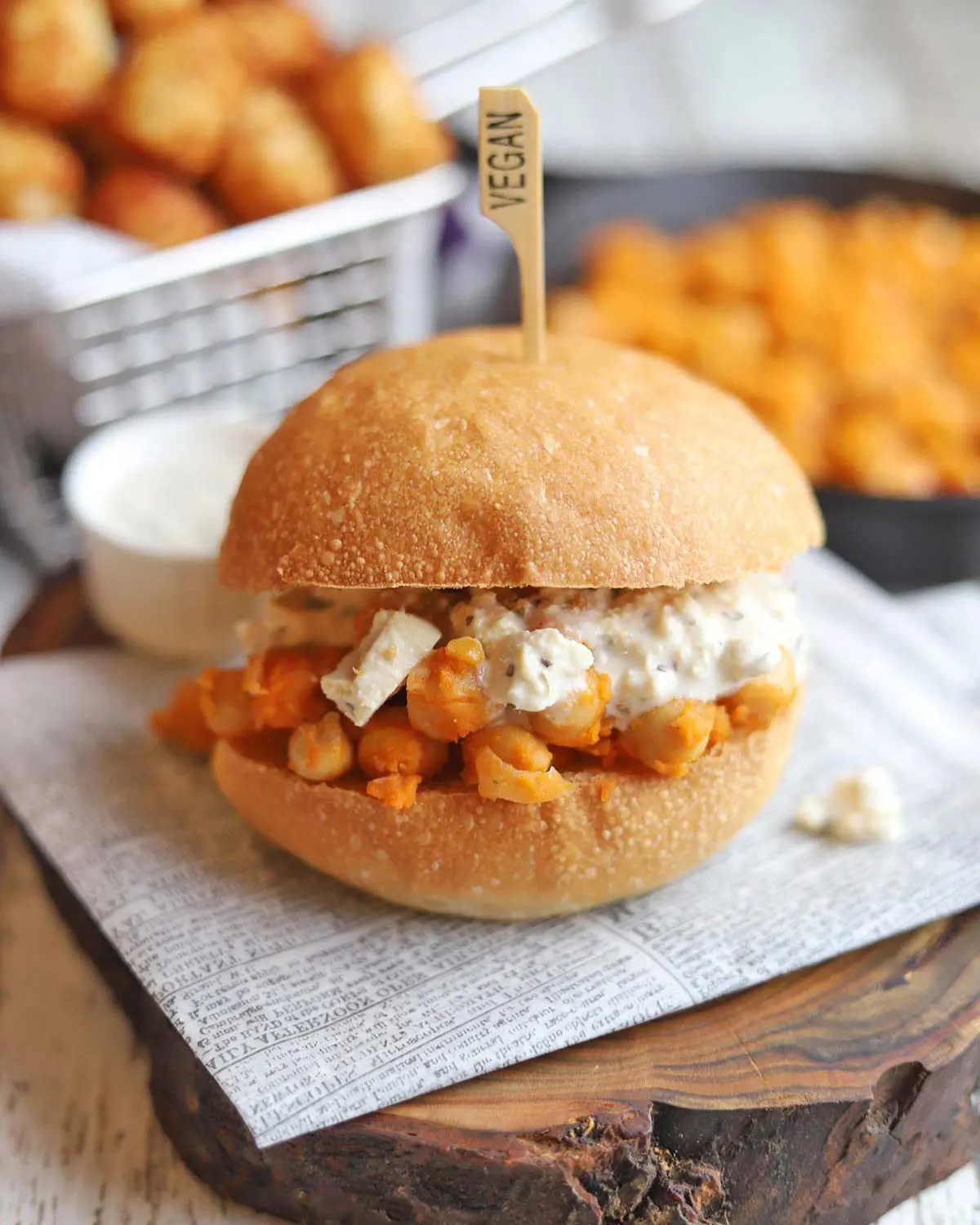 Love the flavours of buffalo? You'll love this buffalo chickpea creation from Cadry's Kitchen. Ready in under 20-minutes it comes with a creamy and cool dressing. Drool much? Recipe and image from: Cadry's Kitchen. Get the recipe.
Smashed Chickpea Salad Sandwich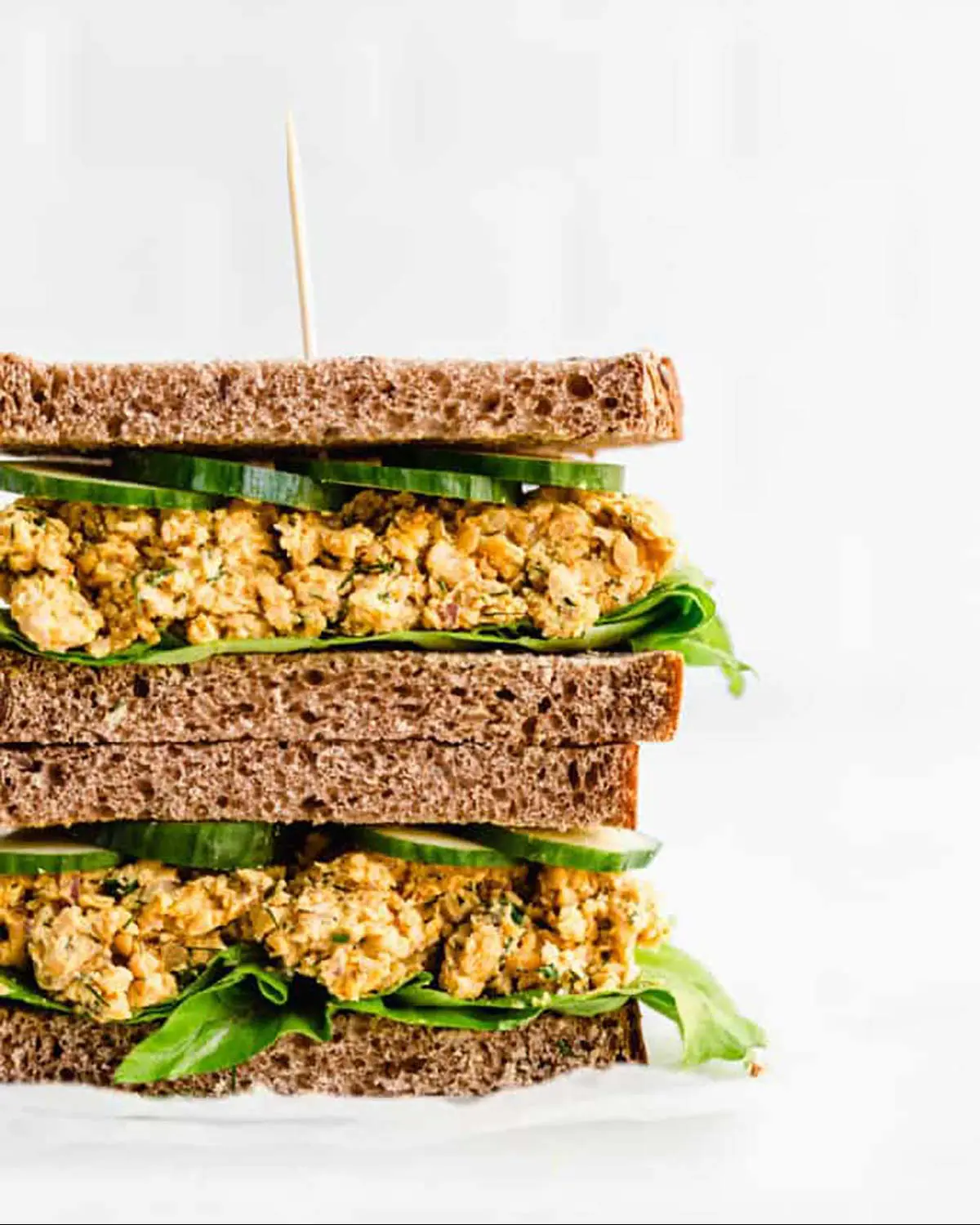 Ready in around 15-minutes, this Smashed Chickpea Salad Sandwich from Choosing Chia is a healthy vegan lunch that is packed with protein! Recipe and image from: Choosing Chia. Get the recipe.
Faux Meat Sammies
So, obviously vegans don't eat meat, but that doesn't mean we can't create meaty textures with plant-based ingredients. Whether using mushrooms, seitan or soy curls, these vegan sandwiches are deliciously meaty. No animals were harmed in the making of all this deliciousness.
Vegan Reuben Sandwich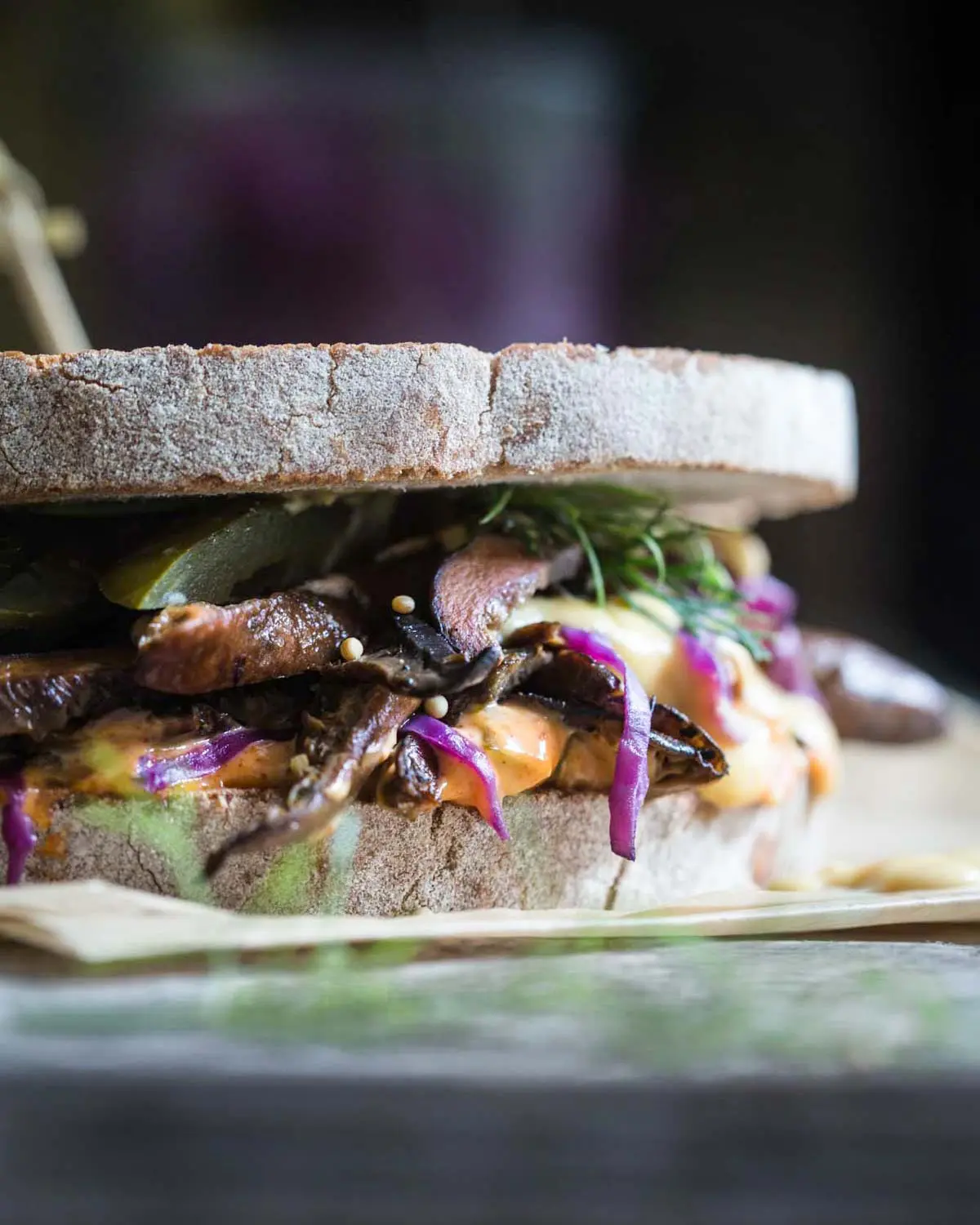 Food crush! My Vegan Reuben Sandwich has pan fried spiced mushrooms, homemade red cabbage sauerkraut, Russian dressing and pickles combine in each wonderfully messy and textured bite. Get the recipe.
Epic BBQ Seitan Sandwich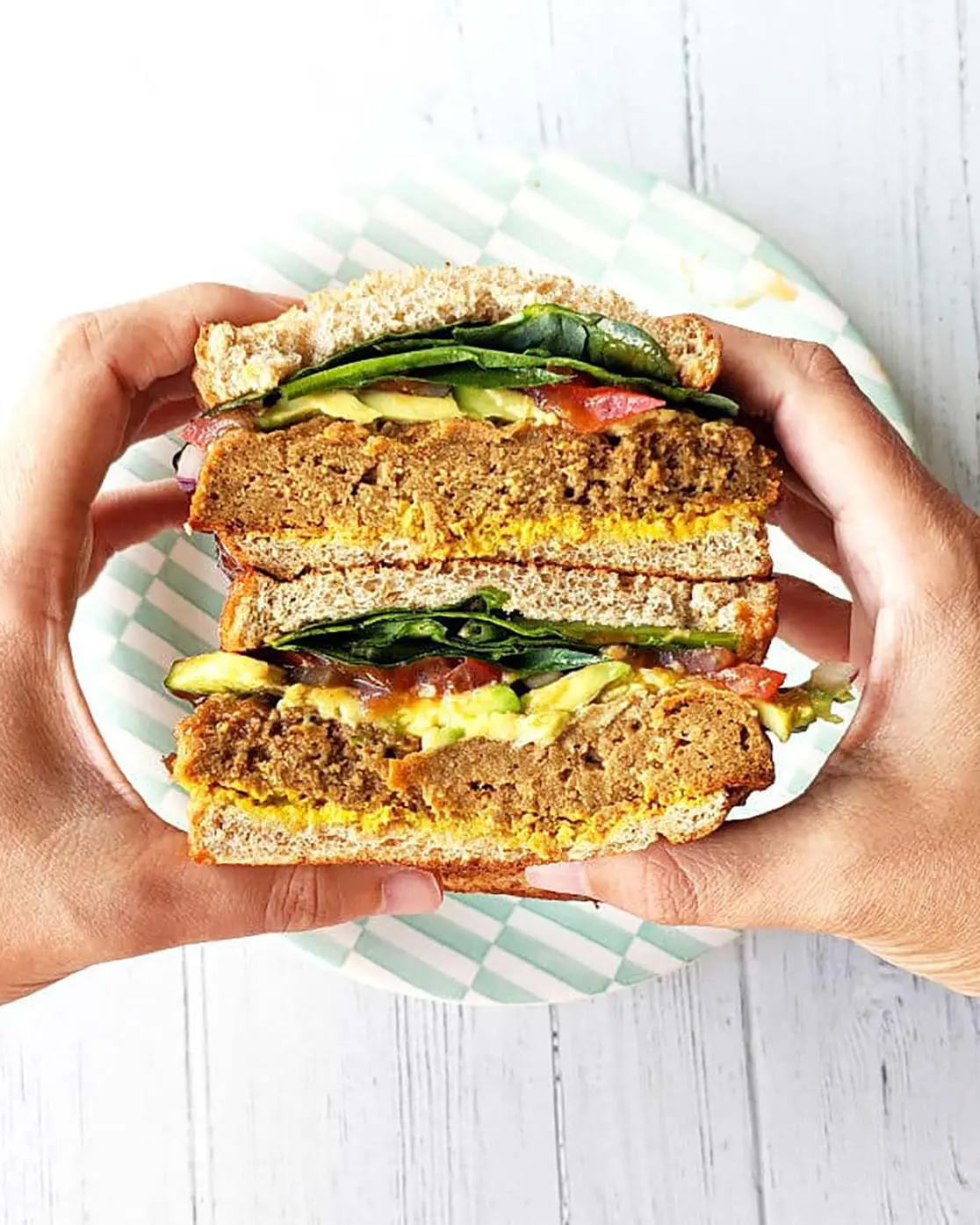 Want a meaty sandwich without the meat? This epic sandwich is going to blow your mind! Seitan (vital wheat gluten) gives it a meat-like texture that satisfies and boasts a whopping 46 grams of protein! Recipe and image from: Health My Lifestyle. Get there recipe.
Perfect Vegan Philly Steak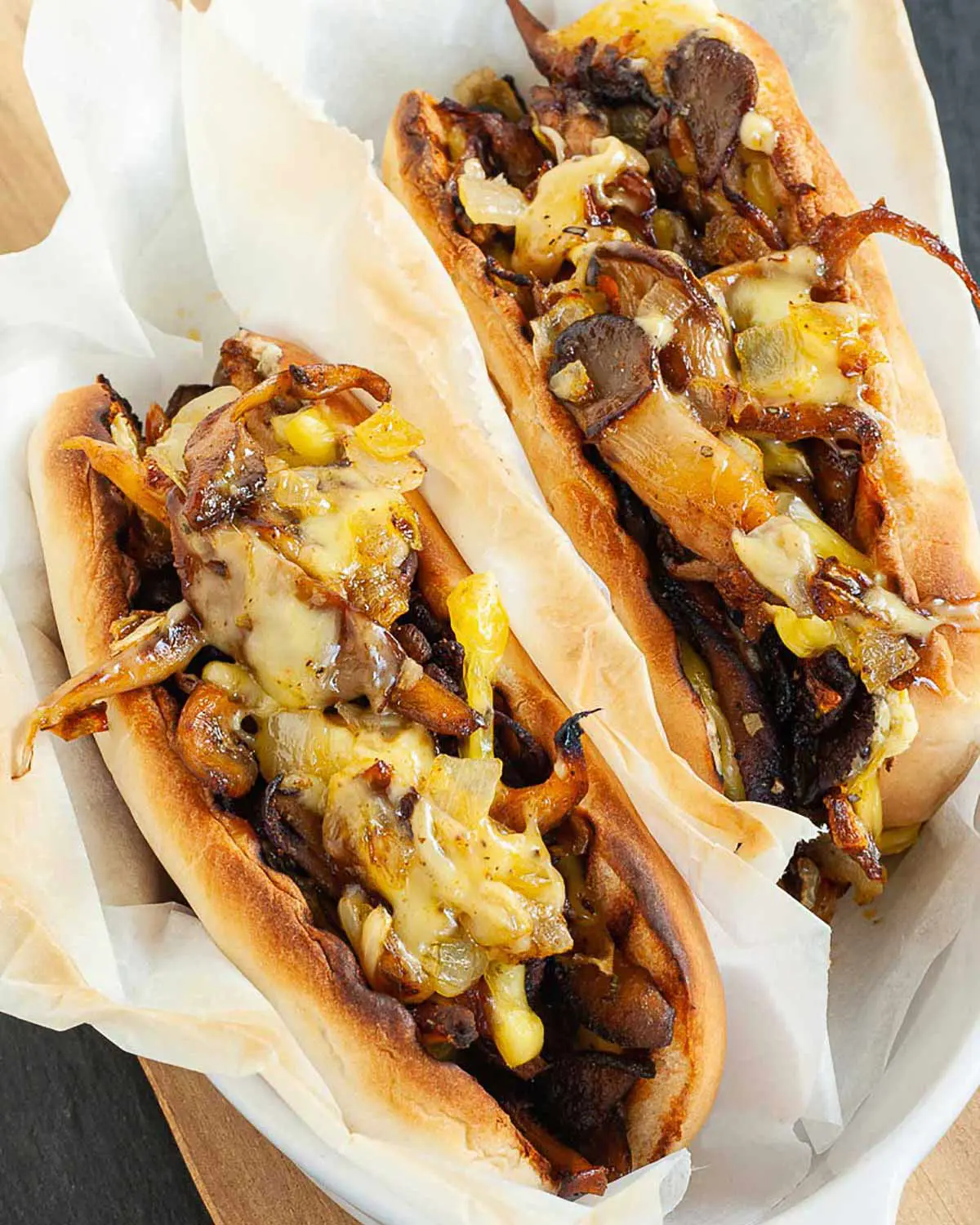 With sautéed mushrooms and a generous amount of vegan melted cheese, this vegan Philly cheesesteak is lick the plate delicious. Recipe and image from: My Pure Plants. Get the recipe.
Vegan Chicken Sandwich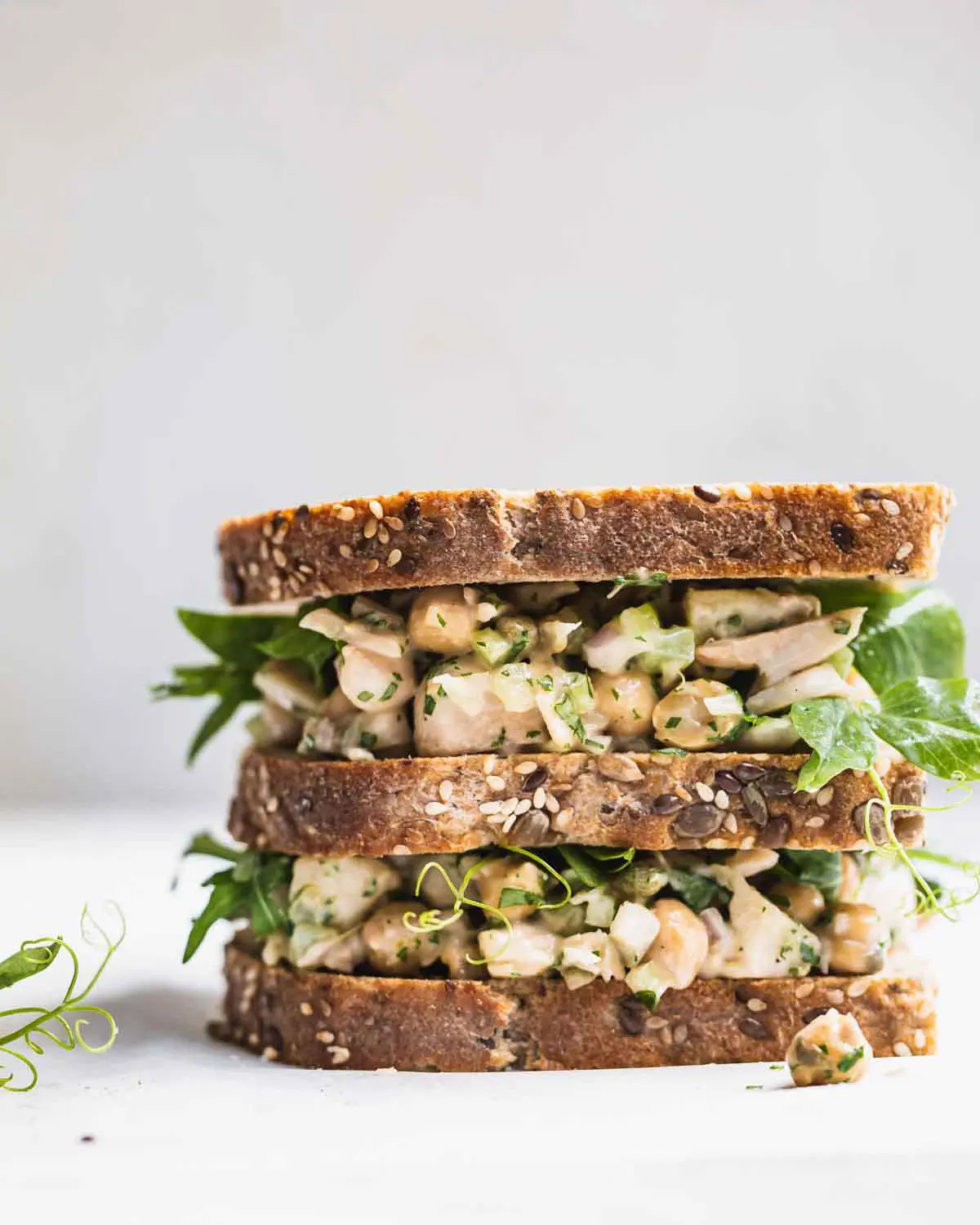 My vegan "chicken" salad is such an easy and fresh lunch option. Made with young jackfruit, chickpeas and a killer dressing, this classic salad made vegan is simple, quick and completely delicious. Get the recipe.
Vegan Philly Cheesesteak Recipe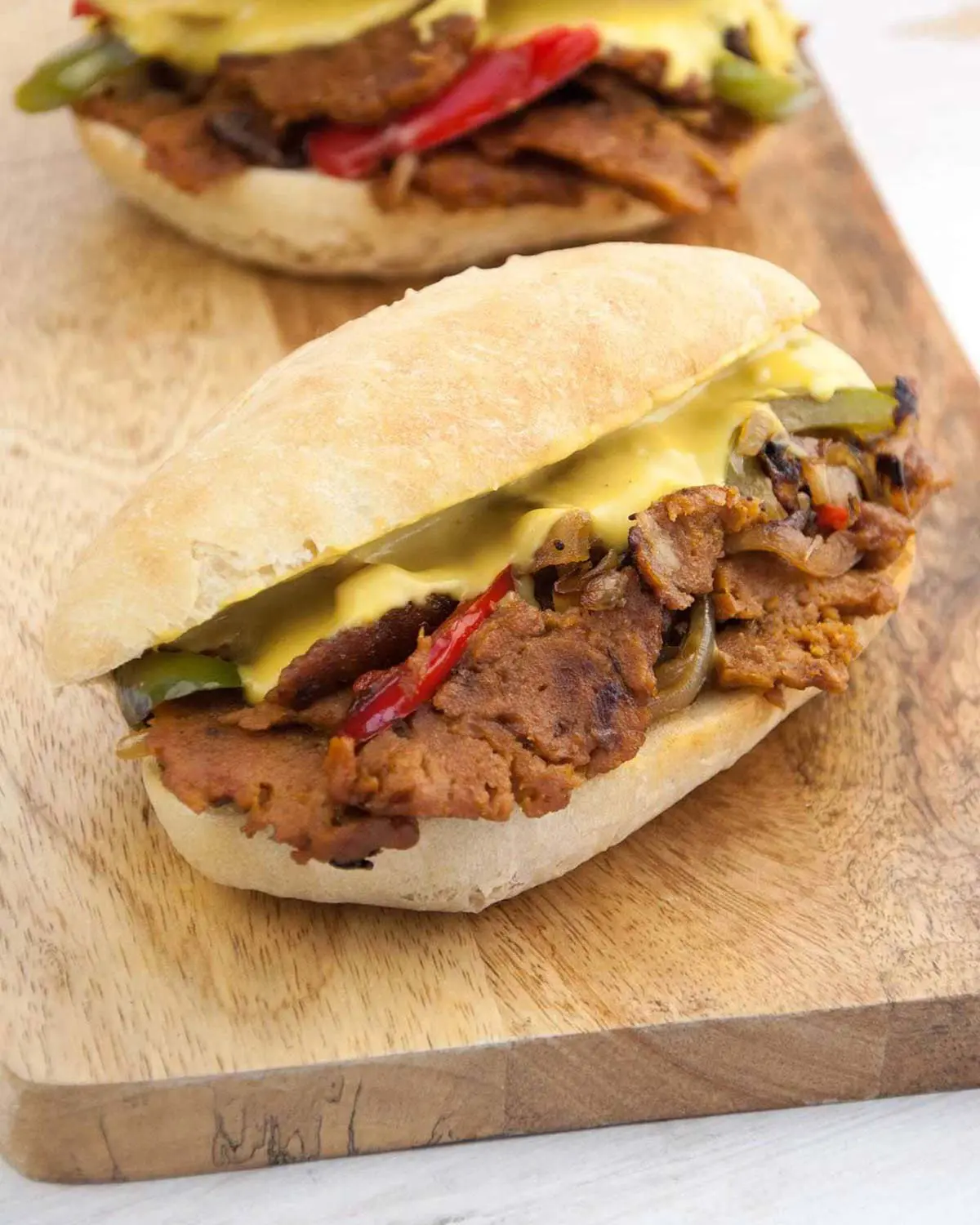 In this recipe, homemade seitan and a lip-smacking cheese sauce work beautifully to make this epic vegan Philly cheesesteak sub. Recipe and image from: Elephantasic Vegan. Get the recipe.
Vegan Breakfast Sandwich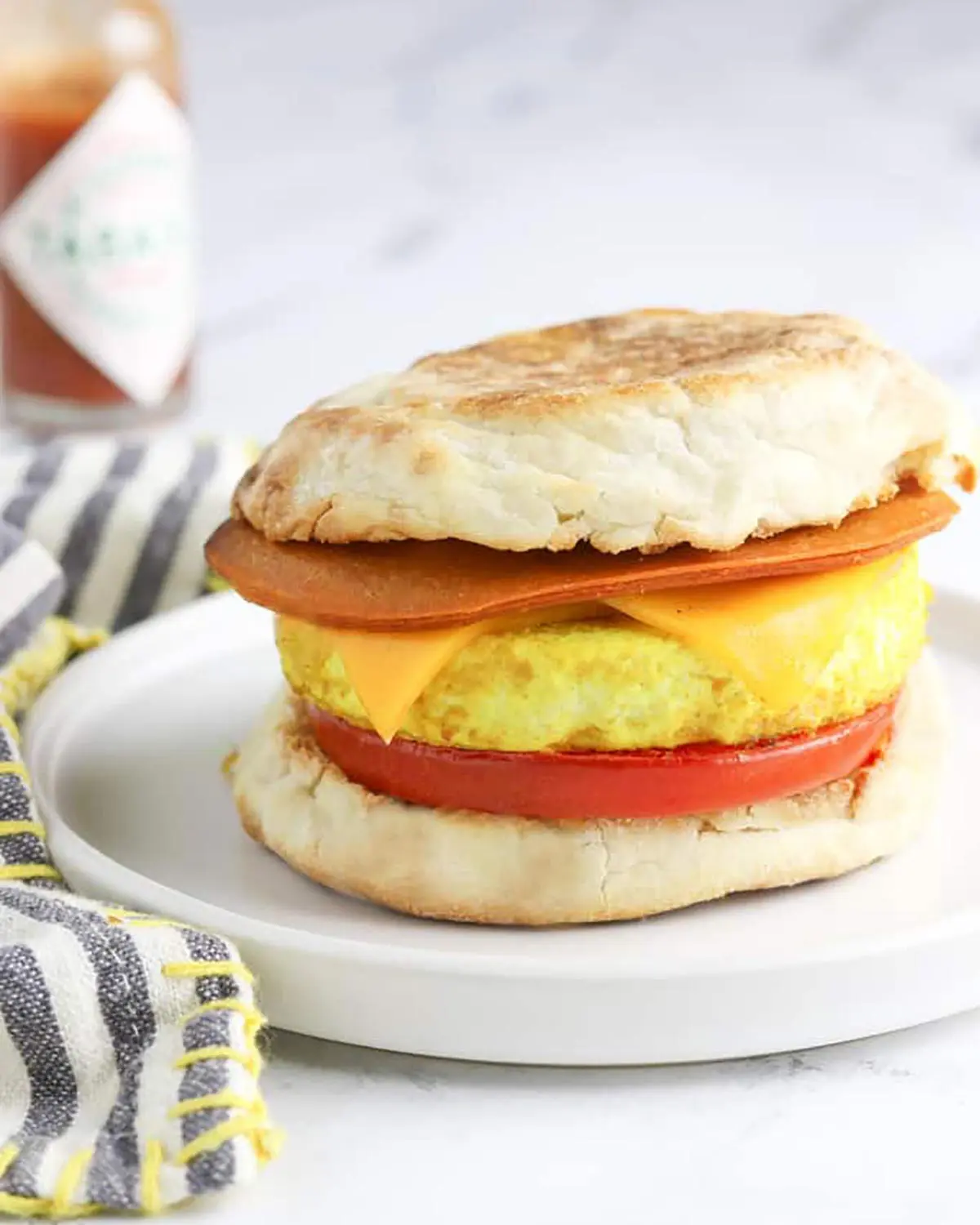 A crispy tofu patty smothered in melty cheese, topped with smoky veggie ham sandwiched together in a buttery English muffin, this breakfast sandwich is breakfast, lunch and dinner-worthy. Recipe and image from: Vegan Huggs. Get the recipe.
French Dip Sandwich with Au Jus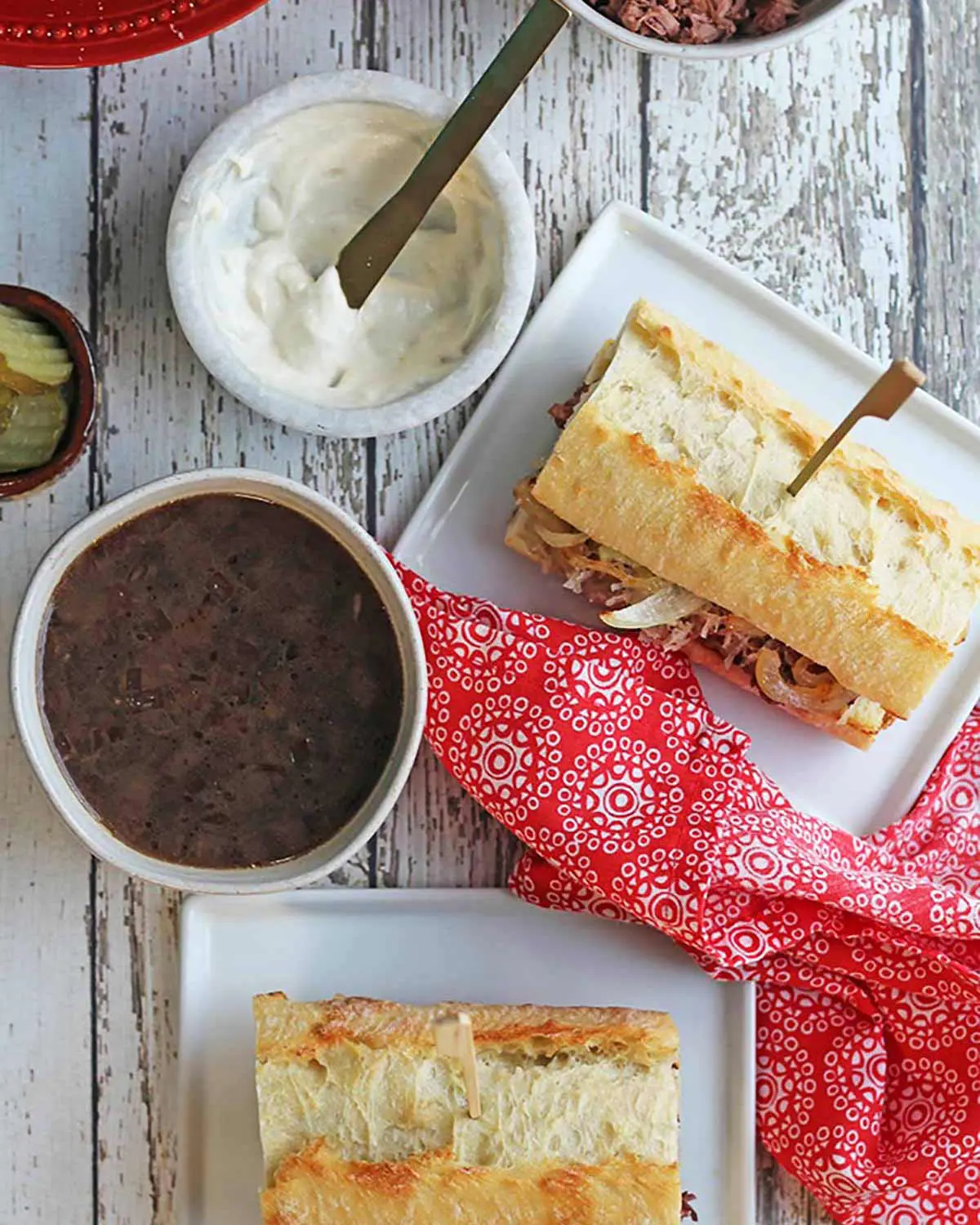 For this vegan French dip sandwich Cadry replaces traditional roast beef with jackfruit to make a drool-worthy lunchtime feast. Recipe and image from: Cadry's Kitchen. Get the recipe.
Easiest BBQ Soy Curls Sandwich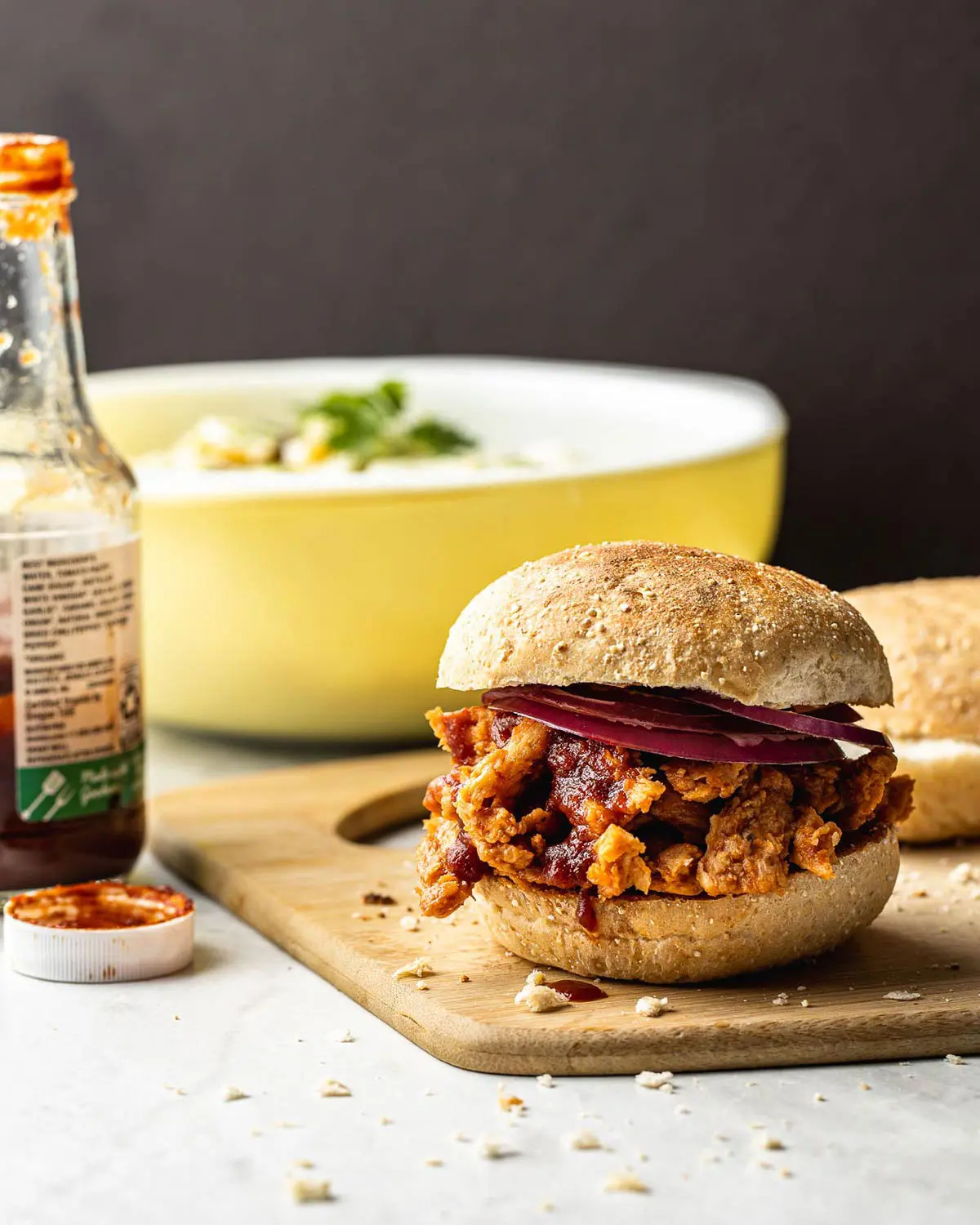 BBQ Soy Curls Sandwich made in an Instant Pot. This easy, healthy, satisfying, plant-based, vegan, and gluten-free barbecue recipe is saucy and delicious. Recipe and image from: Veeg. Get the recipe.
BLT Tempeh Sandwich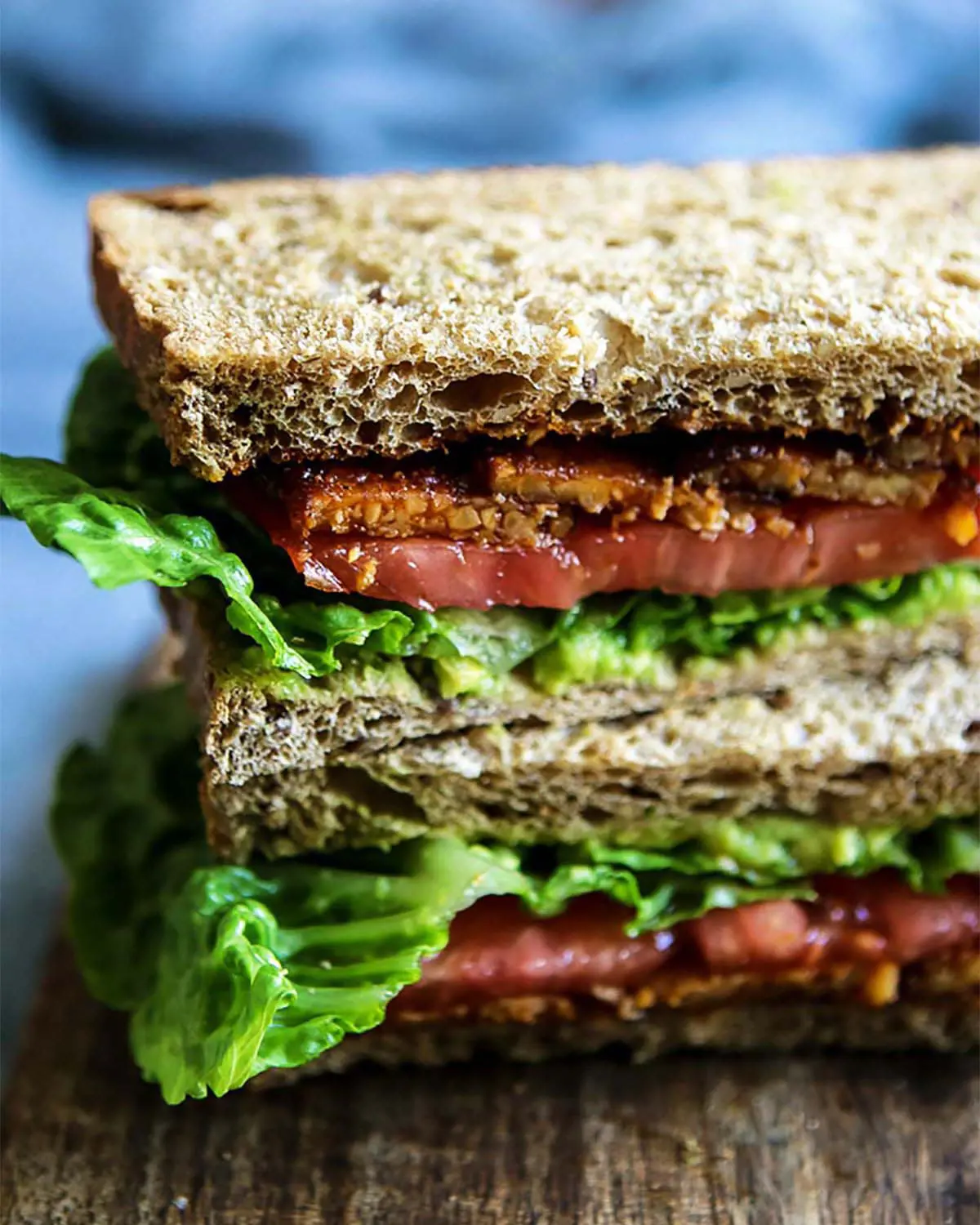 Don't you just love a crisp sandwich with a smoky kick mixed with the smooth, nutty taste of avocado? Then you are going to love this inspired Vegan BLT Tempeh Sandwich. Recipe and image from: Happy Kitchen Rocks. Get the recipe.
Vegan Pepperoni Pizza Panini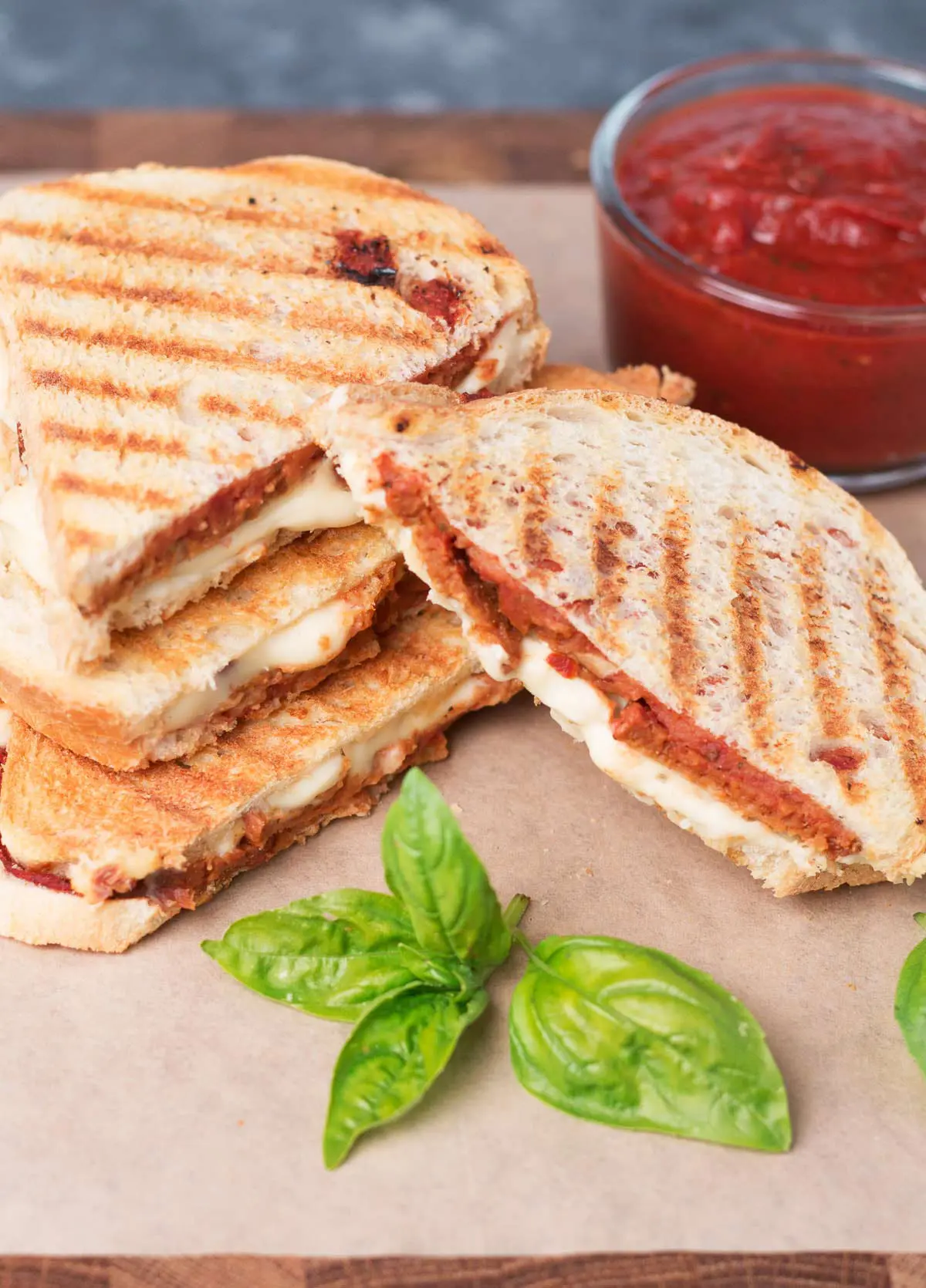 This Vegan Pepperoni Pizza Panini is a delicious pizza in a sandwich! An easy and satisfying lunch or dinner that's quick and easy, and oh so good! Recipe and image from: A Plantiful Path. Get the recipe.
Dairy-Free Cheese Sandwiches
You can enjoy all the good bits about cheese without the cow. These cheesy sandwiches use plant-based ingredients to create mouthwatering, oozy, lip-smacking flavours and textures. Grab a napkin, things are about to get deliciously cheesy.
Healthy Vegan Grilled Cheese Sandwich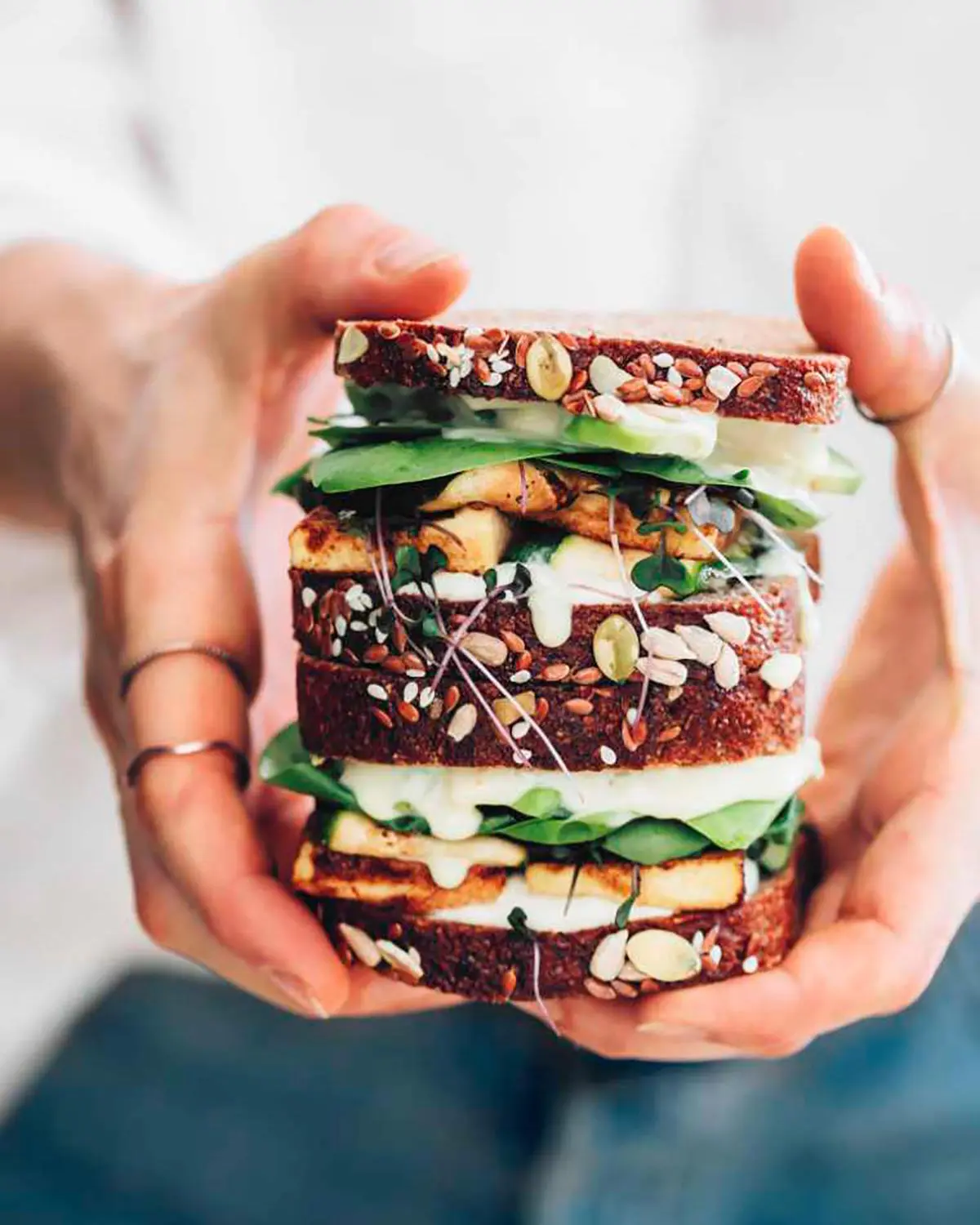 A scrumptious green goddess vegan grilled cheese sandwich with avocado, spinach and sprouts layered between cashew mayo and a healthy homemade cheese sauce! Recipe and image from: Nutriciously. Get the recipe.
Vegan Pesto Tomato Mozzarella Sandwich
This vegan pesto tomato mozzarella sandwich is simple, easy, but most importantly delicious and filling! Recipe and image from: Rescue Dog Kitchen. Get the recipe.
Roasted Red Pepper Sandwich with Vegan Mozzarella & Pesto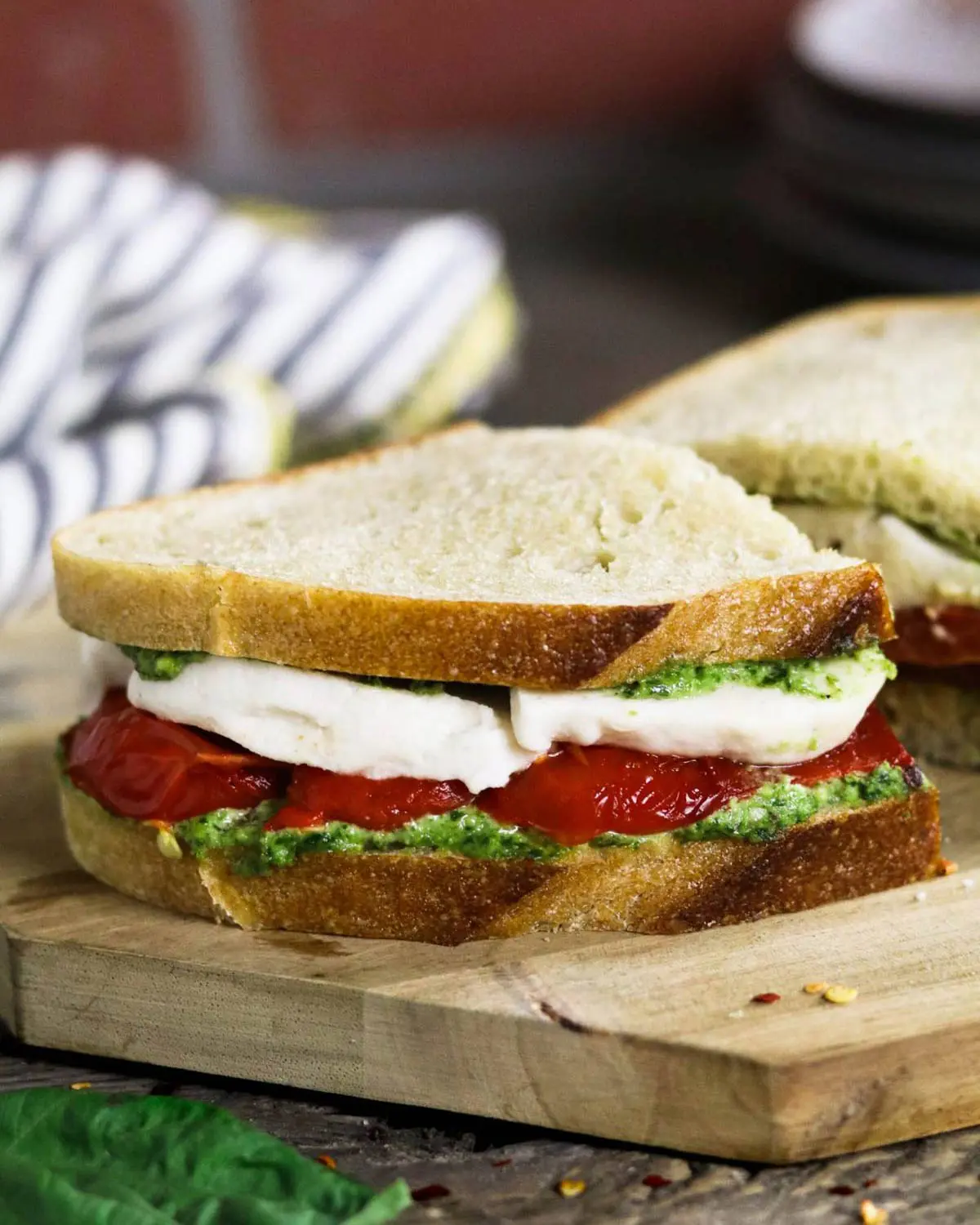 This Roasted Red Pepper Sandwich is built with three layers of deliciousness...creamy vegan mozzarella, cheesy pesto & smoky-sweet peppers. Make your own cheese or simply use store bought! Recipe and image from: Vegan Huggs. Get the recipe.
Jalapeno Popper Grilled Cheese Sandwich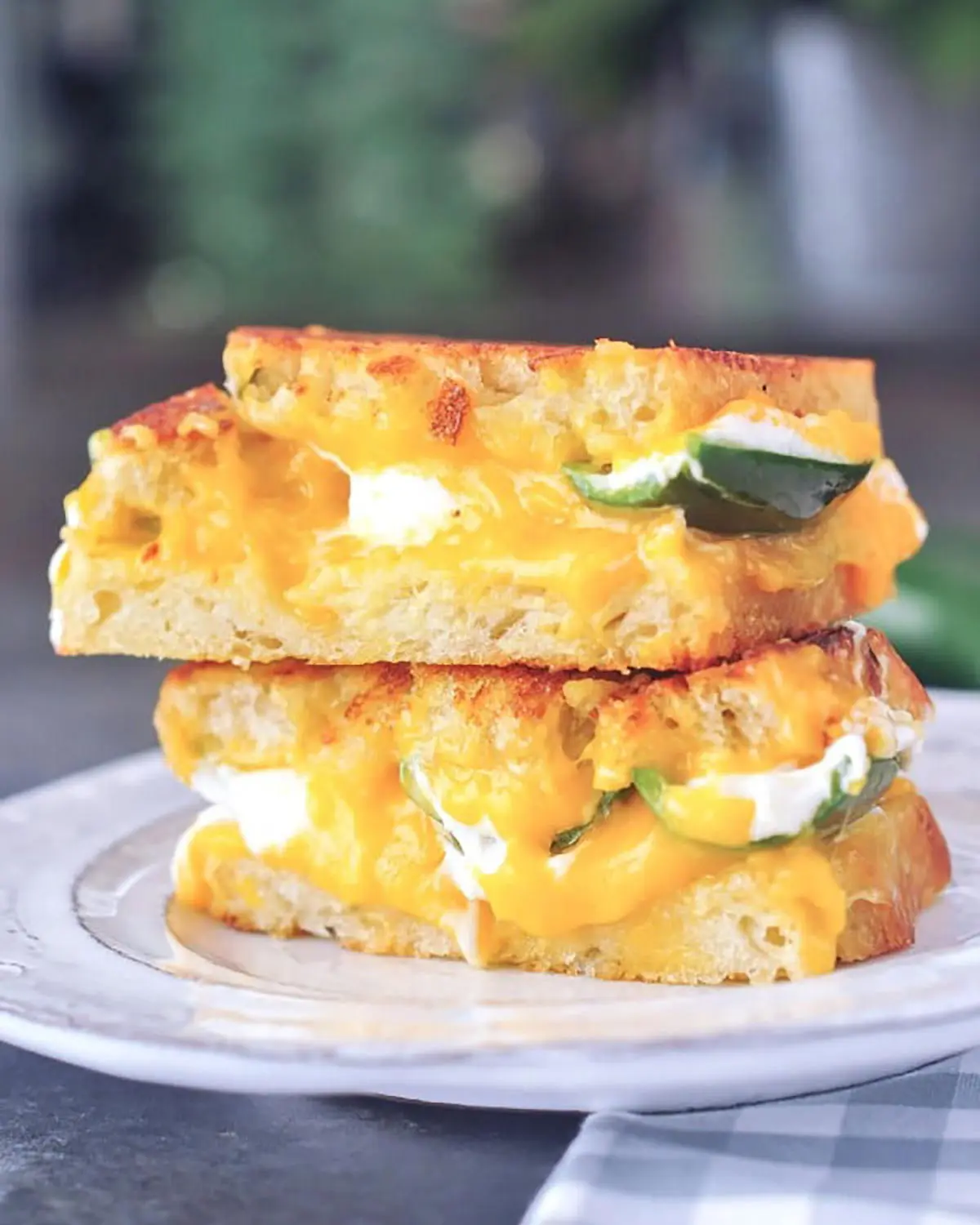 Kristina has created the ultimate comfort food with this jalapeno popper sandwich! Gooey cream cheese poppers and melty cheese take this sandwich to a whole other level. Recipe and image from: Spabettie. Get the recipe.
Vegan Pimento Cheese Spread Sandwiches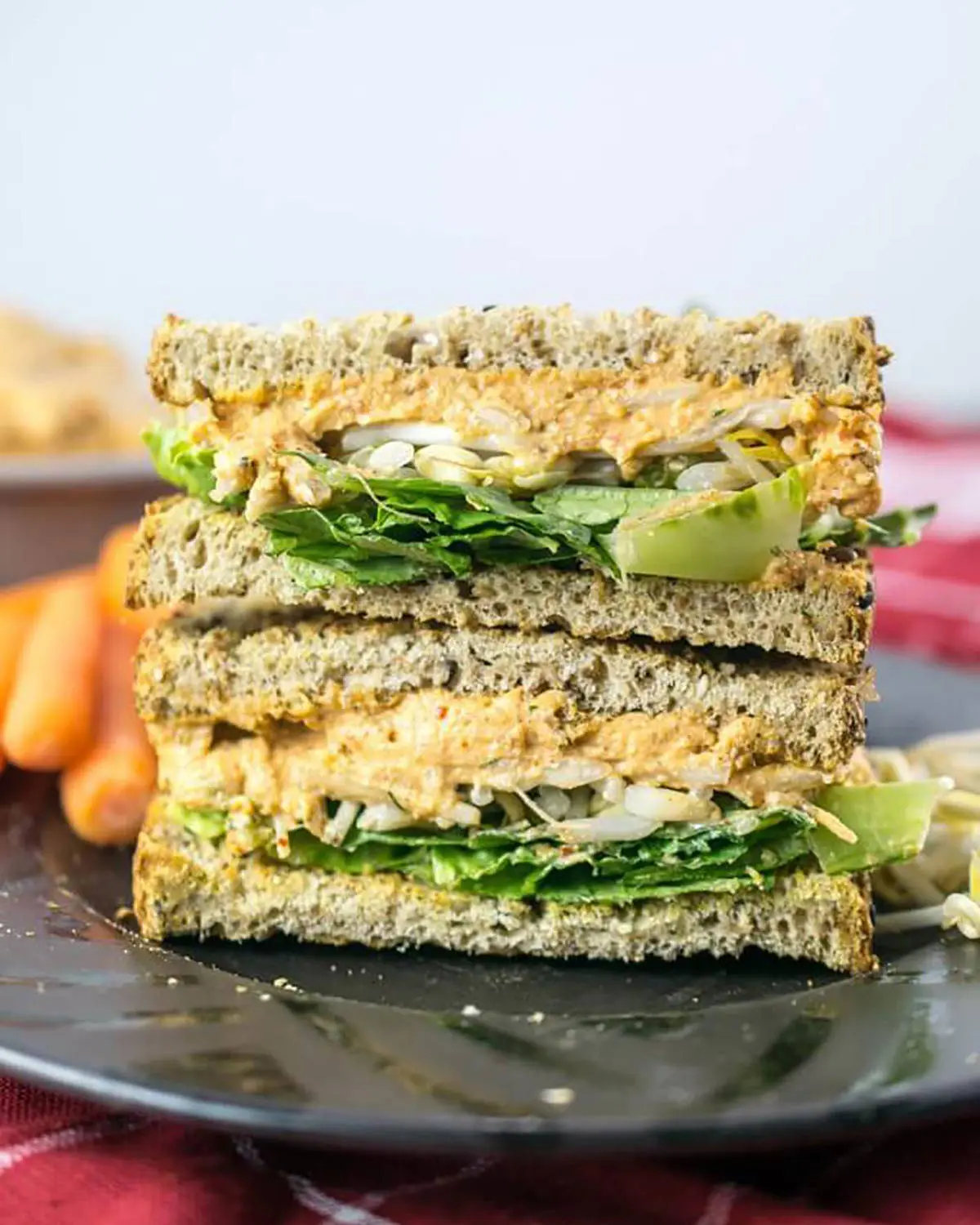 Creamy vegan pimento cheese spread on hearty whole wheat bread with lettuce and sprouts – what could be better for a summer meal? Skip the Daiya and make this healthy homemade recipe to fuel your next lunch. Recipe and image from: Yup It's Vegan. Get the recipe.
Tofu & Vegetable Sandwiches
What would us vegans do without tofu? Whether its firm, silken, smoked, marinated or fried, tofu is the perfect sandwich protein . It absorbs everything, taking on any flavours you like! And if tofu isn't your thing, we've got some gorgeous vegetable creations to inspire your next lunch break.
Succulent Spicy Cauliflower Burger Recipe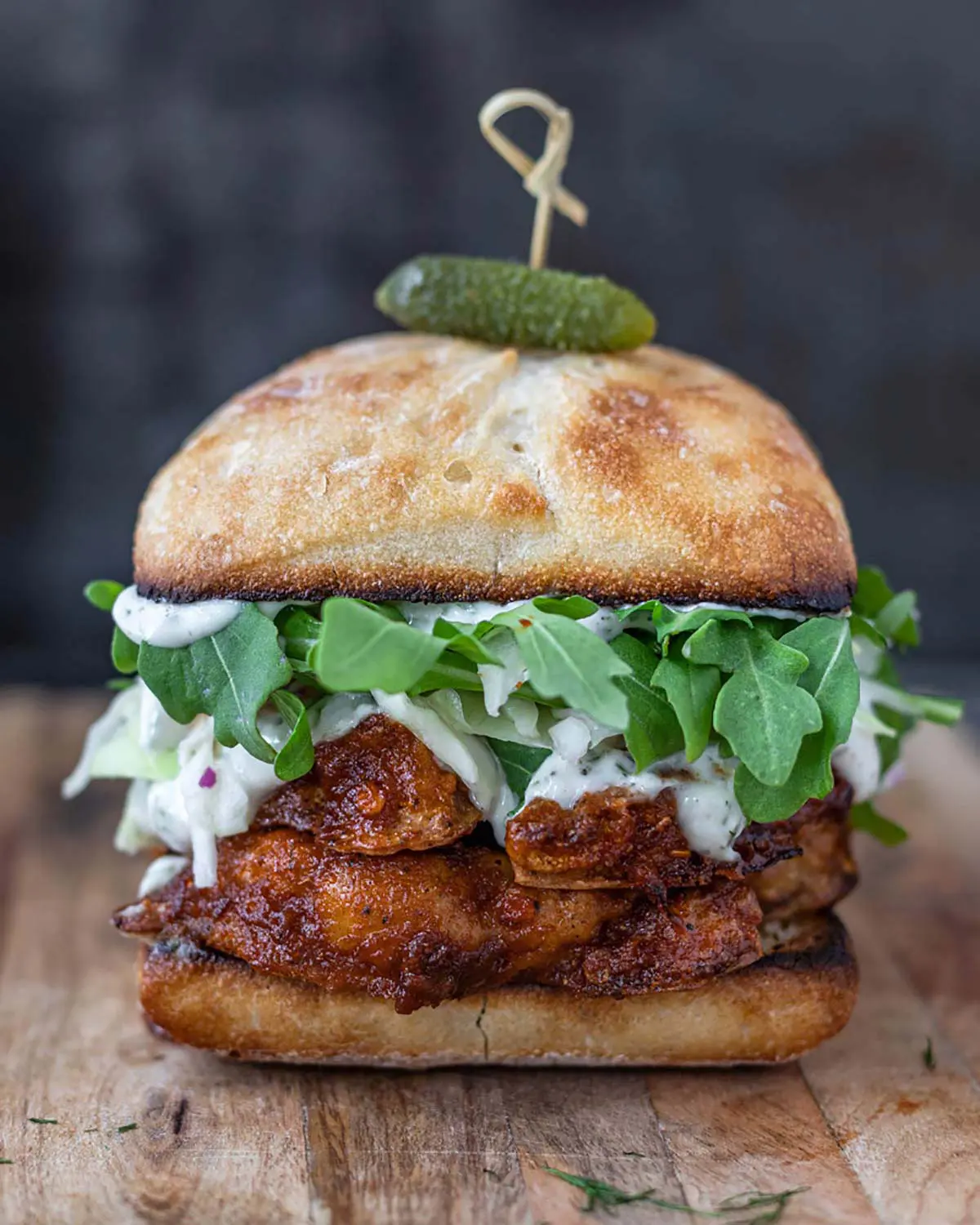 This spicy cauliflower burger recipe is the best saucy, finger-licking good, plant-based sandwich you'll ever want. Easily gluten-free, totally oil-free, and extra delicious. Recipe and image from: Simply CeeCee. Get the recipe.
Tofu Egg Salad Sandwiches - 3 Ways!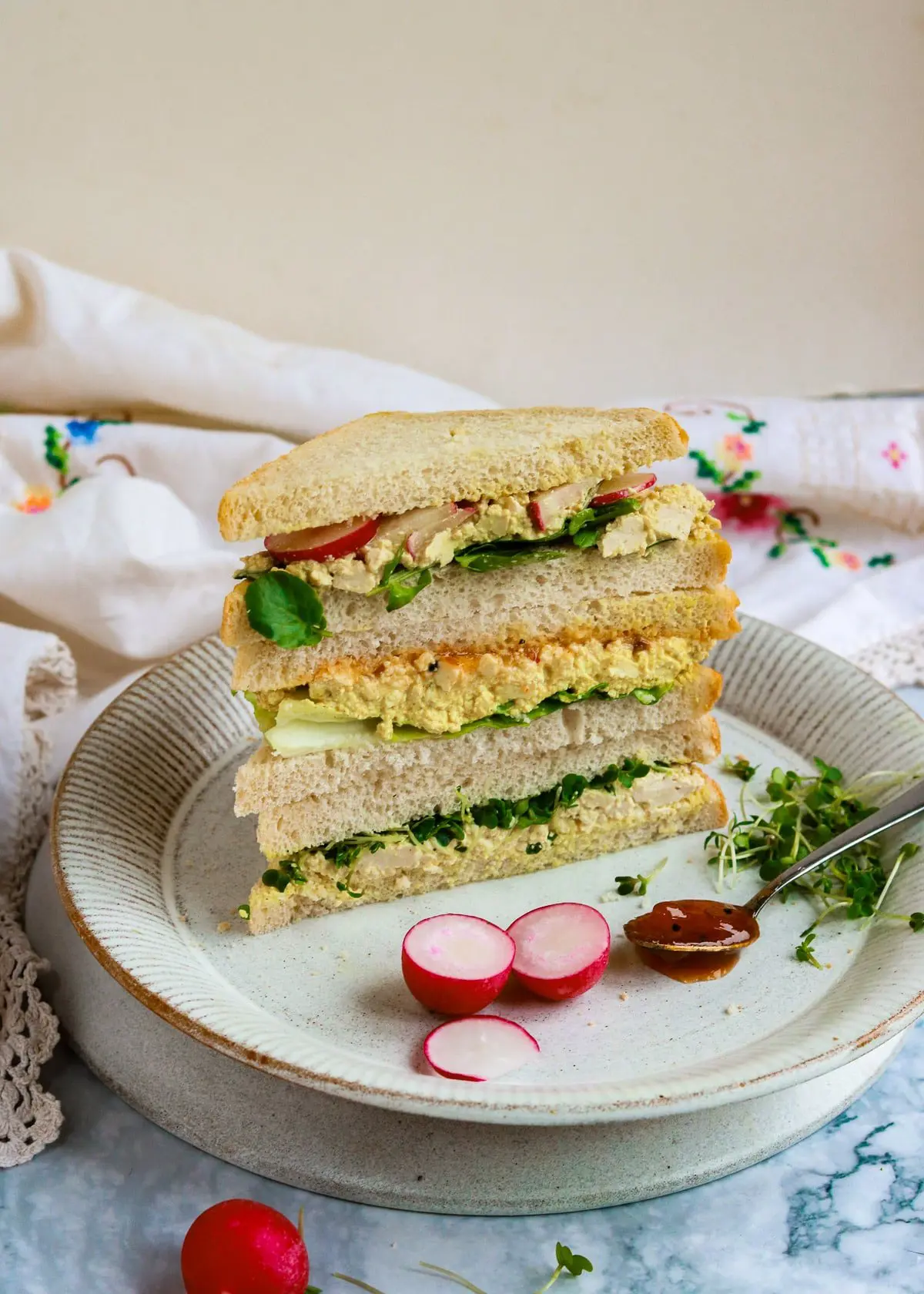 The Classic Egg Salad Sandwich has been given a vegan makeover! These Vegan Tofu Egg Salad Sandwiches are so easy to make that you'll wonder why you haven't made them sooner! Recipe and imaged from: The Vegan Larder. Get the recipe.
Epic Veggie & Tofu Sandwich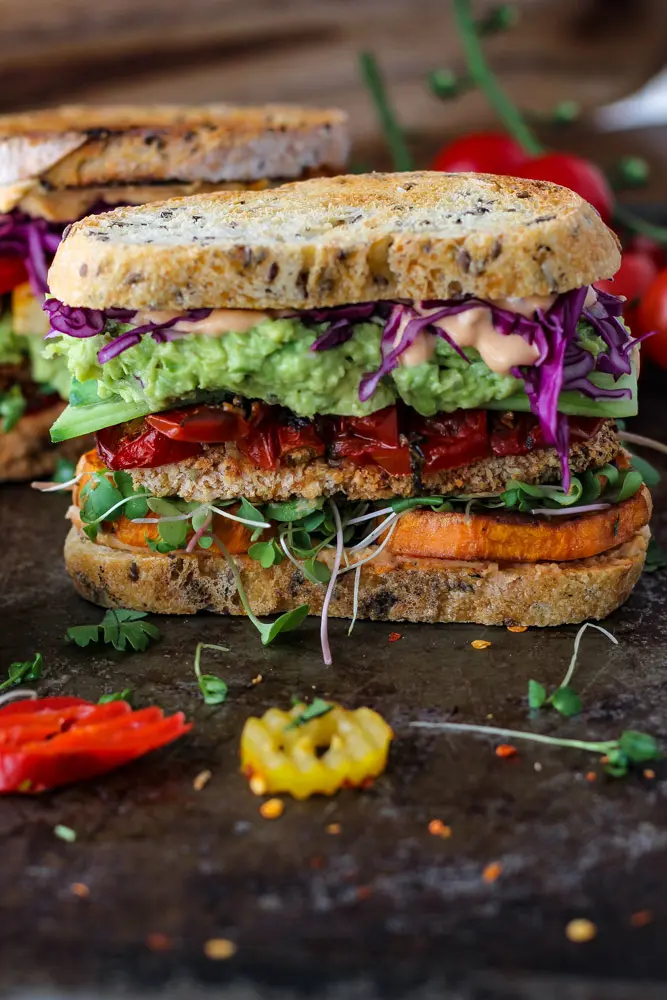 You'll need two hands and napkin for this mouthwatering vegetable and tofu sandwich. Recipe and image from: Simply CeeCee. Get the recipe.
Juicy Vegan Tofu Sandwich with Smoked Mayo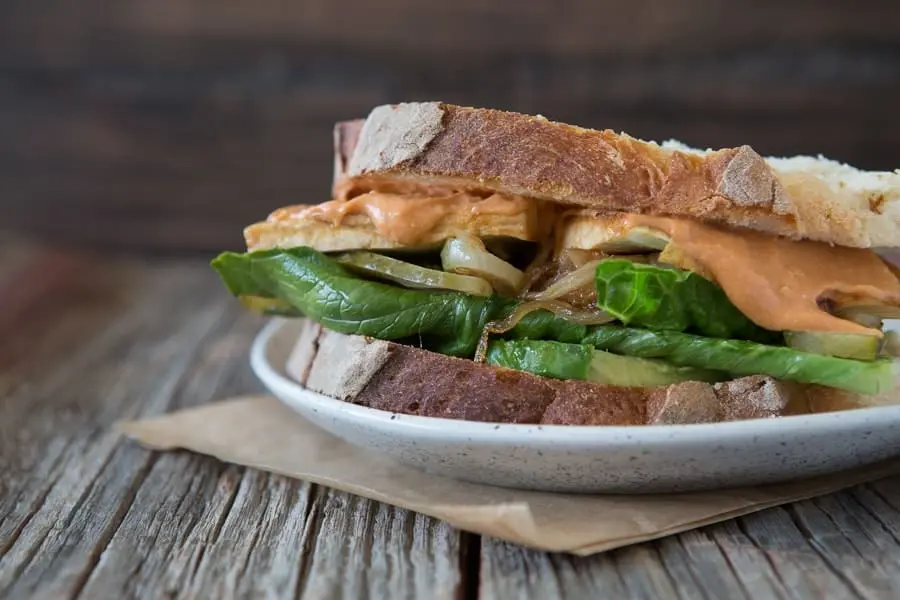 Perfect on a hot day, this vegan tofu sandwich with smoked mayo will have even the meat-lovers drooling. Pass the napkins please. Recipe and image from: Heartfelt Table. Get the recipe.
Roasted Vegetable and Tofu Sandwiches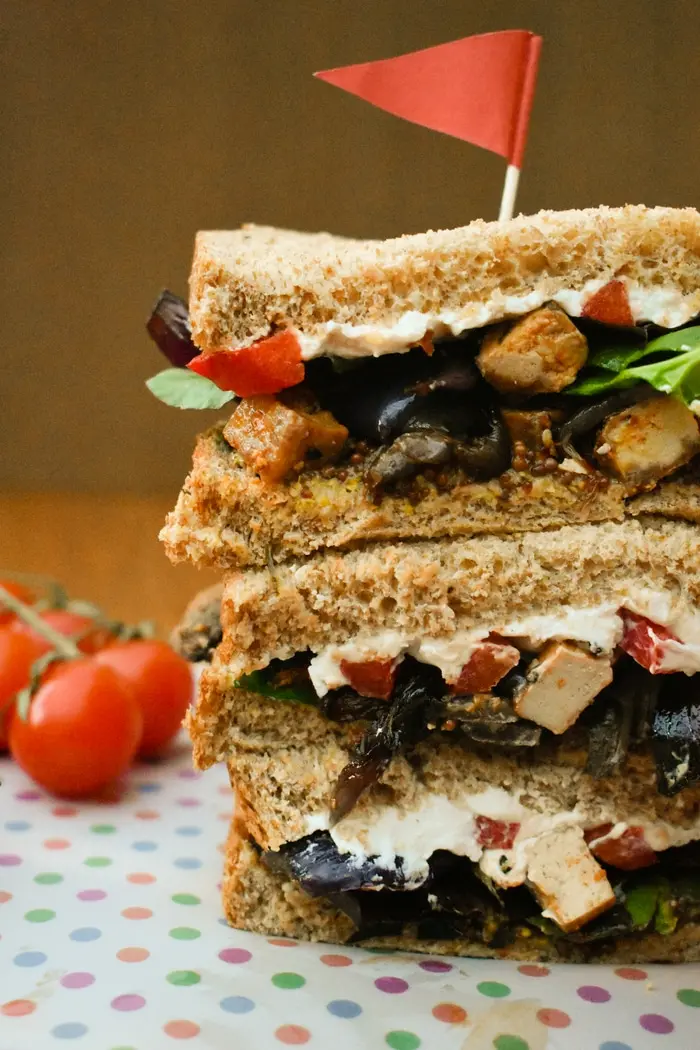 Soft wholemeal bread filled with mustard, salad leaves, roasted vegetables and tofu and vegan cream cheese. What more could you ask for? Recipe and image from: Tinned Tomatoes. Get the recipe.
Deliciously Fish-Free Sandwiches
Vegans can enjoy the umami flavours of seafood without the fish! These fish-free sammies creatively use chickpeas, hearts of palm, jackfruit and even carrot to mimic those much-loved seafood flavours and textures.
Vegan Lobster Roll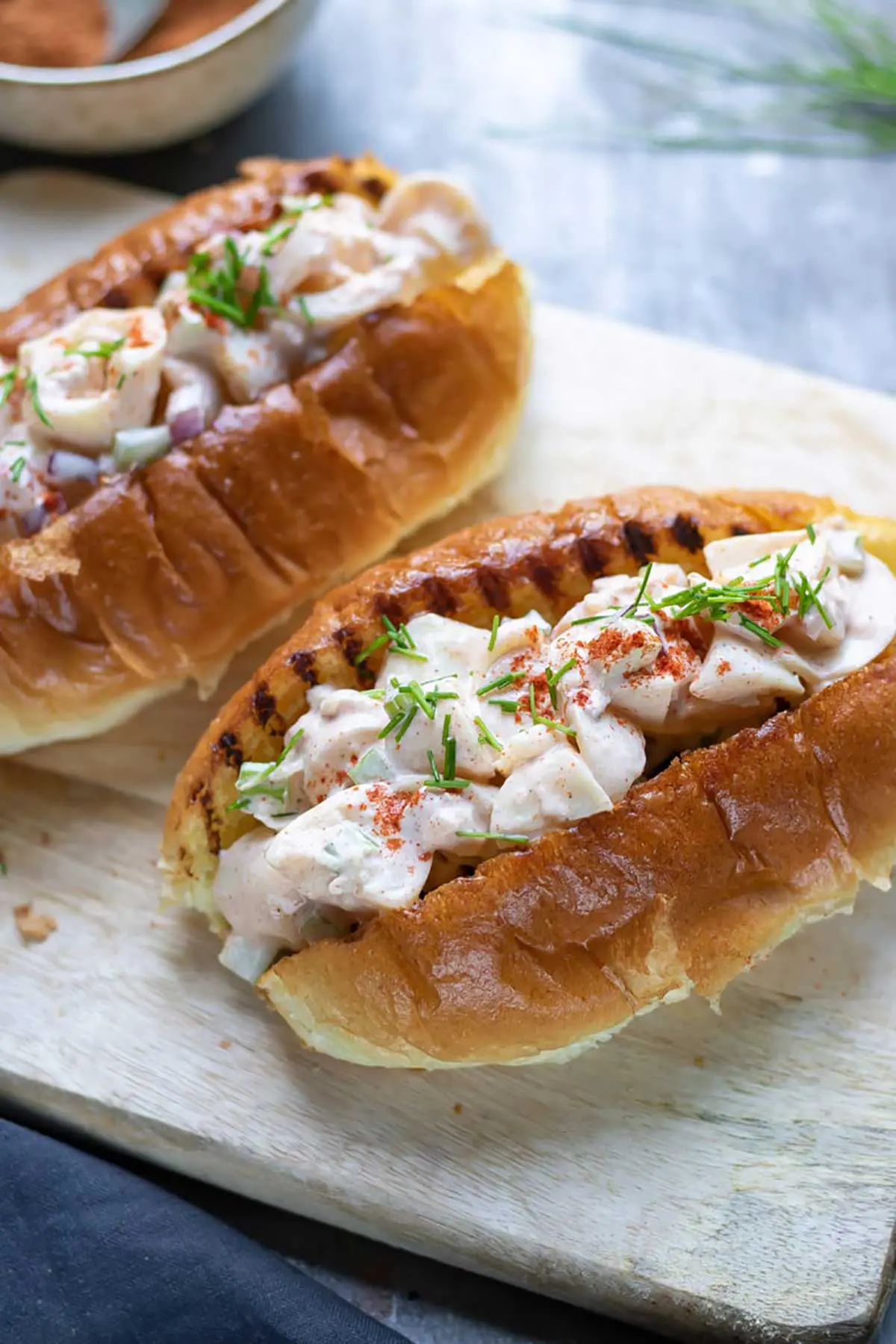 This vegan lobster roll has all the traditional New England flavours but better - it's vegan! Toasted rolls filled with a creamy dressing and chopped hearts of palm as the 'meat'. Recipe and image from: Veggie Desserts. Get the recipe
Vegan Tuna Melt Sandwich Recipe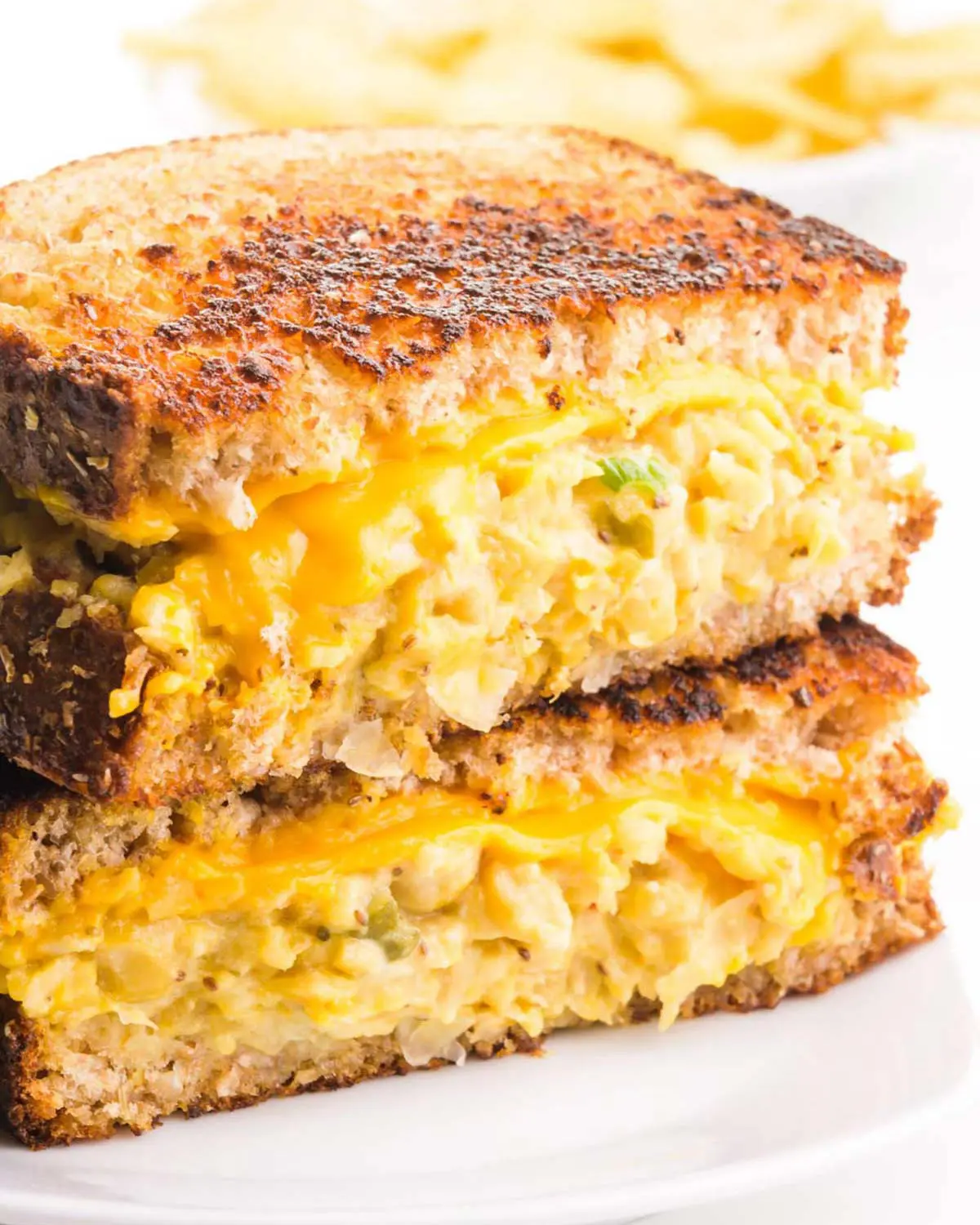 You know you want to make this vegan tuna melt sandwich topped with melted vegan cheese. Ooey, gooey comforting goodness. Recipe and image from: Namely Marly. Get the recipe.
The Best Vegan Lox Bagel Sandwich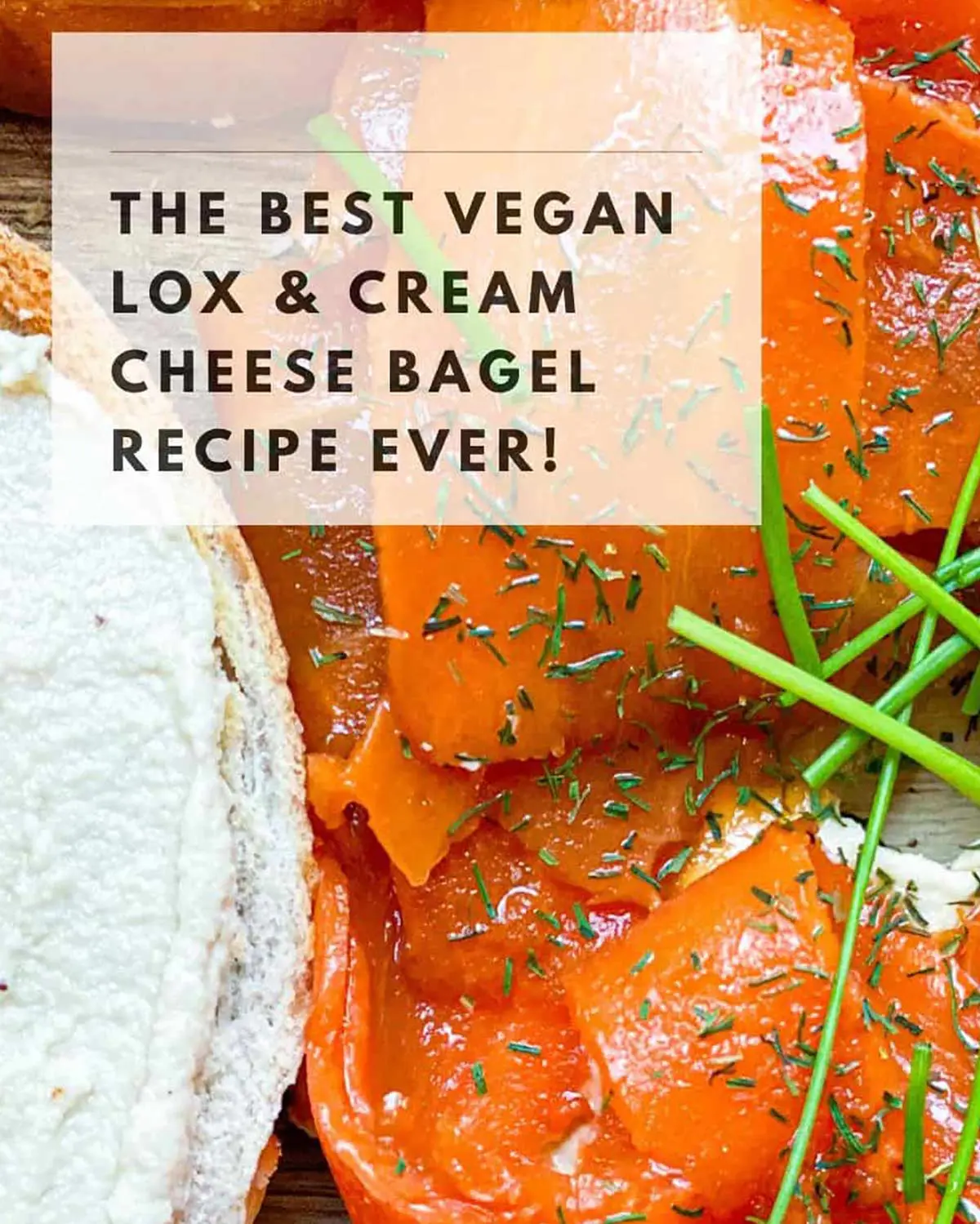 With the flavours of a lox bagel, this vegan version is made with carrots and cream cheese. Bring on brunch! Recipe and image from: Yum Vegan Lunch Ideas. Get the recipe.
Oyster Mushroom Po'Boy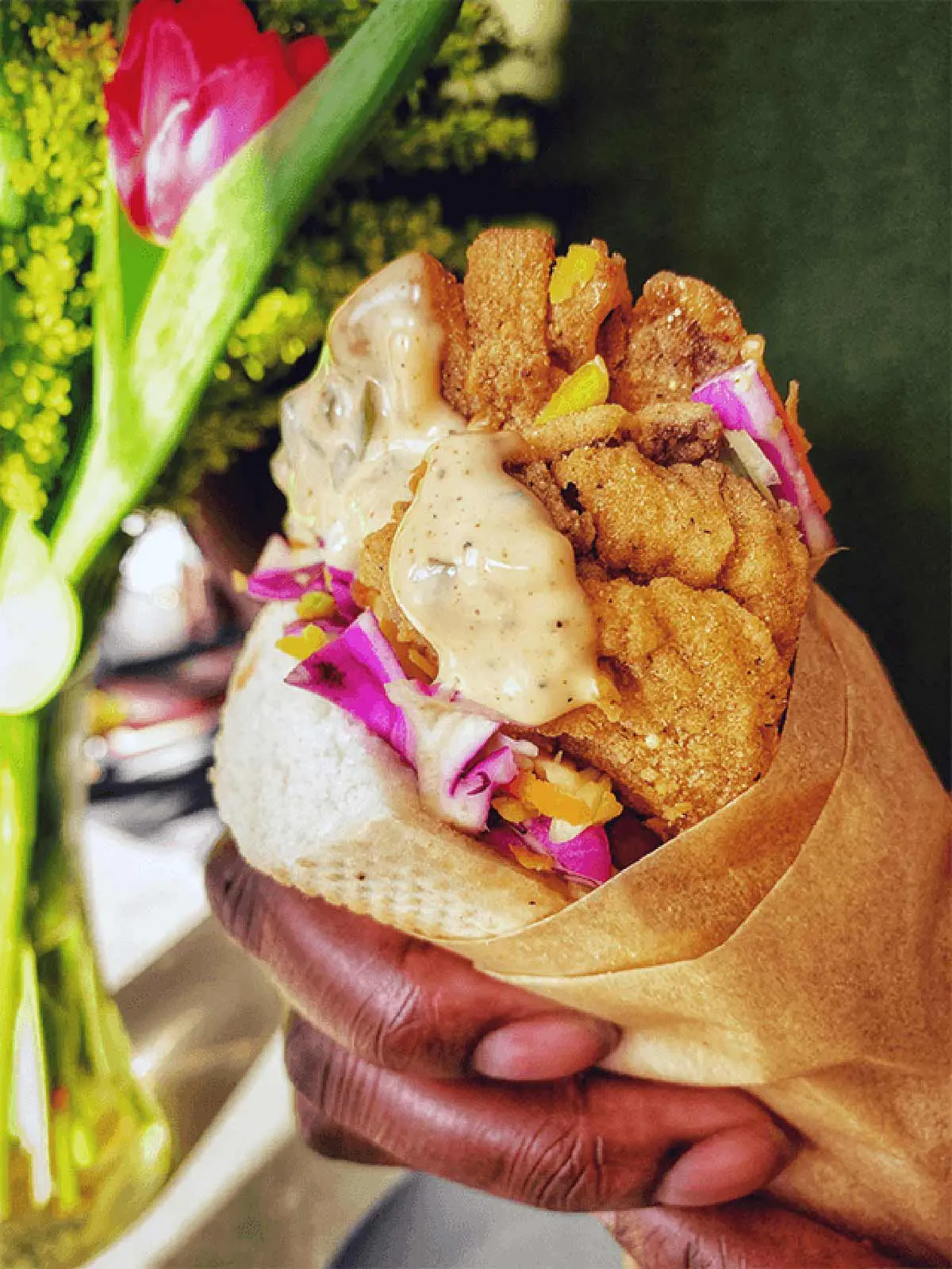 This fried oyster mushroom po'boy with a remoulade dressing is completely drool-worthy. You won't miss the shrimp a bit. Recipe and image from: The VGN Way. Get the recipe.
Vegan Tuna Melt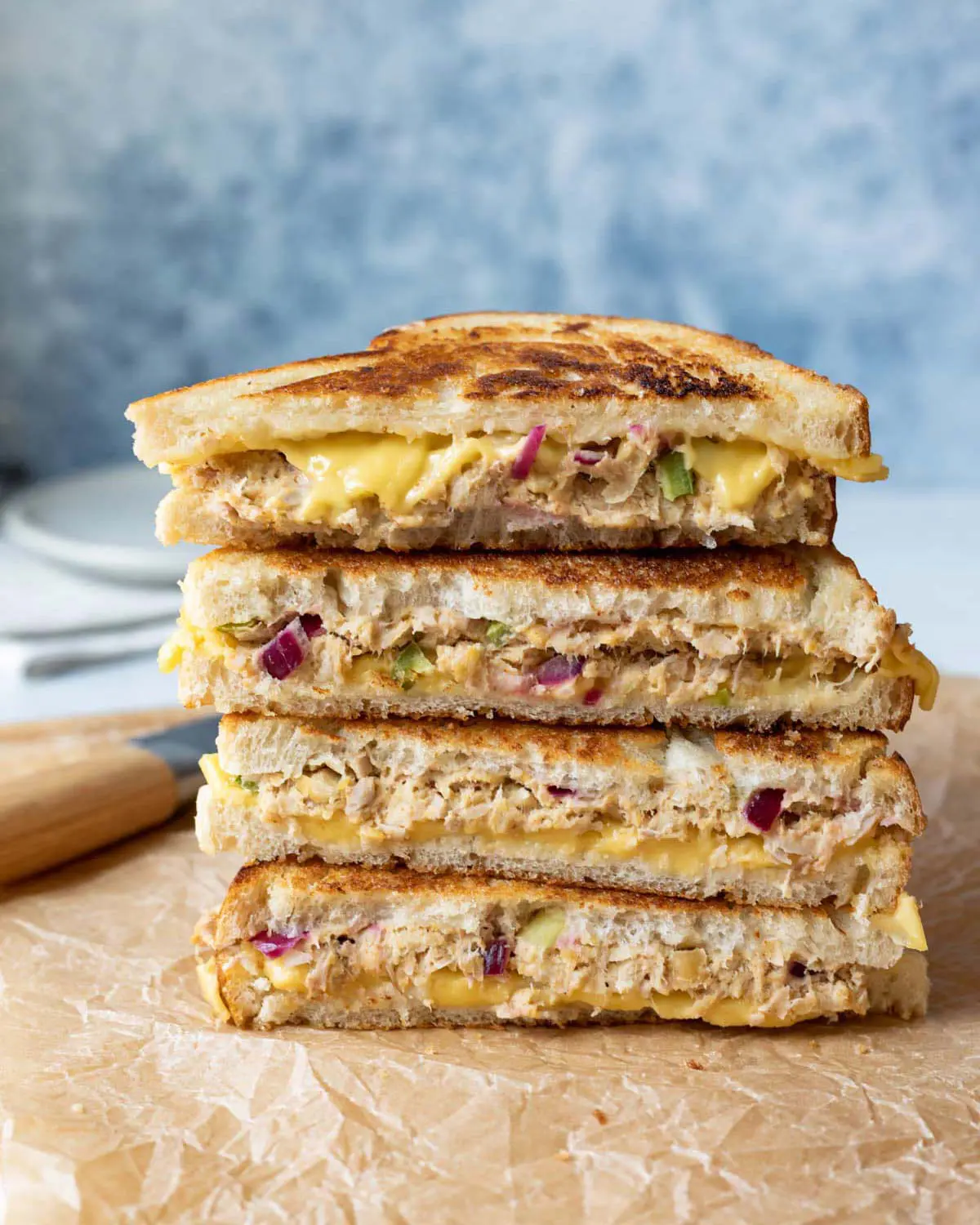 Yep, that's a tuna melt- but not. This vegan version is made with chickpeas and jackfruit topped with vegan cheese. Comfort food at its best. Recipe and image from: My Quiet Kitchen. Get the recipe.
Phew! There you have it - 36 vegan sandwiches you can make at home. Each one packed with enough flavour and texture, your meat-loving friends will be eyeing your lunch box.
Get inspired and start making lunch the best meal fo the day. Enjoy.
FAQ's
Is bread vegan?
Bread is traditionally made from flour, yeast, water and salt - all vegan ingredients. Some commercially available breads contain non-vegan ingredients such as whey (a milk protein) and eggs. Always check the label if you are uncertain.
What sandwiches are vegan?
There are so many vegan options for sandwiches! You can create amazing textures and flavours using tofu, chickpeas, nut cheeses, seitan, hummus and spreads. If you're unsure, start with a good old salad sandwich or try one of the 36 sandwich combinations above.
Want more plant based-goodness?
Subscribe to my newsletter and follow along on Facebook, Pinterest and Insta for all the latest news. If you like this recipe, please check out my cookbook "Great Vegan Meals for the Carnivorous Family" It's full of simple, carnivore-approved family recipes.