Last updated on August 3rd, 2021 at 12:14 pm
Are you ready to wrap your mitts around one of these epic vegan sandwiches? Put away that peanut butter and jelly, these sandwiches are going to require both hands and all your attention.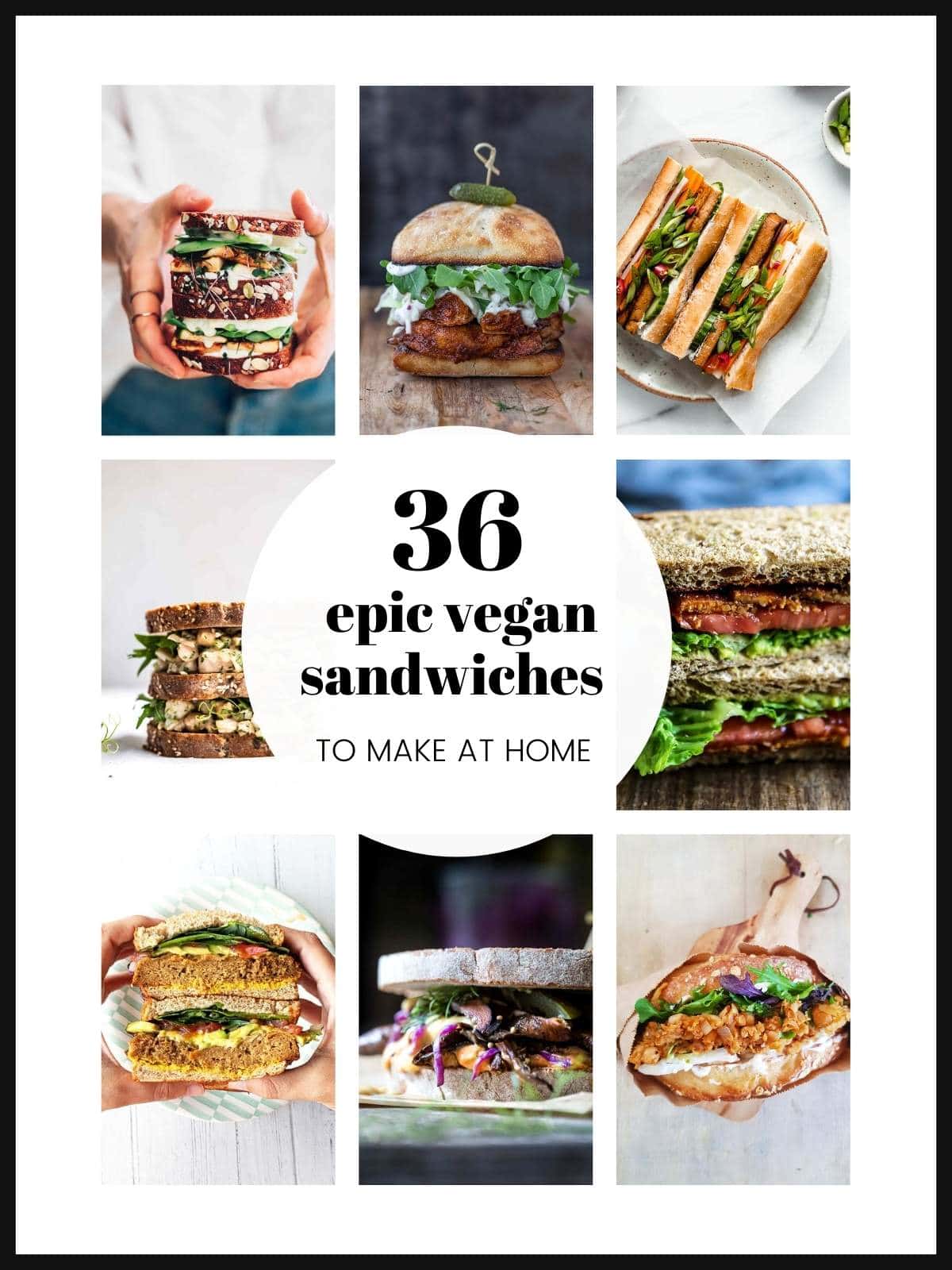 The world of vegan sandwiches has exploded beyond hummus and sprouts on rye. These days we are spoiled for choice with fast food chains and food retailers vying for our vegan dollars. But, how do you make the perfect vegan sandwich at home?
Easily, with a little inspiration from my blogger friends. But first, let's look at the basics.
How to Build an Epic Vegan Sandwich
Are you ready to create restaurant quality vegan sandwiches at home? Here's how.
Bready Things
Get creative when choosing the base of your sandwich. Swap classic white bread for sourdough, rye or pumpernickel. Play with pockets, pitas and rolls, or use wraps, seaweed or collard greens to create something fresh and new.
The Hero
Marinate tofu, smash chickpeas, roast jackfruit or slice seasoned seitan. Play with your food! The sandwich hero can be as simple as gently roasted sliced vegetables or as robust and hearty as vegan meatballs.
Season
To make the most of your ingredients season each with either salt flakes or Kosher salt. We want to enhance the flavours not turn our sandwich in to a salt bath. Adding a little salt and pepper to each element will take your sandwich to the next level .
Balance
A truly epic sandwich fills your mouth with an explosion of different flavours that balance each other. Pair spicy tofu with a cooling yoghurt or pudina chutney. Add chipotle or miso paste to homemade vegan mayonnaise or hummus to elevate flavours to the next level. Or go simple with thin pear slices added to arugula and melted cheese. Insert drool [here].
Include a variety of textures - crunchy, smooth, soft- and flavours. Think "salt, sweet, rich, tart."
Building Blocks
Once you've got your elements together, it's time to build your sandwich. Denser textures like faux meats and cheese work best at the bottom while crunchier elements like pickles and vegetables work best towards the top.
Lightly Toasted
Stale bread can come to life with a little toasting but I urge you to toast lightly. Too much toasting can leave your sandwich dry or worse...tasting burnt.
All the Vegan Sandwiches
I am not going lie - this is a beast of a list. Thirty-six vegan sandwiches you'll want to be eating breakfast, lunch and dinner.
Use the links below to jump straight to a category 🙂
Global Flavours
Travel the world in your lunch break with these globally inspired vegan sandwiches. Think "exotic spices, fresh produce and mouthwatering textures".
Sandwiches With Chickpeas
Chickpeas are an awesome source of protein and fibre and can be mashed, smashed and crumbed to mimic so many traditional textures. These vegan sandwiches use chickpeas to create epic sandwiches that will help you feel fuller for longer.
No-Meat Sammies
So, obviously vegans don't eat meat, but that doesn't mean we can't create meaty textures with plant-based ingredients. Whether using mushrooms, seitan or soy curls, these vegan sandwiches are deliciously meaty. No animals were harmed in the making of all this deliciousness.
Dairy-Free Cheese Sandwiches
You can enjoy all the good bits about cheese without the cow. These cheesy sandwiches use plant-based ingredients to create mouthwatering, oozy, lip-smacking flavours and textures. Grab a napkin, things are about to get deliciously cheesy.
Tofu & Vegetable Sandwiches
What would us vegans do without tofu? Whether its firm, silken, smoked, marinated or fried, tofu is the perfect sandwich protein . It absorbs everything, taking on any flavours you like! And if tofu isn't your thing, we've got some gorgeous vegetable creations to inspire your next lunch break.
Deliciously Fish-Free Sandwiches
Vegans can enjoy the umami flavours of seafood without the fish! These fish-free sammies creatively use chickpeas, hearts of palm, jackfruit and even carrot to mimic those much-loved seafood flavours and textures.
Phew! There you have it - 36 vegan sandwiches you can make at home. Each one packed with enough flavour and texture, your meat-loving friends will be eyeing your lunch box. Get inspired and start making lunch the best meal fo the day. Enjoy.
Hungry for More Plant-Based Goodness? Subscribe to my newsletter and follow along on Facebook, Pinterest and Instagram for all the latest news and updates. If you like this recipe, please check out my cookbook. Great Vegan Meals for the Carnivorous Family is full of simple, carnivore-approved family recipes.
FAQ's
Is bread vegan?
Bread is traditionally made from flour, yeast, water and salt - all vegan ingredients. Some commercially available breads contain non-vegan ingredients such as whey (a milk protein) and eggs. Always check the label if you are uncertain.
What sandwiches are vegan?
There are so many vegan options for sandwiches! You can create amazing textures and flavours using tofu, chickpeas, nut cheeses, seitan, hummus and spreads. If you're unsure, start with a good old salad sandwich or try one of the 36 sandwich combinations above.