Last updated on July 28th, 2020 at 12:29 pm
This vegan Sabich sandwich is a twist on the traditional Israeli sandwich using a white bean mixture instead of egg.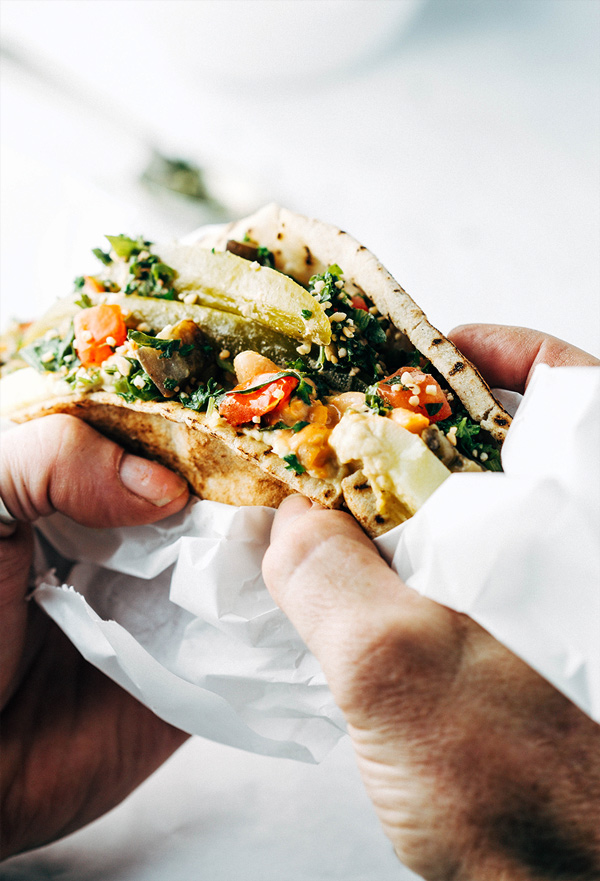 What is a Sabich Sandwich?
If you haven't tried a sabich sandwich you are in for a treat.
A Sabich or Sabih sandwich is an Israeli sandwich made by stuffing pita with fried eggplant and hard boiled eggs. Traditionally the sandwich also has potatoes, pickles, tahini sauce, hummus, cabbage and Israeli Amba sauce.
I was introduced to Sabich a few years ago when I was 110 months pregnant. The husband is a manager-type engineer-y person and we move where the work takes us. When I was full to the brim with infant and close to popping, the job took the husband in to the city - about one and a half hours from home in peak traffic. Given my impending poppage, our little unit; me, the husband, the belly and our two beautiful senior canines moved in to town. We found a small dog-friendly house in an area with a large Orthodox Jewish community.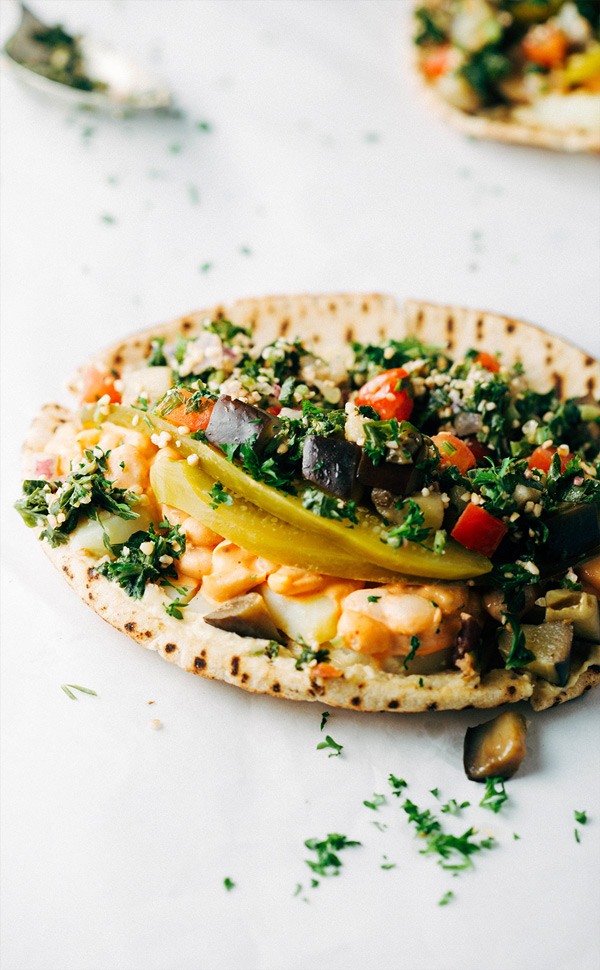 Sabich Etiquette
A word on etiquette. Sabich sandwiches are a meal. A real meal. Not a snack, not a light lunch. A meal. It is messy, drippy, oozy and packed with wonderful flavour. Think trying to eat a mango without any utensils and one hand tied behind your back. But better! The etiquette is there is no etiquette. This is culinary fight club, people. Get your grill around the sandwich, ignore the stares and whatever you do don't mention the glob of hummus on your chin.
Making a Sabich Vegan
My vegan Sabich sandwich is not traditional but is delicious. In lieu of egg, I included a white bean/mayo mix and instead of cabbage I used tabbouleh. Also, I added harissa sauce for a good kick. My roasted garlic and artichoke hummus recipe does the trick but the great thing about this sandwich is that you can buy many of the ingredients ready-made and whip it up in a pinch. I cooked my potatoes the day before and refrigerated them overnight so the only thing left to cook was the eggplant. Simples. Traditionally you might add a tahini sauce like this one from Serious Eats but to be honest, I don't always include it. For a more authentic experience, include it if you're in a hurry, don't.
This vegan Sabich sandwich is healthy, quick, full-bodied and so, so delicious. Full of creamy textures mixed with the acidity of pickles and tabouli, this is my absolute favourite sandwich. Enjoy, x.
If you like this Sabich Sandwich you will love:
Vegan Mushroom Reuben Sandwich
Game-changing Vegan Pot Pie Recipe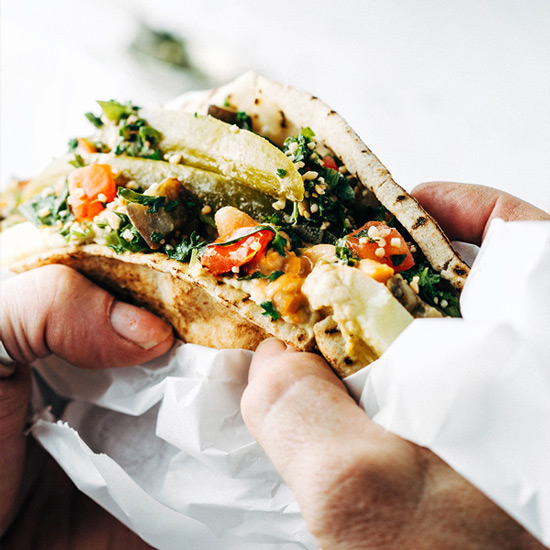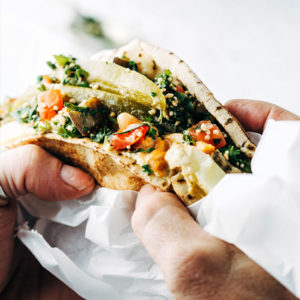 Sabich
This mouthwatering vegan sabich is a twist on the traditional Israeli sandwich using a creamy white bean mash instead of egg.
Print
Pin
Rate
Ingredients
1

young eggplant

medium

pinch

sea salt

2

medium firm potatoes

peeled and boiled.

½

cup

canned white beans

drained and rinsed well

1

tablespoon

vegan mayonnaise

¼

teaspoon

harissa paste

more if your like it hotter

3

whole dill pickles

1 per pita

4

pita bread pockets

½

cup

hummus

½

cup

tabbouleh salad

2

tbsp

olive oil
Instructions
Chop eggplant in to 1cm cubes.

Heat a small fry pan and a good lug of olive oil, around 2 tablespoons.

Season the eggplant with sea salt and add it to the pan to cook on low-medium heat until slightly creamy but still holding it's shape - about 8 minutes. Test to make sure they are not still woody. Continue to cook if needed.

Remove from the heat and set aside.

Slice the boiled potatoes in to ½ cm thick slices.

In a small mixing bowl combine the white beans, mayonnaise and harissa paste.

Slice the dill pickles in to vertical slices around ½ cm thick.

Lay the pitas out on a board or plate to build the Sabich sandwich.

Smear a good amount of hummus on to each bread.

Cover half the pita with a layer of sliced potato.

Lay sliced pickle over the potato using a whole pickle per sandwich

Spoon 2 tablespoons of white bean mix on to the pickle.

Add 2-3 tablespoons of cooked eggplant.

Add 2 heaped tablespoons of the tabbouleh.

Fold the pita in half and serve.
Nutrition
Calories:
386
kcal
|
Carbohydrates:
56
g
|
Protein:
12
g
|
Fat:
13
g
|
Saturated Fat:
2
g
|
Sodium:
873
mg
|
Potassium:
582
mg
|
Fiber:
7
g
|
Sugar:
3
g
|
Vitamin A:
102
IU
|
Vitamin C:
9
mg
|
Calcium:
106
mg
|
Iron:
3
mg
Tried this recipe?
I'd love to hear your feedback. Rate it & leave your feedback in the comments section below. Or you can tag @mygoodnesskitchen or hashtag #mygoodnesskitchen on Instagram. Thank you!