Last updated on January 25th, 2021 at 01:40 pm
Oh, my goodness I could eat this vegan shawarma with roasted jackfruit for days. Seriously. Grab a napkin because this Middle Eastern sandwich is wonderfully messy, completely addictive and 100% carnivore-approved.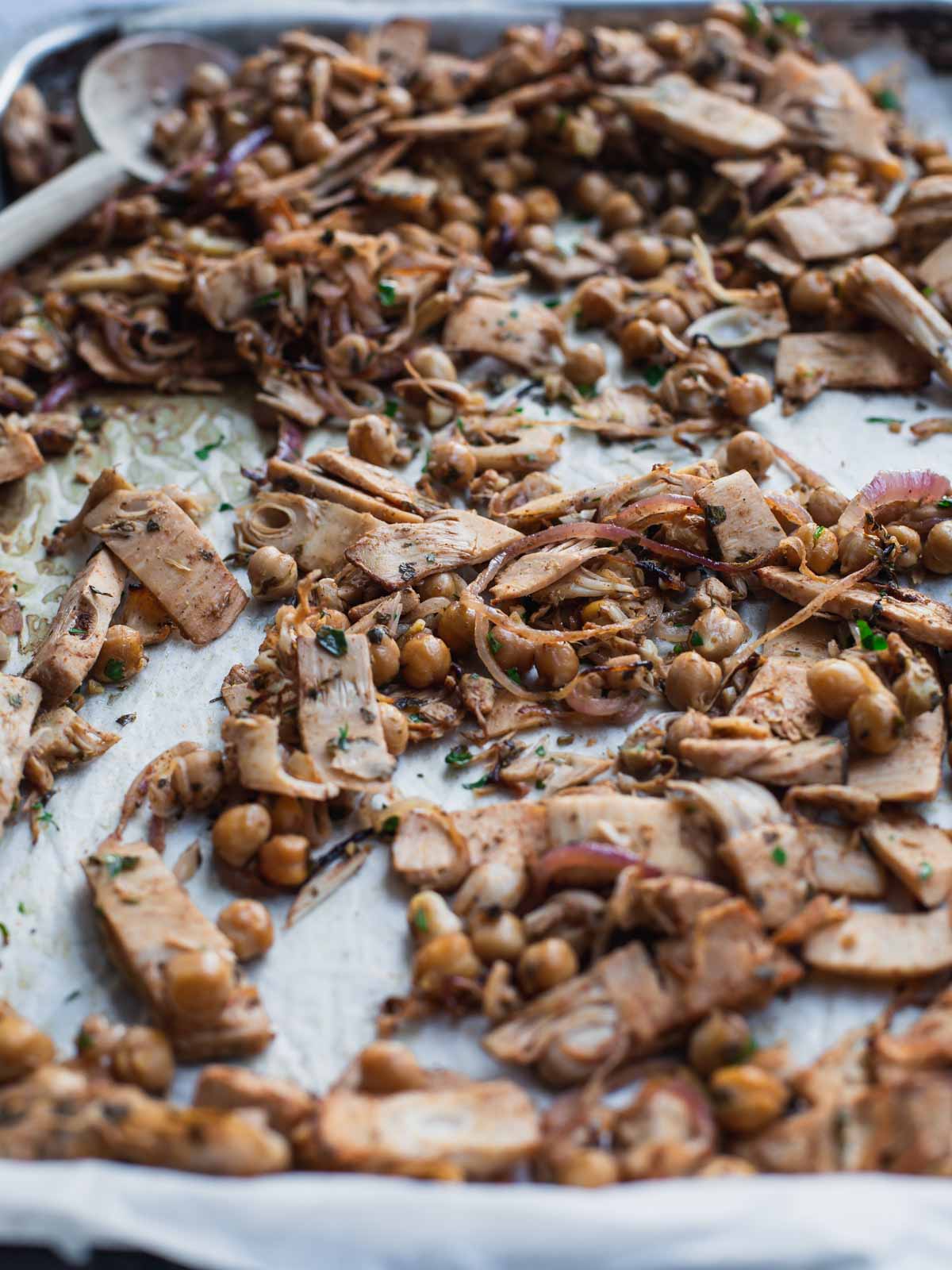 What is Shawarma?
Shawarma is my new favourite word, that's what it is! Sha-War-Ma. Such a great word. But if you want the real lowdown...
Shawarma is a Middle Eastern dish made from meat that is marinated in aromatic spices, lemon and garlic. Stacked in to a cone shape and cooked on a vertical skewer the meat is then cut in to thin slices and served on a warm pita with fresh tomatoes, pickles and tahini or hummus.
Who's up for a little history? Like its Mediterranean cousin the "gyros," the shawarma can be traced back to the Ottoman Empire, now Turkey, to the 18th or 19th century. The Turkish "doner kebab" meaning "rotating grilled meat" or "rotisserie" was introduced to Greece where locals named it "gyros," the Greek word for "turn." Likewise, when the dish appeared in the Middle East, it was called "shawarma," an Arabic word for "turning."
While traditionally made from meat - lamb, beef and more recently chicken - a mouthwatering vegan shawarma is easy using a bunch of aromatic spices. The smell when cooking this dish is INCREDIBLE!
What's In It?
Traditionally shawarma is served as a sandwich or wrap in a flatbread but you can also serve it with rice.
To compliment all those intoxicating spices - think cumin, paprika, cinnamon, pepper, garlic and a tonne of lemon - shawarma is served with fresh ingredients like:
diced tomatoes
cucumbers
onions
pickled vegetables
tahini sauce, hummus or amba mango sauce. I've also seen it served with pickled mango - that's on my must try list.
How Do you Make a Vegan Shawarma?
Like my Mind-blowing Vegan Sabich Sandwich and my Vegan Mushroom Reuben Sandwich creating a vegan shawarma is simple, all you need is a little imagination... and a few cans of young jackfruit. I am telling you, this recipe couldn't be simpler and you've probably got all the ingredients in your pantry. Win.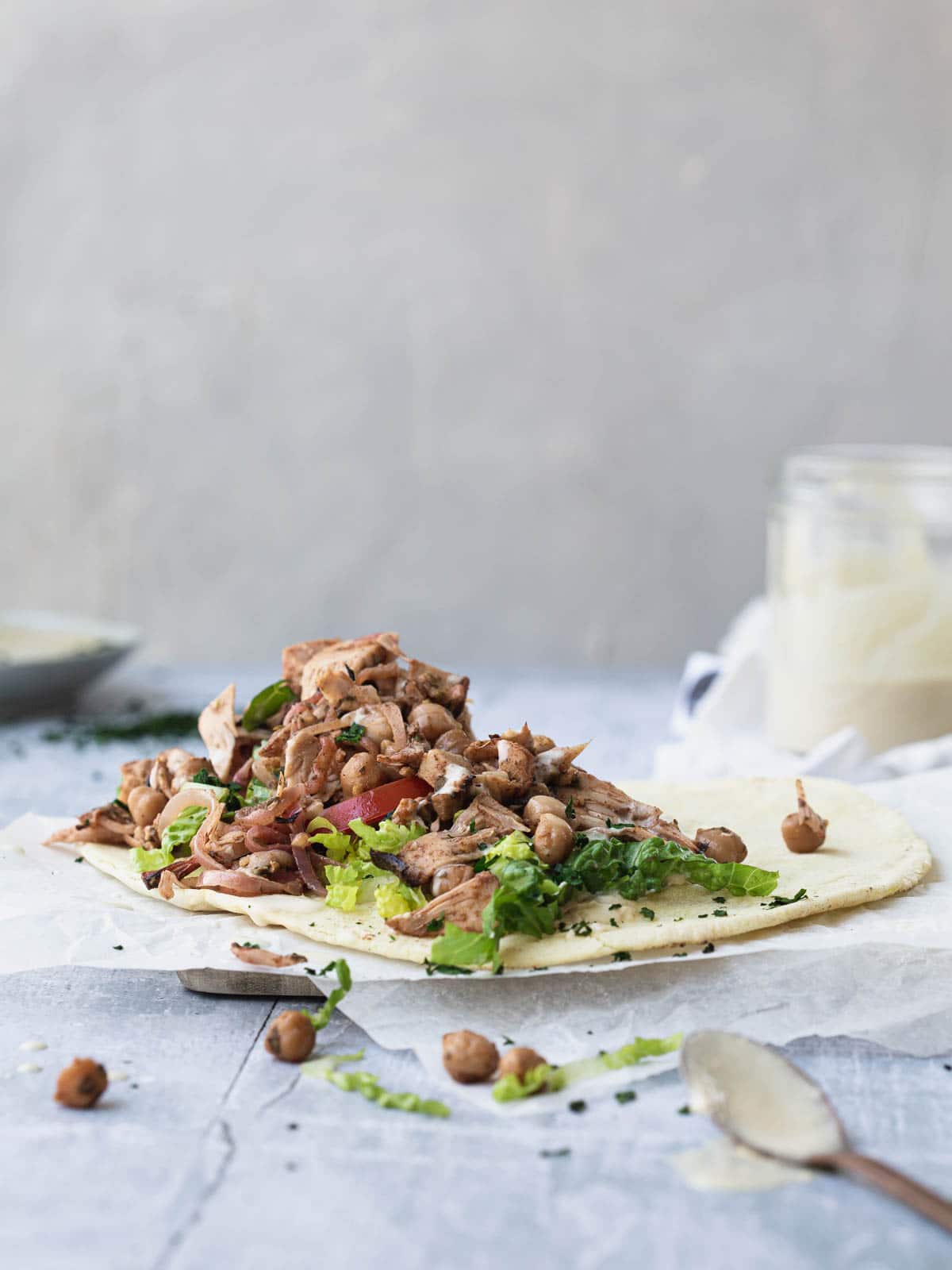 First, we take sliced jackfruit and cooked chickpeas for protein and pop them in a bowl. We then add a handful of spices, lemon, garlic, parsley and red onion. After letting the "meat" sit for a few hours to mingle and get up close we spread it all out on a tray and roast it in the oven. That's it! Once it comes out of the oven you can go ahead and serve it on a warm pita with fresh tomatoes, pickles and lettuce or with rice. I've left a gorgeous lemon tahini sauce recipe down below but in a pinch I've been known to smear a warm pita with a goodly amount of hummus - try this Roasted Garlic and Artichoke Hummus for something different- and dive in. Sometimes, that intoxicating aroma gets to me and I just can't wait. Trust me, this one's a little irresistible. Enjoy.
Resources: Morsel By Plated | Wikipedia |
Hungry for More Plant-Based Goodness? Subscribe to my newsletter and follow along on Facebook, Pinterest and Instagram for all the latest news and updates.
Vegan Shawarma
Grab a napkin because this Vegan Shawarma made with roasted jackfruit is wonderfully messy, completely addictive and 100% carnivore-approved.
Ingredients
Shawarma "Meat"
550

grams

young jackfruit

"meat" from 2 (20 oz) cans of jackfruit

400

grams / 2.5 cups

cooked chickpeas

1

juice of 1 lemon

¼

cup

olive oil

good quality

3

garlic cloves

peeled and minced

1

tsp

sea salt

1

tsp

black pepper

freshly ground

2

tsp

ground cumin

¾

tsp

smoked paprika

¼

tsp

turmeric

optional

½

tsp

ground cinnamon

1

large red onion

peeled and finely sliced

2

tbsp

fresh parsley

finely chopped
Lemon Tahini Sauce
1

garlic cloves

¼

cup

lemon juice

⅓

cup

tahini

½

tsp

sea salt

3-4

tbsp

water

½

tsp

ground cumin or sumac
To serve
6

pita breads

1 and ½

cups

thinly sliced lettuce

2

fresh tomatoes

sliced

⅓

cup

hummus

pickles
Instructions
Strain the brine from two cans of young jackfruit. Thinly slice each triangle lengthways and pop them in a large bowl.

Add the chickpeas and the remaining shawarma "meat" ingredients and stir to combine. Cover with a clean cloth or cling film and refrigerate for at least 2 hours or overnight.

Preheat oven to 190 degrees C (375 degrees F).

While the oven is heating, remove the marinated jackfruit from the fridge and spread it out over a roasting pan or tray.

Place the tray in the oven and roast for 35-40 minutes or until some of the jackfruit edges are slightly charred. Remove from the oven when roasted.

While the jackfruit is roasting, add the lemon tahini sauce ingredients to a blender and blend until smooth. Add more water if needed to thin out. Transfer to a jar.

To serve the vegan shawarma, warm a pita gently on a dry pan over medium heat for a minute or two, turning halfway through. Remove from the heat and lay the pita on a plate or board and smear with a good dollop of hummus. Add the sliced lettuce and tomato followed by a good handful of the roast jackfruit and chickpea mixture. Add pickles - if you're adding them - and drizzle with a little lemon tahini sauce.

Fold the bottom of the pita up and then roll from the side to make a wrap. Grab and napkin and dig in!
Notes
The nutritional breakdown is for the jackfruit and chickpea shawarma mix only as flatbreads vary so much in size and calories. You can also choose your fillings as you like or simply serve with rice. 
Assuming 6 servings.
Nutrition
Calories:
243
kcal
|
Carbohydrates:
36
g
|
Protein:
4
g
|
Fat:
11
g
|
Saturated Fat:
1
g
|
Sodium:
587
mg
|
Potassium:
261
mg
|
Fiber:
5
g
|
Sugar:
1
g
|
Vitamin A:
248
IU
|
Vitamin C:
14
mg
|
Calcium:
85
mg
|
Iron:
2
mg