Last updated on October 2nd, 2022 at 07:00 pm
In time for the holidays, this vegan salted bourbon pecan pie is deliciously gooey and full of gorgeous warm flavours. Not too sweet, this pie happily casts the pecans in the hero role, however it must be said they are a little drunk on bourbon.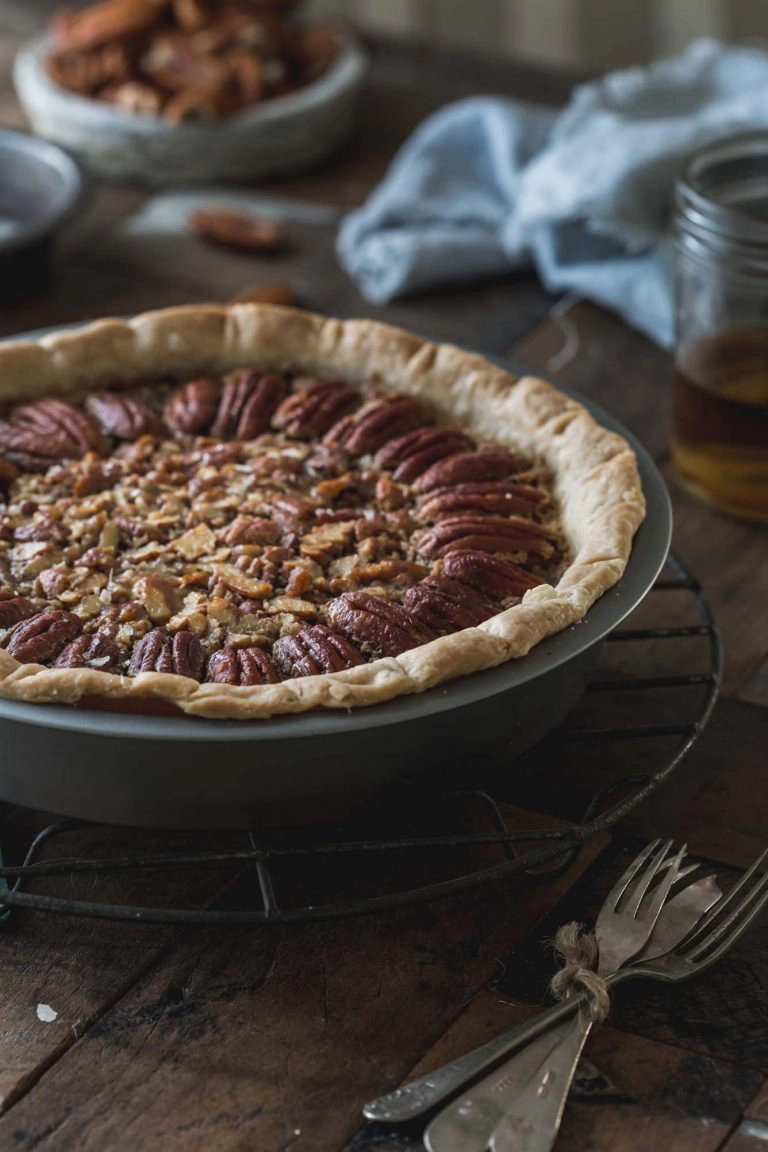 ---
I haven't had pecan pie for ages. Years. But, as the Fall and Thanksgiving recipes waft across the Pacific from the US via the interweb I was inspired to see if I could make a vegan pecan pie comparable to the traditional variety. Could I?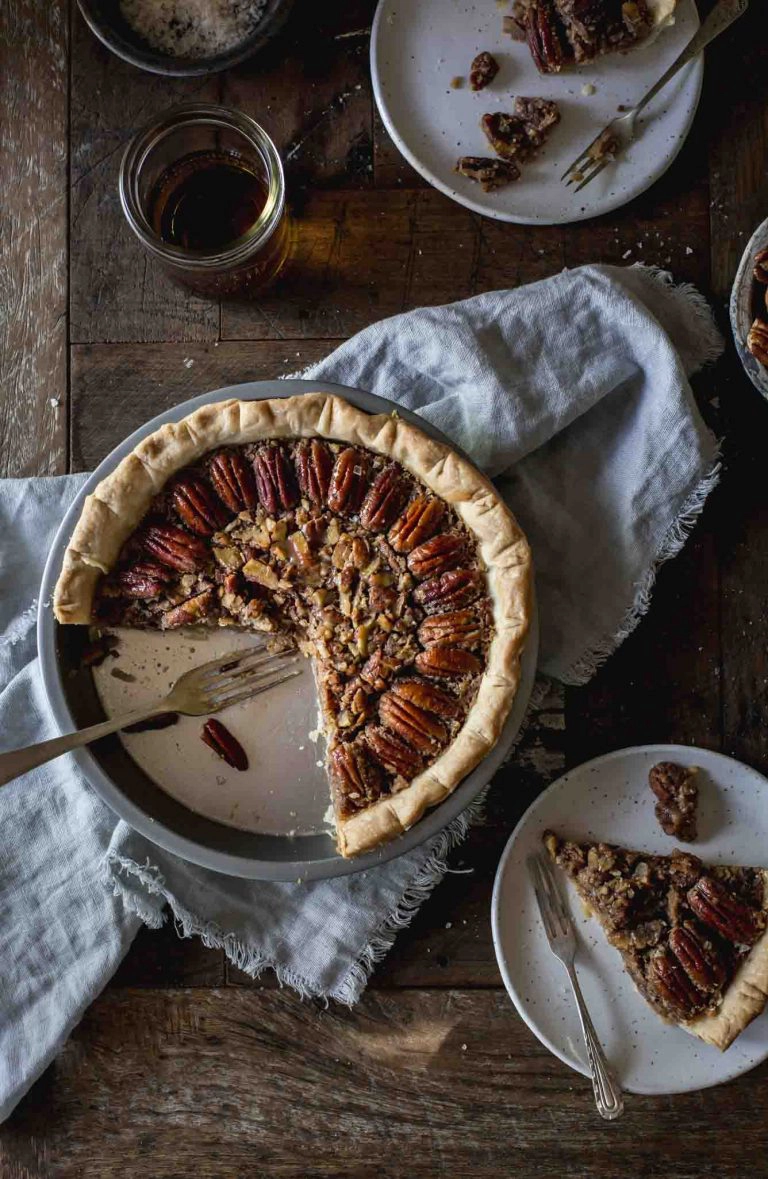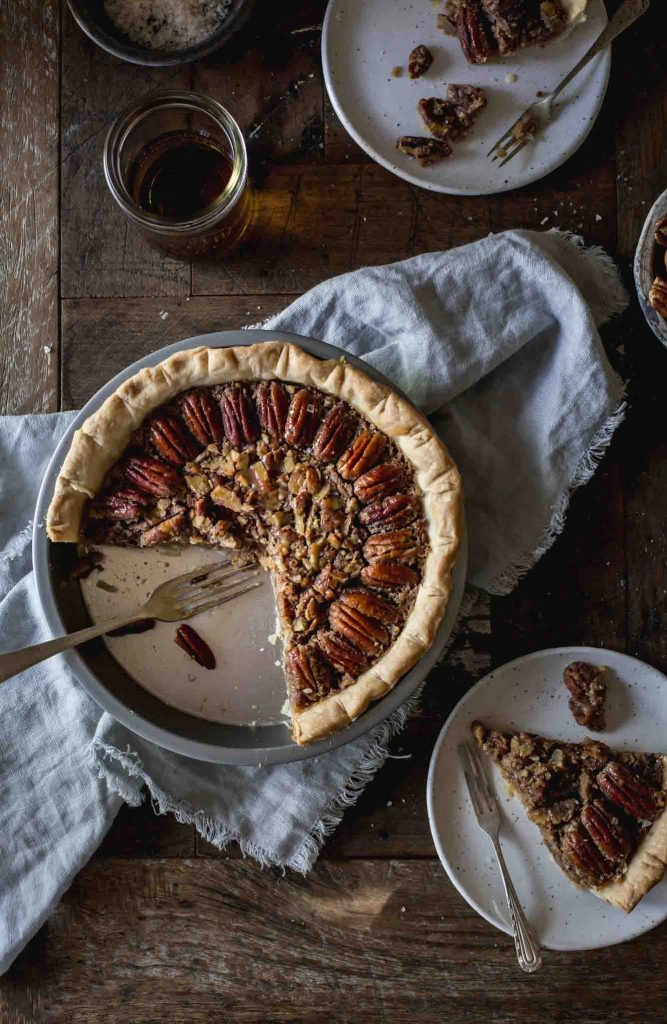 The answer is a resounding Heck Yes!
After a few false starts this wonderful vegan bourbon pecan pie emerged from my oven with a slight wobble in the middle and a boozy song in its heart. All it took was finding the right secret ingredient. And a wee shot of bourbon, of course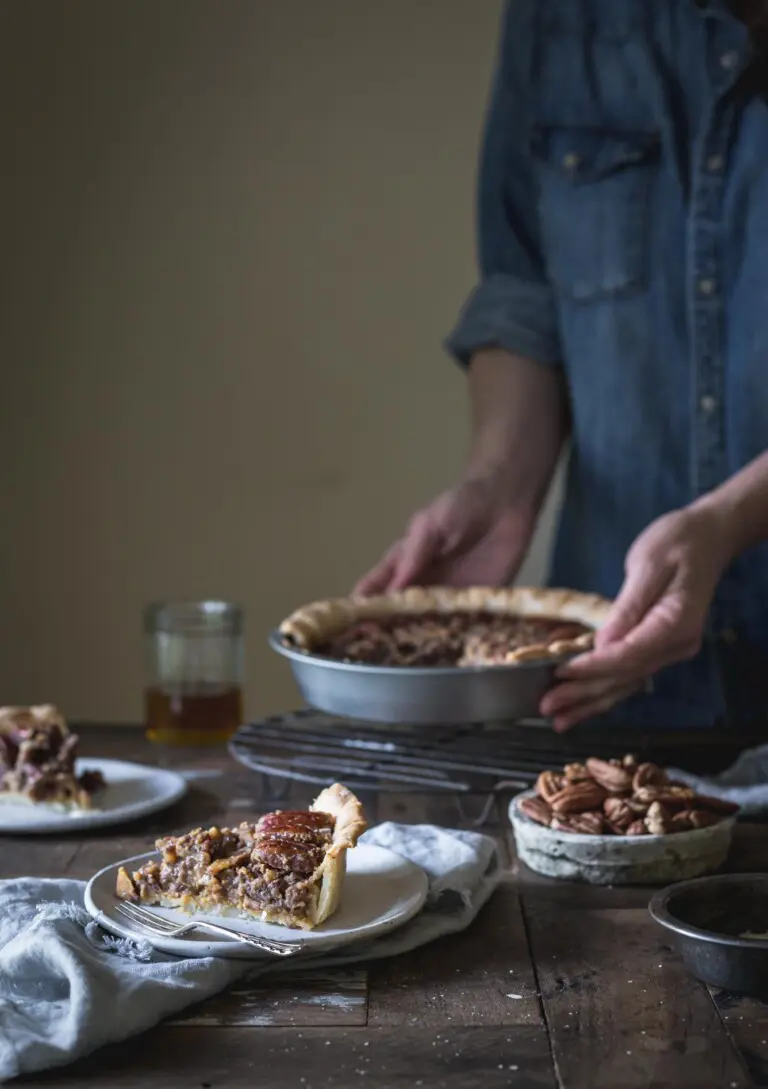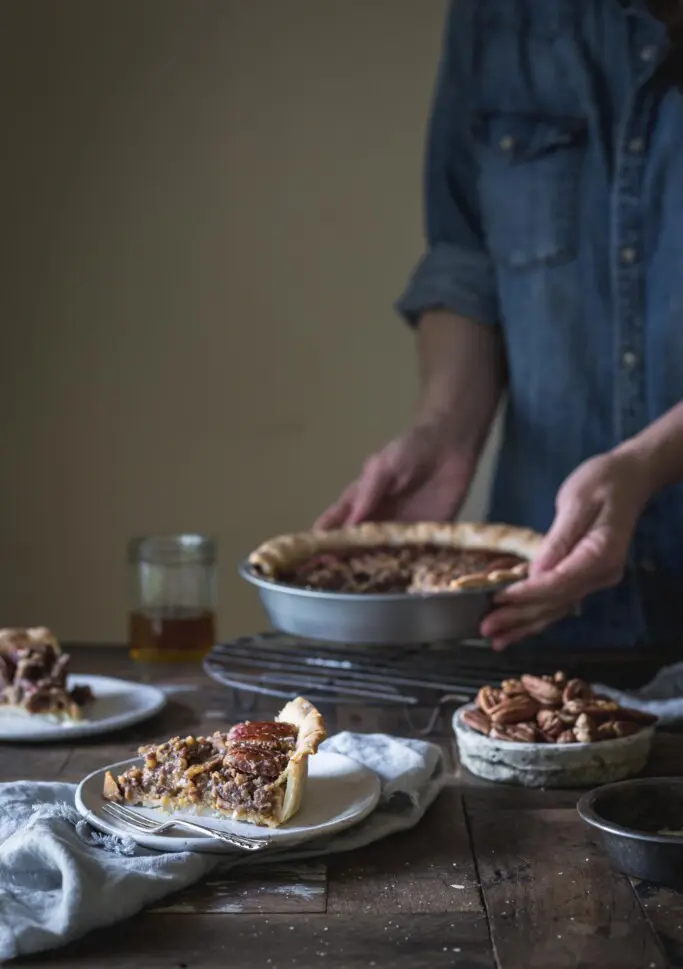 HOW TO MAKE A VEGAN PECAN PIE
Traditional pecan pie recipes contain eggs to hold the pie together in a delicious custardy bear hug. To re-create this texture vegans have to get a little creative. I came across some wonderful offerings during my research including Namely Marly's pecan pie with silken tofu, a pecan pie with egg replacers and even pecan pie with sweet potato.
WHAT'S THE SECRET INGREDIENT?
For this little Betty I used chickpea flour to hold the gooeyness together. Yup...chickpea flour! You can't taste it, you can't see it and chickpea flour coagulates beautifully when baked to hold everything together.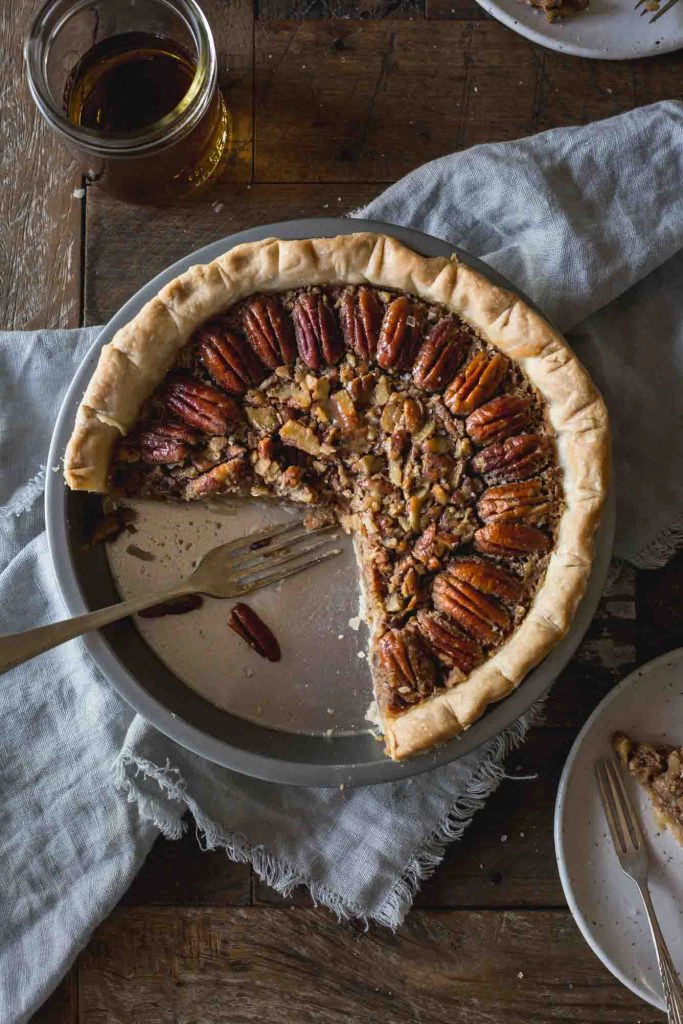 The result is one I can't help but be proud of. After 30-plus minutes in the oven and a little rest overnight we cut a slice to reveal the best kind of goo. It's soft and custardy but stable enough to hold its form.
It's sweet but not so sweet we lose the wonderful baked pecans and it is just the right amount of boozy. With a good dash of sea salt to enhance all those wonderful flavours this vegan bourbon pecan pie is ready to happily grace a Thanksgiving table. Or any table for that matter.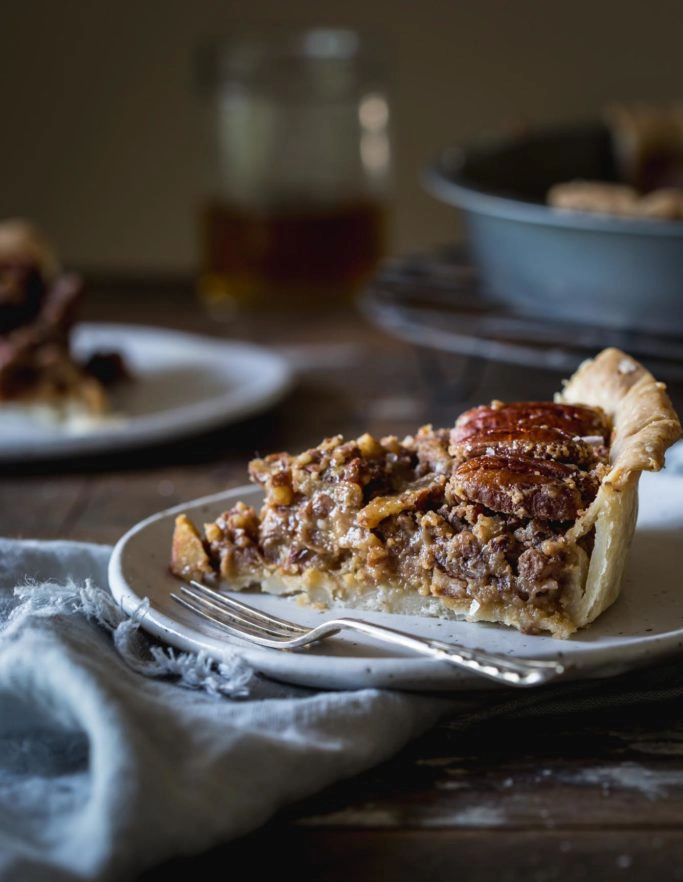 We don't celebrate Thanksgiving here but each night the Elf and I voice what we are thankful for from each day. She is often thankful for a trip to the park, a new toy or a playdate with a friend. But every night she is grateful for Walter and Scout (our beloved hounds), a family that loves her, a good home and a full belly.
I am grateful for a 4 year-old Elf child, Walter and Scout, a husband and family that loves me, a good home and a full belly. Today I am also a little grateful for this vegan salted bourbon pecan pie.
Enjoy, x
NB: I've provided a coconut oil pie crust recipe below but you could use a store-bought crust or use your own favourite recipe.
If you like pecan pie, you might like to check out these recipes:
soy-free silken chocolate vegan pie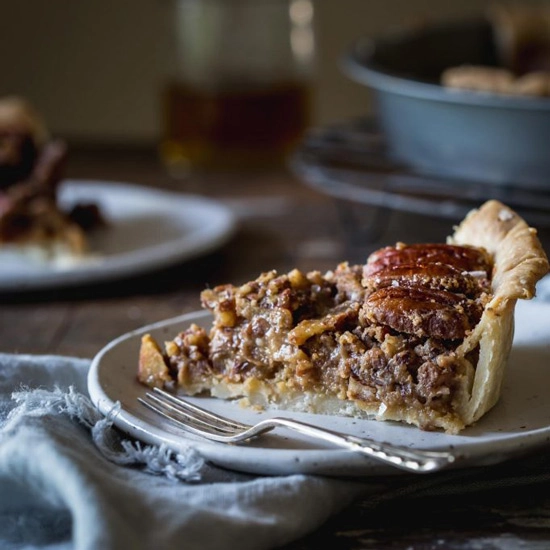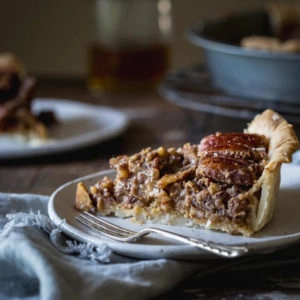 Vegan Salted Bourbon Pecan Pie
Not too sweet, this Vegan Salted Bourbon Pecan Pie happily casts the pecans in the hero role... it must be said however, they are a little drunk.
Print
Pin
Rate
Ingredients
Coconut Oil Pie Crust
2

cups

all-purpose flour

½

cup

coconut oil

firm

1

pinch

fine sea salt

⅓

cup

iced water
Salted Bourbon Pecan Pie Filling
1

cup

pecans

plus more for decorating

⅓

cup

full-fat coconut milk

½

cup

maple syrup + 2 tbsp

1

teaspoon

vanilla extract

3

tablespoon

bourbon

3

tablespoon

chickpea flour

¼

teaspoon

sea salt

2

tablespoon

coconut oil

melted
Instructions
To prepare the pie crust, add the flour, coconut oil and salt to a food processor and pulse until the mixture resembles sticky sand. A tablespoon at a time add the iced water until the dough comes together. Use more or less water as needed.

Tip the dough on to a cool surface and with cool hands bring the mixture together in to a smooth ball. Wrap it in cling wrap and place it in the refrigerator for at least 30 minutes.

Pre-heat the oven to 375 degrees F or 190 degrees C. Unwrap the chilled pastry on to a lightly floured work surface and allow it to settle for 5 minutes to help with rolling out.

Roll the pastry out into a 12" or 30cm circle (ish) patching as required. Roll the pastry onto your rolling pin, then roll it out onto a 22cm or 9" pie pan. Press the pastry in working from the bottom up and trim the rim edges with scissors leaving a 1cm or 0.3" overhang. Turn the edges under and crimp as you like. I used a tea spoon to press in a design. Line the pie with baking paper and fill ¾ full with baking weights, dried chickpeas or uncooked rice.

Bake for 20 minutes or until the edges of the pie begin to brown. Remove from the oven and let the pastry cool for at least 5 minutes.

Turn the oven down to 350 degrees F or 176 degrees C.

To make the filling roughly chop the pecans. Place the coconut milk, maple syrup, vanilla, bourbon, chickpea flour, sea salt and melted coconut oil in to a blender and blend for 15 seconds or until combined. Pour the mixture in to a bowl and stir in the chopped pecans. Set aside. After the pie crust has cooled slightly, fill it with the pecan filling and decorate with additional pecans if desired. Sprinkle with a little sea salt and bake in the oven for 30 minutes. Turn off the heat and leave the pie in the oven for another 10 minutes.

Remove from the oven and allow the pie to cool completely. For best results place it in the refrigerator overnight before bringing it back to room temperature or slightly warm it to serve.
Notes
Chilling the pie pastry give the gluten strands time to settle and relax and makes the pastry easier to roll out. It also reduces shrinkage when baked. 
This recipe works best baked the day before serving and refrigerated overnight. This allows the custard the thicken. 
Nutrition
Calories:
389
kcal
|
Carbohydrates:
27
g
|
Protein:
5
g
|
Fat:
28
g
|
Saturated Fat:
17
g
|
Sodium:
81
mg
|
Potassium:
128
mg
|
Fiber:
2
g
|
Vitamin A:
5
IU
|
Vitamin C:
0.2
mg
|
Calcium:
16
mg
|
Iron:
2.2
mg
Tried This Recipe?
I'd love to hear your feedback. Rate it & leave your feedback in the comments section below. Or you can tag @mygoodnesskitchen or hashtag #mygoodnesskitchen on Instagram. Thank you!