Soft, plump dumplings filled with delicate oyster mushrooms and spicy vegan kimchi, my easy mushroom and kimchi dumplings are simple, healthy and delicious. These perfectly easy dumplings can be frozen making them a handy go-to during the Christmas chaos.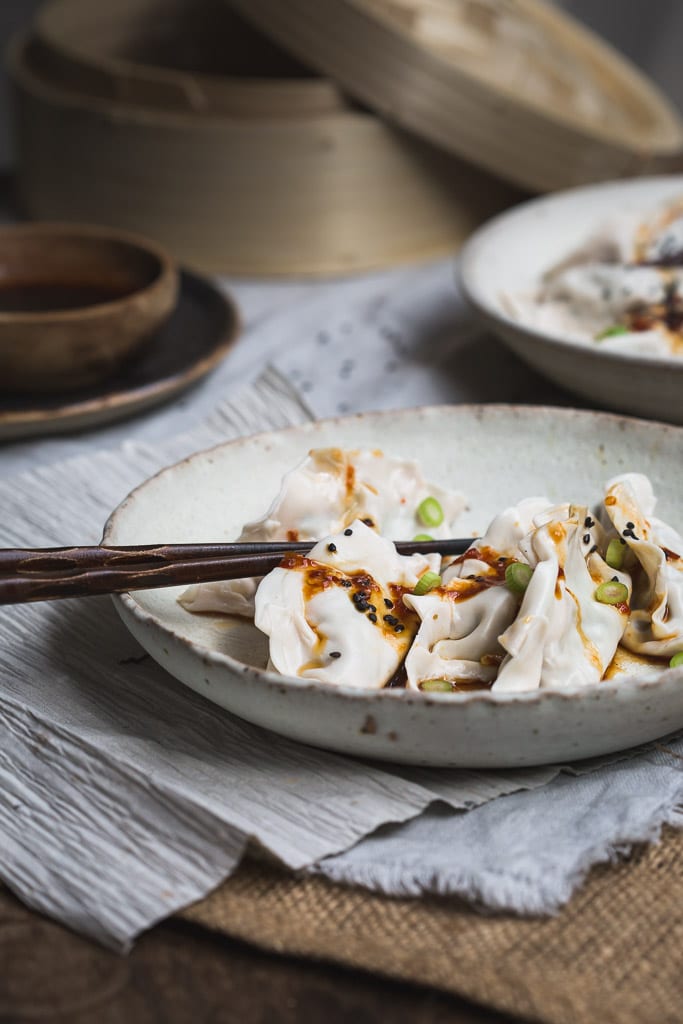 In the lead up to the festive season, I like to keep things pretty simple around here. As a card carrying "disorganised" person, I find the weeks before Christmas overwhelming. Have I organised the tree? No. Have I made a presents list? No. Have I booked the flights? No, I thought you were. I  don't think a person who is anything but a planner 95% of the year can become a ninja strategist for the month before December 25. So, we fumble through as best we can. It isn't pretty but we get there in the end.
One area where I am trying to be more organised is in the kitchen. With kindergarten concerts, end of year karate graduations, Christmas recipe testing for this blog and general hoopla, I am attempting a modicum of zen in the kitchen. Easy, freezable meals are big on my rotation at the moment.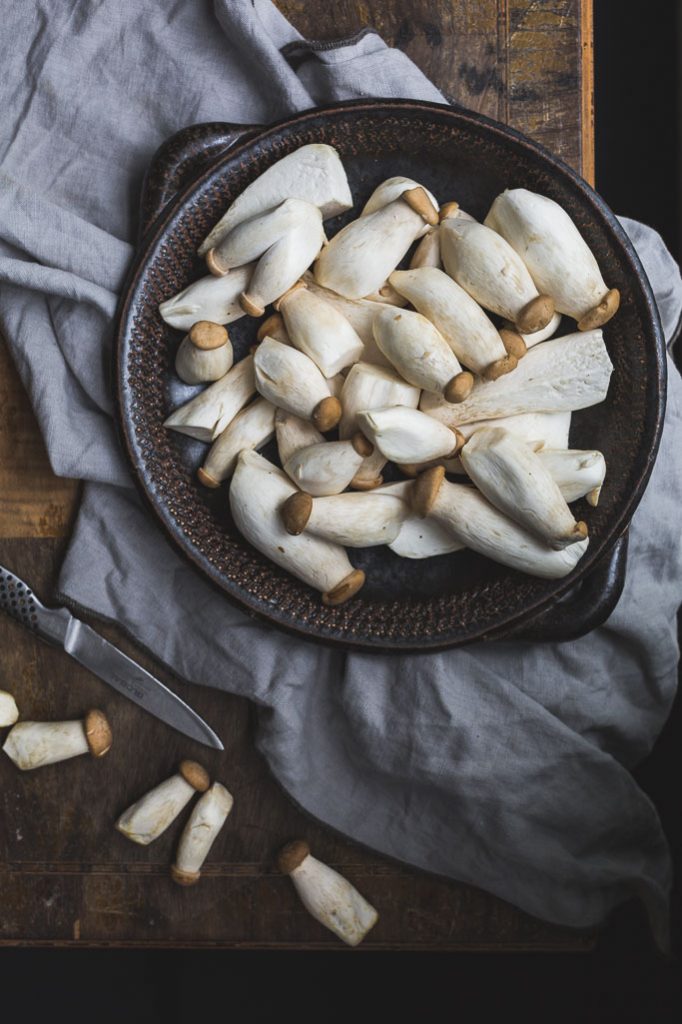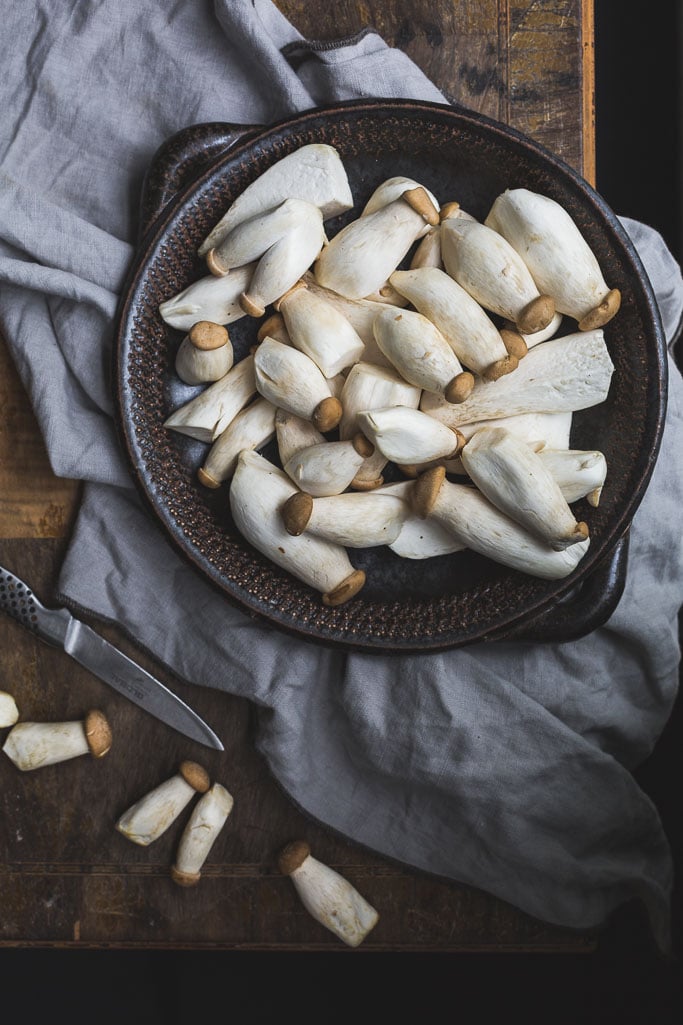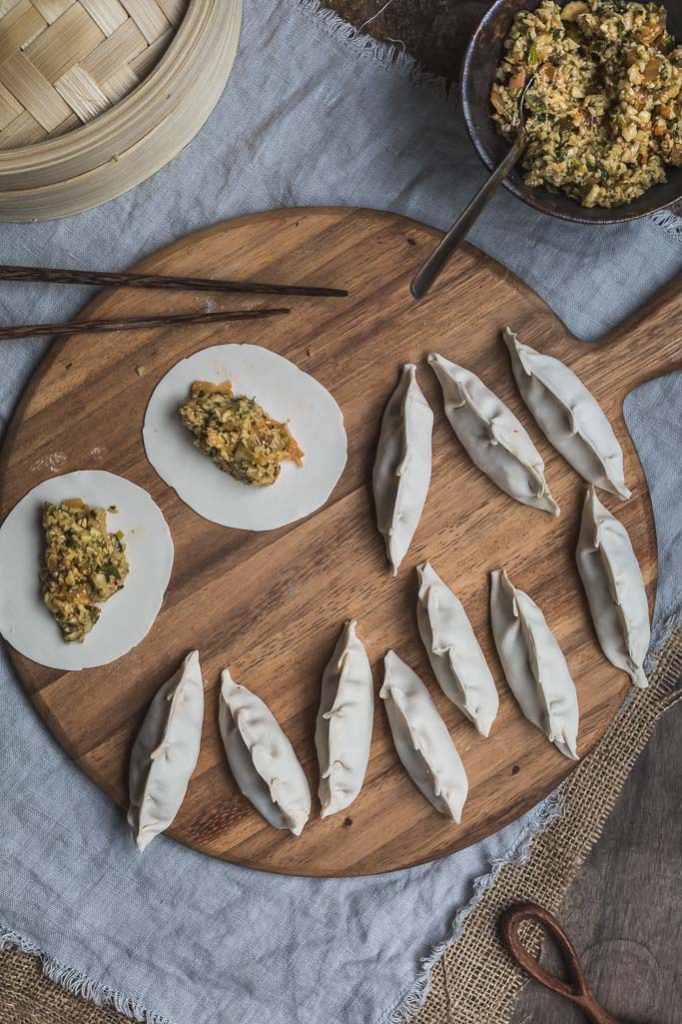 These vegan mushroom and kimchi dumplings are super quick and simple to make. I have a recipe for vegan kimchi but you can easily find it at whole food stores these days. It's usually in the refrigerated section.  If you can't, a good kraut and a tsp of chilli sauce makes an easy substitute. I based this recipe on Korean kimchi dumplings which, traditionally contain minced pork but I find oyster mushrooms  work beautifully as a vegan alternative. I've used baby mushrooms here but if you can only find the King variety they will work too. They are being minced down in the food processor anyways. I buy my mushrooms from my local Asian grocer but if you have trouble finding oyster shrooms, use regular chestnut mushrooms and add some hydrated shitakes, finely chopped. Simples.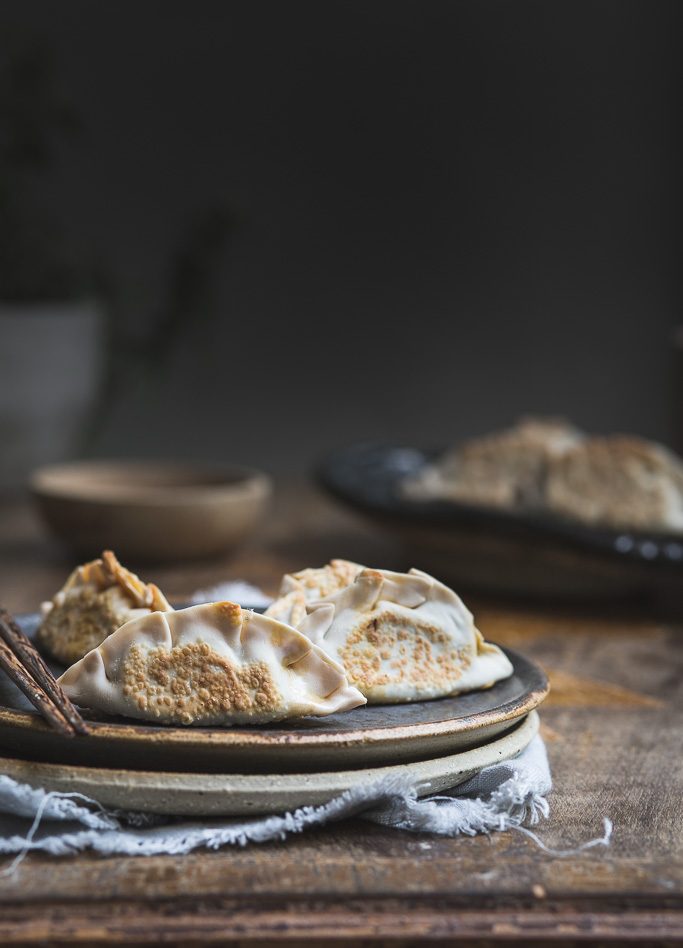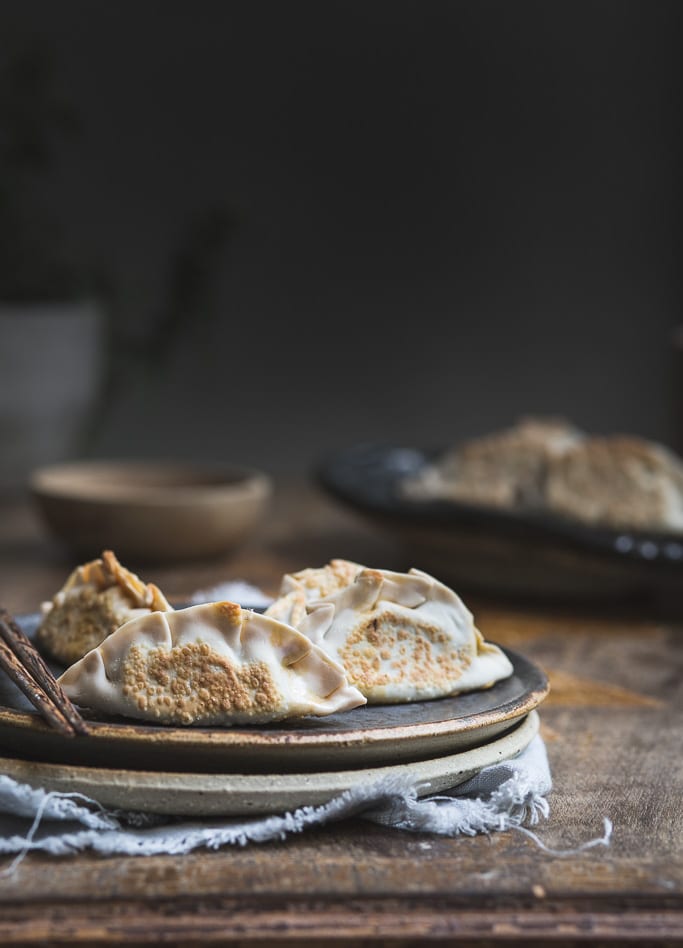 Panfried or boiled, these easy mushroom and kimchi dumplings are a handy, freezable back-pocket recipe. Lovely in a broth or simply served with a dipping sauce and fresh greens, they a flavourful yet light easy meal.
Enjoy.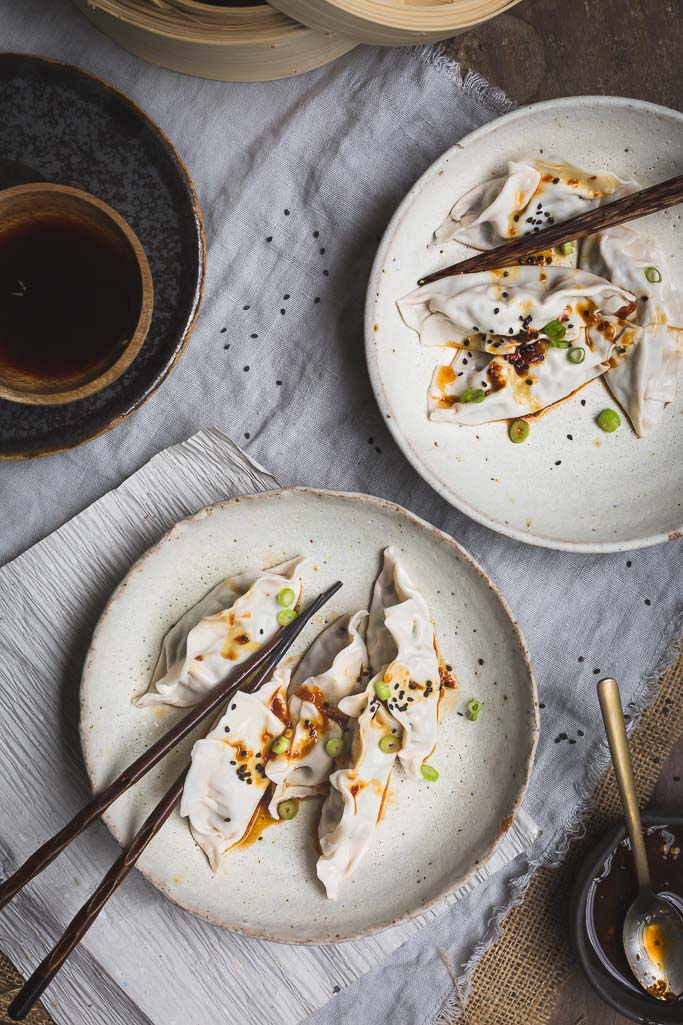 Easy Mushroom & Kimchi Dumplings
Soft and plump VEGAN mushroom and kimchi dumplings. Including both pan-fried and boiled recipe instructions.
Ingredients
300

grams

oyster mushrooms

around 3 cups

1

cup

baby spinach

2

garlic cloves

roughly chopped

2

scaliions

whites roughly chopped, greens finely sliced

1/2

cup

vegan kimchi

1

tbsp

peanut oil

1

tbsp

sesame oil

1 1/2

tbsp

tamari

25

gyoza or wonton dumpling wrappers
Instructions
Place the oyster mushrooms in a food processor and pulse until they resemble rice. Transfer them to a bow and set aside.

Without wiping out the processor bowl, add the spinach, garlic and scallion whites and pulse until finely chopped. Add these to the mushrooms.

Chop the kimchi finely and also add it to the bowl. Stir well to combine the mixture.

Heat a large pan on medium heat and add the sesame and peanut oil to heat for 30 seconds. Add the mushroom mixture and tamari sauce and cook, stirring regularly for 3 to 5 minutes. Remove the mixture from the heat to cool well. You can also refrigerate the mixture prior to making the dumplings to help with binding but I don't always and it's fine.

To make the dumplings, place a small bowl of water and a parchment-lined baking sheet near your workspace. Lay several dumpling wrappers on your bench and place a heaped teaspoon of the filling in the middle of each wrapper. Dip a finger in the water and run it around the edge of the first dumpling wrapper. Fold the wrapper over and pinch it closed. If the wrapper opens again, pinch it together again with wet fingers. I also pleat mine to ensure they seal properly. Repeat with remaining wrappers until all the filling is used.

If freezing, lay the dumplings as closely as possible on the baking sheet without touching. Freeze until solid before transferring them to a freezer-proof container and freezing for up to three months. Dumplings can be cooked straight from the freezer without thawing.

To boil the dumplings, fill a large pot with water and bring to the boil over medium heat. Add your dumplings and cook for around 5 minutes, stirring occasionally to ensure they don't stick to the bottom of the pot. When the dumplings rise to the surface of the water, they are ready. Strain and serve with freshly chopped scallions and a soy chilli sauce.

To pan-fry the dumplings, heat vegetable or grapeseed oil in a large skillet over medium heat. Add the dumplings and gently fry each side until golden. Remove from the pan and serve with freshly chopped scallions and a soy chilli sauce.
Notes
I combine 1 tbsp of sesame oil, 2 tsp of soy sauce and 1 tsp of Sambal Oelek to make a quick soy chilli sauce. Add water if needed. 
This recipe makes around 25 dumplings.
Nutrition
Calories:
231
kcal
|
Carbohydrates:
33
g
|
Protein:
8
g
|
Fat:
7
g
|
Saturated Fat:
1
g
|
Cholesterol:
4
mg
|
Sodium:
665
mg
|
Potassium:
426
mg
|
Fiber:
2
g
|
Sugar:
1
g
|
Vitamin A:
800
IU
|
Vitamin C:
3.7
mg
|
Calcium:
37
mg
|
Iron:
3
mg