Last updated on September 27th, 2022 at 07:20 am
A kimchi burger with crispy crumbed mushrooms, cooling cucumber and mayo. All nestled in a homemade brioche bun. Burger night just got interesting.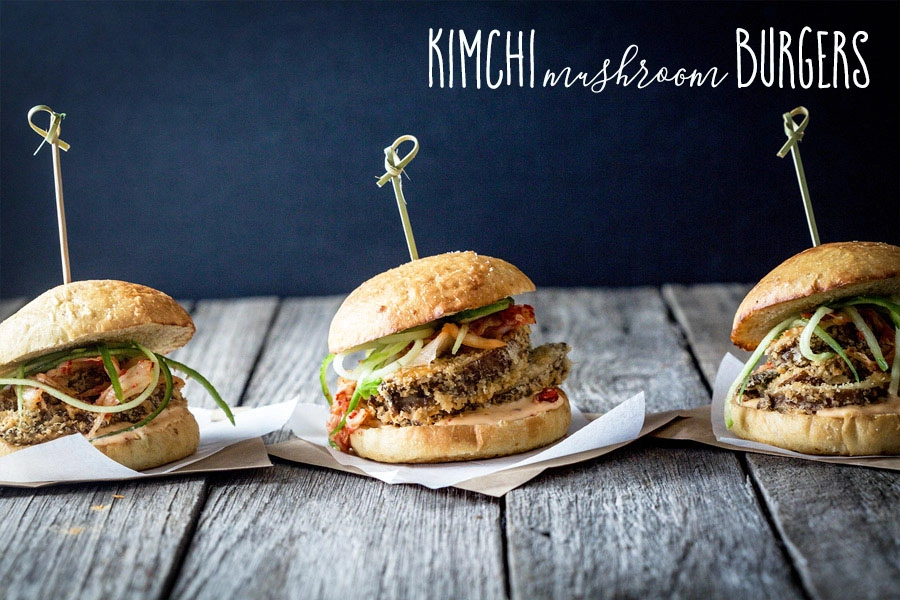 I am dedicating these vegan mushroom burgers to Sisyphus. First, let's start with the poor sod's name. Sisyphus. If that hurdle wasn't enough, the gods condemned Sisyphus to ceaselessly roll a rock to the top of a mountain where it would promptly roll back down again. That gravity is a nasty mistress, hey?
Stories vary as to how Sisyphus angered the gods but eternity is a long time so it must have been bad. Poor bugger. I had a bit of a rock rolling day today but at least I got to eat burgers at the end of it.
Ok, so comparing myself to Sisyphus is possibly, maybe, in all likelihood overkill but I did have me a day. I woke bright eyed and bushy tailed planning to bake a wonderful banana bread from a recipe my friend gave me. I have tried it several times during playdates and I so wanted to share it with you. And I will.
But not today. Today I made the gorgeous banana and coconut bread, set up the photo shoot and blah. Nothing worked. I hated it. All that work for...blah. So I stepped away, went to the garden to re-group, talk to the husband, get some air before returning to my Thunder-dome. Except when I arrived, one man had entered and already left. A female actually. A dog. A daffy Great Dane puppy with a penchant for eating anything that isn't nailed down. And dang, wouldn't you know it, I forgot to nail down the banana bread.
But unlike Sisyphus' tale, this story has a happy ending; vegan mushroom burgers with the awesome of kimchi. I have been playing around with the flavours for a wee while and I intended a post soon. I didn't know today was the day...but there you have it.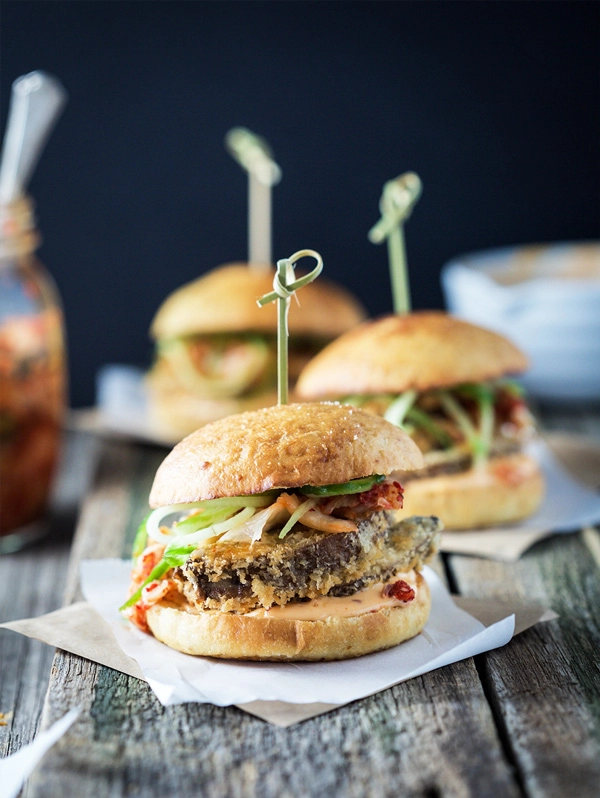 Kimchi + Mushrooms + Brioche = Awesome
These vegan mushroom burgers with kimchi are my new favourite thing. I researched and created a vegan brioche recipe, I found gorgeous kimchi recipes from The Minimalist Baker, Beyond Kimchi and The Simple Veganista but bought mine from our local organics store (don't judge, I was on a mission and unprepared) and finally fried the mushrooms.
In earlier attempts I had tried baking, half-baking and then grilling...but you know what, these mushrooms are best fried. Portobello or swiss mushrooms, rolled in Panko crumbs and shallow fried. It is what it is. And kimchi mushroom burgers are AMAZING.
Sorry Sisyphus, you totally missed out. Sweet brioche burger buns, crunchy crumbed mushrooms, creamy kimchi mayonnaise, spicy kimchi and cooling cucumber.The happiest of endings. Enjoy.
The lovely folk at Thrive Cuisine have put together an interesting piece on the power of the shroom. Check out The Science of Mushrooms for information on my favourite fungus.
UPDATE: I now have a super simple easy kimchi with cabbage on the blog.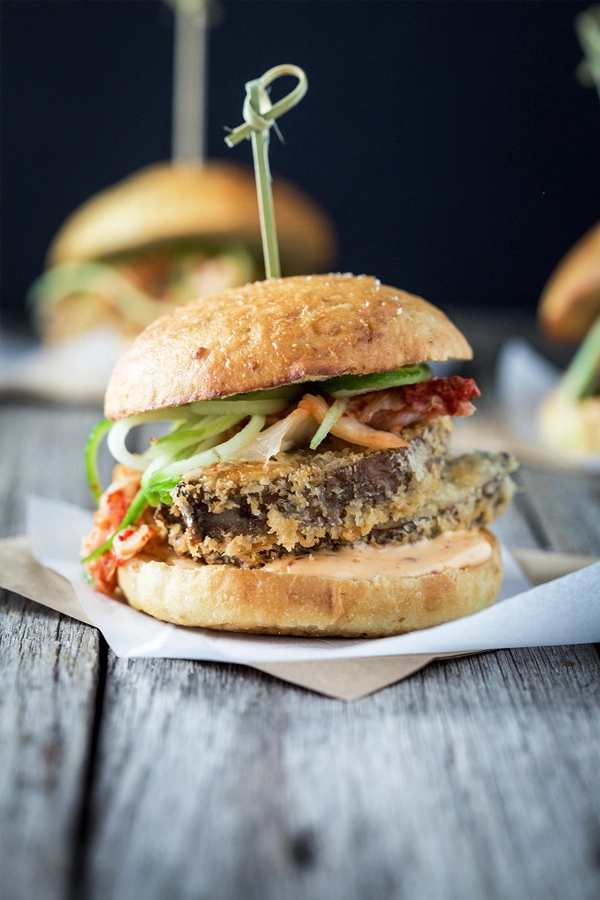 If you would like to try a charcoal vegan brioche bun you can find a recipe with my vegan portobello mushroom burger with wasabi sprouts.
Love your burgers? Check out these other vegan burger recipes:
Hungry for More Plant-Based Goodness? Subscribe to my newsletter and follow along on Facebook, Pinterest and Instagram for all the latest news and updates
If you like this recipe, please check out my cookbook. Great Vegan Meals for the Carnivorous Family is full of simple, carnivore-approved family recipes.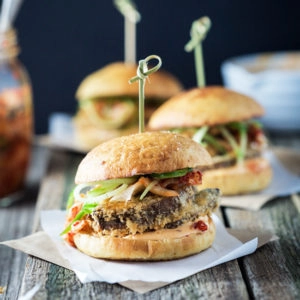 Kimchi Burger with Mushrooms
Mushrooms rolled in panko breadcrumbs with kimchi mayonnaise, spicy kimchi and cucumber served on a brioche or burger bun.
Print
Pin
Rate
Ingredients
Crumbed Mushrooms
5

portobello mushrooms

sliced in to half-inch slices

2

tablespoon

plain flour

¼

cup

dairy-free milk

¾

cup

panko breadcrumbs

⅓

cup

sunflower oil

for shallow frying
To serve
2

lebanese cucumber

cut into ribbons

2

tablespoon

kimchi

per burger

1

cup

fresh greens

heaping, optional

squeeze

lemon juice

optional for fresh greens

2

teaspoon

olive oil

optional for fresh greens
Instructions
For the Kimchi Mayo
Combine the mayonnaise and kimchi in a bowl and set aside.
For the Crumbed Mushrooms
For the mushrooms, put the flour on a plate, the milk in a soup-size bowl and the Panko crumbs on another plate. Sit them beside each other with a large plate at the end to put the finished crumbed mushrooms.

Roll each slice of the mushroom in the flour, then the milk (shake a little to get rid of any excess) and finally roll in the crumbs.

Heat enough oil to fill a fry pan ½ an inch.

Test heat by flicking some cold water in, if it sizzles, it's ready. Shallow fry the mushrooms for around 2 minutes on each side or until golden. Place on kitchen paper to drain.
For the Burger
To assemble the burgers, slice the buns in half and add a good dollop of kimchi mayon to the bottom half. Stack a few slices of the crumbed mushrooms, followed by as much kimchi as you like (or can fit!). If you are adding fresh greens, toss them in a little lemon juice and olive oil before adding them to your burger. Finish with a handful of cucumber ribbons and pop the burger bun lid on to serve.
Nutrition
Calories:
412
kcal
|
Carbohydrates:
55
g
|
Protein:
9
g
|
Fat:
17
g
|
Saturated Fat:
2
g
|
Sodium:
552
mg
|
Potassium:
359
mg
|
Fiber:
4
g
|
Sugar:
5
g
|
Vitamin A:
229
IU
|
Vitamin C:
1
mg
|
Calcium:
43
mg
|
Iron:
3
mg
Tried This Recipe?
I'd love to hear your feedback. Rate it & leave your feedback in the comments section below. Or you can tag @mygoodnesskitchen or hashtag #mygoodnesskitchen on Instagram. Thank you!