Last updated on June 4th, 2020 at 11:04 am
Welcome to vegan burger month at My Goodness Kitchen. This week it's a Crispy Quinoa Cauliflower Burger. It's simple, packed with protein and a little bit delicious.
For reasons only the kitchen gods can tell you, I am inspired to create some truly delicious vegan burgers. Perhaps it was our recent trip to the Big Vegan Market in town where the smell of vegan burgers grilling wafted across the room.
Or perhaps it's because we only have one decent burger place in our burrough and they have one vegan burger. Who knows?
I do know that burgers are on my daughter's "will eat" list and if I can use them to sneak some goodness in to her diet, I will. I am thinking a tempura bao burger, maybe a mushroom and crispy sprout burger...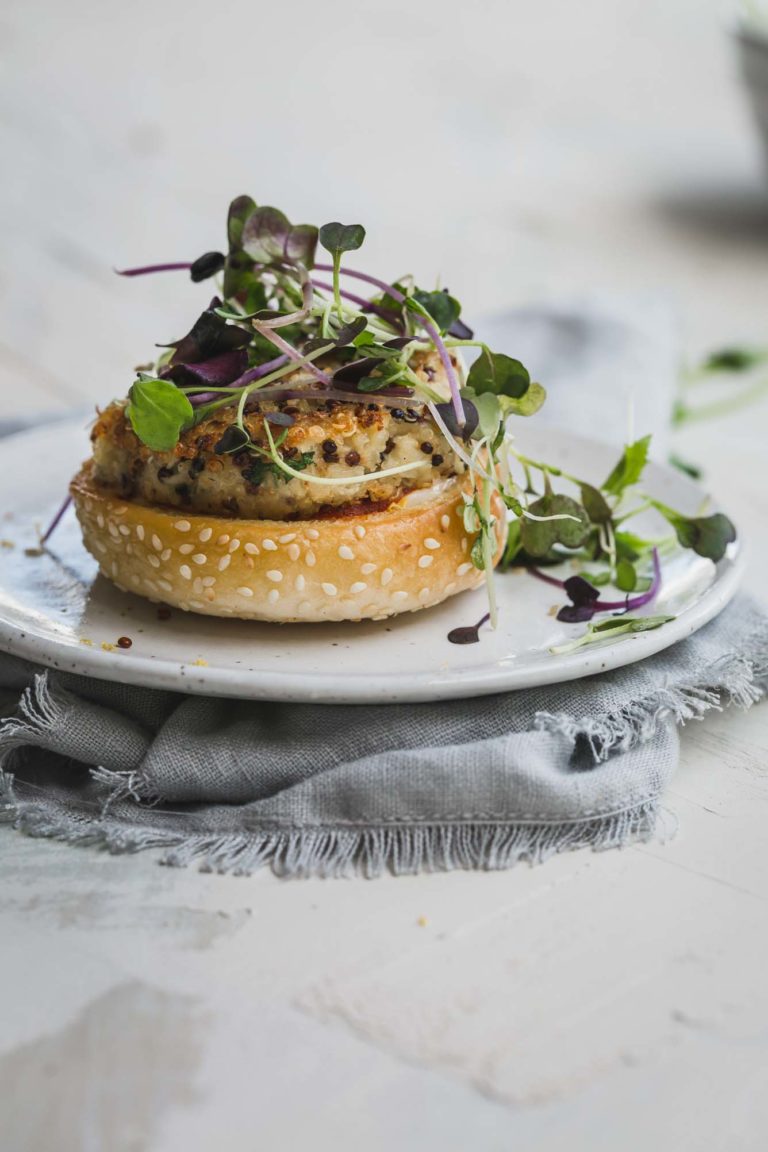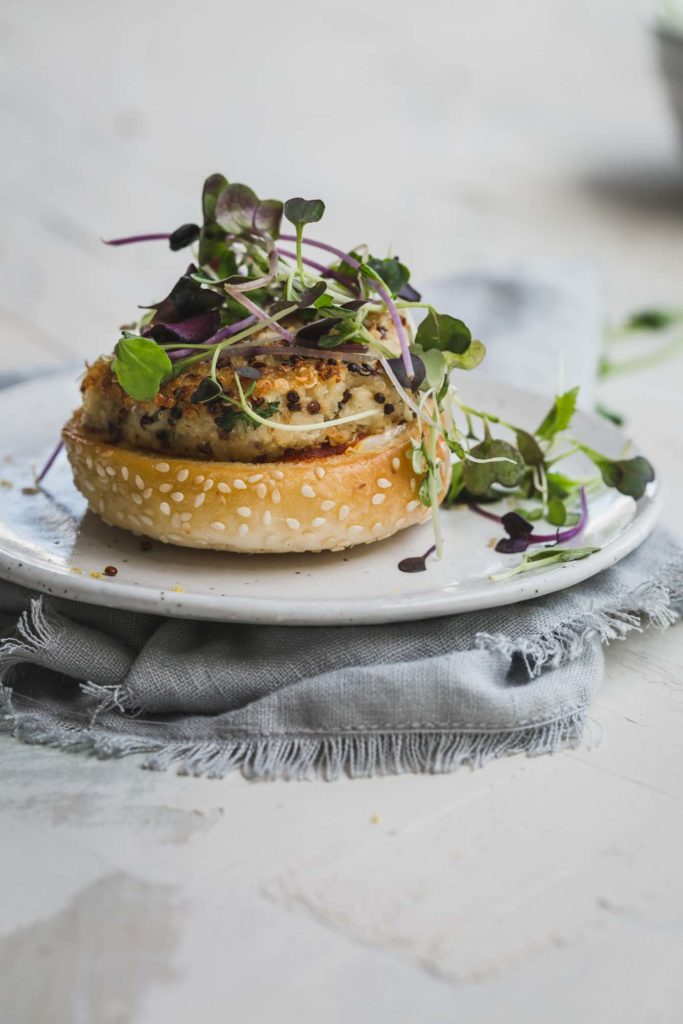 I am late for National Burger Day, I know. Admittedly, I seem to be late often these days and I am praying it's a blip because I am usually annoyingly punctual. I am late for this blog post and the other day I was late for kindergarten pickup and found the Elf sitting on the big mat alone waiting for me.
The kids sit on a mat together until the teacher releases them to their parents and she looked so tiny on that big, big mat. The mat was bigger that day, I swear it.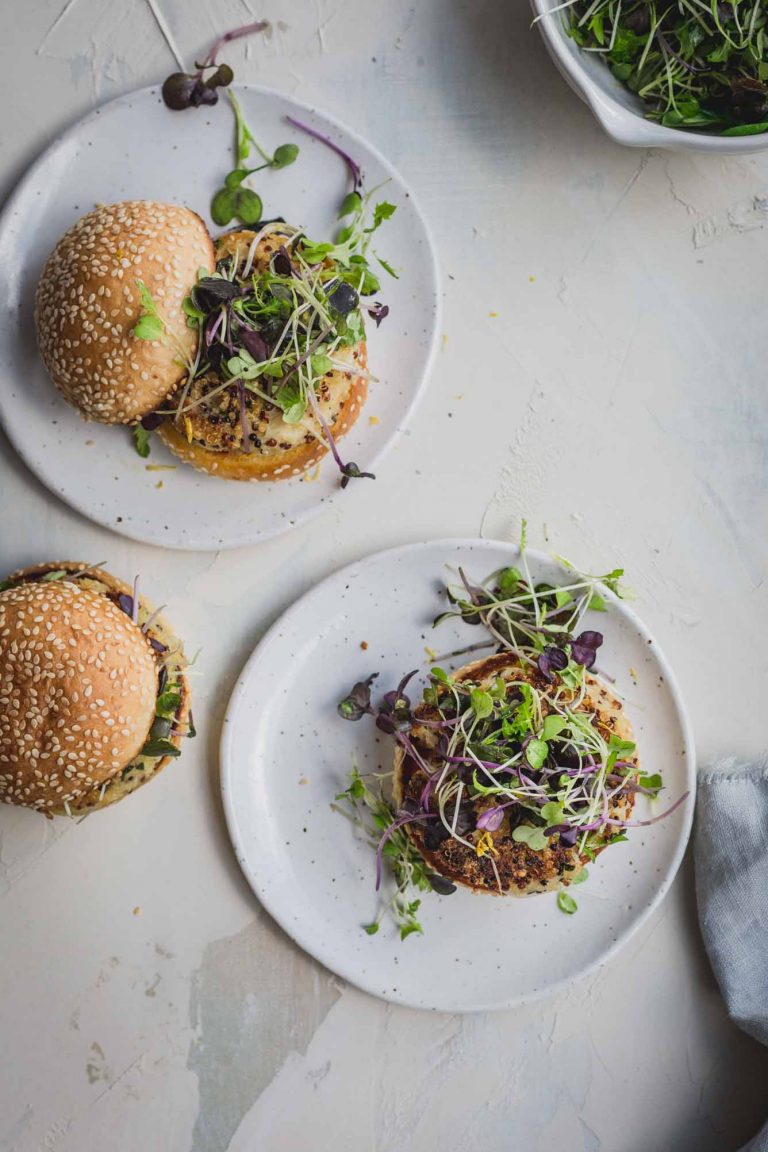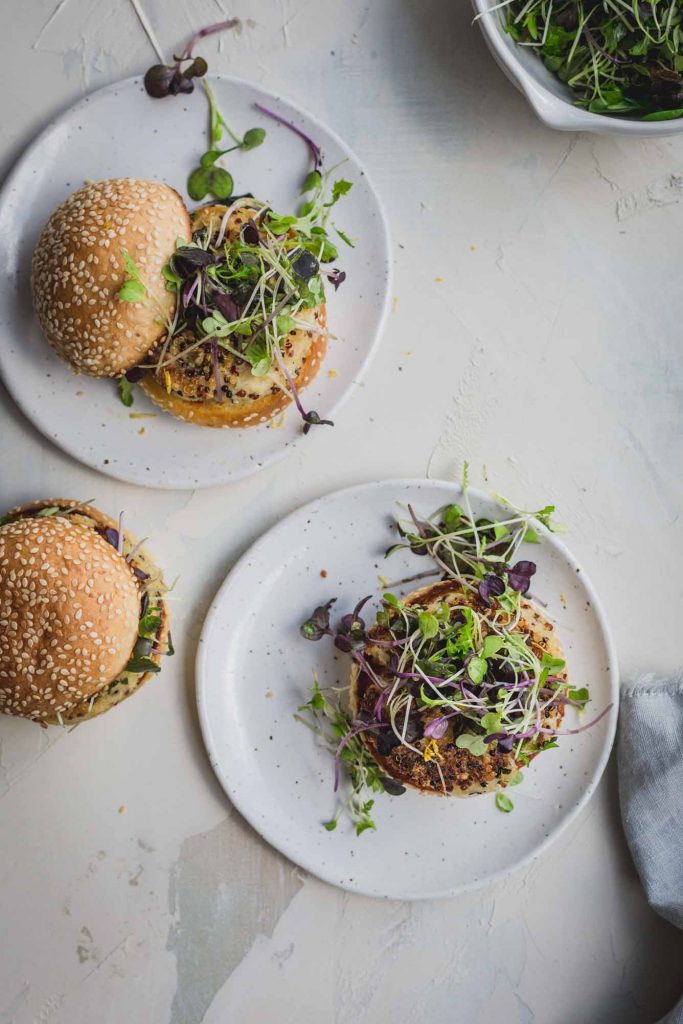 Perhaps this vegan burger month is a little parental mea culpa. I have been super busy finishing up my cookbook and I know my small person loves the burgers....yeah, we'll leave that little self analysis hanging in the ether, shall we? Let's make burgers!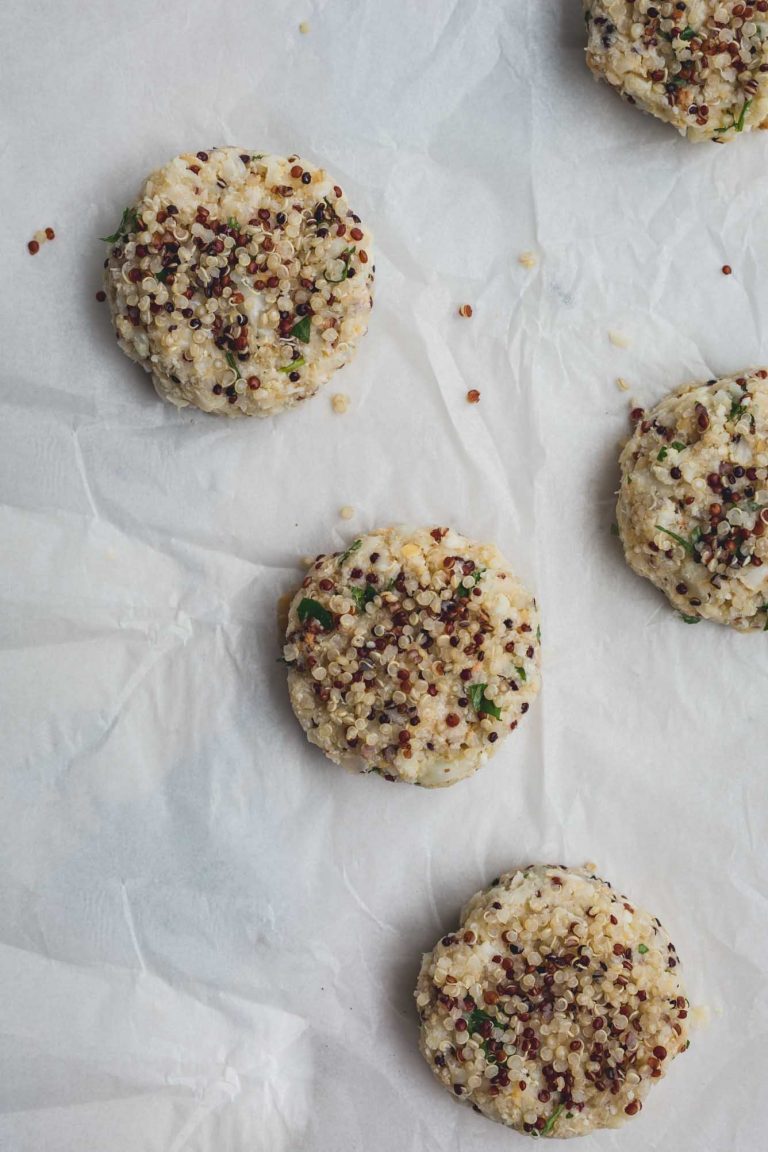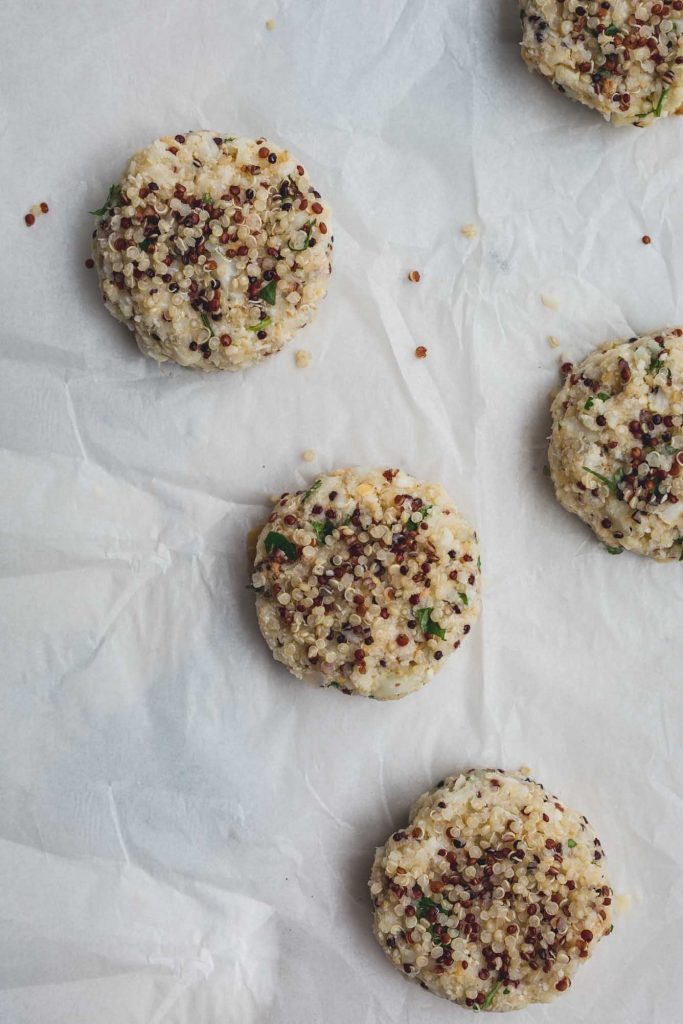 So, what's in the Crispy Quinoa Cauliflower Burger?
My crispy quinoa cauliflower burger is a little powerhouse of goodness. With antioxidant-rich cauliflower and protein packed chickpeas and quinoa these little guys deliver a nutritious punch. Also, they are easy to make and delicious so it's a win/win. To make them gluten-free, simply use gluten-free breadcrumbs and buns.
How to overcome vegan burger slippage
I hear you. And yes, these cauliflower burgers are softer in the centre than I usually make but I have a few tricks to overcome vegan burger slippage.
I use slider-size buns and make the burger patties palm-size to fit - I find the smaller the burger size the easier to manage slippage.
Secondly, the more breadcrumbs you add the firmer the patty will be; I used a half-cup but you can add more.
Also, I always pop my vegan burger patties in the fridge to firm up. It's a simple solution but it works.
Finally, use a soft bun like a vegan brioche. Trying to tear in to a chewy bun like a sourdough will always lead to total slippage and mess.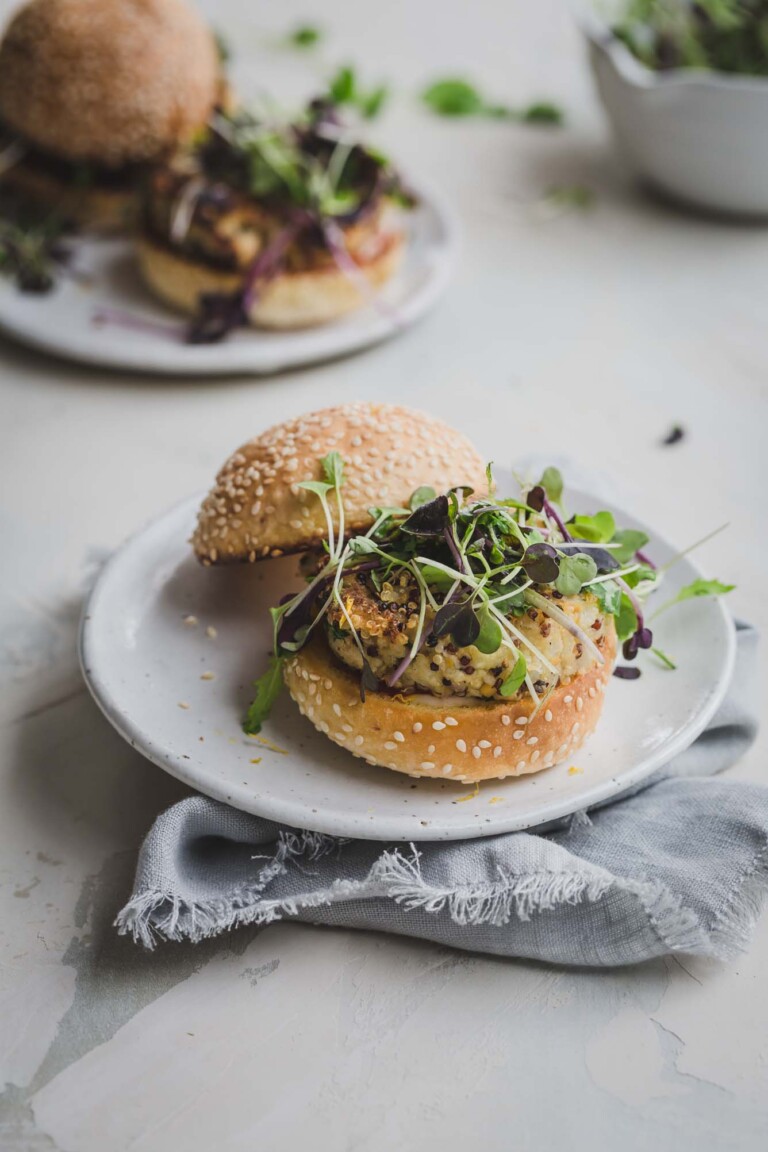 I am pretty chuffed with this crispy quinoa cauliflower burger recipe. Nutty toasted quinoa and roast cauliflower with fresh coriander leaves and vegan parmesan come together in a moorish bite while lemon infused fresh greens add freshness. I enjoy the heat of the sriracha mayonnaise while my Elf prefers plain mayonnaise. It's a simple solution to make these vegan burgers kid-friendly.
Enjoy.
NB: one raw cup of quinoa will yield more than enough cooked quinoa for this recipe.
Need more burgers? Check out these vegan burger recipes and roundups:
Vegan kimchi crispy mushroom burgers
The big list of awesome vegan burger recipes
Vegan bao burgers with peking tempeh
DELICIOUS BURGER RECIPES MENTIONED ABOVE →