This Portobello Mushroom Burger with Roasted Wasabi Sprouts may...just may...change your mind about the sprout.
It's week 2 in our Vegan Burger Month here at Goodness headquarters and I am pretty excited because this week's burger features...sprouts! I know, I know I may be dancing a happy dance for one but these sprouts are wonderful, I swear. They are roasted and then massaged with a slightly sweet, slightly spicy wasabi oil.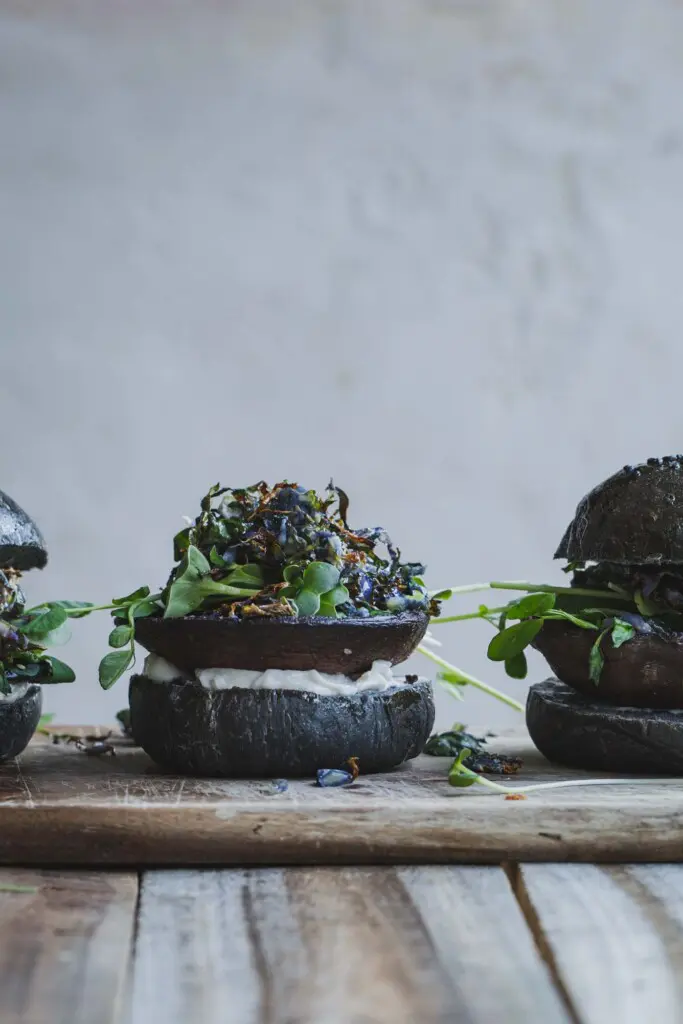 We are heading to the States next week for a month and I am so excited. Firstly, it will be the first time we visit the US, or anywhere for that matter, in the Northern Summer. We always seem to travel in the Winter like polar bears. Secondly, it is our first big trip with the elf and I think she is at an awesome age to get her travelling life started. I am so excited to show her everything. She has such an awesome and curious mind, I think she's going to love it.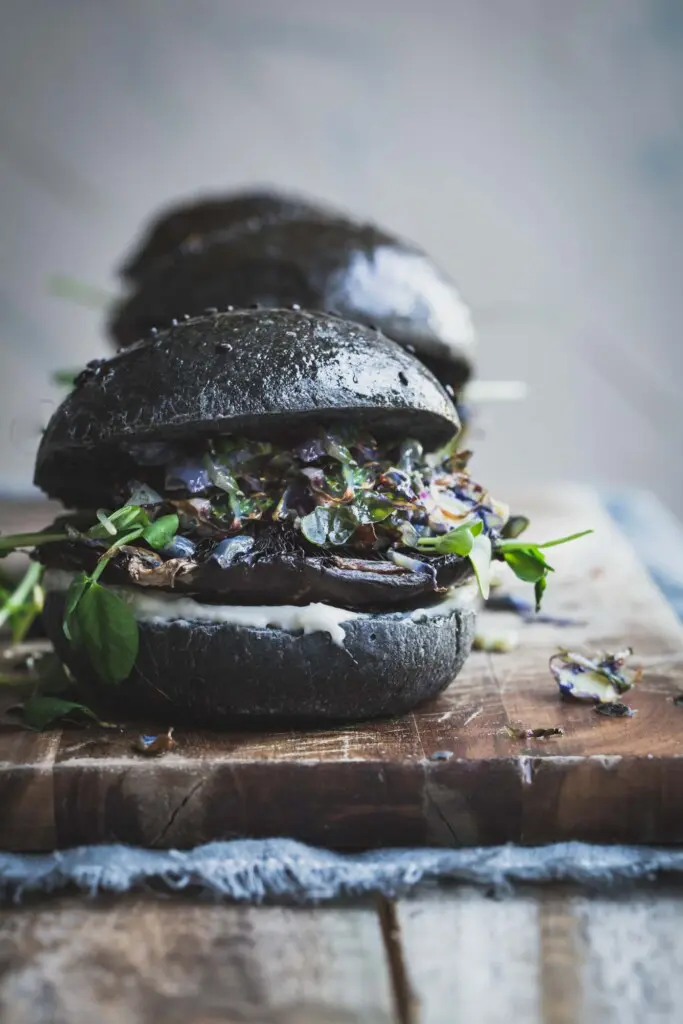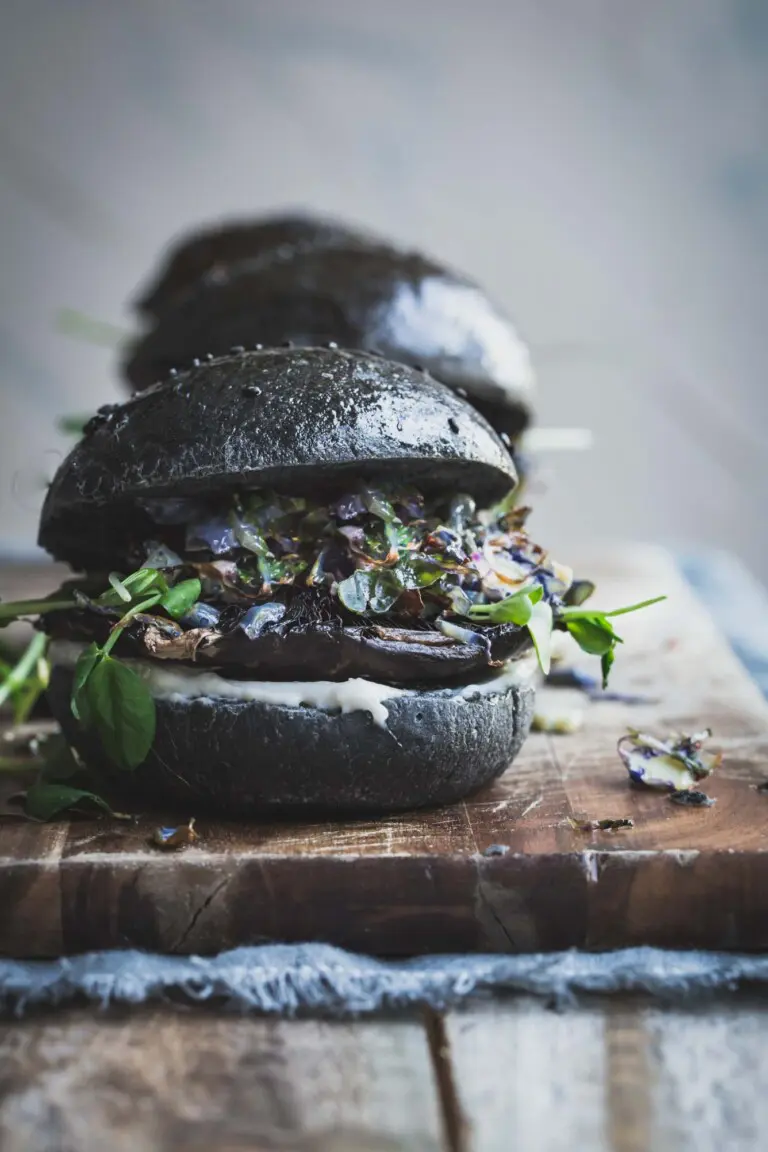 I am going to love the food. My husband asked me if I was planning on doing other stuff besides eating, looking for places to eat or buying new produce to cook and eat. Sure I am...maybe. I do plan on hiring a bike to ride to work off the food I ate so I can eat more. Does that count?
Speaking of food, let's make our Portobello Mushroom Burger.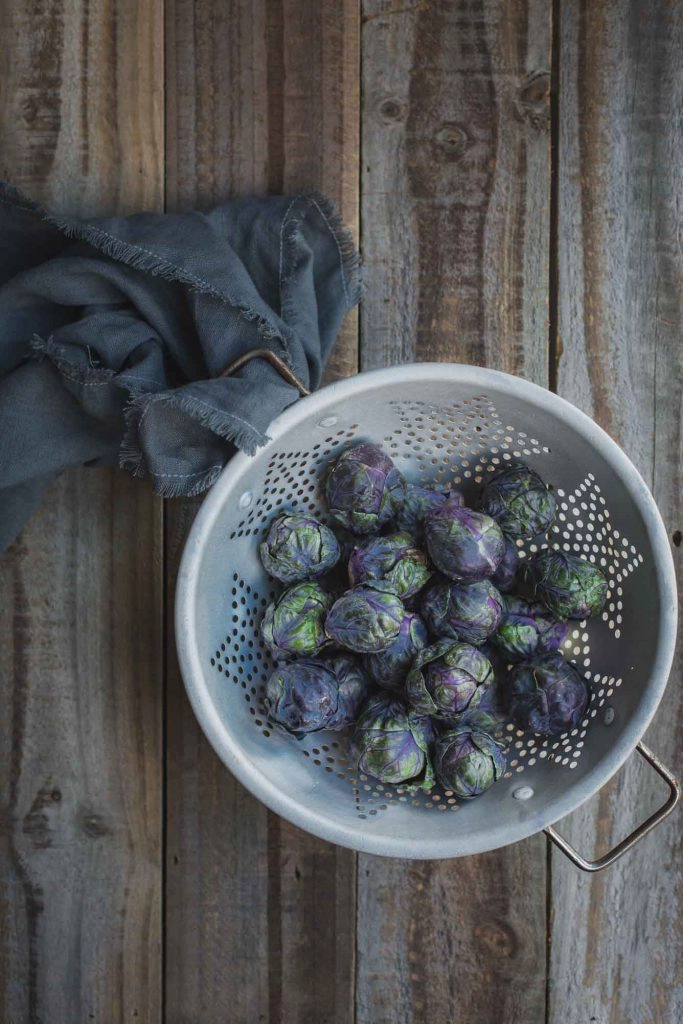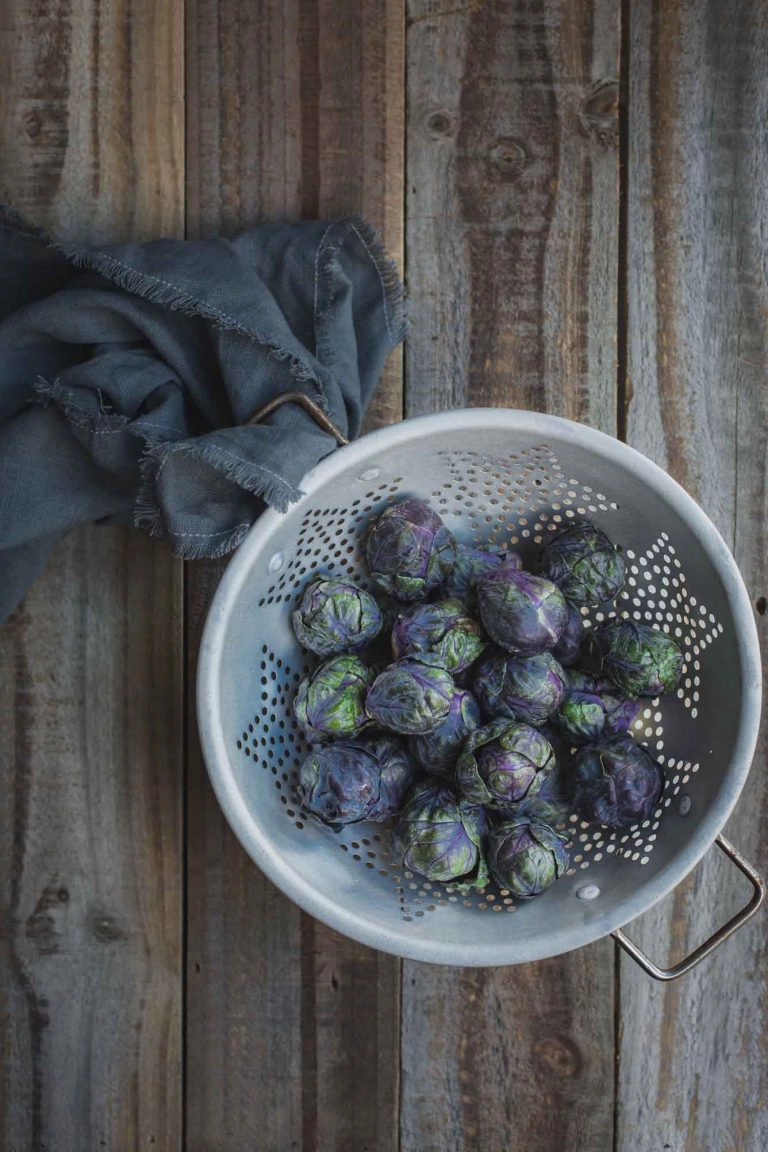 YOU CAN'T PUT BRUSSEL SPROUTS ON A BURGER!
Sure you can. Finely sliced, roasted and then massaged with wasabi oil, these sprouts become sweet with a hint of heat from the wasabi. Roasting them toasts the edges giving each bite of the burger a satisfying crunch.
Also, sprouts are little power houses of goodness. They contain, to name a few;
Vitamin K
Vitamin C
Antioxidants
Fibre and
Protein
Your Mum was right when she said you should eat your sprouts, they are super good for you. I say you should eat your sprouts because, cooked right, they taste awesome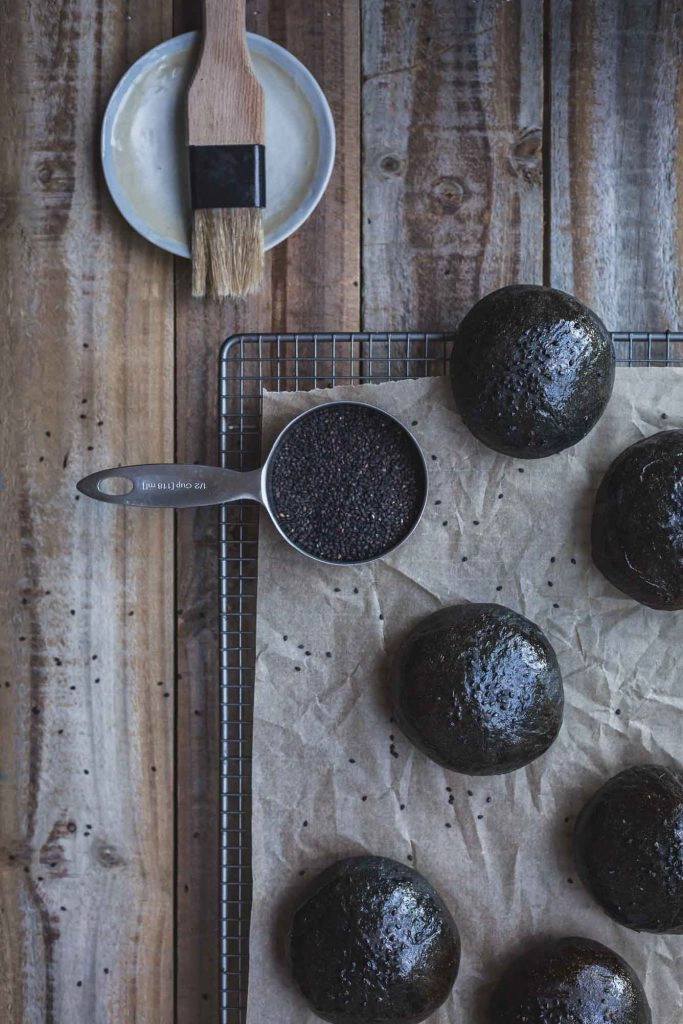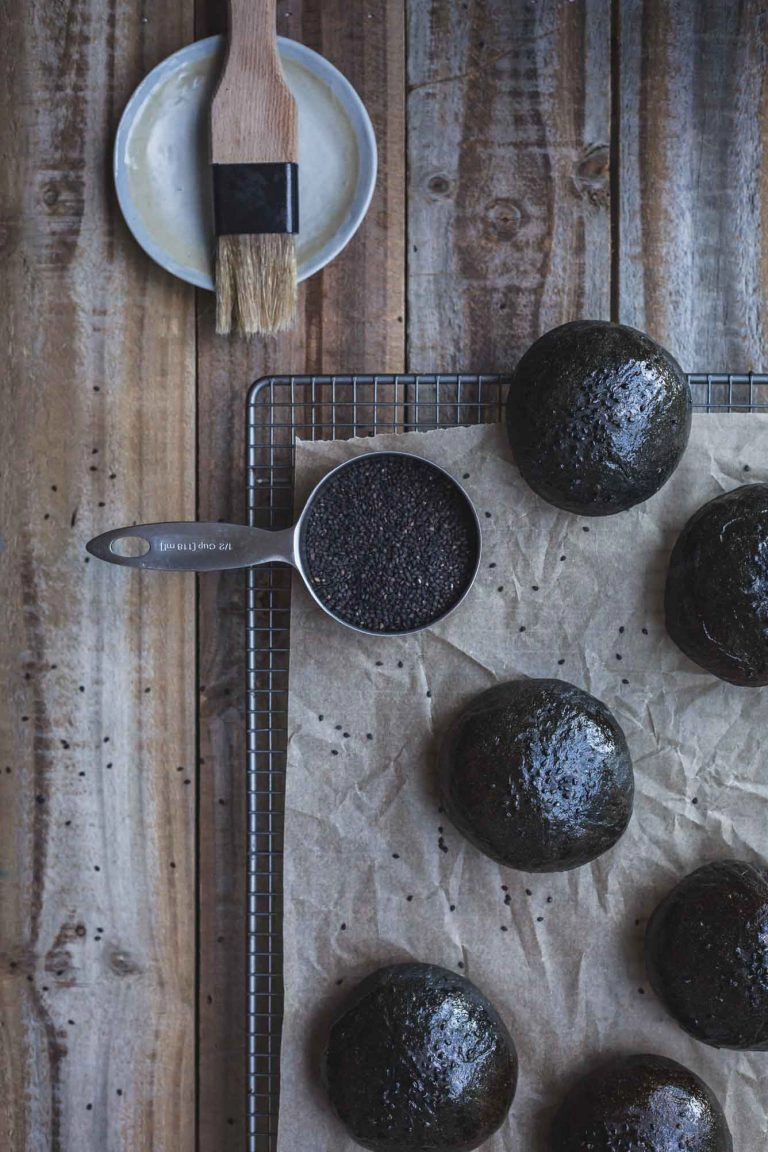 HOMEMADE BUNS FOR YOUR PORTOBELLO MUSHROOM BURGER
To add to the drama of my portobello mushroom burger, I made charcoal burger buns. Edible charcoal gives that cool dark effect. You can check out the effect in my Deliciously Dark Halloween Poison Apples. Cool, huh? Are they imperative? Geez, no. Are they easy and delicious? Totally, yes. They are a bit fun and my daughter loves them, so I have included the recipe below. You can skip the charcoal and make regular buns or simply buy buns. With the patty being a single portobello mushroom, these burgers can handle a chewier bun like a sourdough without too much slippage. The charcoal bun recipe is a cross between a brioche and a regular bun with coconut oil instead of butter.
Whichever you choose, this vegan portobello mushroom burger recipe is full of contrasting and wonderful Asian flavours. With juicy roast mushrooms rubbed with a hint of Chinese five spice, sweet and crunchy wasabi sprouts, creamy mayonnaise and crisp green sprouts, these burgers are a taste explosion. Enjoy.
NB. If you like heat, add more wasabi to the oil. Kids may like a gentler version but you can add more wasabi to your own after feeding the kids.
If you love burgers, check out the Big List of Awesome Vegan Burgers.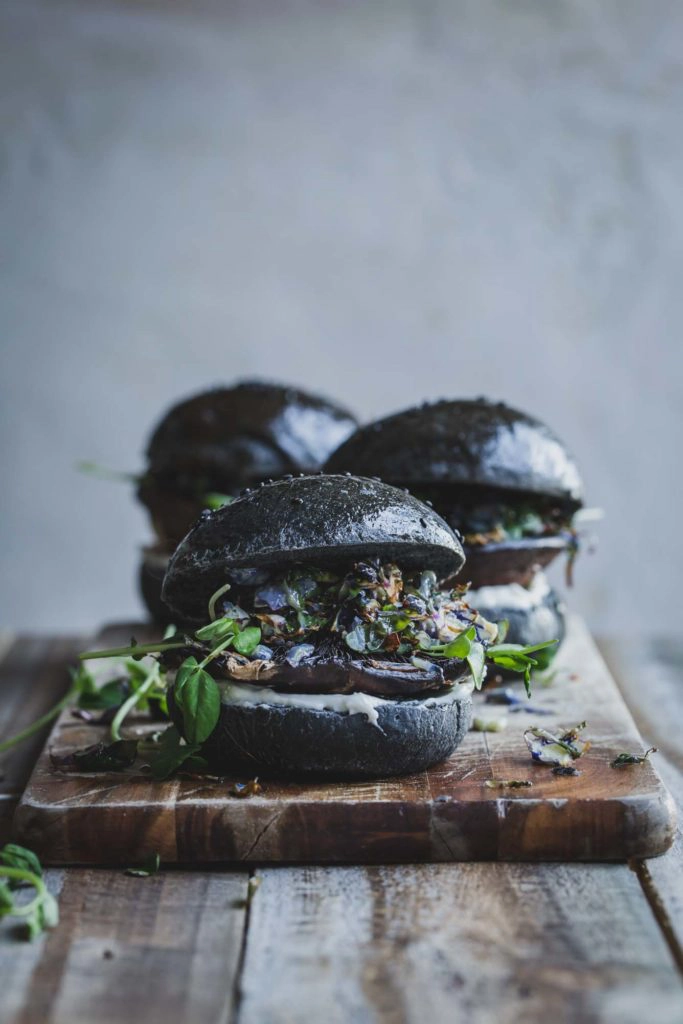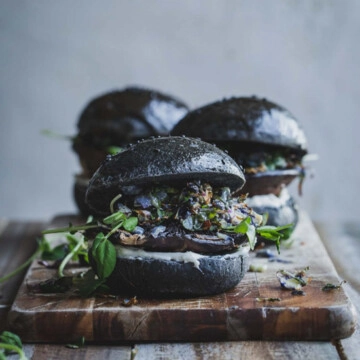 Portobello Mushroom Burger with Roasted Wasabi Sprouts
This Portobello Mushroom Burger sings with juicy five-spice rubbed mushrooms, roasted sprouts and wasabi oil on an easy charcoal bun.

Print
Pin
Rate
Ingredients
Charcoal Burger Bun
205

grams

all-purpose or unbleached all-purpose flour

295

grams

strong flour (bread flour)

2 ¼

teaspoon

active instant yeast

2

tablespoon

raw suagr

¼

teaspoon

sea salt

200

ml

warm water

37- 39 degrees C

2

teaspoon

food grade activated charcoal

⅓

cup / 80ml

almond or soy milk

room temperature

3

tablespoon

aquafaba

2

tablespoon

coconut oil

solid but soft

2

tablespoon

dairy-free milk

1

tablespoon

maple syrup
Portobello Mushrooms
6

palm size portobello mushrooms

wiped clean with a cloth

2

tablespoon

sunflower oil

¼

teaspoon

Chinese five-spice

1

pinch

sea salt
Roasted Sprouts with Wasabi Oil
3 cups

Baby Brussels sprouts

2

tablespoon

sunflower oil

1-2

tablespoon

mirin

1-2

teaspoon

wasabi paste
To serve
wasabi pea sprouts or bean sprouts
Instructions
To prepare the burger buns, place the flours, yeast, sugar, salt and charcoal in a large bowl and stir to combine. In a separate bowl, whisk together the warm water, milk and aquafaba before adding it to the dry ingredients.

Stir with a large spoon until most of the mixture comes together before tipping the dough out on to a clean work surface. It will be floury, don't worry. Begin kneading the dough bringing together all the loose bits as you go. Knead for 3-4 minutes before adding a tablespoon of the coconut oil and working it through (I flour my hands because the dough get a little slippery here). Continue kneading for 2 minutes before adding the second tablespoon of coconut oil and a dash more flour if required. Knead the dough for another 5 minutes or until it is shiny and smooth.

Form the dough in to a ball and place it in a large, lightly greased bowl. Cover the bowl with cling wrap or a clean kitchen towel and set it in a warm room to proof for 1.5 - 2 hours and double in size.

When the dough has doubled in size, tip it out on to your work bench and knock it down. Divide it in to even size portions (I measured out 8 portions weighing 108 grams each) and roll them in to ball-shape buns. Place the buns on a lined baking tray with a good space between and rest them again, covered, for 45 minutes.

Preheat the oven to 205 degrees C (400 degrees F). Combine the maple syrup and dairy-free milk in a bowl and brush over each bun before placing them in the oven for 13 - 15 minutes. Remove the buns from the oven and brush with more glaze and set aside.

To prepare the mushrooms, heat the oven to 180 degrees C (356 degrees F). Combine the oil and Chinese five spice with the sea salt and whisk in a bowl. Lay the mushrooms on a lined roasting tray and brush with the oil mixture on both sides and set aside.

For the sprouts, remove the out layer and base of the sprout and finely slice the rest. Lay them out on a lined roasting tray and drizzle with tiny amount of oil and season with a little salt. Place both the mushrooms and the sprouts in the oven and roast for around 15 minutes, turning the mushrooms half-way through. When ready the mushrooms should be cooked through and the sprouts beginning to toast around the edges.

While the vegetables are roasting, whisk the wasabi, mirin and sunflower oil in a bowl.

Remove the vegetables from the oven and transfer the sprouts to a bowl while still warm. Add a few spoons of the wasabi oil and either massage it through or stir with a spoon. Taste and add more oil if needed.

To assemble the burger, cut the bun in half and add a good dollop of vegan mayonnaise to the base. Top with a mushroom followed by a small handful of the fresh green sprouts. Finish with a large spoon of the wasabi sprouts and top with the other bun half. Repeat with the remaining burgers.
Notes
Mirin is a Japanese rice wine available in the Asian section of most supermarkets. 
I have measured the flours in grams for precision's sake. 
Nutrition
Calories:
515
kcal
|
Carbohydrates:
74
g
|
Protein:
12
g
|
Fat:
18
g
|
Saturated Fat:
5
g
|
Sodium:
173
mg
|
Potassium:
439
mg
|
Fiber:
3
g
|
Sugar:
9
g
|
Vitamin A:
70
IU
|
Vitamin C:
1.7
mg
|
Calcium:
44
mg
|
Iron:
2.4
mg
Tried This Recipe?
I'd love to hear your feedback. Rate it & leave your feedback in the comments section below. Or you can tag @mygoodnesskitchen or hashtag #mygoodnesskitchen on Instagram.