Last updated on May 12th, 2021 at 10:17 am
A little sweet, a little salty this homemade almond butter granola is simple to make and perfect for breakfast or an on-the-go snack.
I am not a breakfast person. Well, I love making breakfast- have you tried my soft scrambled tofu - I just don't eat it. My morning ritual consists of making a jar of vegan iced coffee as big as my head and carrying it around with me like a blankie for the next hour. I know this is not a good ritual but it has been mine for many years and it is hard to let go. I also run every day so it's not all bleak.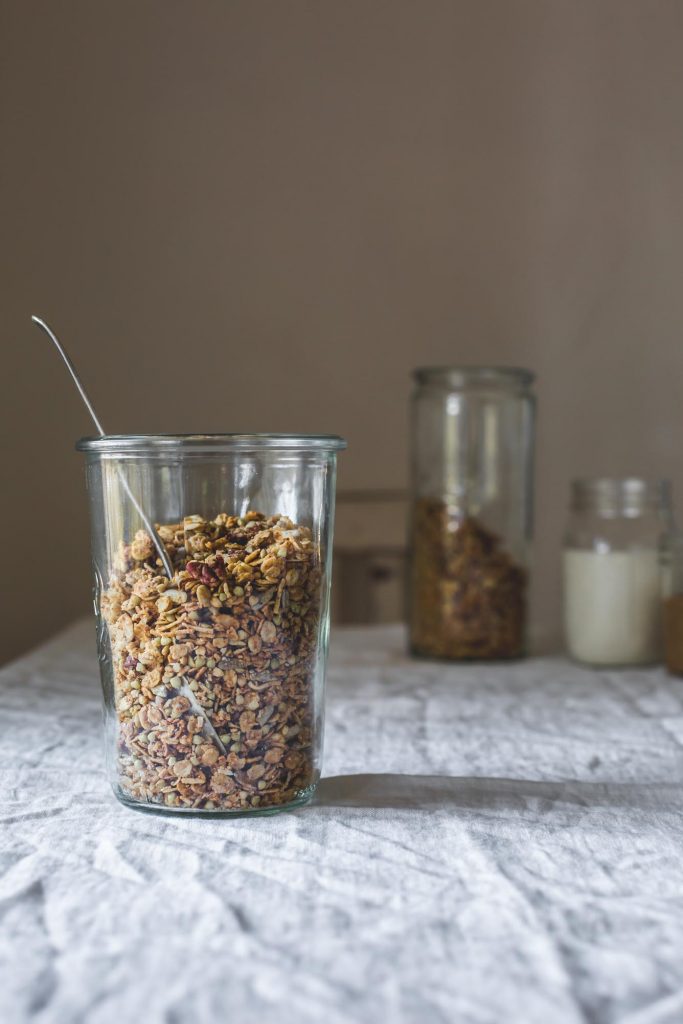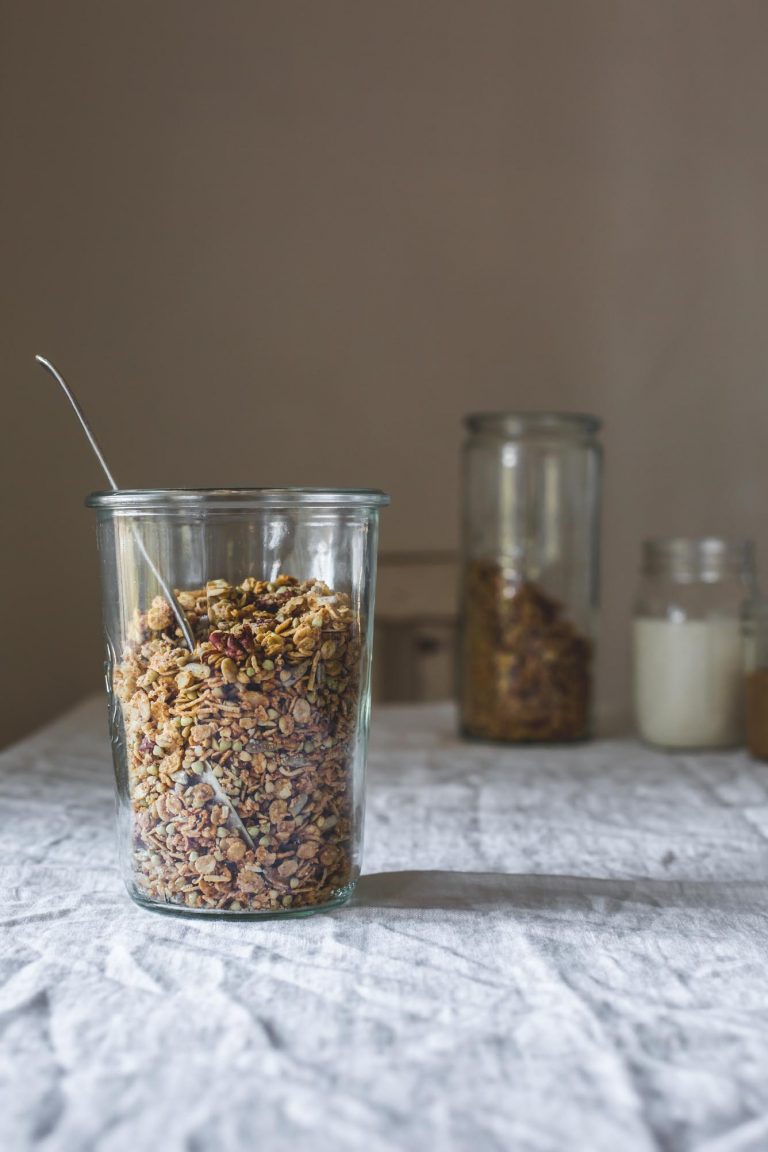 Recently however, granola is sneaking its way in to my mornings. It began on our trip to the States where I took to carrying a bag of Purely Elizabeth granola around and to be honest, I think I became a little hooked.
As soon as I arrived home I began playing with my own version of the company's nut butter granola and after a little streamlining and tweaking this awesome homemade almond butter granola with maple is a fixture on our breakfast scene.
Making Your Own = Cheaper
I've flirted with granola for many years. I think it's time to get serious.
The husband eats it every morning with yoghurt and fruit and I love making the stuff, I just can't commit to breakfast every day. But the fantastic thing for us non-breakfast-types is you can pop your granola in a baggy or container and take it with you.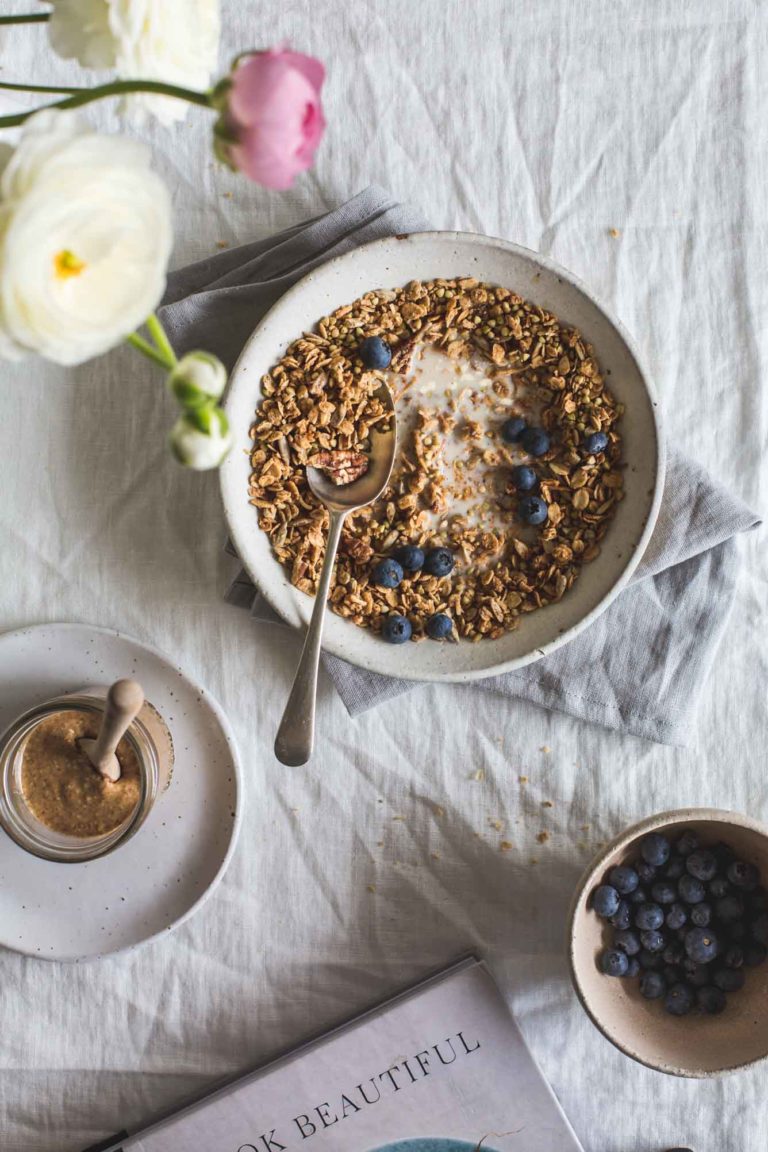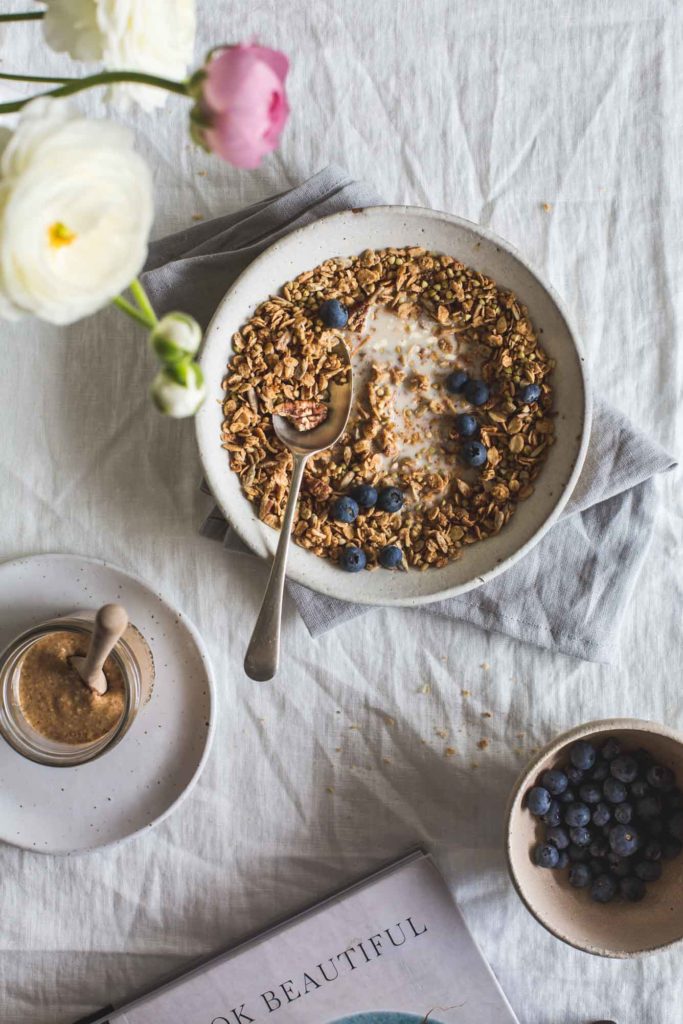 Granola is the perfect portable snack and while some are put off by the cost of buying the ingredients to make your own granola, it's actually cheaper. I did the math while whipping up my wonderfully chunky sesame granola.
To keep the cost of my homemade granola down I have a tried and true base that, while still good for you, won't break the bank.
Rolled oats
Buckwheat groats
Sunflower seeds
Shredded coconut
Maple syrup
Coconut oil and
Sometimes nuts, sometimes not.
If you need a gluten-free version, simply substitute gluten-free oats, rice flakes or quinoa flakes for the rolled oats. Buckwheat is already gluten-free and I always add buckwheat.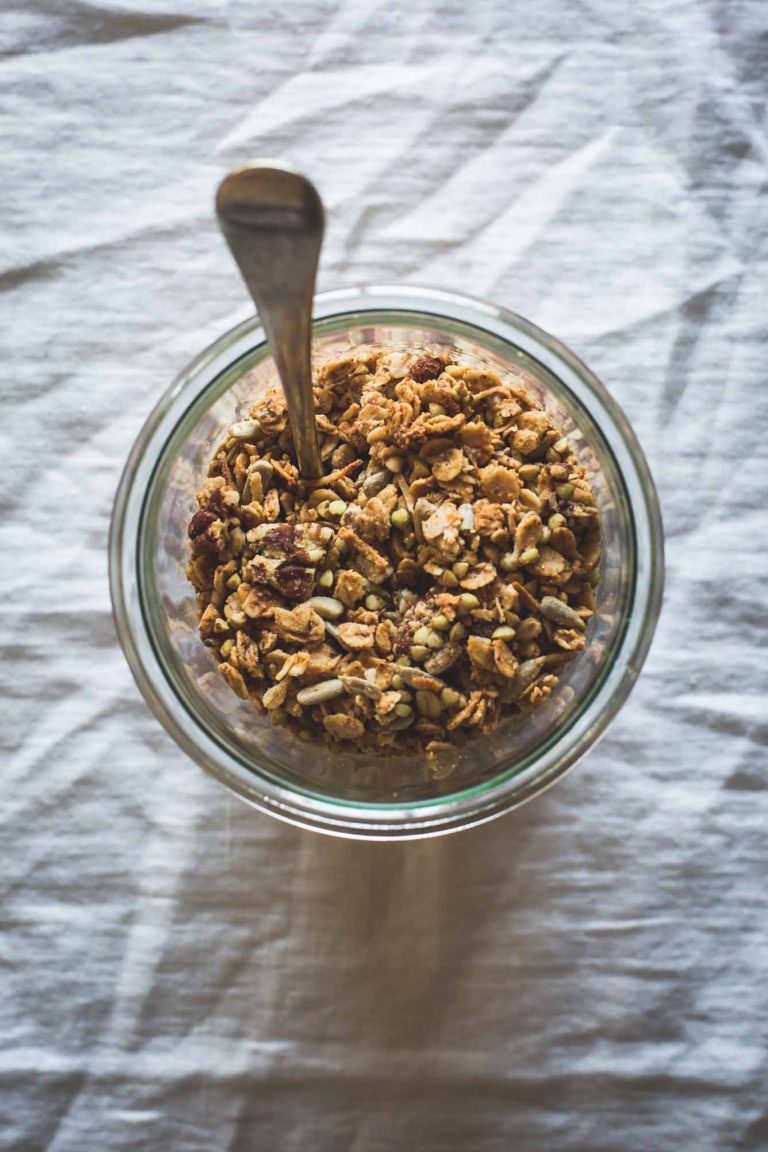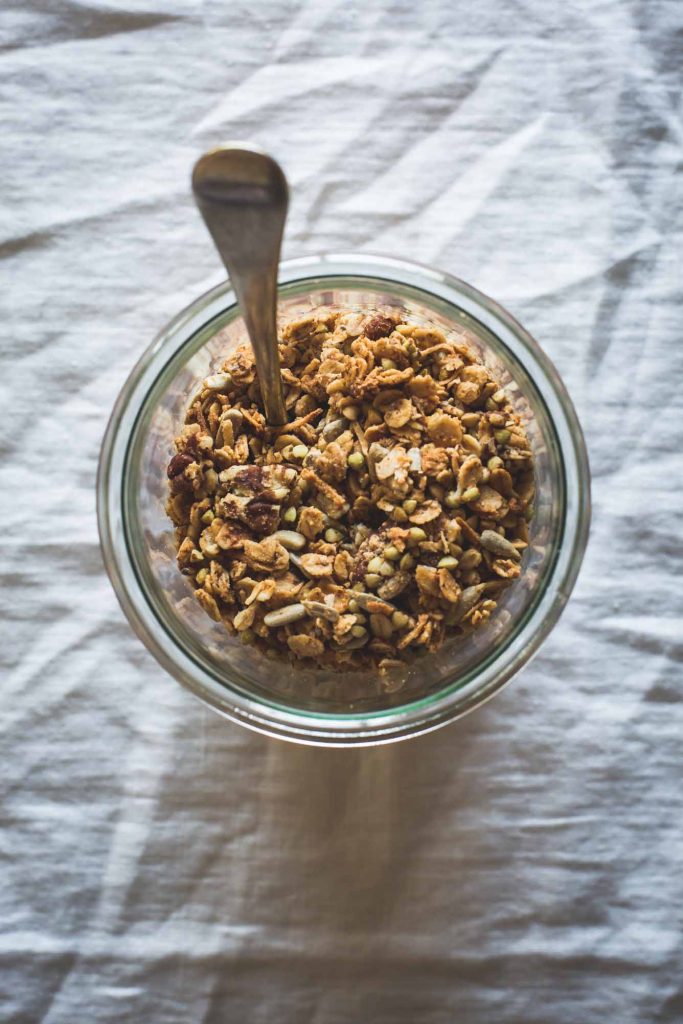 Buckwheat is one of my favourite things to cook with being incredibly cheap, easy to prepare and loaded with good stuff.  I usually activate buckwheat by soaking the groats in a little water and apple cider vinegar overnight but for granola I don't. Buckwheat adds awesome crunch and texture.
Less Ingredients
While I can't see a time when I will leap out of bed to a hearty breakfast each morning, I am quietly becoming a very big fan of this homemade almond butter granola with maple. I find myself with my hand in the granola jar throughout the day pinching a little more. I eat it by the handful, sprinkled over coconut yoghurt and I've even sprinkled it on my peanut butter smeared apple slices snack. Don't judge.
It's delicious. With a lot less ingredients than the original store-bought version, this nut buttery granola is the perfect balance of sweet and salty at half the price to make. And it goes perfectly with a coffee as big as your head. Enjoy.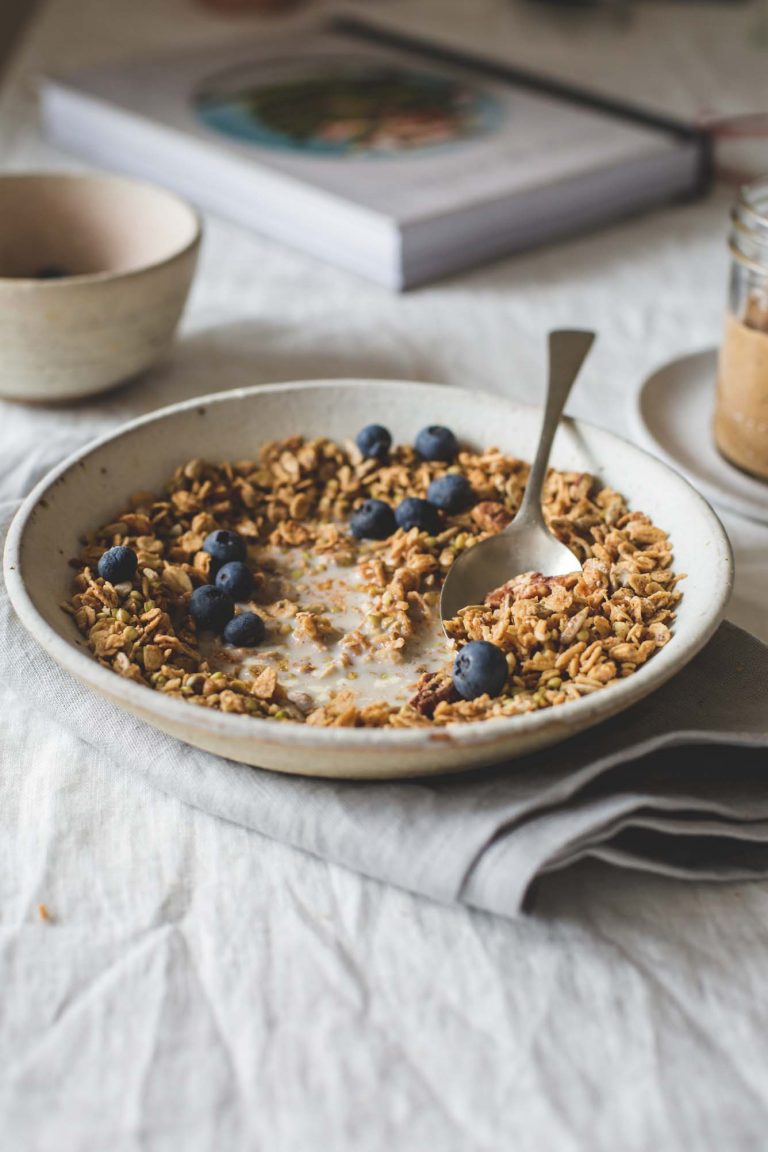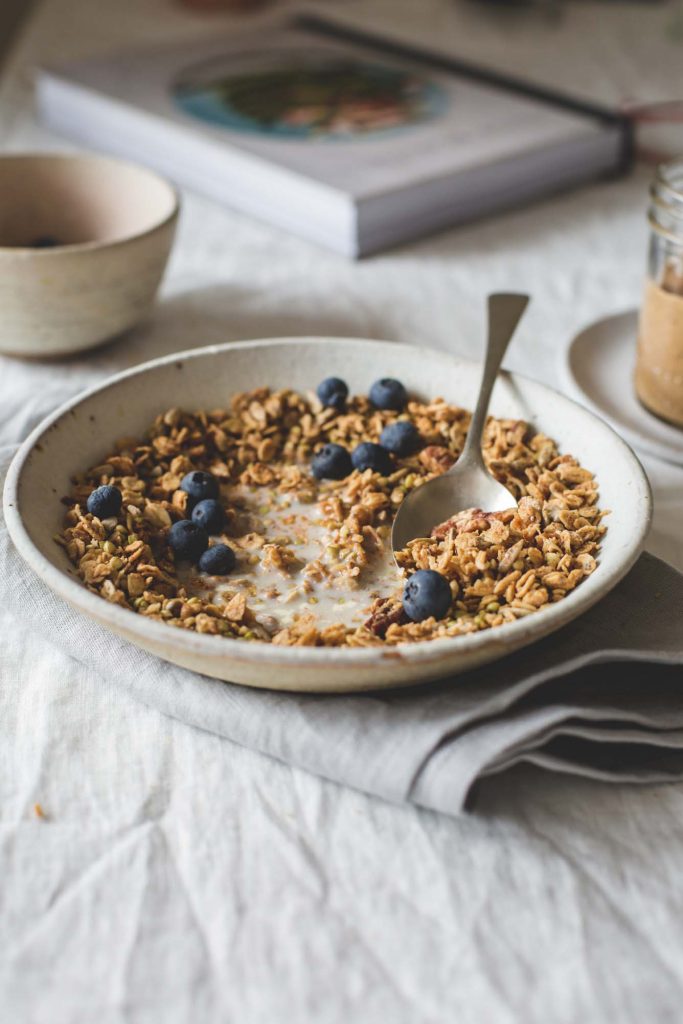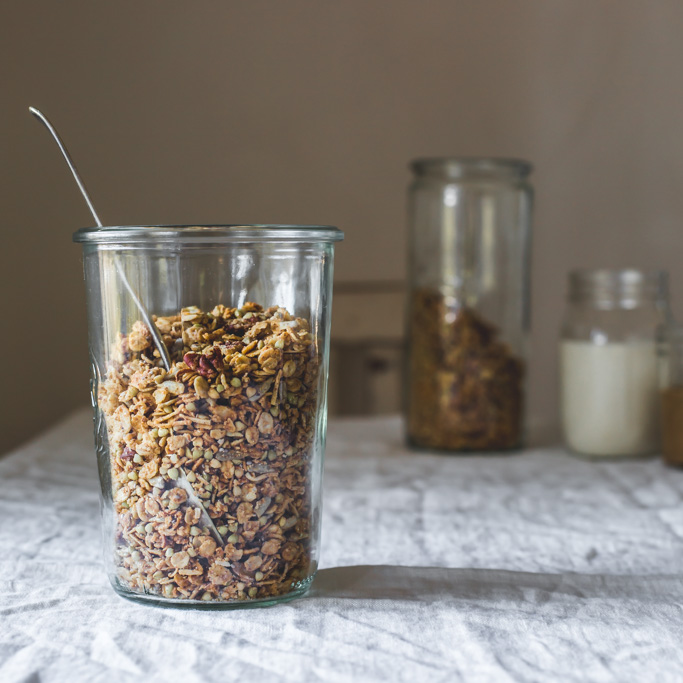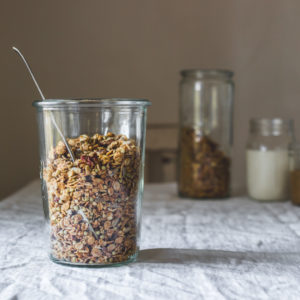 Homemade Almond Butter Granola with Maple
Inspired by Purely Elizabeth's nut butter granola, this homemade version is deliciously moreish being a little salty and a little sweet. 
Print
Pin
Rate
Ingredients
⅓

cup

almond butter

⅓

cup

maple syrup

¼

cup

coconut oil

2

cups

rolled oats

gluten-free if required

1

cup

buckwheat groats

raw

½

cup

shredded coconut

1

cup

pecans

chopped

½

cup

sunflower seeds

2

tablespoon

chia seeds

1

teaspoon

cinnamon

½

tsp

sea salt

2

tablespoon

raw sugar

optional
Instructions
Pre-heat the oven to 170 degrees C (340 degrees F) and line a large baking tray with baking paper.

Combine the almond butter, maple syrup and coconut oil in a small saucepan stirring over low heat until well combined.

Add the oats, buckwheat, coconut, pecans, sunflower seeds, chia seeds, cinnamon and sea salt to a large mixing bowl.

Add the nut butter mixture to the dry ingredients and stir through to coat thoroughly.

Spread the granola mixture evenly over the prepared baking tray and pop in the oven for around 40 minutes, turning the tray half-way through the cooking time.

When the granola is golden, remove from the oven and sprinkle it with raw sugar. Leave to cool completely before transferring to an air-tight container.

Store the granola in a cool-dry place for up to 2 weeks.
Nutrition
Calories:
398
kcal
|
Carbohydrates:
40
g
|
Protein:
8
g
|
Fat:
24
g
|
Saturated Fat:
7
g
|
Sodium:
131
mg
|
Potassium:
332
mg
|
Fiber:
6
g
|
Sugar:
11
g
|
Vitamin A:
5
IU
|
Vitamin C:
0.2
mg
|
Calcium:
82
mg
|
Iron:
2.3
mg
Tried This Recipe?
I'd love to hear your feedback. Rate it & leave your feedback in the comments section below. Or you can tag @mygoodnesskitchen or hashtag #mygoodnesskitchen on Instagram. Thank you!
Love Breakfast? Then check out these delicious breakfast recipes:
Simple Vegan Pumpkin Waffles
Crispy on the outside, light and fluffy on the inside, these simple vegan pumpkin waffles are deliciously easy and a lovely start to the day. Made with spelt flour, raw sugar, pumpkin and spices.
Read More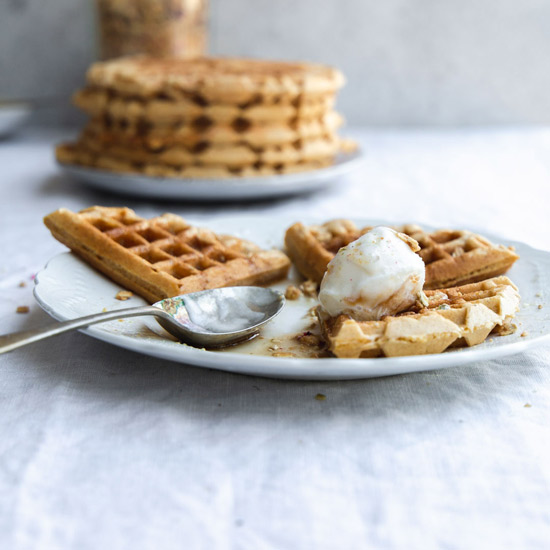 Inspired Scrambled Tofu
With pan fried tofu, garlic and peppers tossed in a creamy, cheesy vegan sauce this Inspired Scrambled Tofu is the perfect partner to a rainy Sunday morning
Read More