Last updated on April 20th, 2020 at 02:33 pm
Most Sundays we make pancakes for breakfast and our new favourite are these Really Good Whole Wheat Vegan Pancakes. They began as traditional pancakes but over time we've swapped out the regular flour for healthier whole wheat, added oats and some hemp seeds. Without batting an eye our fussy 5-year old is eating really good healthy pancakes. Insert happy emoji [here].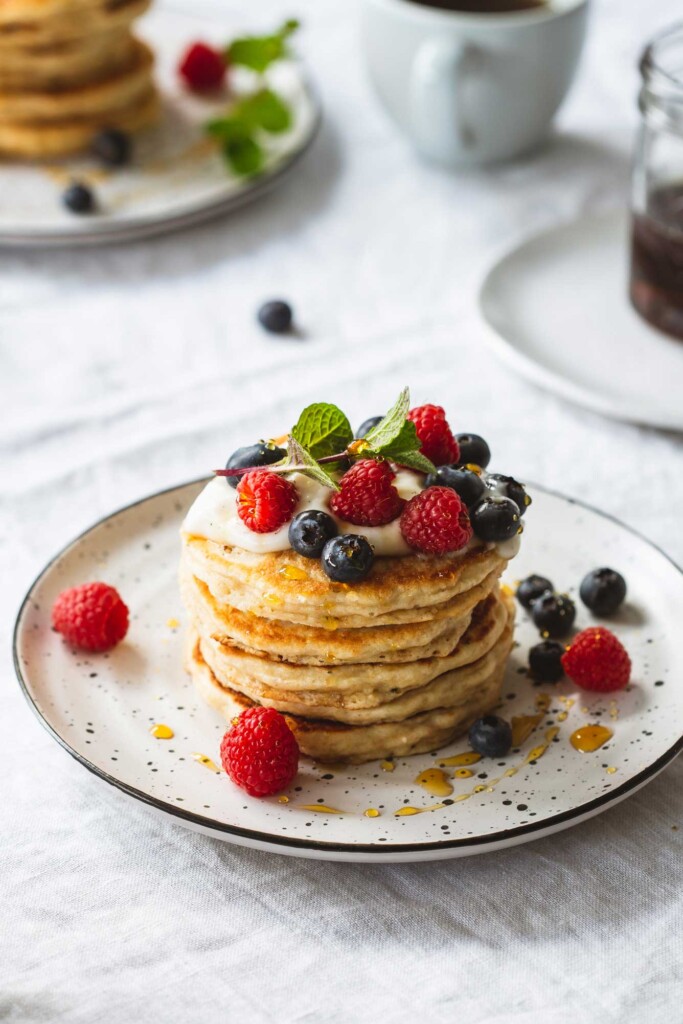 ---
I spent a long time perfecting my original vegan pancake recipe for my cookbook. In that recipe I used self-raising flour (self-rising in the States). But, as we are eating pancakes on the regular I thought it best to give them a wholesome makeover.
I've posted healthier pancakes here before - hello Coconut Gluten-Free Vegan Pancakes with Banana - but, as the name suggests, they are banana based and I wanted this recipe to produce simple, classic pancakes.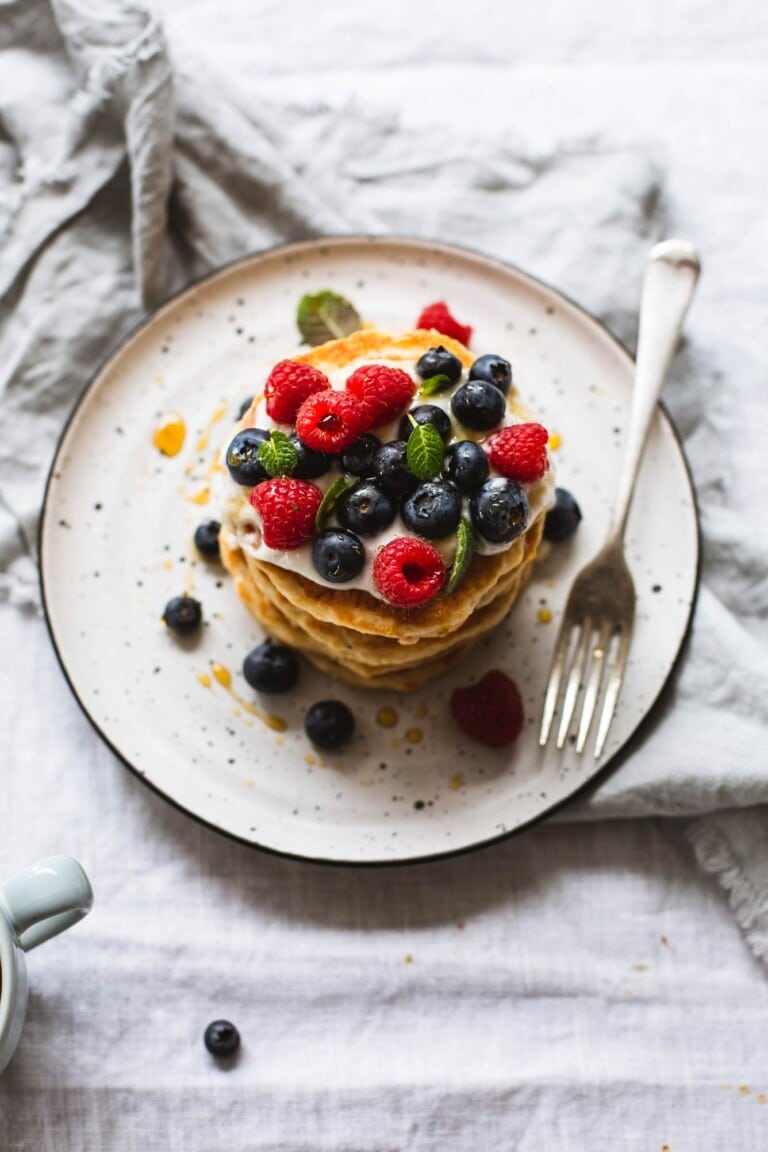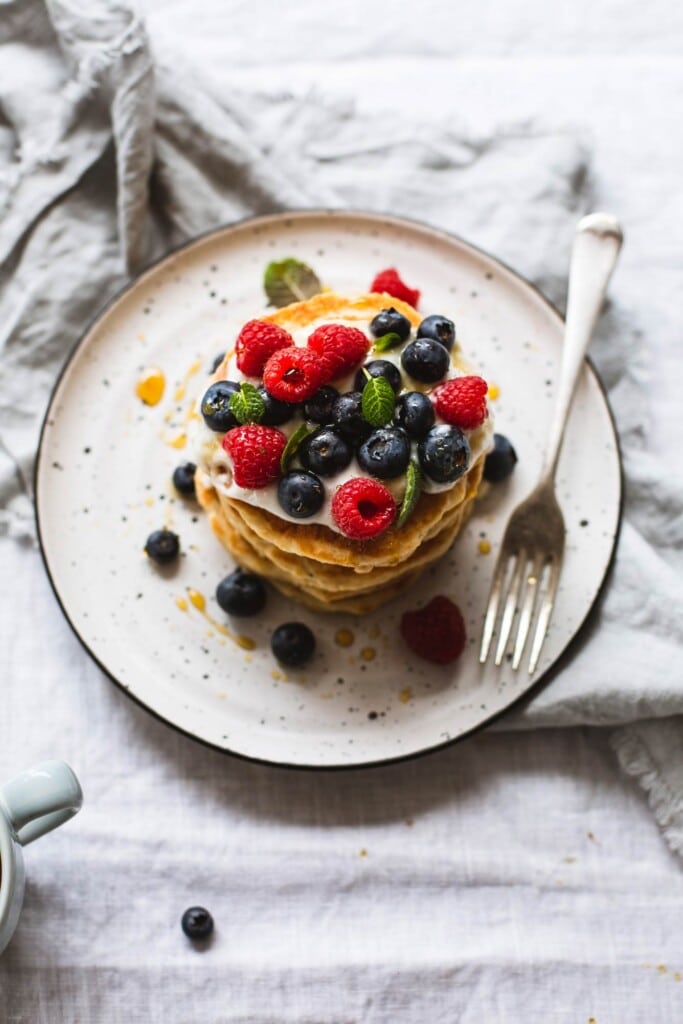 Basic ratio for vegan pancakes
In general the basic formula for vegan pancakes is:
1 cup flour
1 tablespoon baking powder
1 cup dairy-free milk
2-3 tablespoons of melted vegan butter spread or coconut oil
2 - 3 tablespoon sugar (I use raw caster sugar)
a pinch of sea salt
My whole wheat vegan pancakes switch the regular flour to whole wheat (wholemeal flour in Australia!) adds homemade vegan buttermilk, rolled oats and hemp seeds. Hey presto! Really good whole wheat vegan pancakes. I am giving you the basic-works every-time recipe but to be honest sometimes I cut back on the buttermilk to around ¾ cup + 1 tablespoon to create a thicker batter. That's just me.
Why use whole wheat flour?
Put simply, whole wheat flour is so much better for you. Wheat contains three parts, the bran, the germ and the endosperm. Regular flour only contains the endosperm. On the other hand, whole wheat flour includes the bran - the fibre-rich part of the wheat - endosperm, and the germ - the nutrient rich seed embryo.
While regular flour is delicious, easy to use and has a longer shelf life, whole wheat or wholemeal flour contains all the fibre and good stuff the wheat provides. This includes up to 15% more protein. It is often stone milled to protect the bran and germ but the presence of the germ does decrease shelf life. It's a good idea to store it in the fridge or even the freezer.
Source: Spoon University | Food 52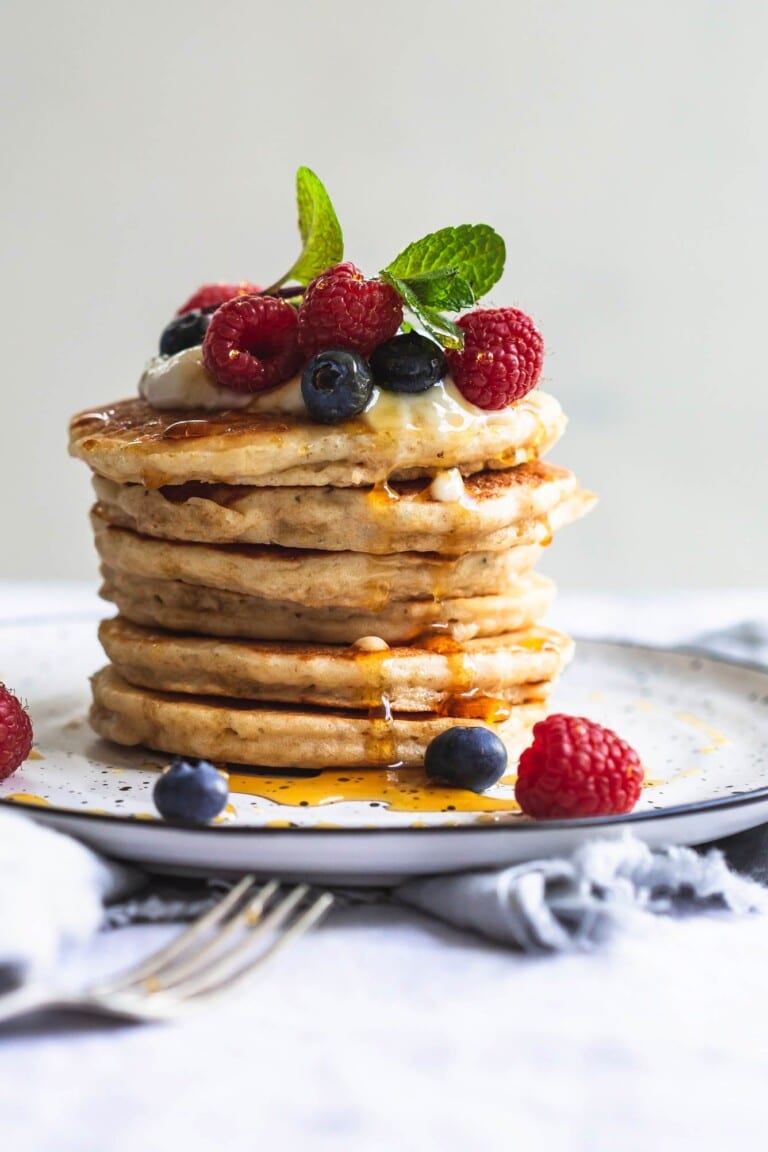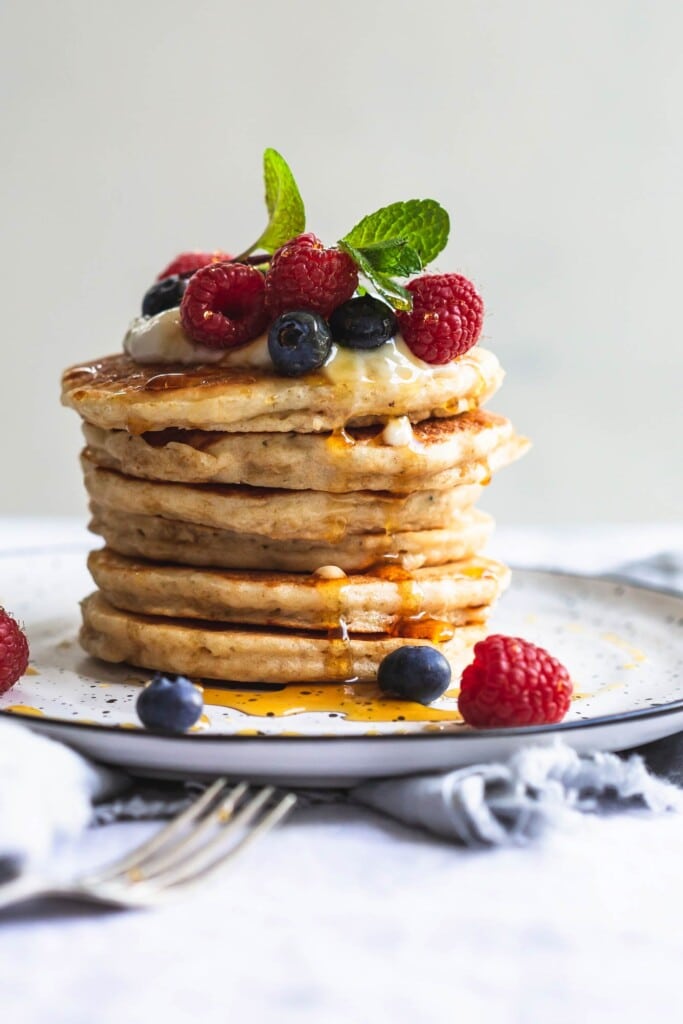 Recipe notes
In Australia I use plain wholemeal flour - White Wings or an organic brand - and 1 cup of buttermilk works great with it. Sometimes after the batter sits for a few minutes the batter thickens and you might want add another dash - maybe another tablespoon of plain dairy-free milk to loosen it up again.
It depends on how "thirsty" your brand of flour is. You are looking for the batter to be thick but loose enough to "pour" off your ladle or spoon not "plop." We're using super technical terms here. I like a thick airy batter but as long as it has some movement - pour not plop - you are golden.
In the States I suggest using white whole wheat flour for an undetectable "whole wheat" taste. White whole flour is simply made from wheat berries that are milder in flavour. Again, start with the 1 and ⅓ cups of buttermilk and add a little more plain milk if you prefer.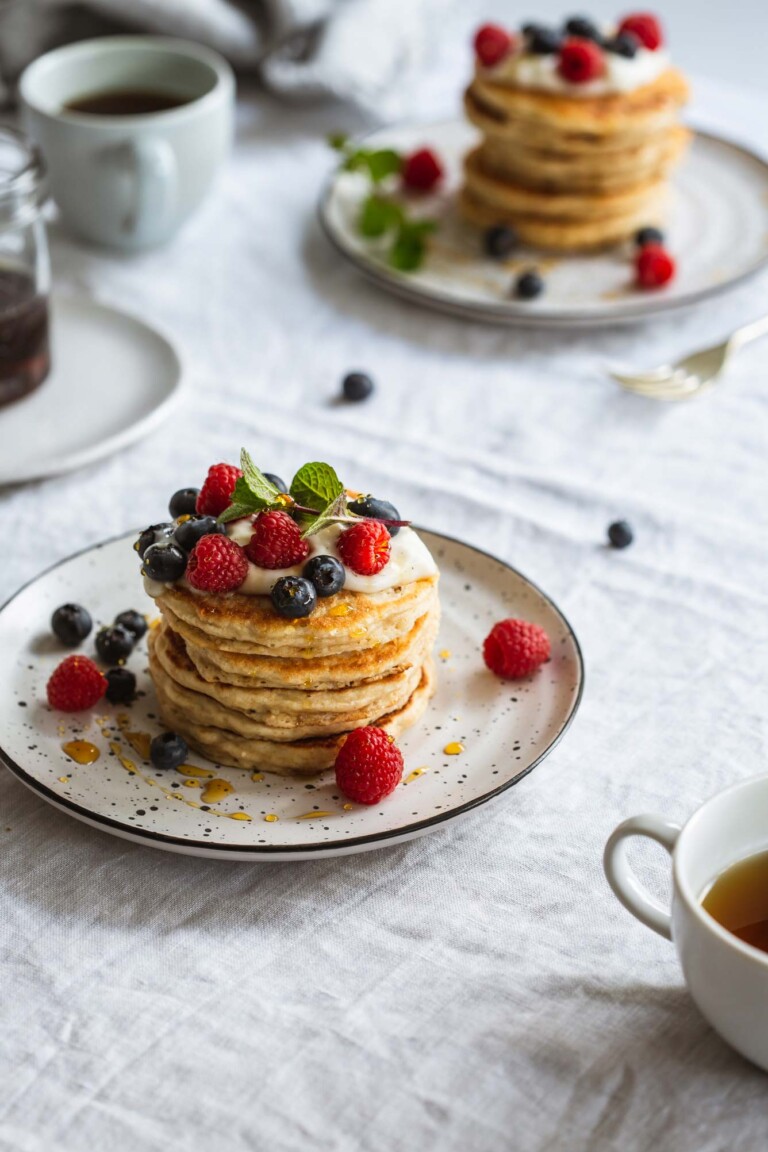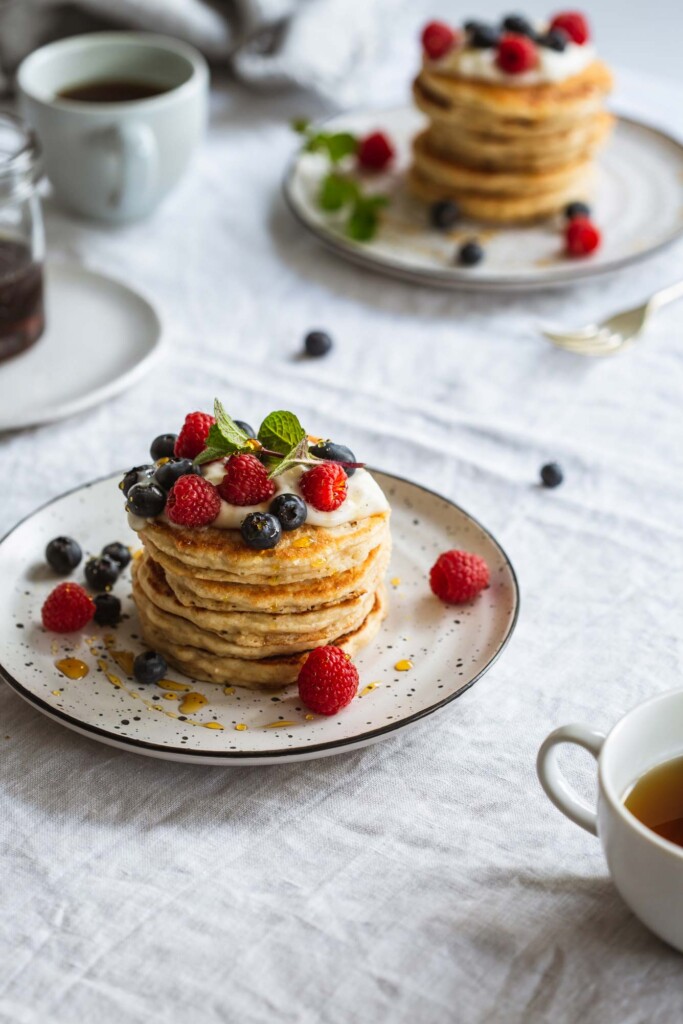 While traditional pancakes always have a place on our breakfast table, this whole wheat version is a tasty and healthy substitute. Like swapping out butter for tahini in my Vegan Tahini Chocolate Chip Cookies, adding healthier ingredients often produces delicious results. Topped with dairy-free yoghurt, fresh berries and maple syrup I think these really good whole wheat vegan pancakes are a winner for anyone looking to healthify (not a word, I know) their breakfast game. What's more, they have my fussy 5 year-old's tick of approval. Can't beat that. Enjoy, x.
*For something a little different, try adding a touch of turmeric or ginger to your maple syrup like my fluffy oatmeal pancakes with turmeric spiced maple and peaches recipe here.
Hungry for More Plant-Based Goodness? Subscribe to my newsletter and follow along on Facebook, Pinterest and Instagram for all the latest news and updates.
IF YOU LOVE THIS RECIPE FOR WHOLE WHEAT VEGAN PANCAKES CHECK OUT THESE OTHER GREAT RECIPES →