Last updated on December 14th, 2022 at 06:51 am
Juicy, sweet raspberries nestled within an almond infused moist muffin, these raspberry muffins are easy, vegan and completely addictive.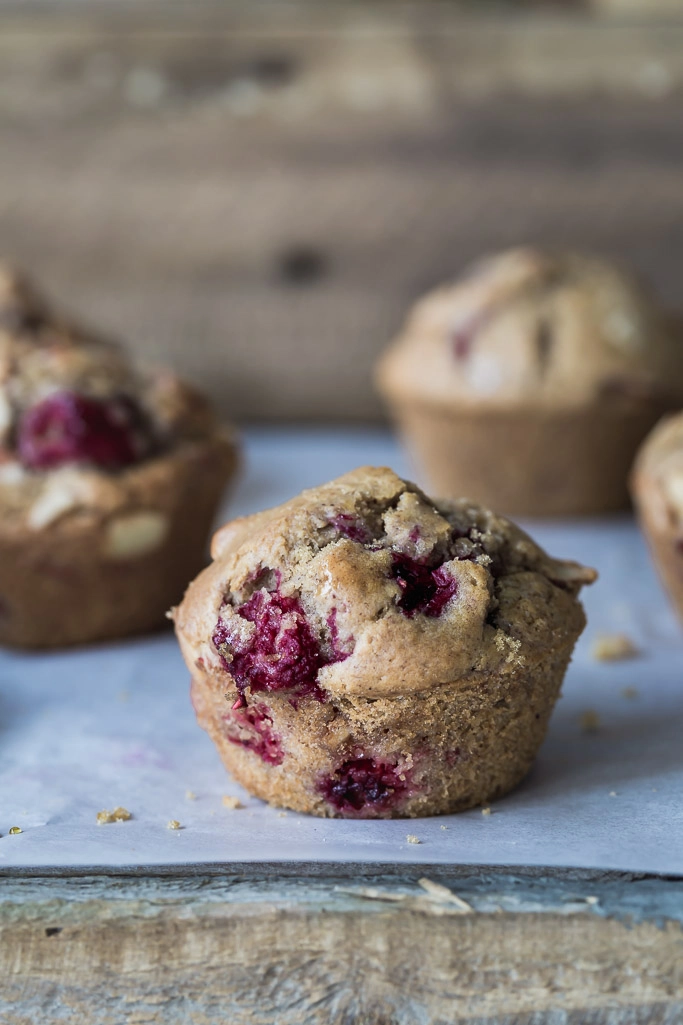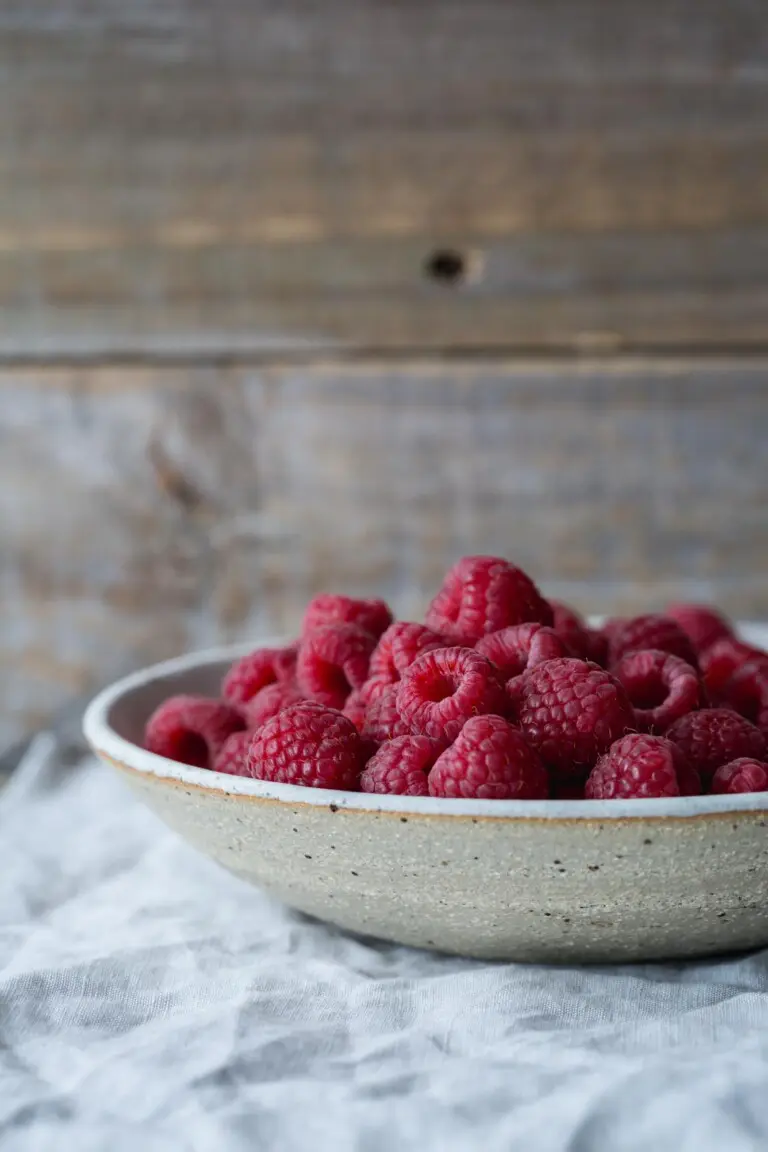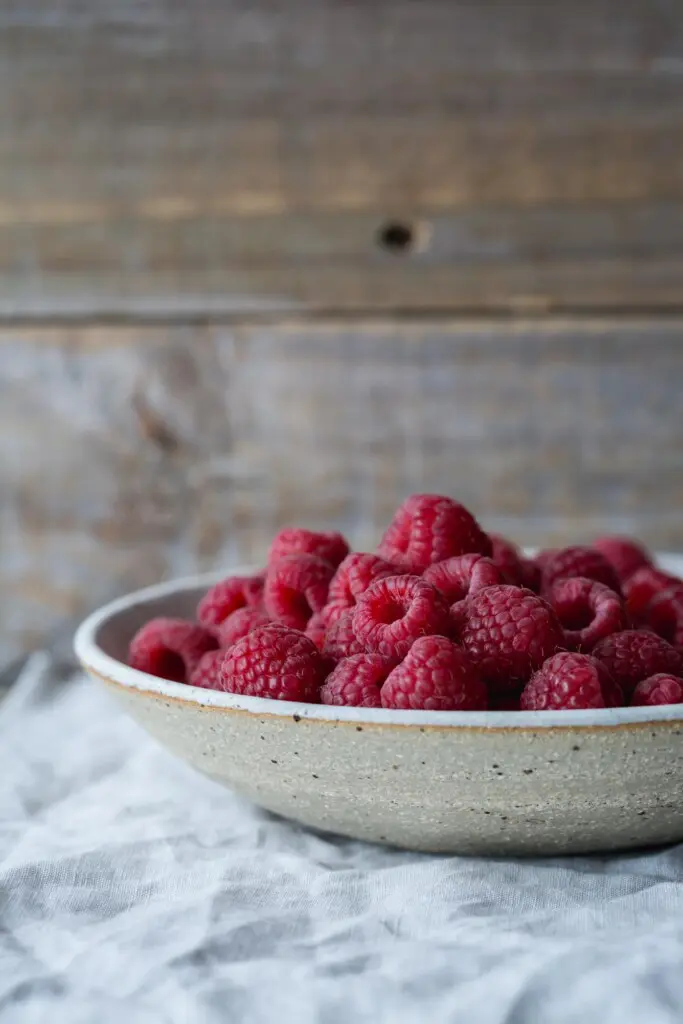 Hello, Sunshine. After six months of grey skies and rain, the sun has appeared in Melbourne. I don't mind the cold, actually I prefer it, but the Hills are WET in the Winter. It is muddy, muddy, muddy so this, our first day of sunshine, is a lovely bit of bliss. I feel like the funk that has been hovering over our house with flus and whatnot is disappearing along with all those clouds.
And what does one do to celebrate the first real days of Spring? Well, if you're anything like me, you stick your head out the door like a meerkat to inspect said sunshine before retreating in to the kitchen to make these berry beautiful Vegan Almond Butter Raspberry Muffins. I am so sorry, I did just say that. I don't usually pun; I can only blame the residual funk.
Moving on.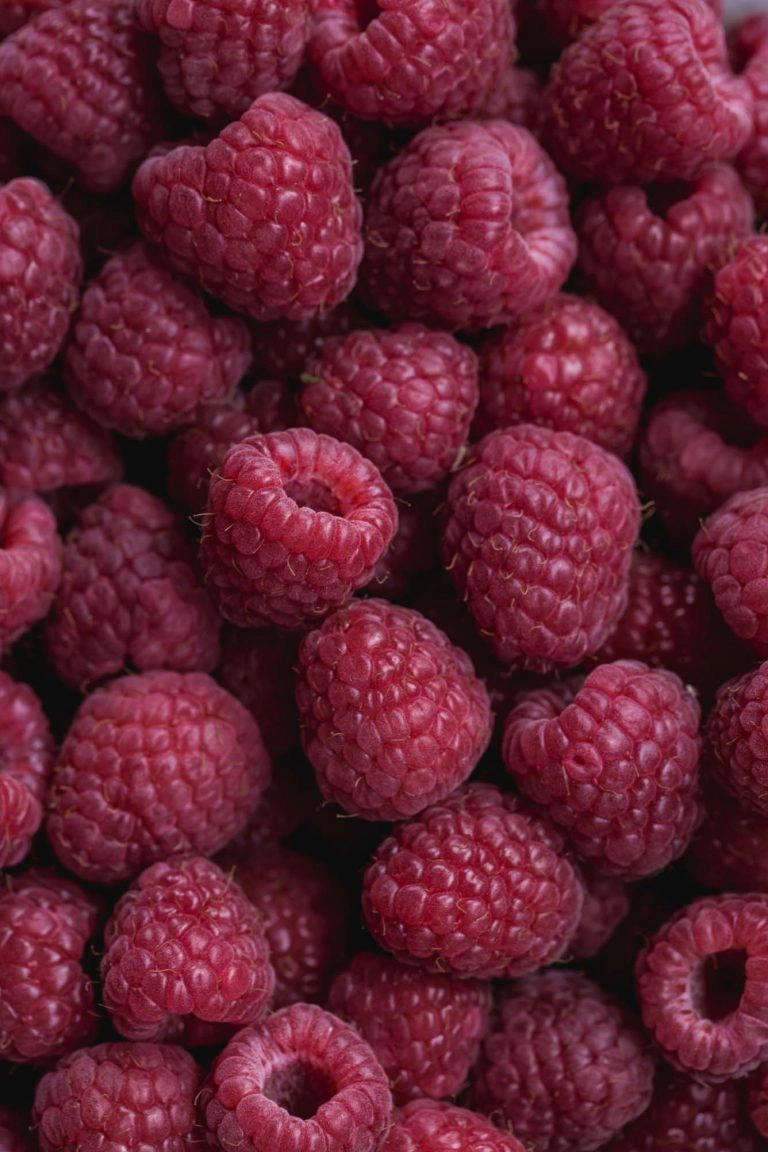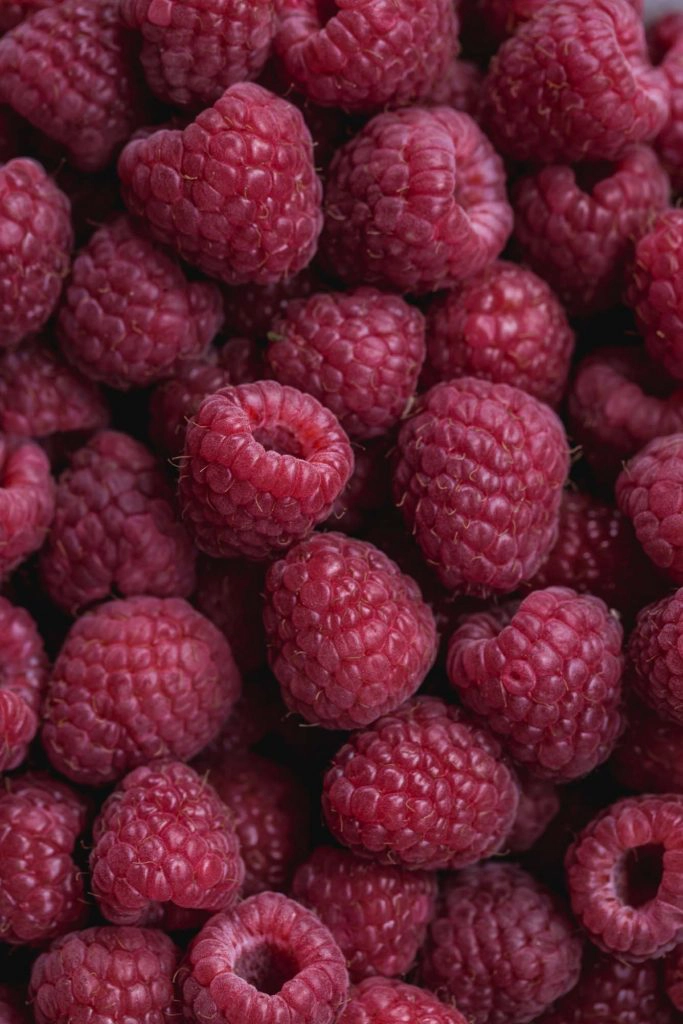 How about them berries? We are blessed in Australia in that while the southern states (us) experience true Winter, our northern states are super mild making certain produce available all year round. Already, our stores are brimming with an abundance of berries and I couldn't resist these gorgeous ruby raspberries. Their slightly tart sweetness works beautifully with the nutty and creamy almond butter. While the berries pop in all the best ways, the almond butter helps to create a more complex flavoured muffin than traditional raspberry varieties.
What's more, and this is great if like me baking is your second language, the nut butter helps to keep the cake moist. Additionally, it's protein making these vegan almond butter raspberry muffins perfect for breakfast. And who doesn't love cake for breakfast? Muffins are nothing if not a socially acceptable way to eat cake in the morning, but at least these little guys have fruit and protein. That covers some of the food groups, doesn't it?
Regardless of your motives, these vegan almond butter raspberry muffins are stupidly simple to make and easier to devour. Enjoy.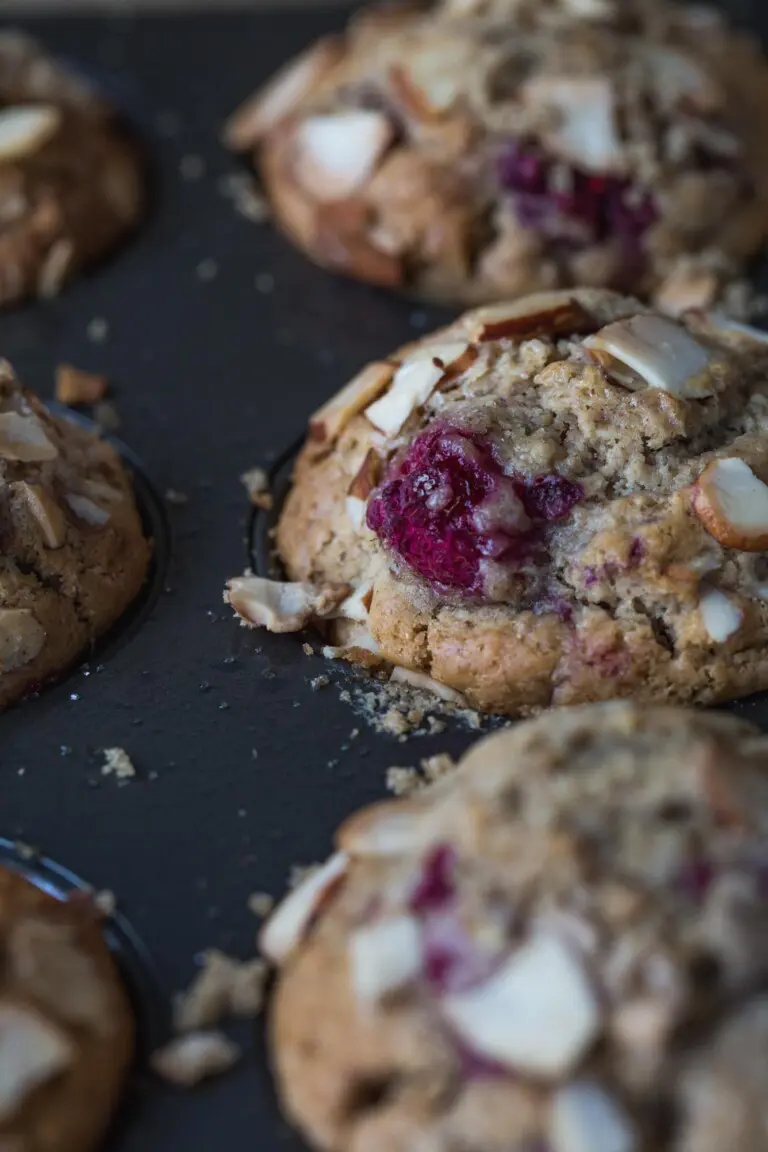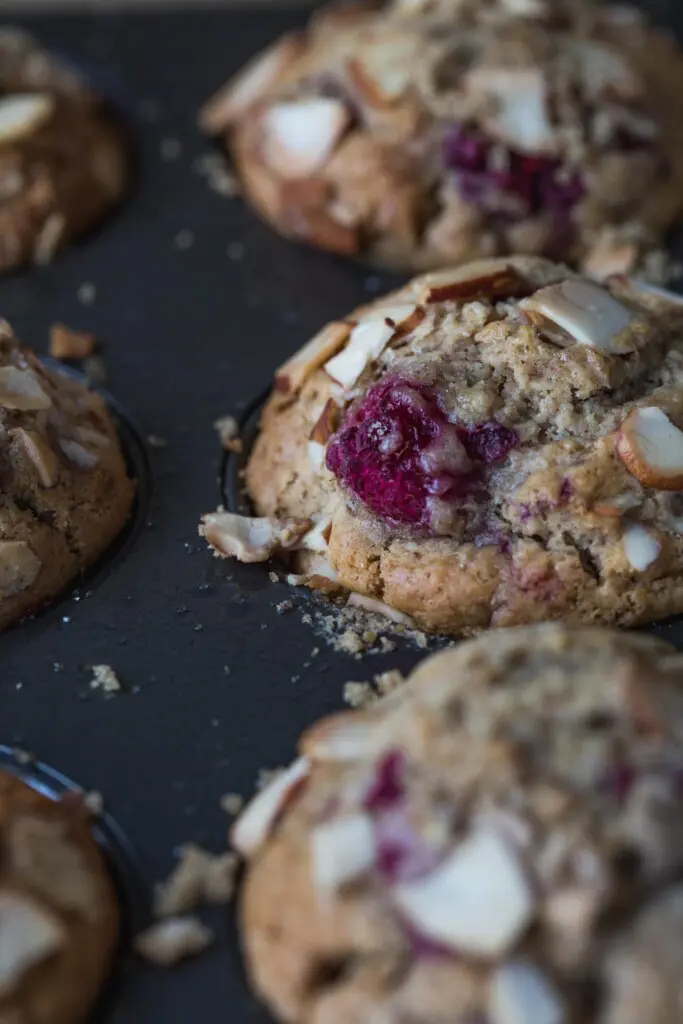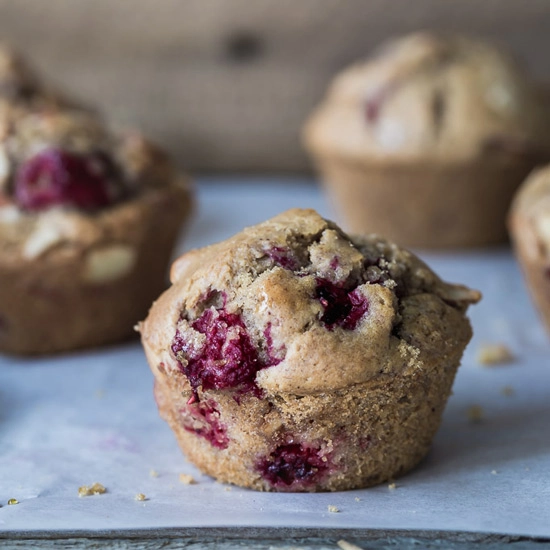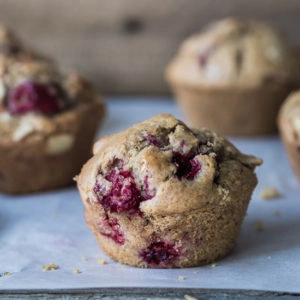 Raspberry Muffins with Almond Butter
These Vegan Raspberry Muffins are filled with juicy, sweet raspberries nestled within an almond infused moist muffin cake.
Print
Pin
Rate
Ingredients
1½

cups / 225g

all-purpose flour

1½

teaspoon

baking powder

¼

teaspoon

baking soda 

¼

teaspoon

sea salt

2

teaspoons / 10ml

vanilla

½ +⅓

cups / 185ml

dairy-free milk

1

flax egg

combine 1 tablespoon ground flaxseed with 3 tablespoon water and sit for 3 minutes 

½

cup / 110g

raw sugar 

1¼

cups / 155g

raspberries

fresh or frozen (weight is for fresh berries)

⅓

cup / 95g

almond butter

¼

cup / 60ml

almond or vegetable oil

¼

cup / 35g

slivered almonds

or chopped almonds

2

tablespoon

brown sugar

½

teaspoon

ground cinnamon
Instructions
Pre-heat the oven to 210 degrees C (410 F) and lightly grease a muffin pan.

In a small bowl, combine the almond slivers, brown sugar and cinnamon and set aside. This is the streusel. 

In a large mixing bowl, combine the flour, raw sugar, baking powder, baking soda and salt. 

In a separate bowl, whisk together the dairy-free milk, almond butter, vanilla, flax egg and oil. 

Add the wet mix to the dry and fold through until just combined. Add the raspberries and fold again being careful not to over mix the batter.

Place a spoon of batter in a muffin mould and follow with a sprinkle of the streusel. Fill the muffin mould to three-quarters before adding more streusel to the top of the muffin.

Continue with the remaining moulds. 

Place the tray in the oven and cook for five minutes before turning the oven down to 170 degrees C (335 F) and cooking for another 15 minutes or until a skewer comes out clean from the centre of the muffin. 

Remove from the oven and allow the muffins to sit for 10 minutes before removing from the pan to serve. 
Notes
DIFFERENT COUNTRIES, different measures - This recipe will work with cup measures whether you are in Australia, US, Canada or anywhere else in the world (except Japan, use the weights provided).
Measuring cup sizes in the US and Canada are different to the rest of the world, including Australia. For most recipes, the difference is not enough to affect the outcome of the recipe. For baking recipes, however, it can mean the difference between success or an epic fail. 
Please note - I use Australian cups for my recipes so the weights are based on Australian cups. 
Nutrition
Calories:
213
kcal
|
Carbohydrates:
26
g
|
Protein:
4
g
|
Fat:
10
g
|
Saturated Fat:
4
g
|
Sodium:
81
mg
|
Potassium:
195
mg
|
Fiber:
2
g
|
Sugar:
11
g
|
Vitamin A:
60
IU
|
Vitamin C:
4.5
mg
|
Calcium:
90
mg
|
Iron:
1.4
mg
Tried This Recipe?
I'd love to hear your feedback. Rate it & leave your feedback in the comments section below. Or you can tag @mygoodnesskitchen or hashtag #mygoodnesskitchen on Instagram. Thank you!