Last updated on December 18th, 2022 at 05:27 pm
Fall in love with this eggplant involtini. A classic Italian comfort food dish, this vegan version combines cashew ricotta rolled in baked eggplant and zucchini. Roasted in a tomato sauce, this beautifully rustic dish is ready to impress.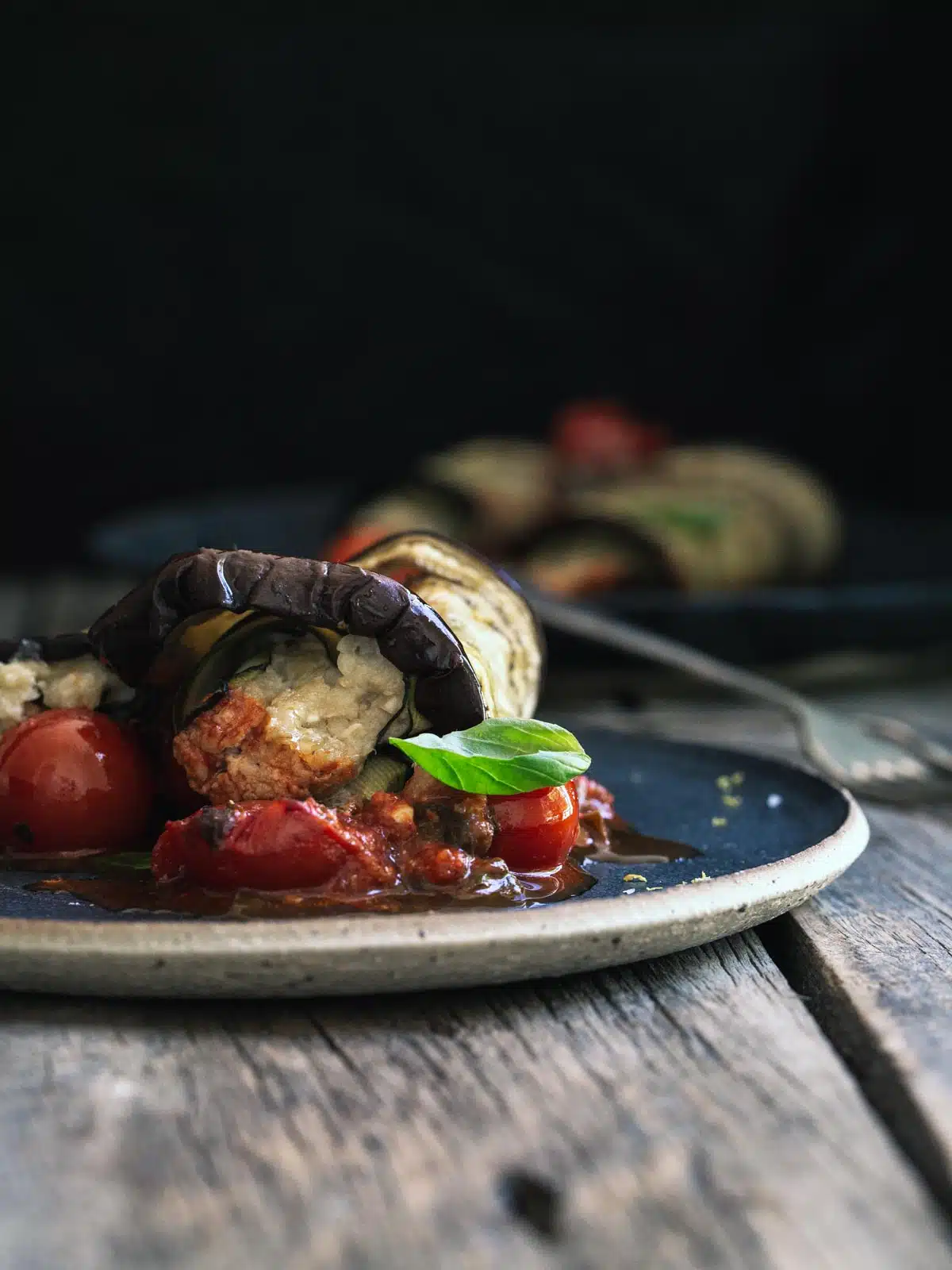 This recipe was originally published November 3, 2017 and updated with how-to images, ingredient recommendations and substitutions and an amended recipe on November 25, 2022.
What is Involtini?
Involtini is Italian for a "small bite of food" and consists of a filling wrapped in an outer layer. Involtini can be made with a meat wrapper, pasta or vegetables.
Involtino is the diminutive of the word involto, meaning small bundle, roll, or parcel. Involtini is the plural of involtino. And since we're making many rolls, "involtini" it is!
In the US, the term "rollatini" is commonly used.
Why We Love this Vegan Eggplant Involtini
There are so many reasons! This Italian comfort food is flavourful, fun and little bit special. It is:
made from whole ingredients
baked not fried, so just that little bit lighter
perfect for entertaining but easy enough for family dinners
naturally vegan and gluten-free adaptable
comfort on a plate but without the heaviness of pasta
so wonderfully rustic and
something the kids can help with - little fingers will make light work of rolling up these eggplant rolls.
Ingredients & Substitutions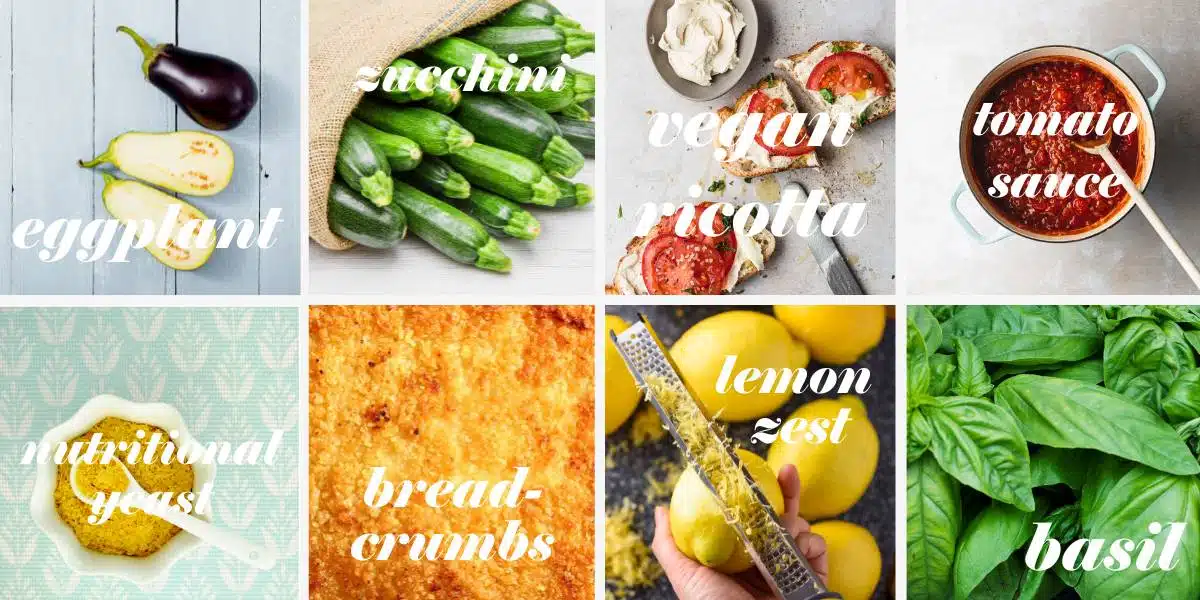 Eggplant. A couple of medium to large globes will do the trick.
Zucchini. I love to add another veg to this dish but you don't have to. It's simple enough to cut zucchini into ribbons, so I always do.
Cashew ricotta. I use my homemade cashew ricotta for involtini but you can buy store-bought vegan ricotta. You want a nice soft cheese here. I add lemon zest for a little added lift.
Tomato sauce. My homemade tomato sauce is my go-to for this dish but again, go with store-bought if you want to save time. Look for a good quality sauce with a goodly bit of texture - there are not a lot of ingredients in this recipe so we want each to shine.
Nutritional yeast or vegan parmesan or both! Add more flavour to your vegan involtini by topping the finished rolls with nutritional yeast or vegan parmesan before going into the oven. If you want to go all out, you could sprinkle some good stretchy vegan cheese. Mmmmm...cheese.
Panko breadcrumbs. Adding a sprinkle of Panko breadcrumbs adds crunch to the dish. If you don't have Panko breadcrumbs, just use regular.
Fresh basil to serve. Because tomato, eggplant, ricotta and fresh basil is a match made in heaven. And because it's pretty.
How to Make Vegan Eggplant Involtini
You'll find full instructions and measurements in the recipe card at the bottom of the post.
Step 1. Heat your oven and drizzle or brush each eggplant slice with olive oil. Pop them in the oven on a tray for 7 minutes before turning each slice over and cooking for another 7 minutes. We want the eggplant pliable but not completely cooked. Remove from the oven to cool enough to handle with your fingers.
Step 2. Cover the base of your oven dish with tomato sauce.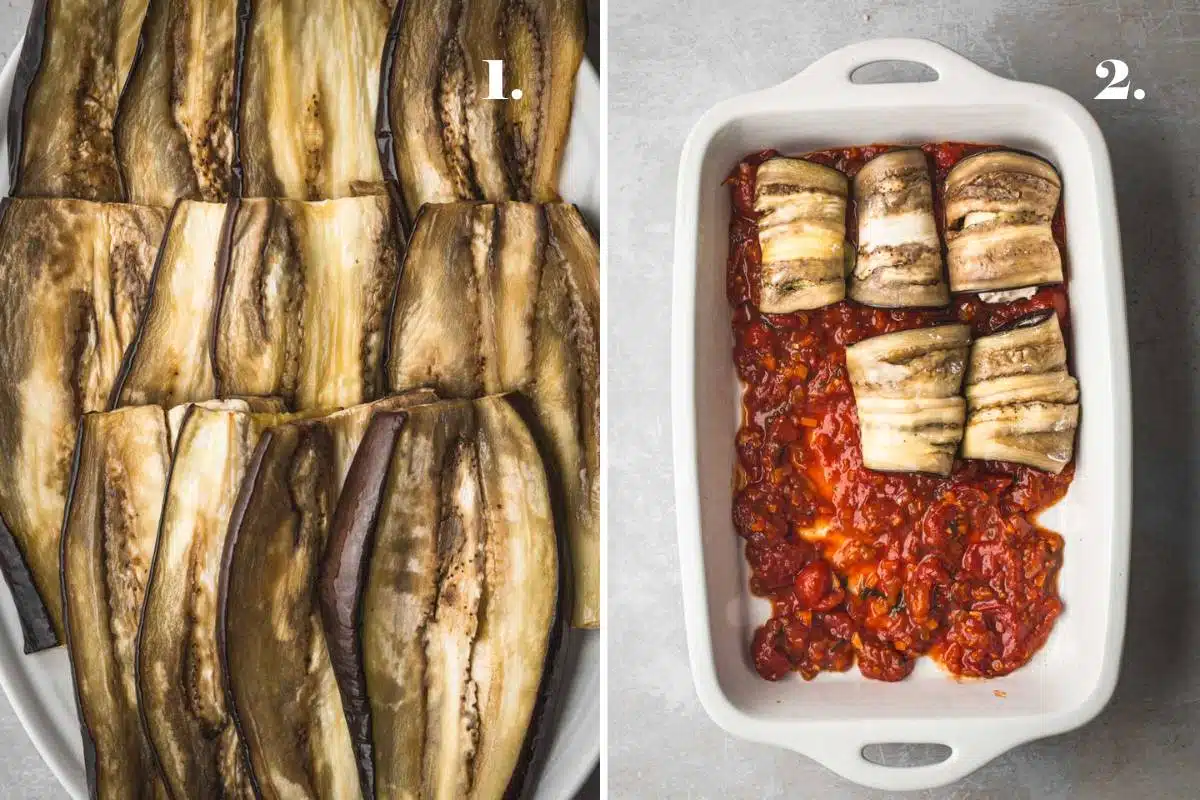 Step 3. Combine the lemon zest with the vegan ricotta in a bowl and then set up an assembly line with your eggplant, ricotta and zucchini ribbons. Lay out an eggplant slice and lay zucchini ribbons to cover. Dollop around a tablespoon of ricotta on the end and roll the whole thing together.
Step 4. Place the rolls face down on top of your tomato sauce.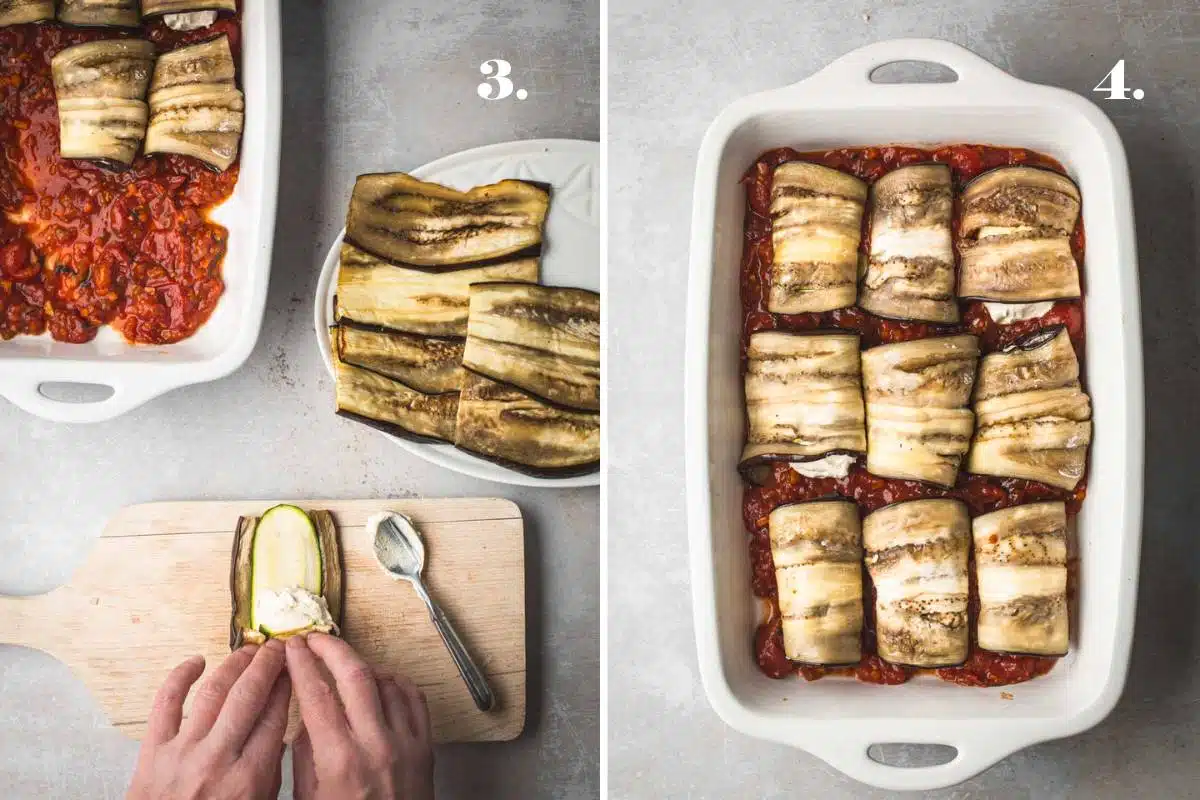 Steps 5 and 6. Spoon the remaining tomato sauce over the rolls and sprinkle nutritional yeast or vegan parmesan over the top and a good sprinkle of breadcrumbs. Drizzle with a little olive oil and bake in the oven for 20 minutes-ish until the eggplant is soft and the breadcrumbs golden.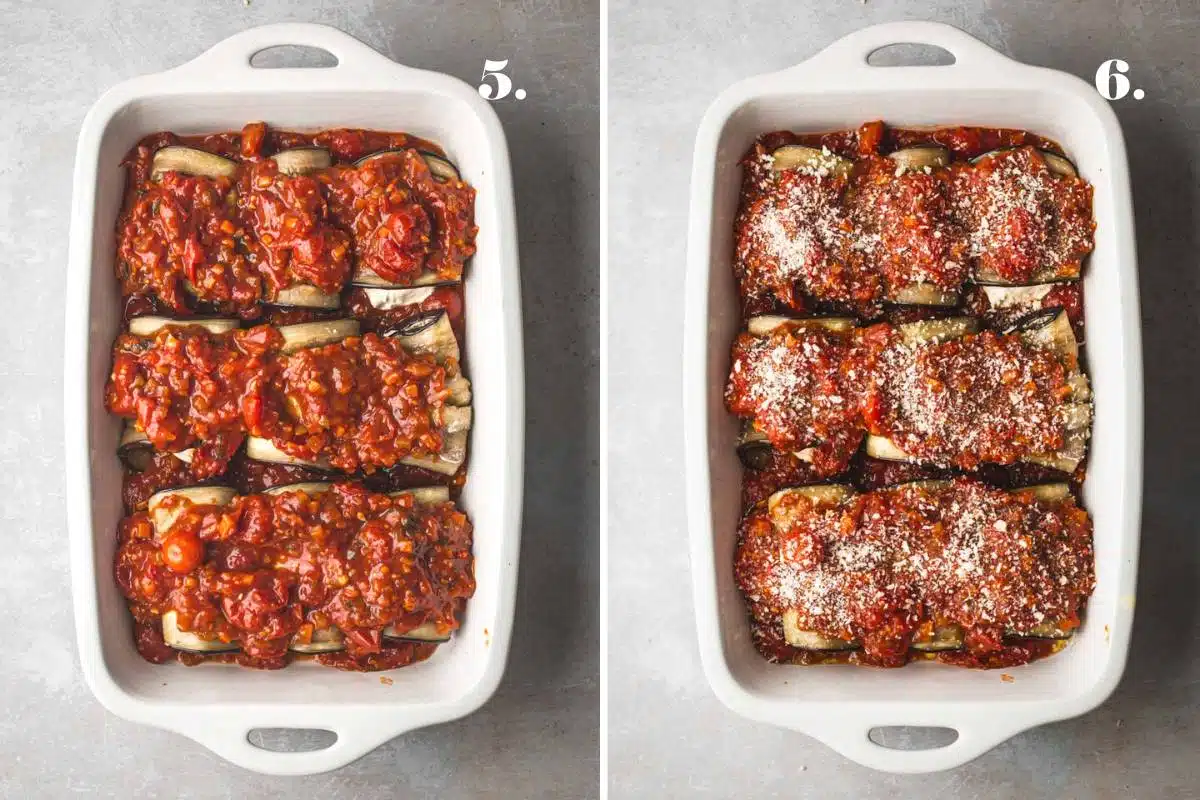 And that's it. A beautifully rustic but elegant eggplant involtini on the table. Nice one.
Which Eggplant Should I Choose?
When buying eggplant for this dish, look for ones that have a smooth, unblemished skin. A good eggplant will feel heavy in your hand for its size.
Ideally, they shouldn't be too tapered at either end making rolling a bit tricky. I always use globe variety eggplants because they are the perfect size but if you can't get them, use what you have. Just make sure to dollop your ricotta on the skinny end of each slice and roll towards the wider end.
It will taste the same.
Serving Suggestions
This involtini is rich with flavour but it is quite a light dish. It will go wonderfully with -
a green salad with lemon, salt and olive oil
grilled asparagus
crusty bread to mop up all those delicious juices.
Recipe Note
My original recipe included caramelised onions to fold through the ricotta. I have simplified the recipe and omitted them but if you like them, as I do, by all means include them.
Finely slice an onion and cook it down on low in a saucepan with a little olive oil, a half teaspoon of sugar and 2-3 tablespoons of water. Cook it for around 15-20 minutes or until the onion is soft and sweet but not jammy. Remove from the heat to cool before folding it through your ricotta. Simples. 🙂
Want more rustic comfort food. Coming right up...
Want more plant based-goodness?
Subscribe to my newsletter and follow along on Facebook, Pinterest and Insta for all the latest news. If you like this recipe, please check out my cookbook "Great Vegan Meals for the Carnivorous Family" It's full of simple, carnivore-approved family recipes.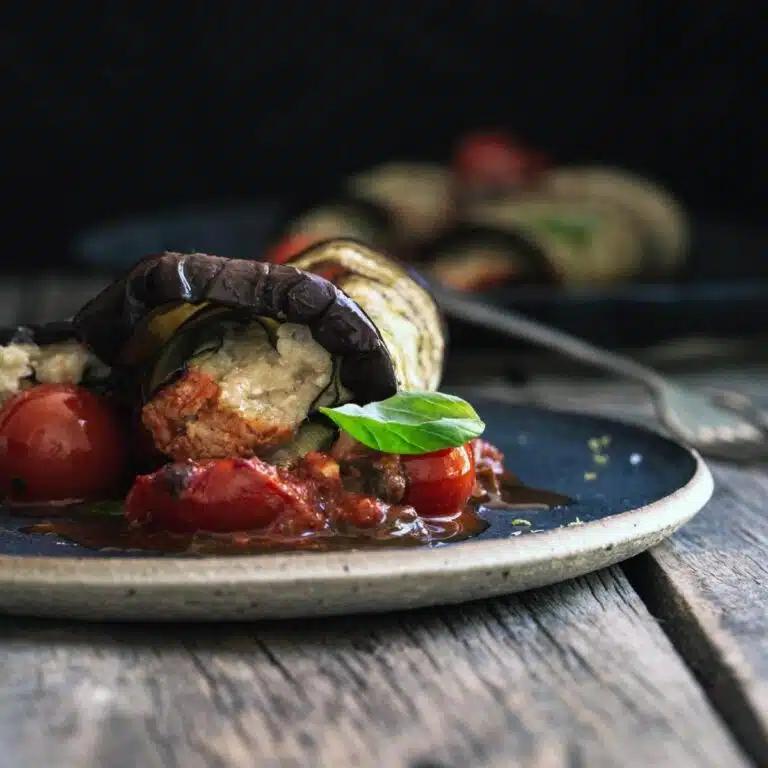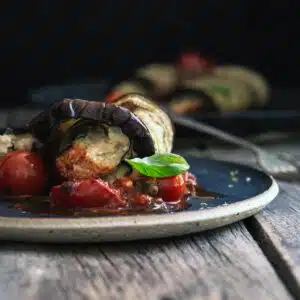 Eggplant Involtini with Cashew Ricotta
This vegan eggplant involtini combines homemade cashew ricotta rolled in zucchini ribbons and roast eggplant.
Print
Pin
Rate
Ingredients
For the involtini
2

medium-large eggplants

ends removed and sliced lengthways in to 1cm widths

2-3

tablespoon

olive oil

to brush the eggplants

2

zucchinis

optional, sliced into ribbons using a vegetable peeler

500

ml

homemade tomato sauce

or store-bought

½

cup

breadcrumbs

¼

cup

vegan parmesan

(or nutritional yeast) optional
Instructions
Pre-heat the oven to 180 degrees C and line two baking trays with parchment. Brush each eggplant with olive oil on both sides and place them on the trays. Place in the oven for 7 minutes before turning each eggplant slice over and cooking for another 7 minutes. The eggplant should be pliable to roll but not overcooked.

While the eggplant is cooking combine your ricotta with the lemon zest and set aside .

Once the eggplant is cooked, remove them from the oven and allow to cook slightly. Leave the oven on at 180 degrees C.

Set up an assembly line on your kitchen counter starting with the tomato sauce, followed by the eggplant, zucchini ribbons and finally the cashew ricotta. Place an oven-proof baking dish or skillet near you. This recipe makes 9-10 rolls so make sure your dish is big enough.

To assemble your eggplant involtini, spoon enough tomato sauce to cover the bottom of your pan. On a board or plate, lay a slice of eggplant down followed by overlapping ribbons of the zucchini (I use enough zucchini to match the width of the eggplant). Spoon around a tablespoon of the cashew cheese on to the zucchini on the end closest to you before rolling the stack gently away from you. Place the roll down on to the tomato sauce with the seem down to keep the roll in place. Repeat with remaining eggplant slices.

Spoon any remaining tomato sauce over the rolls before sprinkling over the breadcrumbs and parmesan or nutritional yeast. Drizzle a little olive oil over the top and pop in the oven for around 20-25 minutes or until the eggplant rolls are soft and the breadcrumbs golden.

Remove from the oven and serve hot with a smattering of fresh basil.
Nutrition
Calories:
346
kcal
|
Carbohydrates:
27
g
|
Protein:
15
g
|
Fat:
21
g
|
Saturated Fat:
8
g
|
Polyunsaturated Fat:
2
g
|
Monounsaturated Fat:
10
g
|
Cholesterol:
38
mg
|
Sodium:
310
mg
|
Potassium:
938
mg
|
Fiber:
4
g
|
Sugar:
10
g
|
Vitamin A:
1210
IU
|
Vitamin C:
32
mg
|
Calcium:
278
mg
|
Iron:
4
mg
Tried This Recipe?
I'd love to hear your feedback. Rate it & leave your feedback in the comments section below. Or you can tag @mygoodnesskitchen or hashtag #mygoodnesskitchen on Instagram. Thank you!