With the sweetness and spice of traditional baklava, these raw baklava balls are a healthier and easier way to get your baklava fix. Got 10 minutes? Then you've got time to make these.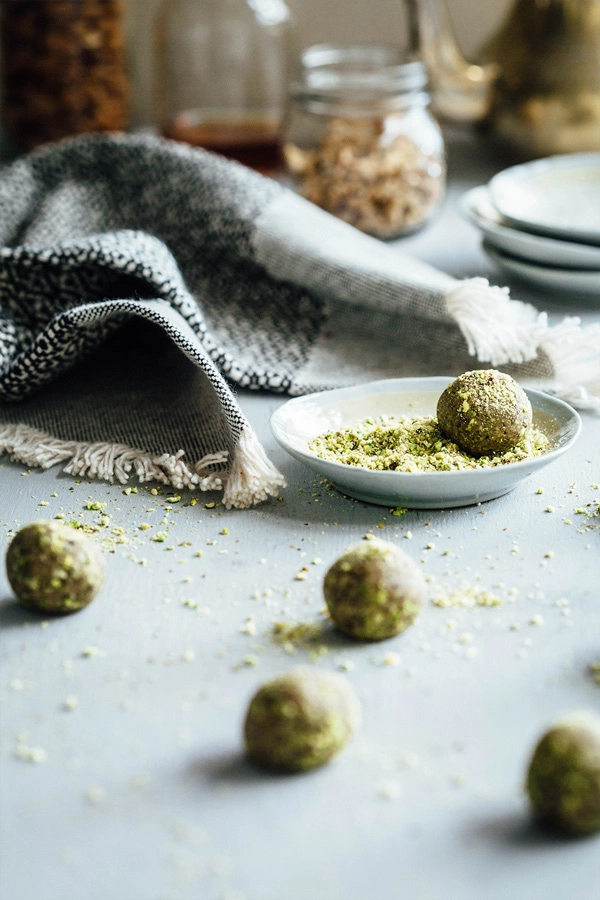 Each day for the past five years I have walked through an area of our beautiful hills with a dog in tow. I watch the seasons mark time on the trees and marvel at sprouting trunks that only last year were saplings. With the winds picking up, some of the older trees are precariously close to toppling so we walk with one ear pricked for the tell-tale crack. So far, no crack. Touch wood.
The woods for me are full of memories. Five years ago I walked the track with our two beautiful senior dogs who have now passed on to the woods in the sky. We adopted another senior, a wolfhound, who passed too quickly for my liking but had the best care in her final years. I can almost see them when I walk the familiar trails. And now it's the Great Dane's turn. She is anything but senior. After years of caring for aged and infirm canines, we thought our daughter, the Elf, should have a canine friend full of energy and joy. The Great Dane has both in spades. Goofy doesn't even come close to describing her. She bounds through the trees following one scent only to reappear down the line following another, one ear curled inside out and her head cocked in curiosity. A foster dog for most of her life, we are her fourth and forever home. I marvel at her resilience after such an uncertain past. She was sketchy and nervous when she first arrived but has settled in and claimed her role as canine queen of the castle. The crown sits crooked on her goofy head but she is happy to wear it.
Not too much has changed on our path over the years.  Although not more than a year ago, a fancy celebrity chef type opened a cafe/bakery . He has plans to put in a micro-brewery (the husband is very excited) and boutique hotel nearby. On the truly cold days I can now get a cup of hot tea and press my face up to the glass display of bakery goods. Is there anything more delicious than the smell of baked goods baking? Maybe clean laundry. I have a thing for clean laundry but I digress.
Making traditional baklava is a time-heavy process. Looking at the golden sweet diamonds in the cabinet I wondered if there could be a simpler way to get a baklava fix.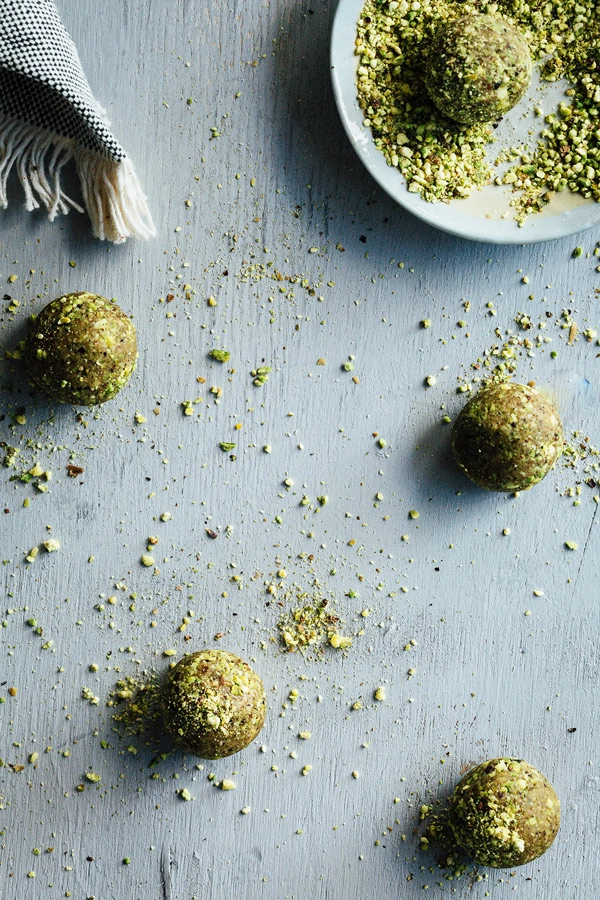 These raw baklava balls take the flavours of traditional baklava rolling them in to a sweet, easy, raw snack. The recipe is simple. I've taken the gooey nutty centre of the baklava and omitted the butter, sugar and pastry. Don't worry, these raw baklava balls are SWEET. They are deliciously nutty, spiced and sticky sweet. And like any good raw treat they are so easy to make. Pistachios, walnuts and roasted almonds combined with sweet spices and rice malt syrup - what's not to love. I roasted my own almonds but you can buy them easily enough. These little treats are perfect with a small cup of strong black coffee or tea. While I won't say they are "healthy" they are certainly a healthier alternative to the traditional baklava pastry. Butter-free. Sugar-free. Pastry-free. These raw baklava balls are a little sinful without the penance. Enjoy, x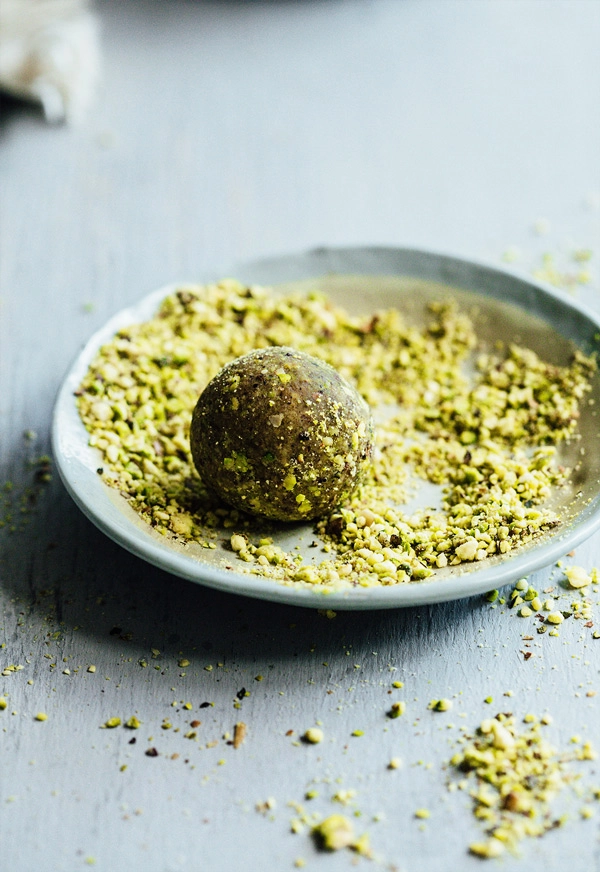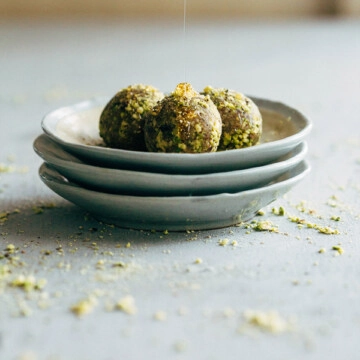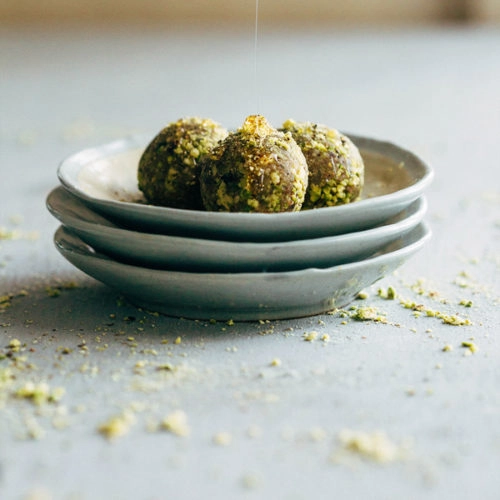 Raw Baklava Balls
With the sweetness and spice of traditional baklava, these raw baklava balls are a healthier and easier way to get your baklava fix. Sweet, sticky and yum.
Print
Pin
Rate
Ingredients
100

g

roast almonds or 1 ¼ cup

100

g

pistachios or 1 ¼ cup + another ¼ cup

100

grams

walnuts or 1 ¼ cup

1 ½

teaspoon

all spice

2

teaspoon

cinnamon

¾

cup

rice malt syrup
Instructions
Place the ¼ cup of pistachios in a food processor and blitz to a rough crumb.

Pour the crumb on to a plate and set aside.

Put the cinnamon, all spice, roast almonds, pistachios and walnuts in the processor and blitz in to a rough crumb.

While the machine is still running, slowly add the rice malt syrup and blitz until combined.

With clean hands (wet if necessary) roll the mixture in to serve size balls and roll each one in to the pistachio crumb set aside earlier.

Place the balls in to the fridge for 30 minutes.

Before serving, take the balls out of the fridge for a few minutes to relax.

Serve with black coffee or tea
Tried This Recipe?
I'd love to hear your feedback. Rate it & leave your feedback in the comments section below. Or you can tag @mygoodnesskitchen or hashtag #mygoodnesskitchen on Instagram.