Last updated on July 19th, 2020 at 03:59 pm
Prunes! Not just for your Nan, prunes are a delicious and versatile ingredient. Fantastic in both savoury dishes and sweet treats like this chocolate prune slice, I think the prune deserves a second chance.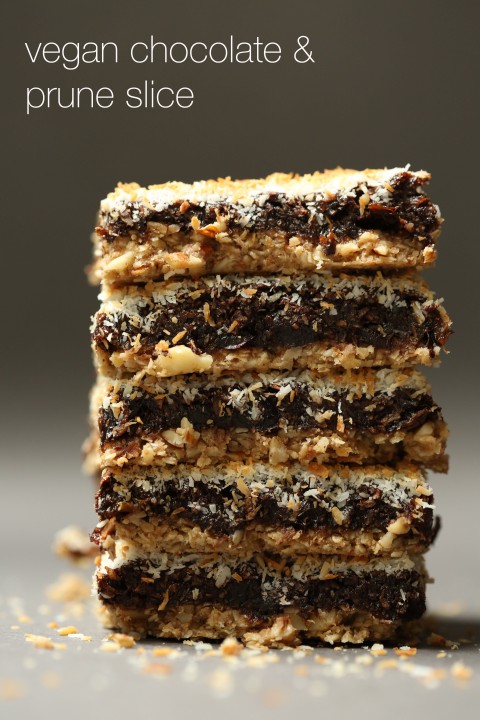 ---
The poor old prune. Seen by many as the embarrassing cousin of the date, prunes have a serious PR problem. While I do love dates - I could eat my almond butter and oat energy balls made with dates for days - prunes are a sweet, slightly tart change in pace. So, with a little damage control we are going to embrace the prune and turn it in to a deliciously good chocolate prune slice.
So, what exactly is the story with prunes?
Prunes are simply plums that have been dried in the sun without any fermentation process. Maybe we need to re-brand? Indeed growers in California have tried remarking them as such. Would you care for a dried-plum, Madam? Meanwhile in France prunes are revered.
In France, these prunes are held in the same high regard as foie gras and Armagnac. They are sought by connoisseurs around the world and they even have their own museum. 

New York Times
Dark, wrinkly and a little bit sticky this maligned fruit is a little powerhouse of nutrition. Given its credentials it's a shame this little guy has been relegated to Nana's morning porridge. Not sexy to be sure.
But, look at all the good things we are missing out on:
Prunes are rich in Vitamin K | one cup provides 87% of the recommended daily intake
They contain Beta-Carotene
Prunes are a Good Source of Fibre
The contain most B Vitamins, calcium and potassium
Why you should be eating plums
Prunes, or dried plums if you please, are delicious, juicy and a nice change from the super sweet date. Also, they are half the price. And let's be honest, they will keep you regular. This vegan chocolate prune slice is chocolatey and delicious; they won't even know the prunes are in there.
Faqs
Do I have to soak prunes before using?
Nope. If stored properly dates don't dry out nearly as much as dates. They will stay sticky and sweet.
Can I freeze this slice?
Totally. Once you have baked the slice allow it to sit for 10-minutes before slicing. Let the slice cool completely before wrapping it in foil and storing the squares flat in a freezer-proof bag or sealed container for up to 3 months. To thaw, remove the slice from the freezer and thaw on the counter.
More awesome sweets:
Hungry for More Plant-Based Goodness? Subscribe to my newsletter and follow along on Facebook, Pinterest and Instagram for all the latest news and updates.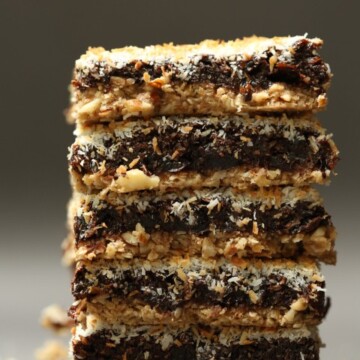 Ingredients
Base
2

cups

rolled oats

½

cup

raw almonds

1

teaspoon

cinnamon

3

tbs

melted coconut oil

3

tbs

maple syrup

3

tbs

water
Chocolate Layer
400

g

pitted prunes

4

tbs

good quality cocoa

½

cup

desiccated coconut

2

tbs

maple syrup

pinch

sea salt

2

tbs

water
Topping
⅓

desiccated coconut

to sprinkle
Instructions
Preheat oven to 175 degrees C.

Line a 8"x8" slice pan with baking paper or parchment.

Combine all base ingredients into a food processor and blitz until combined and the mix sticks together. Press the mix firmly and evenly in to the slice tray.

Clean out processor and add all chocolate layer ingredients to the now clean bowl. Blitz until combined and spread evenly over base layer.

The mix is sticky so I use a wet fork to wrestle it into submission. Sprinkle enough coconut to cover the slice all over.

Bake in the oven for 20 minutes. To toast the coconut top layer, pop the slice under the broiler for a minute or two to toast.

Remove from oven and let the slice rest for 10 minutes for cutting to serve.
Nutrition
Calories:
245
kcal
|
Carbohydrates:
39
g
|
Protein:
4
g
|
Fat:
10
g
|
Saturated Fat:
6
g
|
Sodium:
4
mg
|
Potassium:
400
mg
|
Fiber:
6
g
|
Sugar:
18
g
|
Vitamin A:
260
IU
|
Vitamin C:
1
mg
|
Calcium:
52
mg
|
Iron:
1
mg
Tried This Recipe?
I'd love to hear your feedback. Rate it & leave your feedback in the comments section below. Or you can tag @mygoodnesskitchen or hashtag #mygoodnesskitchen on Instagram. Thank you!