Last updated on October 2nd, 2022 at 07:01 pm
Are these Sweet Potato Chocolate Fudge Squares healthy? Well, it's all relative isn't it? They are certainly healthier than traditional fudge. They are full of Vitamin A-rich sweet potato, protein laden almond butter and maple syrup, not sugar. A guilty pleasure with a lot less guilt, but a pleasure all the same.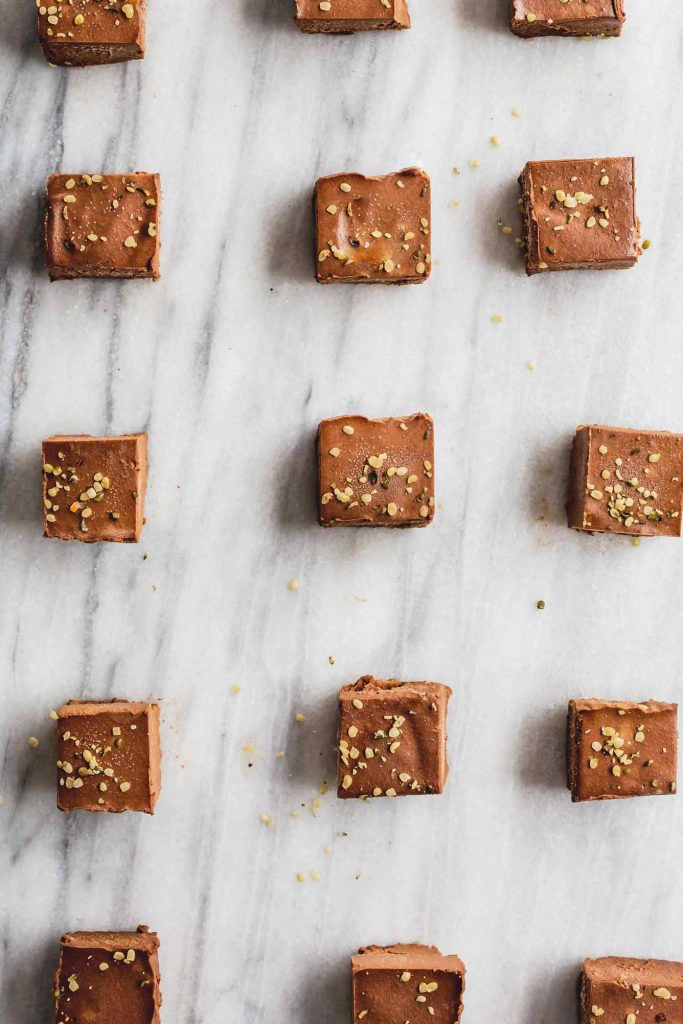 My daughter and I have been having The Talk. The vegan talk. You thought I was going somewhere else there didn't you? She's 4. She thinks I made her out of food in my belly.
No, over the last few months she has become more aware that I eat differently to her. My daughter is not vegan - you can read all about that in my "about" page - and neither is her dad. Over the years I have gotten them to an 85 - 90 per cent vegan diet but there is still a ways to go.
While it may not be popular amongst the vegan community, I am letting my daughter make her own food choices. Mostly. I know my kid; she's a mini-me. At age 4 she will happily tow my line because I am Mummy and I know things. When she's 14, if I've forced a vegan diet on her, I will drive past our local McDonalds and see her in the window scarfing a Quarter Pounder. I would if I were her. No-one to be told how to live.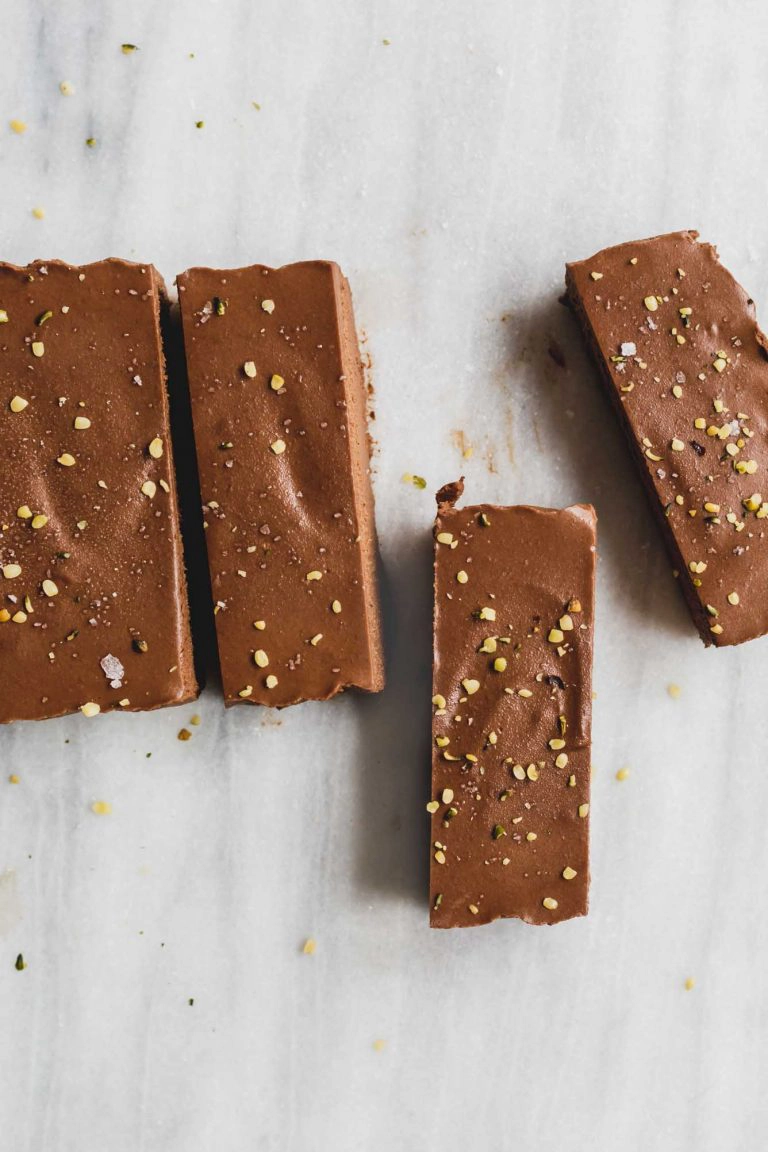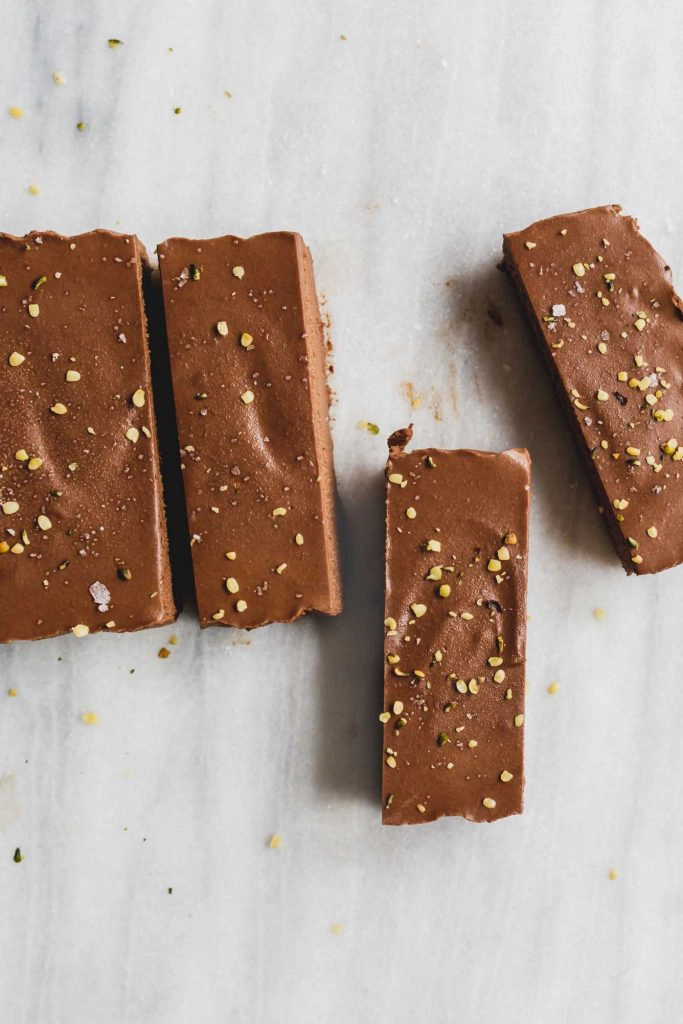 So, I am guiding her with my actions and hoping she will live a compassionate life. She asked why don't I drink cow's milk. I answered, because it doesn't belong to me. She asked why I don't eat eggs. Same answer. She asked why I don't eat meat. I said it was because I couldn't kill an animal and I wouldn't ask someone else to do it for me. She asked does that mean that meat is a dead thing. Yes it is.
After a thoughtful pause she replied, "That's a shame. I love eating dead things. They're delicious." Like I said, we have a ways to go.
I take comfort in the fact that I do all the cooking here and as long as that is so, we do vegan. And today we are doing vegan sweet potato chocolate fudge squares.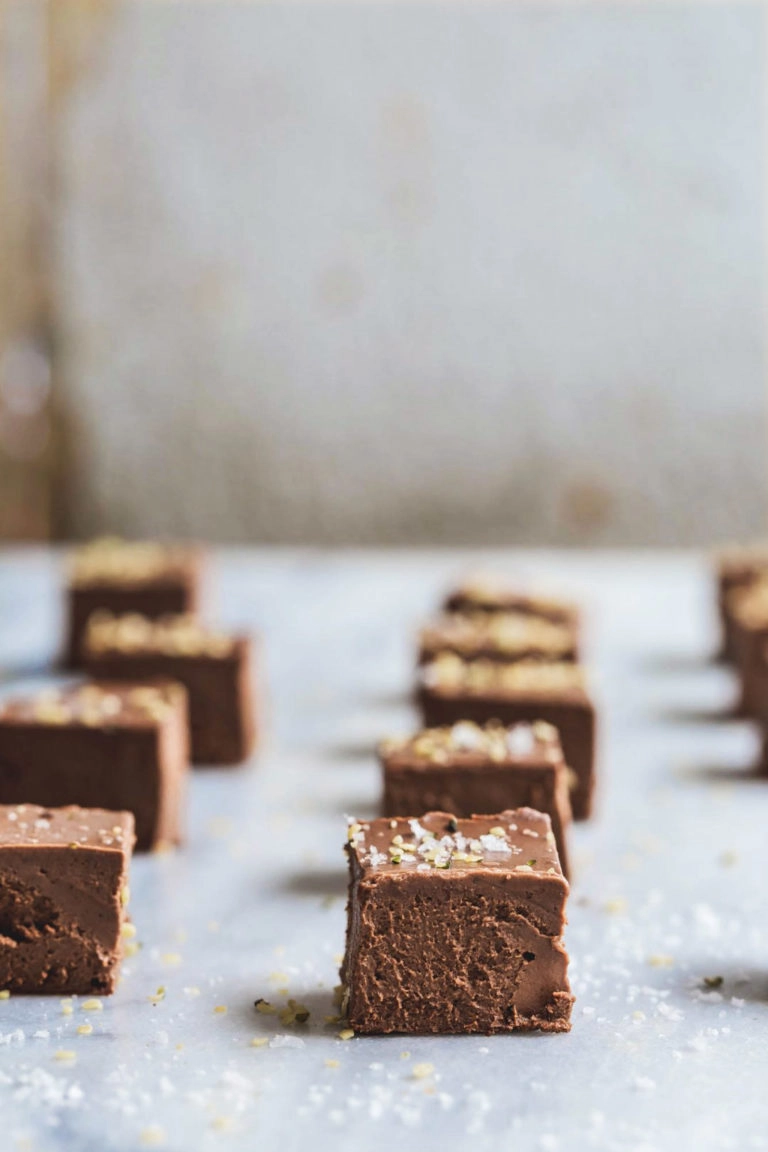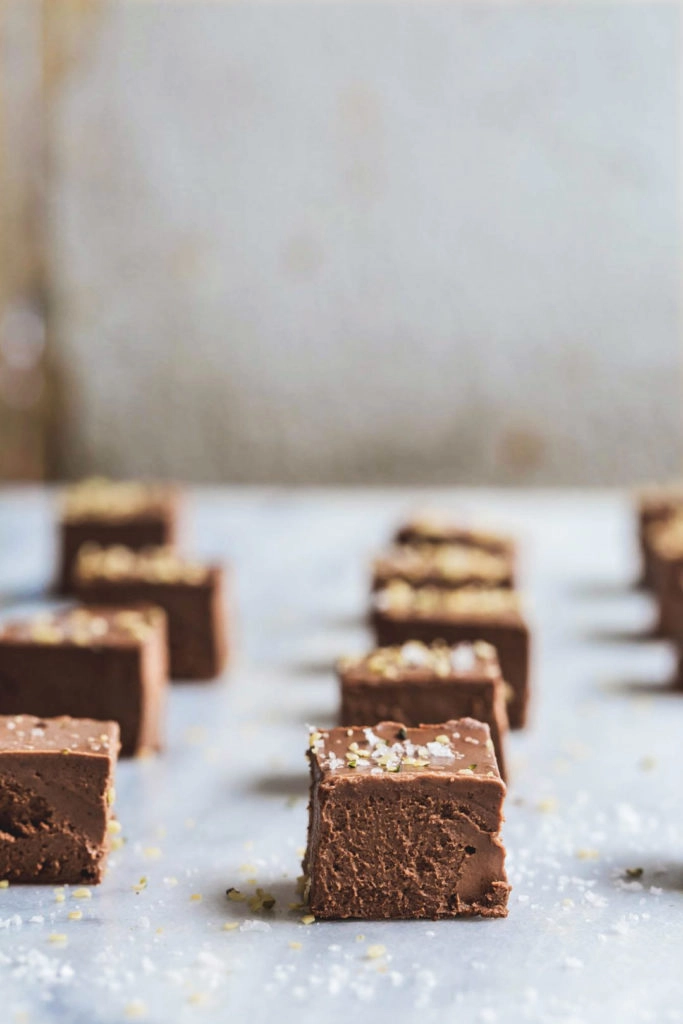 One of my favourite things is to incorporate healthful ingredients in to decadent desserts and sweets. My Avocado Mocha Mousse, Tahini Caramel Black Bean Brownies and my Spiced Thai Iced Coffee Popsicles are all examples. I'm not going to lie, it makes me feel less guilty about stuffing my face with chocolate - I'm looking at you Chocolate Brownie Tiramisu. These sweet potato chocolate fudge squares have a swag of good things but also a goodly does of melted vegan chocolate. They also tickle me because I can choose to have them one of two ways.
SWEET POTATO CHOCOLATE FUDGE = 2 DESSERTS IN 1
You heard that right. These gorgeous little squares come together simply in a blender, set in the freezer and are good to go once set as a smooth, dreamy fudge square. However, after setting, if you remove the fudge from the freezer, slice it and allow it to sit for around 15 minutes, it softens. In it's softened state it is like a slice of rich chocolate mousse slice. Serve it with ice-cream and nuts to send you over the edge.
With nutritious sweet potato, creamy almond butter, maple and dark vegan chocolate, my sweet potato chocolate fudge squares are both naughty and nice. While I scratch my head over my daughter's own food journey I am comforted that she never met a vegan chocolate treat she didn't like. We'll start there. Enjoy, x.
NB: I stumbled across this recipe while testing a chocolate mousse recipe for my cookbook adding too much chocolate to the mixture. If you like a firmer fudge, you can add a little more melted chocolate to the mixture. You could easily add another ounce or 30 grams.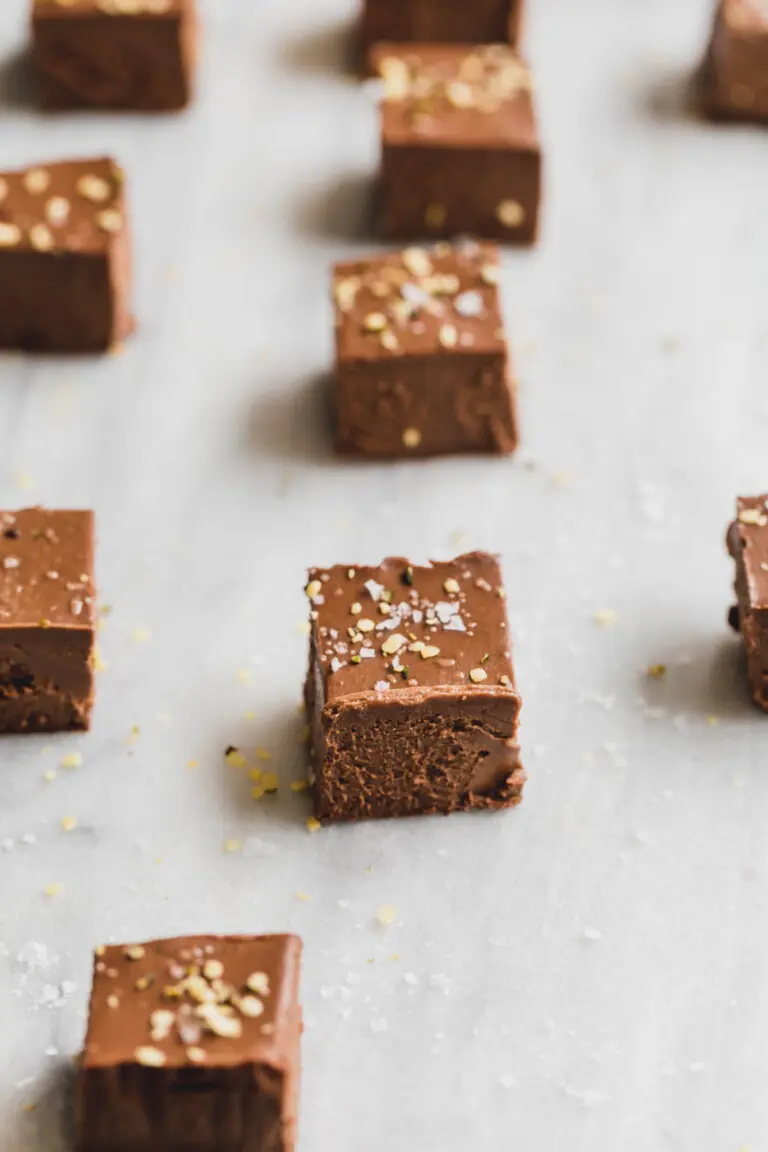 Hungry for More Plant-Based Goodness? Subscribe to my newsletter and follow along on Facebook, Pinterest and Instagram for all the latest news and updates.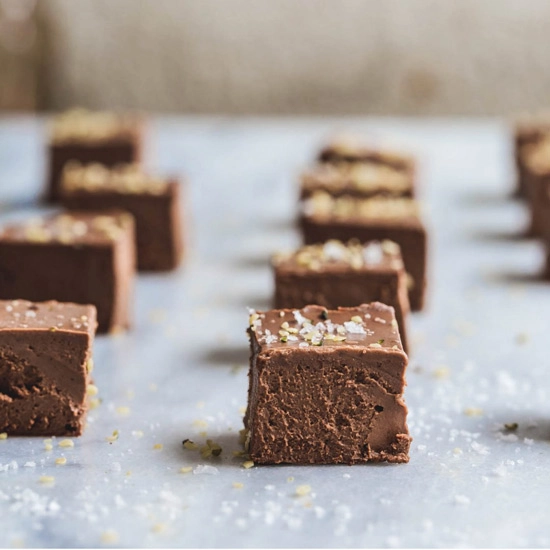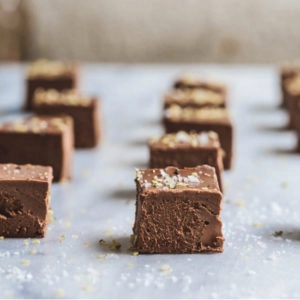 Sweet Potato Chocolate Fudge Squares
With sweet potato and almond butter these vegan Sweet Potato Chocolate Fudge Squares are a little bit good and a little bit decadent. This vegan fudge is whipped up in a blender and sets in the freezer.

Print
Pin
Rate
Ingredients
310

grams

sweet potato, peeled and steamed

medium-size sweet potato

½

cup

dairy-free milk

⅓

cup

almond butter

¼

teaspoon

sea salt

optional

1

teaspoon

vanilla extract

290

grams

vegan chocolate

10 - 11 oz

¼

cup

maple syrup

1

teaspoon

hemp hearts

optional
Instructions
Peel the sweet potato and cut it up to fit in your steaming basket. Fill a suitable pot (one that will hold your steaming basket securely) with around 2-3 inches of water and bring it up to a simmer over medium heat. Place the basket over the pot and cook for around 15 minutes. Carefully, remove the sweet potato from the heat and allow it to completely cool.

Line a small bread tin or lunch box with greaseproof paper.

Add the dairy-free milk, cooled sweet potato, almond butter, maple syrup and vanilla extract to a blender and blend until smooth.

Either in the microwave or over a double-boiler melt the vegan chocolate.

With the blender running, stream in the melted chocolate and blend until well combined and smooth.

Pour the mixture in to the prepared bread tin, level and sprinkle with hemp seeds or any topping of your choice. Cover with foil and pop it in the freezer to set for at least an hour. When set, remove from the freezer and cut in to slices to serve.

Store in the freezer or for a softer mousse slice, the fridge.
Nutrition
Calories:
159
kcal
|
Carbohydrates:
19
g
|
Protein:
2
g
|
Fat:
9
g
|
Saturated Fat:
3
g
|
Sodium:
51
mg
|
Potassium:
126
mg
|
Fiber:
2
g
|
Sugar:
12
g
|
Vitamin A:
2780
IU
|
Vitamin C:
1
mg
|
Calcium:
64
mg
|
Iron:
1.7
mg
Tried This Recipe?
I'd love to hear your feedback. Rate it & leave your feedback in the comments section below. Or you can tag @mygoodnesskitchen or hashtag #mygoodnesskitchen on Instagram. Thank you!