Last updated on July 11th, 2023 at 05:35 pm
I have been dreaming about this homemade spelt loaf for the longest time. With comforting rosemary paired perfectly with salty olives, this loaf is aromatic, flavoursome and so addictive.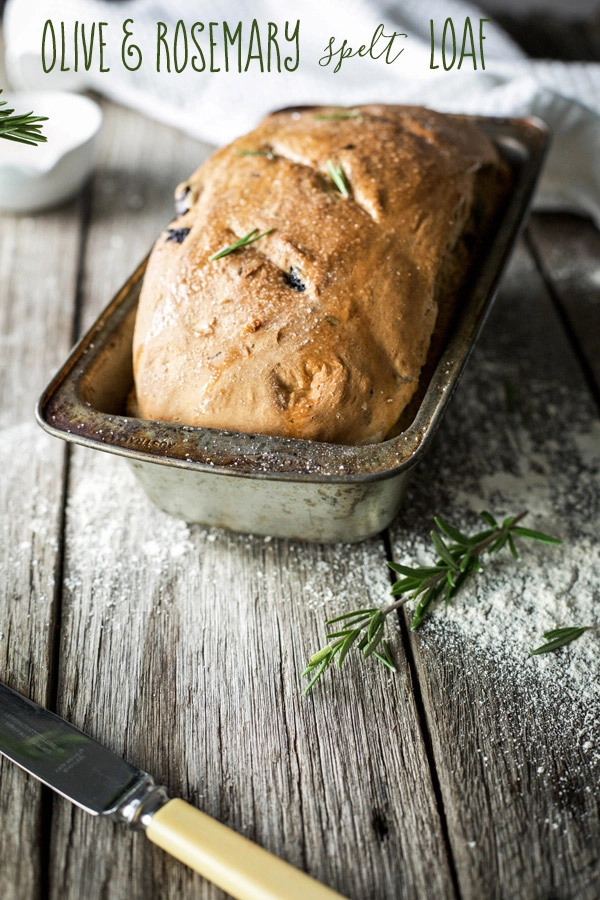 We have a lovely bakery here in the Hills that was recently sold. With the old owners went their fabulous olive and rosemary sourdough loaf. Sigh. It was so good, aromatic rosemary combined with the saltiness of olives.
I could boo-boo in to my belly button or come up with something to match the flavours. However as I want my loaf today, I'm making a spelt version rather and a sourdough. I love sourdough but don't love the idea of starters and all that hullaballoo.
Spelt flour is a busy girl's best friend. It requires less kneading than regular flour and is nutritionally more dense than regular wheat flour. My olive and rosemary spelt loaf is tickling all my fancies. Aromatic and salty? Check. Healthier than regular bread? Check. Quick? Check.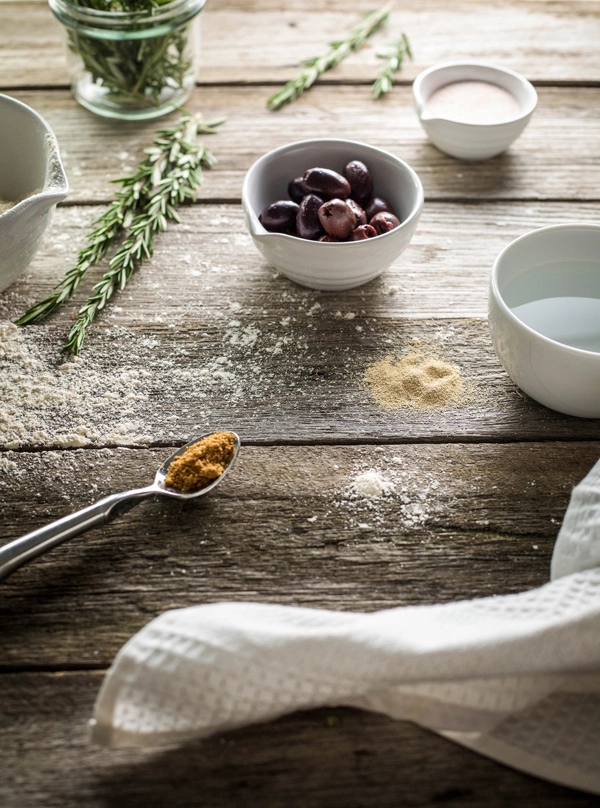 In my bid to create this olive and rosemary spelt loaf, I tried many recipes. I loved the idea of a no-knead loaf but all information pointed to letting the dough rest for 14 hours. I have trouble remembering whether I brushed my teeth in the morning, don't worry I always do I just don't remember doing it.
I decided it is too much to ask of this little black duck to remember the proofing bread sitting under a tea towel in my kitchen. If it's going to hide from me, it is going to get forgotten.
What is spelt? (Triticum spelta)
Spelt is an ancient grain - believed to have been first used some 8,000 years ago -that is a subspecies of wheat. Spelt and wheat are similar in terms of appearance, but spelt has a stronger husk and different nutritional content. Spelt can be used instead of wheat in most recipes - it's always good to test - and it gives foods a nuttier flavour than traditional wheat flour.
Source: Medical News Today
Why use spelt flour?
After experimenting with this recipe I have become a spelt flour devotee. Spelt flour has a nuttier flavour than regular wheat flour and may I re-iterate the splendidness of not needing as much kneading. A little research also dug up some digestive and health benefits. Spelt is:
packed with nutrients, vitamins and minerals
able to regulate metabolism
good at lowering blood sugar levels
able to boost digestive function
But, we are all about the flavours here. The romance and familiarity of fresh rosemary, salty olives, fresh warm yeasty bread and sea salt combined in delicious bite. Olive and Rosemary Spelt loaf; does it get any better? Enjoy.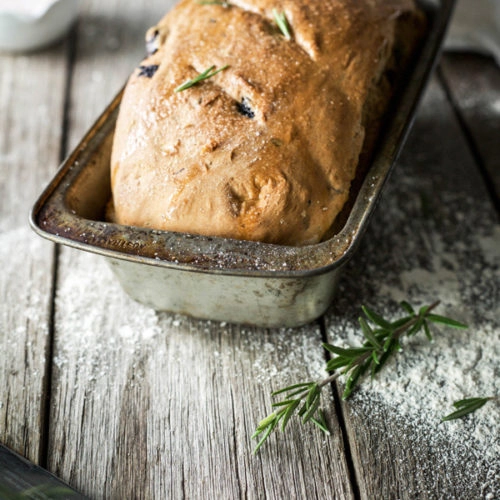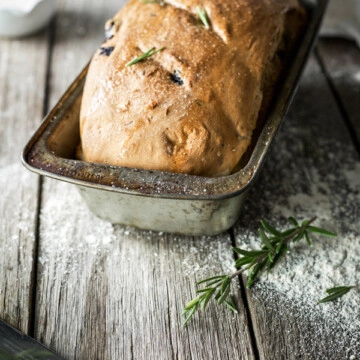 Equipment
1 large bowl

1 large spoon
Ingredients
1½

cups

lukewarm water

39°C is ideal

7

g

instant active yeast

1

tablespoon

golden syrup

or maple syrup

2

tablespoon

olive oil

3

cups /450g

white spelt flour

2

teaspoon

sea salt

½

cup

kalamata olives

chopped

1

tablespoon

fresh rosemary

chopped, add more to taste
Instructions
Combine the water, yeast and syrup in a jug and set aside for 10 minutes to "bloom". The mixture should become frothy - if it doesn't froth, you need fresh yeast.

Whisk together the flour, salt and olive oil in a large bowl.

Add the yeast mixture to the flour and mix until the dough comes together. It will be sticky but able to hold it's shape, loosely. Stir in the chopped olives and rosemary and ensure that they are equally distributed throughout the batter.

Grease a large bowl with olive oil. Choose a bowl that will fit in your refrigerator.

Transfer the dough to the clean bowl and cover it with clingfilm before popping in the fridge overnight (or 8-10 hours).

After proofing the dough should have doubled in size. Remove it from the fridge to rest.

Place a dutch oven in your oven and bring the temperature up to 230°C/450°F. Leave for 30 minutes.

After 30 minutes, remove the clingfilm from the dough bowl. Using lightly floured or oiled hands, reach over to the edge of the dough furthest away from you and scoop your fingertips down and under that side of the dough all the way to the bottom. Pull up, and stretch the edge of the dough over towards the opposite side, closest to you. Basically, we are folding the dough in half bringing the far side to meet the side nearest you. Turn the bowl 90 degrees and repeat the folding and turning, working in a circle around the dough until the dough starts to hold its shape, about 8 to 10 rotations. Pinch any seams or creases together at the center of the dough ball.

Turn the dough out onto a lightly floured surface, placing it seam side down. Gently but firmly, shape into a round loaf. Transfer the dough onto parchment paper and sprinkle it with flour. Loosely cover with plastic wrap or a damp tea towel for 10 minutes.

Using a sharp knife or bread lame, cut a slit about ¼-inch deep across the top of the dough. 

Carefully, wearing good oven mitts, remove the hot dutch oven from the oven and place it on a trivet or wooden board. Don't put it directly on your counter. Remove the lid.

Carefully, transfer the dough and the parchment paper into the Dutch oven and, wearing gloves, pop the lid back on. Pop it in the oven and bake for 30-minutes before removing the lid and baking the bread for another 12-minutes or until golden .

Carefully remove the bread from the Dutch oven using the parchment paper to help, and place it on a wire rack to cool for at least 10 minutes before slicing.
Notes
Be careful

when handling the Dutch oven. It will be piping hot from the oven and you'll burn yourself to a crisp. Wear good oven mitts or use two thick tea towels folded several times. 
Nutrition
Calories:
218
kcal
|
Carbohydrates:
34
g
|
Protein:
7
g
|
Fat:
5
g
|
Saturated Fat:
1
g
|
Sodium:
528
mg
|
Potassium:
14
mg
|
Fiber:
7
g
|
Sugar:
1
g
|
Vitamin A:
37
IU
|
Vitamin C:
1
mg
|
Calcium:
5
mg
|
Iron:
2
mg
Tried This Recipe?
I'd love to hear your feedback. Rate it & leave your feedback in the comments section below. Or you can tag @mygoodnesskitchen or hashtag #mygoodnesskitchen on Instagram. Thank you!