Gorgeously delicate with the perfect wobble this vegan panna cotta is simple to make but special enough to serve at your next dinner party. Inspired by banana ice-cream splits, the kids will love it too.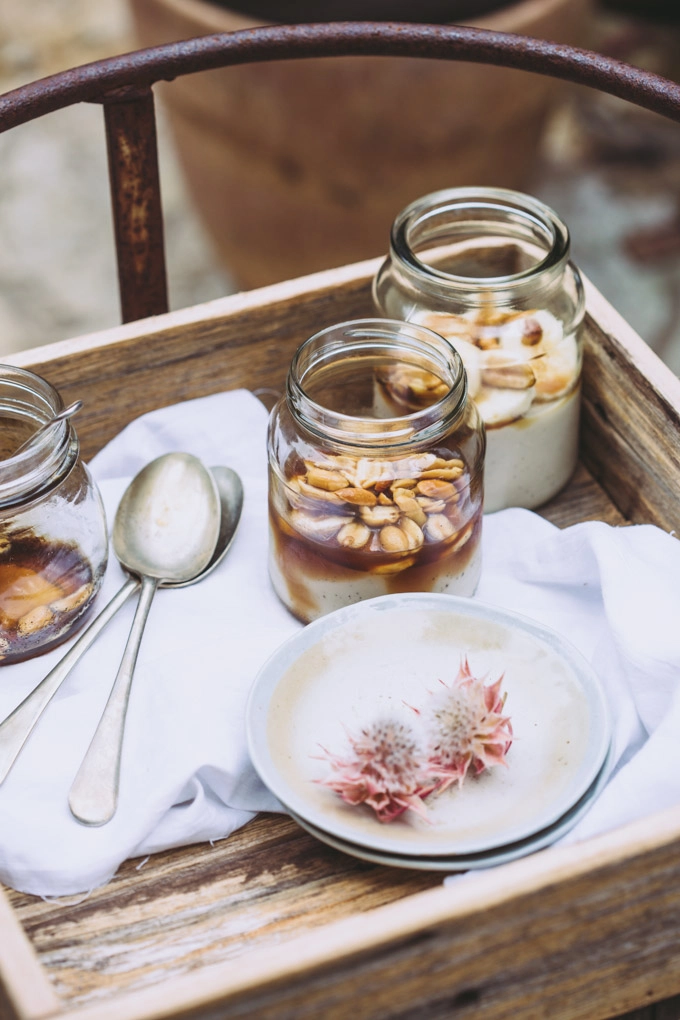 ---
Simple Things
From our small corner of the planet we have watched the events of the past weeks unfold with increasing befuddlement. In a political climate where elections can be won by garnering the support of the hateful at worst, the scared at best, I have felt an urge to hold fast to the simple things.
Things that make sense. Things that are pure in their simplicity and enjoyment. On a hot day like today it's a small clam shaped plastic pool filled with cool water, small feet splashing and a dog chasing the hose. In keeping with our mood, we're enjoying a lovely vegan banana split panna cotta. Simple to make and simple to enjoy.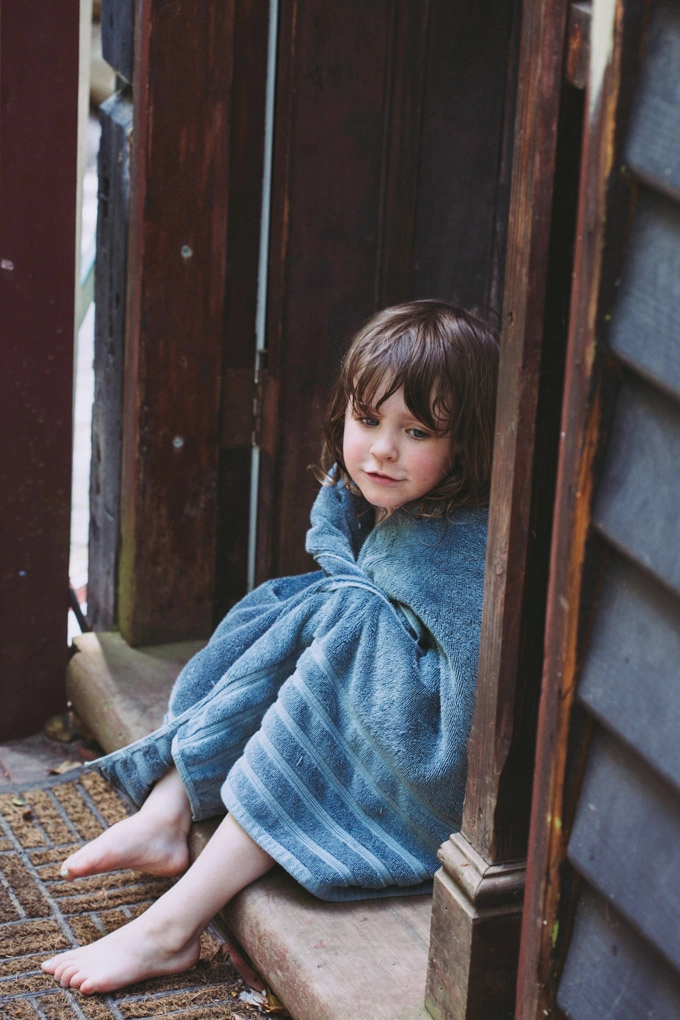 What is Panna Cotta?
Panna cotta is a very simple and delicate cold Italian pudding. The term "panna cotta" literally means "cooked cream" with the finished pudding set with gelatine. The earliest versions were made of thick cream sometimes thickened with fish bone...how gross is that?
How to Make A Vegan Panna Cotta?
Traditional panna cotta is made with cream, milk and gelatine. To get a perfectly wobbly vegan panna cotta I am using coconut milk and agar agar to set the pudding.
Agar agar is a plant-based substitute for gelatine. It is a gelatinous substance derived from red algae and is generally sold in powder or flake form.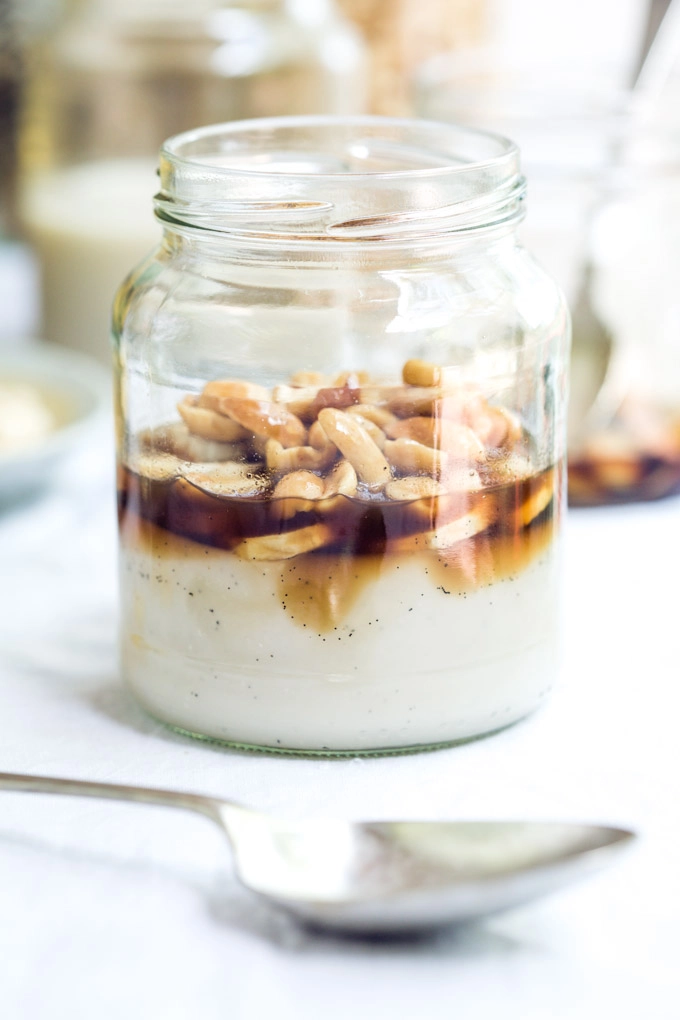 A good panna cotta is determined by its wobble - they say a perfect panna cotta wobbles like a woman's breast. Oh, my.
My search for the perfect wobble had mixed results. First there was the solidified bases (coconut milk in a can), odd textures (soaked cashews) and finally crime scene effects (the addition of raspberries). It took many attempts and drawing boards before I found the perfect wobble.
But I did find it. The base recipe for this vegan banana split panna cotta works and works every time.
Silky and smooth this recipe is so simple to make. Using coconut milk from a carton instead of a can I overcame solidification issues and set the mixture with agar agar.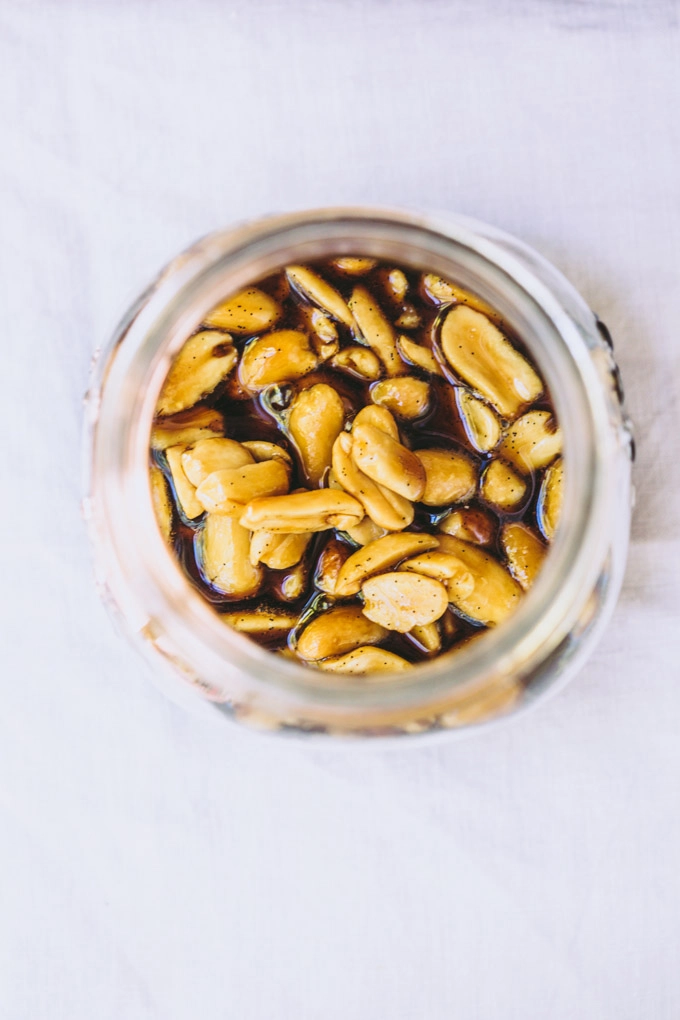 While you can blend flavours in to the mix such as mango, chocolate or caramel I have stuck to a light vanilla bean and coconut milk blend and added a sinfully sticky caramel sauce, fresh banana and peanuts. All the nostalgia of a soda shop banana spilt made lighter and lovelier with feathery panna cotta.
So as things get a little more confusing outside of our house amongst the trees we hold on to simple pleasures. An old creaky swing and a spoonful of banana split. Enjoy.
Notes
I know many bloggers use canned coconut milk with lovely results - check out this gorgeous Ginger Coconut Panna Cotta from Amber at Quite Good Food - but I found it tricky. I used the carton variety instead which is in the same aisle as almond and nut milks.
This recipe uses agar agar flakes NOT powder. The powder is more dense.
---
If you love banana as much I do you might like to try these recipes:
Coconut Gluten-Free Pancakes w Banana
Vegan Banana Coconut Cream Pie
Hungry for More Plant-Based Goodness? Subscribe to my newsletter and follow along on Facebook, Pinterest and Instagram for all the latest news and updates.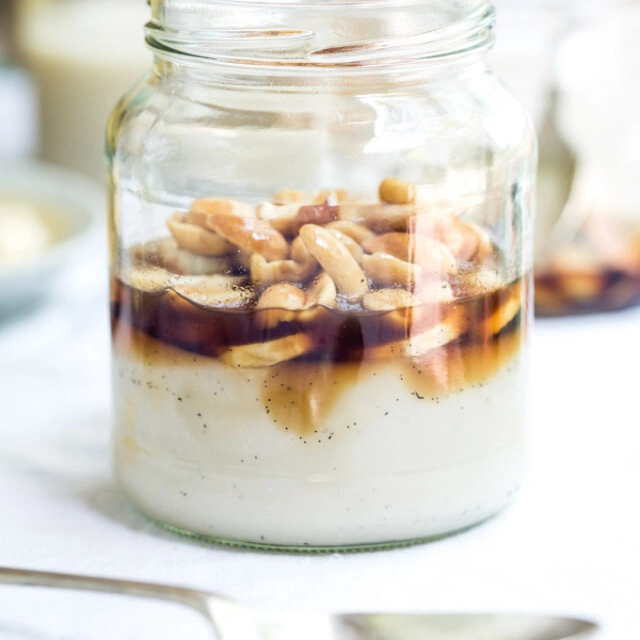 Vegan Banana Split Panna Cotta
Perfectly wobbly, this vegan banana split panna cotta is a lovely and delicate version of the ice-cream banana split complete with nuts and caramel sauce.
Print
Pin
Rate
Ingredients
For the Panna Cotta
1

teaspoon

agar agar flakes

2

tbs

warm water

400

ml

coconut milk

I used milk from a carton not a can

1 and ½

tbs

raw caster sugar

1

teaspoon

vanilla bean paste
For the Caramel and Banana
¼

cup

raw sugar

such as demera for the caramel sauce

¼

cup

water

¼

cup

raw peanuts

½

teaspoon

vanilla extract

pinch

sea salt

1

ripe banana

thinly sliced.
Instructions
In a small bowl, combine the warm water and agar agar flakes to bloom - about five minutes.

In a small saucepan combine the coconut milk, raw sugar, vanilla and agar agar (including the water). On low to medium heat, bring the mixture up to a boil before reducing the heat and simmering for five minutes. Remove from the heat and allow to sit for 7 minutes.

Strain the mixture in to a jug before pouring in to small jars or ramekins. If you want to tip the panna cotta out on to the plate, lightly grease the container first. Set on the counter for 15 minutes to cool before placing in the fridge for 2 hours to set.
For the Caramel and Banana
Combine the raw sugar, water, vanilla and sea salt in a small saucepan and bring to the boil over medium heat. Watching carefully, allow the caramel to bubble away for around 3 minutes or until the mixture thickens. Stir in the peanuts and set aside.

To serve the vegan panna cotta, remove the set pudding from the fridge and place thinly sliced banana on top. To finish ,spoon a good amount of peanut caramel sauce over the top and serve.
Notes
NOTES: As mentioned in the post, use agar agar FLAKES in this recipe. Not powder. 
Nutrition
Calories:
466
kcal
|
Carbohydrates:
38
g
|
Protein:
6
g
|
Fat:
35
g
|
Saturated Fat:
26
g
|
Sodium:
23
mg
|
Potassium:
525
mg
|
Fiber:
2
g
|
Sugar:
28
g
|
Vitamin A:
25
IU
|
Vitamin C:
5
mg
|
Calcium:
37
mg
|
Iron:
5
mg
Tried This Recipe?
I'd love to hear your feedback. Rate it & leave your feedback in the comments section below. Or you can tag @mygoodnesskitchen or hashtag #mygoodnesskitchen on Instagram.
LOVE YOUR SWEETS? YOU MIGHT LIKE THESE GREAT DESSERT RECIPES →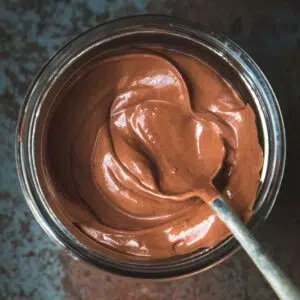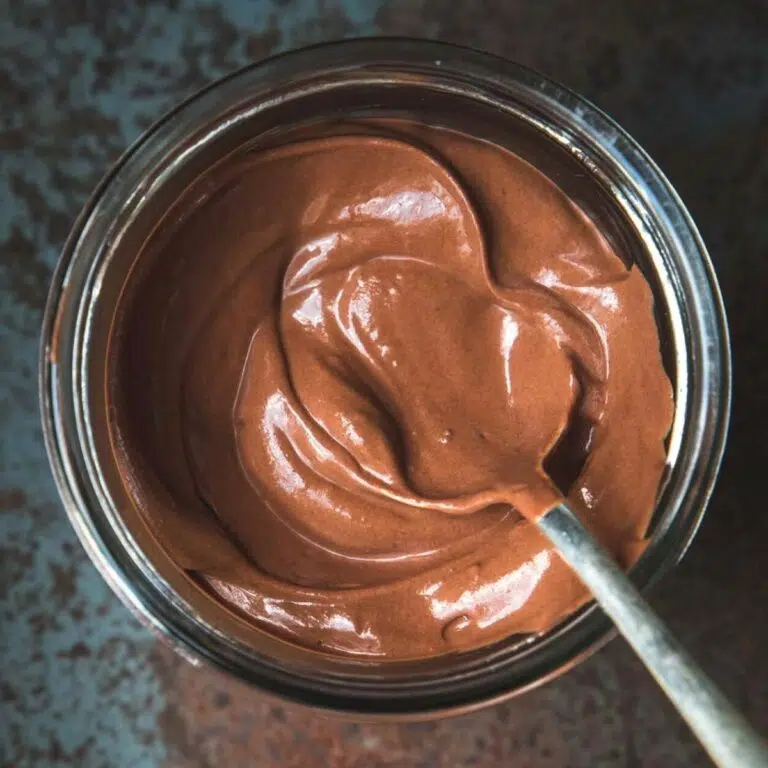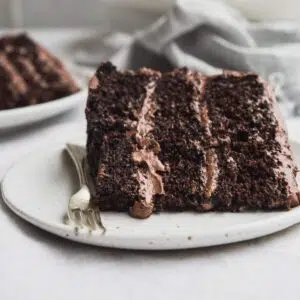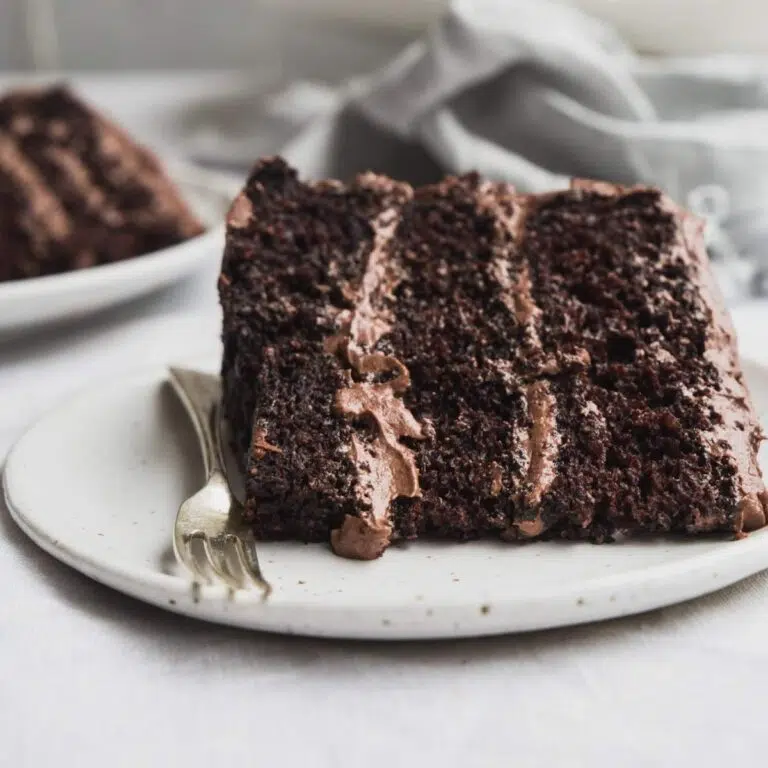 Spiced Thai Iced Coffee Popsicles with Cardamom
Made with coconut milk, coconut condensed milk and a touch of cardamom these spiced Thai iced coffee popsicles are simple, exotic and delicious.