If you love dumplings like I do you are going to love these vegan bao buns. Beside being completely delicious with they are a fund weekend cooking project the whole family can get in on.
Weekend Yum Cha is something of a family tradition in our little brood. Ever since the Husband and I were dating we've frequented our local Chinese restaurant for the soft, plump dumplings sitting prettily in their bamboo baskets. These days we are a party of three and while the Elf isn't terribly adventurous she loves the BBQ pork steamed buns. So, I've created a vegan version with these Vegan Bao Buns with BBQ Mushroom.
---
What is a Bao Bun?
A bao bun or steamed bun or baozi (包子) is a soft round bun traditionally filled with BBQ pork or meats.
Funnily, calling these bao buns is incorrect -bao means bun, so it's like saying 'bun bun'. Traditionally they are called gua bao but as their popularity has spread so has the name bao buns. So 'bun buns' it is!
Different to a dumpling, the bao dough is light, fluffy and more bread-like. You can buy plain bao buns from some Asian grocers but, if you're feeling adventurous, you can make your own.
Making the Dough
These vegan bao buns with BBQ mushrooms have been a long time coming with the idea bouncing around my internal kitchen for almost a year. While I loved the thought of these little guys I was a little daunted; I wanted to get the traditional cloud-like dough just right.
After a few mis-fires I ended up using this recipe from the Woks of Life as a base. These wonderfully thoughtful bloggers included a folding tutorial video, bless their socks. It is incredibly useful to dumpling novices such as myself.
Turns out, the dumpling dough is super simple to make. While it takes a while to proof and there is kneading involved (great for the arms), it's super easy and something the kids can help with too.
How to Make Bao Buns
With the dough sorted and my doubts assuaged, the filling was a piece of cake. A deliciously smoky, sweet mushroom filled cake. This filling is amazing. If you weren't inclined to make the traditional dough, this filling will work in a grilled wonton wrapper or simply spooned on to a steaming bowl of rice.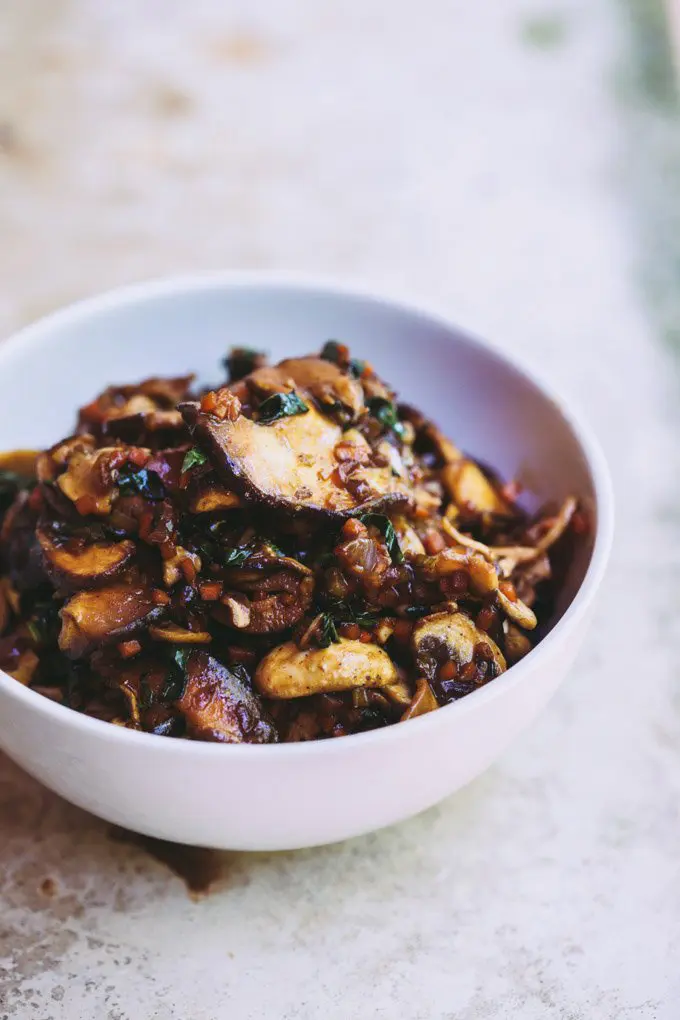 For those who love the warming and wonderful BBQ flavours of traditional char siu pork but want a vegetable alternative - this is it. Finely sliced mushrooms, red onion, celery, carrot and kale combined in a sweet, slightly smoky soy, hoisin and five spice sauce. This filling is mouth-watering.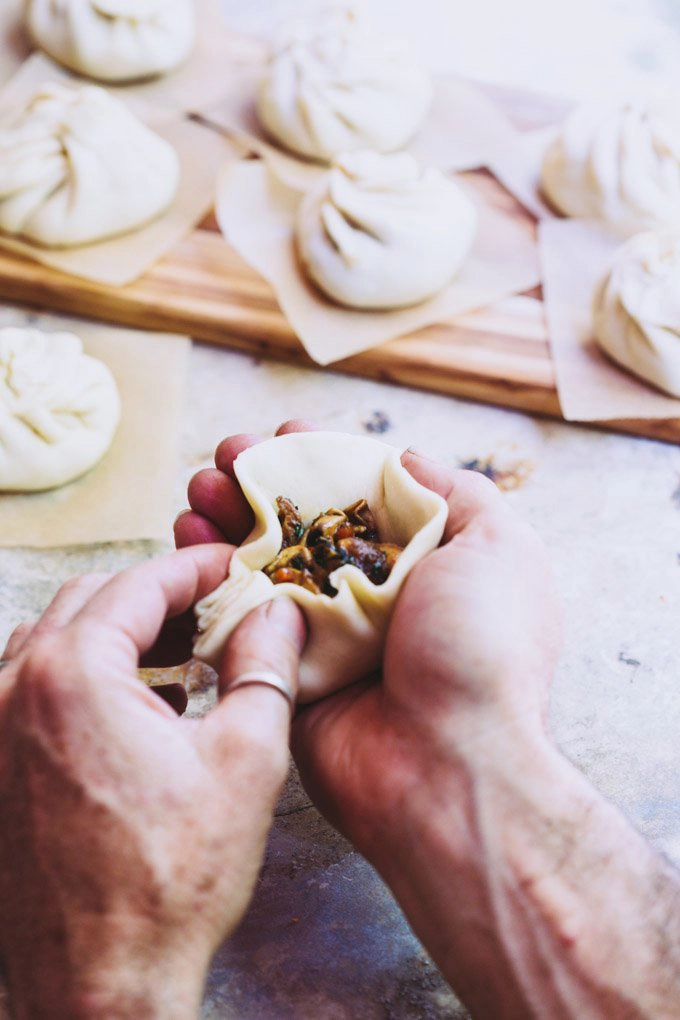 I am the first to admit my dumpling (baizo*) pleating technique is not going to win me any culinary awards but I am giving my self a commendation for effort. At the end of the day these vegan steamed buns were a fun project and something I have always wanted to try. Plus, anytime spent with the Elf in the kitchen is time well spent to me.
* Another useful folding video thanks to Chinese Sichuan Food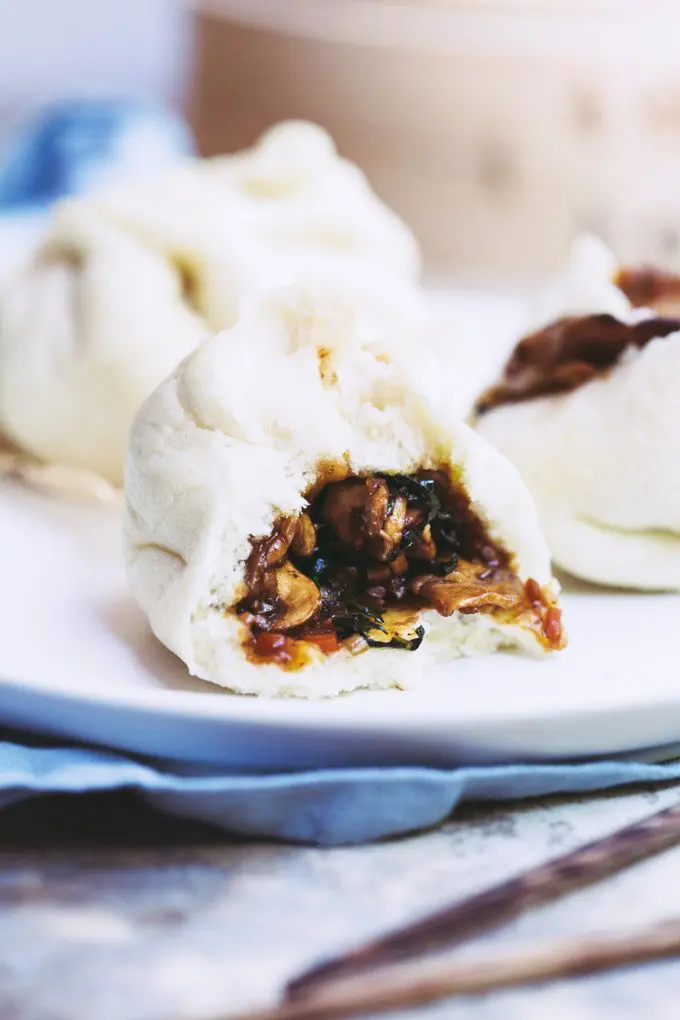 One could argue these steamed buns are quite the effort to get the Elf to eat her vegetables. Perhaps. I've been told this phase in her dining life is just that, a phase, a cry for attention, a blip.  That may be so but that doesn't mean we stop trying. My thinking is that food is our earliest introduction to new cultures and new experiences. I want her to embrace the different, be brave in her choices and try new things. For me that cannot begin early enough and I can't think of a safer or better place to start that journey than in my kitchen.
These BBQ mushroom vegan bao buns are everything I wanted them to be. An added bonus is that when I don't have time to make the dough I can quickly enjoy those wonderfully authentic filling flavours on a bed of rice. The mushroom and vegetable filling is ready in no time and is so ridiculously good.
Enjoy.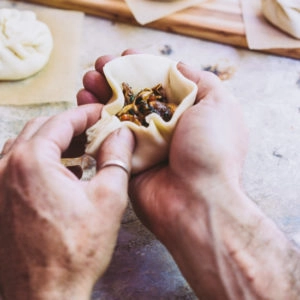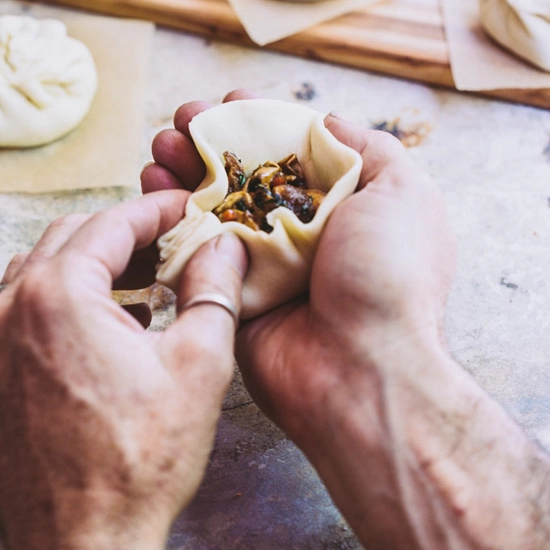 Vegan Bao Buns with BBQ Mushroom
These BBQ Mushroom Bao Buns boast the sweet smoky flavours of the traditional char siu steamed buns but are vegan and copntain 5 vegetables.
Print
Pin
Rate
Ingredients
For the Bao Dough
1

teaspoon

active dry yeast

¾

cup

luke-warm water

2

cups

all-purpose flour

or bao flour

1

cup

cornstarch

or corn starch

3

tablespoon

raw sugar

I used golden caster sugar

¼

cup

sunflower vegetable oil

2 ½

teaspoon

baking powder
Filling
1

tablespoon

peanut or vegetable oil

1

small red onion

finely diced

1

stick celery

finely diced

1

carrot peeled and finely diced

2

garlic cloves

finely chopped

¼

teaspoon

five-spice powder

1

tablespoon

Chinese cooking wine

2

tablespoon

tamari

or soy sauce

1

teaspoon

red miso

1

tablespoon

maple syrup

1

tablespoon

hoisin sauce

3

cups

mushrooms

finely sliced (I used button and shiitake)

1

cup

finely sliced black kale

de-veined and sliced in to thin ribbons
Instructions
For the Bao Dough
To make the dough, dissolve the yeast in the warm water in a bowl and sit in a warm place for 5 minutes or until completely dissolved and starting to bubble.

Sift the flour and cornstarch and add it to the yeast mixture along with the sugar and oil.

Beginning with a spoon combine the ingredients until they come together.

Using clean hands knead the dough inside the bowl before turning it out on to a clean surface to knead.

Continue kneading until the dough forms a smooth ball (around 10-12 minutes).

Place the dough in a large clean bowl, cover with a damp cloth or cling wrap and rest for 2 hours in a warm place. The dough will double in size.

After 2 hours, add the baking powder to the dough mixture (add a little water if needed) and knead again to combine thoroughly.

Form in to a ball again and rest for another 15 minutes.
For the BBQ Mushroom Filling
While the dough is resting the first time, heat oil in a wok or frypan.

Add the onion, celery and carrot and cook for 2 minutes.

Add the garlic and sauté for 30 seconds.

Add the Chinese five spice and stir through.

Add cooking wine.

Add the tamari, red miso, maple, and hoisin sauce.

Finally, add the mushrooms and kale and cook for two minutes or until just cooked.

Take off the heat and set aside to cool.

Cut 10 12cm x 12cm squares of baking paper or parchment.

When the dough has rested a second time, roll it out into a long log shape.

Cut the log in to 10 equal portions. Working one at a time, press each portion down with your palm in to a disc.

Roll out the disc to palm size round making the outer edges thinner than the middle.

With the disc in your palm, spoon a tablespoon of the filling in to the centre.

Following the video (the link is in the above post) fold the edges up and pleat the dough until the top comes together. Twist to finish.

Repeat with the other dough portions placing each one on it's own piece of parchment.

Bring a ¼ pot of water to the boil and place a bamboo steamer on top being careful to make the sure the water doesn't touch the steamer base.

Place the dumplings in the steamer and cook on a high heat for 12 minutes.

Serve immediately.
Nutrition
Calories:
315
kcal
|
Carbohydrates:
51
g
|
Protein:
7
g
|
Fat:
9
g
|
Saturated Fat:
1
g
|
Cholesterol:
1
mg
|
Sodium:
322
mg
|
Potassium:
561
mg
|
Fiber:
3
g
|
Sugar:
8
g
|
Vitamin A:
1536
IU
|
Vitamin C:
6
mg
|
Calcium:
86
mg
|
Iron:
2
mg
Tried This Recipe?
I'd love to hear your feedback. Rate it & leave your feedback in the comments section below. Or you can tag @mygoodnesskitchen or hashtag #mygoodnesskitchen on Instagram.
LOVE DUMPLINGS? YOU'LL LOVE THESE THESE OTHER GREAT DUMPLING RECIPES →
Homemade Dumplings w Peanut Chilli Sauce
My homemade dumplings with peanut chilli sauce make for a great afternoon in the kitchen and something the kids can help with. You'll overeat them and have the Yum Cha experience at home.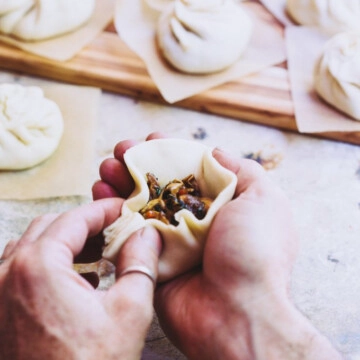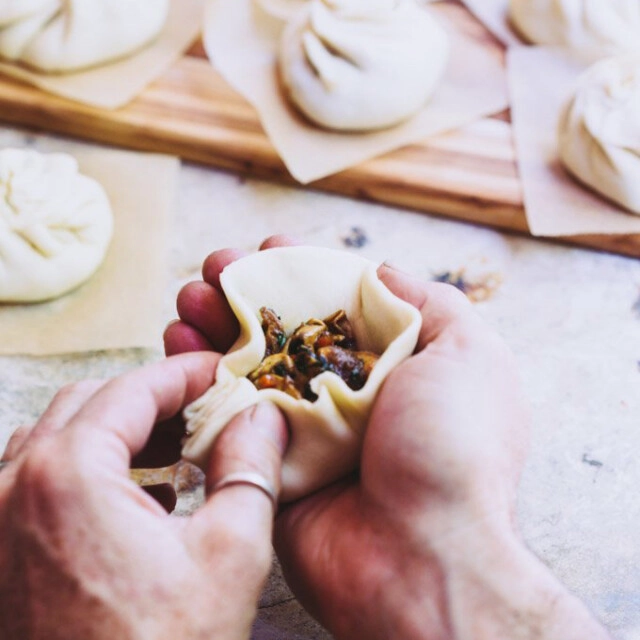 Fennel Infused Mushroom Wonton Soup
This Fennel Infused Mushroom Wonton Soup is simplicity in a bowl. Simple, however, doesn't mean boring and this fennel infused, slightly peppery broth with delicate mushroom wontons is a little bit special. A delicious vegan soup.