Last updated on February 26th, 2021 at 09:44 am
Rich, glossy swirls of chocolate with a hint of mint, this peppermint chocolate vegan mousse recipe takes just minutes to prepare but is a decadent and gorgeous bowl of delicious.
---
Can I be honest with you? I just don't have the energy for Christmas this year. I would like to wrap my little family in a cocoon and stay there until all the hoopla is over. It's been a tough year.
I stopped writing a lot of personal stuff here in my little corner of the internet. I am not sure why...maybe I thought you didn't want to hear it. Or maybe I thought there are so many with challenges bigger than mine that it seemed indulgent to whine.
Well, the beauty of this blog is that there is a nifty "Skip to Recipe" button overhead so you can jump straight to my peppermint chocolate vegan mousse recipe. Or if you would like all the mousse-y details skip here.
You don't have to read about me. But I can still write about me. A happy compromise.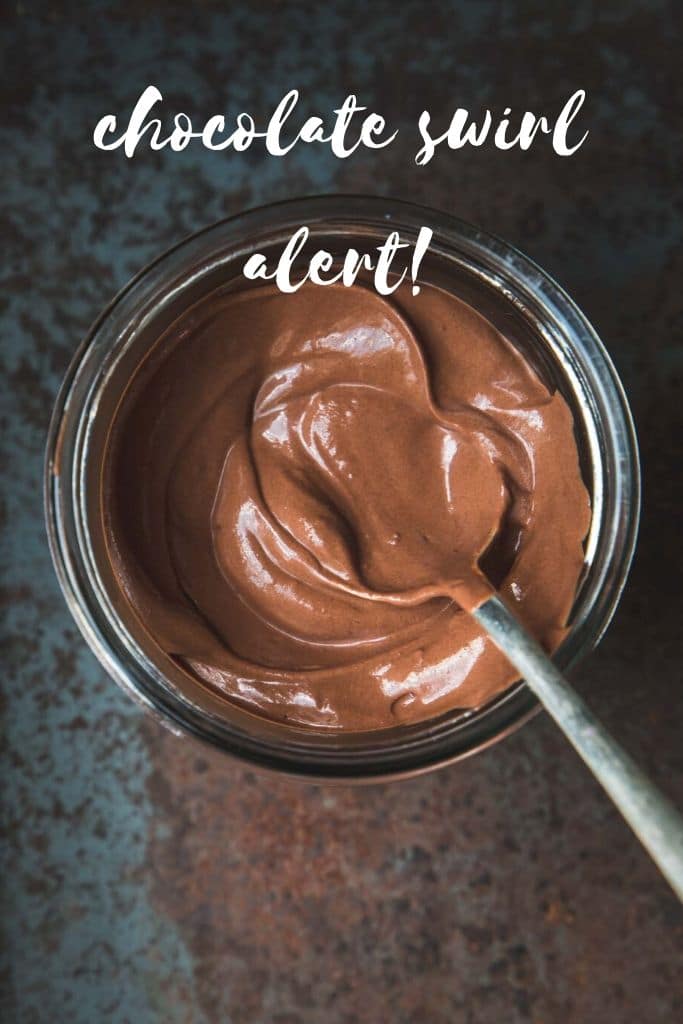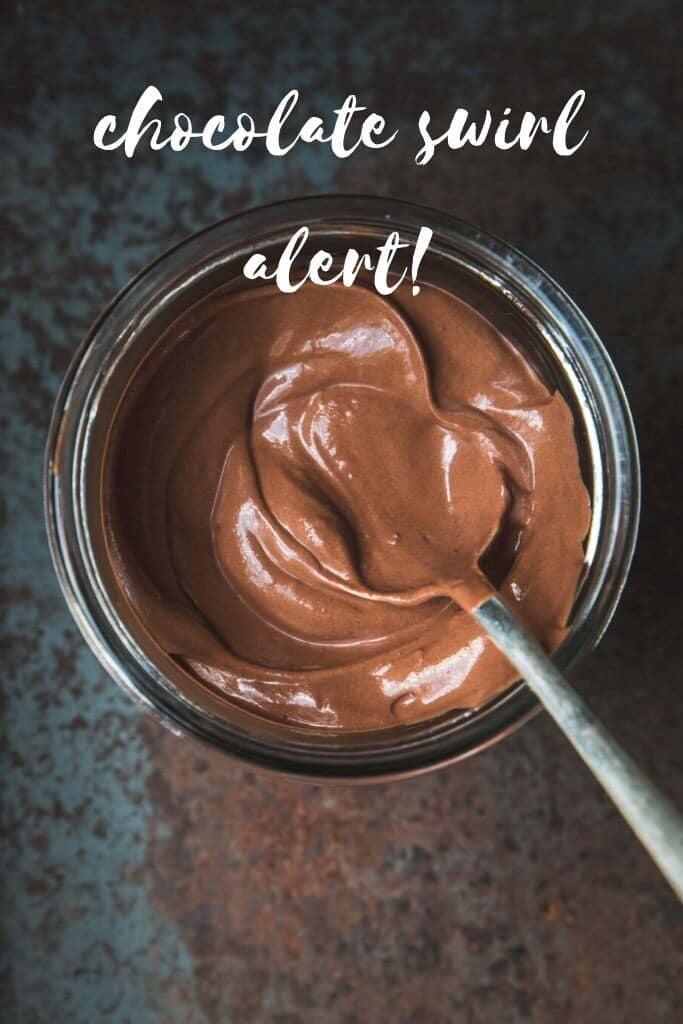 In brief my mother is unwell and it's not something that will go away. The challenge for me is that I have a complex relationship with my parents. They are not what you would call cookie-cutter and we are not the Bradys. We are the actors who played the Bradys. We even have the 3 boys and 3 girls.
Helping my parents this year has taken every drop of patience and kindness I can muster...even saying that I can feel the guilt rising. That's how my family rolls - we are big on guilt.
The silver lining is that throughout this all I have pondered my own parenting and arrived here, with you. And a commitment to my small person.
My Commitment
I will protect you with everything I have
I will love you even when I don't agree with you. My love is not conditional and never will be
I will let you find your path and honour your choices - that doesn't mean I won't argue with you about them 😉
I will always treat the trust you have in me like a treasure. I will not betray it
I will do everything I can to keep these commitments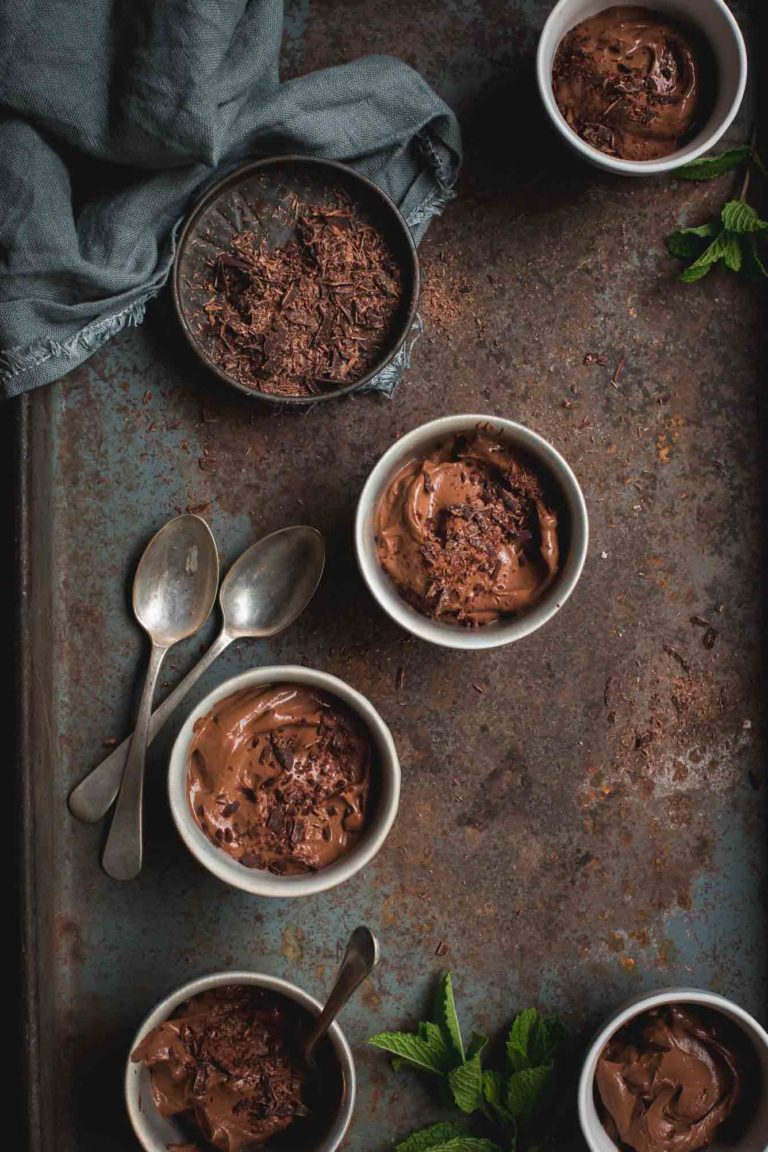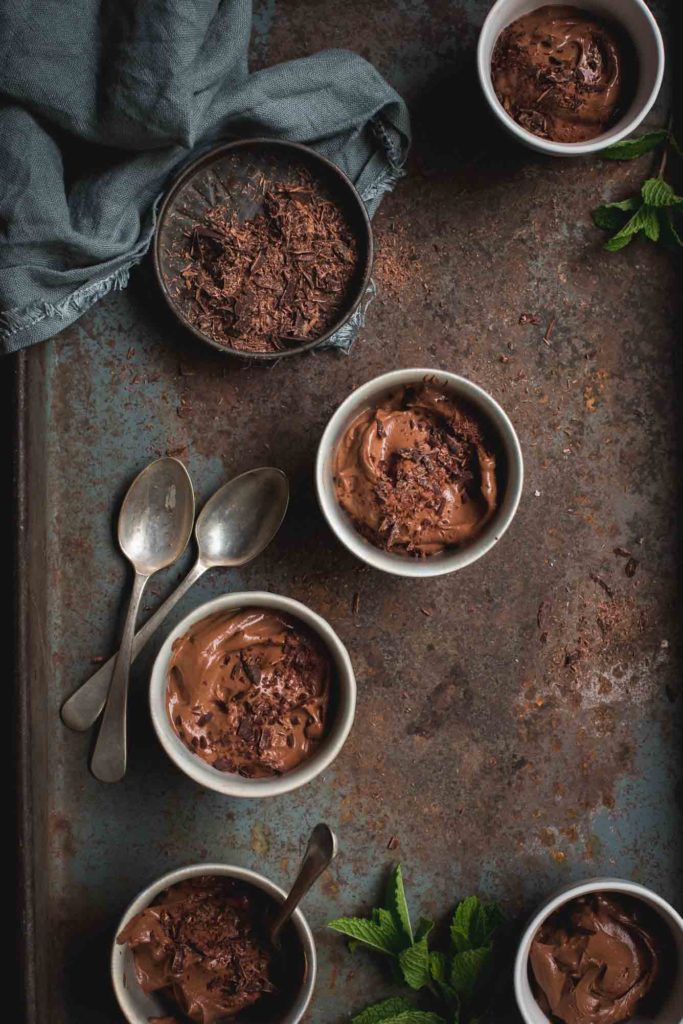 Phew. If you stayed with me, thank you. If you "skipped to recipe" - you're welcome. That button is awesome, right? And now to the kitchen we go.
If you want all the trimmings this year, I have an awesome Vegan Christmas Pudding recipe on the blog. It's gorgeous and boozy and all things festive. In fact, I have a Holiday Recipes section where you'll find lots of goodies including my Trouble-Free Vegan Truffles and some delicious mains and sides.
However if, like me, you are keeping things super quick and simple this year you are going to love this vegan mousse.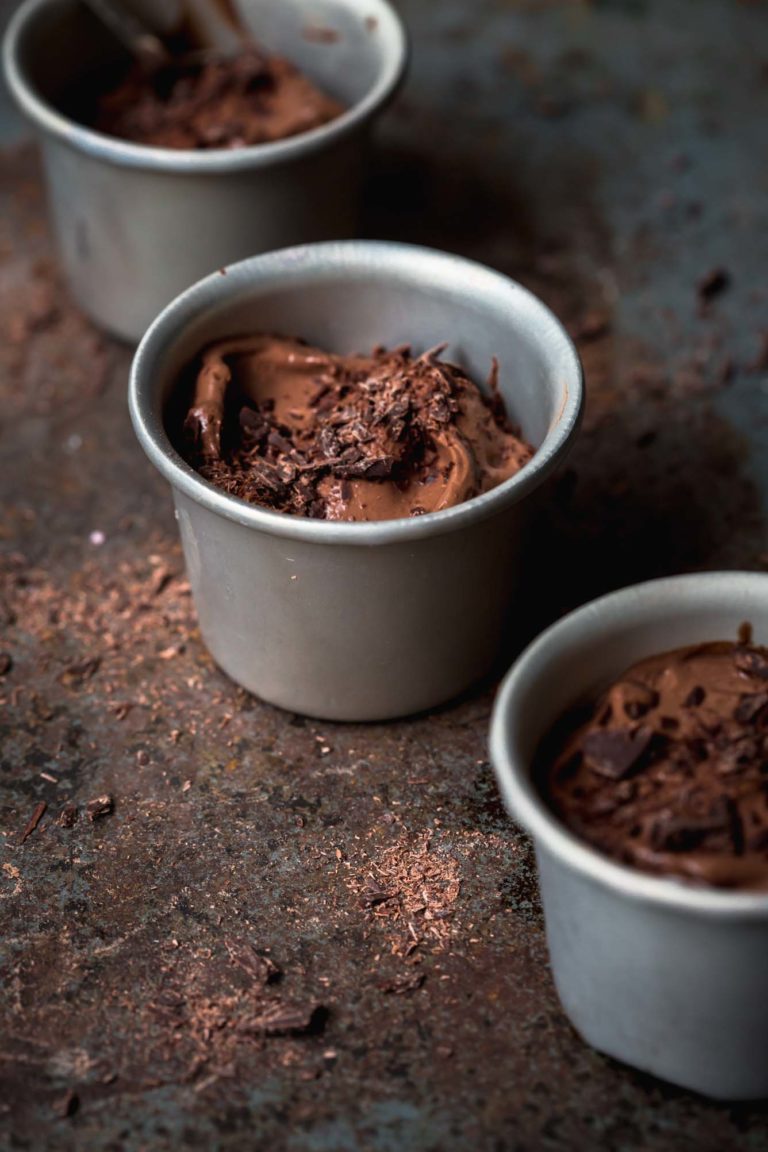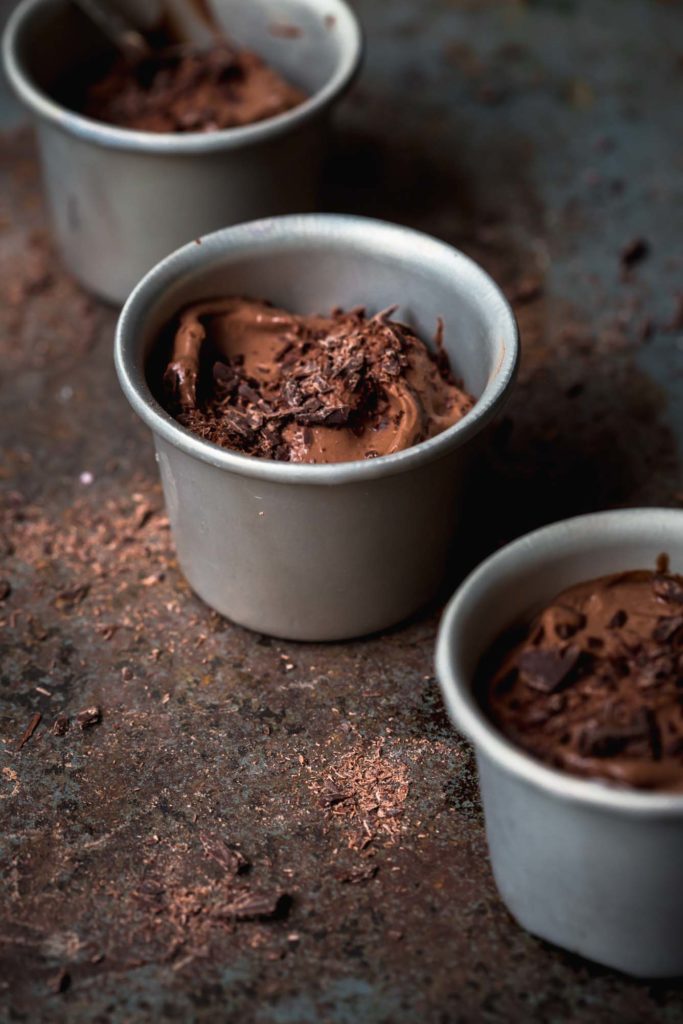 Dreamy Vegan Mousse
Seriously, I would never steer you wrong with chocolate. Chocolate is sacrosanct. This dessert is:
completely simple with only 5 ingredients
ready in a flash whipped up in the blender
convenient and easily made a day ahead
adaptable - if you don't like mint try orange zest or leave it as is!
perfect for a festive finish or simply dinner with friends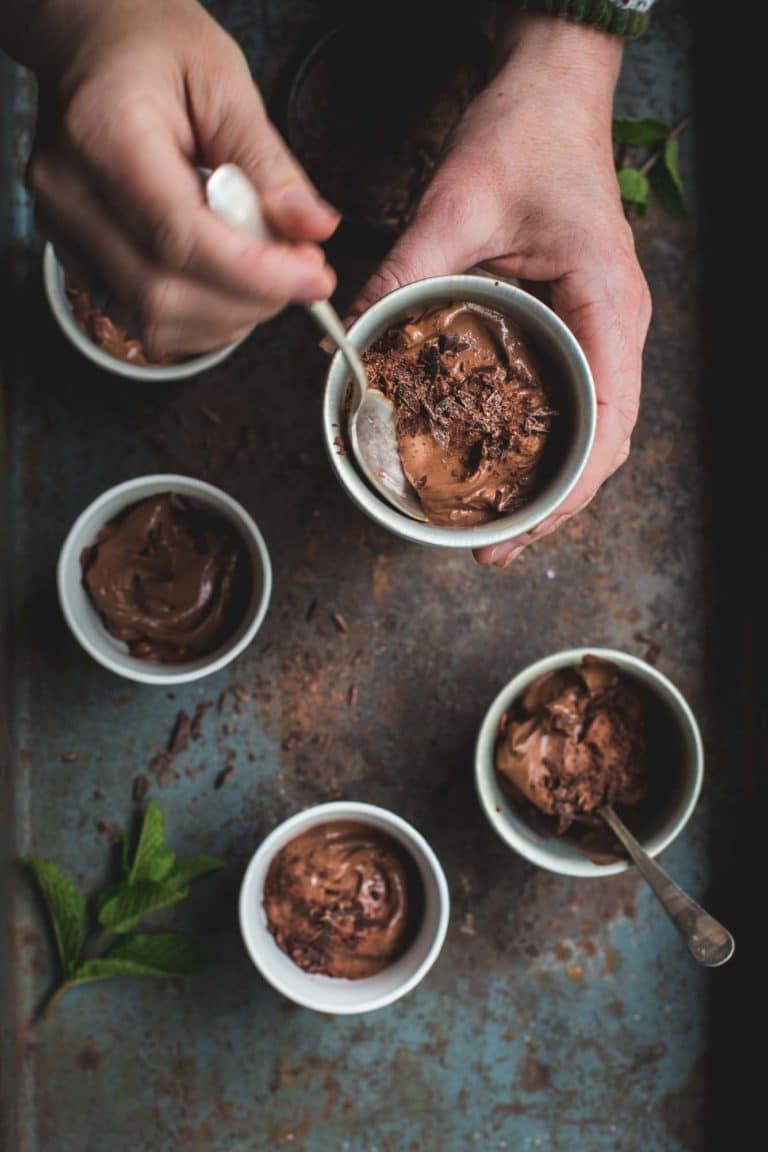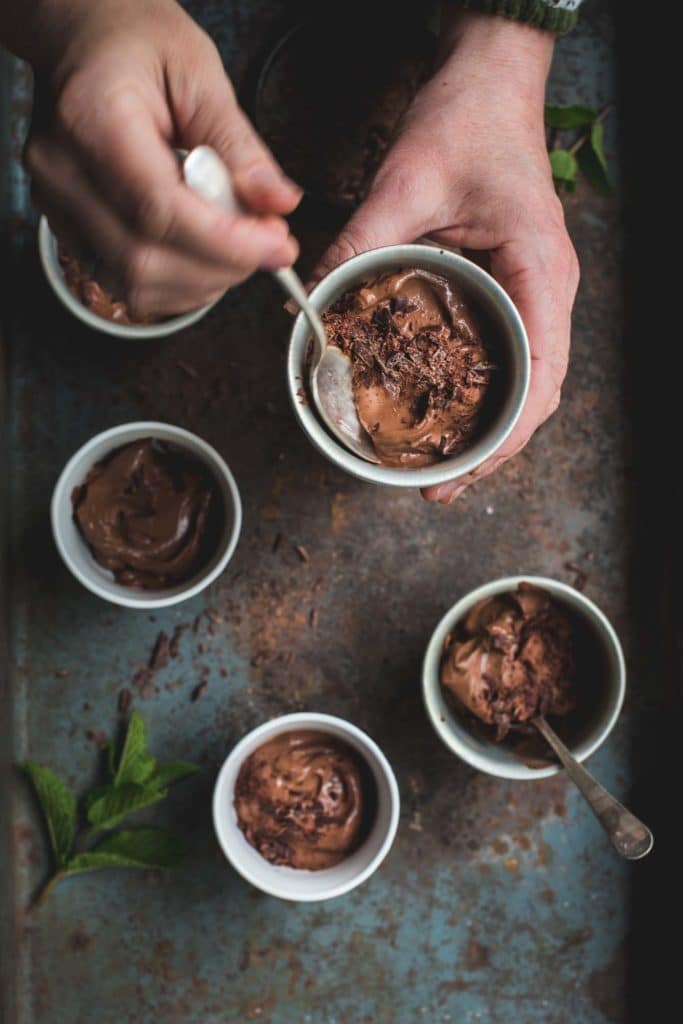 Rich, decadent and so luscious this chocolate mousse in über sinful...but not. It tastes naughty but is made with organic silken tofu (I promise you will not taste it), good quality dairy-free chocolate, peppermint, maple syrup and almond milk. I add a touch of salt to really bring out those flavours but it's not compulsory.
Now, I know some aren't fans of using tofu - I get that - so you can jump on over to Call Me Cupcake for Linda's Vegan Chocolate Mousse recipe made with aquafaba. It looks phenomenal but I don't want to whip this year so we are using trusty tofu. I use organic silken tofu.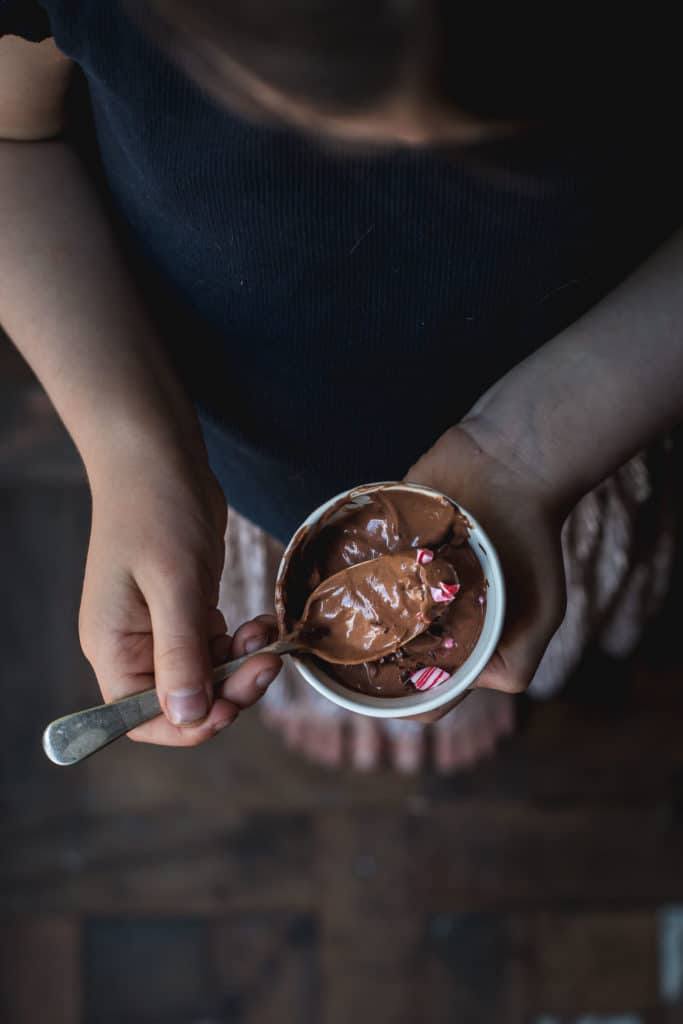 How To Make A Simple Vegan Mousse
This mousse is so simple. Let's do it!
Step 1. Place the tofu on kitchen paper to drain for around 5-minutes. This will drain a good amount of the liquid.
Step 2. Set up a bain-marie on your stove by filling a small saucepan with about 2-inches of water. Place a larger glass or steel bowl on top of the saucepan making sure the water doesn't touch the bottom of your bowl. Turn the heat on to low and place your chocolate in the bowl to slowly melt. Slow is better.
Step 3. Add the tofu, maple syrup, almond milk and peppermint to a blender and blend until smooth.
Step 4. When the chocolate is completely melted carefully remove it from the heat and allow it to cool for a minute or two to make it safer to use.
Step 5. With the blender running, carefully add the melted chocolate to the tofu mixture in a steady stream. Add a small pinch of salt and blend until the mousse is glossy and completely combined. You may have to stop the blender to scrape down the sides.
And that's it! You can refrigerate the mousse for a thicker texture or eat it straight away.
A wonderfully simple vegan dessert fit for the festive table or any table you please. I serve mine with dark chocolate shavings but you could - and we have - crushed candy canes and sprinkle them on top of the mousse for a truly holiday twist.
However you celebrate, do it with love. Everything tastes better that way.
Enjoy, x.
Hungry for More Plant-Based Goodness? Subscribe to my newsletter and follow along on Facebook, Pinterest and Instagram for all the latest news and updates
If you like this recipe, please check out my cookbook. Great Vegan Meals for the Carnivorous Family is full of simple, carnivore-approved family recipes.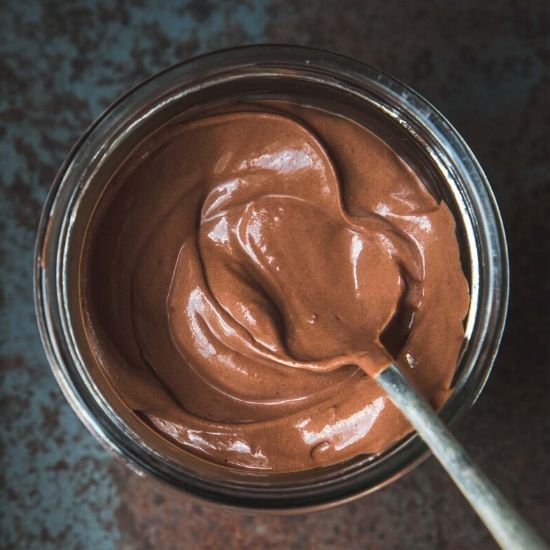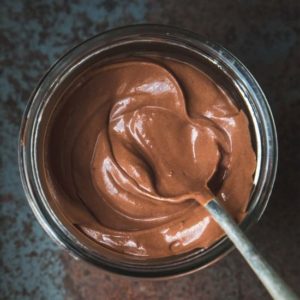 Peppermint Chocolate Vegan Mousse
Rich, glossy swirls of chocolate with a hint of mint, this peppermint chocolate vegan mousse recipe  takes just minutes but is a decadent and gorgeous bowl of delicious.  
Print
Pin
Rate
Ingredients
200

grams / 7 oz

dairy-free dark chocolate

best quality to can manage

300

grams / 10 oz

organic silken tofu

placed on a paper towel for 5 minutes to drain

2 and ½

tablespoon

maple syrup

½

cup / 125 ml

chocolate almond milk

¼

teaspoon

peppermint extract

pinch

fine sea salt
Instructions
Create a bain-marie. Place a heat-proof glass bowl over a saucepan of water (the bowl shouldn't be touching the water, so make sure to pick a small plan and a big bowl) over low heat. Add the chocolate to the glass bowl and allow it melt slowly while you prepare the tofu.

After draining the tofu on a paper towel add it to a blender with the maple syrup and chocolate almond milk and blend it until smooth.

Carefully add the melted chocolate to the blender - while the blender is running on low speed - along with the peppermint extract and a small pinch of salt and blend until smooth. You may have to turn off the blender and scrape down the sides to completely combine the mixture.

You can now serve as is or pop the mousse in the fridge to serve later.
Notes
You can melt your chocolate in the microwave if you prefer. Simply pop the chocolate in a heat-proof bowl and microwave for 30 seconds (or 20 seconds if at a high temperature) then take the bowl out and give it a stir. Pop the bowl back in the microwave and repeat the process of cooking for 30 seconds, stopping, stirring and returning until the chocolate is melted through. 
Nutrition
Calories:
279
kcal
|
Carbohydrates:
27
g
|
Protein:
6
g
|
Fat:
16
g
|
Saturated Fat:
9
g
|
Cholesterol:
2
mg
|
Sodium:
35
mg
|
Potassium:
416
mg
|
Fiber:
4
g
|
Sugar:
18
g
|
Vitamin A:
92
IU
|
Vitamin C:
1
mg
|
Calcium:
96
mg
|
Iron:
4
mg
Tried This Recipe?
I'd love to hear your feedback. Rate it & leave your feedback in the comments section below. Or you can tag @mygoodnesskitchen or hashtag #mygoodnesskitchen on Instagram. Thank you!