An easy and quick curry loaded with warm ginger and spiced flavour, this Japanese Tofu Curry is a balanced bowl of goodness ready in 30 minutes.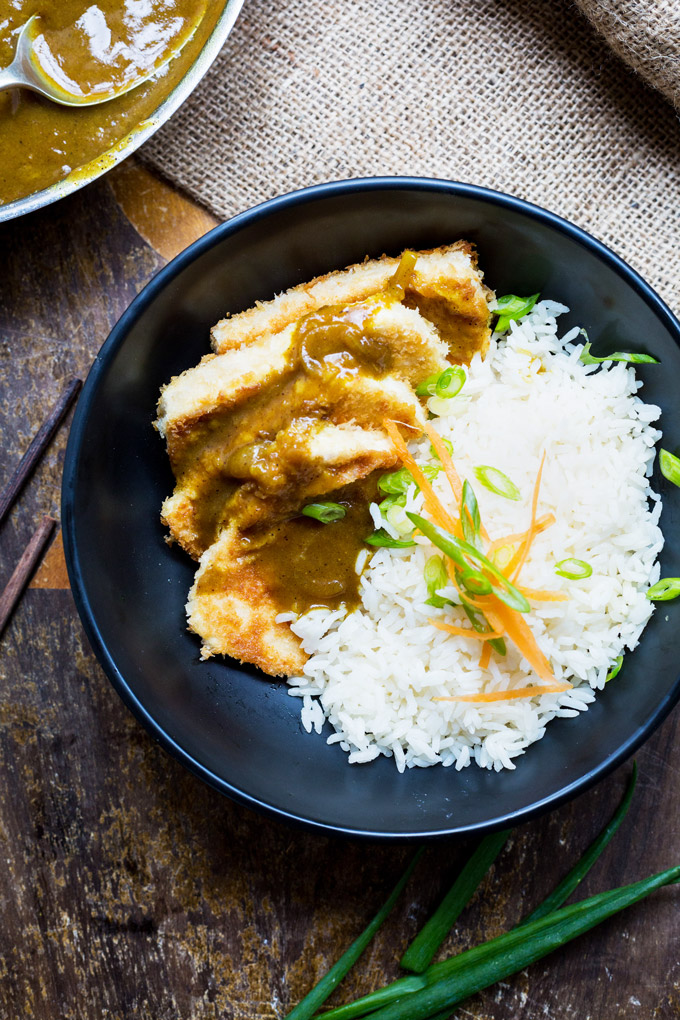 We have a lovely little Japanese kitchen not two minutes from our house where we are regular customers. It's our go-to when Mummy isn't up to battling the Elf to eat her dinner; she loves her maki rolls, I love not arguing so it's a win-win. I am faithful to the kitchen's Tofu Teriyaki-don and am planning to heist the recipe but I also catch myself eyeing off the Husband's Chicken Katsu Curry. I don't indulge, obviously, but I am a human-girl flawed like everyone else and I must confess – that chicken curry smells good. I am not a vegan warrior, I am a meat and dairy-free human who still remembers how yummy that stuff is and reminds herself regularly – I love the animals more. It can be a tough gig especially when the yummy is wafting under my nose from the Husband's bowl.
However, where there is a will there is a way and after breaking down the original katsu chicken curry recipe I find the yum isn't in the bird, it's in the SAUCE.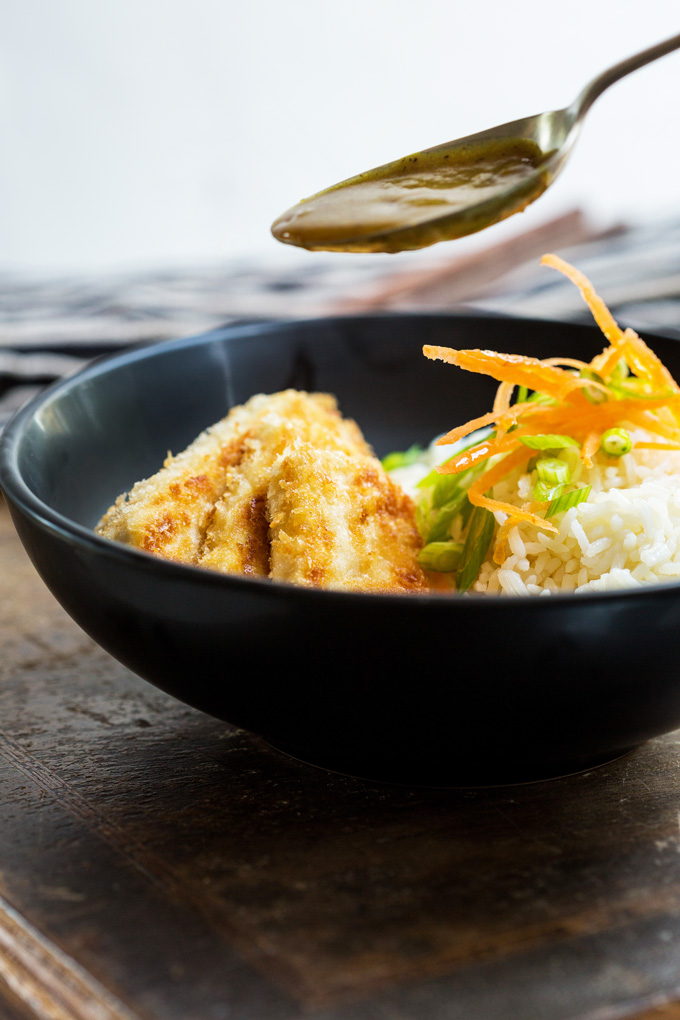 Japanese Tofu Curry in less than 30 minutes
I based this vegan version of Japanese Tofu Curry on a lovely recipe from Emma Knowles  and am so completely chuffed with the result. The sauce in this curry is slightly sweet, warmly ginger-ish and spiced just enough with garam masala and curry powder. Additionally, this curry sauce is quick. While I do love slow cooked curries with their layers of deep flavours, I can't go past a deeply flavourful sauce made in fifteen minutes flat.
To balance the creamy, thick sauce texture and to best emulate the original chicken katsu ("katsu" is short for "katsuretsu" the Japanese transliteration of the word cutlet), I crumbed slices of silky tofu in panko crumbs and fried. Ooo la la – no wait, that's French. I didn't take Japanese at school. Holy miso paste that's good? I am calling it; vegetables or tofu cooked to crispy perfection in panko crumbs is always a good idea. Unless you're gluten-free. Sorry
Served with a steamy bowl of jasmine rice, a scattering of spring onion and julienne carrots, this Japanese tofu curry is a quick, flavourful and wonderfully layered curry option. Quick to prepare this warming, gently ginger and slightly spiced curry will certainly make many more appearances on our table. The Husband doesn't miss the chicken and the Elf even ate her share. In a family of omnivores, this is high praise indeed.
Enjoy.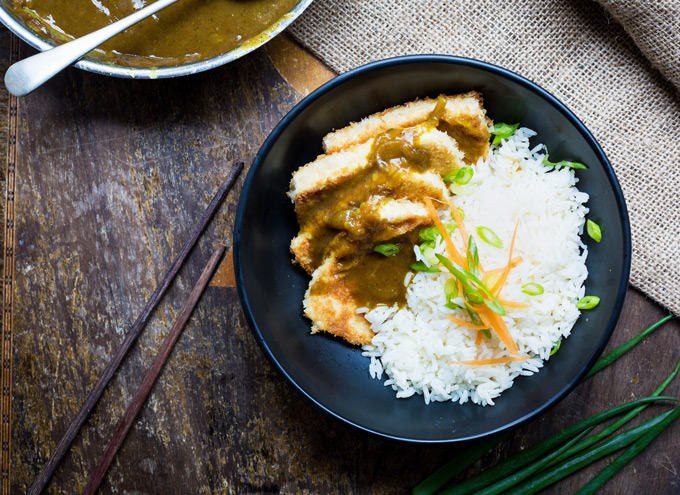 Japanese Tofu Curry
An easy and quick curry loaded with warm ginger and spiced flavour, this Japanese Tofu Curry is a balanced bowl of goodness.
Ingredients
Sauce
2

tablespoon

vegetable oil (not olive)

1

brown onion

finely sliced

1

teaspoon

grated fresh ginger

2

garlic cloves

minced

1

teaspoon

5ml curry powder

2

tablespoon

plain flour (I use spelt because that's what we keep in the pantry)

1 1/2

cups

vegetable stock

3

tablespoon

tamari

1 1/2

teaspoon

rice syrup or honey

1

teaspoon

rice vinegar

1

teaspoon

garam masala

300

grams

medium to firm

Momen tofu

1/4

cup

soy or almond milk

2

tablespoons

flour

1/3

cup

panko crumbs

vegan

vegetable oil to shallow frysteamed rice to servesliced shallots or spring onions to servejulienne carrots to serve
Instructions
To make the curry sauce, heat the vegetable oil in a pan over medium-high heat.

Add the onion, ginger and garlic and sauté until tender, around 3 minutes.

Add curry powder and stir until fragrant.

Stir in flour and cook for 1 and half minutes.

Slowly whisk in the stock, add the soy sauce and rice syrup and simmer stirring occasionally for 10 minutes or until sauce thickens.

Stir in rice vinegar and garam masala and keep warm.

To make the crispy tofu, turn tofu out on to a kitchen towel to drain.

Slice tofu block in to 1cm (approx 1/2 inch) thick slices.

Put flour on a plate, the milk in a medium bowl and the Panko crumbs on another plate. Sit them beside each other with a large plate at the end to put the finished crumbed tofu.

Roll each slice of the tofu in the flour, then the milk and finally roll in the crumbs.

Heat enough oil to fill a fry pan 1/2 inch. Test heat by flicking some cold water in, if it sizzles, it's ready.

Shallow fry the tofu for around 2 minutes on each side or until golden. Place on kitchen paper to drain.

To serve, place a few good spoons of steamed rice on to a plate or in a bowl, place the crumbed tofu around and spoon a curry sauce over. Serve with fresh shallots and carrot