Last updated on May 12th, 2021 at 10:03 am
Anyone who has smeared a good dollop of peanut butter on to a freshly sliced, crisp apple will love this peanut butter apple oats jar recipe.
I am a bit late to the overnight oats party. Truth be told, I am a bit late to the breakfast party. I know, know Mea Culpa, Mea Culpa but breakfast is just so...early. The sun has barely peeped above the hill tops when my wee army wakes full of boisterous energy. Most mornings I can soften the din by burying my face up to my ears in a giant jar of soy iced coffee. Who knew little people and large dogs equaled ruckus? Who can think let alone cook at that time of the morning? Don't put your hand up, no-one likes a smarty pants.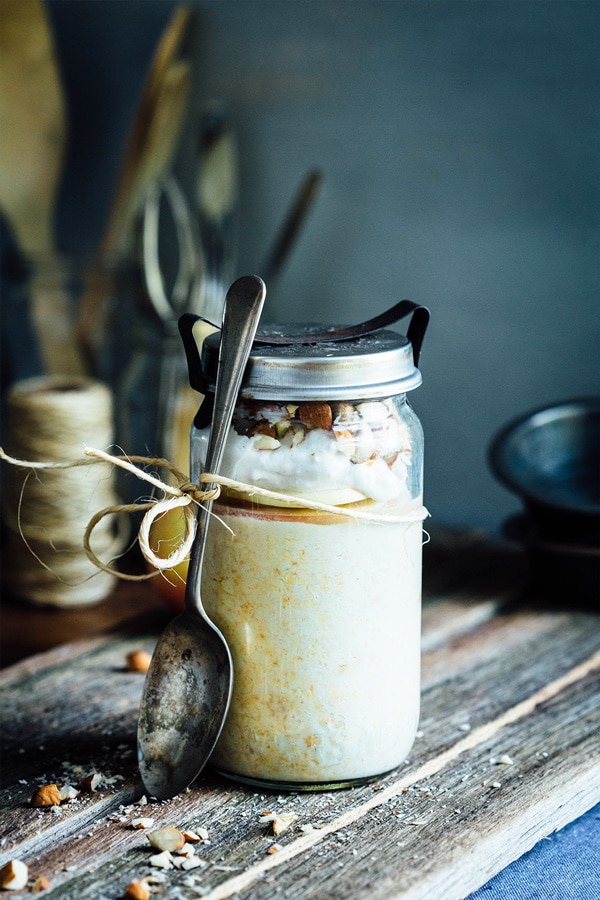 ---
The true beauty of overnight oats is that they require absolutely no thought on your part in the morning. Ding, ding ding, we have a winner! Open fridge. Remove oats from shelf. Close fridge door. Find clean spoon. For the morning impaired among us, myself included, recipes like this peanut butter apple oats jar are a lifeline.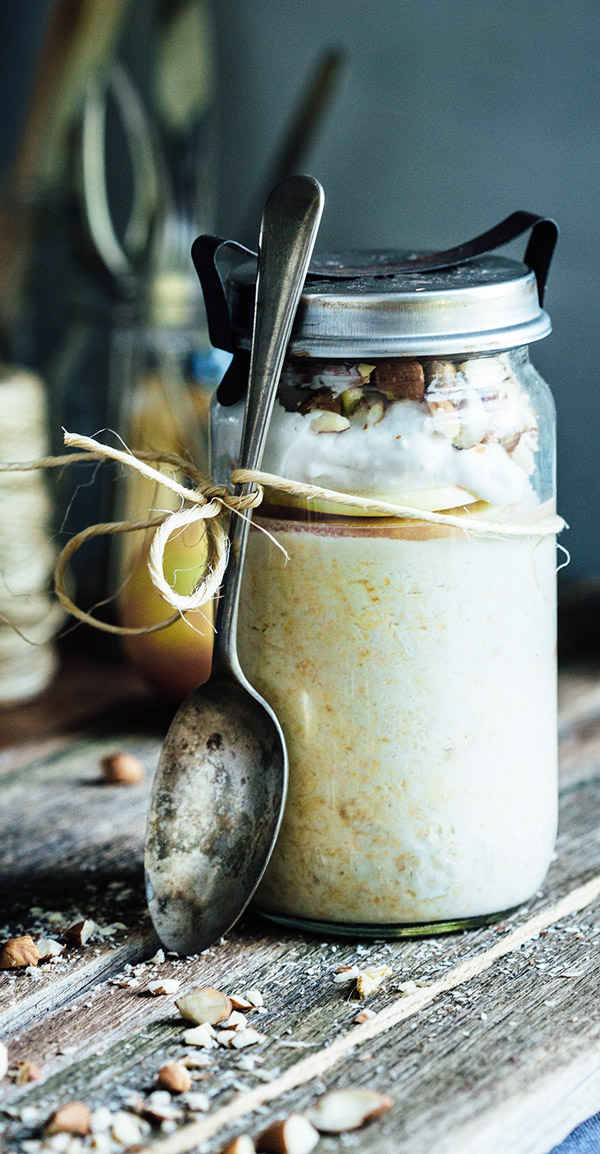 I am a wee bit tired tonight. It has just gone 7 pm and after going toe to toe for an hour and a half I have sent the elf to bed with no dinner. What is it with this age? I cook the dinner. I serve the dinner. I know she likes the dinner, I've made her favourite so I am a little (a lot) stunned when she turns her head with the deliberate slowness of a three-toed sloth, peers down her sweet nose and says, "No. I won't."
Won't what? Won't devour this meal I've cooked so lovingly too fast for fear of missing its many flavoursome notes? Won't choke as I shove too much of this awesomeness in my gob?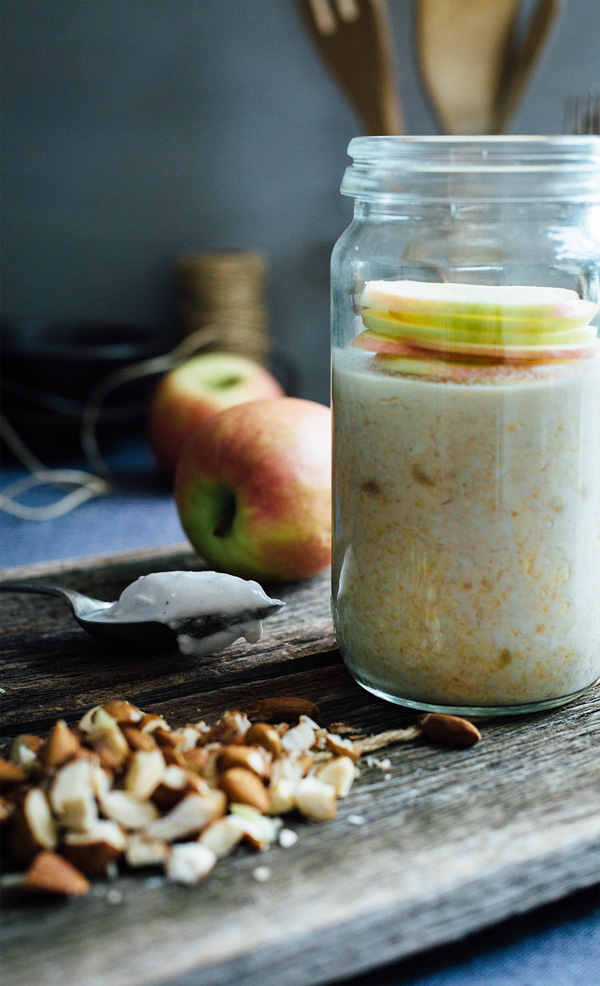 Nope. Just won't. Won't eat it. Won't look at it. Won't look at you while befuddlement spreads across your slack jawed face. My toes are far more interesting. Look at how I can put them over my own head while you sputter helplessly about the nutritional benefits of baby spinach. Wheeeeeeeee!
Holy Toledo Batman, my elf is one tough kid. She is amazing and sweet and kind and funny...and as stubborn as a size six shoe on a size eight foot. Lord help me, I even caved in bed giving her a little bowl of yogurt before she gave one final sniffle, turned and went to sleep.
But for now, I am sitting with my ally the beautiful well-meaning Great Dane, her head resting on my knee and the last of my peanut butter apple oats jar at my foot. One good thing about sending the elf to bed early is I don't have to share.
OK, About Those Oats...
I was inspired to make these oats by a simple snack I love to nosh, peanut butter with sliced apple. I love the buttery nuttiness cut by the crisp tartness of fresh apple. This peanut butter apple oats jar recipe is so simple to make; peanut butter and maple oats infused overnight with sliced apple, coconut yoghurt and chopped almonds to serve. You could also serve it with chopped peanuts but I wanted crunch not salt.
This recipe is in the vein of my Mexican Chocolate Chia Pudding so if, like me, you make your best breakfasts the night before, this might be a good one for you. Enjoy, x.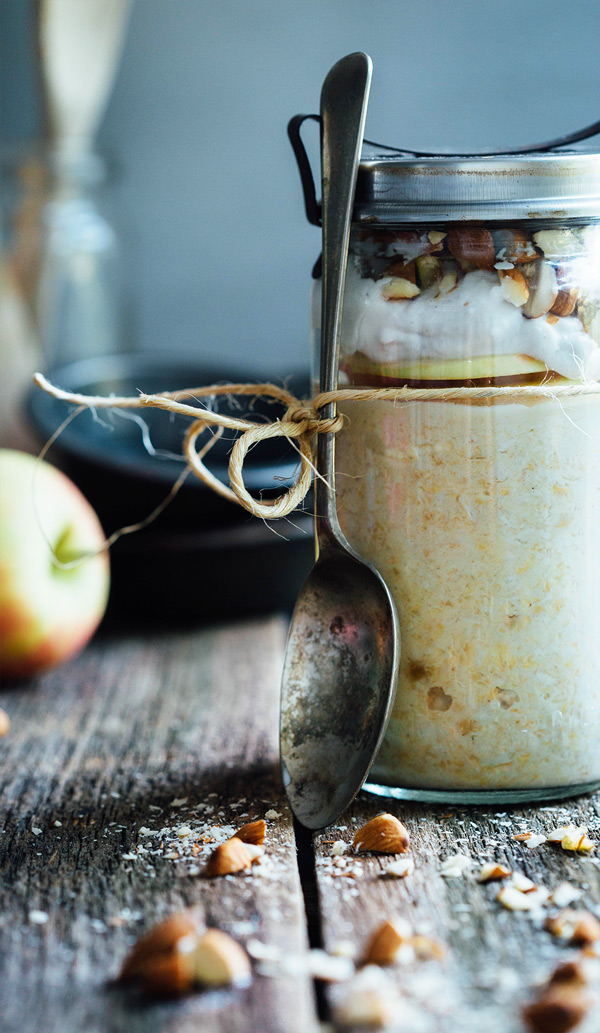 If you like this, you might like to check out these:
Hungry for More Plant-Based Goodness?  Subscribe to my newsletter and follow along on Facebook, Pinterest and Instagram for all the latest news and updates
If you like this recipe, please check out my cookbook. Great Vegan Meals for the Carnivorous Family is full of simple, carnivore-approved family recipes.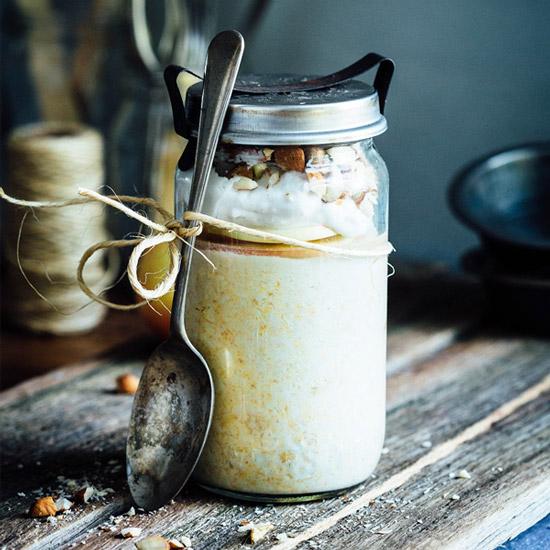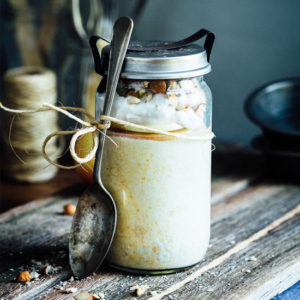 Ingredients
⅔

cup

dairy-free milk

1 ½

tablespoon

natural peanut butter

2

teaspoon

maple syrup

or more if you like sweeter

½

cup

rolled oats

heaping

½

tablespoon

chia seeds

2

tablespoon

natural yoghurt

(optional)

small pinch of salt
Toppings
1

crisp apple

sliced thinly (optional)

1

good dollop of coconut or regular yoghurt

2

tablespoon

chopped peanuts
Instructions
Add the milk, peanut butter and maple syrup to a jar or bowl and stir in the oats, chia seeds, salt and yoghurt (if using) until combined.

Cover with cling wrap, foil or a lid and pop in the fridge to rest at least 2 hours but overnight is best.

Remove from the fridge and place a thick layer of sliced apple over the oats.

Dollop a good amount of coconut yoghurt on top and add chopped nuts.
Notes
The Nutritional Breakdown is for the overnight oats. Any toppings will change the amounts indicated. 
Nutrition
Calories:
363
kcal
|
Carbohydrates:
48
g
|
Protein:
14
g
|
Fat:
13
g
|
Saturated Fat:
3
g
|
Trans Fat:
1
g
|
Cholesterol:
5
mg
|
Sodium:
138
mg
|
Potassium:
538
mg
|
Fiber:
7
g
|
Sugar:
15
g
|
Vitamin A:
661
IU
|
Vitamin C:
12
mg
|
Calcium:
346
mg
|
Iron:
3
mg
Tried This Recipe?
I'd love to hear your feedback. Rate it & leave your feedback in the comments section below. Or you can tag @mygoodnesskitchen or hashtag #mygoodnesskitchen on Instagram. Thank you!