Last updated on November 4th, 2020 at 03:32 pm
"Unbelievable vegan pot pies! These are seriously amazing and taste just like chicken pot pies...seriously a game changer." Trish Bozeman from Rhubarbarians. Read on, McDuff.  This vegan pot pie recipe is a game-changer.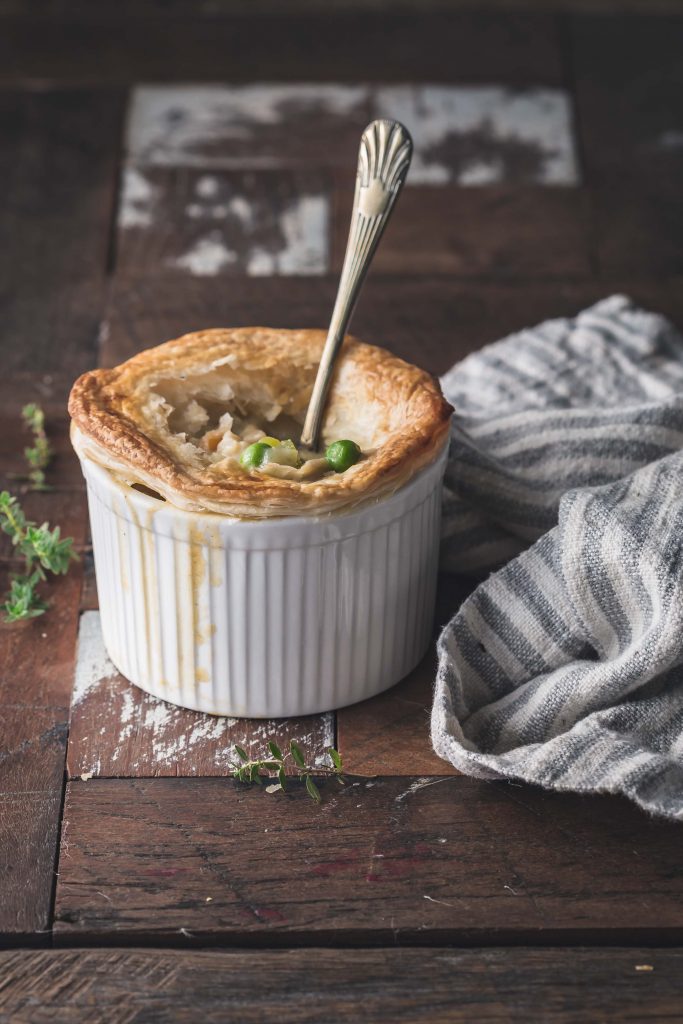 At the risk of tooting my own horn, I am going to agree with Trish. These vegan chicken-style pot pies from my cookbook changed my dinner game. As I pulled these little guys from the oven I realised I could feed my family vegan meals and I didn't have to turn myself inside-out to do it. These vegan pot pies are simple, inexpensive and wonderfully traditional.
A little over a year ago Page Street Publishing approached me to produce a vegan cookbook that would appeal to both vegans and omnivores. Being that my whole brand is about feeding plant-based meals to committed omnivores - you can read about that in my about page - it felt like a great fit.
Besides being omni-friendly, we decided to try and create a vegan cookbook specifically for families.
For me, that meant two things. Firstly, I wanted to fill my book with recipes that even the busiest of bees would have to time to create so they had to be simple and fuss-free. I live on fuss-free; recipes you can just walk away from, literally. Check out my walk-away chickpea tomato and spinach curry.
Secondly, I needed the recipes to be both approachable and affordable.
Vegan cooking has a reputation for being expensive and I get that. Cashews, super-grains and faux meats are not cheap  and they feature heavily in a lot of plant-based recipes. In creating Great Vegan Meals for the Carnivorous Family I wanted to move away from that and limit the use of those pricier ingredients. On the whole, I think I did.
With recipes like Vegan Chicken Noodle Soup, Eggless Savory French Toast and Portobello Fajitas I am pretty confident my book  will help to make vegan meals simpler and more affordable. Maybe "hopeful" is a better word. I hope I have created a a useful and dependable resource for busy and/or fussy families.
A Game-Changing Pie
Game-changing? Really?
I know, I do love me a little hyperbole but these pies are pretty awesome. Made traditionally but with shredded king oyster mushroom in place of chicken, these vegan pot pies taste just like a regular chicken pot pie.
I've said it before and I'll say it again, king oyster mushrooms are the bomb. I use them in my vegan po'boy recipe, my mushroom & chickpea tikka masala and sometimes in my vegan chicken noodle soup.  They are my favourite vegetable meat replacer.
If you haven't tried them, I cannot urge you enough. I buy mine at my local Asian grocer and they come in at around $3.00 for a bag of 4. If you haven't seen them, they are big so they go a long way. Shredded and then simmered in a vegan stock with vegetables, bay leaves, garlic and thyme these delicate tasting mushrooms are a dead-ringer for tender chicken pieces.
This is pure vegan comfort food. Serve with a side of crispy smashed potatoes with garlic and a green salad and you'll be food heaven. Enjoy, x.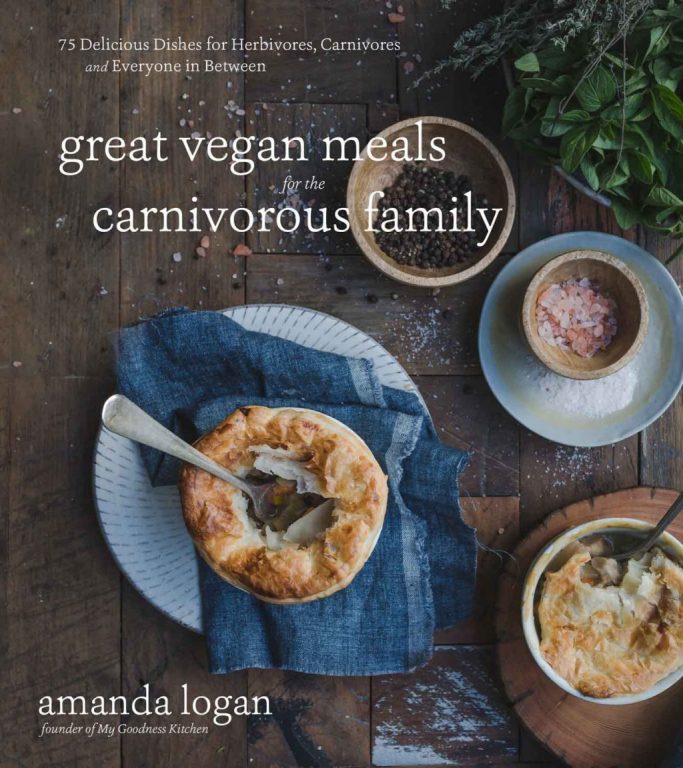 Hungry for More Plant-Based Goodness?  Subscribe to my newsletter and follow along on Facebook, Pinterest and Instagram for all the latest news and updates.
The Best Vegan Pot Pie Recipe
"Unbelievable vegan pot pies! These are seriously amazing and taste just like chicken pot pies...seriously a game changer." Trish Bozeman from Rhubarbarians.
Ingredients
8

king oyster mushrooms

1

tbsp

tamari

2

tbsp

vegan butter spread

1

white onion

finely diced

2

medium carrots

peeled and diced

2

celery ribs,

diced

2

garlic cloves

finely chopped

3

tbsp

all-purpose flour

2

cups

vegetable stock

3

thyme sprigs

leaves removed and chopped

2

bay leaves

½

cup

dairy-free milk

2

tsp

dairy-free milk

for brushing the pies

¼

tsp

black pepper

½

tsp

salt

½

cup

fresh or frozen peas

2

sheets vegan puff pastry, thawed
Instructions
Wipe the king oysters mushrooms down with a clean cloth to remove any grit. Chop 1 inch of the stalk to remove the tough base. Carefully but firmly drag the prongs of a fork down the length of the mushroom to shred the "meat" (this is easier if you lay the mushroom down.) Place in a bowl and gently stir in the tamari, then set aside.

Melt the vegan butter in a large pan over low to medium heat and add the onion, carrots, celery and garlic. Cook for around 5 minutes or until the vegetables are tender. Stir in the flour and cook for another 3 minutes, stirring occasionally. Add the vegetable stock, thyme, and bay leaves and stir in the milk, pepper, and sea salt. Bring the mixture to a simmer. Stir in the shredded mushrooms and reduce the heat to low. Cook the pie filling for 10 minutes or until the liquid has reduced to a pie gravy consistency. Remove from the heat, stir in the peas and set side while you prepare the puff pastry.

Preheat the oven to 420 degrees F.

To prepare the pastry, place a ramekin or pie pot upside down on the thawed pastry and cut a circle a half-inch larger than the dish lip. Repeat with other ramekins. Fill each ramekin with pie filling before laying the pastry over the top. Gently press the edges of the pastry to the side of the ramekin and cut a small slit in the center of each pastry top. Brush a small amount of dairy-free milk on top (not the sides) of the pastry and place the pies in the oven for 15 minutes or until the pastry top is golden
Nutrition
Calories:
579
kcal
|
Carbohydrates:
16
g
|
Protein:
12
g
|
Fat:
52
g
|
Saturated Fat:
13
g
|
Sodium:
1418
mg
|
Potassium:
359
mg
|
Fiber:
4
g
|
Sugar:
6
g
|
Vitamin A:
5995
IU
|
Vitamin C:
15.5
mg
|
Calcium:
92
mg
|
Iron:
4.2
mg