Last updated on December 26th, 2022 at 06:17 pm
This eggplant stir fry looks like a noodle dish but those gorgeous silky strands are enoki mushrooms! Perfectly gluten-free and low in carbohydrates, this noodle-not-noodle stir-fry is vegan and shove-in-to-your-face delicious.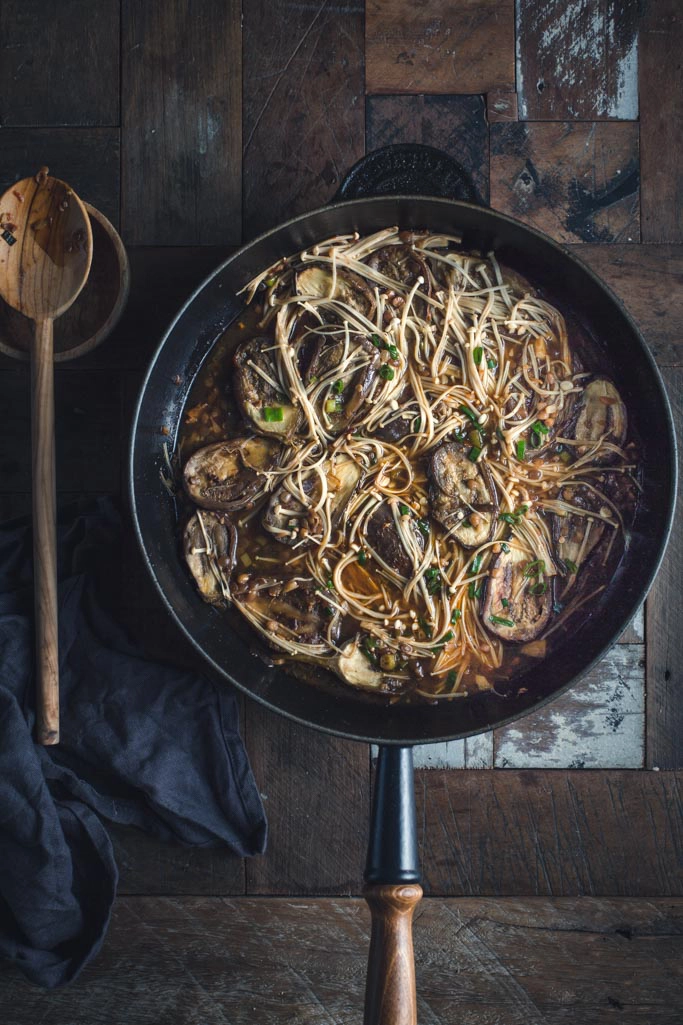 I have been on a mission to find balance. I tend to take on too many things and without a golden lasso and the goddess-like ability to create extra hours in the day, I have a habit of flapping around accomplishing little.
So, I am blogging a little less but hopefully what I do post is more useful to you, my friends. I am worrying less about how my house looks and spending more time with my daughter.
Overall, I am narrowing my focus of activities. I made a list of things I love, things I need to do and things I do but don't serve me. The last being the activities that have been shown the door. Compulsive social media watching? Gone. People pleasing? Gone but on the watch list - that's a tough habit to break. Showering? Kidding.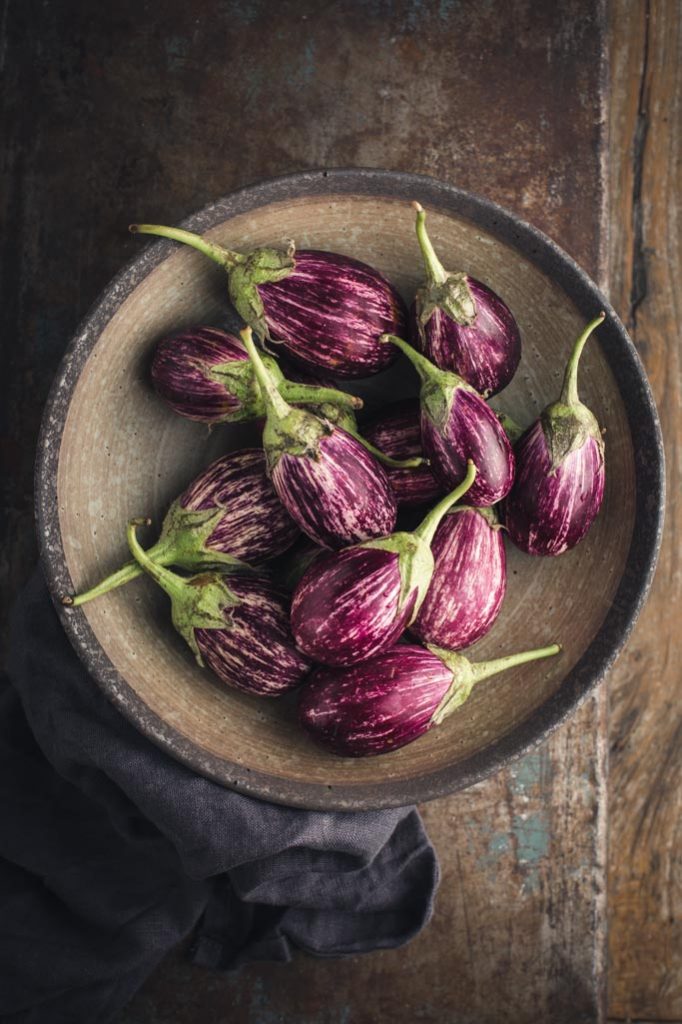 Fingers crossed the newer, streamlined me will do less flapping and more living.
Rest assured, friends, making awesome but simple food totally made the cut and this spicy eggplant stir-fry is one of my new favourite things to eat and it's Husband approved.
Eggplant Stir fry
Originally inspired by Neil Perry's Pork and Eggplant Stir-fry recipe, this vegan version morphed in to something lighter, healthier and so much happier with the addition of ENOKI mushroom "noodles". Even if you don't like mushrooms - my Vegan Kimchi Crispy Mushrooms Burgers may change your mind - I recommend checking out some Asian varieties like enoki or my beloved oyster mushrooms. I use them in my Mushroom & Chickpea Tikka Masala recipe as a meat substitute and they are BRILLIANT. If you're open to it, Asian mushrooms can change your vegan game.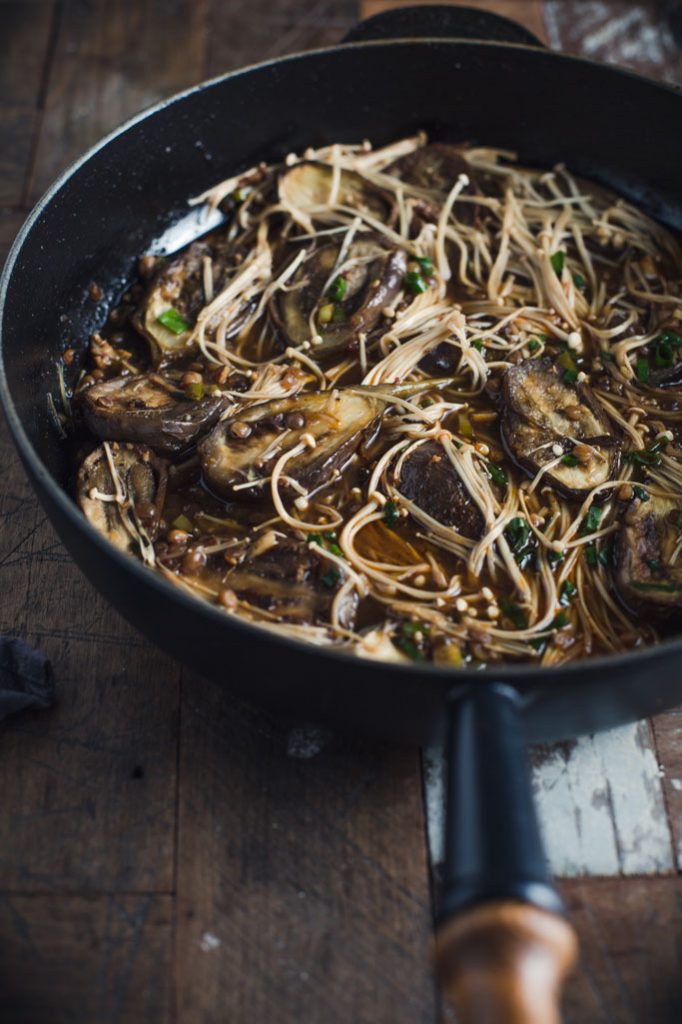 Here, I use enoki mushrooms to mimic noodles but also to add bulk to the stir-fry. While you can serve the stir-fry with steamed rice, the mushrooms add enough body to the dish you don't need to.
And then there's the eggplant. I used gorgeous baby striped eggplants I found in my local green grocer but Japanese eggplant or regular will work equally well. Simply chop them in to wedges or chunks to fit your steamer and you're good to go.
First we steam the eggplant reducing the need for buckets of oil - eggplant is one thirsty mistress - then we toss the pieces in a deglazed pan (no ounce of flavour is left behind) to lightly brown. Tossed in fragrant garlic, ginger and shallots, chilli and hoisin sauce, the soft pillowy eggplant emerges juicy but not oily and loaded with spice.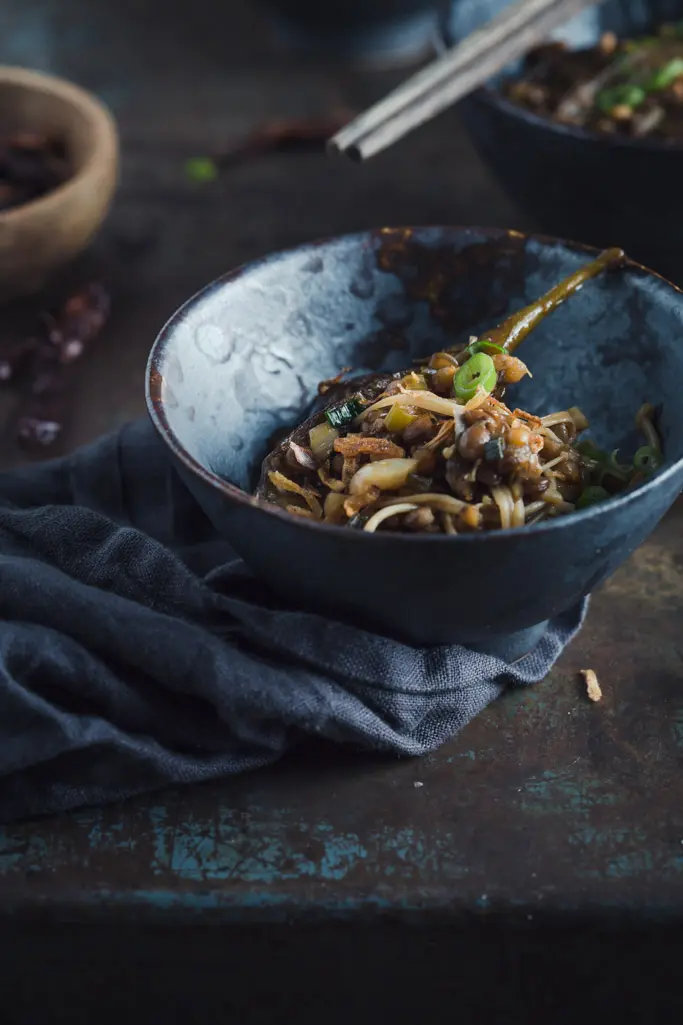 Our spicy eggplant stir-fry is finished with reduced vegetable stock, lentils and our beautiful enoki "noodles."
While lighter and healthier than the dish it was inspired by, this stir-fry is lip-smacking good. Spicy plump eggplant and silky enoki noodles combine in a flavour-packed, lip tingling bowl. Enjoy.
Hungry for More Plant-Based Goodness? Subscribe to my newsletter and follow along on Facebook, Pinterest and Instagram for all the latest news and updates.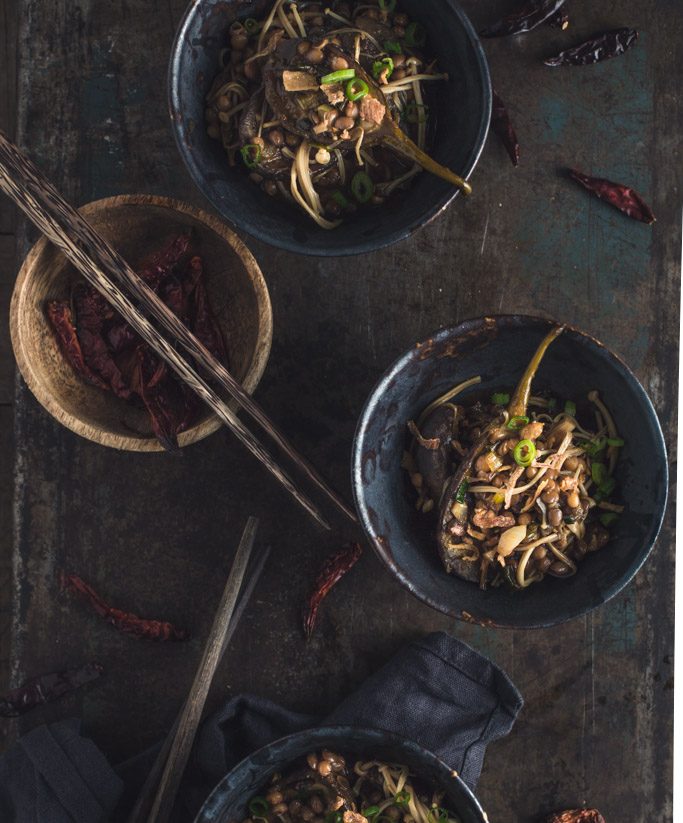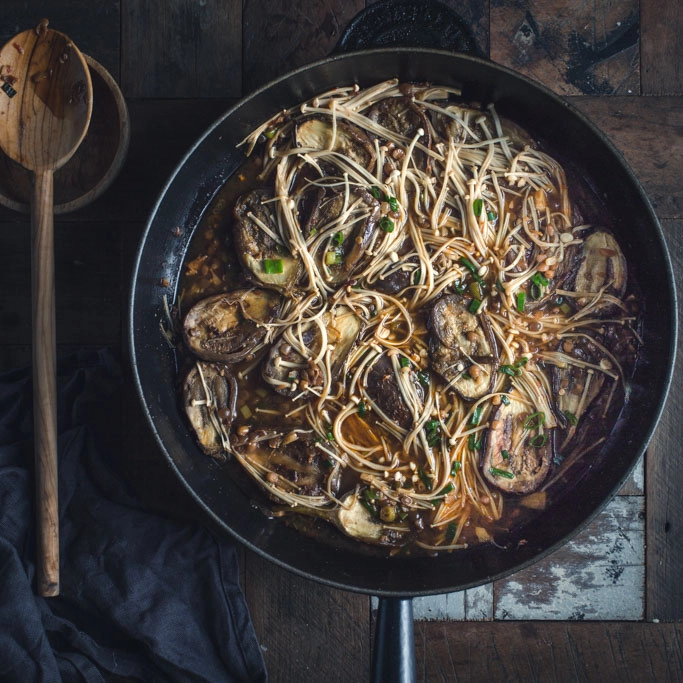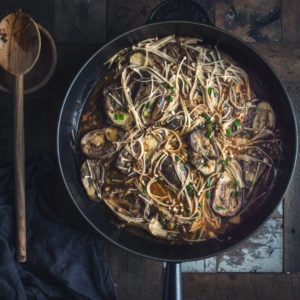 Spicy Eggplant Stir-fry with Enoki Mushrooms
This spicy eggplant stir fry looks like a noodle dish but those gorgeous silky strands are enoki mushrooms! Perfectly gluten-free and low in carbohydrates, this noodle-not-noodle stir-fry is vegan and shove-in-to-your-face delicious.
Print
Pin
Rate
Ingredients
350

grams

eggplant, cut in to ½ inch thick wedges or diced

I used baby striped eggplants

1-2

tablespoon

peanut oil

3

garlic cloves, minced or crushed

1

tablespoon

fresh ginger, finely grated

2

spring onions (shallots), finely sliced

½

cup

cooked brown lentils

100

grams

Enoki mushrooms, trimmed and gently wiped clean
Stir Fry Sauce
1

tablespoon

chilli sauce

I used Sambal Oelek

1

tablespoon

Hoisin sauce

2

teaspoon

Shaoxing wine

2

tablespoon

light soy sauce

2

teaspoon

raw caster sugar

1

cup

vegetable stock

2

spring onions , finely sliced

to garnish

¼

fried shallots

to garnish
Instructions
Fill a large saucepan a quarter way up and put over high heat to come to the boil. Reduce the heat and place the cut eggplant in to steamers (I used two stackable bamboo steamers) and place over the boiling water to steam for 20 minutes or until tender but not falling apart. Remove from the heat.

Heat the peanut oil in a wok or cast iron skillet over medium to high heat and add the garlic, ginger, spring onions, chilli and hoisin sauce and stir-fry until fragrant. (Be careful of oil spatter)

Reduce the heat to medium and deglaze the wok or skillet with the Shaoxing wine and add the soy sauce and sugar. Add the cooked eggplant to the wok and continue to cook for another 2 minutes or until the eggplant begins to brown slightly. Add the lentils, vegetable stock and enoki mushrooms and cook until the sauce thickens, around 3 minutes.

Serve the stir-fry on it's own with the finely sliced shallots and fried shallots. It can also be served over rice or quinoa.
Nutrition
Calories:
192
kcal
|
Carbohydrates:
30
g
|
Protein:
7
g
|
Fat:
5
g
|
Sodium:
1135
mg
|
Potassium:
685
mg
|
Fiber:
8
g
|
Sugar:
13
g
|
Vitamin A:
355
IU
|
Vitamin C:
7
mg
|
Calcium:
34
mg
|
Iron:
2.6
mg
Tried This Recipe?
I'd love to hear your feedback. Rate it & leave your feedback in the comments section below. Or you can tag @mygoodnesskitchen or hashtag #mygoodnesskitchen on Instagram. Thank you!