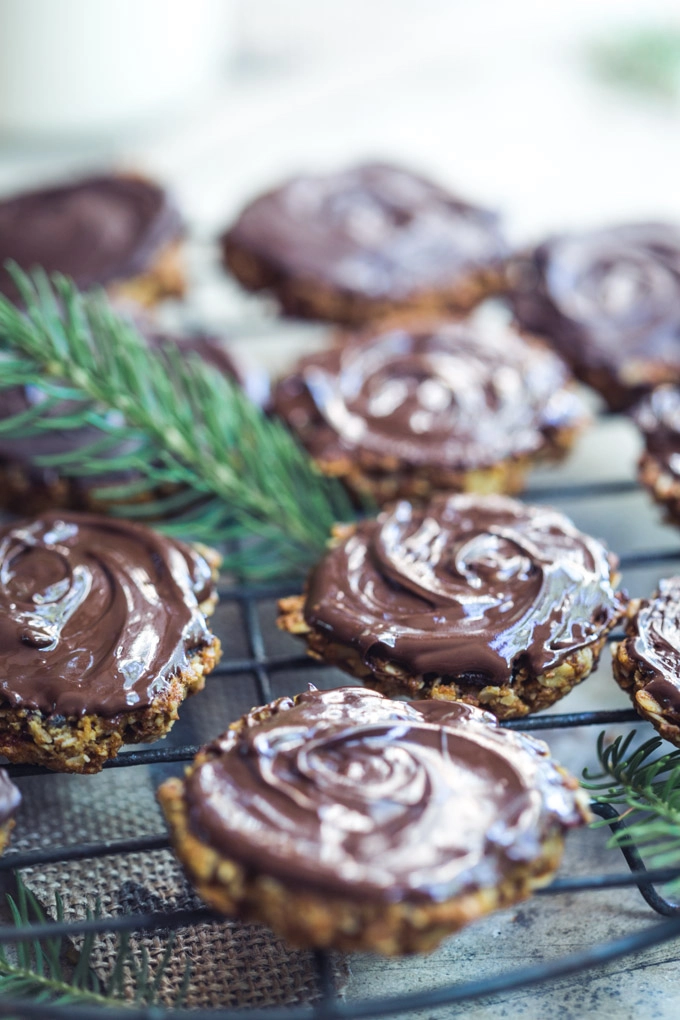 You know what the truly wonderful thing about all the baking recipes on this site is? If the recipe is posted it's because I can make it; if I can make it, so can you. I am not what you would call an artisan baker.
I am a bit of an instinctive cook; something inspires me and I play in the kitchen with some confidence that the flavours will work. Baking doesn't necessarily work that way; it may for more experienced bakers but not so much me. Perhaps when I gain more confidence in my skills I will jump on the see-saw but for now I am a baking geek. I research, compare, study and prep before marching determinedly in to the kitchen, rolling pin in hand. Sometimes I flop like my cakes and sometimes things just work out.
These Oatmeal Date and Pecan Cookies worked out. And then some.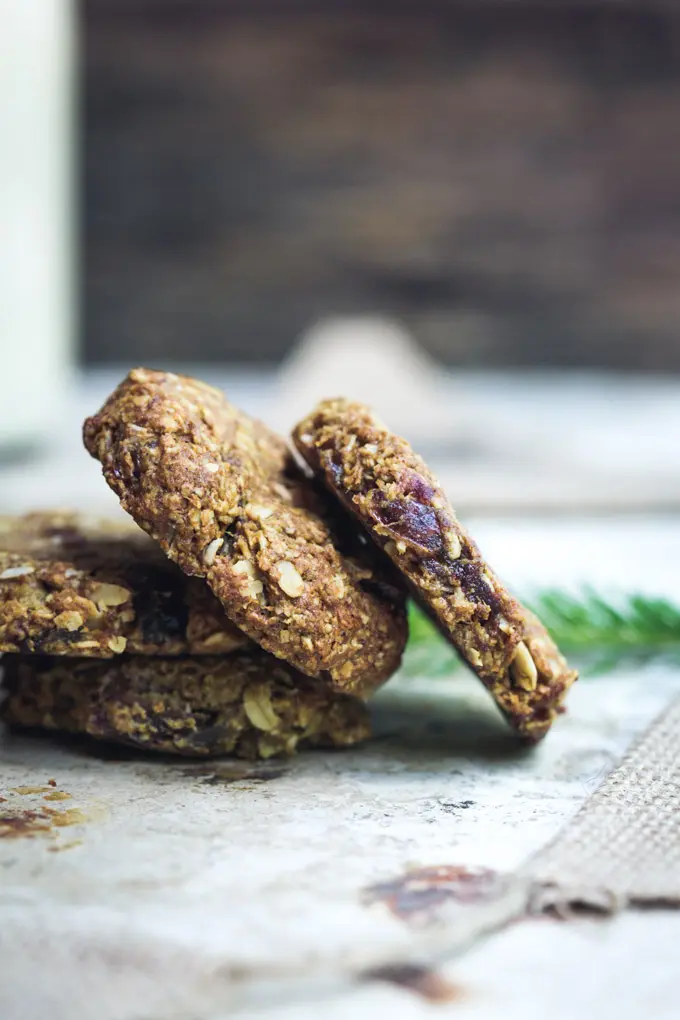 While completely frustrating, epic fails in the kitchen are commonplace and completely necessary. For me, the fall only drives me forward. I trip over my own ambition before getting up and going again, but this time more slowly, more thoughtfully and with intention.
Writer Jon Sinclair said, "Failure is a bruise, not a tattoo".  I like this.
The bruise stings but so does the alternative. If Alice hadn't fallen through the rabbit hole her story would have ended  right there with her sitting in her garden twiddling her thumbs. I don't want my daughter to see me twiddling my thumbs. I want her to see me fail beautifully, fight doggedly and rise occasionally. And so I draft recipes, test them, cook them and photograph them because this blog means something to me and that in turn means something to her. We are both learning from my epic fails.
The caveat to all this is that COOKING SHOULD BE FUN. If it's not, step out of the kitchen and order a pizza. The kitchen will always be there when you get your Stella groove back (pardon the 90's film reference).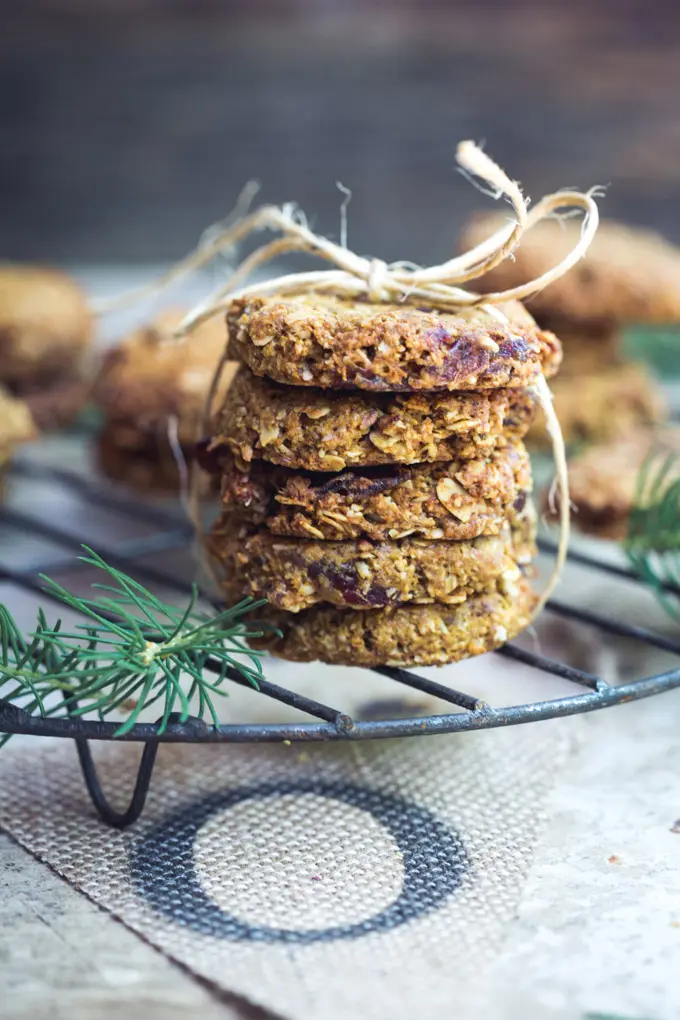 Most of my epic fails occur within the floury vale of the baking realm but not today. Today is a good baking day making all the bad baking days worthwhile. Today I made some truly delicious oatmeal date and pecan cookies. I wanted to make a really lovely, moorish, perfectly balanced cookie and today I did just that.
Now I know people have differing opinions on the perfect cookie texture, shape, and content but for me this cookie is the perfect amount of chewiness, sweetness and balance with the addition of a dark chocolate swirl. The swirl is optional, but the swirl is good.
These oatmeal date and pecan cookies are deliciously balanced with sweet pieces of soft caramel dates, nutty ground pecans and toasted oats finished with bittersweet dark chocolate. Depending on time, you can make your own chocolate or simply melt your favourite vegan variety over a double boiler. The Elf and I made a mixture of both nude and chocolate dipped cookies with the nude cookies being the sweeter variety. I personally like the balance the dark chocolate provides but sweet is always good too.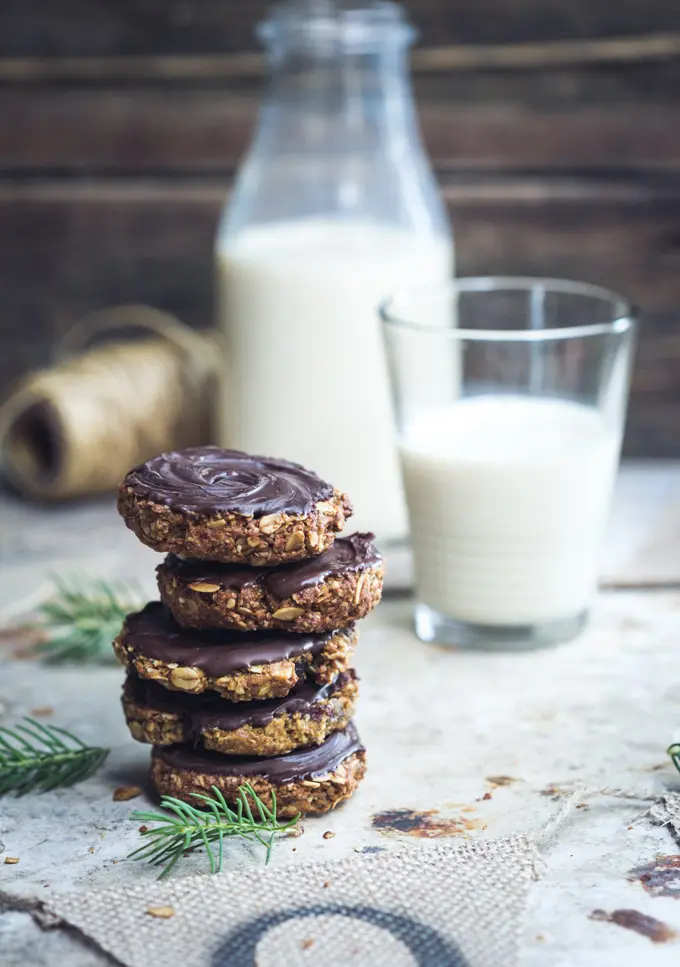 While cookies are hardly a baking Everest, they are a little win for a baking novice like me. Celebrate the little wins and the big wins will come. In the meantime, I will nosh on these wonderful oatmeal date and pecan cookies and ponder my next cooking adventure. Enjoy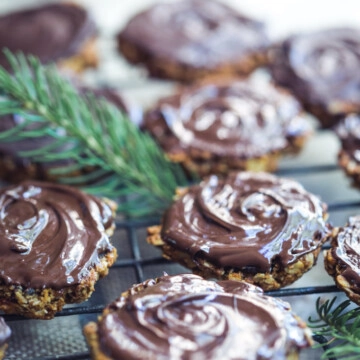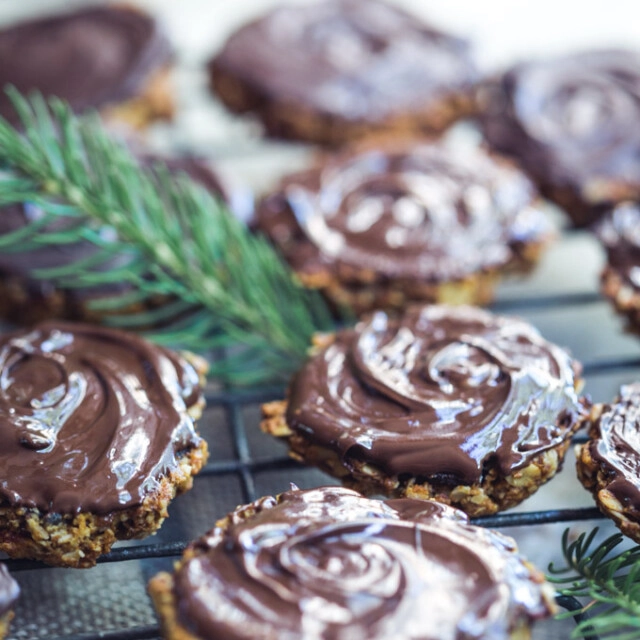 Ingredients
2

cups

500 mL rolled oats

1

cup

250 mL spelt flour

½

cup

125 mL toasted pecans

½

cup

125 mL desiccated coconut

1

teaspoon

5ml baking soda

¾

cup

180 ml unrefined sugar (I used coconut)

¾

cup

medjool dates

pitted and chopped

60

ml

almond or soy milk½ cup coconut oil

melted

1

flax egg

1 tablespoon ground flaxseed and 3 tablespoon water combined and set aside for 3 minutes

1

teaspoon

5 ml vanilla extract

½

cup

125ml dark vegan chocolate
Instructions
Preheat oven to 170 degrees C.

Place baking paper on a baking tray and lay the rolled oats out evenly.

Bake the oats in the oven for 15 to 20 minutes until slightly toasted.

Meanwhile, add the pecans to a small pan and toast them over low to medium heat - take them off the heat when you can smell their toastiness.

When the oats are ready, remove them from the oven and allow to cool.

Turn the oven down to 160 degrees C.

Add half the oats and all of the pecans to a food processor and process to a rough ground.

In a large mixing bowl whisk the dry ingredients, except the dates, together.

In a separate bowl whisk together the flax egg, milk and vanilla. Add the melted coconut oil last.

Add the wet ingredients to the dry and fold until just combined. Fold the dates in.

Using a small ice-cream scoop, scoop out the dough in to balls.

Lay the dough balls on to a lined cookie tray leaving 11/2 (4cm) inches between. Press the dough down with your palm or a spatula to make a flat cookie round (around ½ inch or 1.5 cm).

Bake the cookies in the oven for 12 minutes or until golden.Remove from the oven to cool and crisp up.

To add chocolate, wait for the cookies to cool before setting up a double boiler. Fill a small saucepan ¼ full with water and put on to medium heat. Bring to a simmer. Place a heatproof bowl over the saucepan. Add the chocolate to the bowl and slowly melt.

Remove the melted chocolate from the heat and using spoon, swirl chocolate on to the base of each cookie.

Place the cookies chocolate side up on parchment to set.

Store the cookies in an airtight container for up to 5 days.
Notes
A small ice-cream scoop makes perfect little cookie dough balls and does the rolling for you. 
Tried This Recipe?
I'd love to hear your feedback. Rate it & leave your feedback in the comments section below. Or you can tag @mygoodnesskitchen or hashtag #mygoodnesskitchen on Instagram.