I am so excited to share my vegan gravy recipe with you. Why excited? Because, let's be honest, some vegan gravy tastes like dishwater or worse, chalk, but this one doesn't. This one is thick, glossy and rich with full flavours that are decidedly meat-like. This gravy is traditional without the tradition.
Served over some gorgeous smashed potatoes with miso butter and softly roasted leeks and our vegan Christmas feast is almost complete.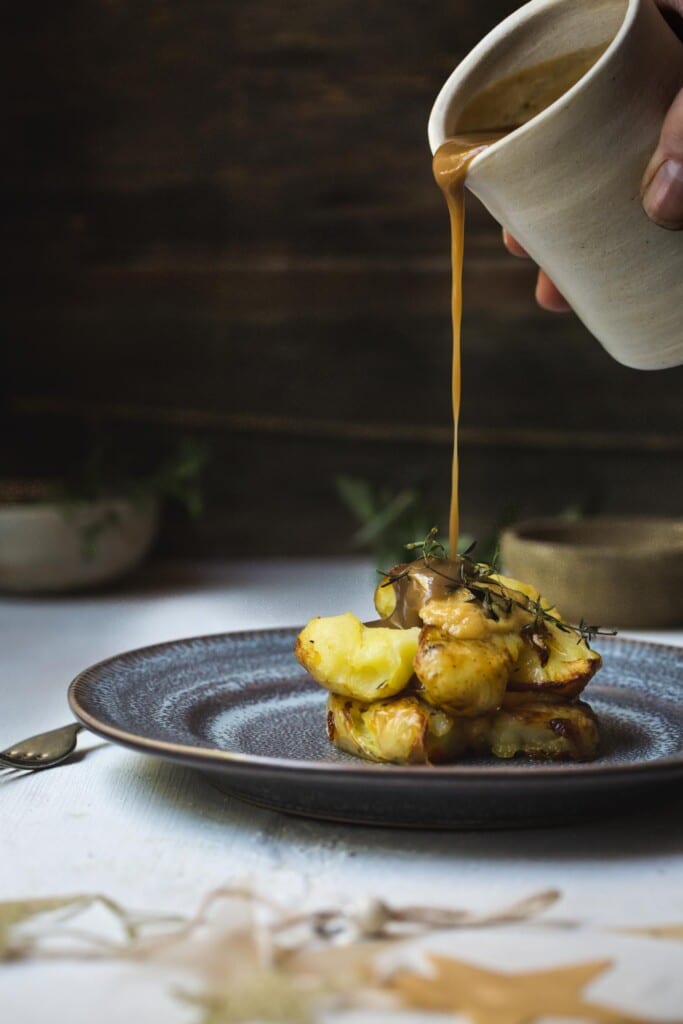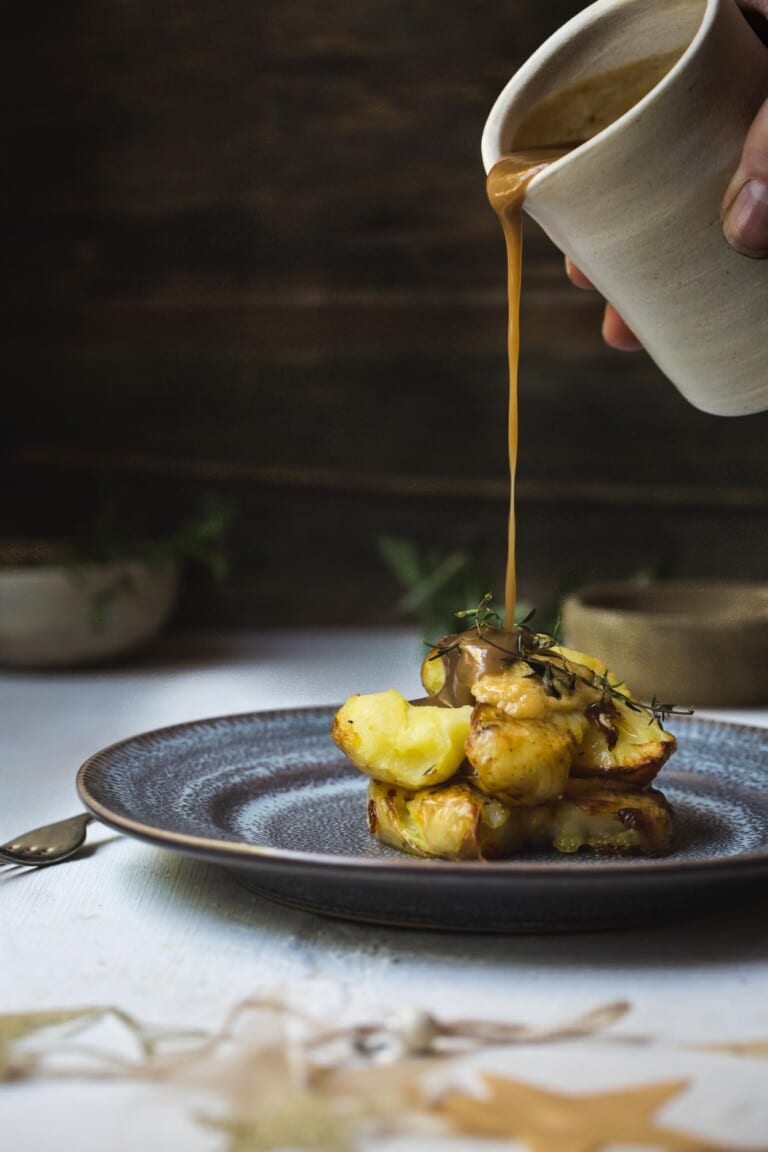 ---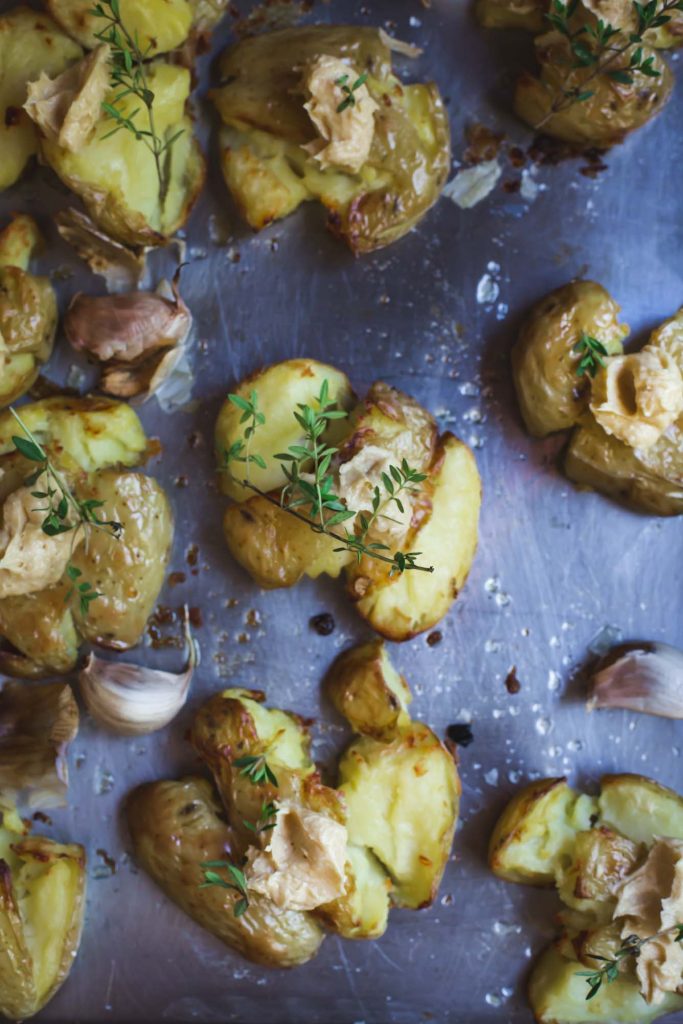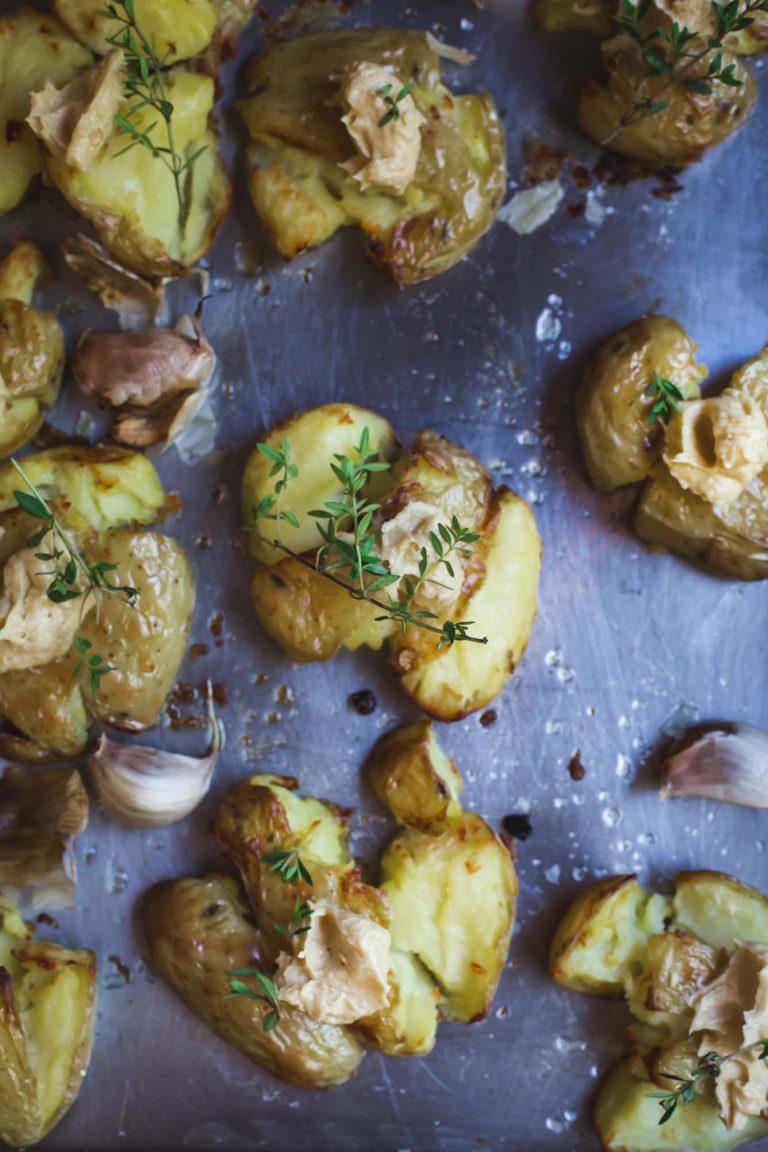 OK, if you're not going to say it, I'll say it. Man, this year went quick. Cliches aside, this year had roller-skates. We've had a very big year at Goodness headquarters. The Husband got a promotion which means he is busier than a March fly in April, the house had endless nips and tucks to carve it in to its current beautiful-but-not-quite-finished-state while the Elf prepared to leave the nest for Kindergarten. A very big deal when you are an almost four year-old. She also underwent surgery on her hands and her bravery and resilience left me in awe.  My kid does that a lot...leaves me in awe.
Phew, it's been a big year.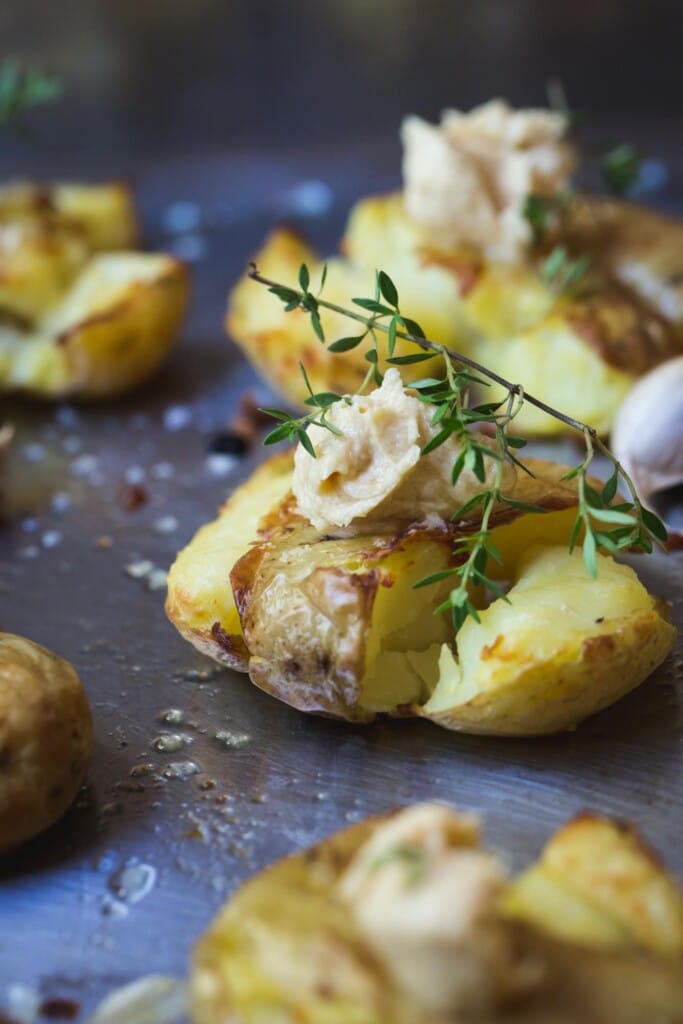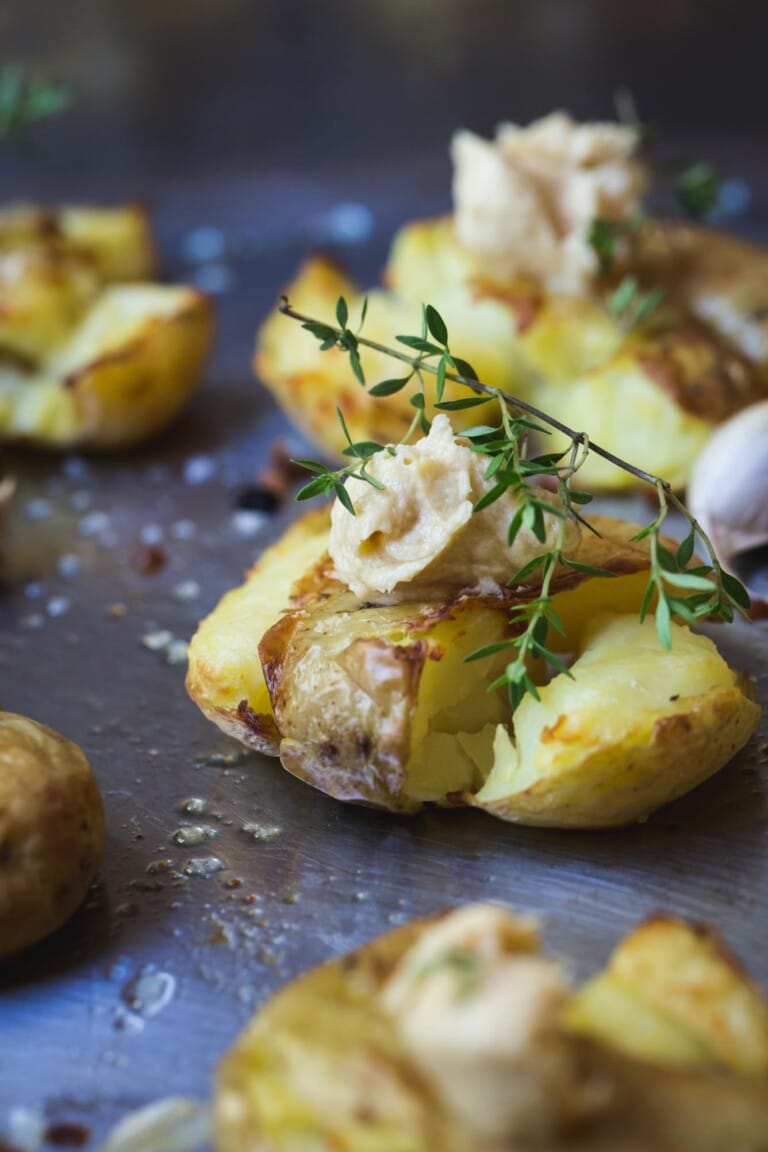 Last week I shared my vegetarian holiday stuffed squash, an easy-to-make but wonderfully festive vegan main. While it is moist and tasty enough to stand alone, this epic vegan gravy takes the dish to another level. Sautéed vegetables, red wine, garlic, stock and, wait for it, Marmite combine to create a full-flavoured almost meaty gravy. I finish my gravy with the smallest dash of apple cider vinegar to lift the flavour on the tongue and a good crack of pepper and sea salt. Honestly, I could lick the plate.
Festive Sides to Go Vegan For
To round out our main, fantastically crispy smashed potatoes with miso butter and roasted leek with vegan parmesan. Miso butter is a revelation. I don't know if he was the first but David Chang from Momofuku sang it praises and the chorus took off. Miso butter is simply a combination of 1-part miso paste to 2-parts butter whipped together. Served over piping hot and crunchy smashed potatoes, the butter melts and...sigh.
Somewhat lighter but still packed with flavour, slow roasted leeks finish the dish with a salty sprinkle of vegan parmesan. The sweet onion works so beautifully with the salty cheese. You could make your own parmesan, but I used Green Vie grated parmesan because it is completely wonderful and so close to the real thing. I am not paid to endorse their product but it is fantastically good so to the rooftops I go. Consider it shouted.
A simple but festive stuffed squash, crunchy-on-the-outside-fluffy-on-the-inside smashed potatoes with miso butter, roasted leeks with parmesan and my epic vegan gravy. That will do nicely for a vegan Christmas main. Next week, vegan truffles three ways. I can't wait.
Enjoy.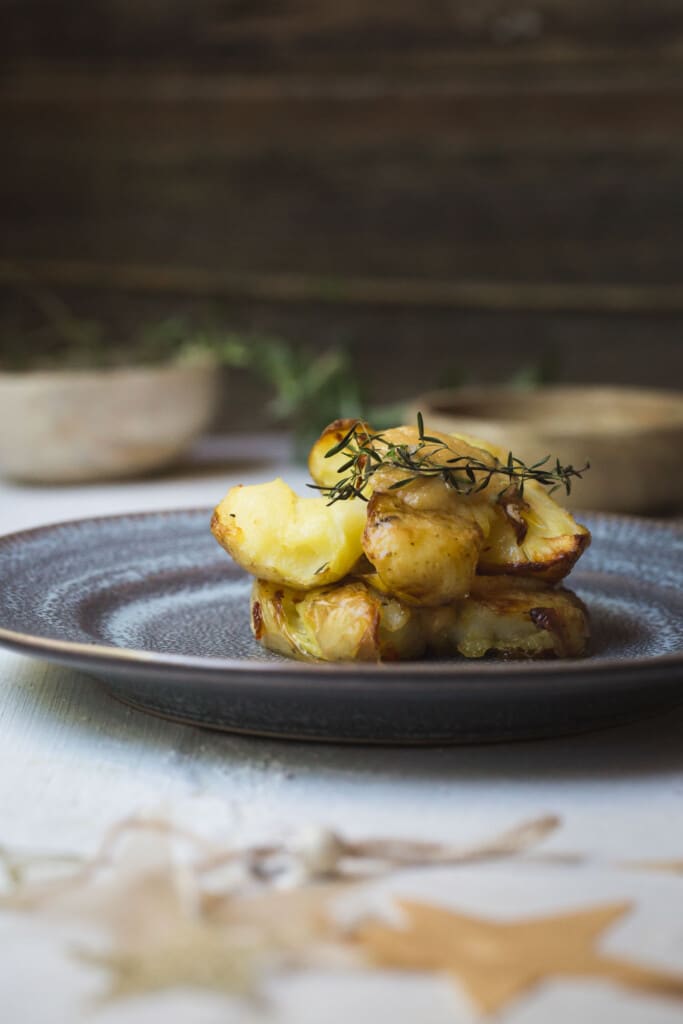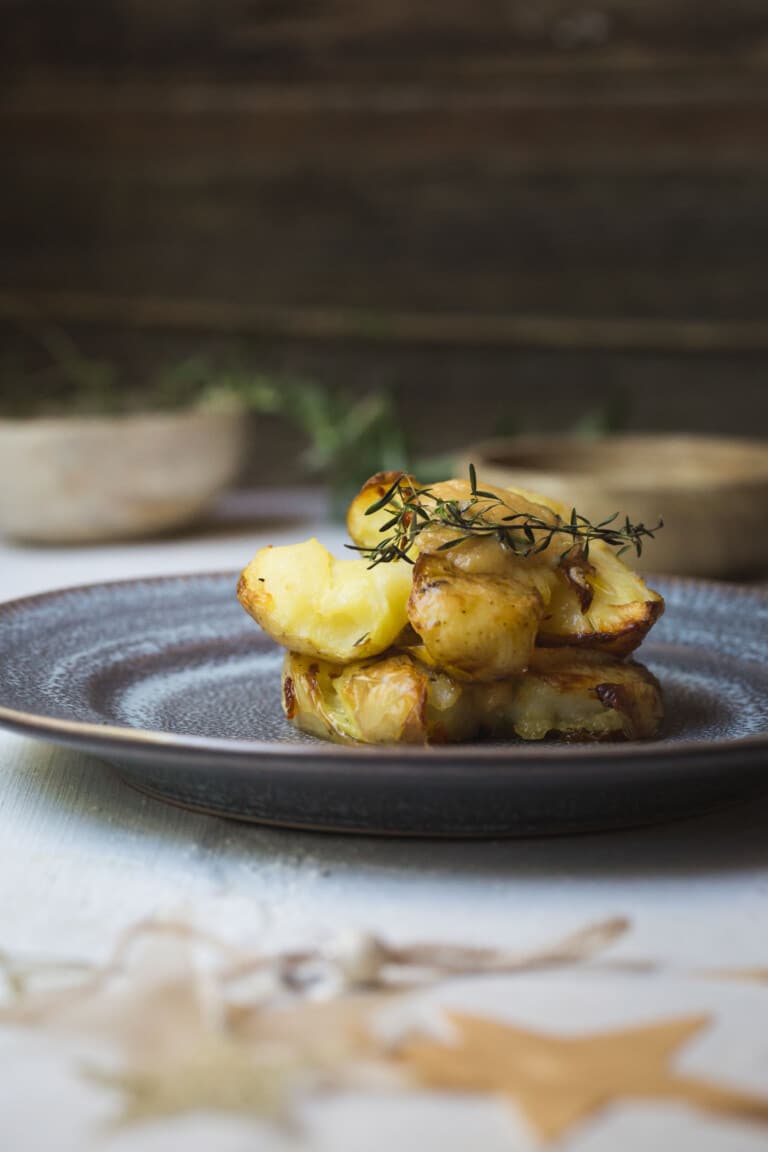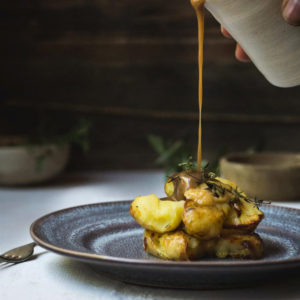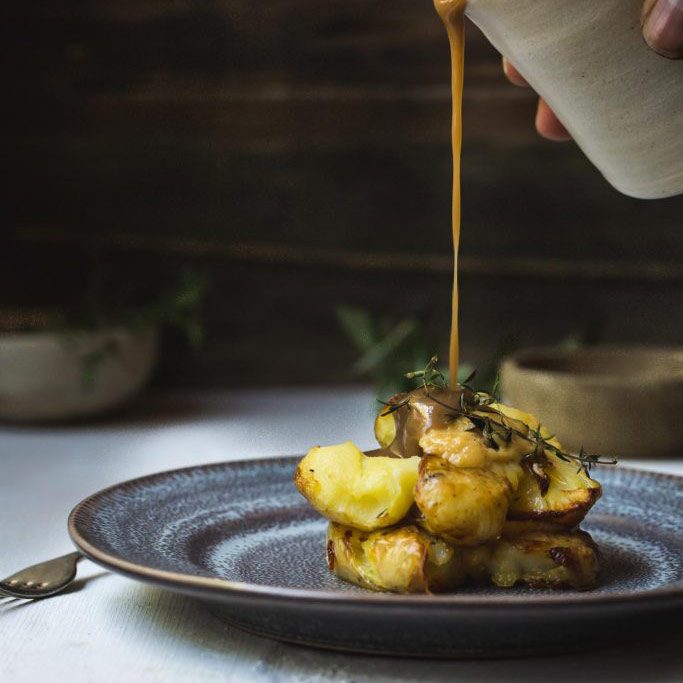 Epic Vegan Gravy
This Epic Vegan Gravy is thick, glossy and rich with full flavours that are decidedly meat-like. It's traditional without the tradition.
Print
Pin
Rate
Ingredients
Vegan Gravy
1

large brown onion

chopped

1

tablespoon

olive oil

2

carrots

chopped in to small cubes

1

rib of celery

chopped

1

garlic clove

smashed, skin left on

1 and ½

tablespoon

all-purpose flour

¼

cup

good red wine

60ml

2

teaspoons

Marmite

a sprig of fresh thyme and a 2-3 sage leaves

chopped

250

ml

vegetable stock

125

ml

water

1

tablespoon

vegan butter

sea salt

cracked pepper

a small splash of apple cider vinegar
Smashed Potatoes with Miso Butter and Thyme
750

grams

baby potatoes

I used a new De-lite variety

2

tablespoons

olive oil

sea salt

half a head of garlic

2

tablespoons

vegan butter

2

tablespoons

Shiro miso paste

light miso paste

a handful of fresh thyme
Roast Leek with Vegan Parmesan
3 - 4

leeks

white part only, washed well to remove any sand and grit and sliced in half lengthways. Trim to fit in to your baking dish.

1

tablespoon

olive oil

sea salt

cracked pepper

½

cup

vegetable stock

¼

cup

vegan parmesan
Instructions
To make the vegan gravy, heat the oil in a heavy based pot or pan on medium heat and add the chopped onion, celery and carrot. Sauté for around five minutes or until the onion is tender and beginning to brown at the edges a little. Add the smashed garlic. 

Stir in the flour and cook for two minutes. Add the red wine to deglaze the pan and then add the Marmite. The mixture with be a little gluey, don't worry, it's normal. Add the fresh herbs.

Stir in the vegetable stock and water and continuing cooking for a further few minutes, stirring regularly, until the gravy thickens. 

Add the butter and turn the heat to low. Cook for a further three minutes. 

Remove from the heat and add a splash of apple cider vinegar and season well with salt and pepper. 

Allow the gravy to sit for around 10 minutes to continue infusing the flavours before straining in to a gravy jug. If the gravy is too thick, add a splash of water to thin. Return to the pan to warm if needed before serving.

To prepare the potatoes, preheat the oven to 200 degrees C (400 degrees F) and place the potatoes in a large pot. Cover them with cold, salted water and bring to a boil. Reduce the heat and cook for around twenty minutes or until tender but firm.

Strain the potatoes and allow them to sit for five minutes to steam dry. 

Place them on a large roasting tray and using a fork or masher, gently press down until they "smash". Break up the garlic and put it in the pan also. Drizzle well with olive oil and season with sea salt. Sprinkle with fresh thyme.

Roast in the oven for fifteen minutes before carefully removing them. Flip the potatoes over and return them to the oven for another fifteen minutes or until they are crispy.

Meanwhile, cream the miso paste and butter together to a soft whip.

Remove the potatoes from the oven and serve with a small dollop of miso butter.

Preheat the oven to 200 degrees C (400 degrees F). To prepare the roast leeks, lay the leeks side by side in a small roasting pan or oven proof tray. 

Drizzle with olive oil and season well with salt and pepper. Add a few spoons of vegetable stock and roast for an hour, adding more stock intermittently to keep the leeks from drying out. If the leeks begin to brown while they are still firm, cover them with foil and continue to roast. 

When soft and tender, sprinkle the leeks with parmesan to serve. 
Nutrition
Calories:
343
kcal
|
Carbohydrates:
44
g
|
Protein:
7
g
|
Fat:
16
g
|
Saturated Fat:
3
g
|
Cholesterol:
3
mg
|
Sodium:
673
mg
|
Potassium:
872
mg
|
Fiber:
6
g
|
Sugar:
8
g
|
Vitamin A:
5558
IU
|
Vitamin C:
40
mg
|
Calcium:
140
mg
|
Iron:
4
mg
Tried This Recipe?
I'd love to hear your feedback. Rate it & leave your feedback in the comments section below. Or you can tag @mygoodnesskitchen or hashtag #mygoodnesskitchen on Instagram.