These hazelnut pear and chocolate muffins are the cat's pyjamas and its slippers too. A gorgeously moist muffin sweetened with pears and littered with melted dark chocolate buttons; a toasted hazelnut, chocolate and oat streusel to finish. I believe in kitchen gods and I think they were here today.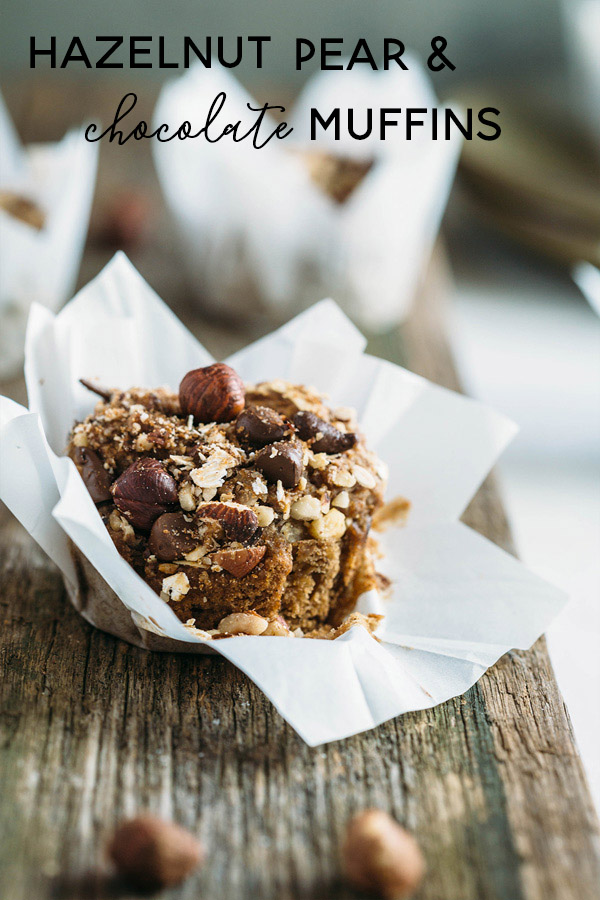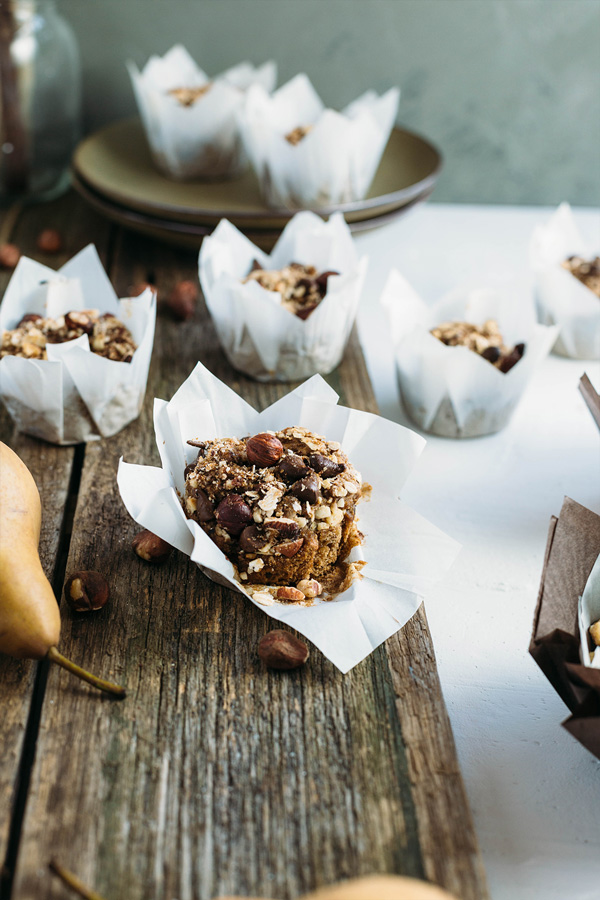 A weary woman writes this post tonight. At the very beginning of my training for a half marathon my little legs protest too much. I have short legs so many steps make up every mile. I have been running everyday but my willpower is kind of dragging my legs along for the ride at the moment.  Also, I am designated labourer on our house project and my current job is hauling bricks up stairs. Again, little legs. But as the pallet dwindles I am nearing my I am Woman Hear Me Roar moment but tonight I'm stifling my roar with a yawn.
I am eating pretty well on my new training regime but I couldn't resist a wee treat. Trust me, there are no saints living in this house and since I am running, running, running what harm can a little something sweet do? This recipe was inspired by Sally's Baking Addiction's recipe for Banana Chocolate Chip Muffins with Cinnamon Streusal. They are ridiculously good and frankly I don't think there is anything on Sally's blog that doesn't have me salivating. In order for the original recipe to be all things plant-based I use a flax egg and vegan butter but while noshing on the original, I was inspired to mix it up a bit.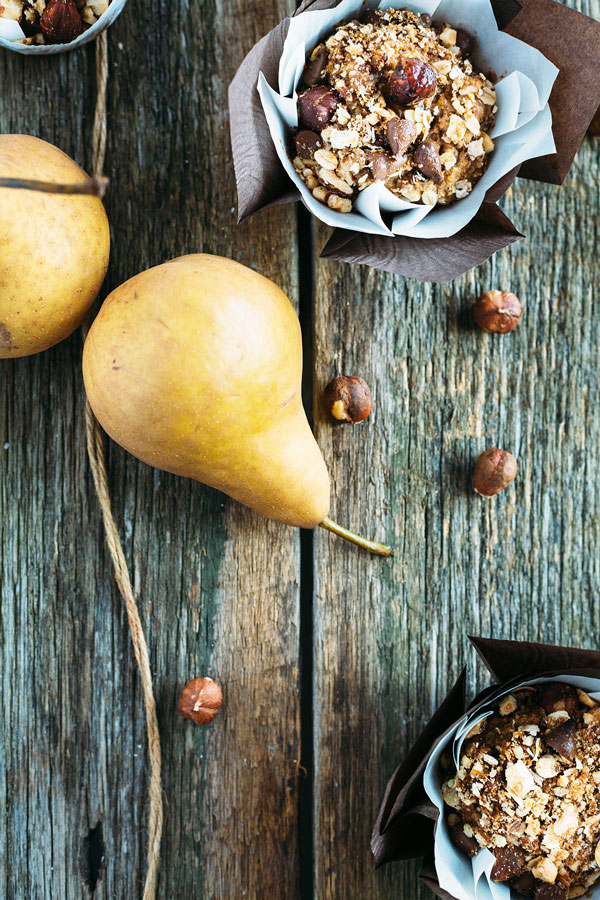 Our markets are currently laden with delicious pears and they are just so pretty it is easy to be inspired. Pairing pear with dark chocolate and toasted hazelnuts and this little baked good comes to life. These hazelnut pear and chocolate muffins are a little luxurious and more than a little decadent but so easy to make. Take it from a non-baker type, you can't really stuff these up. The baking rule regarding flour- don't overwork it- applies to spelt flour too which, I have used  to assuage any misplaced guilt about making and eating one, two...ok three of these muffins. But other than curbing any overzealous mixing, this recipe is simple. I also used coconut sugar to further mitigate the guilt, so guilt-wise we are golden.
My Sally inspired hazelnut pear and chocolate muffins are full of contrasting textures and beautifully balanced flavours. The cake portion of each muffin is gorgeously moist, spiced with cinnamon and lightly sweetened by the pear. The top, the streusel, is a stunning contrast in crunchy textures and toasted hazelnut flavours while melted dark chocolate morsels tie the whole thing together. Honestly, I'd run a full marathon for another one of these.
Enjoy, x.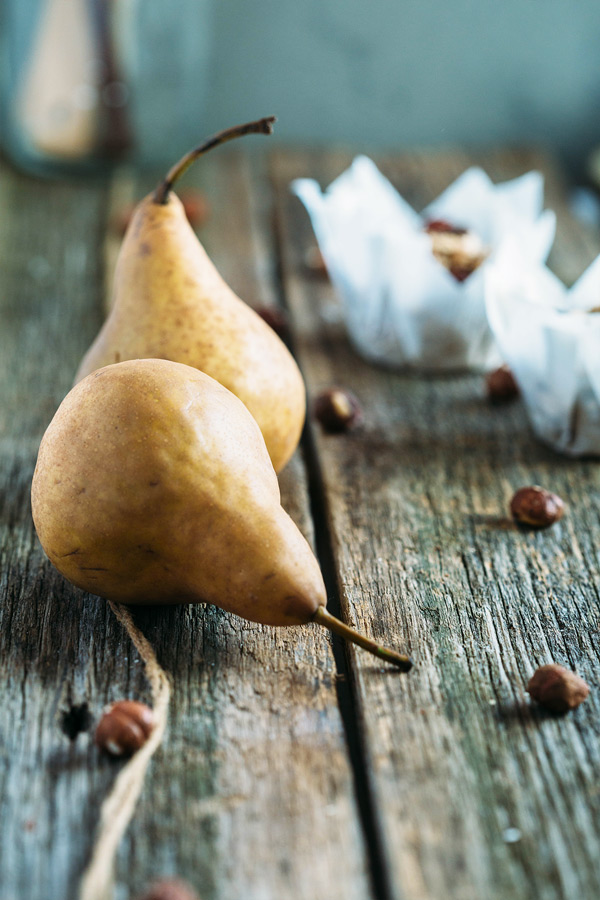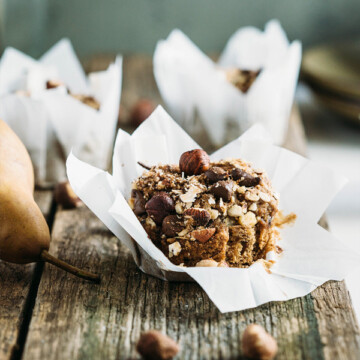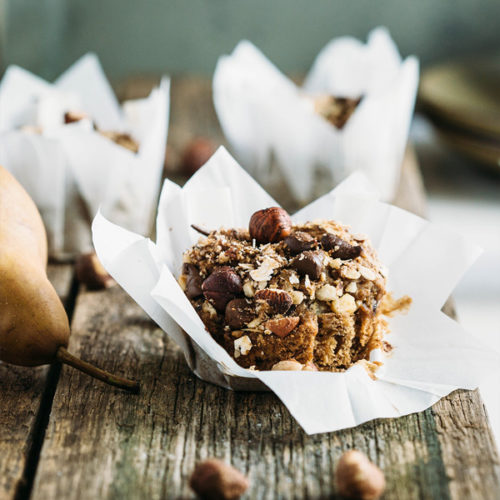 Decadent Pear Muffins with Dark Chocolate
Vegan pear muffins are sweetened with pears, lavished with dark chocolate buttons & topped with toasted hazelnut chocolate sprinkle.
Print
Pin
Rate
Equipment
food processor

2 mixing bowls

1 whisk

1 large spoon

1 muffin tray
Ingredients
Hazelnut Sprinkle
⅓

cup

brown sugar

packed

2

tablespoon

oats

2-3

tablespoon

flour

⅓

cup

hazelnuts

2

tablespoon

vegan butter

melted and cooled

¼

cup

dark chocolate buttons

small
Dry Ingredients
2½

cups (375g)

flour

3

teaspoon

baking powder

¾

teaspoon

baking soda

1

teaspoon

cinnamon

¾

cup

raw sugar

or brown sugar

pinch

sea salt

½

cup

dark chocolate buttons

small
Wet Ingredients
4

tbsp (60g)

vegan butter

melted and cooled

4

tablespoon

olive oil

⅓

cup

yoghurt or sour cream

1

cup

grated pear (I used 2 beurre bosc pears leaving the skin on)

1

cup

dairy-free milk

room temperature

2

teaspoon

vanilla extract
Instructions
Preheat oven to 200℃/390℉ (all ovens). Line a 12 hole muffin tin with paper patties.
For the Hazelnut Sprinkle
For the hazelnut sprinkle, place the sugar, hazelnuts and oats in a food processor and pulse to rough crumb. Transfer to a bowl and stir in the melted butter and 2 tablespoons of flour to form a large crumb. Add more flour if needed. Stir in the dark chocolate buttons.
For the Muffins
To make the muffins, sift the flour, baking powder, baking soda and cinnamon in a large bowl. Stir in the sugar and salt.

In a separate mixing bowl mix together the wet ingredients. (I use a large spoon rather than a whisk to avoid getting pear stuck in my whisk!)

Fold the wet mixture in to the dry until just combined and add the chocolate buttons.

Spoon the batter evenly amongst the 12 muffin moulds and sprinkle each liberally with the hazelnut mix.

Bake for 5 minutes, then turn down to 180℃/350℉ (fan forced/convection) and bake for a further 15-17 minutes, or until a skewer inserted into the muffin comes out clean.

Remove from oven and let stand for 5 minutes for turning out to cool. Serve warm or at room temperature.
Tried This Recipe?
I'd love to hear your feedback. Rate it & leave your feedback in the comments section below. Or you can tag @mygoodnesskitchen or hashtag #mygoodnesskitchen on Instagram.