Whoever decided to fuse Mexican with Japanese flavours and roll them up in an upsized sushi roll has my unending gratitude. Portland, Oregon will forever be in my heart for introducing me to the sushi burrito and this Crispy Tofu Sushi Burrito brings a little Portland in to my home whenever I need it.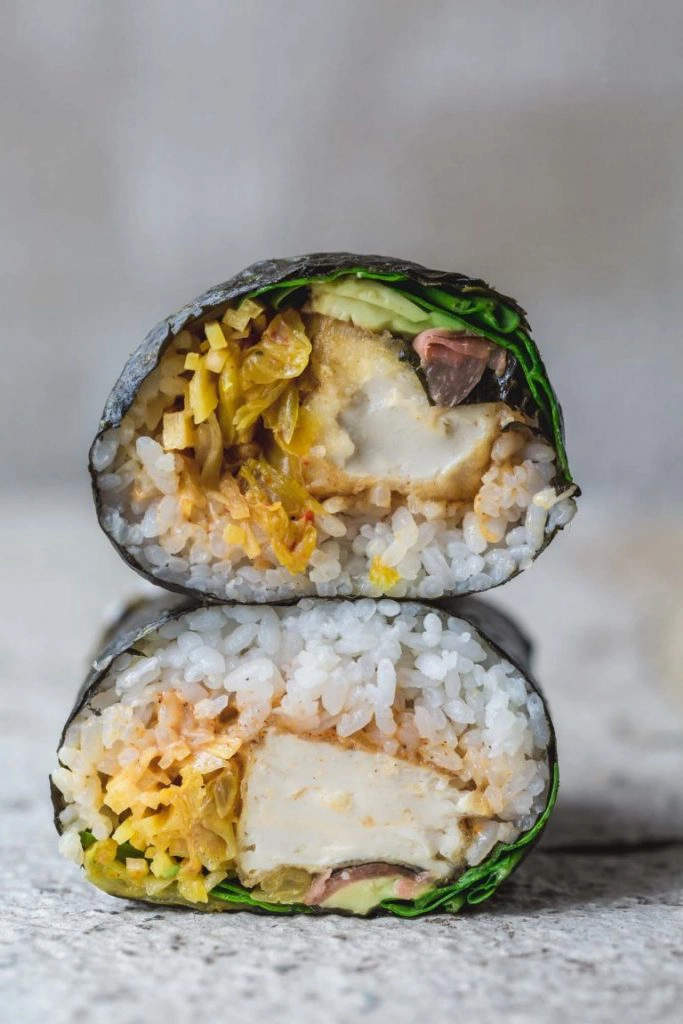 What is a Sushi Burrito?
The sushi burrito or "sushirrito" has been around for a few years now but I only discovered it on our recent trip to the States. This happens a lot - trends happen and I remain oblivious perched in my house on a mountain until months sometimes years later, awareness creeps in. Thankfully I made it just in time with my Simple Sweet Potato Toast Recipes.
I don't think anyone can accuse me of following fads because I generally don't know what the fads are. For the longest time I thought LOL was "Lots of Love" and found it odd people I hardly knew were texting me love. I wish abridged text language was a fad but I think that fad is here to stay. Sorry "FIHTS". LOL.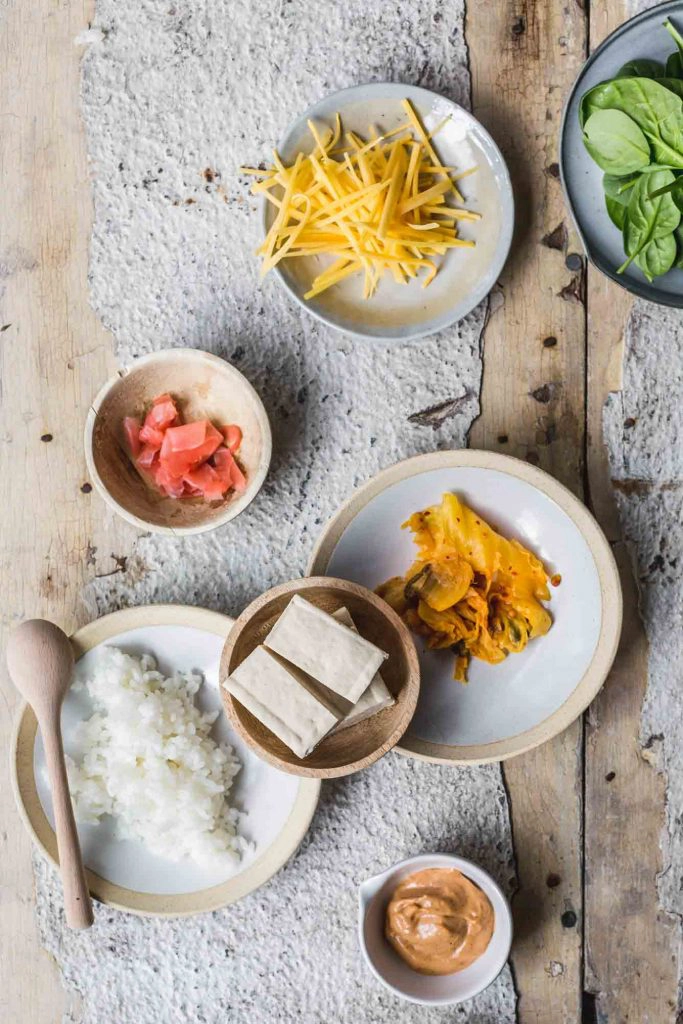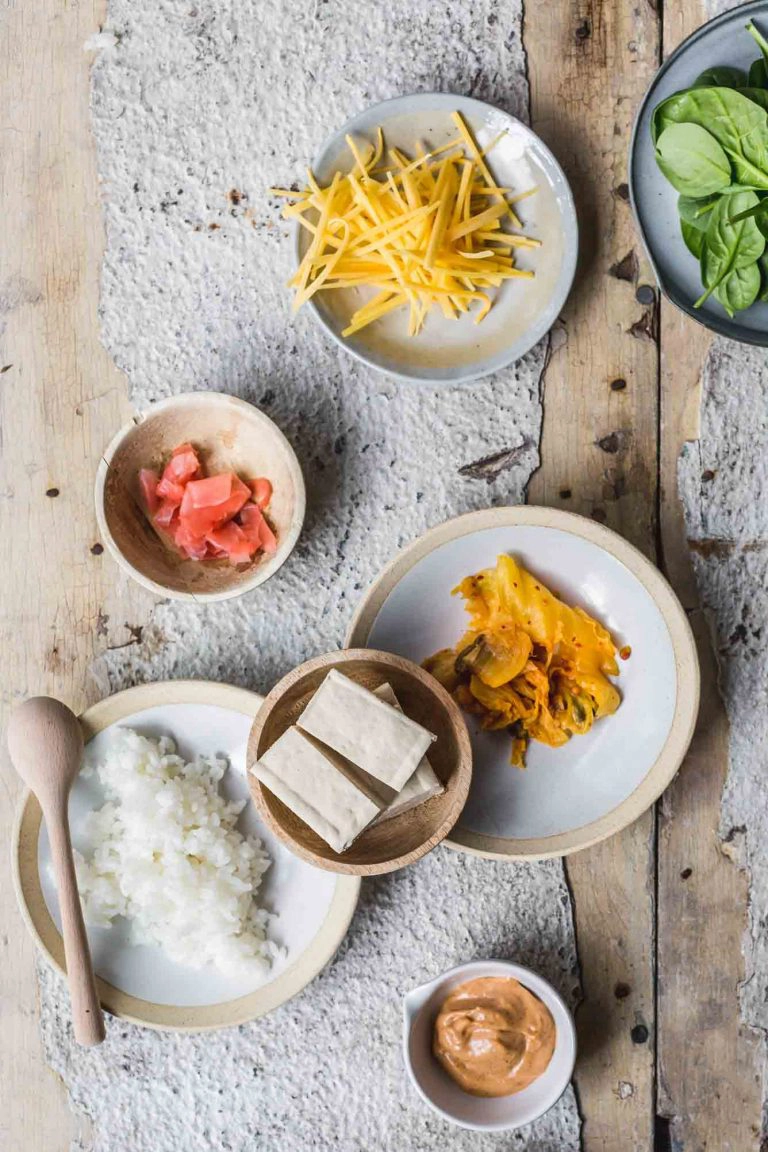 Like many trends, the sushi burrito's origin is hazy with many staking claim to the original concept. One thing that seems consistent is that this fusion began on the West Coast a few years ago and has been marching east (and north and south) ever since. Origins aside I believe any opportunity to smoosh two of my favourite things in to one portable yet wonderfully messy meal is a gift from the kitchen gods. Add crispy tofu - like in my Crispy Tofu Lemongrass Bowl - and I am a pig in mud.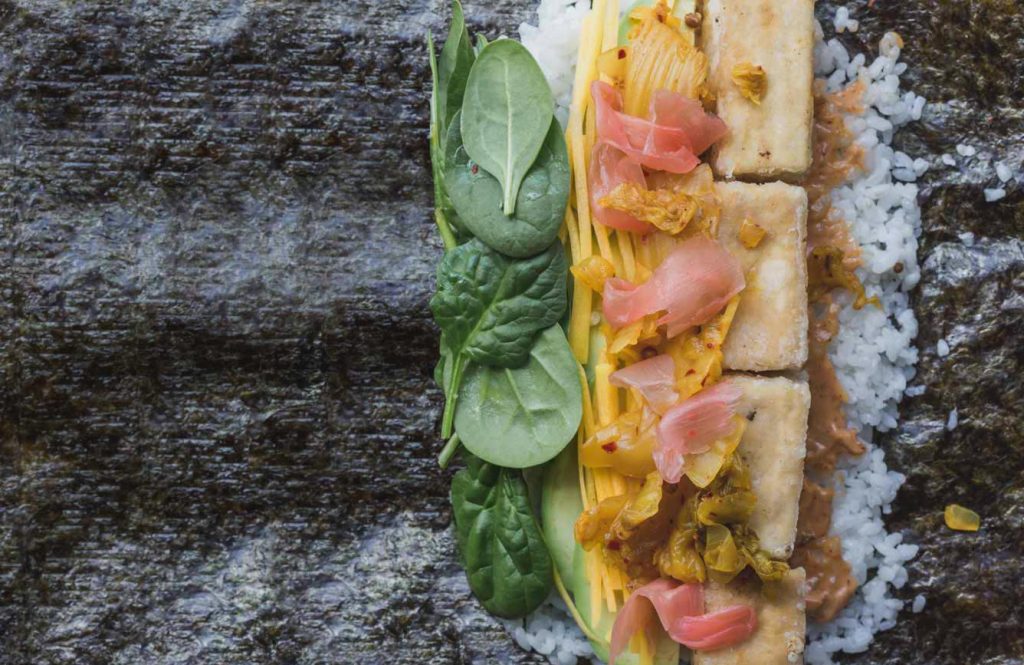 How to Make A Sushirrito
The trick to making this fusion burrito is balance. Mexican flavours are robust while Japanese flavours tend to be more subtle. Finding a middle road where both cuisines shine is the trick to creating the perfect sushi burrito.
I limit my Mexican ingredients to one or two. In this crispy tofu sushi burrito I use vegan chipotle mayonnaise and a touch of cayenne to bring in a little smoke and subtle spice.
The second trick is to inject as much flavour in to the roll as you can. Unlike traditional sushi, dipping a burrito in to a bowl of soy sauce can be problematic.
All the flavour needs to be in the rolls.
Simples, right?
balance
flavour and I will add,
fun
Once, you've worked out your balance, it's time to play. In order to create a burst of balanced flavour in my crispy tofu sushi burrito I added kimchi. I know, Korean. But it works so well with the other flavours and gives the roll a delicious tart lift. Besides, you should always play with your food.
Salty and crisp tofu, sweet sushi rice, creamy avocado with warming chipotle, pickled ginger and kimchi, this vegan sushi burrito is a fusion party. If you are looking for an exotic lunch or a fun dinner protect with the kids, you will love this crispy tofu sushi burrito. Simple, fun and hopefully not a fad. Enjoy, x.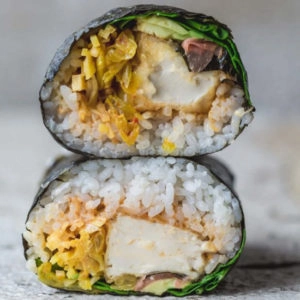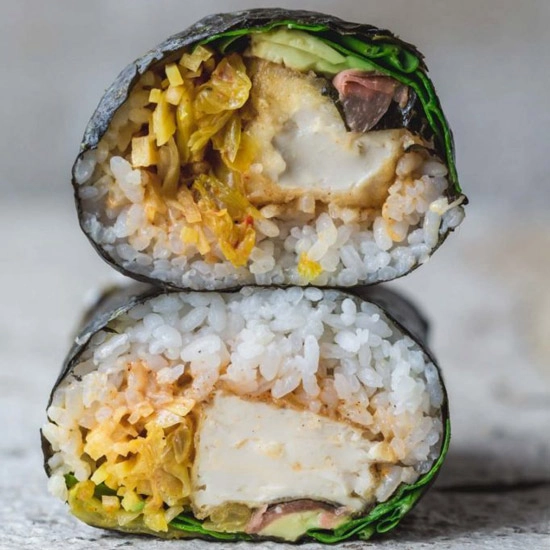 How to Make A Sushi Burrito | Crispy Tofu
Crisp tofu, sweet sushi rice, creamy avocado with spiced chipotle, pickled ginger and kimchi this crispy tofu sushi burrito is a fusion party
Print
Pin
Rate
Ingredients
Sushi Rice
1

cup

sushi rice

3

tablespoon

rice vinegar

1

tablespoon

raw caster sugar

½

teaspoon

sea salt
Crispy Tofu
250

grams

firm tofu

cut into 4-inch long blocks of firm tofu, 1 inch wide

3

tablespoon

potato or corn starch

½

teaspoon

sea salt

¼

teaspoon

cayenne pepper
Sushi Burrito
6

nori sheets

¼

cup

chipotle mayonnaise

½

avocado, peeled and sliced

½

cup

matchstick carrots

½

cup

vegan kimchi

½

cup

baby spinach

1

tablespoon

Japanese pickled ginger
Instructions
Wash the sushi rice until the water runs clear. I wash and rinse mine at least 5 times.

Add the washed rice to a medium saucepan - make sure it has a lid- and add 1 and ¼ cups of cold water. Over low to medium heat bring the water up to a boil before turning the heat to low, popping on the saucepan lid, and cooking the water all the way down. When the water has absorbed, remove the rice from the heat and allow it to sit in the pot with the lid still on for 15 minutes.

Meanwhile, combine the vinegar, sugar and salt in a small bowl and stir until the salt and sugar dissolves.

After 15 minutes, gently transfer the rice to a glass or wooden bowl and, using a wooden spoon, carefully fold through the vinegar mixture. Cover the rice with a clean cloth and set it aside until it reaches room temperature.

To prepare the tofu, wrap it in a kitchen towel and sit for 5 minutes to remove as much moisture as possible. After, slice the tofu in to 2 inch blocks.

Place the corn starch, salt and cayenne pepper on to a small plate and drop the tofu in turning to coat all sides.

Heat the sunflower oil in a large pan. Shake any excess starch from the tofu and pop each block in to the pan and fry each side for 2 minutes or until crisp. After cooking, place the tofu on an absorbent towel.

To assemble the burrito, join two sheets of nori together by wetting the short edge of one and pressing it to the short edge of the other, rough ride up. We are looking to create a long nori length.

Starting an inch from the edge, press the sushi rice in to the nori getting it as even as you can. Press enough rice to create a square 3 inches long and the width of the nori sheet. Follow with a good smear of chipotle mayonnaise, a line of crispy tofu blocks, a line of avocado slices, matchstick carrots, kimchi, baby spinach and pickled ginger.

Starting from the edge closest to you, gently but firmly roll the nori away from you. Don't worry if the nori breaks a little, you will roll it a few times and cover any cracks. Run a line of cold water along the far edge of the nori to seal the roll. Lay the roll, seam side down, for a minute to seal properly. Slice the burrito in half to serve.
Nutrition
Calories:
544
kcal
|
Carbohydrates:
70
g
|
Protein:
13
g
|
Fat:
23
g
|
Saturated Fat:
3
g
|
Cholesterol:
8
mg
|
Sodium:
927
mg
|
Potassium:
345
mg
|
Fiber:
5
g
|
Sugar:
6
g
|
Vitamin A:
4411
IU
|
Vitamin C:
8
mg
|
Calcium:
130
mg
|
Iron:
2
mg
Tried This Recipe?
I'd love to hear your feedback. Rate it & leave your feedback in the comments section below. Or you can tag @mygoodnesskitchen or hashtag #mygoodnesskitchen on Instagram.