Last updated on April 4th, 2021 at 10:02 am
I can't believe it's taken me so long to make these. Soft and chewy like a good pretzel should be these addictive soft vegan pretzel buns are so easy to make. What's more, we are making them by hand so no fancy equipment required.
---
Last year we visited a little bar in Portland called Sweet Hereafter and since then I have been dreaming about making soft vegan pretzel buns. They make perfectly chewy, soft buns and serve them with a mustard miso dipping sauce. Holy Moly. Today, we are making our own with a decadent mustard ale dip. I am a tad late for Oktoberfest but these little guys are perfect any time.
VEGAN PRETZEL BUNS ARE PRETTY FOOLPROOF
You need very little cooking skill to make pretzel buns. If you can knead dough for a few minutes and boil water, you're kinda golden. Golden like the fantastically chewy pretzel bun outer. Yup, I went there.
Honestly, even the shape makes things easy. While traditional pretzels are wrangled in to the pretzel knot these guys are simply rolled in to a ball. I weighed my dough to get them reasonably equal but that's the control freak in me. They are then boiled and baked. Simples.
So, are you ready? Okeedokee then...
Firstly, we take basic bread ingredients; flour, yeast, water, salt, sugar and add a little melted butter. Bring the dough together in a large bowl before tipping it out on to a floured surface to knead for around 5-minutes or until the dough is smooth and tacky but not sticky. Make a ball, stick in a lightly greased bowl, cover it and rest it for an hour to double in size. Next, punch down the dough, divide it and roll it in to equal-ish balls. You with me?
OK...the next step is the most important. Up until now we've pretty much made bread. To make perfect vegan pretzel buns with the iconic rust brown surface, soft interior and iconic flavour we have to drop the rolls in a baking soda bath. You can save time and get the water boiling as you're shaping the dough into balls. Add baking soda to the boiling water and drop each ball in for a minute turning them over gently half-way through. They look a little "Bill Murray" when they come out but trust me, the bath is essential.
Brush each bun with a little melted butter or dairy-free milk and bake. And voila, you just made pretzel buns, baby. You can eat them straight, use them for your next slider or serve them with soup. I can't wait to try these in my Crispy Quinoa Cauliflower Burger Recipe and my Vegan Kimchi Crispy Mushroom Burgers. But, today I am dipping them in a completely decadent mustard ale dipping sauce.
I don't drink beer but for this sauce I will make an exception. Silky and buttery with a kick of Dijon mustard and a hint of ale, this sauce is ridiculously easy to make and even easier to eat/ lick/ slurp. Serve it with your gorgeously soft and chewy vegan pretzel buns and your friends and family will think they've died and gone to carb heaven. Enjoy, x.
Like making bready things? Try my Olive and Rosemary Spelt Loaf or my Completely Seeded Vegan Pumpkin Toast Recipe
Hungry for More Plant-Based Goodness? Subscribe to my newsletter and follow along on Facebook, Pinterest and Instagram for all the latest news and updates.
Soft Vegan Pretzel Buns with Mustard Ale Dip
Soft and chewy like a good pretzel should be these addictive soft vegan pretzel buns are so easy to make. What's more, we are making them by hand so no fancy equipment required.
Print
Pin
Rate
Ingredients
Vegan Pretzel Buns
1

cup

water

lukewarm

2 ¼

teaspoon

active dry yeast

1

tablespoon

raw caster sugar

2 ¾

cups / 345 grams

bread flour

+ 2 tablespoon for kneading

1 ½

teaspoon

fine sea salt

2

tablespoon

vegan buttery spread

melted and cooled slightly + 1 teaspoon to brush the rolls

2

teaspoon

sea salt flakes
Soda Water Solution
⅓

cup

baking soda

3

litre / 3 quarts

boiling water
Mustard Ale Dip
1

tablespoon

vegan buttery spread

¼

cup

scallions, finely sliced

¾

cup

pale ale

¼

cup

Dijon mustard

1

tablespoon

maple syrup
Instructions
Combine the lukewarm water, yeast and sugar in a jug and stir to combine. Set the jug aside for a few minutes in a warm place to bloom. You'll know it's ready when it looks creamy and foamy on top.

Meanwhile, combine the bread flour and sea salt in a large mixing bowl.

When the yeast is ready stir in the melted butter and then add the wet ingredients to the dry.

With a large spoon or clean hands bring the mixture together in the bowl. When it is combined enough to loosely hold together, tip it out on to a lightly floured countertop and begin kneading.

Knead for around 5 minutes adding small amounts of flour if the dough it too sticky. We want a smooth dough that is tacky to the touch but doesn't stick to our fingers.

Bring the dough in to a ball and place it in a clean, lightly oiled bowl and cover it with cling film. Set the bowl in a warm corner and allow it to proof for 1 hour.

While the dough is proofing, we'll make the dipping sauce. Melt the vegan butter in a saucepan over medium heat and add the sliced scallions. Cook for around 5 minutes or until soft.

Add the pale ale and reduce the heat to low-medium. Continue cooking until the ale has reduce to around a ½ cup. Remove the mixture from the heat and whisk in the mustard and maple syrup. Set aside to serve with the vegan pretzel buns.

Line 2 baking trays with baking paper. I also spray the paper with cooking oil for good measure.

After an hour, turn the pretzel dough on to your countertop and punch it down. Divide the dough in to even balls - I weighed mine and each was around 85g - and place them on lined trays.

While you are rolling your pretzel balls add 3L of water to a wide pan and bring it up to a boil over medium heat. When it comes up to a boil, reduce the heat to a simmer. When the balls are ready, whisk the baking soda in to the boiling water - it will bubble so please be careful.

Preheat oven to 400°F (204°C).

Carefully drop two pretzel buns in to the soda bath and poach them for 30 seconds before flipping them over for another 30 seconds. Gently move the buns around the water while they are cooking so they don't stick to the bottom. Using a slotted spatula or spoon remove the buns from the water and place them on the lined baking trays. Continue with the remaining buns.

When finished, score a slit into the top of each with a sharp knife. Lightly brush each bun with the extra melted butter and sprinkle with the sea salt flakes or poppy seeds.


Bake for 16 - 18 minutes or until a deep rust brown on all sides. Serve with plain mustard or the Mustard Ale Dipping Sauce
Notes
The Nutritional breakdown is for both the vegan pretzel buns and the mustard ale dipping sauce
Nutrition
Calories:
356
kcal
|
Carbohydrates:
64
g
|
Protein:
11
g
|
Fat:
5
g
|
Saturated Fat:
1
g
|
Sodium:
2513
mg
|
Potassium:
123
mg
|
Fiber:
3
g
|
Sugar:
3
g
|
Vitamin A:
232
IU
|
Vitamin C:
1
mg
|
Calcium:
22
mg
|
Iron:
1
mg
Tried This Recipe?
I'd love to hear your feedback. Rate it & leave your feedback in the comments section below. Or you can tag @mygoodnesskitchen or hashtag #mygoodnesskitchen on Instagram. Thank you!
WANT TO TRY THESE BUNS WITH A BURGER? CHECK OUT THESE SUPER TASTY VEGAN BURGER RECIPES →
Vegan Kimchi Mushroom Burger
Mushrooms rolled in panko breadcrumbs with kimchi mayonnaise, spicy kimchi and cucumber served on a homemade vegan brioche bun, kimchi mushroom burgers.
Read More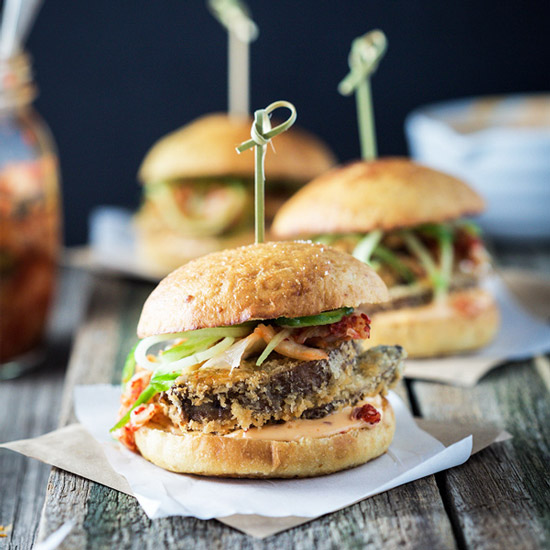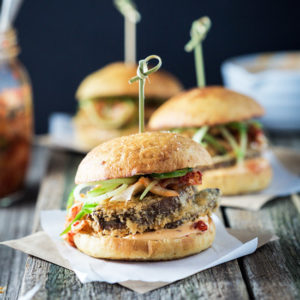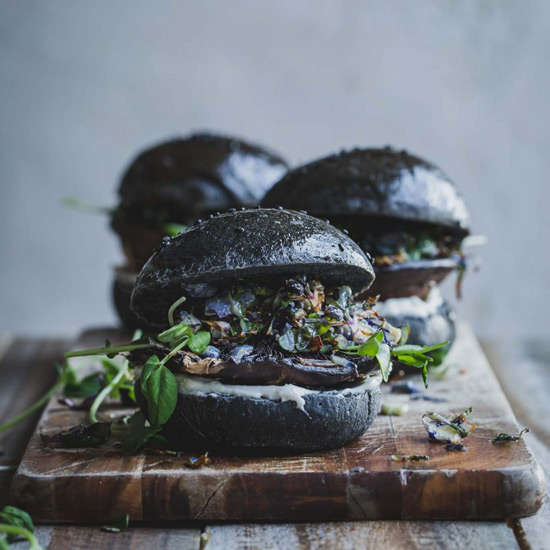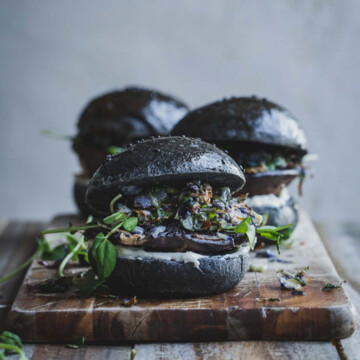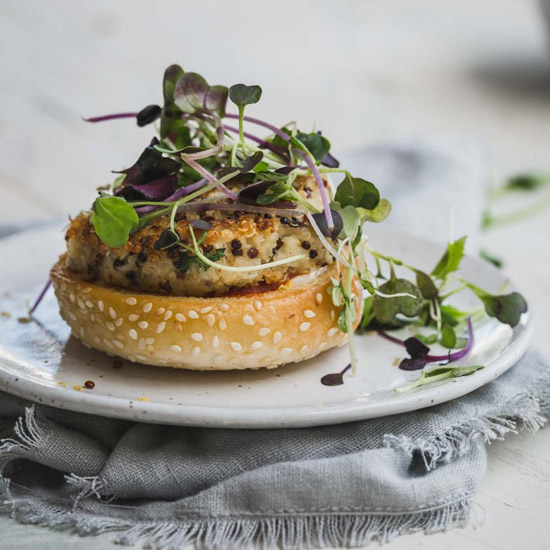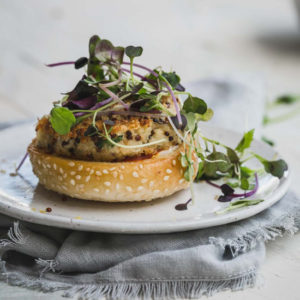 `