This wholemeal pissaladiére is a vegan, wholesome and seriously tasty bend on the traditional caramelised onion and anchovy French pizza.

A long, long time ago when the internet was still in its infancy, the millennium bug loomed and black was the new black, a young girl fresh from university travelled to England to be with her love. Flying across the sky to meet her destiny, she had no idea the trip would be fleeting, the breakup tragic or that the French have their own pizza.
Licking her wounds in Surrey, the girl's French sister-in-law and her grandmother taught her how to make pissaladiére, a wonder of caramelised onion, anchovies and olives on a pizza bread. The anchovies are gone, but my wholemeal pissaladiére still honours the sweet saltiness of the original recipe.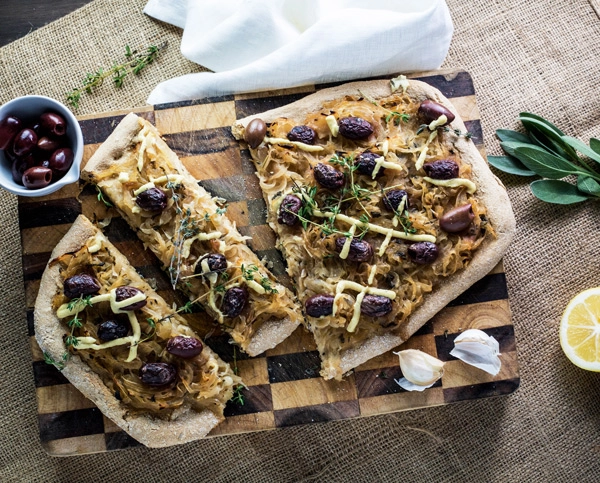 I craftily concealed the identity of the broken-hearted girl so I'll confess to you, friends, it was me. The cad was untrue and I languished in grief for several months living with my long-suffering brother and his family. But, as with all twisted fairy tales, a lesson is learned and my lesson was passaladiére. Originating in the south of France this pizza, or tart, is a perfectly balanced sweet and savoury bite. My recipe for wholemeal pissaladiére has both the sweetness of caramelised onions, the saltines of kalamata olives with a creamy dash of cashew cream. I used a wholemeal pizza dough recipe from Sally's Baking Addiction. I substituted regular sugar for coconut sugar and cornmeal for semolina. I also swapped the honey for agave. Sally has wonderful and clear instructions, so I won't repeat them here. I have also made pissaladiére with a slightly crumbly cauliflower pizza and it was delicious.
While there is a little preparation in this wholemeal pissaladiére, it comes together quickly. It is also well worth the effort. Additionally, you get enough pizza dough for two pizzas, much less work next time!
I hope you enjoy, xx.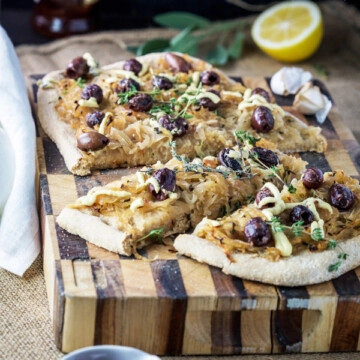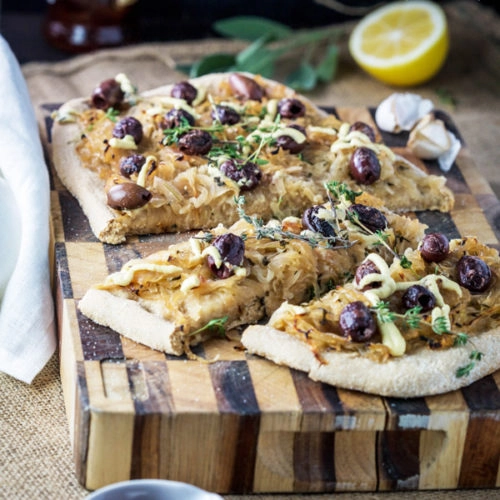 Vegan Pissaladiére
This vegan pissaladiére is a salty and sweet pizza experience like no other.
Print
Pin
Rate
Ingredients
1 and ½

cups

luke warm water

39°C (102°F) is best

1

tablespoon

instant yeast

1

teaspoon

coconut sugar

3 and ¼

cups

whole wheat flour

1

tablespoon

olive oil

1

tablespoon

maple syrup or agave

1

teaspoon

sea salt

olive oil for brushing crust
Caramelised Onions
1

tablespoon

olive oil

4

brown onions

handful fresh thyme

chopped finely

handful sage

chopped finely

1 and ½

tablespoon

coconut sugar

1

good pinch sea salt

¼

cup

water

1

tablespoon

red wine vinegar
Cashew Cream
1

cup

raw cashews

soaked in boiling water for 1 hour

1

tablespoon

nutritional yeast

1

garlic cloves

roughly chopped

juice of ½ lemon

a good pinch of salt

¼

cup

water
For the Pizza
½

cup

kalamata olives

pitted

semolina flour

to sprinkle beneath the base (optional)
Instructions
For the Pizza Dough
To make the pizza dough, stir the water, yeast and sugar together in a bowl or jug and set in a warm space to bloom. If your yeast doesn't dissolve or become milky, it is dead and you'll need to start again with fresh yeast.

Combine 3 cups of flour and salt in a large mixing bowl, stirring it together to mix well.

When the yeast is frothy/milky, add the olive oil and stir it through and then add the mixture to the flour. Combine the dough together with a spoon or spatula until it begins to come together and then tip it out on to a work surface to knead. Don't worry if you have loose floury bits; they will come together when you need the dough. Knead by hand for around 10 minutes or until the dough is smooth and soft. If you have an electric mixer with a dough hook, knead the dough for around 5 minutes.

If your dough is too wet, add up to ¼ cup more whole wheat flour. You may need a little more flour but ususally a ¼ cup does the trick. After kneading, your dough should be smooth and elastic. If it slowly bounces back when you poke it, your dough is ready to rise. If not, keep kneading.

Form the dough in to a ball and place it in a large clean bowl lightly greased with olive oil. Cover it with a clean towel or cling film and sit it in a warm corner to proof for 1-2 hours or until it doubles in size.

Once it has doubled in size, punch the dough down to release the air. It will deflate. Divide the dough in to two balls Roll each half into a ball and let rest in two separate bowls lightly covered with plastic wrap or aluminum foil for at least 20 minutes. You are now ready to use or freeze your piiza dough.

Preheat oven to 250°C (482°F) for 30 minutes prior to cooking the pizza.
For the Caramelised Onions
Using a mandolin, finely slice onions.

In a large, heavy-bottomed pot heat the olive oil on a low heat.

Add the onions, thyme, sage, salt and sugar. Stir.

Add the water.

Cook on a very low heat for around 30 minutes stirring occasionally. Don't let the onions stick.

When they are almost done, stir in the vinegar and continue cooking. The onions will be sweet and slightly caramel in colour when they are done.
For the Cashew Cream
In a food processor add the cashew cream ingredients and blend until smooth. Adjust to taste.

Put the cream in a squeezable bottle.
To Make the Pissaladière
Liberally sprinkle semolina on a baking or pizza tray. Roll out the dough to a rectangle, pinching the edges to form a frame.

Spoon the caramelised onion on to the base generously

Lay kalamata olives evenly over the onions.

Bake in the oven for 15-17 minutes or until the dough edges start to crisp and brown.

Remove from the oven and squeeze the cashew cream across the top in a criss-cross pattern.

Garnish with fresh thyme, a sprinkle of sea salt and serve
Nutrition
Calories:
178
kcal
|
Carbohydrates:
16
g
|
Protein:
4
g
|
Fat:
12
g
|
Saturated Fat:
2
g
|
Sodium:
484
mg
|
Potassium:
210
mg
|
Fiber:
2
g
|
Sugar:
7
g
|
Vitamin A:
33
IU
|
Vitamin C:
4
mg
|
Calcium:
24
mg
|
Iron:
1
mg
Tried This Recipe?
I'd love to hear your feedback. Rate it & leave your feedback in the comments section below. Or you can tag @mygoodnesskitchen or hashtag #mygoodnesskitchen on Instagram.