Last updated on January 28th, 2023 at 04:15 pm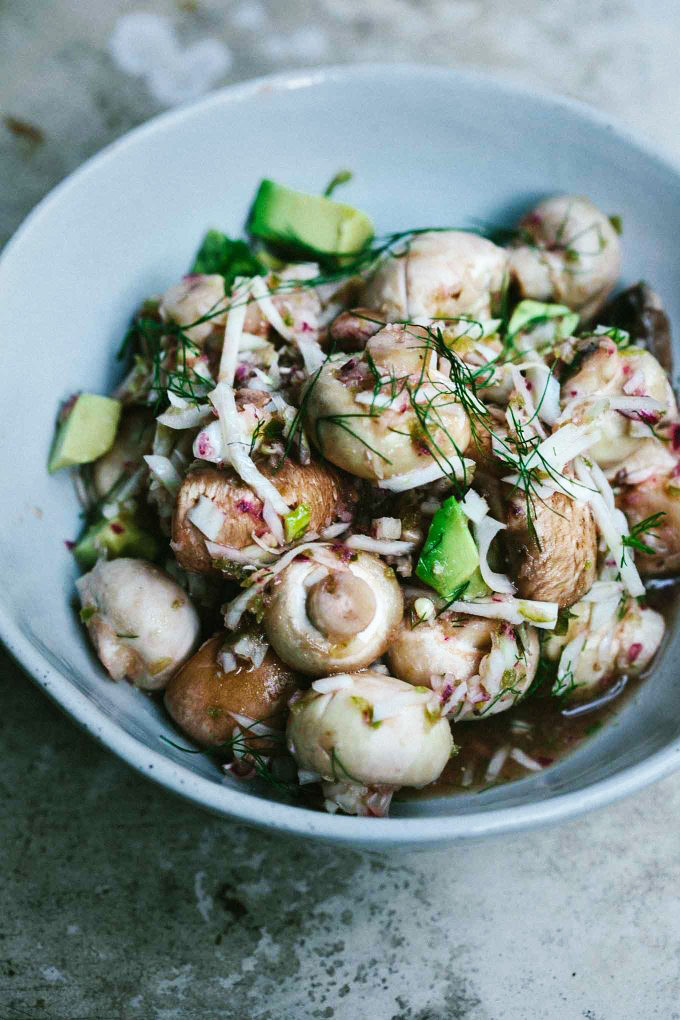 Many moons ago, the Husband and I lived in a small town called Carjamarca in the northern highlands of Peru. The city sits around 2,800 metres above sea level and is either a bumpy 2-hour flight from the capital Lima or a terrifying 13 hour bus ride. Carjamarca is famous for being the location of Atahualpa's last stand signalling the end of the Incan Empire lost to the Spanish.  The resulting town is a beautiful but sad hybrid of Incan and Spanish tradition and as a side note, the home of the biggest turkeys I have ever seen. Scary big.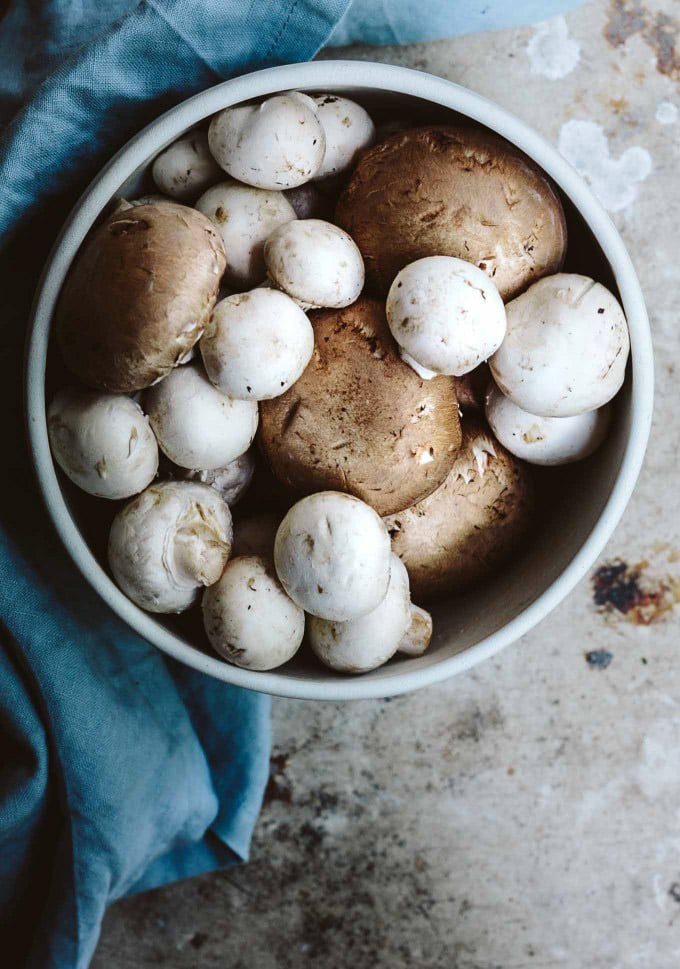 I can't profess to an adventurous soul. I love to travel but you won't find me exploring remote territories donning a backpack any time soon so in the beginning, living in remote Carjamarca challenged my homebody heart. The Husband worked on site fifteen hours a day for twenty-one days while I stayed "home" with a very basic grasp of the Spanish language, no friends and a shyness to explore too far on my own. That is when the kindness of strangers changed everything.
The wives of some of the local workers took me in hand and I found they spoke a language I could understand; cooking. Crowded in to small kitchens these wonderful women taught me traditional Peruvian dishes, including the country's signature dish, ceviche.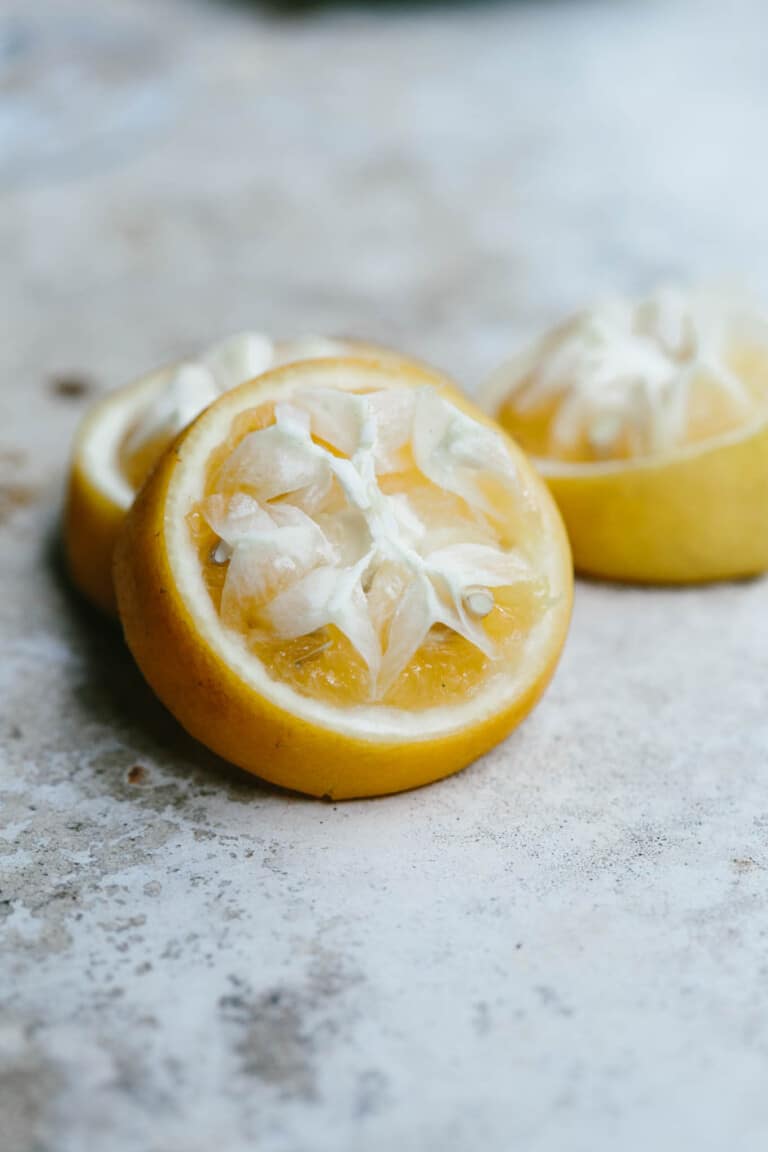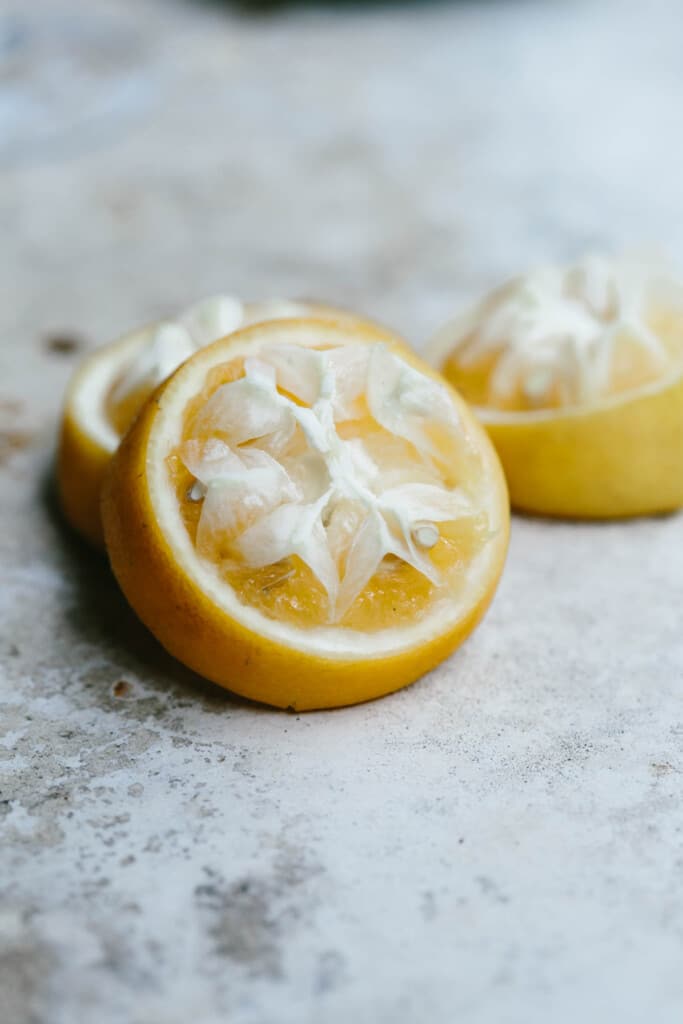 Peru is famous for ceviche and escabeche. While escabeche uses heat and vinegar to cook, ceviche uses limon, a lime/lemon hybrid, to "cook" raw fish to a pickled deliciousness. Served with sweet potato and roasted Inca corn, ceviche is a flavour festival; tart, spicy, sweet and salty.
As fish is off the menu, this mushroom fennel ceviche is an equally delicious way to enjoy the bold, zesty flavours of the Peruvian classic.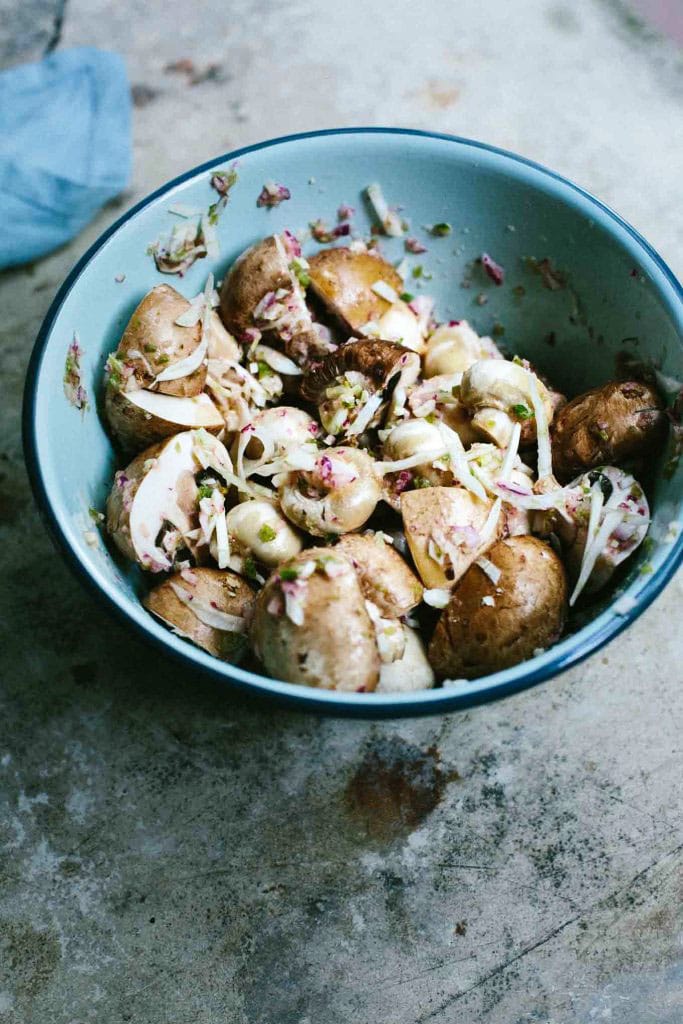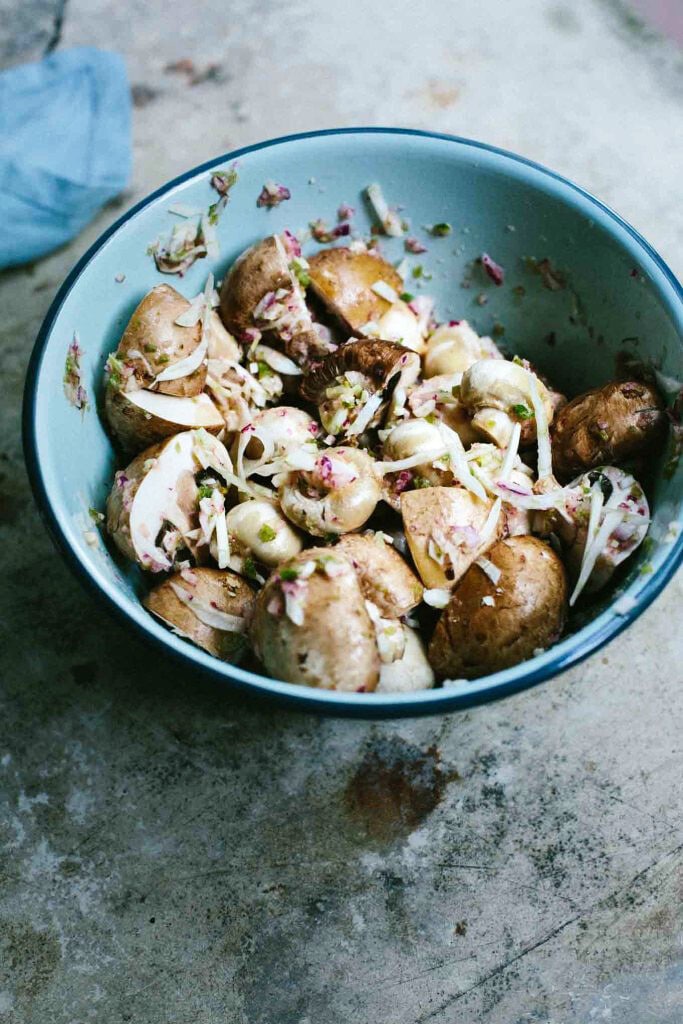 This mushroom fennel ceviche has so many things going for it. It's quick, healthy, flavoursome, spicy and raw. It can be served as a light lunch with a side of sweet potato or simply as a tapas-style bowl to nibble with a cold glass of white wine and some crunchy bread.
While I like my mushroom ceviche paired with crunchy fennel and creamy avocado, you could swap the fennel out for another half of Spanish onion or simply serve the mushrooms as is. Traditionally, ceviche is made with limons but in their absence here, I used homegrown Meyer lemons. A combination of lime and lemon works equally well. I also use a full jalapeño chilli, seeds included, so this mushroom fennel ceviche has kick. Lots of kick.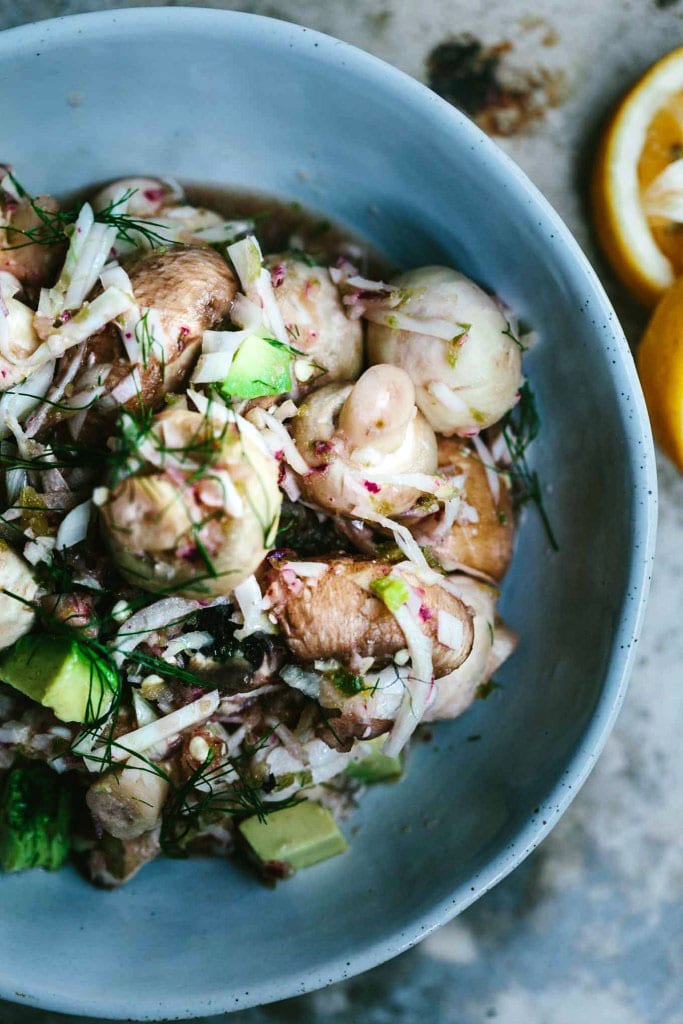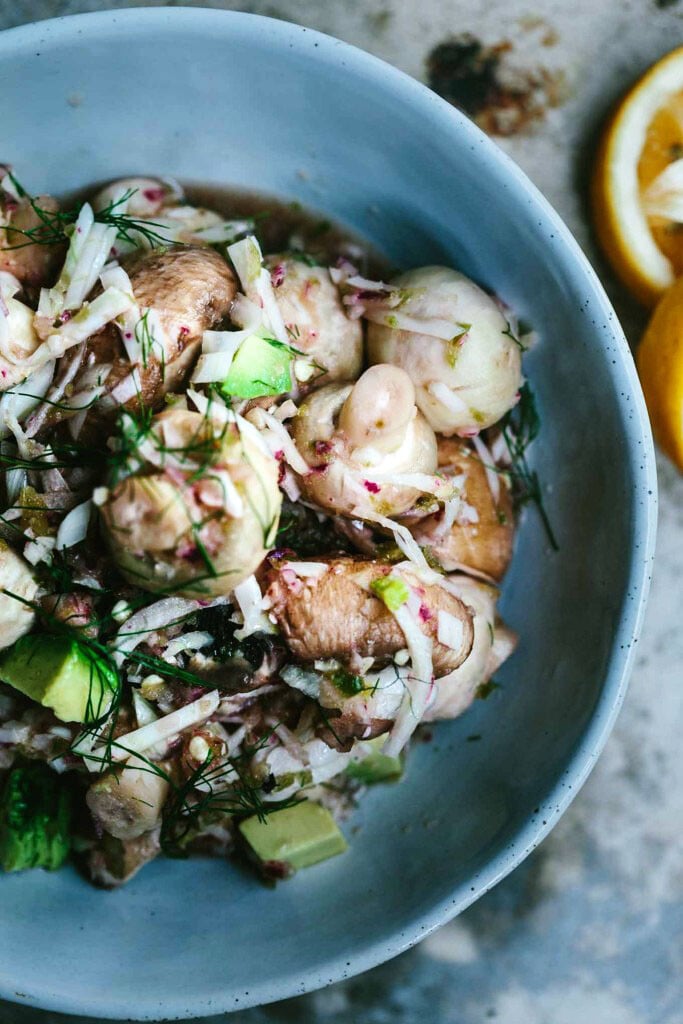 Ceviche takes me back to Peru every time. Like so many times before and I am sure many times to come, I found my Carjamarca rhythm in the kitchen and bonded with like-hearted souls. Whenever I am feeling a little lost, the kitchen always beckons and welcomes. Like all good friends, we challenge each other and sometimes need a time out, but for the most part we make happy memories and occasionally some really awesome food.
Enjoy.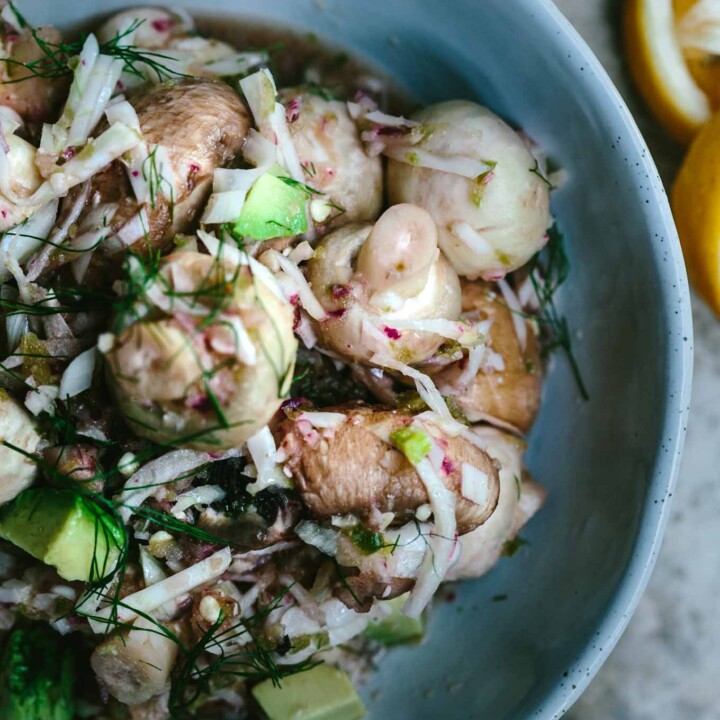 Ingredients
450

grams / 15.8oz

button mushrooms

¼

good quality extra virgin olive oil

2

garlic cloves

½

inch

thumb of fresh ginger

grated

1

jalapeño chilli

½

Spanish onion

finely sliced

1

cup / 250ml

lemon juice

½

teaspoon

sea salt

1

baby fennel bulb

blurb finely slicedd, herb fronds chopped and set aside.

1

small avocado

pitted and diced
Instructions
Clean and trim the mushrooms, halving the larger ones and keeping some whole.

Combine the mushrooms, onion and sliced fennel bulb in a bowl and drizzle with olive oil. 

In a small blender, add the lemon juice, chilli, garlic, ginger and salt and blitz briefly. to chop and combine. 

Pour the lemon mixture over the mushrooms and stir throughly to coat.

Leave to marinate for thirty to forty minutes, stirring occasionally. 

Before serving, stir through the cubed avocado and the green fennel fronds. 

Serve with sweet potato or alone. 
Tried This Recipe?
I'd love to hear your feedback. Rate it & leave your feedback in the comments section below. Or you can tag @mygoodnesskitchen or hashtag #mygoodnesskitchen on Instagram. Thank you!