These black candy apples will tickle your sense of whimsy. Whether you call them candy apples or toffee apples, these black beauties are ready to cast a sweet spell on All Hallow's Eve.
For something less dark and ghoulish, try my vegan pumpkin cupcakes or black velvet cupcakes.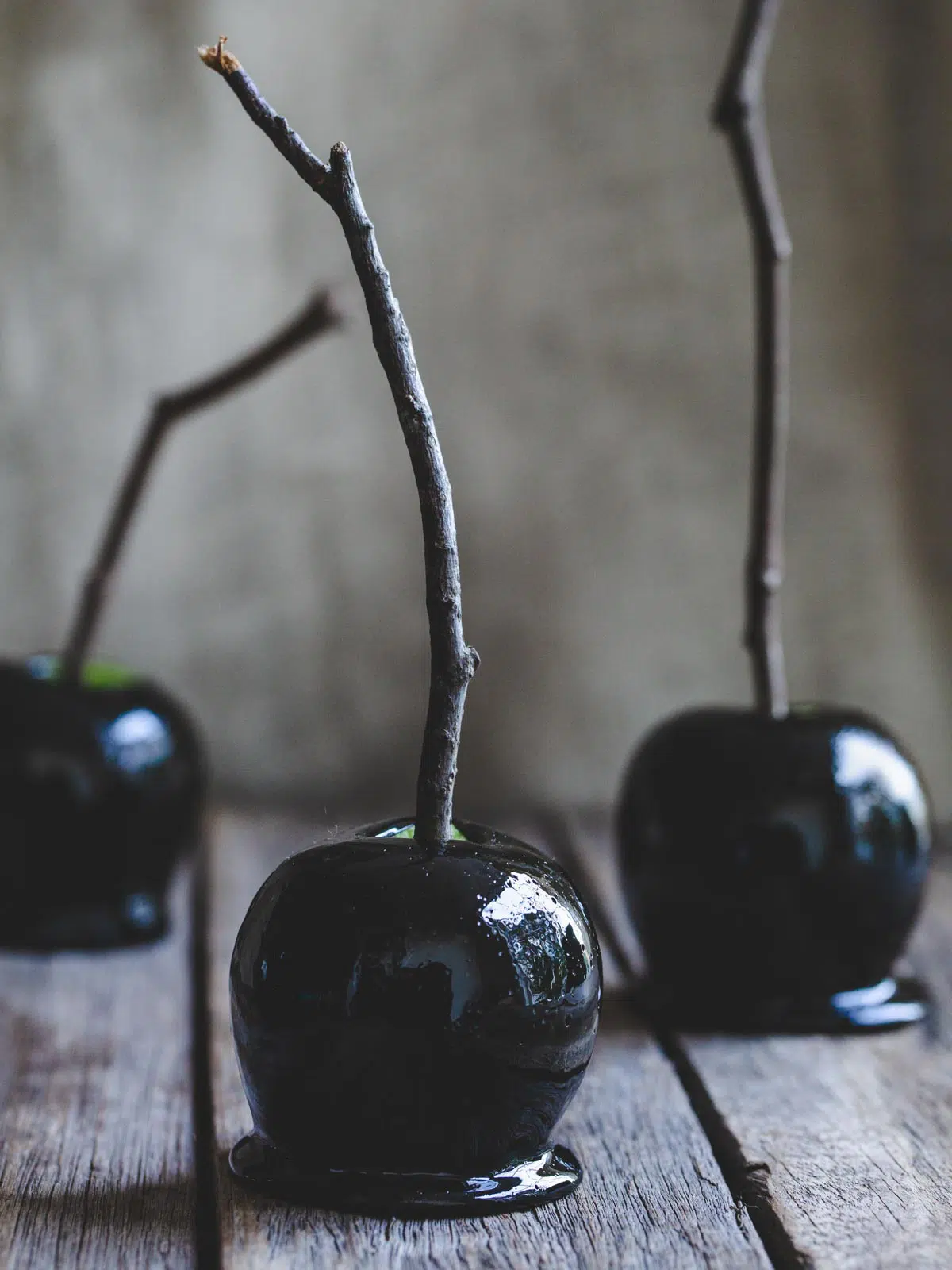 This recipe was originally posted on October 16, 2017 and was updated on October 5, 2021 with process images, ingredient advice and recipe tips.
Jump to:
Why We Love These Black Candy Apples
Look at them! These apples are so shiny and dark and perfect for Halloween. What's not to love?!
They are also:
What You'll Need | Ingredients & Equipment
To make these Halloween toffee apples you are going to need a candy thermometer, a clean pastry brush, a small bowl of water and a heavy based pot.
Apples. I learned a few things in the days standing over my cauldron testing these little treats. Granny Smith Apples work best for toffee apples; I've found the toffee puckers and bubbles with other varieties and while they taste fine, they don't look the part. We want smooth and devilishly inviting poison apples, don't we? Make sure to wash and dry the apples really well.
Sugar. Use either raw or regular caster sugar which is available in all supermarkets.
Cream of Tartar: Adding cream of tartar when making candy helps prevent sugar crystals forming.
Charcoal. I use activated charcoal made from coconut in this recipe.
Activated charcoal may render certain medications ineffective.
You can also use a half teaspoon of black food colouring.
White vinegar: Vinegar helps create a thinner, crisper candy shell.
How to Make Black Toffee Apples
You'll find full instructions and measurements in the recipe card at the bottom of the post.
Warning. Please be careful when making toffee apples and working with boiling sugar. Needless to say, this is a not a kid friendly activity but they will love these scarily beautiful, dark Halloween candy apples after they are cooled.
These black beauties are ready in around thirty minutes and I think are the perfect amount of spooky. I foraged in our garden for sticks to complete the effect but you can use regular wooden popsicle sticks.
Choosing twigs - A few poisonous plant varieties you Do Not want to use for your twigs are Oleander, Laurel, Rhododendron, Horsechestnut, Buckeye, Yew, Azalea, Cherry, Elderberry and Black Locust. If you are not sure, stick with popsicle sticks.
Step 1. Clean and dry the apples really well before removing the stem and pushing in a food safe stick or popsicle stick.
I found a nifty video showing how to remove wax from apples from Art Is In Cakes.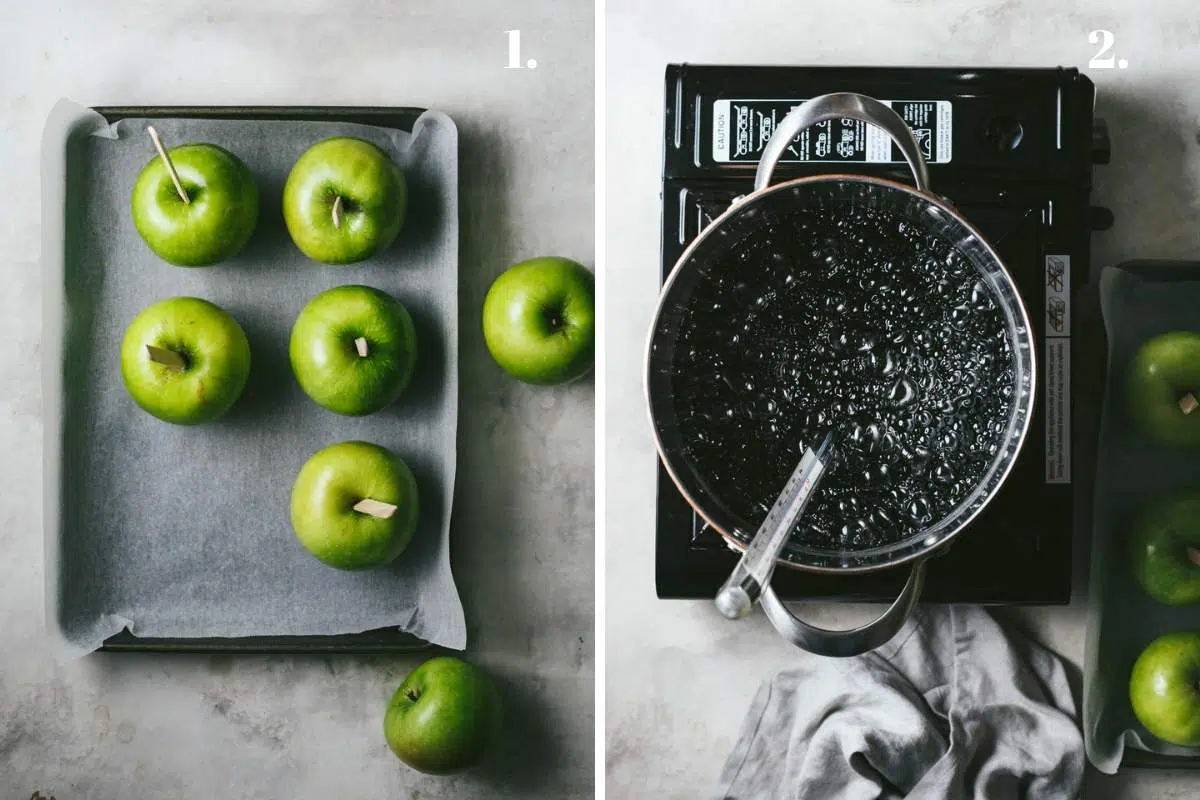 Step 2. Combine the toffee ingredients in to a heavy-bottomed saucepan over medium heat and, stirring occasionally, bring the mixture up to a boil.
Once boiling, pop the candy thermometer in to the pan (securely) and continue to boil until cracking point - 150°C or 300°F. During this process you'll also want to brush any crystals that form near the sides of the pot with a wet pastry brush. Reduce the heat to low or remove from the heat.
Step 3. Wait for the candy to stop bubbling. To dip the apples, carefully tip the pan to one side and dip one side of the apple into the mixture and rotate it until it is covered. Lift the apple over the pot to allow any excess to drip off before placing the it on the baking paper to cool and harden.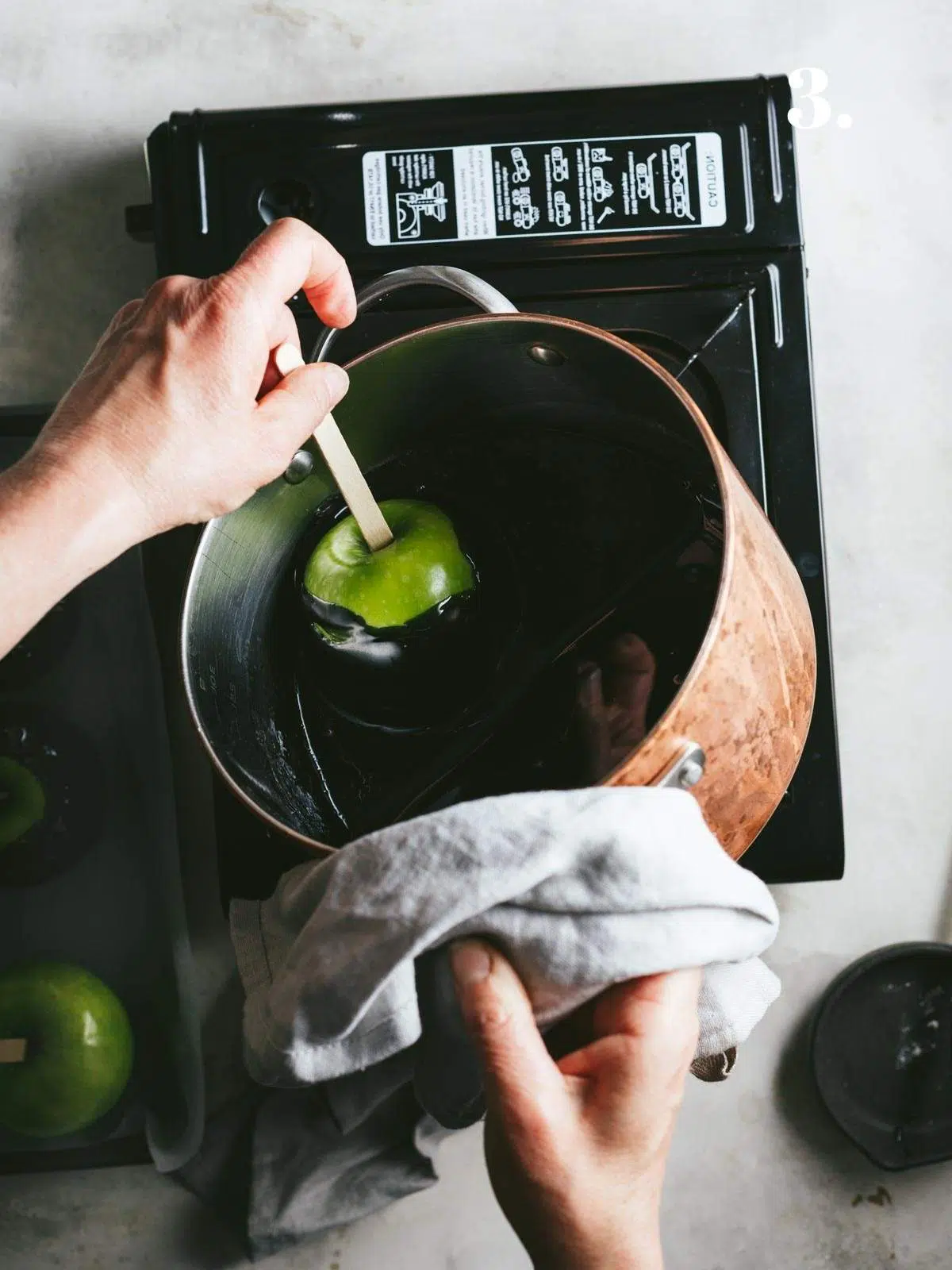 And that, my friends, is it. Ah, whimsy. I do love you. Enjoy, x.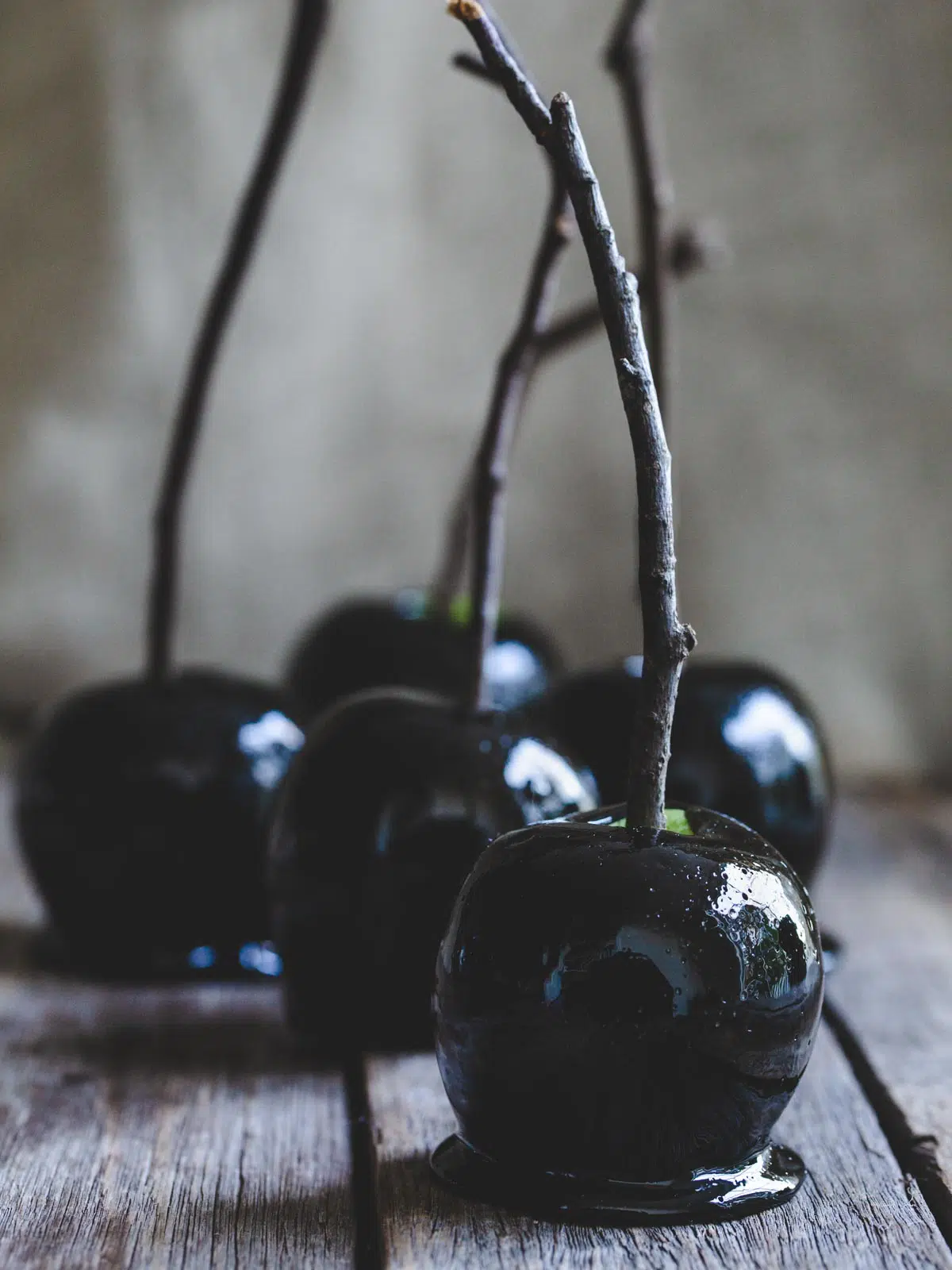 Tips For Making Perfect Toffee Apples
Recipe FAQ's
Are toffee apples and candy apples the same thing?
Yup! Toffee apples and candy apples are the same thing. Both candy and toffee apples have a thin, crisp candy coating while caramel apples are coating in, you guessed it, caramel.

What are the best apples for toffee apples?
You can use pretty much any apple for toffee apples but Granny Smith are a favourite universally. They are a robust apple with a great contrasting green colour.
How long do candy apples keep?
The hard candy coating on the outside of the candy apples will last a good while, but the apple itself won't because air gets in where the stick is inserted.

Candy apples can be stored in an airtight container in the refrigerator for up to three days. Alternatively, they can also be stored in the refrigerator wrapped and secured in cellophane.
More Halloween Inspiration...
Want more plant-based goodness?
Subscribe to my newsletter and follow along on Facebook, Pinterest and Insta for all the latest news. If you like this recipe, please check out my cookbook "Great Vegan Meals for the Carnivorous Family" It's full of simple, carnivore-approved family recipes.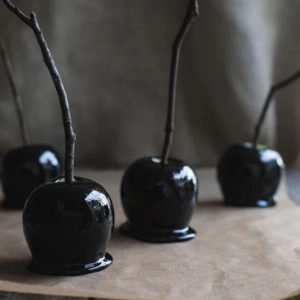 Black Candy Apple Recipe
Made with charcoal, these Black Candy Apples are simple to make and ready to cast a sweet spell on All Hallow's Eve. 
Print
Pin
Rate
Equipment
candy thermometer

a wet pastry brush

popsicle sticks
Ingredients
8

Granny Smith Apples

washed with a wet cloth and dried thoroughly
For the Toffee
2

cups

raw caster sugar

or regular caster sugar

½

cup

boiling water

1

teaspoon

white vinegar

¼

teaspoon

cream of tartar

1

teaspoon

food grade activated charcoal powder

or ½ teaspoon of black food colour
Instructions
Line a baking tray with grease proof paper.

Insert a stick in to each apple at the top (the part that was attached to the tree)

Place all the toffee ingredients in a medium sized, heavy based saucepan and put over low to medium heat. 

While stirring, bring the toffee slowly to a boil allowing the sugar to melt completely. 

When the toffee comes to the boil, stop stirring and allow the mixture to bubble away until it reaches 150 degrees C (cracking point). This can take anywhere from 10 to 20 minutes. Use the wet pastry brush to wipe away any crystallisation from the sides of the pan. If you don't have a candy thermometer, drop a small dollop of toffee in a cup of cold water. If the toffee is ready, it will harden and need to crack to be broken. Remove the thermometer for the next step. 

When the toffee is ready, turn the heat to low and very carefully tip the pot on an angle. Holding the apple by the stick, gently swirl the apple in the toffee. When it is coated, hold it above the toffee to drip before placing it back on the lined tray to harden. 

Repeat with the remaining apples. 

Leave the apples for around ten minutes to completely set before placing in cellophane bags or simply serve. 

Serve straight away or store in a sealed container in the refrigerator for up to 3 days.
Notes
Warning : For the love of Moses be careful with boiling sugar. It's boiling, ya'll. Like, really freaking hot. 
Tips For Making Perfect Toffee Apples
Buy organic or unwaxed apples if you can. Wax is a culprit for causing bubbles in the finished candy coating.
Wash and dry the apples really well. Water is another cause of bubbles in candy apples.
Keep a close eye on the boiling sugar. Some stove tops heat faster than others. Always use the candy thermometer and watch it closely. Fight the temptation to check Facebook, Instagram or any other face numbing social media.
Bring the lined baking tray as close to the pan as you can when dipping to reduce the risk of burning yourself. 
Wait for the candy to stop bubbling before dipping the apples to help prevent bubbles forming in your candy.
I find the dipping process far easier with the heat under the toffee pan turned to low instead of turned off completely. You have to be super careful, but the heat keeps the toffee thin while if you remove it from the heat, the toffee begins to thicken making it hard work. The black toffee cracks perfectly revealing a juicy green Granny Smith that is wonderfully spooky like a witch's boot.
I used activated charcoal made from coconut in this recipe.
Activated charcoal may render certain medications ineffective. 
A few poisonous plant varieties you do not want to use for your twigs are Oleander, Laurel, Rhododendron, Horsechestnut, Buckeye, Yew, Azalea, Cherry, Elderberry and Black Locust
Nutrition
Calories:
294
kcal
|
Carbohydrates:
75
g
|
Protein:
1
g
|
Fat:
1
g
|
Saturated Fat:
1
g
|
Sodium:
4
mg
|
Potassium:
225
mg
|
Fiber:
4
g
|
Sugar:
69
g
|
Vitamin A:
98
IU
|
Vitamin C:
8
mg
|
Calcium:
17
mg
|
Iron:
1
mg
Tried This Recipe?
I'd love to hear your feedback. Rate it & leave your feedback in the comments section below. Or you can tag @mygoodnesskitchen or hashtag #mygoodnesskitchen on Instagram.