Last updated on July 1st, 2020 at 07:57 am
If there is one thing I know about vegan food it's how to cook it for carnivores. I should; I've been a vegan living with meat-eaters for years. After deciding I wasn't going to cook different meals for each of us at night I got serious about creating vegan meals for meat-eaters. The goal? One plant-based meal each night that the whole family will eat. Challenge accepted.
The following 10 recipes are some of my favourite tried and tested vegan recipes sure to please even the fussiest meat-eater.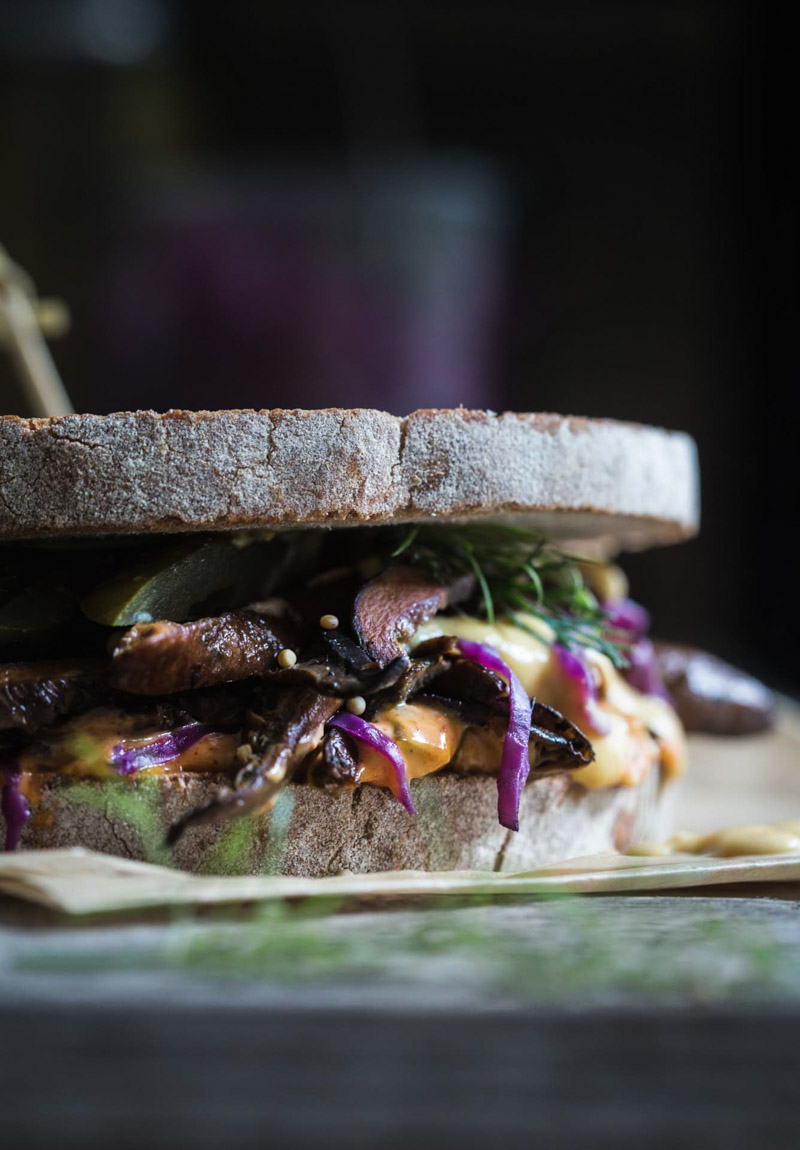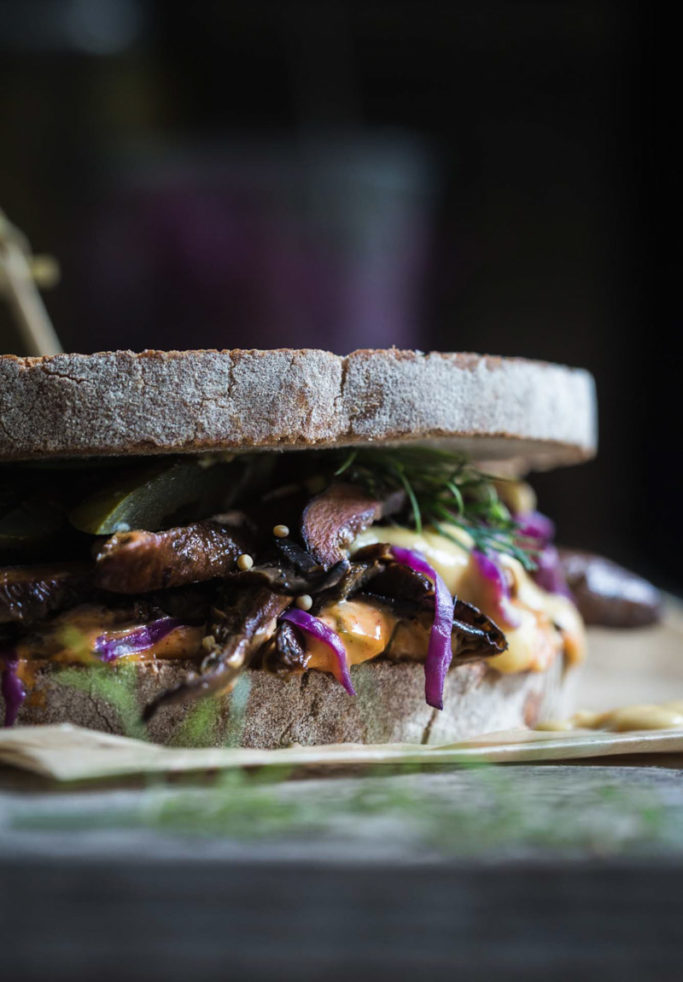 Animal products don't have the monopoly on flavour. Vegetables can pack a mouthful too especially if you treat them with a little love. I pulled together 10 of my favourite vegan meals meat-eaters will love but first..a few tips to creating plant-based dishes the carnivores will devour.
 Tips to Creating Vegan Meals Meat-Eaters Will Love
My first tip has nothing to do with cooking but I think it's important. Take the word "vegan" out of the dialogue. While I use the terms "vegan" and "plant-based" in my recipe names to make them easier to find, you can just call a mushroom burger, a "mushroom burger" rather than a vegan burger. A chickpea curry can just be that. While you and I may be super comfortable with the "vegan" mantle some meat-eaters may find it confronting. Let your cooking speak for itself.
Experiment with spices. Like "traditional" meat-based cooking, vegan recipes go from yum to mind-blowing with a few spices. Mushrooms love thyme, cauliflower has a thing for fresh herbs but also rocks a spicy Mexican rub. Meanwhile, did a roast vegetable ever look better than sprinkled with sea salt and rosemary?
Take a traditional recipe and veganise it. I use oyster mushrooms, jackfruit, lentils and tofu to substitute for meat and create texture and bulk with larger legumes like chickpeas and black beans. Get creative!
For the love of Moses, season your food. Flavour doesn't happen with a wish and prayer...season and taste as you cook.
OK, enough said. On to my 10 favourite vegan meals meat- eaters will love. They are in no particular order so I suggest you just go ahead and try them all. Enjoy, x.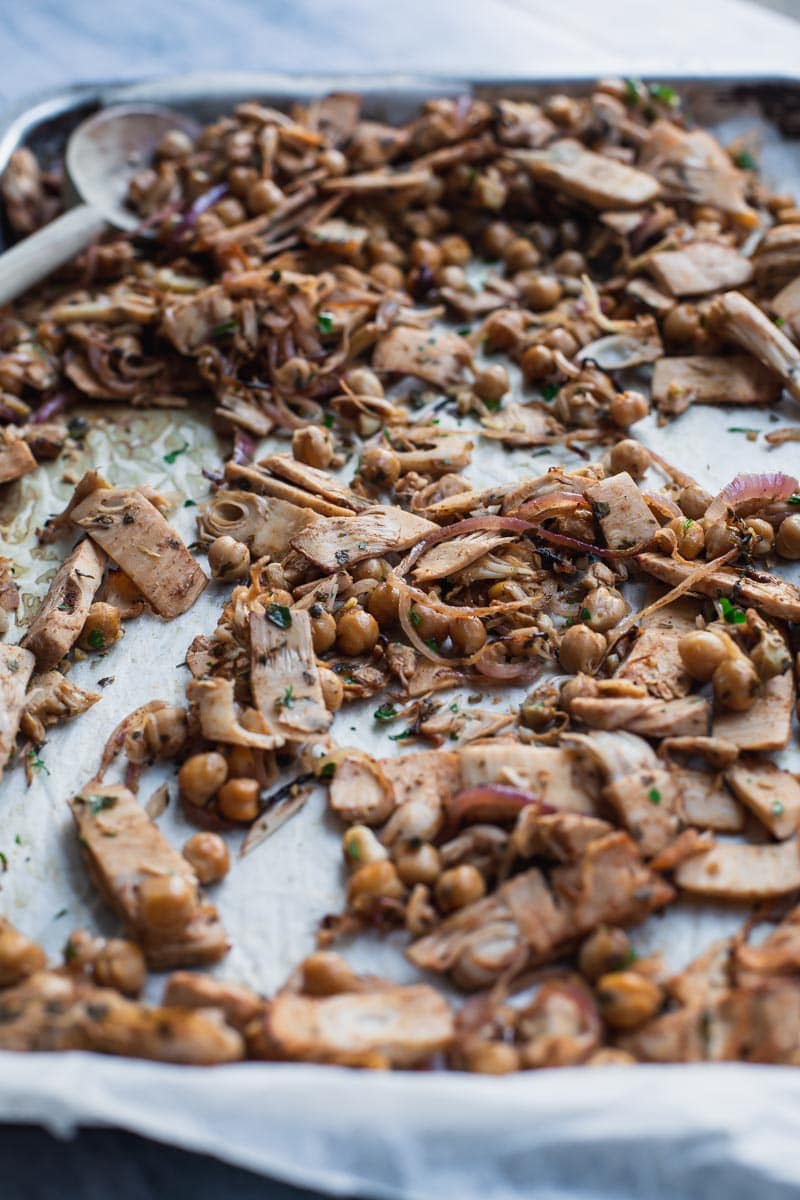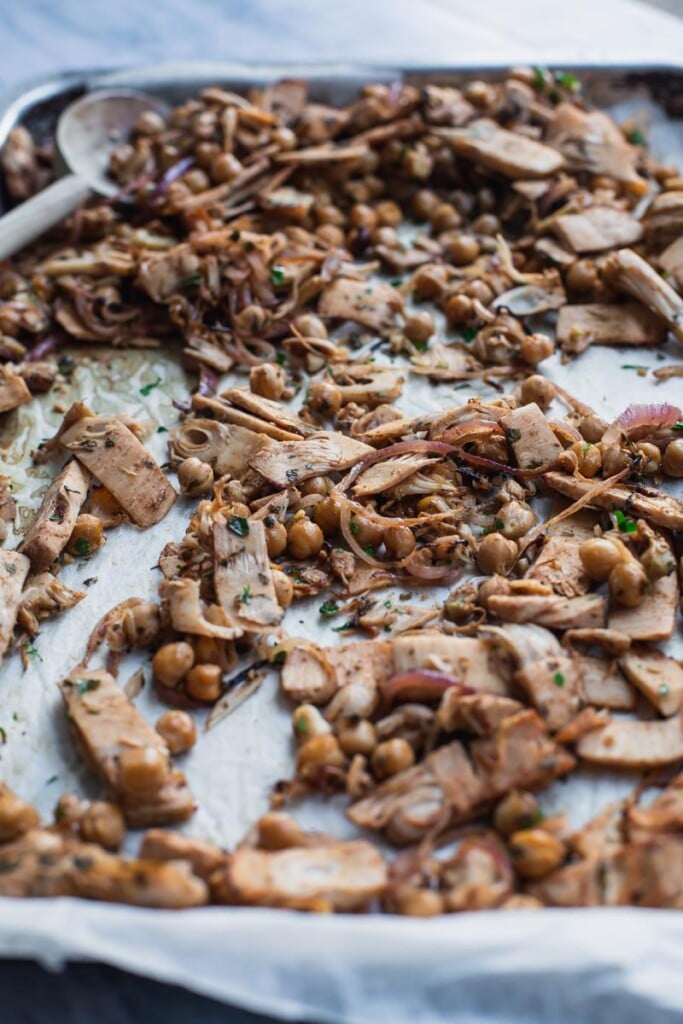 If you haven't tried shawarma, let me introduce you.
Shawarma is a Middle Eastern dish traditionally made from meat that is marinated in aromatic spices, lemon and garlic. Stacked in to a cone shape and cooked on a vertical skewer the meat is then cut in to thin slices and served on a warm pita with fresh tomatoes, pickles and tahini or hummus. To make a vegan version, I swapped out the meat for young jackfruit and added chickpeas for protein.
The result is a juicy, messy and aromatic vegan meal meat-eaters will love!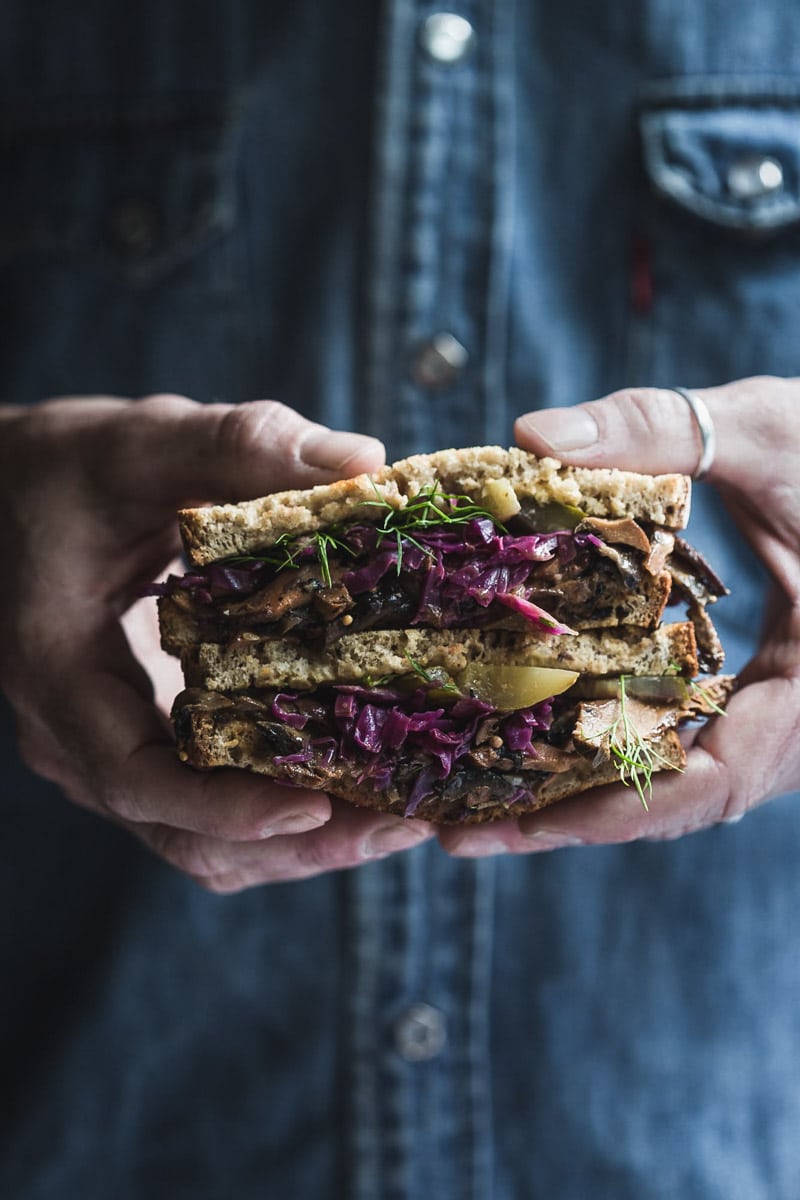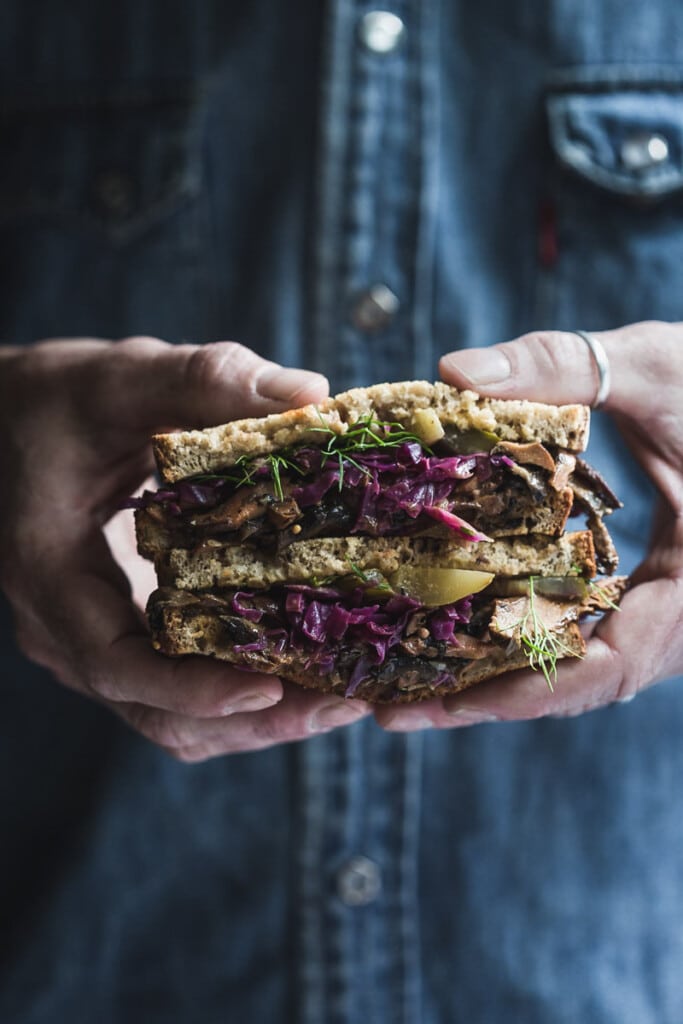 Unless you've been living under a rock chances are you've come across the world famous Reuben Sandwich. Piles of corned beef sitting on a bed of sauerkraut, pickles and a spicy Russian dressing on grilled rye bread. My version uses mixed mushrooms but you can use any kind you like. Add peppers, cheese or even kimchi for your own spin.
"Really tasty! Will definitely be going in my "make again" pile. I used Portobello mushrooms and smoked provolone by violife which took this sandwich to another level." (Ashley, J)
This wonderfully authentic soup had to go on my list of vegan meals for meat-lovers. Little carnivores love it! I usually make this with shredded jackfruit but I've also used oyster mushrooms and it was a huge hit at my kid's kindy. This vegan chicken noodle soup is simple to make and just feels like chicken noodle soup should. It's warm, nostalgic and super noodle-y.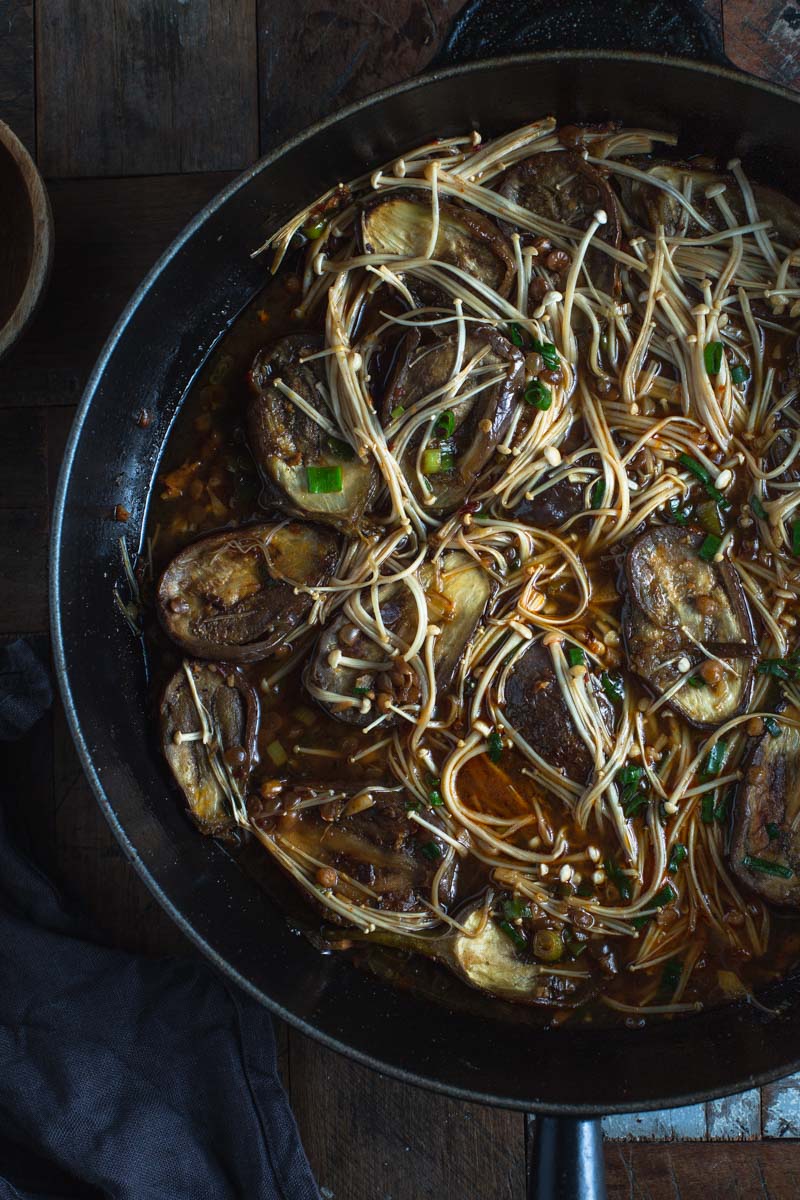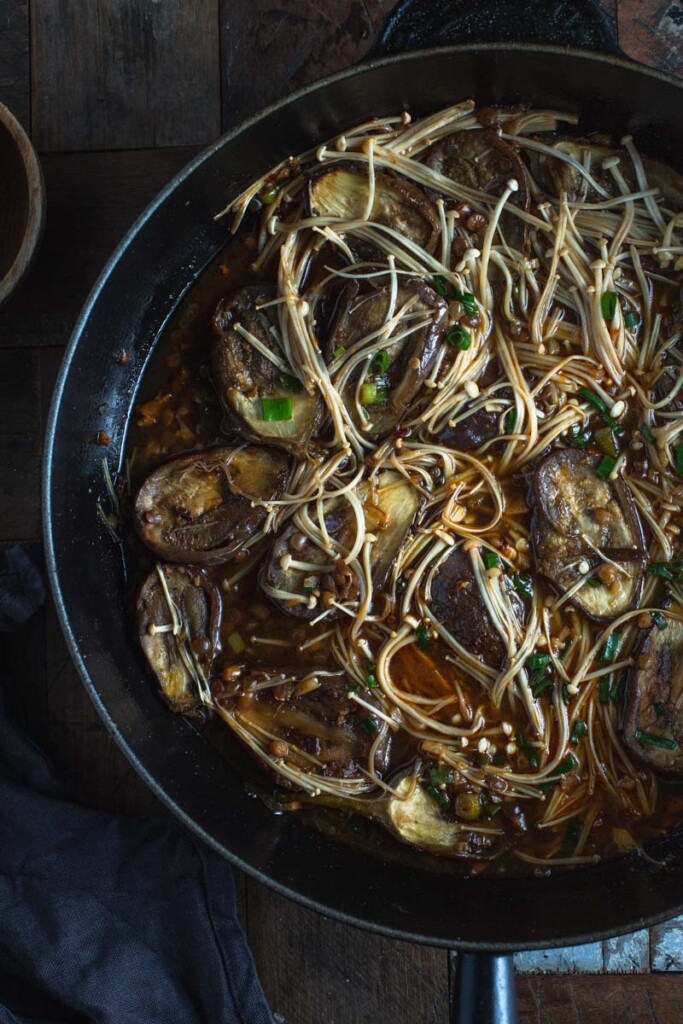 Inspired by an Asian pork recipe, this spicy eggplant stir-fry morphed in to it's own thing during recipe testing. It is doesn't try to be meaty - it is simply a vegetable stir-fry that is PACKED with flavour. I mean packed. I used enoki mushrooms instead of noodles to make it lighter and to add another veg, but you could easily whip up the eggplant and serve it with your favourite noodles or rice. It is spicy, quick and carnivore-approved.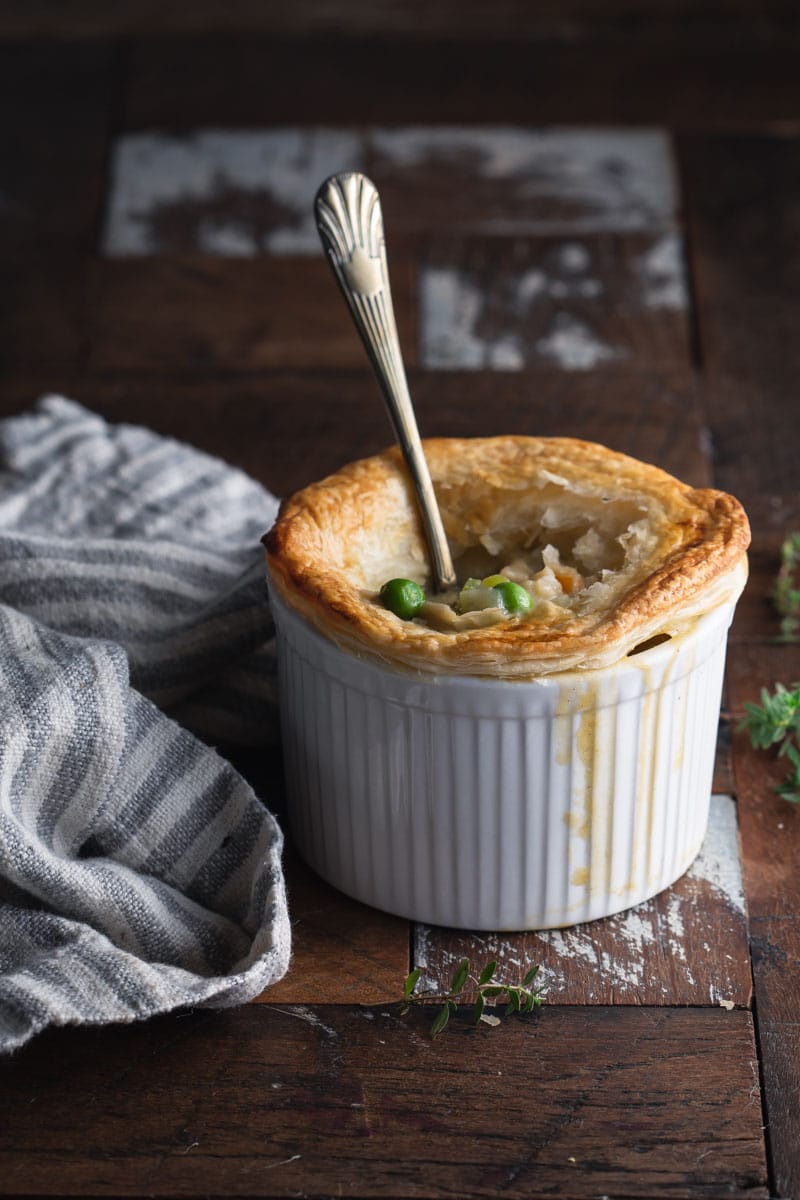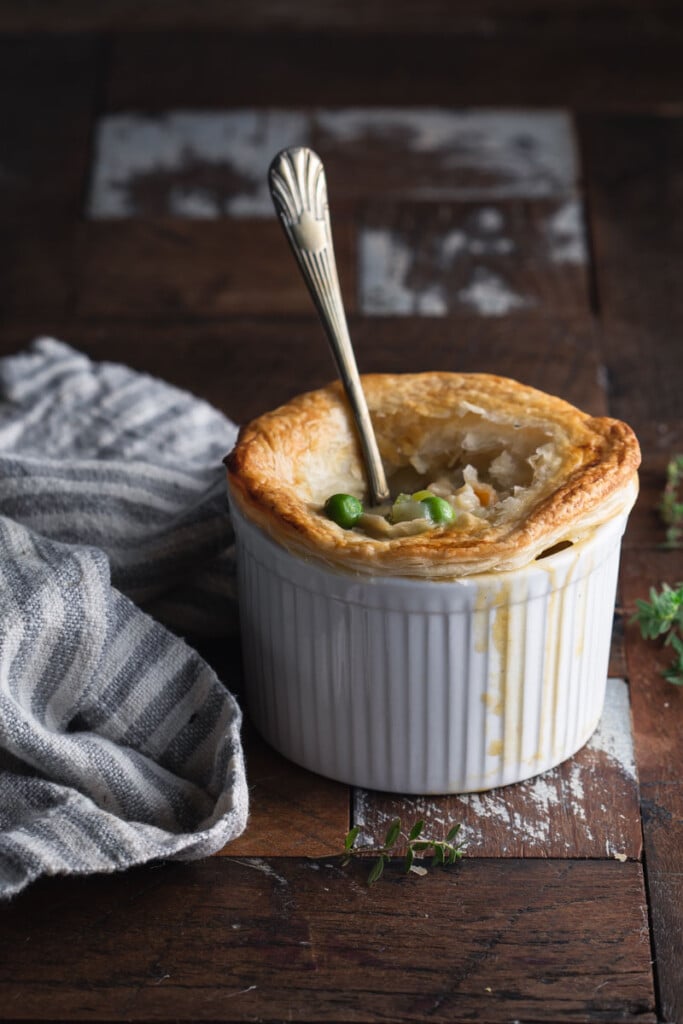 "Unbelievable vegan pot pies! These are seriously amazing and taste just like chicken pot pies…seriously a game changer." Trish Bozeman from Rhubarbarians. Say no more...
You can't have a list of vegan recipes for meat-eaters without a curry! Curry is universally loved and for good reason. While traditionally made with chicken, tikka masala is a creamy tomato based curry full of warming spices. I used oyster mushrooms and protein-packed chickpeas to create texture and volume in this family-friendly curry.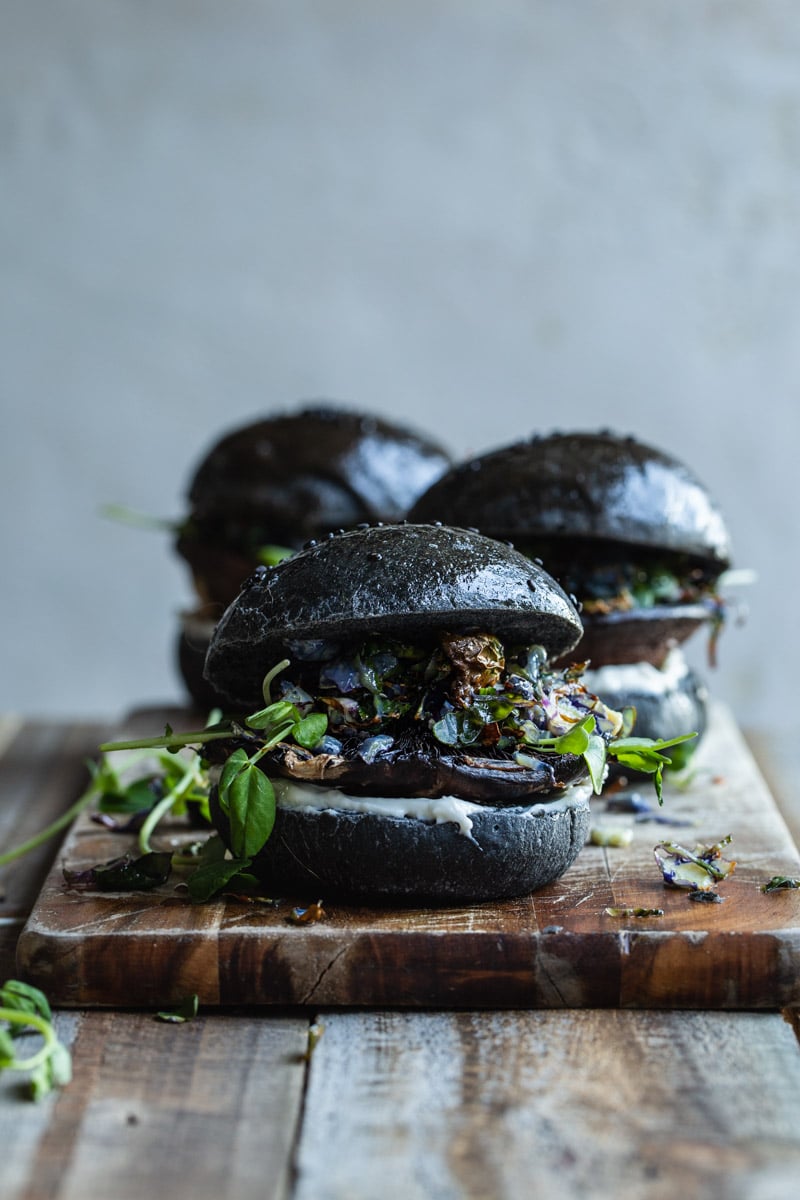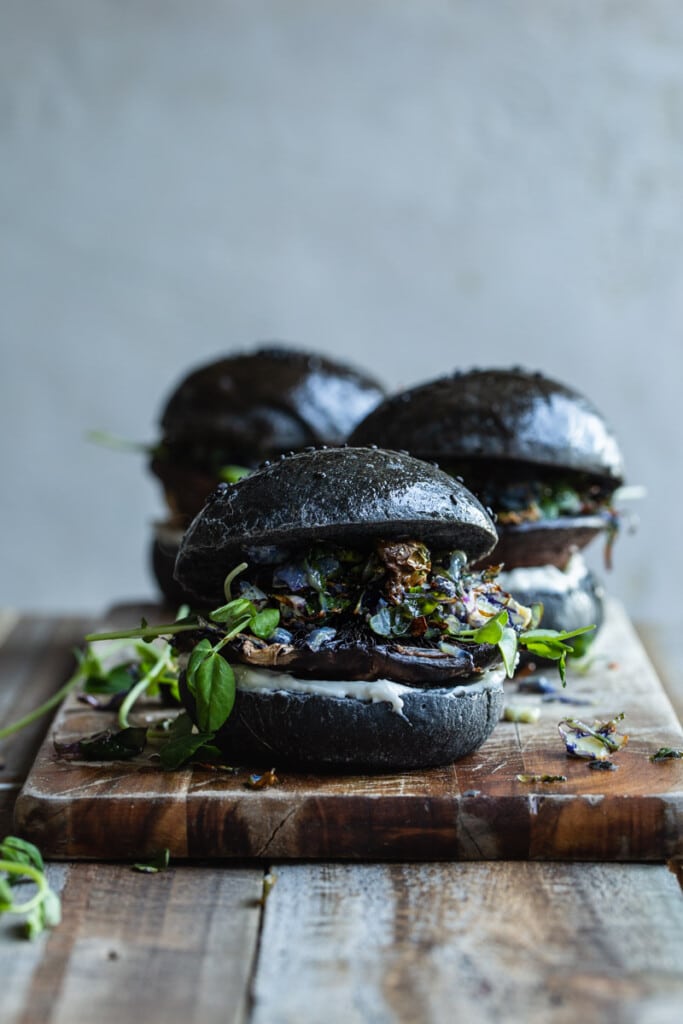 "Amanda... caught our eye with these shroom burgers! She not only made her own charcoal buns, but also roasted then tossed Brussels with wasabi, mirin and a bit of sunflower oil to top the roasted portobellos. Minds. Blown." (Wicked Healthy).
I have a few burgers on the blog but this portobello burger is my pick for feeding fussy carnivores. Mushrooms are so meaty and flavoursome, they won't miss the meat. Top them with crispy wasabi sprouts for added texture.
Straight from the pages of my cookbook, these little no-sausage rolls are perfect for big and little kids. Made with mushrooms, lentils and a handful of spices they are truly meaty without the meat.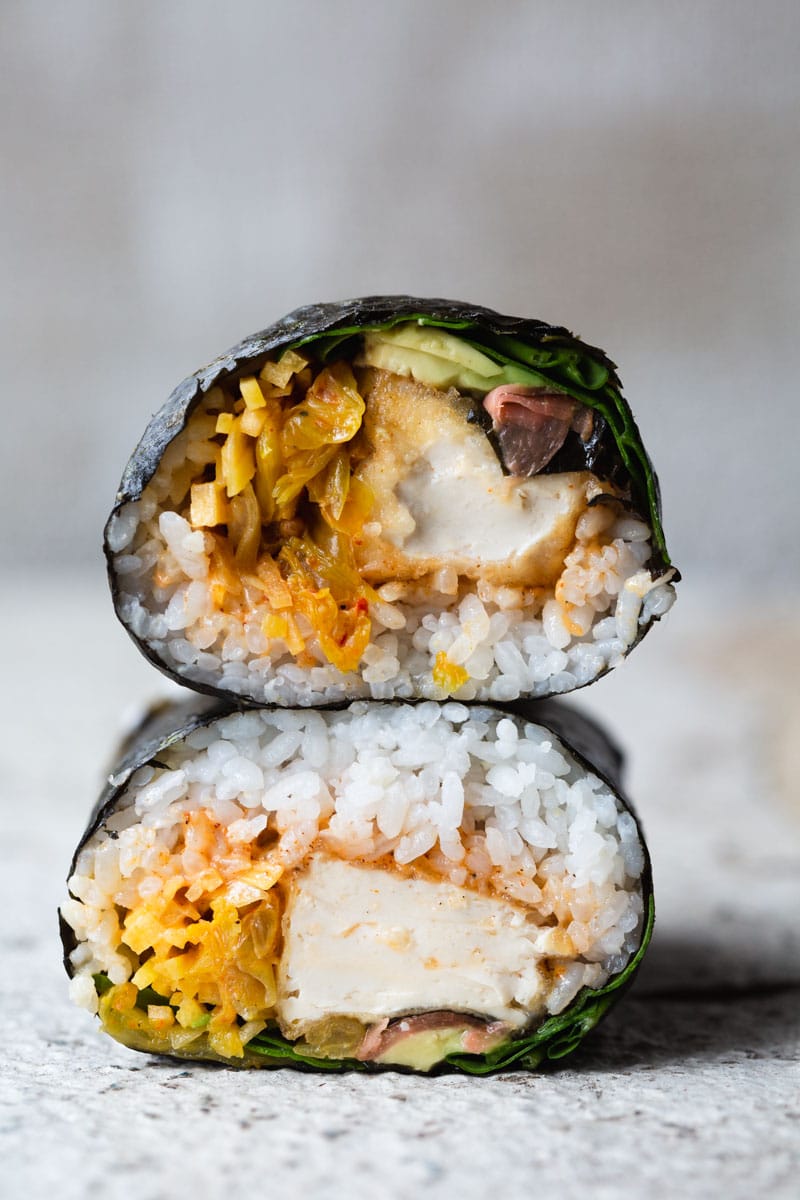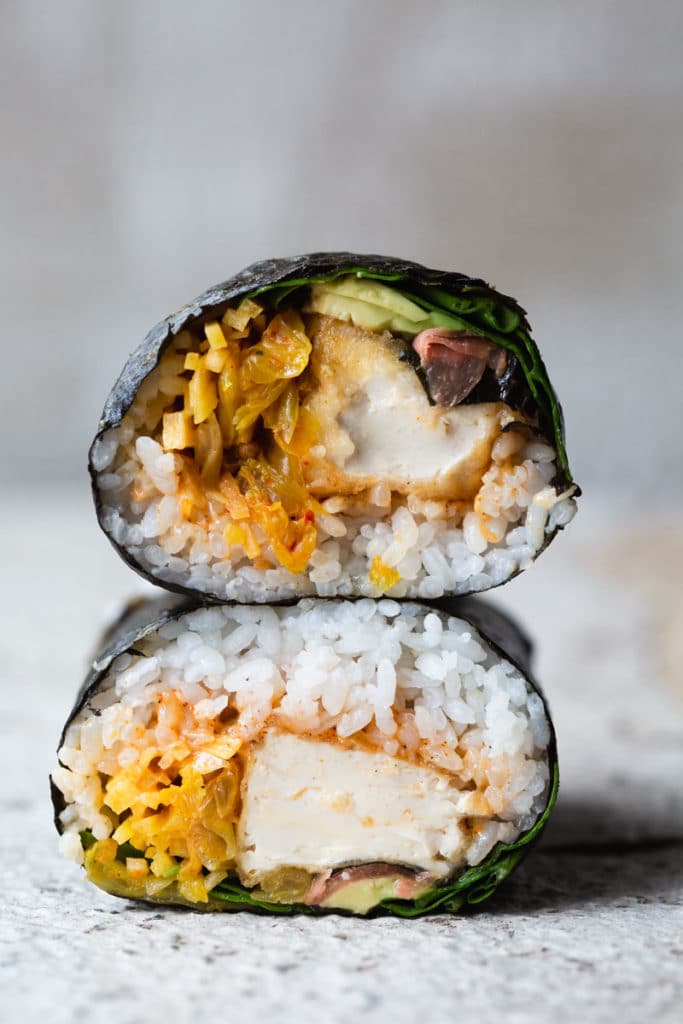 Tofu can be a no-fly zone for some but when it's cooked right and seasoned, holy moly it's good. Inspired by the food trucks in Portland, these burritos are a fun twist on the traditional Mexican variety. If you absolutely can't do tofu, sub it for shredded and panfried oyster mushrooms or Mexican black beans.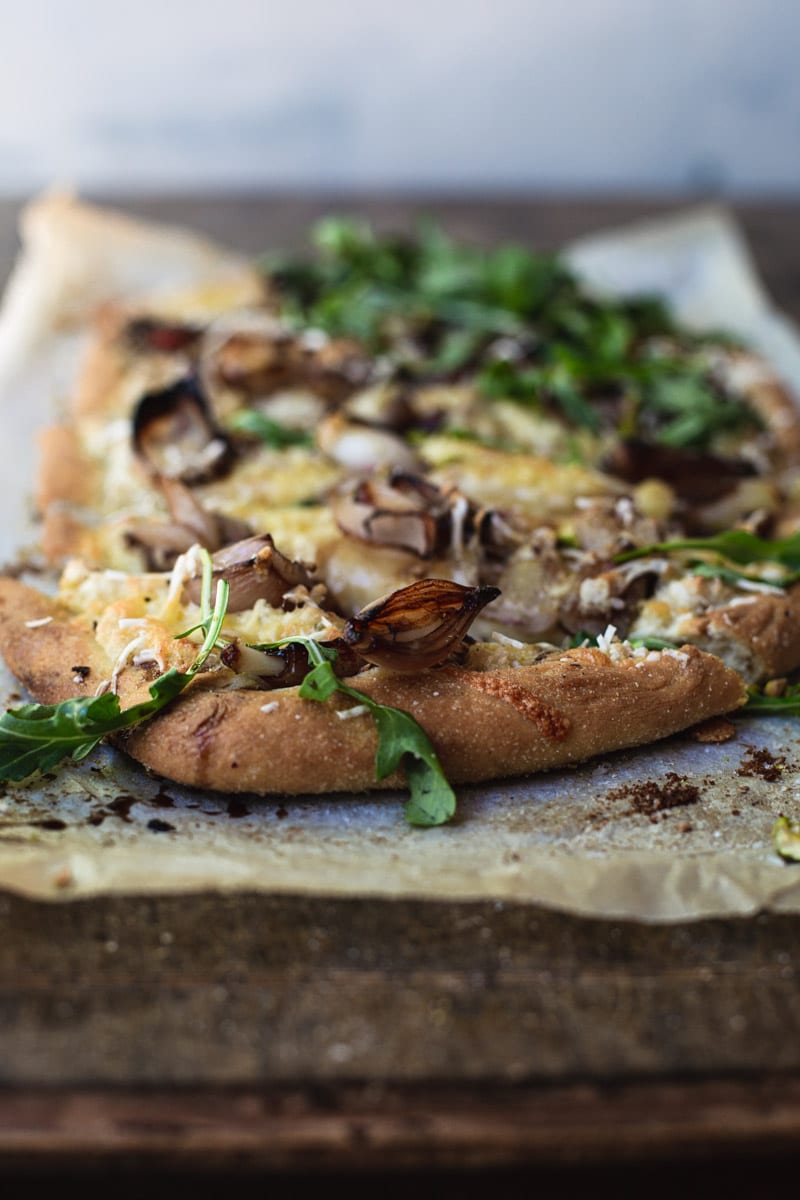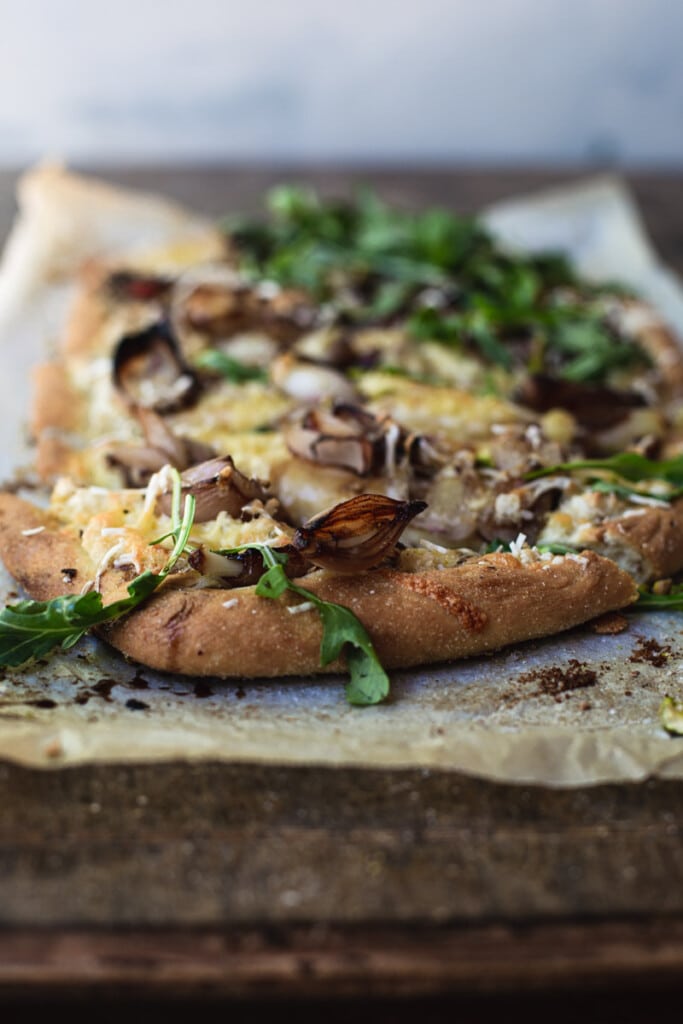 It's pizza, ya'll. What's not to love? If you haven't tried a white pizza this recipe is something new for you AND your meat-loving friends. There is nothing better than exploring food together.  Made without tomatoes, white pizzas allow the toppings to shine. In this recipe I combined the sweet pear slices with acidic balsamic shallots.
Hungry for More Plant-Based Goodness?  Subscribe to my newsletter and follow along on Facebook, Pinterest and Instagram for all the latest news and updates.