Inspired by the Thai street food favourite, these Spiced Thai Iced Coffee Popsicles are a sweet and fun way to enjoy your coffee. Made with coconut milk, coconut condensed milk and a touch of cardamom these popsicles are simple, exotic and delicious.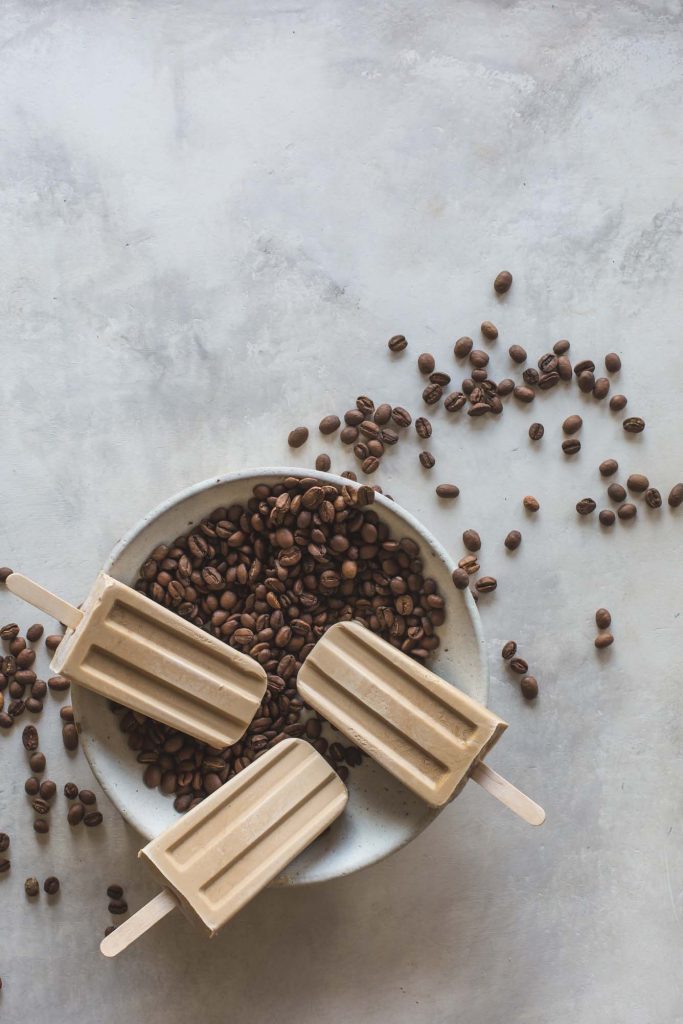 My first experience with condensed milk and coffee was over fifteen years ago when my husband and I were living in a small town called Cajamarca in northern Peru. We'd moved over for the husband's work and were just settling in to life 3000 metres above sea level when we found a small cantina with an expresso machine in the middle of town. I ordered a cappuccino. After about 20 minutes we were wondering where my coffee was when we spied 3 of the cantina staff huddled around the completely quiet coffee machine.
Using a nearby coffee poster for reference, the three girls had served up a black coffee and whipped condensed milk setting it atop the coffee to look like the foam in the picture. Finishing the "cappuccino" with a dusting of cinnamon, my coffee was ready.
Turns out the espresso machine was for show. The town had experienced a huge influx of western expats in recent years and the machine was bought to lure the foreigners in to the cantina. I am not sure if it had ever been turned on or if any of the staff knew how to operate it but they were so proud of their coffee making ingenuity, I drank every sickly sweet drop.
These spiced Thai iced coffee popsicles are not inspired by that particular coffee.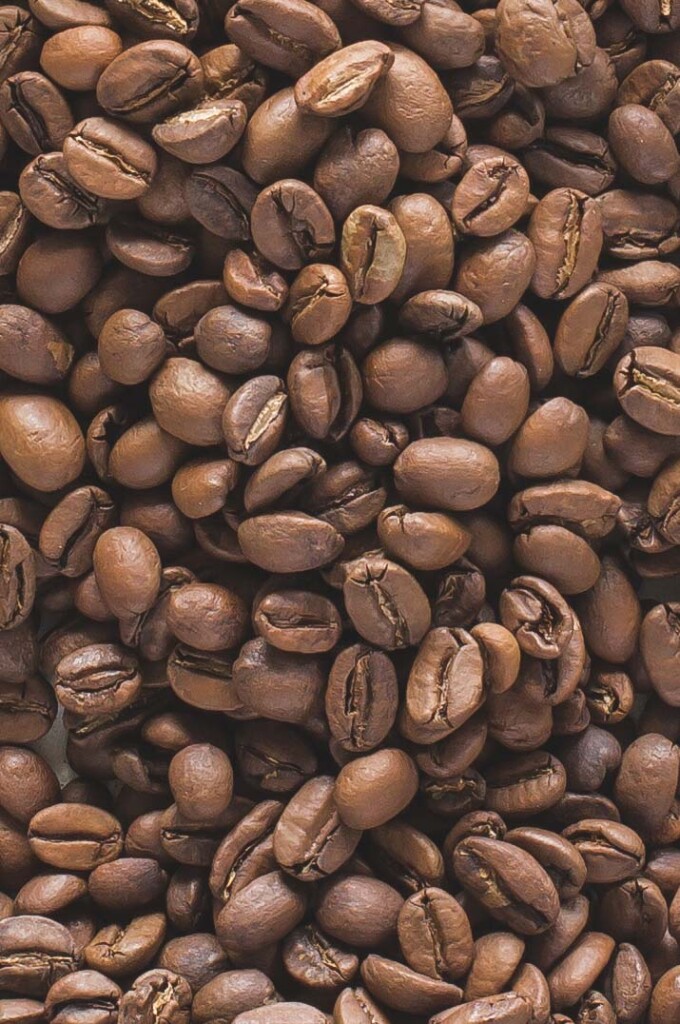 What is a Thai Iced Coffee?
Thai iced coffee or Oliang is popular in Thai restaurants and is a staple of food markets and carts. Made by steeping coffee in a tungdtom or coffee sock for 10 minutes and pouring the coffee over ice, variations include gopi, with condensed milk, and oliang-yoklo, with ice and fresh milk.
My spiced Thai iced coffee popsicles take elements of both variations and twists them in to delicious and refreshing iced treats. If you love a hint of exotic flavour in your sweets, you'll love these little guys.
Breaking with tradition
If you are a Thai iced coffee purist I must offer this disclaimer. I have taken shortcut upon shortcut with these popsicles and then I dipped those shortcuts in chocolate. Chocolate is not traditional but I can't help it; I am a slave to the theobromine. To be fair and honest I must further confess
I use instant coffee
I don't steep
I use canned coconut milk
On the flip side, these popsicles are so quick to prepare and require no cooking skills other than stirring. What can I say, I like my treats quick, simple and delicious.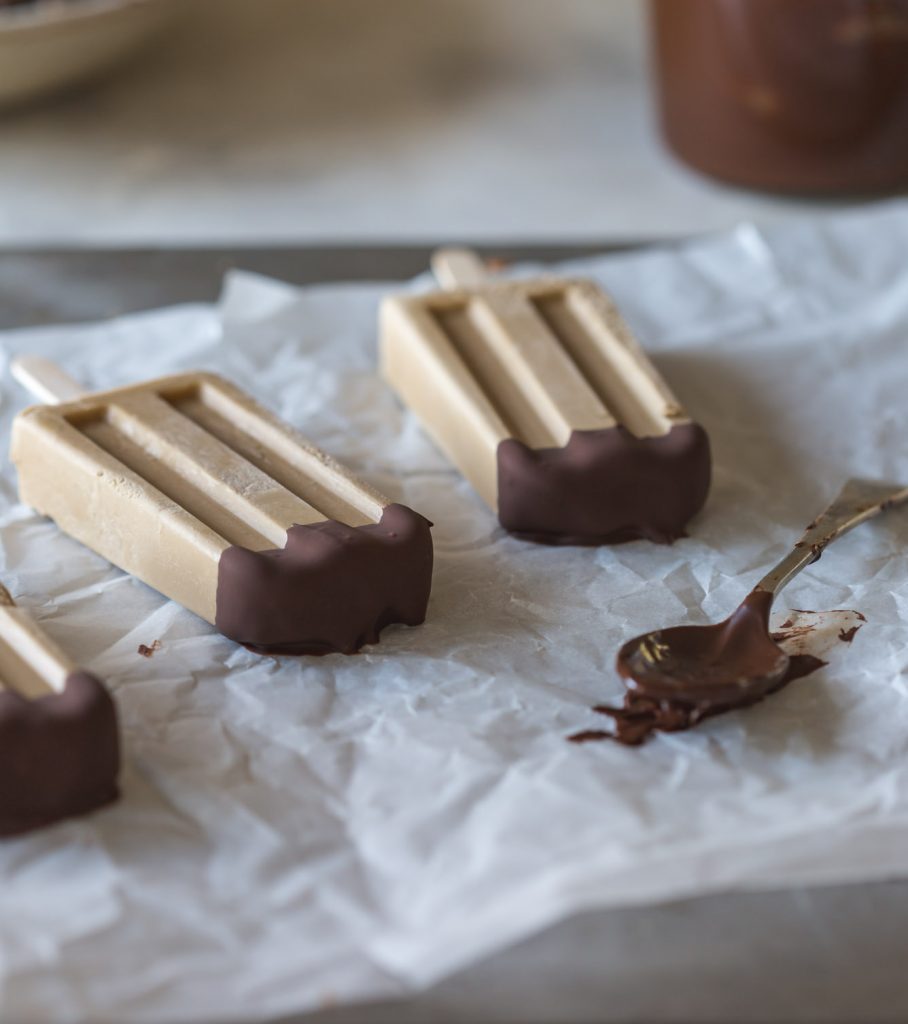 Lightly spiced with cardamon, these creamy coffee popsicles are made sweet with just the right amount of coconut condensed milk and I think made even better with a touch of rich dark chocolate. Of course you can make them without chocolate but I am not sure if we can still be friends. Chocolate has always been my first love and coffee and chocolate…well, that's just food fairytale right there. Enjoy.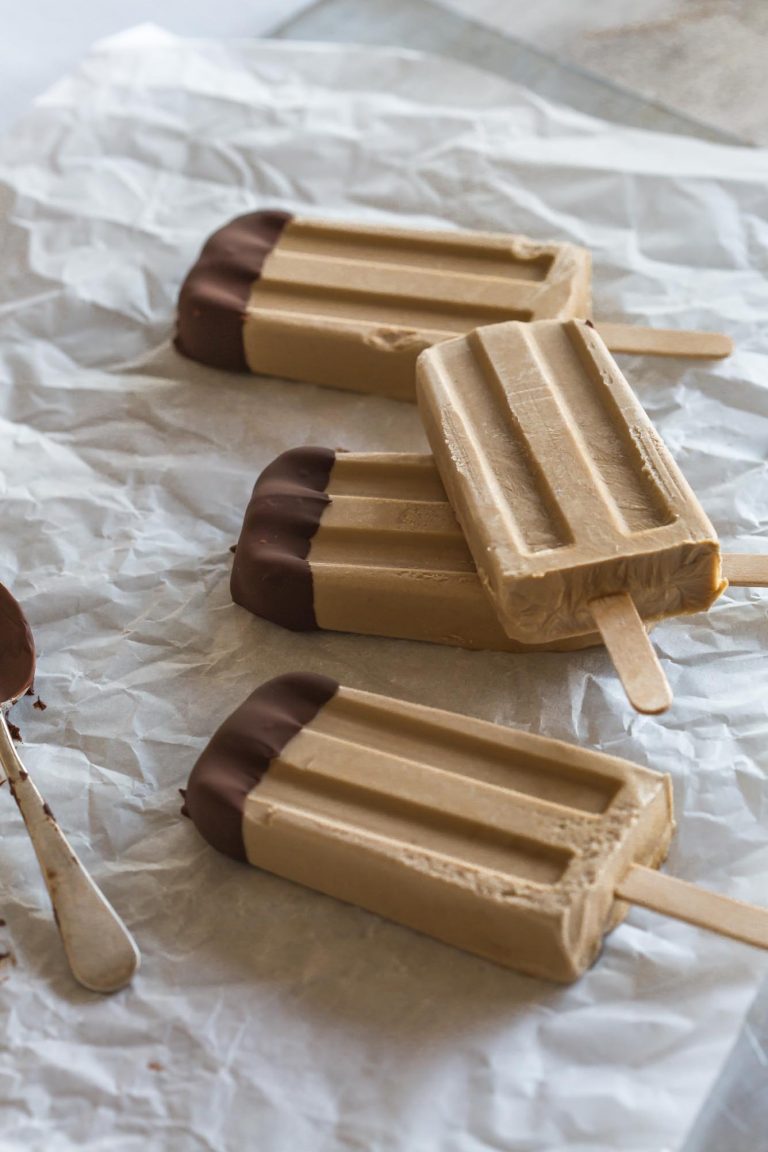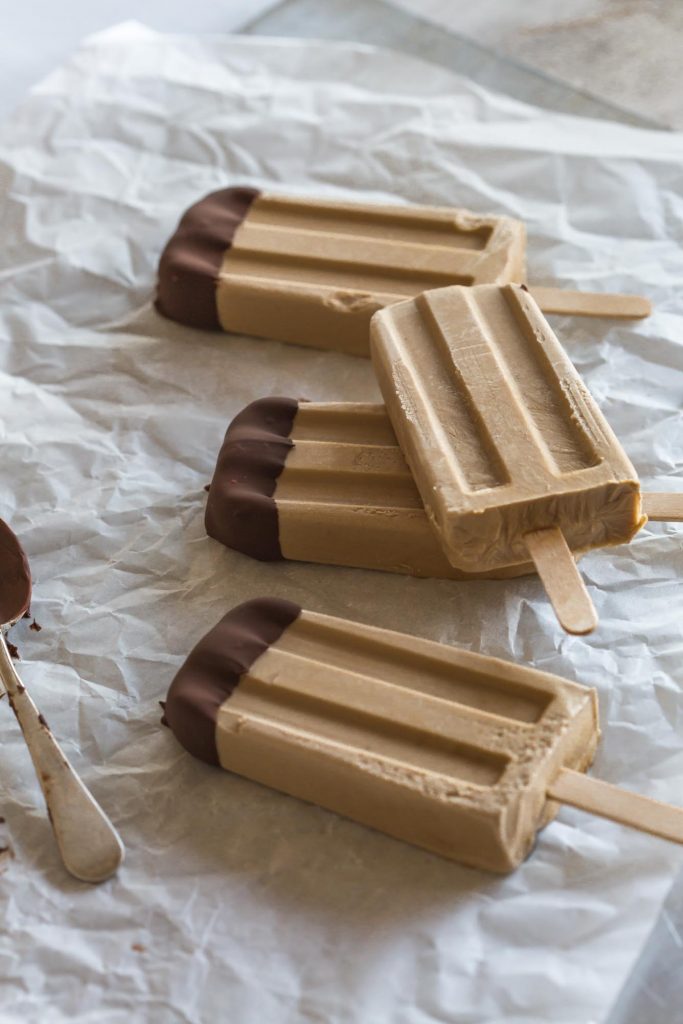 Spiced Thai Iced Coffee Popsicles with Cardamom
Made with coconut milk, coconut condensed milk and a touch of cardamom these spiced Thai iced coffee popsicles are simple, exotic and delicious.
Ingredients
800

ml

full fat coconut milk

2 x 400ml cans

2 1/2

tbsp

instant coffee

small pinch

ground cardamom

1/2

cup

coconut condensed milk

3/4

cup

vegan chocolate

optional
Instructions
Add the coconut milk, instant coffee and ground cardamom to a saucepan and heat gently until the coffee is dissolved in to the milk, stirring regularly. Whisk in the coconut condensed milk and remove the mixture from the heat.

Allow the mixture to cool before pouring it in to popsicle moulds. Add a popsicle stick and pop in the freezer for at least 2-3 hours to set.

To add a chocolate tip, melt the vegan chocolate in a double boiler or in the microwave. Remove the popsicles from their mould by running warm water on to the plastic mould - be careful not to get water in to your popsicle - until you can remove the stick and the popsicle from its shell. Working quickly,dip the tip of each popsicle in to the melted chocolate and place each one on a small tray. Return the dipped treats back to the freezer for another 10 minutes to set before serving.
Notes
Coconut condensed milk can be found in many supermarkets and whole food stores these days. 
Nutrition
Calories:
279
kcal
|
Carbohydrates:
19
g
|
Protein:
3
g
|
Fat:
22
g
|
Saturated Fat:
18
g
|
Cholesterol:
5
mg
|
Sodium:
30
mg
|
Potassium:
276
mg
|
Sugar:
14
g
|
Vitamin A:
40
IU
|
Vitamin C:
1.2
mg
|
Calcium:
77
mg
|
Iron:
3.7
mg