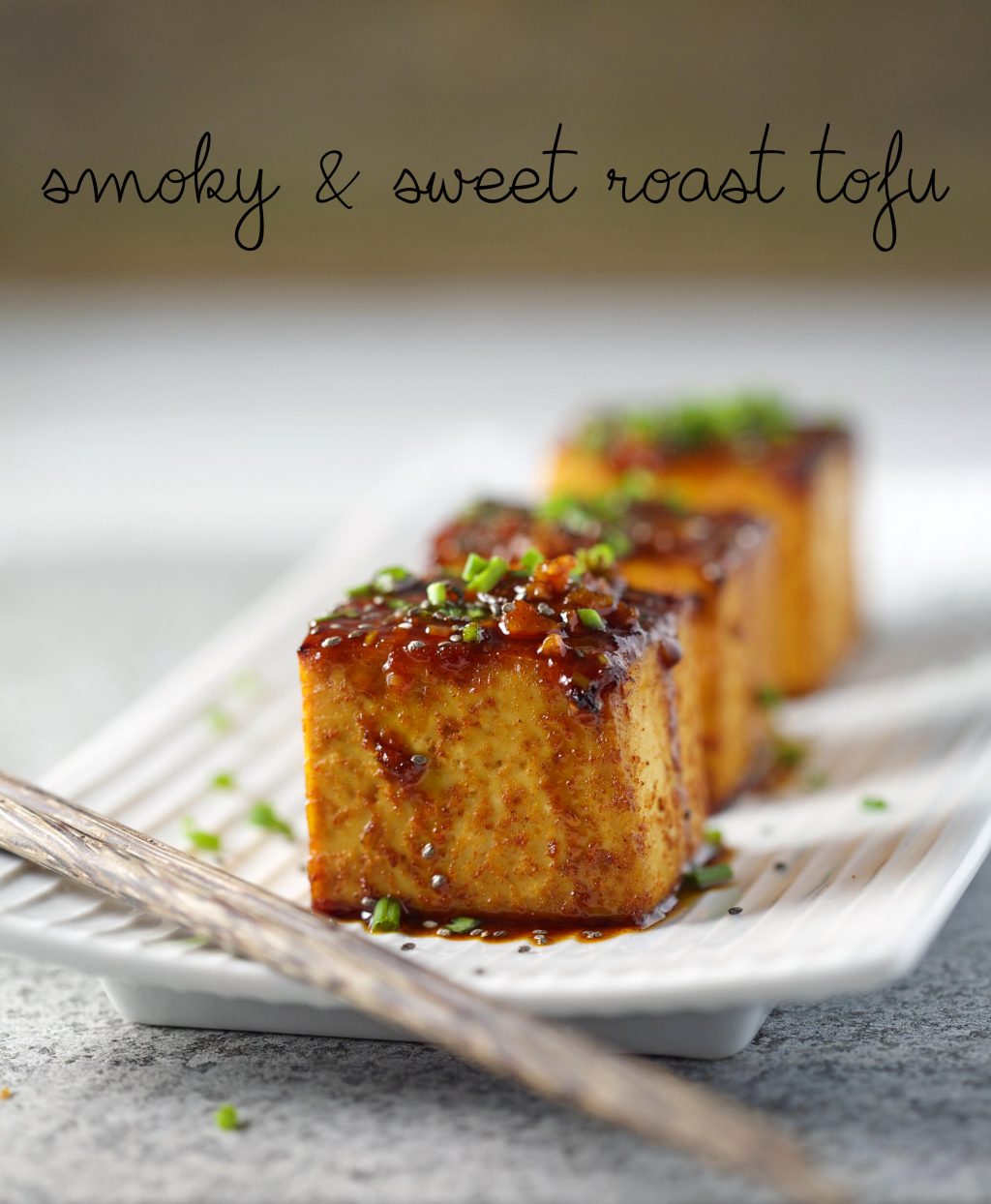 And we're off! Finally, my first blog on the new site. Welcome! I am going to be super quick today because I have a tiny window of opportunity. The elf is sleeping, the husband is happy rolling around in the garden and I have a new photography set up to play with. Yay. Today is a good day. Thankfully this smoky and sweet roast tofu recipe is wonderfully quick to prepare and equally as quick to eat.
I think tofu is one of the most polarising foods I have come across. Love it or hate it, you can't deny it's versatility. It can be whipped, scrambled and in this case cubed and treated like a meat. Add a good baste and tofu comes to life. I love this particular baste/sauce, it is complex in its sweet, smoky goodness and so simple to prepare. While I love tofu in all its guises, I am very partial to roast tofu and this vegan recipe is de-licious.
Sweet Smoky Roast Tofu | Vegan Recipe
Ingredients
500

g

firm tofu

or medium

2

garlic cloves

finely chopped

1

ginger thumb

finely chopped

3

tbs

tamari or soy sauce

1

tbs

smoked paprika

1

tbs

ketchup

2

tbs

apple cider vinegar

2

tbs

maple syrup

2

tbs

water

chia or sesame seeds to garnish

chives

finely chopped to garnish

oil
Instructions
Preheat oven to 200 degrees C or 400 F.

Lay tofu on a kitchen towel to remove moisture.  

In a saucepan heat a good dash of oil and fry garlic and ginger until fragrant. Add soy, ketchup, paprika, apple cider vinegar and maple and stir to combine. Add 1 tbs of water.

Cut tofu in to cubes and gently dip them in to the baste carefully not to burn yourself.

Place basted cubes on a baking tray and bake in the oven for 15 - 20 minutes until brown.

Remove from oven. Add another tbs of water to the baste and stir before spooning over the tofu.

Garnish with finely chopped chives and chia or sesame seeds. Serve with steamed rice or a pickled salad.