I have been dreaming about creating a peach ice-cream for some time and this week I finally dug out the ice-cream maker from its Winter hibernation in the back of my pantry. This roast peach and oatmeal ice-cream is one of those recipes where I just knew the flavours would work; I could taste them on my tongue before I even began planning. Stepping away from the old faithful (and delicious) straight coconut milk vegan ice-cream I added oatmeal, soaked overnight, to create a dreamy and creamy ice-cream base that pairs wonderfully with sticky sweet roasted peaches.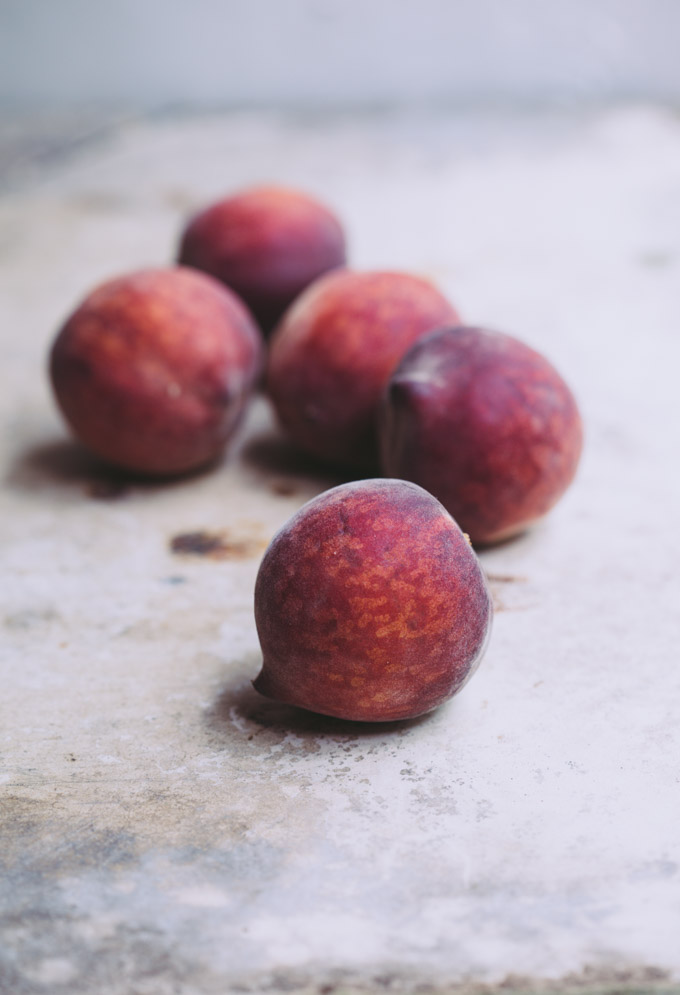 Spring lost her way this year and didn't stick around the Hills. We had a few days of gorgeous blossom before Winter's shadow returned and took up residence blowing the delicate blooms away. Last week, the day we made this ode to peaches and cream, we hit 36 degrees C (whoopee!) before dropping to 16 degrees C the next day (eepo0hw!). It's not that I am a hot weather bunny, I'm far from it, but I feel like we haven't had a moment to thaw. The cold in the Hills can be brutal; it's wet. Not whimsical, snowy wet; just wet. Wet-wet. Verdant and lush and postcard pretty, but wet.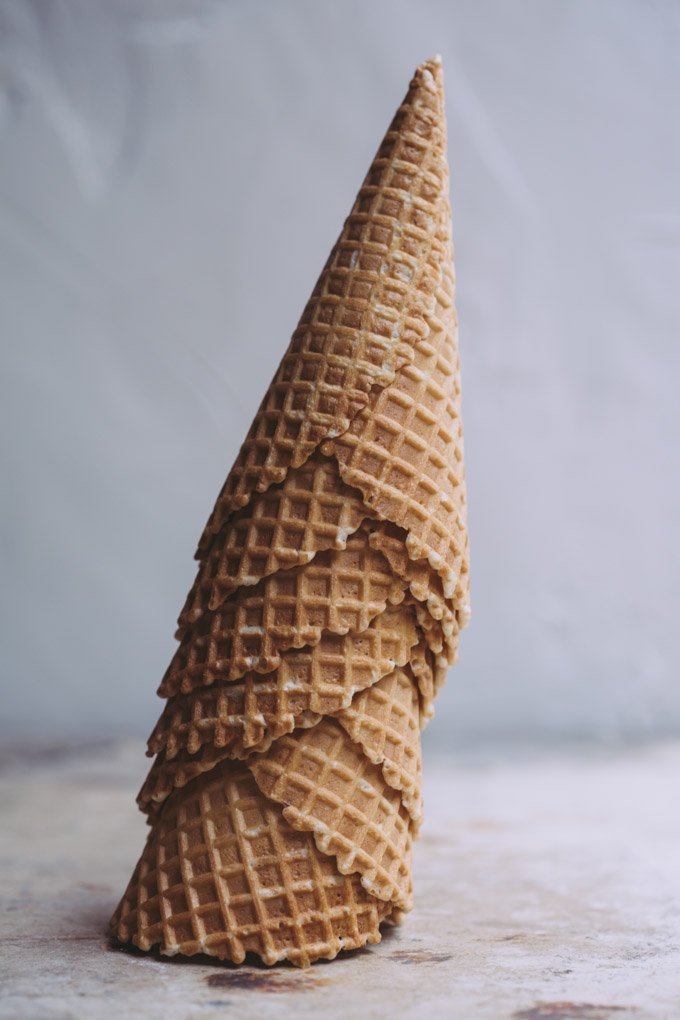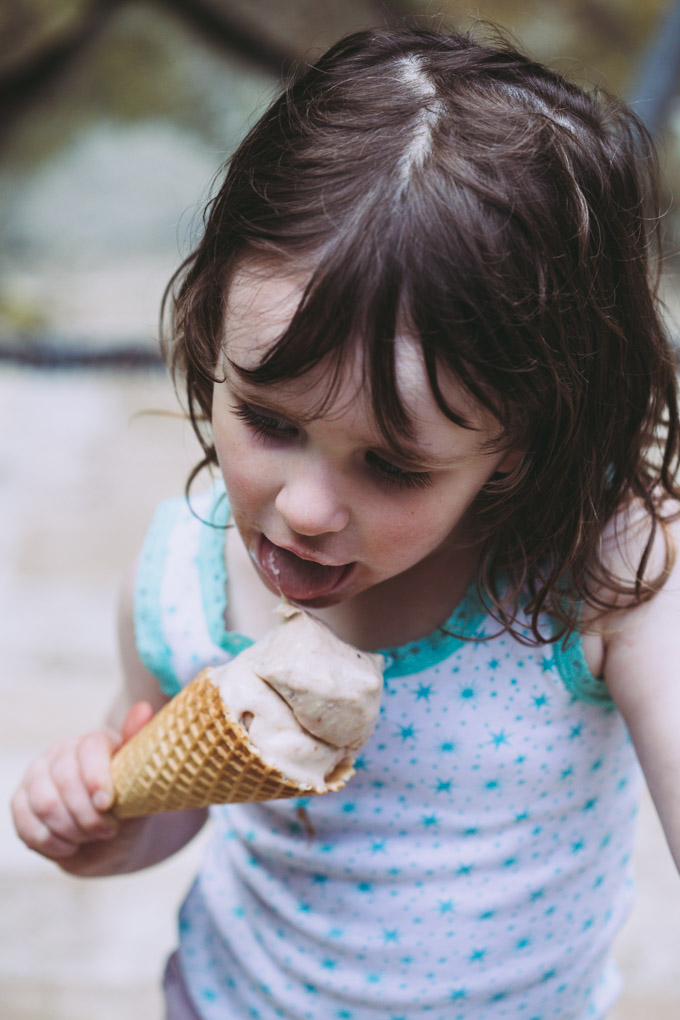 So on days when the glorious sun does peek through the grey, it seems almost mandatory that we celebrate with ice-cream. Ice-cream, bare feet and the promise of Summer in the air. These are the moments I have come to hold close; the ones where the sigh escapes your lips before you realise why. Because something inside you recognises a perfect moment before your brain has a chance to analyse it. Ice-cream, bare feet and Summer in the air – perfectly simple.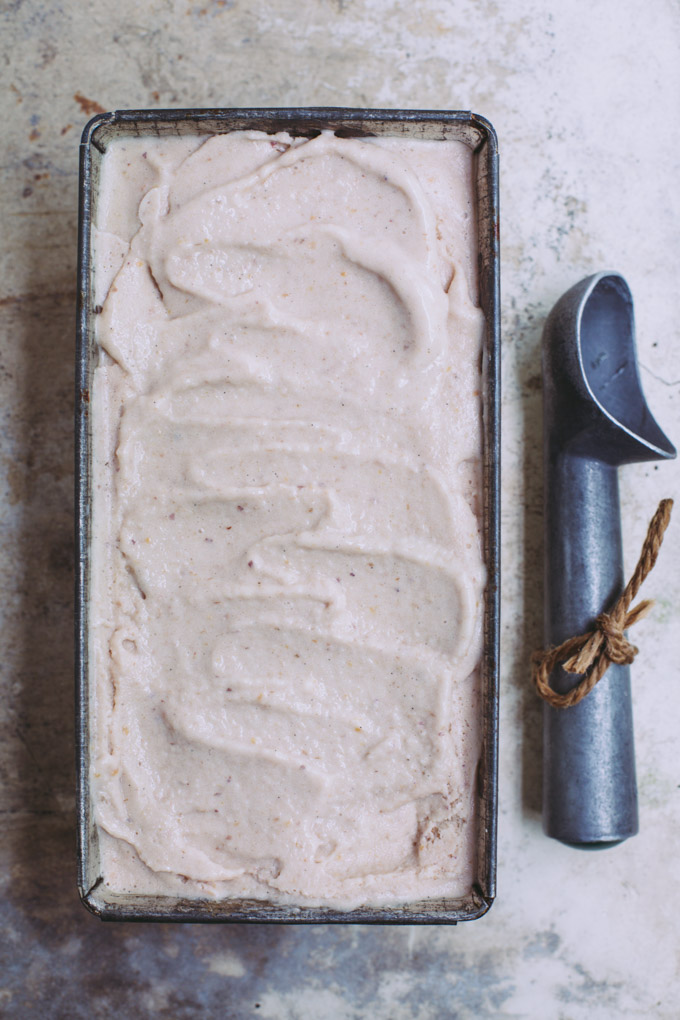 To complement a perfectly lovely day, we made a perfectly lovely treat. This roast peach and oatmeal ice-cream is like a chilled, creamy, fruity smoothie in a bowl.
I wanted to create a peaches and cream feel to this ice-cream but I feared using only coconut milk would overpower the delicate sweetness of the ripe peaches. I needed the fat from the coconut milk but added oatmeal to temper the coconut flavour.  While oatmeal itself has a distinct nutty flavour of its own, it works so beautifully with the peach and doesn't overpower.
To be doubly sure the lovely peaches had their day in the sun, I gently roasted them to enhance their fruity sweetness. I used half the peaches in the ice-cream base while the other half was puréed and folded through to create zingy, sweet rivulets. SO lovely.
One of my favourite things about this roast peach and oatmeal ice-cream is that even while I type, the ice-cream a memory, I am smiling. I think any dish that makes you smile should be filed under "special" in your recipe book. Whenever I make this I will always picture the Elf's small sticky fingers clinging to a cone bigger than her head while trying to capture every last drop of ice-cream before it melted away.
Enjoy.
Roast Peach and Oatmeal Ice-cream
This roast peach and oatmeal ice-cream combines the gorgeous sticky sweetness of ripe peach with creamy, vanilla oats - a heavenly match.
Ingredients
1

cup

rolled outs

1

cup

water

1

can coconut milk

400ml

1

can soy or almond milk

I fill the coconut milk can with milk

1

tsp

vanilla

6

small-medium peaches

pitted and halved

¼

cup

maple

½

tsp

xanthan gum

1

tbs

raw sugar for puree
Instructions
Freeze the bowl from your ice-cream machine in the freezer overnight.

Place the rolled oats and water in a bowl for three hours or overnight in the refrigerator.

Preheat the oven to 160 degrees C and line a baking/roasting tray with parchment or baking paper.

Carefully slice the peaches in half lengthways, remove the pits and place them on a baking tray.

Sprinkle the peaches with the raw sugar and roast for 15 to 20 minutes or until soft and caramel. Remove from the oven to cool.

When the oatmeal is soft and the water absorbed, place it, the coconut milk, almond or soy milk, maple syrup, vanilla, xanthan gum and 3 of the peaches in to a blender. Blend until well combined and smooth.

Set up your ice-cream machine and pour the peach oatmeal ice-cream base in. Churn as per your machine's instructions or for around 30 minutes.

Meanwhile, place the other three peaches in the blender and blend to a puree. Add a small amount of water if needed.

When the ice-cream is churned and ready, remove from the ice-cream machine. Pour in the peach puree and fold in manually.

Pour the ice-cream in to a freezer safe container, cover with foil and continue to freeze until ready to serve.