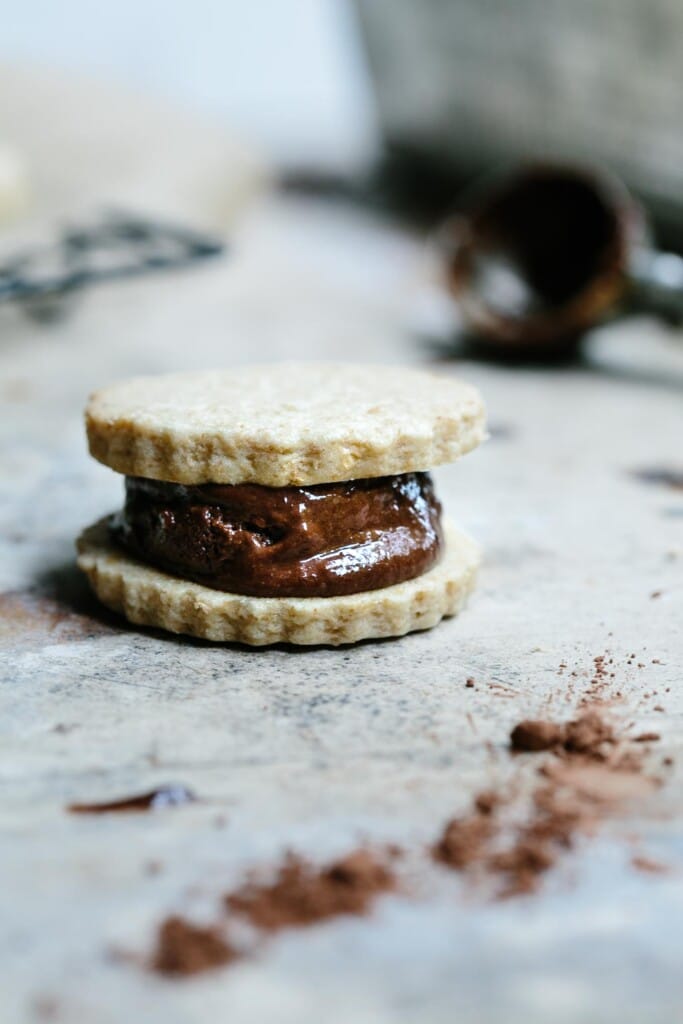 Last weekend we celebrated the Elf's third birthday with a party set in a log cabin in the woods near our home. Ten small people, at first shy, ran wild, their faces painted with unicorns and flowers while the big people kept watch. It was such a beautiful few hours watching our little girl with her friends and I remember having a moment when I thought, "I can't believe she is three already" but in the next breath a feeling that she had always been with us. Sigh. So blessed are we.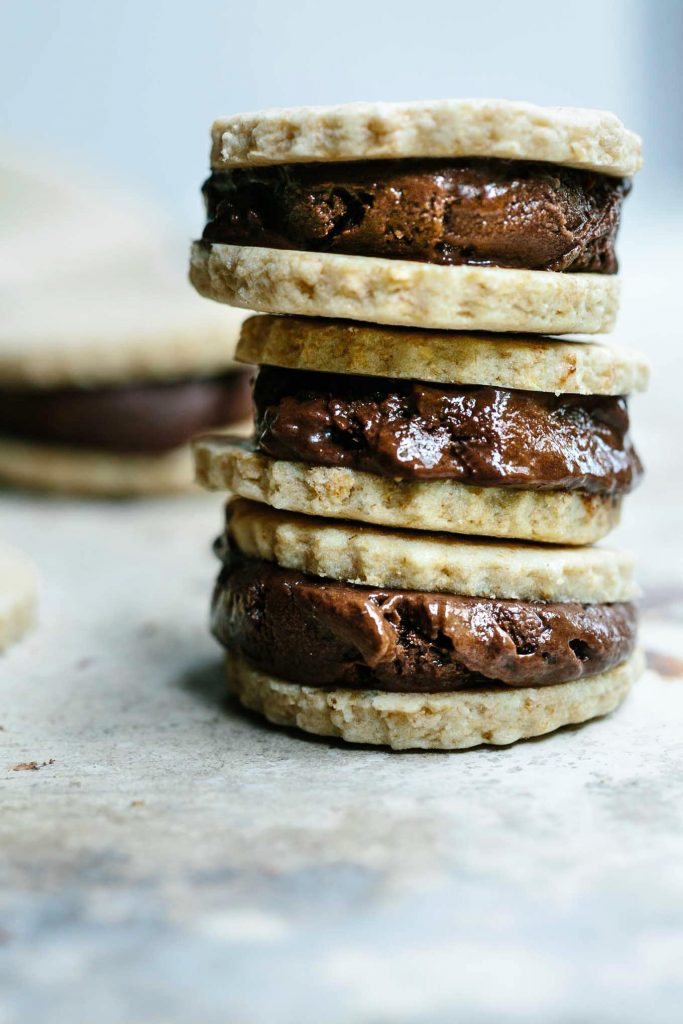 These pretty darn healthy chocolate ice-cream sandwiches are inspired by one of our gorgeous little guests.
One of the Elf's playgroup friends suffers terribly from food intolerances; everything from gluten and soy to nuts, seeds and dairy are off the menu. The little guy drank from an improperly washed water bottle while in daycare for several weeks, not only imbibing water but some funky mould as well. Since then, his little tummy has battled all sorts of cramps, heaves and lurgies. It is unfair and unforgivable to my mind. I can only imagine his wonderful Mama's frustration and worry.
While he couldn't enjoy much of the food on the Elf's party day we did make frozen banana ice-cream and served plenty of fresh berries and watermelon and bless him, he brought his own food. My new superhero didn't bat an eye at the unfairness; the resilience of children never ceases to amaze me.
But, all this got me thinking about cleaner options for my own Elf's diet so it is fair to say our little friend is the inspiration for these pretty darn healthy chocolate ice-cream sandwiches. The Elf loves her ice-cream so it seems fitting to begin the process here. With creamy banana and avocado chocolate ice-cream pressed between wholemeal shortbread biscuits, these sandwiches are chocolate bliss made easy.
And if one day our friend can share…well, that there's the cherry.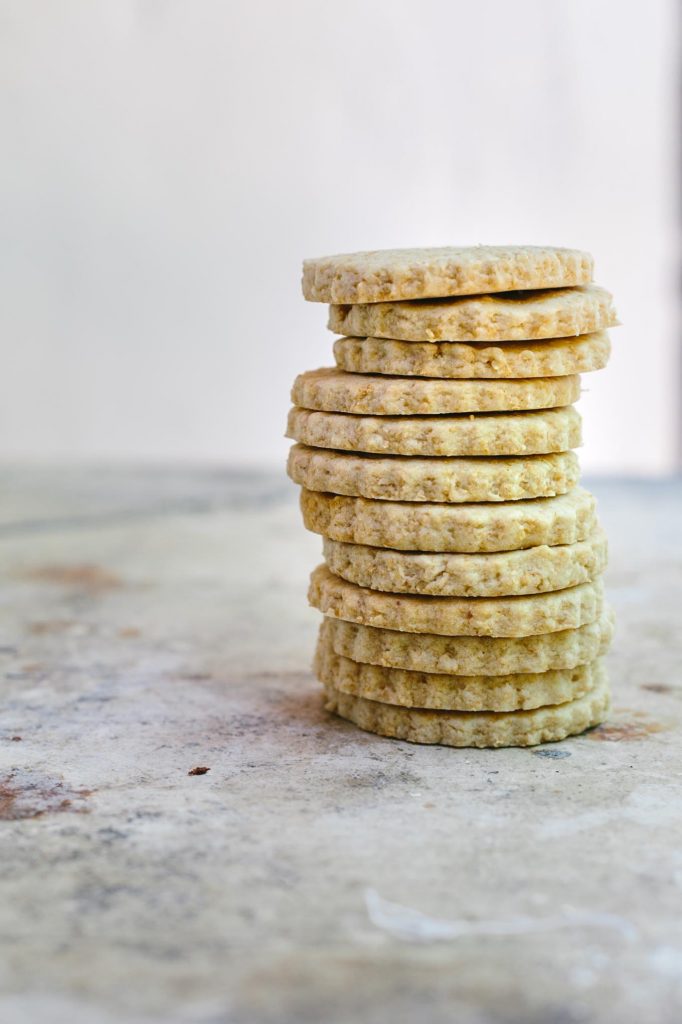 While I used wholemeal shortbread biscuits for this recipe (we are lucky not to have any gastro issues here), I imagine this deliciously creamy, gooey ice-cream could pretty well sit between anything. If you have made avocado chocolate mousse, you will have an idea of the texture of this dessert. It is thick, luxurious and just a little bit addictive. The beauty for me is that it is a step away from the coconut cream or nut based vegan ice-creams. While I love both, sometimes it is lovely to move away from those ingredients, move away from process and just whip something up in the processor. This is the perfect no-churn ice-cream.
When first made, this ice-cream comes together as a soft serve and can be used straight away perhaps with a tumble of fresh berries. I chewed my knuckles overnight, however, to set it firm enough to scoop between my freshly made wholemeal shortbread biscuits. Either way, this healthy banana avocado chocolate ice-cream is a win.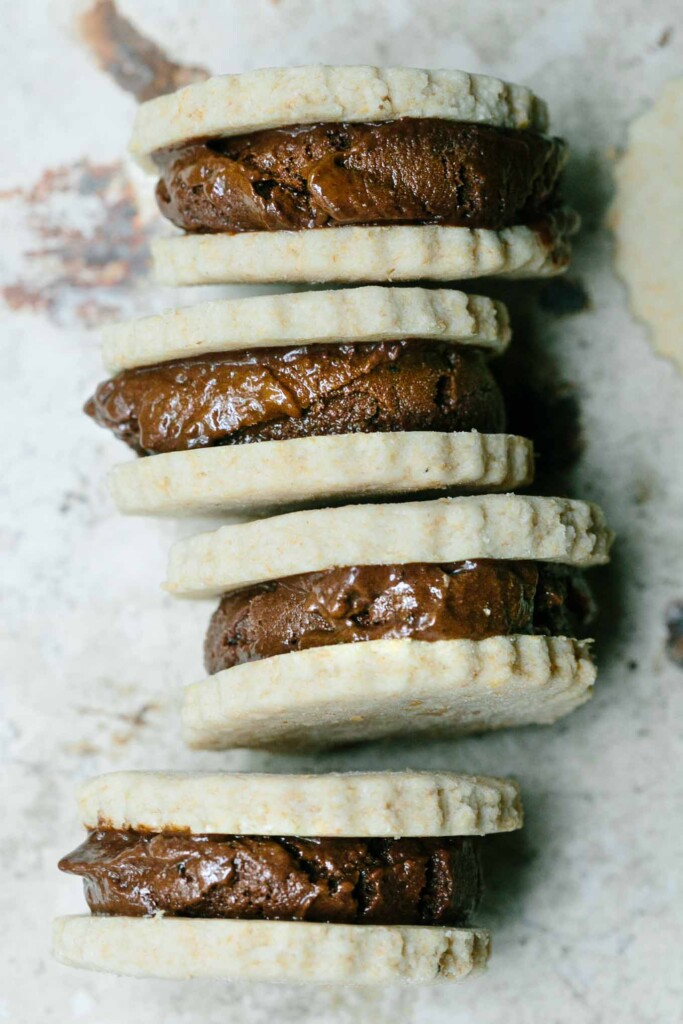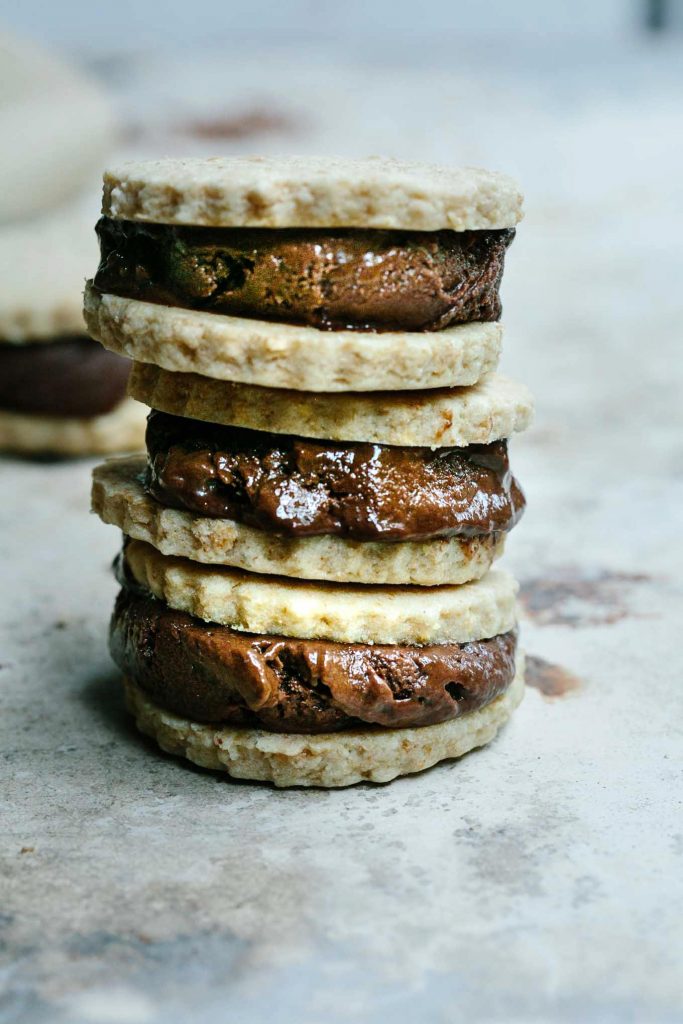 Yes, you can taste the banana, after the crunch of the shortbread it hits your tongue first. But then your mouth is awash with decadent chocolate made creamier by the additional avocado. To make a great vegan ice-cream you need fat; avocado provides good fat. Combined, the sweet density of bananas, the rich cocoa, sweet maple and avocado work together to produce a lovely and smooth, ready in minutes healthy ice-cream treat. Add the buttery crunch of the wholemeal shortbread rounds and these pretty darn healthy chocolate ice-cream sandwiches are not only healthy, but pretty darn delicious. Enjoy.
Pretty Darn Healthy Chocolate Ice-cream Sandwiches
Made with avocado and banana, these pretty darn healthy chocolate ice-cream sandwiches combine buttery shortbread with a creamy chocolate centre.
Ingredients
Ice-Cream
450

grams

frozen banana

sliced

1

medium ripe avocado

1/4

cup

60ml maple syrup

1/4

cup

60ml + 2 tablespoons (40ml) cocoa

1/4

teaspoon

2.5ml sea salt
Shortbread
250

grams

wholemeal flour + 50 grams if required

100

grams

raw caster sugar

200

grams

vegan butter

1

teaspoon

5 ml vanilla extract
Instructions
To make the ice-cream, combine the frozen bananas, avocado, maple, cocoa and salt in to a food processor and process until well-combined and smooth. Scrap down the sides as you go. 

Place the soft-serve in a freezer safe container to set for a few hours until firm or serve as a soft-serve.

Pre-heat your oven to 160 degrees C.

Cream together the sugar and butter in a large mixing bowl before adding the vanilla. 

Add the wholemeal flour and combine to a soft dough. Knead within the bowl and bring the dough together in to a ball. It may be a little sticky depending on your flour. 

Wrap the dough in cling film and place in the fridge for at least 30 minutes.

Remove the dough from the fridge and roll it out on a lightly floured surface. If the dough is sticky, knead in the additional flour. 

Roll out to around 1/2 centimetre before cutting rounds with a cookie cutter or glass. 

Line a baking tray with baking paper and lay the rounds out evenly. 

Bake in the oven for 12 - 15 minutes before removing and allowing to cool. The shortbreads will crisp up as they cool.

When cool, place a round down and, using an ice-cream scoop, place a ball of ice-cream on the round. Place another round on top and press down to make a "sandwich". Serve immediately or store back in freezer, covered for up to three days.