I have a very large food crush on these Japanese inspired vegetable potato cakes. Golden grilled potato and vegetable rounds topped with red miso mayonnaise, shallots and pickled ginger, these are a delicious and vegan twist on the traditional Osaka-style okonomiyaki pancake.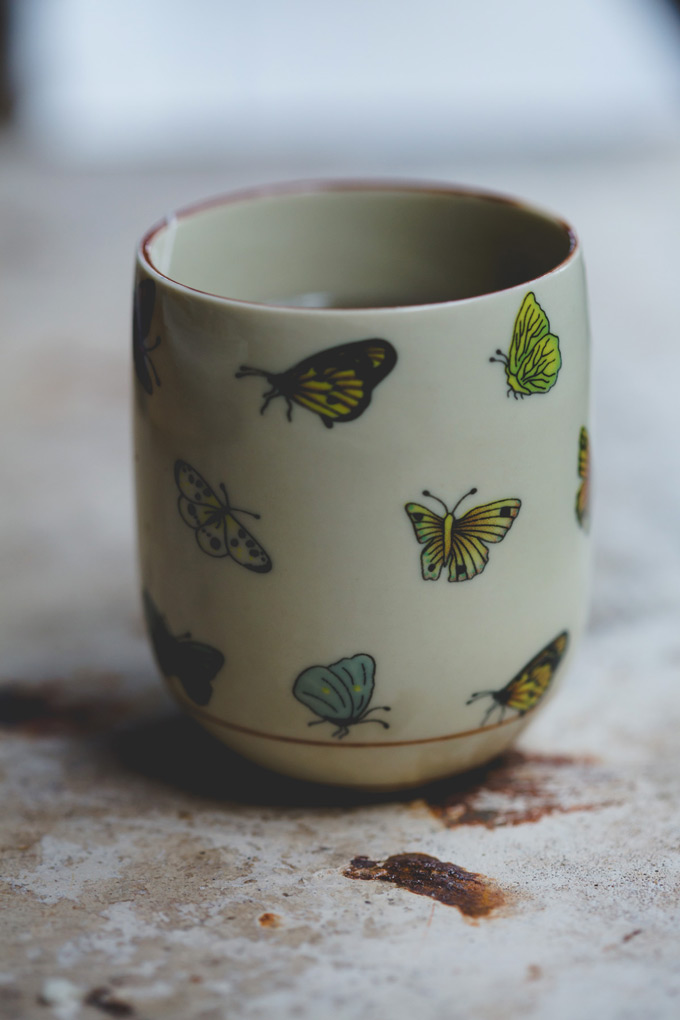 Japanese food has an elegance and balance that leaves me a little in culinary awe. What other cooking regions could inspire the world to eat raw fish and rice on a regular basis? The ingredients in Japanese cooking are used with restraint to create perfectly balanced and harmonious bites. Let's be honest, this recipe for Japanese inspired vegetable potato cakes is essentially a grilled hash brown with vegetables. However, add a dollop of red miso mayonnaise for the Unami quality, shallots for crunch and contrast and pickled ginger for acidity and these "hash browns" become something special.
I first tried okonomiyaki in Austin, Texas of all places. It seems a fitting balance that I tried one of my favourite dishes in one of my favourite cities in all the world. Sitting in a way-to-cool-for-us hotel bar on the main street in South Congress  the Husband and I ooh'd and aah'd our way through the plate-sized potato and cabbage pancake. This was BPBE (before plant-based eating) so the dish was finished with a smattering of katsuobushi, dried bonito flakes, and small pieces of shrimp. Vegan challenge numbers one and two.
Where there is a will, there is always a tricky way.
Addressing the shrimp is simple, leave it out. Okonomyaki means "as you like" (onokomi) and "grilled" (yaki) so if you don't want shrimp, don't add it. Simples. Finding an unami-flavoured substitute for the dried bonito flakes was a little more of a challenge but plant-based eaters are a resourceful bunch. If we weren't we'd still be eating mung beans by the handful. Adding red miso paste to mayonnaise added the missing, but imperative, flavour.
With the flavours sorted, making these Japanese inspired vegetable potato cakes is as simple as cooking hash-browns making them the perfect everyday dish. The condiments make them a little special but they too couldn't be easier to prepare. For this recipe I added finely sliced kale and cabbage but you could create your own version with whatever vegetables you like. Chopped green peas and spinach, zucchini and carrot…. finely chopped or grated they are well hidden from small prying eyes making these cakes a great vehicle for getting veggies in to the kids' diet.
Also, while traditionally and in this recipe panko bread crumbs are used, gluten-free eaters could use GF breadcrumbs or simply omit altogether. Cooking and grating the potato before mixing and grilling makes them wonderfully sticky and binding. The panko crumbs add a wonderful texture but the cakes will hold their own without them; you will get less cakes though.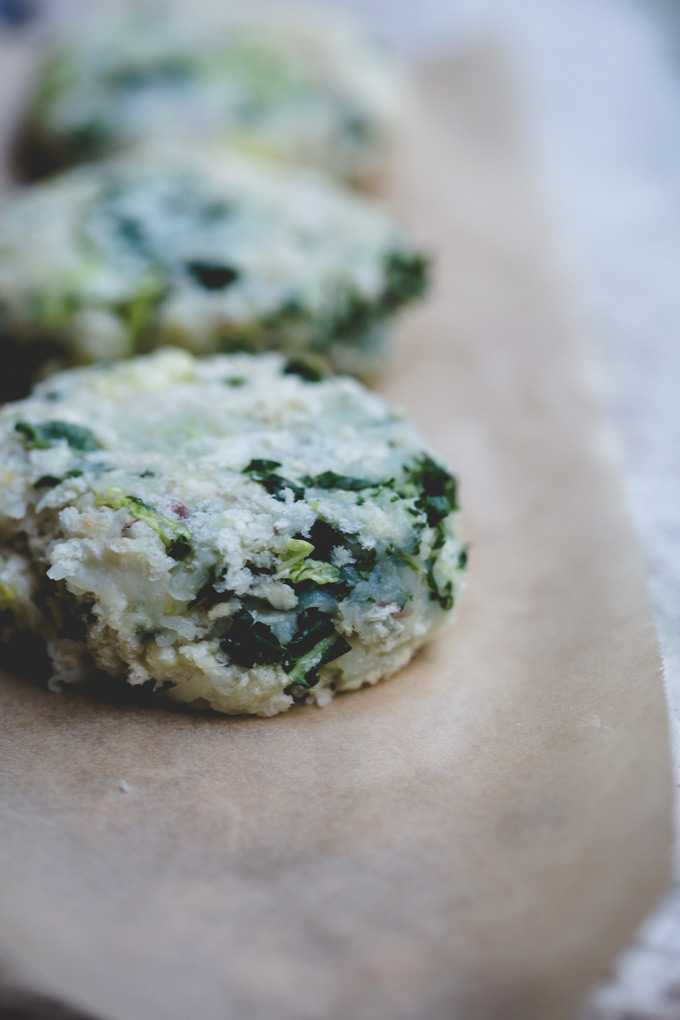 My favourite recipes are simple ones that you can adjust to make your own and these savoury cakes are just that. And while these Japanese inspired vegetable potato cakes are simple, they are anything but ordinary. With the lovely balance of golden fried, crispy-on-the-outside-soft-on-the-inside potato cakes, creamy yet savoury miso mayonnaise, crunchy shallots and punchy pickled ginger, these little cakes are a beautifully balanced meal the family will love.
Enjoy.
Japanese Inspired Vegetable Potato Cakes
Japanese inspired vegetable potato cakes are golden fried potato and vegetable rounds topped with red miso mayonnaise, shallots and pickled ginger.
Ingredients
700

grams

red potatoes

I use Desiree

1/2

cup

kale

finely sliced

1/2

cup

Chinese

Napa cabbage

1

cup

+ 1 tbs panko bread cups

pinch

sea salt

1 1/2

tsp

red miso paste

3

tbs

vegan

or regular mayonnaise

1 1/2

tsp

warm water

2

tbs

peanut oil

1

shallot

whites cut in to 1 inch diagonals, greens sliced finely

1

tsp

sushi seasoning mix or dried seaweed finely sliced and chia seeds

pickled ginger to serve
Instructions
Place potatoes in a large pot of cold water and put on medium heat. Cook for 25 minutes or until cooked through but not falling apart.

Remove from heat and strain in a colander. Set aside to cool for 15 minutes.

Meanwhile, combine the miso paste with 1 1/2 teaspoons of warm water and stir well to dissolve.

Add mayonnaise and stir to combine.

When the potatoes are cool enough to touch, grate them into a large bowl (leaving the skins on)

Add the kale, cabbage, panko crumbs and salt.

Using clean hands, mix to combine until the mixture will hold in to a large ball.

Divide the mixture in to palm size rounds

In a large pan or skillet, heat the peanut oil over low to medium heat.

In batches of three, cook the rounds pressing them down with a spatula to form a 1/2 inch (1.5cm) pancake.

Cook on low to medium heat for around 10 minutes on each side or until golden brown.

Place the cakes on an absorbent towel while you cook the second batch.

Serve with a good dollop of the miso mayonnaise, a smattering of green and white shallots and a pinch of pickled ginger. Sprinkle with the sushi seasoning mix or chia seeds and seaweed.