Last updated on October 2nd, 2022 at 07:01 pm
In my last post I shared a delicious Masoor Dal with Roasted Eggplant and while it is wonderful on its own I have to be honest. I believe everything is better with bread. So, today I am sharing my homemade vegan naan recipe to mop up all those aromatic curry sauces. It wouldn't do to lick the plate now, would it?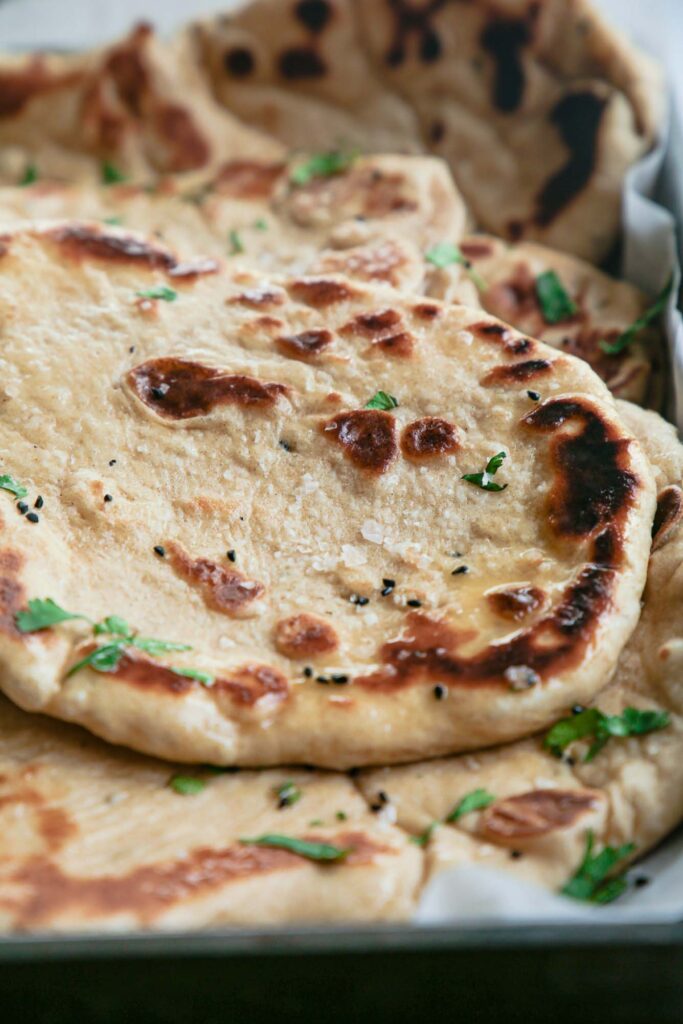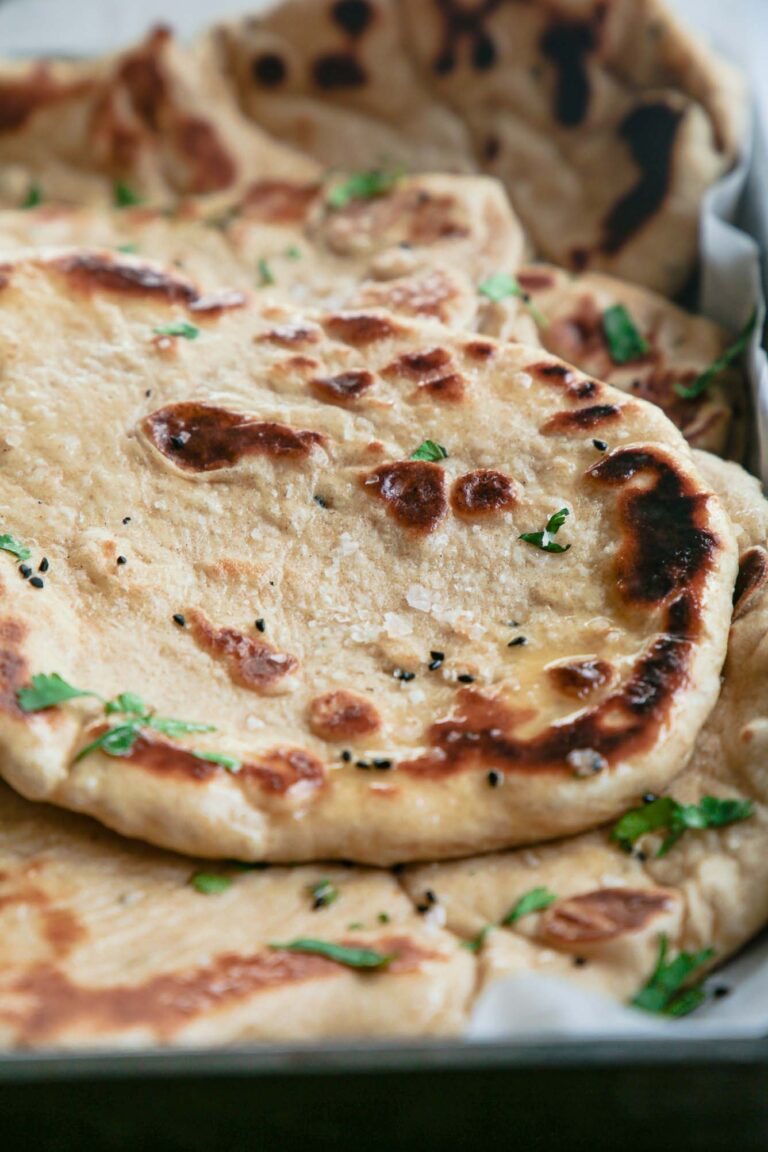 I have been on a flat-bread kick over the months in lockdown among other things. Glued to Christopher Kimball's Milk Street Cooking School's online classes, I've made my way through basic flatbreads, coconut milk tortillas and scallion pancakes.
Have you seen the classes? The school offered - and I think are still offering - their online cooking classes free over the past months and I signed up to a heap of them. Much of the content is anchored in the basics but I've learned a new trick or two, which is awesome. It's always a good day to learn something new.
I've also gone a little pickling and mustard-making mad during iso but we're talking about bread today. Specifically naan. Soft, pillowy, aromatic fight-over-the-last-piece naan.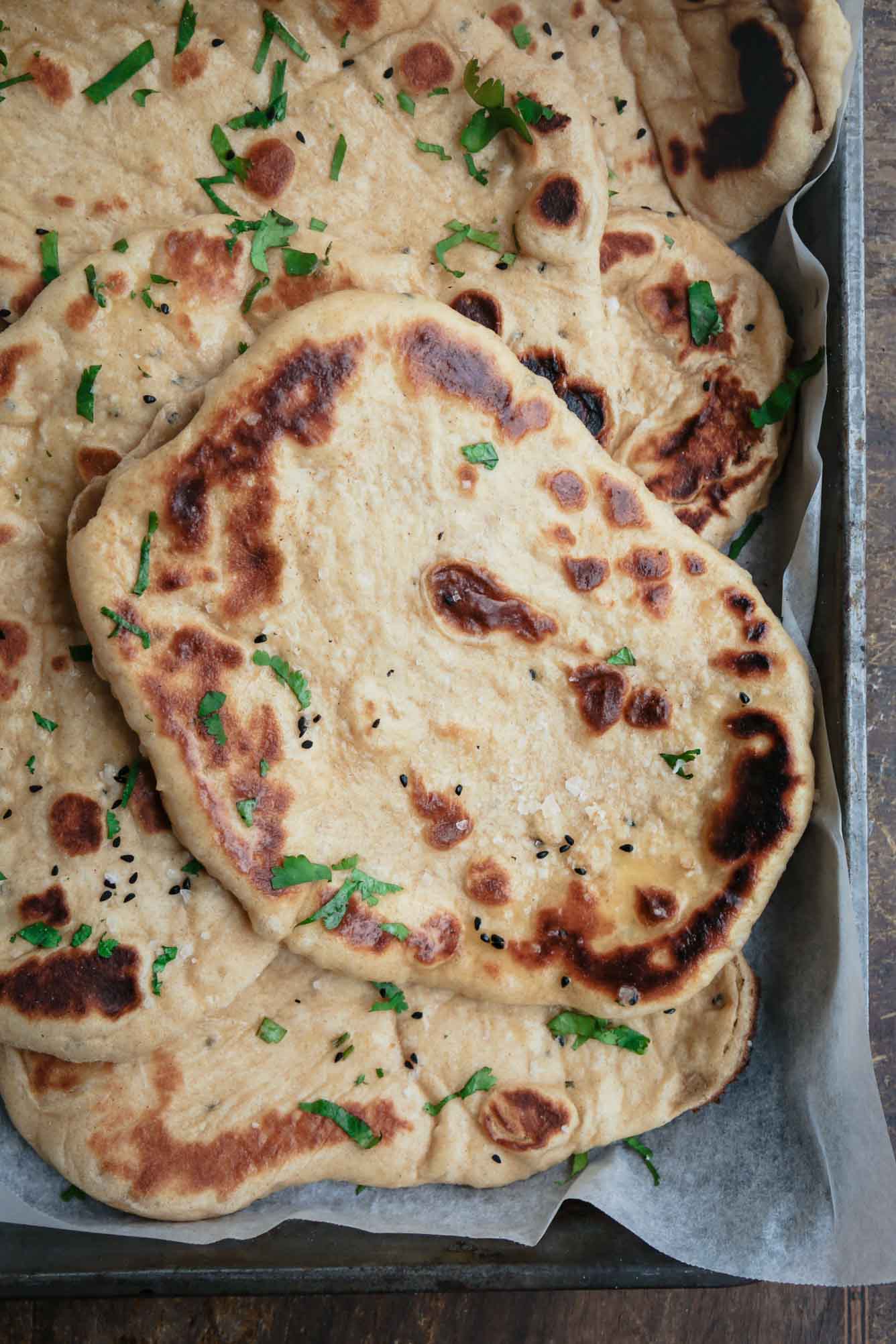 You are going to love making your own vegan naan. This recipe is:
really simple
made with on-hand ingredients
pretty forgiving - if you need a touch more flour, add flour, no worries
fun to make
an opportunity for you to show off a little in front of family and friends and
so DELICIOUS!
What is Naan?
Naan is a yeast-leavened bread traditionally cooked in a clay oven called a tandoor (or tannour). These ovens get to stinking hot temperatures - up to 480°C - and cook the bread super fast. 
"Great, but I don't have a tandoor lying around..."
Me neither! So, we are going to grill each naan on a hot skillet. You can make naan any day of the week with the equipment you have in the kitchen. I use my new and still-shiny stand mixer to knead the dough but I have also made it by hand. It takes around 10-minutes to hand knead the dough before it rests for an hour.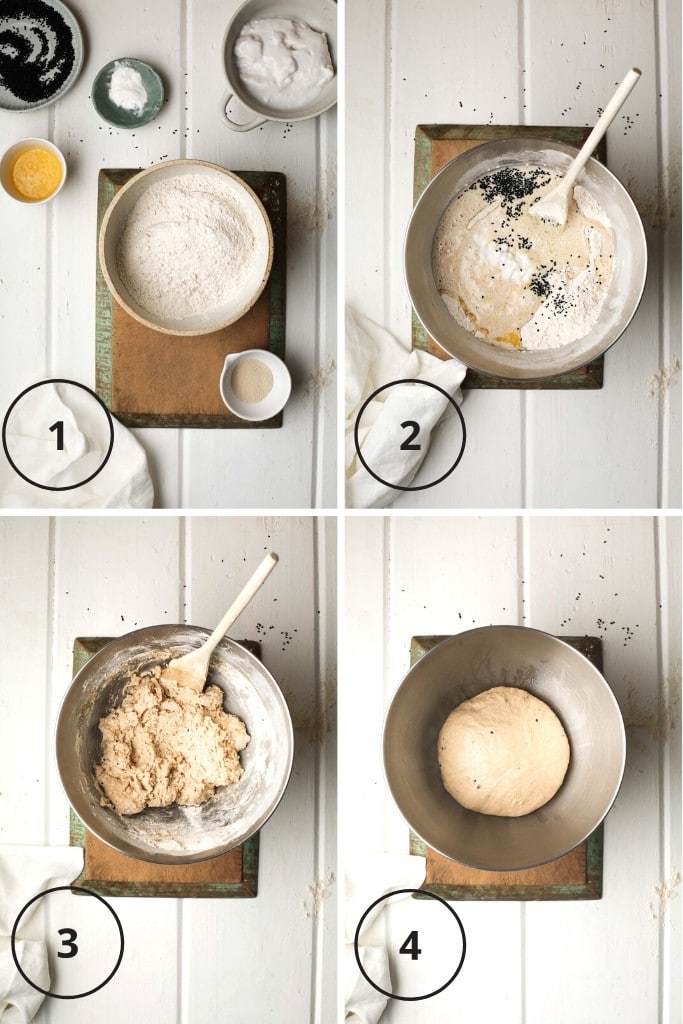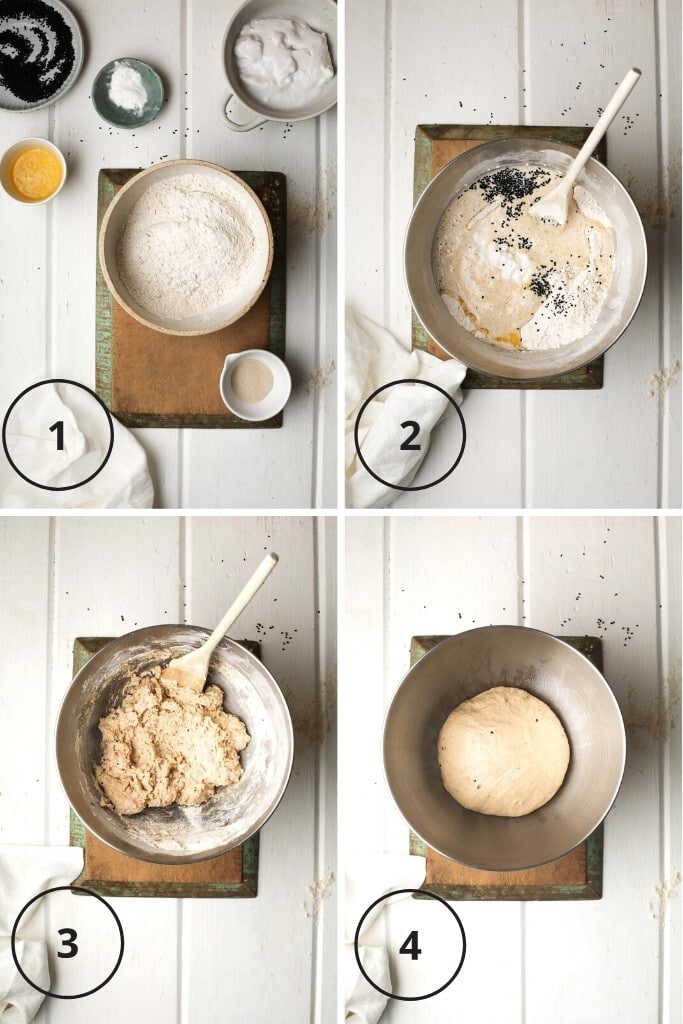 Making vegan naan is super easy.
Bloom some yeast in water
Combine the dry ingredients
Add the wet ingredients
Knead (for around 6-minutes with a mixer or 10-minutes by hand)
Rest (proof) : put your feet up, you've got an hour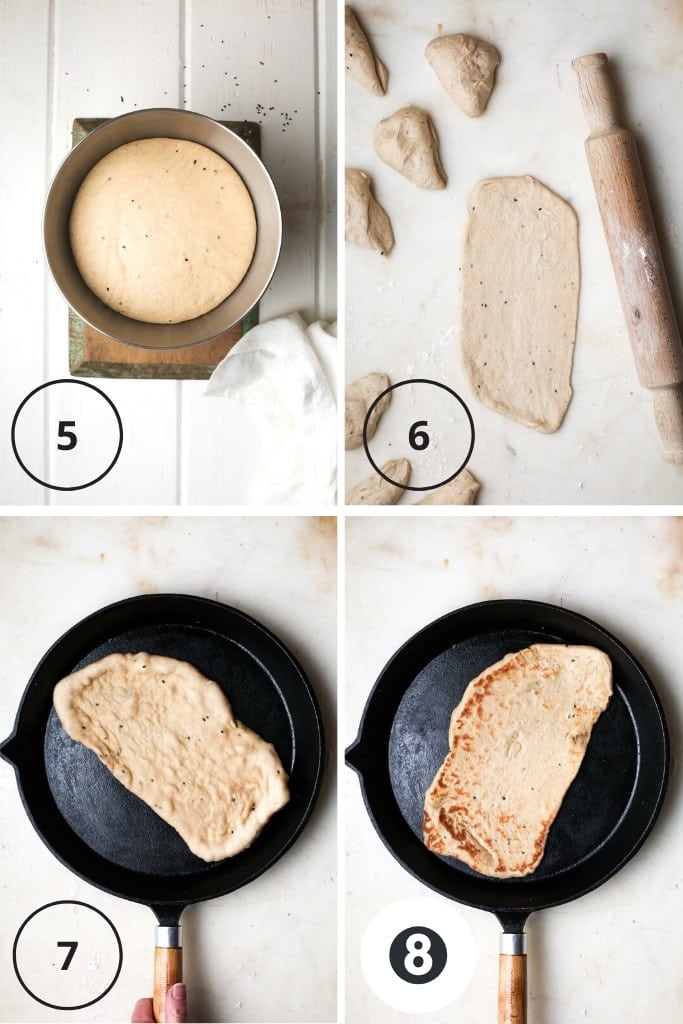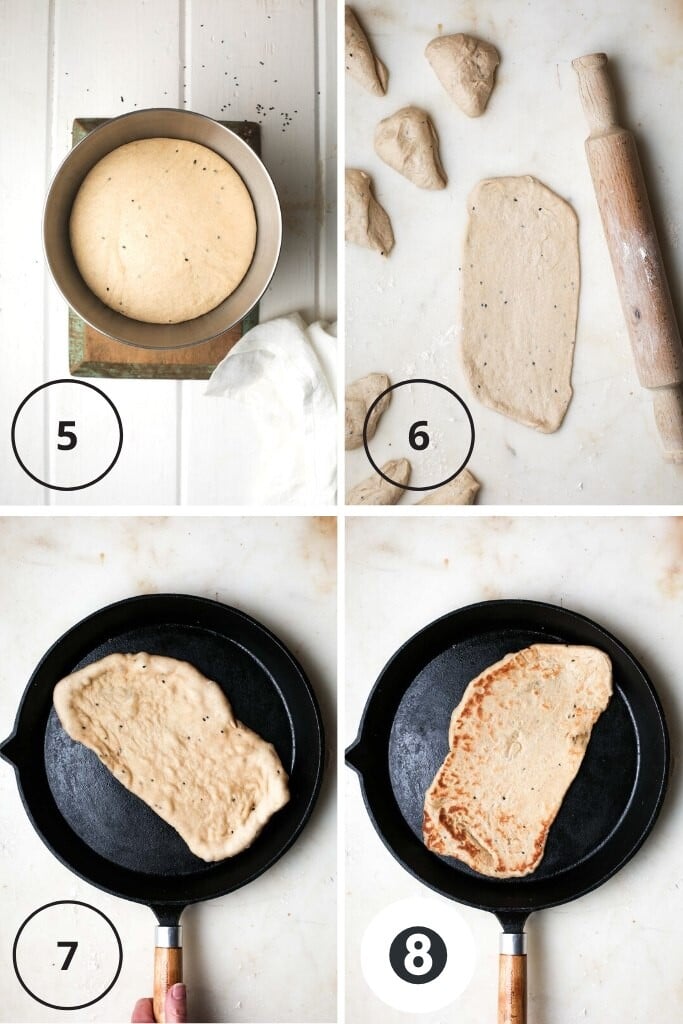 Divide and roll out the dough
Grill on a hot skillet
Devour!
A Word on the Dough
Vegan naan dough is soft and pliable like a fluffy pillow. It should be tacky but not sticky.
Sticky dough is just that - it's sticky and attaches to your fingers and hands making a heck of a mess. Tacky dough, on the other hand, will stick to your hand when pressed but will come away easily leaving only a little behind.
So are you ready to make your own homemade vegan naan?
Just like when you go to an Indian restaurant you can enjoy your naan with a curry like my Walk-Away Chickpea Tomato and Spinach Curry. You can even use it as a pizza base. I've used leftover naan as a wrap for my Mind-blowing Vegan Sabich Sandwich or to mop up my 5-Ingredient Pumpkin Lentil Soup with Ginger.
Make it to go with tonight's dinner and make enough to enjoy for lunch tomorrow. Enjoy, x.
Faq's
Can I freeze my naan bread?
Yup. However, naan bread can get a little chewy after freezing. This is how I freeze my cooked naan bread to avoid chewiness.
You can freeze your naan after you've grilled them. Allow them to cool completely and wrap them well in foil with a sheet of parchment between each naan. Pop them in a freezer-proof container. They'll freeze for up to 3 months. Defrost the naan slowly in the fridge before grilling it again on low heat to warm.
Can I freeze my naan dough before cooking?
To freeze the raw naan dough make it and allow it to proof for the hour. Divide the dough into equal parts and shape them in to flattened discs. Stack the discs placing a piece of parchment paper between each. Pop them in to a freezer-proof container and freeze for up to 2 months.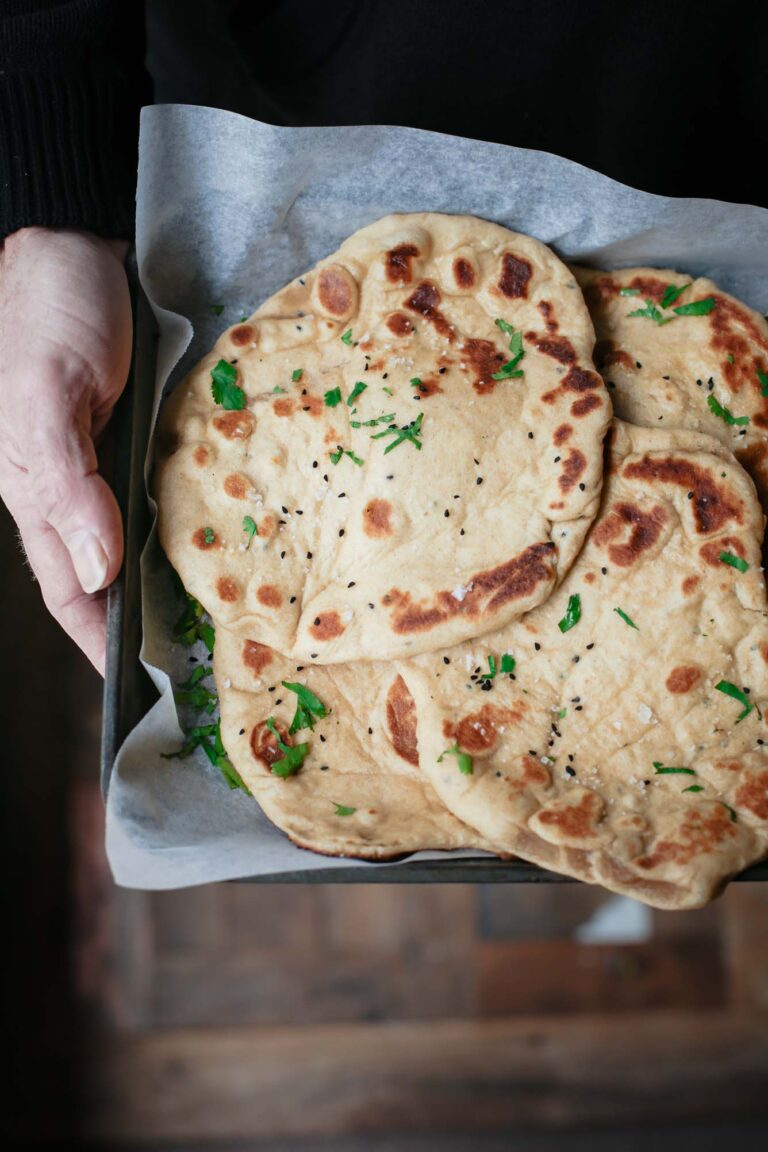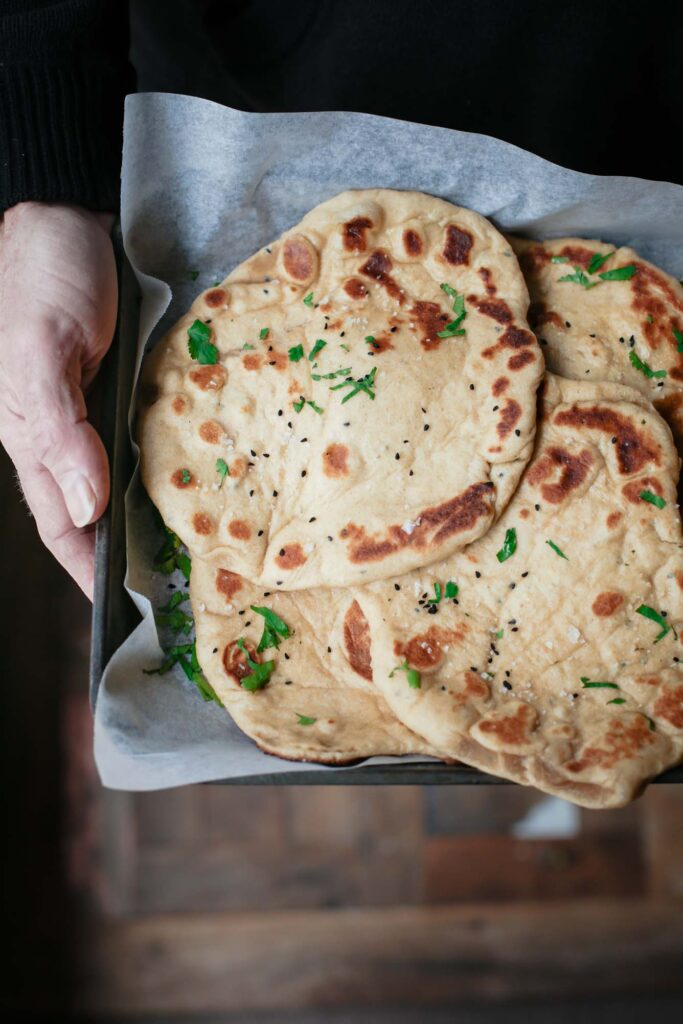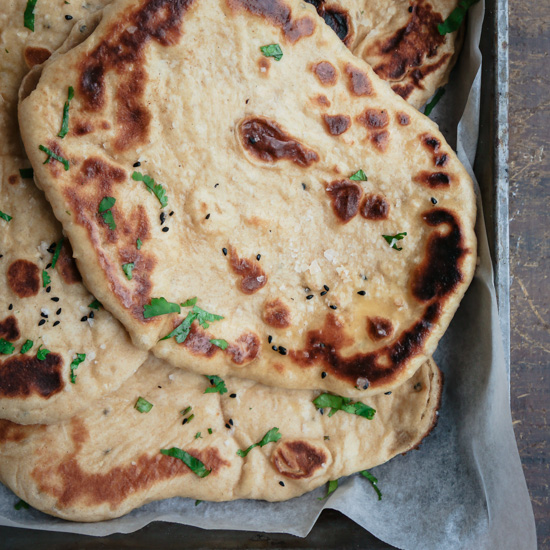 Vegan Naan Recipe
Make your own soft, pillowy, aromatic fight-over-the-last-piece vegan naan at home with this simple skillet recipe.
Print
Pin
Rate
Equipment
Cast iron skillet

Stand mixer (optional)
Ingredients
½

cup / 125ml

luke warm water

2 ¼

teaspoon

active dry yeast

7g packet

2

teaspoon

maple syrup

divided

2 ½

cups / 310g

all-purpose flour

1

teaspoon

baking powder

1

teaspoon

fine sea sea salt

2

tablespoon

vegan butter, melted

+ another 1 tablespoon for brushing

⅓

cup

natural yoghurt

vegan

1

tablespoon

nigella seeds

don't worry too much if you don't have them
Instructions
Stir the warm water, yeast and 1 teaspoon of maple syrup in to a jar together. Leave in a warm place to "bloom" for 5 minutes. You'll know the yeast has bloomed when the mixture looks frothy. If it does't froth you'll need to buy fresh yeast.

In a large bowl combine the flour, baking powder and salt. Mix together and create a well in the centre.

Pour in the yeast mixture, the remaining teaspoon of maple, 2 tablespoons of melted butter, yoghurt and nigella seeds.

Stir together first and then start to bring the mixture together with clean hands. If the mixture is super wet, add a tablespoon of flour; too dry add a tablespoon of water. The dough should be very soft but not so wet that it won't come together in a ball.

Knead the dough until smooth and elastic. This will take around 10-minutes by hand on a lightly floured surface or around 6-minutes in a mixer. Add a touch more flour at a time - no more than a teaspoon - if the dough is too sticky.

Form the dough in to a ball and pop it in to a lightly greased larger bowl. Cover with cling film or a clean tea towel and place the bowl in a warm spot for at least an hour to double in size. After it has doubled cut it in to 6 - 8 equal-ish balls. I cut mine in to 8 - I think that's plenty big enough.

Pop a cast iron skillet over medium heat.

Lightly flour your rolling pin and roll each ball in to a flat-ish round around 10-12cm wide. Pro Tip: You can lightly brush the top with a touch of water to make sure the bread doesn't stick to your pan.

Gently lay the naan on the skillet, wet side down.

Cook for around 2 minutes or until bubbles begin to appear on top of the naan. If you peek under the naan and the underside is getting too dark, turn the heat down.

Flip the naan and cook the other side for a minute or so.

Remove the naan from the pan and brush with the melted butter and sprinkle with sea salt to serve. Repeat with the remaining naan breads. Enjoy!
Notes
This recipe makes 6 large naans or 8 medium-sized. 
I use unbleached all-purpose flour which is slightly more coarse than regular all-purpose flour. If you need to add a touch more flour to your mixture, go ahead. 
The dough should be tacky but not sticky. 
Pro Tip: You can lightly brush the top of the rolled out naan with a touch of water to make sure the bread doesn't stick to your pan. Place the naan wet side down on the pan to cook. 
Nigella Seeds: Nigella seeds give that authentic naan flavour but you can still make vegan naan if you don't have them. It is worth finding a small bag the next time you go spice shopping though 🙂
Nutrition
Calories:
212
kcal
|
Carbohydrates:
34
g
|
Protein:
7
g
|
Fat:
5
g
|
Saturated Fat:
1
g
|
Cholesterol:
2
mg
|
Sodium:
431
mg
|
Potassium:
162
mg
|
Fiber:
2
g
|
Sugar:
2
g
|
Vitamin A:
239
IU
|
Vitamin C:
1
mg
|
Calcium:
79
mg
|
Iron:
1
mg
Tried This Recipe?
I'd love to hear your feedback. Rate it & leave your feedback in the comments section below. Or you can tag @mygoodnesskitchen or hashtag #mygoodnesskitchen on Instagram. Thank you!