Many moons ago I fell in love with a cake recipe I found in Australia's Gourmet Traveller magazine. It was a wonderful, comforting ginger spiced apple almond cake and I made it often. The ginger used to curl up and warm the tongue  after each bite. Delicious.
Today I am playing with the flavours of the cake by putting them in to something more accessible; let's be honest, I am not making tea cakes everyday. In these ginger pear granola bites I have substituted the apple for pear, kept the spicy ginger and baked the flavours in to a granola mix. In to a glass jar they go ready for a quick nosh or served with almond milk or coconut yoghurt for breakfast.
These ginger pear granola bites are sweet, crunchy, lightly spiced and more than a little addictive.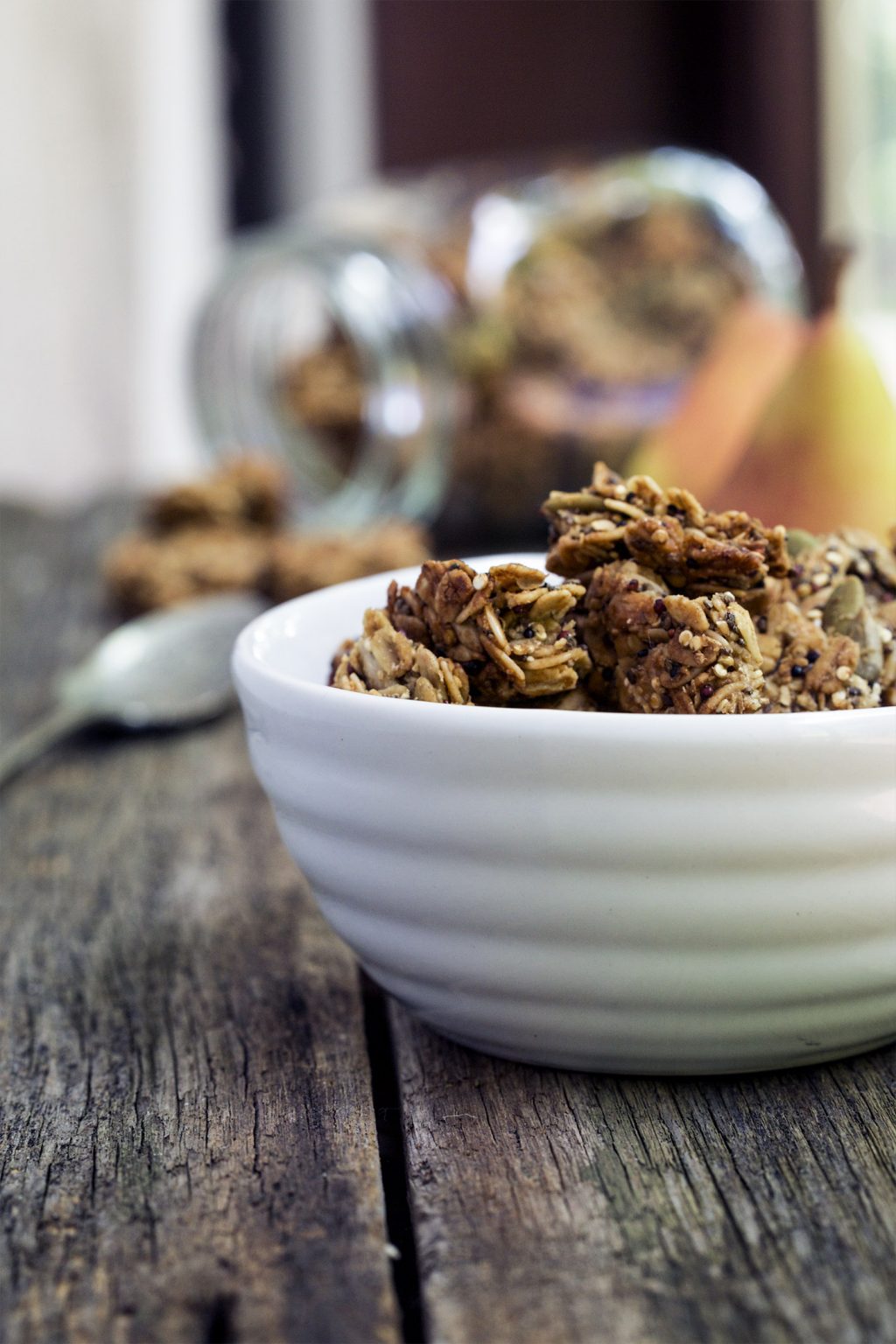 The trick to creating clusters instead of a regular granola mix is turning the tray during the baking process, not turning the granola. Also, once baked I removed the tray from the oven let it cool for 10 minutes and then took the whole piece of granola mix and flipped it over to dry out any moisture coming from underneath. Once completely cool, I broke it up in to clusters. I baked this mix on a low heat, 160 degrees C for almost an hour. If you want a more chewy mix, bake for less time, maybe 40 minutes. I wanted crunch, thus the longer bake time.
Ginger Pear Granola Bites
These ginger pear granola bites are sweet, crunchy, lightly spiced and more than a little addictive. 
Ingredients
3

cups

rolled oats

gluten-free is required

4

tbs

coconut oil

2

pears

peeled, cored and roughly chopped

1/2

cup

coconut or any unrefined sugar

1/4

cup

maple syrup

1/2

cup

uncooked millet or quinoa

1/4

cupped shredded or desiccated coconut

1 1/2

tbs

ground ginger

1/4

cup

pepitas

1/4

sunflower seeds

2

tbs

chia seeds

1

tbs

ground flaxseed

pinch

salt
Instructions
Pre-heat oven to 160 degrees C and line a baking tray with parchment.

In a saucepan, heat 2 tbs of coconut oil. Add pear and sugar and cook on low heat for around 10 minutes.

In a blender, blend  the pear and sugar mix with the rest of the coconut oil and the maple syrup.

Combine dry ingredients in a large mixing bowl and pour over blended pear mixture.

Stir completely before pressing mixture in to lined baking tray.

Bake for 25-30 minutes before carefully turning the tray inside the oven to ensure even cooking.

Bake for another 30 minutes before removing from oven to cool for 10 minutes.

Carefully remove granola from the tray, flip over and place on a cooling rack.

When completely cooled, break in to clusters and store in an airtight container.