I like to flick Winter the bird occasionally and eating ice-cream is one of my favourite methods. This dairy-free chocolate stout ice-cream is loaded with the richness of both chocolate and chocolate stout. Take that Jack Frost.
A wise person, me, once said Winter is the perfect time to eat ice-cream because the dessert's coldness and the impending ice-cream headache distracts you from the cold outside. I am nothing if not a logical woman and full of useless wisdom. But honestly, is there a bad time to eat good ice-cream? If there is, I am yet to find it.
Winter in the hills is chilly. Chilly and beautiful. Last week the elf and I took the Dane for an impromptu walk on our regular track. The idea was to get in before the forecast rain set in. As we ran the final leg to dodge fine shards of hail (!) it began to snow. For a few minutes a fine curtain of snow blew across our faces teasing the Dane in to a chase and in turn, me chasing the Dane. But it was wonderful and funny and ridiculous. And fleeting. We ran the final stretch, me lugging the elf and dragging the Dane and a few minutes later the snow was gone. There we stood a trio of wet weirdos laughing at the wet trees and the wet grass. The dry people in their dry cars didn't get the joke but we did.
And so it is with ice-cream in Winter. It's wet and cold and out of place but it is also rich, creamy and delicious. So why the hell not? I made this dairy-free chocolate stout ice-cream after promising a beer infused something or other to the husband. His knuckles don't drag on the ground, he just likes beer. I don't. Until now. I think chocolate stout might be my beer. I am not sure how the order will go over at the local but a beer is a beer and this beer is yum.
Alcohol can be a tricky mistress in desserts, particularly ice-cream. Too much and it doesn't set, too little and well, if you can't taste it, what's the point? I used almond butter as my base for this recipe to begin with an already thick and creamy foundation. The almond butter must be smooth though, George Clooney smooth. I made my own butter and my first attempt at the recipe had a slightly textured finish. It was delicious and boozy and chocolatey but…textured. Processing the almond butter to a silky smooth finish fixed the issue. All hail the food processor.
I love this recipe. Dairy-Free. Chocolate. Stout. Ice-cream. Says it all, really. Rich and creamy chocolate ice-cream infused with chocolate stout made all the more decadent by almond butter. A perfect Winter ice-cream to enjoy while you watch the fog settle in to the hills for another night. Enjoy, x.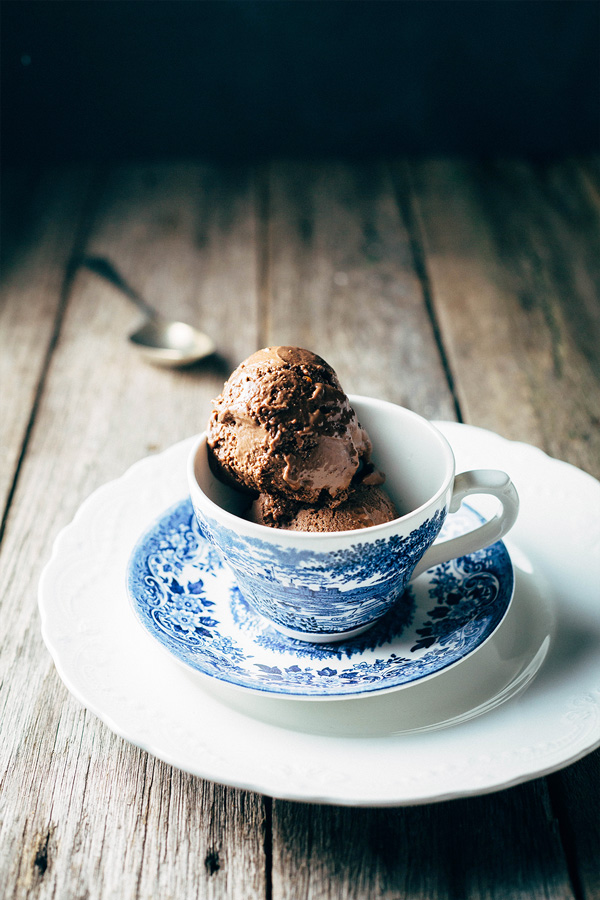 Dairy Free Chocolate Stout Ice-cream
This dairy-free chocolate stout ice-cream is loaded with the richness of both chocolate and chocolate stout making it a decadent ice-cream treat.
Ingredients
1

cup

almond butter

smooth as you can get

1

cup

almond milk

1

cup

chocolate stout + 2 tbs

1/2

cup

un-processed sugar

I used rapadura

2

tablespoon

maple syrup

1/2

cup

cocoa

1/2

teaspoon

xathan gum

pinch

salt
Instructions
Put the bowl of your ice-cream maker in the freezer the night before to freeze.

Combine the chocolate stout and sugar in a saucepan on low until the liquid has reduced to a runny syrup, around 15 minutes. Add a tiny pinch of salt and stir.

Set aside to cool.

Add the almond butter and almond milk and maple syrup to a blender and blend until super smooth. The smoother the original almond butter, the better.

Add the cocoa and xathan gum and blend until well combined.

Add the cooled stout syrup and 2 tablespoons of extra stout.

Remove the ice-cream bowl from the freezer and set up machine.

Pour in the chocolate stout mixture and churn as per machine instructions for around 30 minutes.

Pour the mixture in to a freezer proof container, cover and freeze for 3 hours or until set.
Notes
RECIPE NOTE (almond butter alternative) Substitute the almond butter and almond milk measurement for 1 cup cashews, soaked overnight, 3/4 cup almond milk and 1/2 cup coconut milk.