Well, hello 2017. I am bidding farewell to the rickety rollercoaster of 2016 and embracing a fresh start with a healthy breakfast the whole family will love. These Chocolate Bar No-Cook Steel Cut Oats combine creamy peanut butter  with your choice of mixed seeds and cacao nibs (great if you don't want to cook at all) or a gorgeous, sticky buckwheat granola. If we are going to focus on healthy starts, I am so glad this one tastes like a chocolate bar.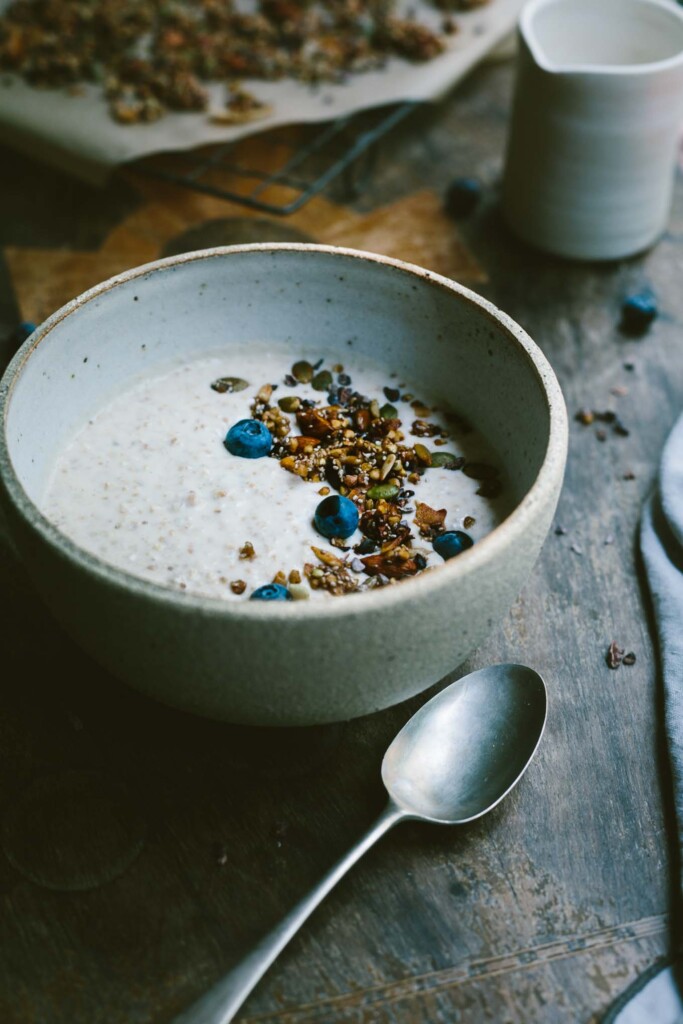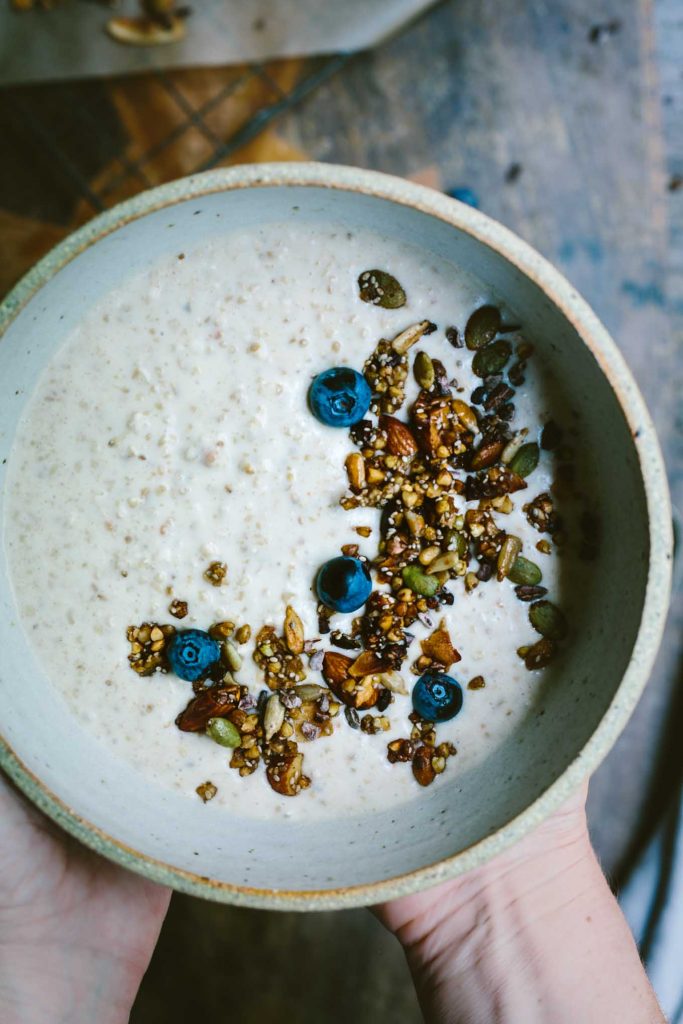 My beloved grandmother died at the end of last year, days before Christmas ending the strange year that was 2016 with a deafening silence. Nancy Eileen was ninety-seven so her passing wasn't unexpected but for some reason it still caught us by surprise. I grieve her absence but also celebrate her freedom. She was put in a home a while back after her legs gave out and it was the beginning of the end for her. Nancy didn't take kindly to captivity and I am reminded of a passage from the Shawshank Redemption by Stephen King when I think of her great escape.
"Some birds are not meant to be caged, that's all. Their feathers are too bright, their songs too sweet and wild. So you let them go, or when you open the cage to feed them they somehow fly out past you. And the part of you that knows it was wrong to imprison them in the first place rejoices, but still, the place where you live is that much more drab and empty for their departure."
My grandmother managed to dance to life's strange hurdy-gurdy rhythm with grace; dealing with whatever was thrown at her with flexibility and strength. I leave 2016 behind with that legacy in my heart.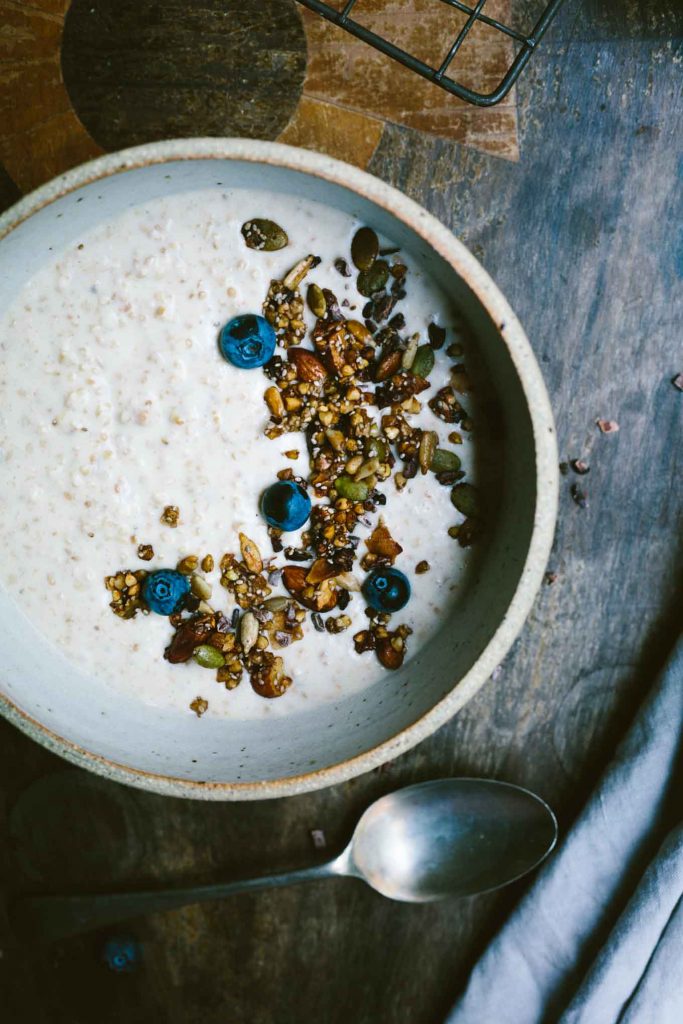 What does this have to do with Chocolate Bar No Cook Steel-Cut Oats? Not much although I am sure my Nan would have loved them being that they taste like a chocolate bar. Nan loved her sweets. I think she would have loved something she didn't have to cook even more.
My chocolate bar no cook steel-cut oats combine creamy peanut butter oats with a wonderfully sticky buckwheat and coconut granola littered with cacao nibs for added crunch and chocolate goodness. If you are after a truly no-cook breakfast, you could sprinkle a smattering of mixed nuts, seeds and cacao nibs followed by a tiny drizzle of maple syrup. I currently have a food crush on buckwheat so I went the extra mile and baked the granola.
Overnight steel-cut oats are prepared pretty-much the same as regular overnight oats although the ratios are different. Steel-cut oats retain their shape and have a more chewy texture than rolled oats so it comes down to how you like your oatmeal. I personally prefer the steel-cut. Rolled, steel-cut and quick oats all begin their journey as groats, the difference being in how the groats are processed. Steel-cut is simply when the whole groat is sliced in to smaller pieces while rolled oats are …er, rolled. Quick oats are pre-cooked, dried and rolled thinner for faster cooking.
Moving on…
For those that aren't of the breakfast persuasion, myself included, these oats are a wonderfully easy and delicious start to the morning. For those that prefer chocolate to anything else, myself included, these chocolate bar no-cook steel-cut oats may just be the perfect breakfast. Creamy yet slightly textured peanut butter oats with sticky, sweet buckwheat granola and a smattering of cacao nibs…well, hello 2017. Enjoy.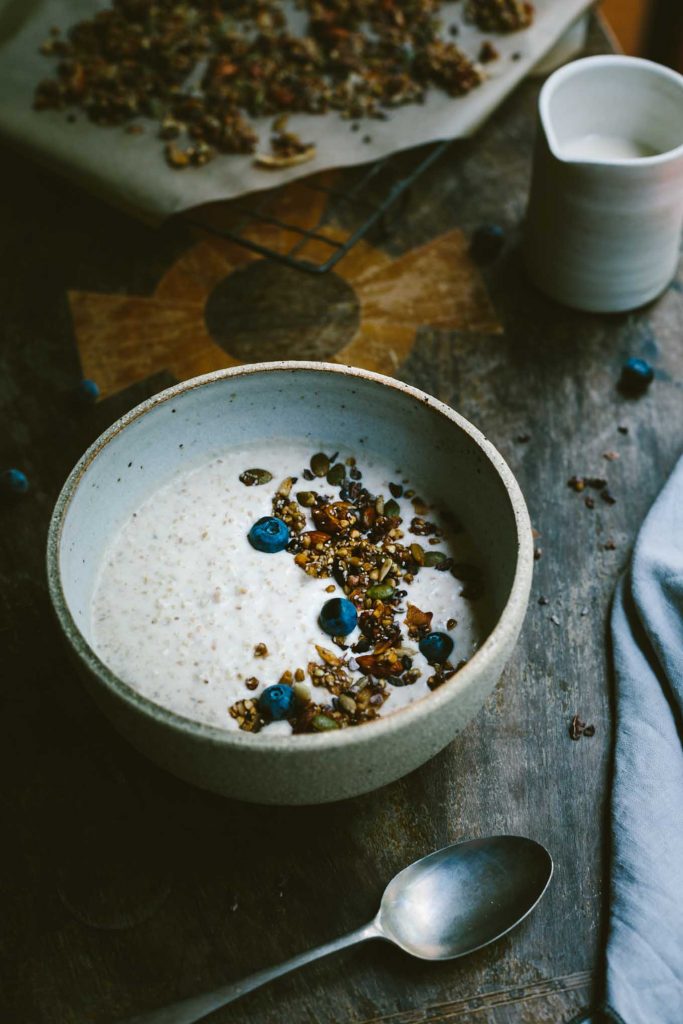 CHOCOLATE BAR NO-COOK STEEL CUT OATS
Start the day in the best way with Chocolate Bar No-Cook Steel Cut Oats - creamy peanut butter oats with cacao nibs and seeds or homemade buckwheat granola. SO GOOD!
Total Time
9
hours
5
minutes
Ingredients
Peanut Butter Steel-Cut Oats
1

cup

250ml steel-cut oats

1

cup

250ml coconut milk

1/2

cup

125ml coconut water

1/2

cup

125ml soy or almond milk

1

tablespoon

20ml + 1 teaspoon (5ml) peanut butter

1

tablespoon

20ml agave or maple syrup
BUCKWHEAT GRANOLA
1

cup

250ml raw buckwheat groats

1

teaspoon

apple cider vinegar

water

1/2

cup

125ml chopped raw almonds

1/2

cup

125ml pumpkin seeds

1/2

cup

125ml sunflower seeds

1/4

cup

60ml chia seeds

1/4

60ml cup cacao nibs

1/4

1.25ml teaspoon sea salt

1/2

2.5ml teaspoon vanilla extract

1/2

cup

125ml agave or maple syrup

2

tablespoons

40ml melted coconut oilFresh Fruit
Additional Cacao Nibs for Sprinkling
Instructions
To prepare the buckwheat oats for the granola, soak overnight covered in cold water with the apple cider mixed in. 

To make the overnight oats, whisk the milks, coconut water, peanut butter and syrup together until combined. Stir in the oats.

Cover with cling film and place in the fridge overnight. 

Drain and rinse the buckwheat thoroughly the next morning. 

Pre-heat the to 150 degrees C and line two baking strays with baking paper.

Combine all ingredients in a large mixing bowl making sure all ingredients are well coated in the coconut oil and syrup. 

Lay the mixture out evenly over the two trays and bake in the oven for 50 to 60 minutes, stirring occasionally. 

Remove the granola from the oven and allow to cool.

To serve, spoon a serving of the peanut butter oats in to a jar or bowl, add granola, fresh fruit (I use blueberries) and another sprinkling of the cacao nibs. 
Notes
If you don't want to make the granola you could add store-bought and add a handful of cacao nibs.
The buckwheat granola recipe makes enough for 6-8 serves.
Nutrition
Calories:
1246
kcal
|
Carbohydrates:
139
g
|
Protein:
36
g
|
Fat:
68
g
|
Saturated Fat:
27
g
|
Sodium:
107
mg
|
Potassium:
1208
mg
|
Fiber:
23
g
|
Sugar:
40
g
|
Vitamin A:
155
IU
|
Vitamin C:
5
mg
|
Calcium:
355
mg
|
Iron:
10
mg