Does it get any prettier than these beetroot and berry chia pots?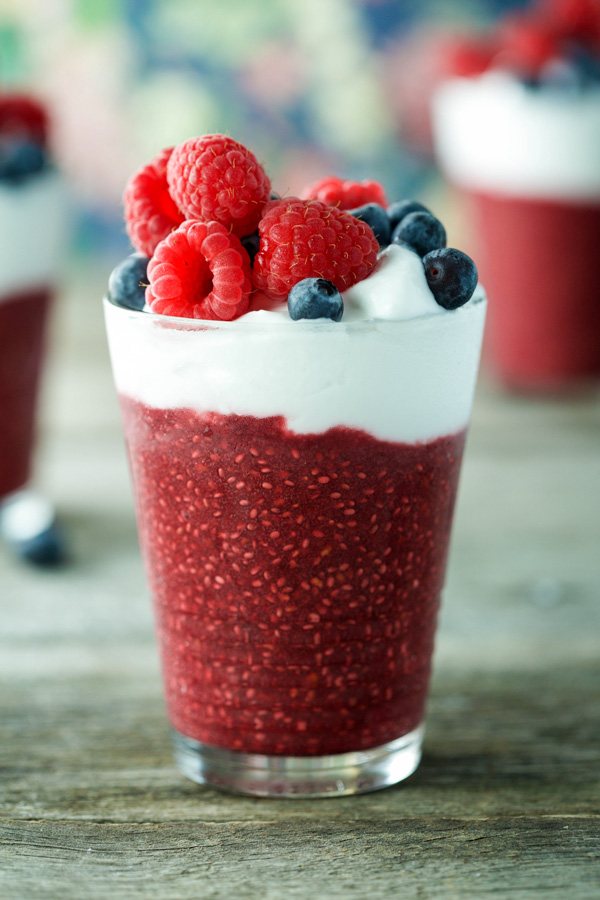 I am one of the millions who can be counted on to forgo a healthy breakfast for a giant jar of iced coffee.  Stumbling around the kitchen at toddler o'clock in the morning trying not to trip over the elf or the Great Dane pup (she is super hard to see in the dark!), my sole mission is to find the kettle. I placate my inner health critic by eating the elf's toast crusts. I know, I know, not good.
The planets align occasionally and I'm organised enough the night before, the night before the mayhem begins, to plan breakfast. Chia pots are a wonderful revelation. What did we do before chia? Eat porridge and toast like my 96 year-old grandmother who's never eaten a chia seed in her life but, I digress. These beetroot and berry chia pots are a lovely sweet breakfast or snack AND they adhere to my sneaky ninja mission to get more veggies in to the elf's diet. Win. 
Aren't they pretty? Ruby red chia puddings nestled beneath creamy coconut yoghurt and a tumbling of fresh berries. Whoa, that was a Nigella moment.
Almost too pretty to eat, but not quite.
Beetroot and Berry Chia pots are delicately sweet with just enough tang from the fresh raspberries and blackberries to complement and slightly mute the earthiness of the beetroot. The kids will love the sweet puddle of berries without even guessing at the nutritional punch they are getting from the beets. Nor will they care about  the wonderful antioxidants from the berries or the omega loaded chia goodness in each mouthful.  They'll just know it tastes yum. Add a smidge of ginger and you've got the perfect start to the day. I love when being healthy tastes good, it's just so much easier, isn't it?
I add coconut yoghurt to ours but it is lovely plain with a scattering of fresh berries. This recipe makes 3 serves, just enough for me, the husband and a tiny elf who has no idea she is being manipulated for her own good. I stand by my choices as a mother. Mostly. Enjoy xx
Beetroot and Berry Chia Pots
Does it get any prettier than these beetroot and berry chia pots? The sweet tang and goodness of berries work beautifully with the beets.
Total Time
8
hours
10
minutes
Ingredients
1/2

cup

beetroot

I have used both cooked and raw

1/2

cup

fresh or frozen blackberries

1/2

cup

raspberries

1/2

cup

apple juice

1/2

cup

coconut water

Juice of half a lemon

1/4

teaspoon

grated ginger

optional

1/3

cup

chia seeds

coconut or regular yoghurt to serve

fresh berries to serve
Instructions
Combine the blackberries, raspberries, apple juice, lemon juice, beetroot, ginger and coconut water in to a blender and blend until smooth.

Pour the chia seeds in to a bowl and pour the berry/beet mix over.

Stir gently to combine.

Pour evenly into glasses, jars or cups and pop in the fridge for a few hours or overnight.

Serve with a good dollop of yoghurt and fresh berries.